These baked sheet pan chicken thighs with Brussels sprouts and radishes make the perfect simple dinner all on one pan! Minimal prep and clean up, ready in about 30-35 minutes! This healthy dinner is one the whole family loves.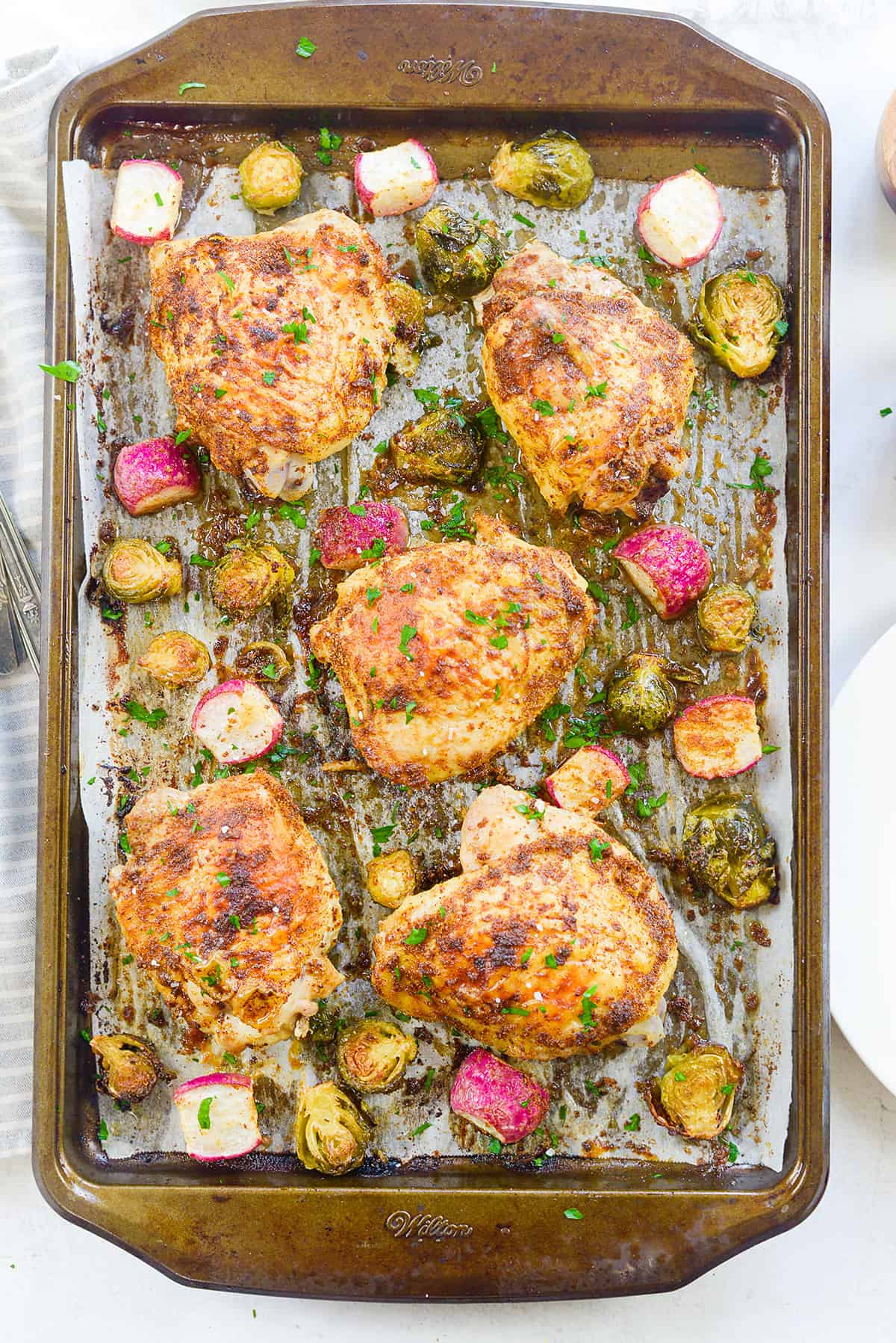 We love serving up chicken for dinner and roasted veggies are a staple when it comes to side dishes around here.
Today, we're sharing our recipe for this chicken thigh sheet pan dinner, where we took a few of our recipes and popped them all onto one sheet pan to make an easy, fuss-free meal that you can feel good about serving to your family!
Our keto chicken thighs, roasted Brussels sprouts, and roasted radishes are all favorites, so we just married it all together on one pan to make life (and dinner!) easier than ever.
I love this recipe because you can easily swap out the veggies to make a whole different meal. Try broccoli or cauliflower in place of the sprouts or radishes! Use chicken breasts or drumsticks in place of thighs. Mix up the seasoning with whatever sounds good. So simple to turn this into something completely different whenever the mood strikes!
Ingredient Notes:
This post contains affiliate links. As an Amazon associate and member of other affiliate programs, I earn from qualifying purchases.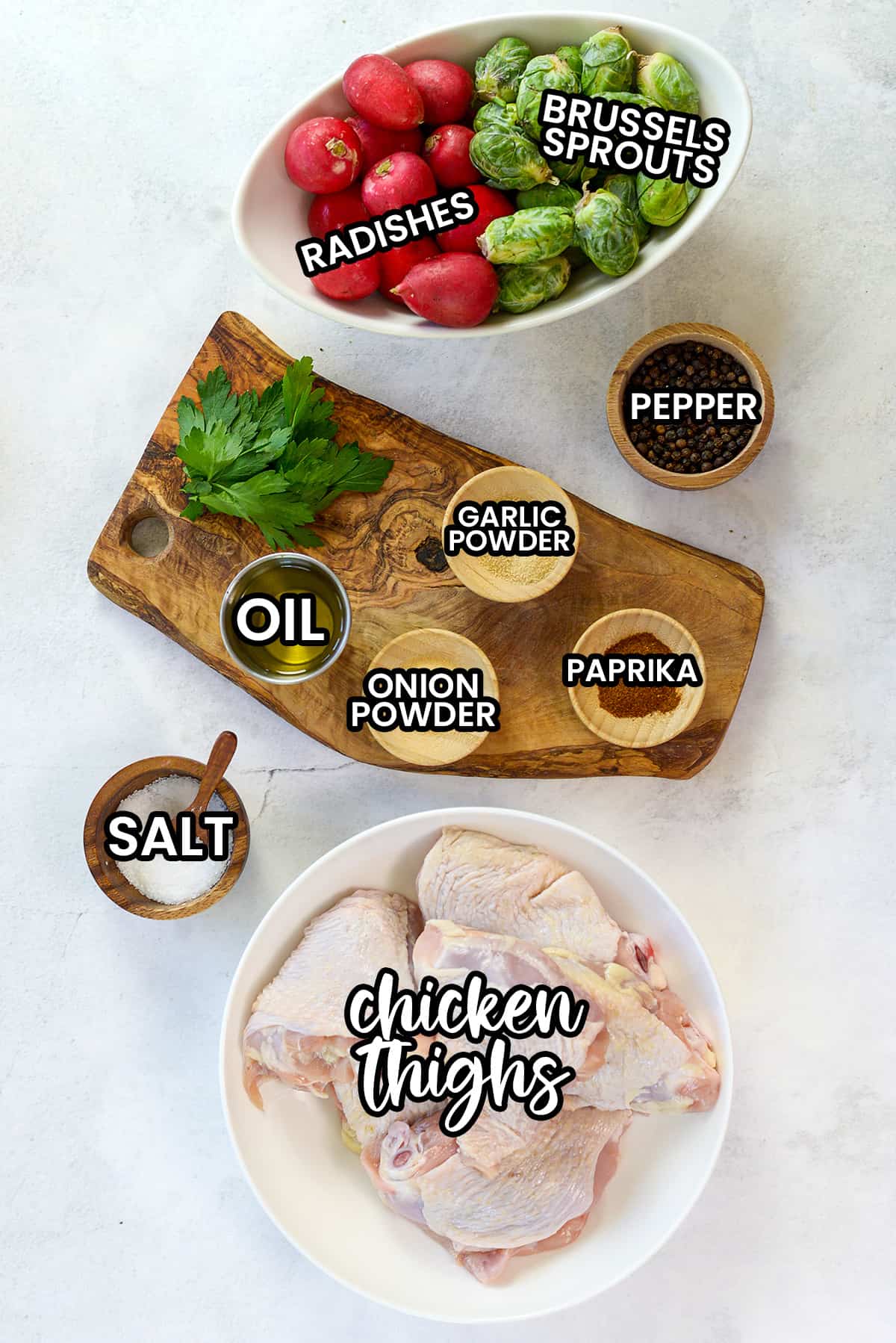 Chicken – I prefer the bone-in chicken thighs with the skin on for this sheet pan recipe. You could also use bone-in breasts, wings, or drumsticks, but cook time may vary a bit.
Veggies – Along with the chicken thighs I'm adding some Brussels sprouts and halved radishes to roast with the chicken on the same sheet pan. These can easily be swapped for other veggies.
Seasoning – You'll drizzle some olive oil over the chicken thighs and veggies and then coat them in a simple seasoning mix made from salt, pepper, garlic powder, onion powder, and paprika. We also like to garnish the chicken with some parsley after baking!
Why We Love This Recipe:
Sheet pan recipes are so easy! You just toss everything onto the same sheet and start baking. What could be simpler?
You'll get perfectly crispy chicken skin when you finish the thighs under a broiler.
This makes a complete meal with minimal clean up and hardly any hands on time.
Our Favorite Meat Thermometer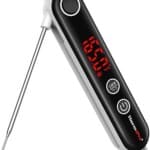 I love using this meat thermometer for making sure the meat is fully cooked! Easy for beginners & absolutely worth the low cost. Just stick it in the thickest part of the meat to check for doneness. This thermometer is also magnetic so it's easy to store right on the side of the fridge or oven for easy access! Get it on Amazon.
How To Make Sheet Pan Chicken Thighs:
Prepare – To get started you'll spritz a sheet pan with some nonstick spray or line it with parchment. Mix up the seasoning blend in a small bowl.
Seasoning – Rub the chicken with the seasoning and place on the sheet pan.
Veggies – Place the Brussels sprouts and radishes into a bowl and drizzle with some more olive oil. Sprinkle on the remaining seasoning and toss the veggies until they are well coated in the seasoning mixture.
Bake – Add the seasoned sprouts and radishes to the sheet pan with the chicken, arranging the vegetables around the thighs in any open space. Don't overcrowd the pan for the best results – use two pans if you don't feel like you have enough room. Bake for about 30 to 35 minutes or until the chicken has reached a safe internal temp (165 degrees) and the vegetables are tender!
Finish – If you've got a broiler I would recommend using it to finish the chicken and veggies. It'll really help to make chicken skin nice and crispy and to brown the veggies. It won't take long, just a couple minutes, so keep a close eye on it to prevent it from burning. We like to sprinkle some parsley over the chicken and veggies and serve it while it's hot.
If you enjoyed these crispy baked chicken thighs I think you'll also really enjoy this air fryer chicken thighs recipe! The air fryer is quick and easy to use for making crispy chicken.
Helpful Tip!
Do you like your chicken with a little extra spice? Feel free to switch up the seasoning and used your preferred blend. If you like it hot and spicy add a bit of cayenne pepper to the seasoning!
A sugar free BBQ rub or Cajun seasoning is also a fun way to mix it up!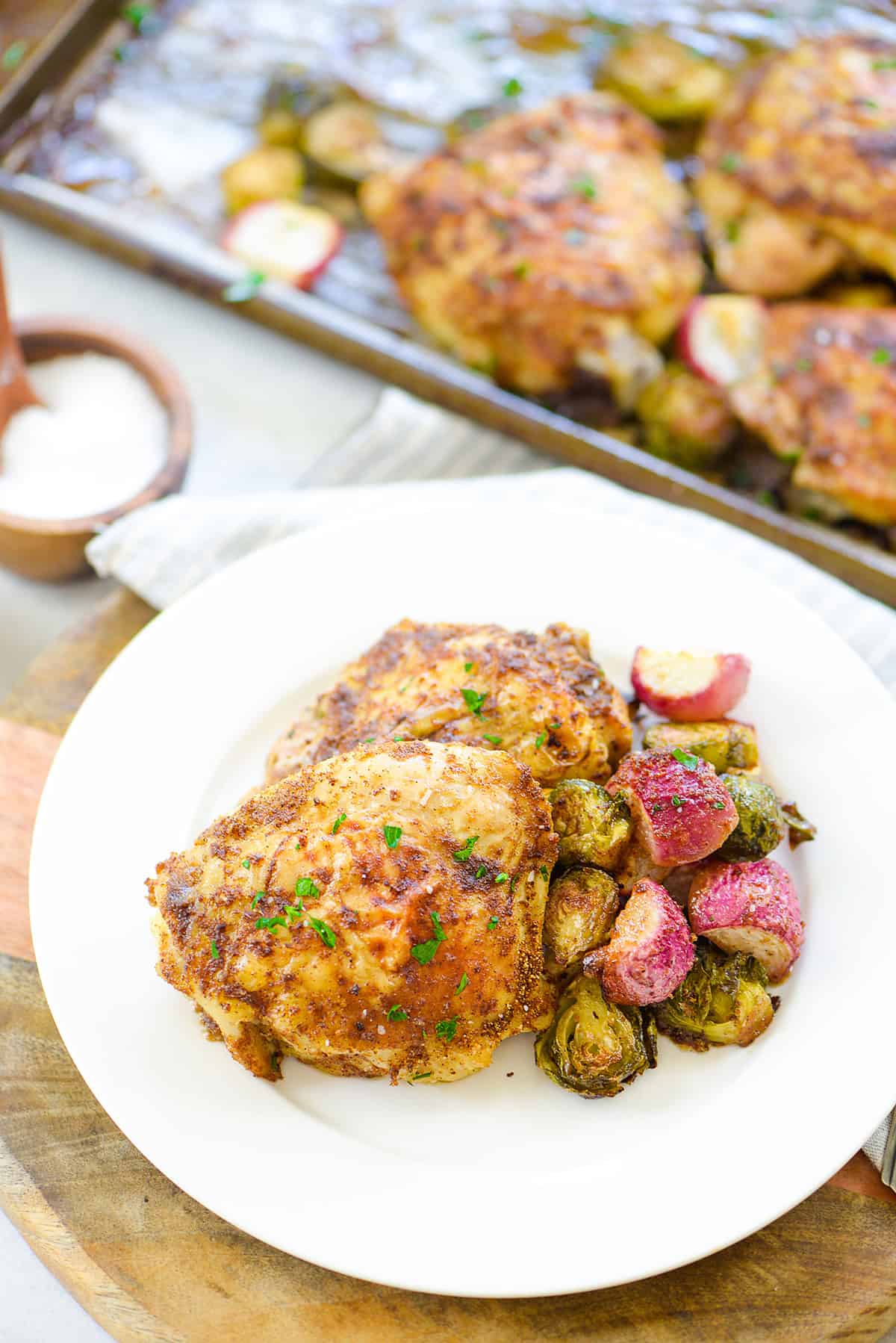 FAQ's:
How long to bake chicken thighs?
It should take about 30 to 35 minutes depending on the size of the chicken thighs. Bone in thighs take longer to bake than boneless. I would strongly recommend using a meat thermometer (linked above) to be sure the internal temp in the thickest part of the thigh has reached at least 165 degrees to be safe.

Although 165 degrees is when the meat is safe to eat that's not necessarily when you should stop baking. Chicken thighs contain more collagen than chicken breast and they don't dry out as quickly, so they'll benefit from a longer cook time and higher temperature, and will end up even more tender. A good target temperature for chicken thighs is 175 to 180 degrees.
How to store baked chicken?
The baked chicken thighs and the roasted sprouts and radishes can be stored in an airtight container in the fridge for 4-5 days. This is great for meal prep!
More Low Carb Chicken Recipes: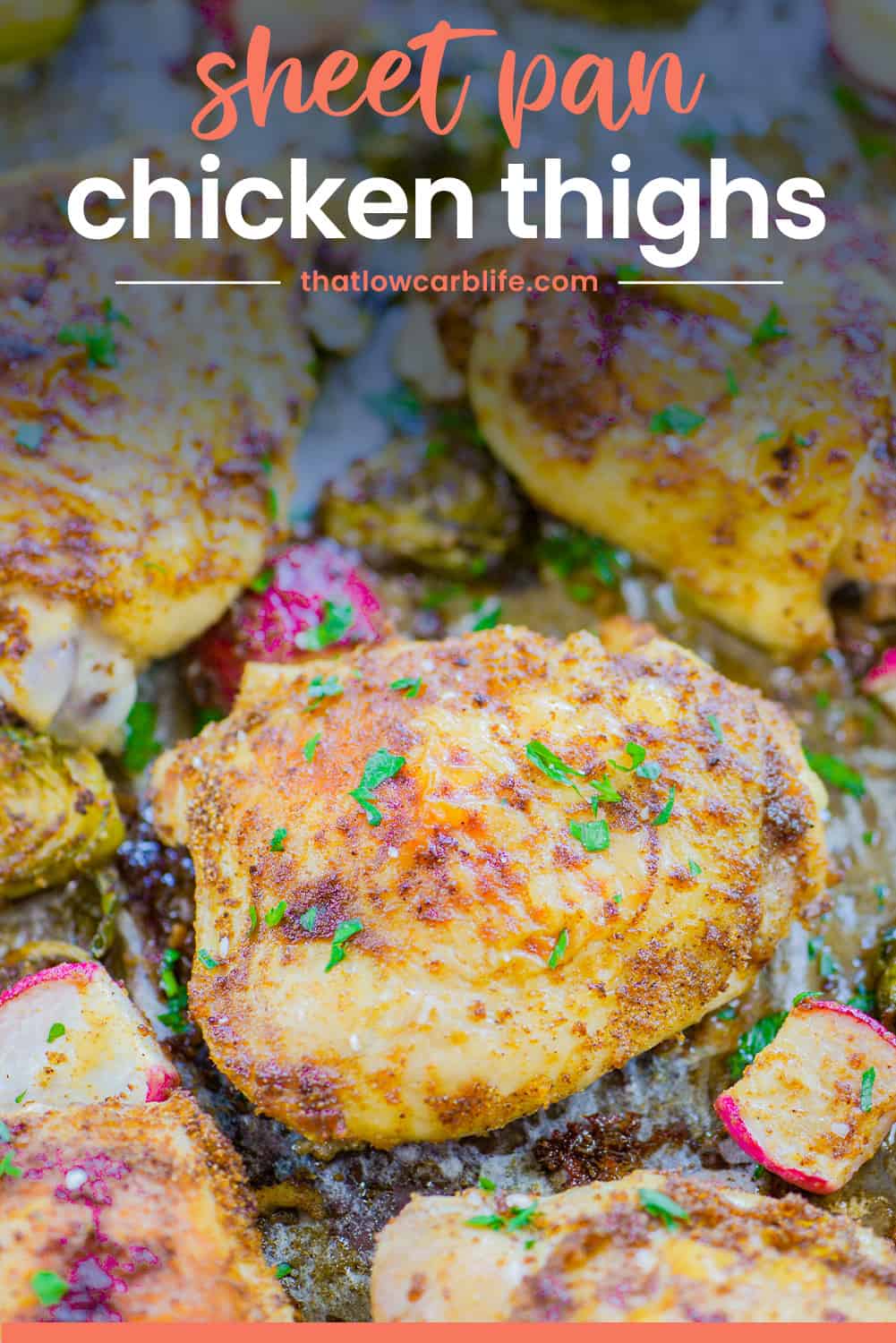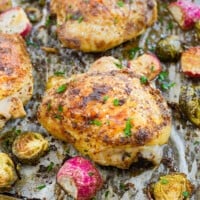 Sheet Pan Chicken Thighs and Veggies
Our sheet pan chicken thighs and veggies are an easy, healthy, low carb way to get dinner on the table in less than 45 minutes!
Ingredients
2 pounds bone-in, skin-on chicken thighs
3 tablespoons olive oil, divided
2 teaspoons paprika
2 teaspoons garlic powder
2 teaspoons onion powder
2 teaspoons salt
2 teaspoons cracked pepper
12 ounces Brussels sprouts, trimmed
8 ounces radishes, halved
Parsley, for garnish
Instructions
Preheat oven to 400 degrees. Spritz a sheet pan with nonstick spray.
Add the chicken thighs to the pan and rub with half of the oil.
Add all of the seasonings to a small bowl and rub the chicken thighs with half of the seasoning mixture.
Add the Brussels sprouts and radishes to a bowl and drizzle with the remaining oil. Sprinkle on the remaining seasoning and toss to coat.
Arrange the vegetables around the chicken thighs on the sheet pan. Do not overcrowd the pan - use a second sheet pan if needed for the vegetables.
Bake for 30-35 minutes or until chicken is cooked through and vegetables are tender.
If desired, cook under the broiler for the last few minutes to brown the vegetable and crisp the skin on the chicken.
Sprinkle with parsley and serve.
Notes
Be sure to leave space for air to flow between the vegetables and the chicken or the chicken skin will not get crisp and the vegetables won't get those roasted edges. If your sheet pan is not large enough, use 2.
Nutrition Information:
Yield: 4
Serving Size: 1
Amount Per Serving:
Calories: 387
Total Fat: 26g
Saturated Fat: 6g
Trans Fat: 0g
Unsaturated Fat: 20g
Cholesterol: 145mg
Sodium: 1298mg
Carbohydrates: 11g
Net Carbohydrates: 7g
Fiber: 4g
Sugar: 3g
Protein: 30g
All information and tools presented and written within this site are intended for informational purposes only. This information is provided as a courtesy and there is no guarantee that the information is accurate.