Perfect for a hot summer day spent by the pool or any time you're grilling out! This LOADED CAULIFLOWER SALAD has all of the fixings for a loaded baked potato, but we've swapped in healthy cauliflower and we're serving it cold like potato salad.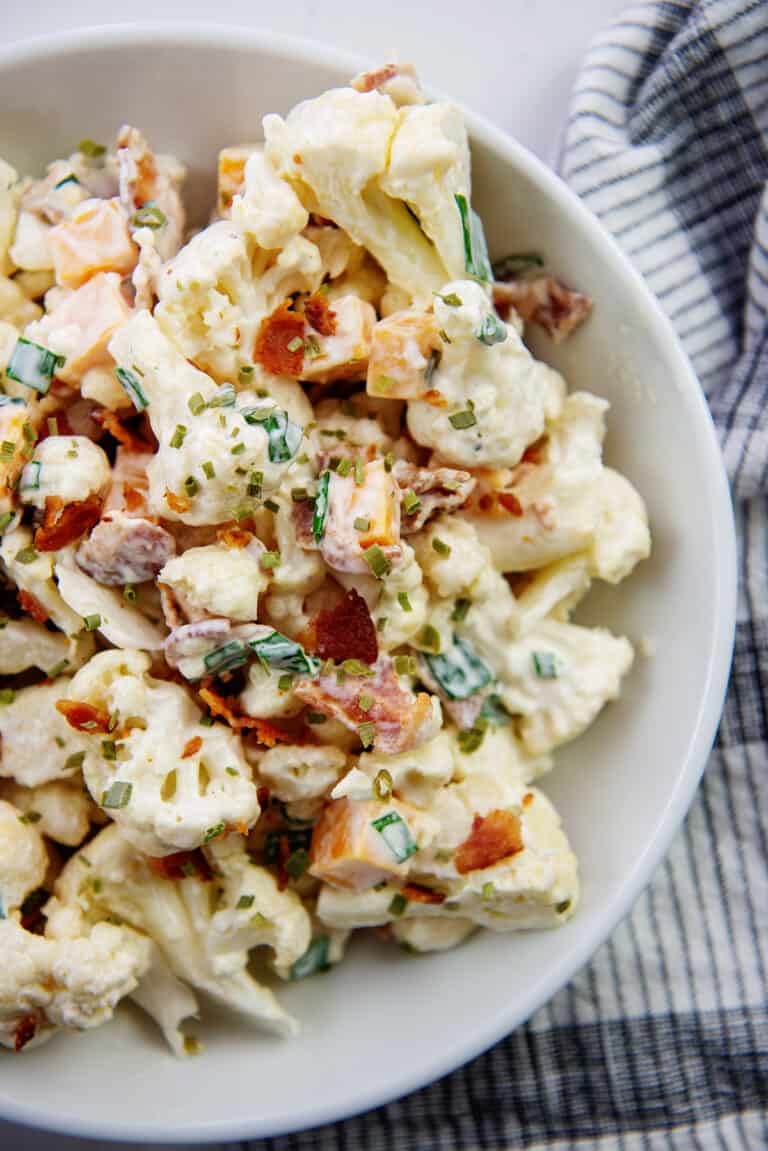 I am all about the summer salads…partially because summer means sunshine and warmth and partially because most salad recipes are simple to toss together.
Plus, a lot of these salads make for some great leftovers and there is nothing better than cooking once and eating twice!
This loaded cauliflower salad is a riff on our family's favorite baked potato salad.
We took everything we love about that recipe and swapped the baked potatoes for healthy, low carb cauliflower.
This is similar to our classic cauliflower potato salad, but with a cheddar, bacon, and sour cream twist!
Ingredients Needed:
Cauliflower – You'll want to use fresh cauliflower here. I buy bags of already chopped florets in the produce section, but you can also chop it yourself.
Sour Cream
Mayonnaise – If you hate mayo (there are a lot of you out there, haha) feel free to swap it for more sour cream.
Vinegar – We use white distilled vinegar here, just a bit to cut the richness of the dressing.
Salt & Pepper
Bacon – Fry it up and crumble it.
Cheddar – We like it cubed, but shredded also works.
Green Onions – Chives also work well.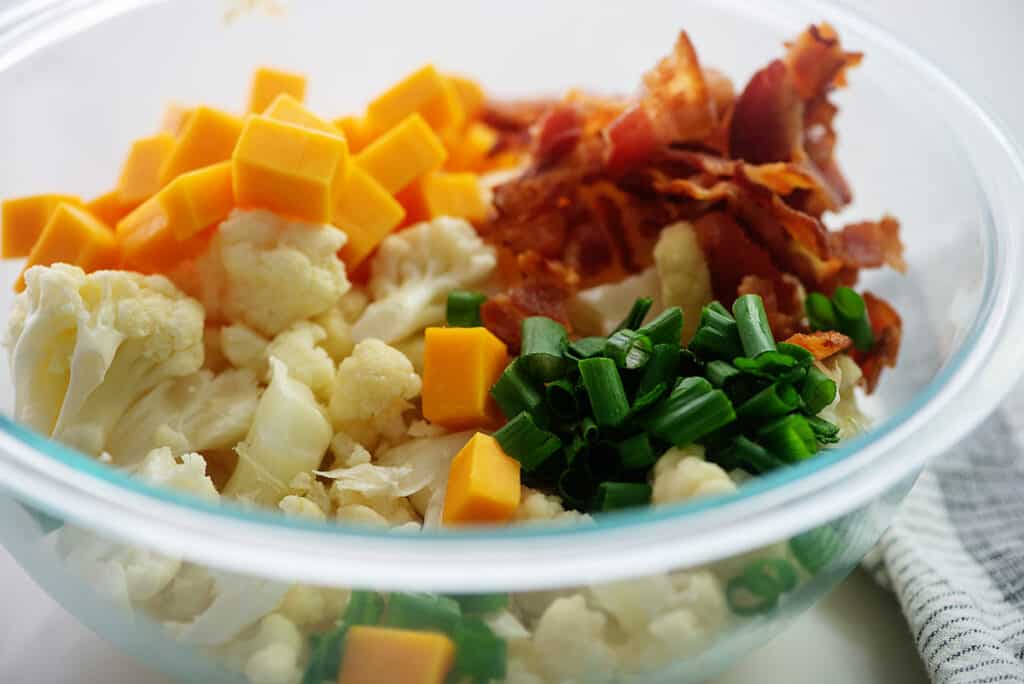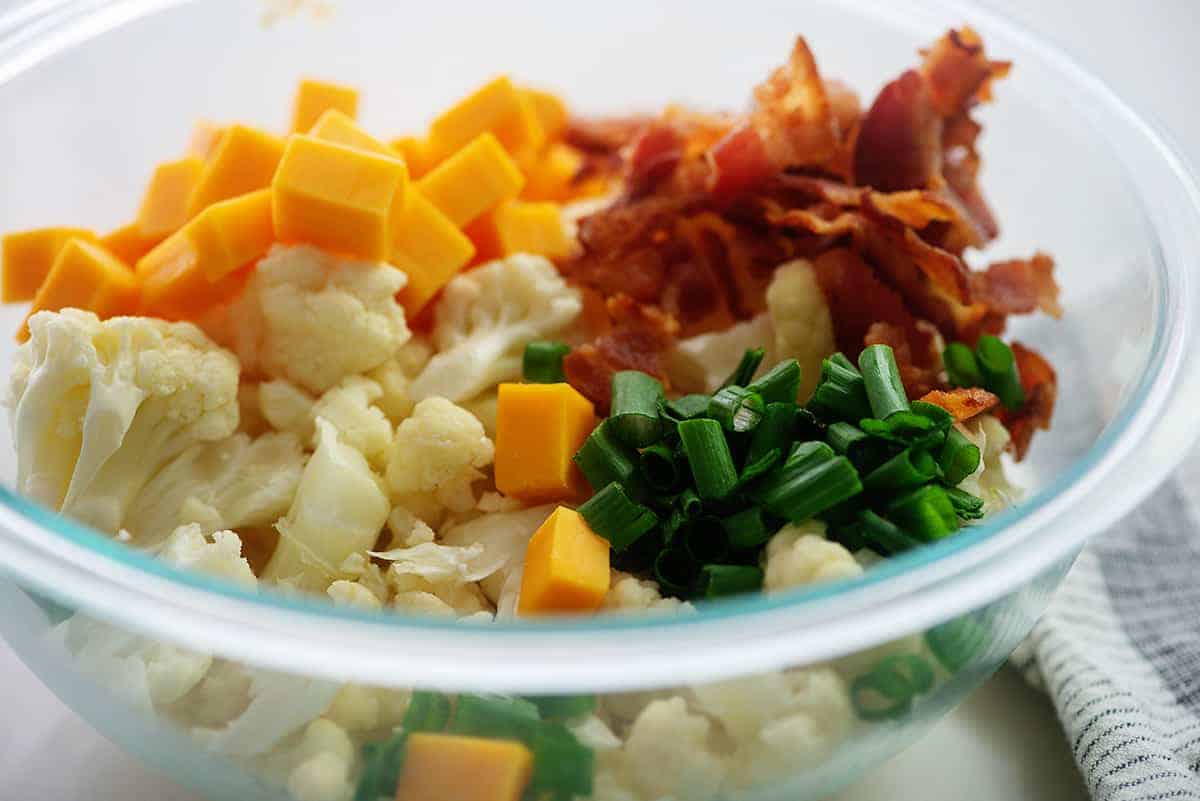 How to:
You'll want to start by cutting the cauliflower into small pieces and then you'll just add it to a bowl with a bit of water, cover it tight, and microwave it just enough to soften it up a bit.
We don't want the cauliflower fully cooked and mushy – it should still have a bit of bite.
Let the cauliflower cool and mix up the dressing.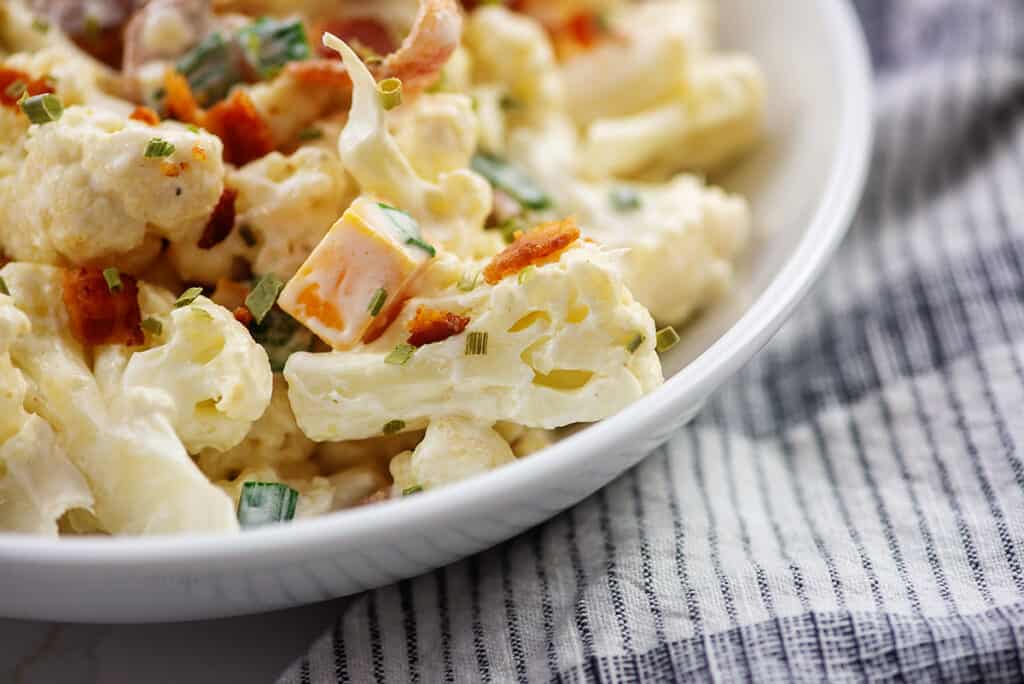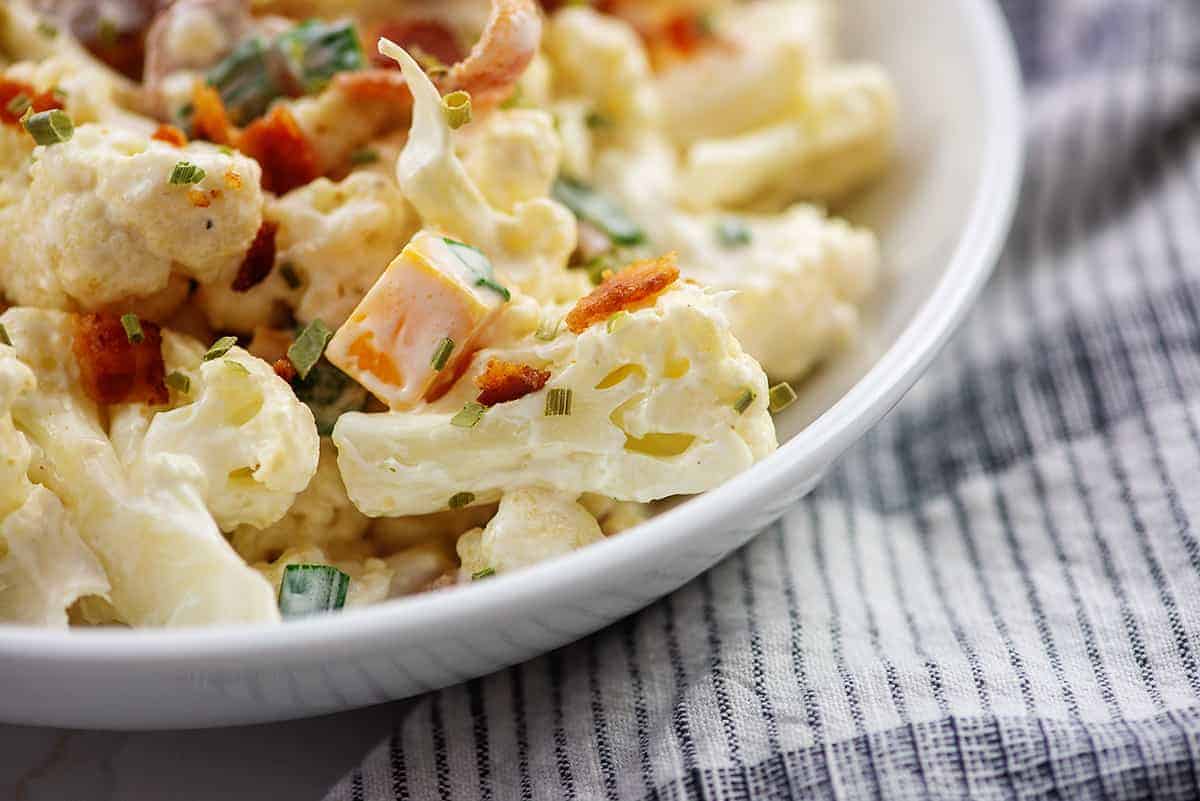 You'll combine sour cream, mayo, vinegar, and salt and pepper.
Pour that over the cooled cauliflower along with the bacon, cheddar, and green onions.
We like to let this set in the fridge for an hour or two to let all the flavors meld together and make sure everything is good and cold.
Does this taste like potato salad?
Cauliflower is never going to taste exactly like a potato. It's just not starchy and won't have that same flavor or texture.
However, this is a very good swap for potato salad. While no one will be fooled, it's delicious anyway.
Hard to go wrong when there is bacon, cheddar, and sour cream involved!
More summer salads: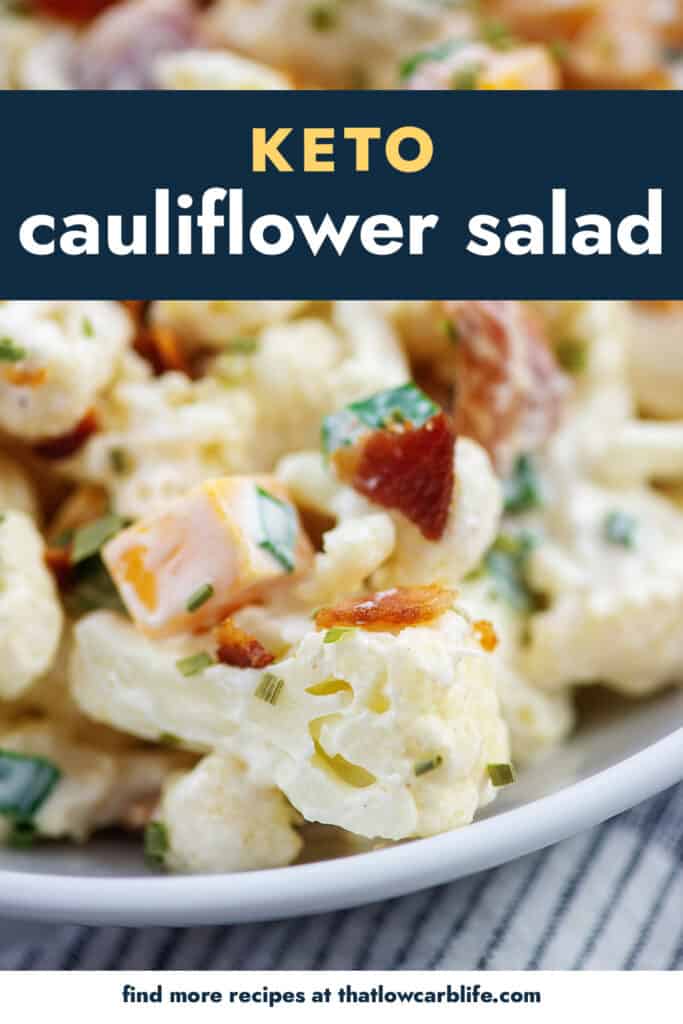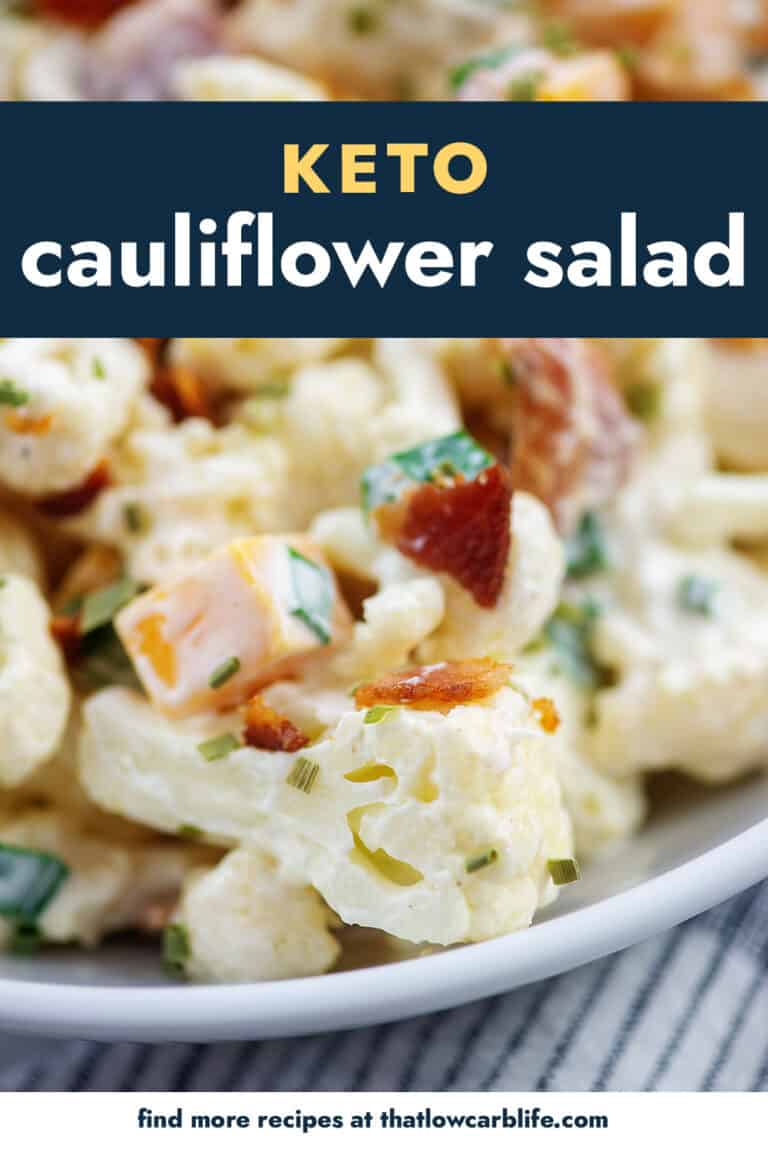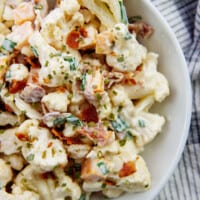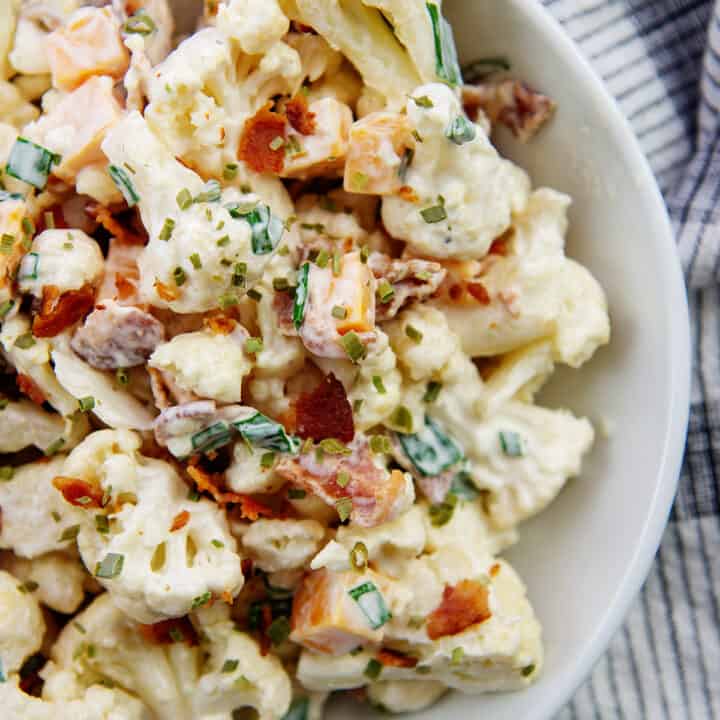 Loaded Cauliflower Salad
We took all of the fixings for a baked potato and put them in this cold cauliflower salad! With chunks of cheddar, crispy bacon, green onions, and a simple dressing made of sour cream and mayo, this is the perfect summer side dish.
Ingredients
1 large head cauliflower
⅓ cup sour cream
¼ cup mayonnaise
1 teaspoon white distilled vinegar
1 teaspoon salt
1 teaspoon cracked pepper
8 slices bacon, cooked and crumbled
1 cup cubed cheddar cheese
1/4 cup chopped chives or scallions
Instructions
Chop the cauliflower into bite-sized pieces and place in a large microwave safe bowl.
Add 2 tablespoons of water to the bowl. Cover with plastic wrap.
Microwave for 4 minutes. Let sit for 2 minutes and then carefully remove the plastic wrap and drain water from the bowl.
Let cool for 20 minutes.
Add the sour cream, mayonnaise, vinegar, salt, and pepper to a small mixing bowl and whisk to combine.
Pour the sour cream mixture over the cauliflower. Add the bacon, cheddar, and chives to the bowl. Stir well to combine.
Place in the fridge to chill for at least 2 hours before serving.
Nutrition Information:
Yield: 6
Serving Size: 1
Amount Per Serving:
Calories: 283
Total Fat: 23g
Saturated Fat: 8g
Trans Fat: 0g
Unsaturated Fat: 12g
Cholesterol: 48mg
Sodium: 838mg
Carbohydrates: 8g
Net Carbohydrates: 5g
Fiber: 3g
Sugar: 4g
Protein: 13g
All information and tools presented and written within this site are intended for informational purposes only. This information is provided as a courtesy and there is no guarantee that the information is accurate.