You'll love how fresh and creamy this Avocado Tuna Salad is! It's got crunchy celery & onion with creamy avocado and tender chunks of tuna. Perfect for eating in a lettuce wrap, a low carb tortilla, or going at it with a fork!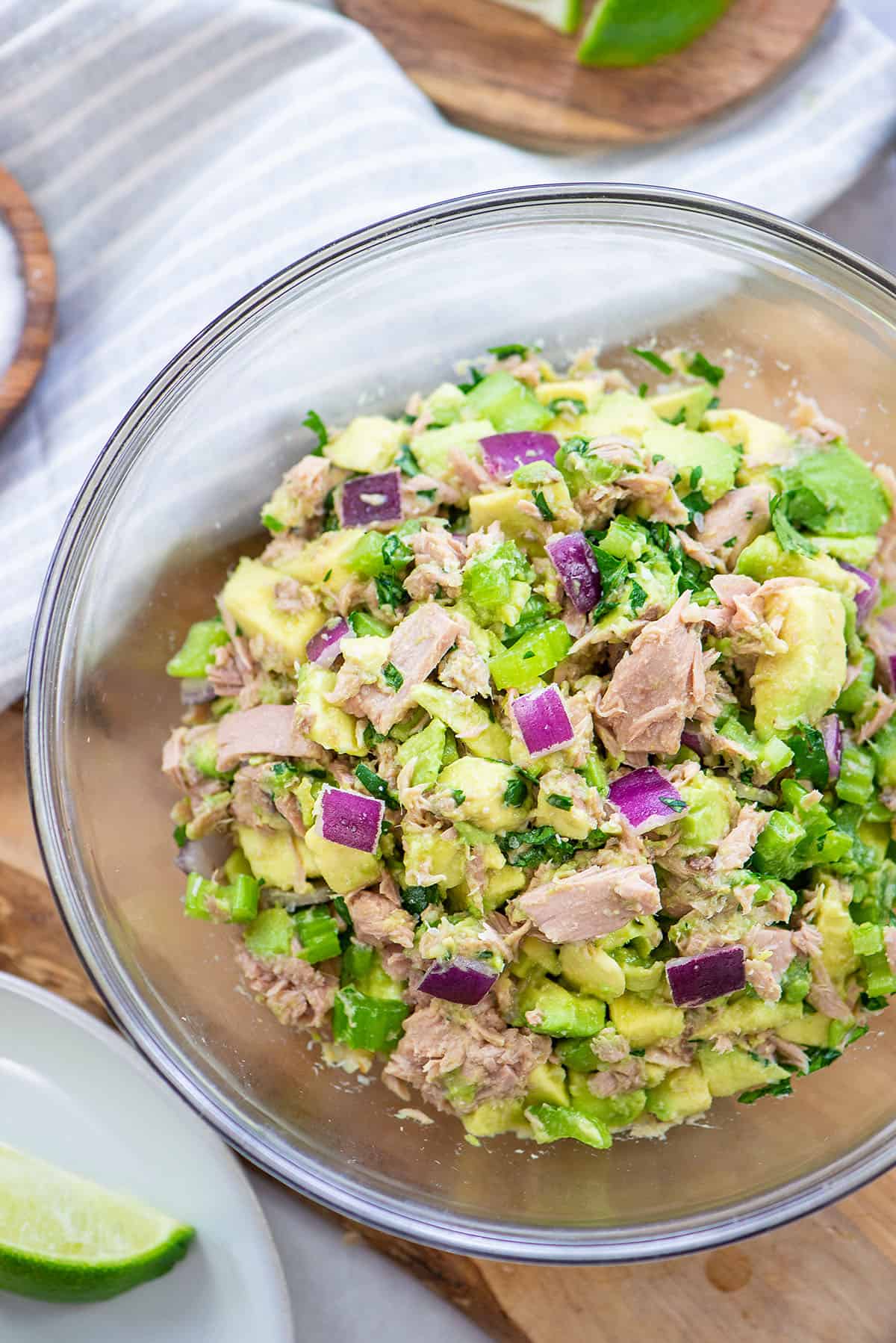 Lunch is the hardest meal of the day for me, mostly because it's the meal where I don't want to spend a lot of time, but I DO want something that's going to hold me over until dinner.
We've got breakfast on lock with our Keto Breakfasts eBook recipes, dinner is easy enough to figure out since I don't mind spending a bit more time there, but lunch…it's a tough transition from sandwiches every day to, well, no sandwiches at all. 😉
Of course, we've got our chaffles, which make a great bun, or our keto hamburger buns so sandwiches aren't completely off the table anymore, but it was still a tough transition for us.
We quickly found that making cold salads, like this Avocado Tuna Salad or our Keto Chicken Salad, made lunch really simple. Whip up a big batch at the start of the week and enjoy it with a fork, in a lettuce wrap, or served in a low carb tortilla.
More Salad Favorites:
Our Avocado Tuna Salad is a major favorite around here, but we like to keep things exciting and make lots of different salad varieties! Here are a few other favorites:
Ingredients Needed for Avocado Tuna Salad:
This post contains affiliate links. As an Amazon associate and member of other affiliate programs, I earn from qualifying purchases.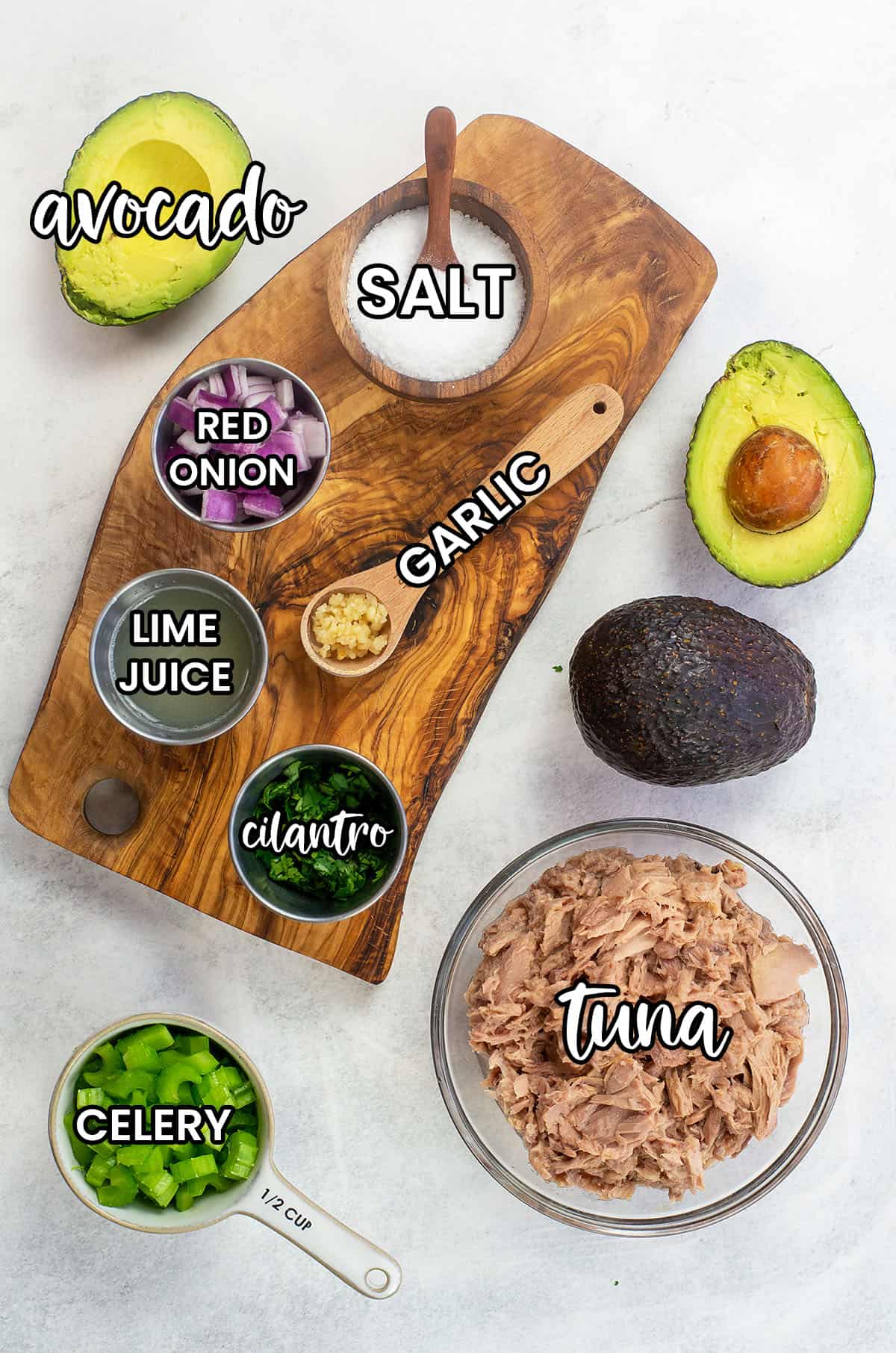 Avocados – You'll need a couple of large, ripe avocados. See tip below for more info on avocados and ripeness!
Tuna – We're keeping it simple and using canned tuna for this avocado tuna salad recipe. You can use either solid white or chunk light tuna in a can.
Lime Juice – We prefer fresh squeezed but you can certainly use a bottle from the store too! Check out this handy lemon lime squeezer for easy fresh squeezed juice!
Celery & Onion – Some minced celery and onion will add a bit of crunchiness and flavor to this tuna salad!
Cilantro – We love pairing cilantro with avocado, but you can use parsley if you're not a cilantro fan.
Why We Love This Recipe:
Comes together in less than 10 minutes.
Easy to eat with a fork, in a lettuce wrap, or on a low carb tortilla!
We always have these ingredients on hand, so it's a staple for us.
Easy to customize – swap the cilantro for parsley, use lemon for lime, skip the celery entirely!
How To: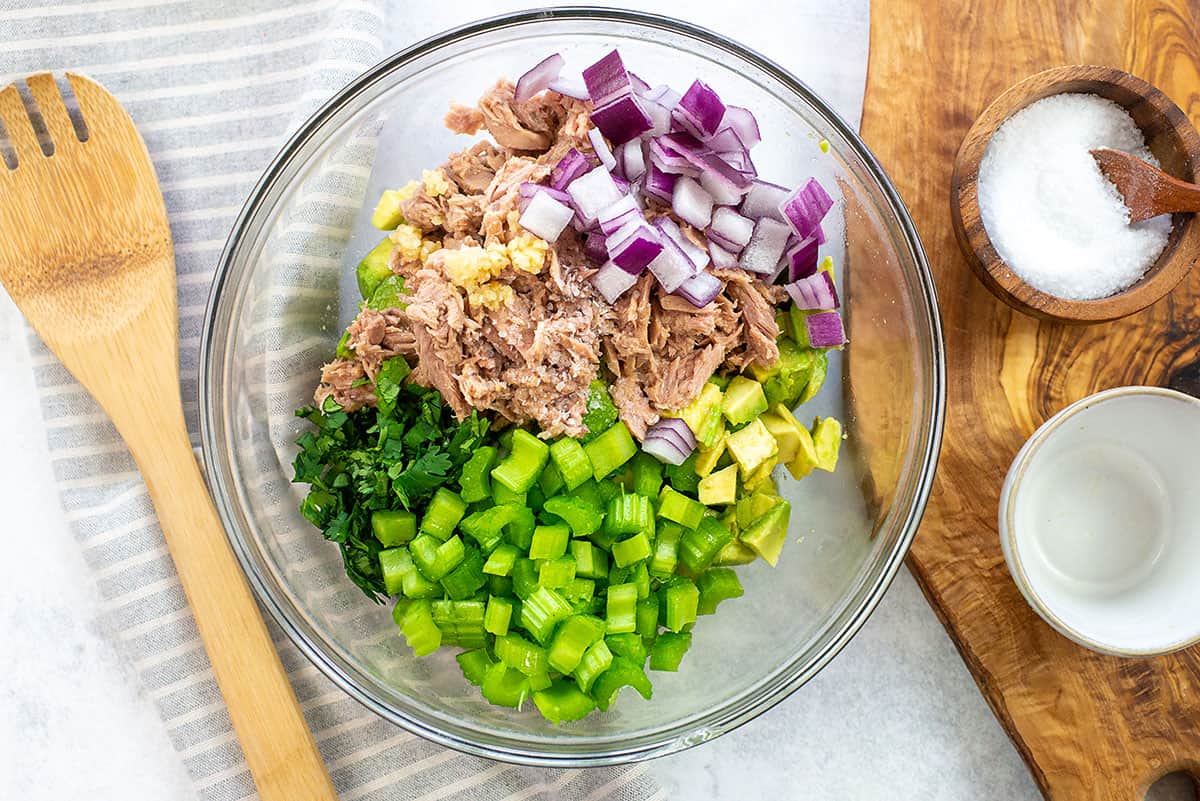 Dice – This avocado tuna salad has some great flavors and textures! You'll start by dicing up the avocado and stirring it up with the lime juice. Mince up the celery and onion.
Combine – Drain the canned tuna and add it to the bowl along with the garlic and cilantro.
Mix – When you've got all those ingredients in the bowl you can start stirring them together. Stir it well until it is fully combined and you've got a good mix of the avocado, tuna, and veggies. Taste and season with salt or extra lime juice, to taste.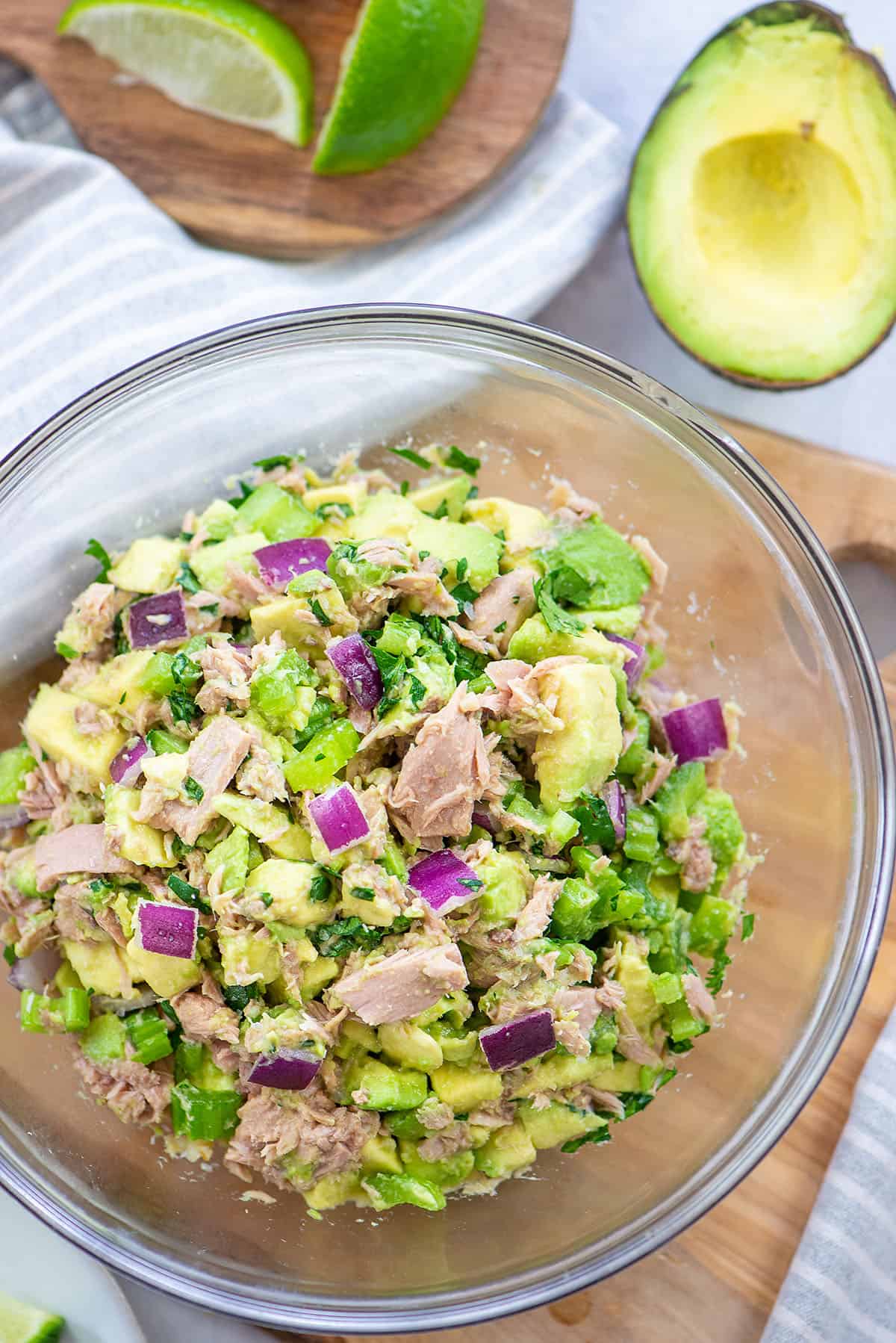 Pro Tip:
You can make this avocado tuna salad as creamy as you'd like, just by stirring longer to mash the avocado a bit. The more you stir, the more the avocado will break down and coat the other ingredients!
Serving Suggestions:
While you can always eat this avocado tuna salad with a fork (and we do – often!), it's also good a couple of other ways.
Grab a package of romaine hearts or a head of iceberg and peel off a piece of lettuce. Spoon the tuna salad into the center and you have a tuna salad lettuce wrap! Light, fresh, and flavorful! Perfect on a hot day, too.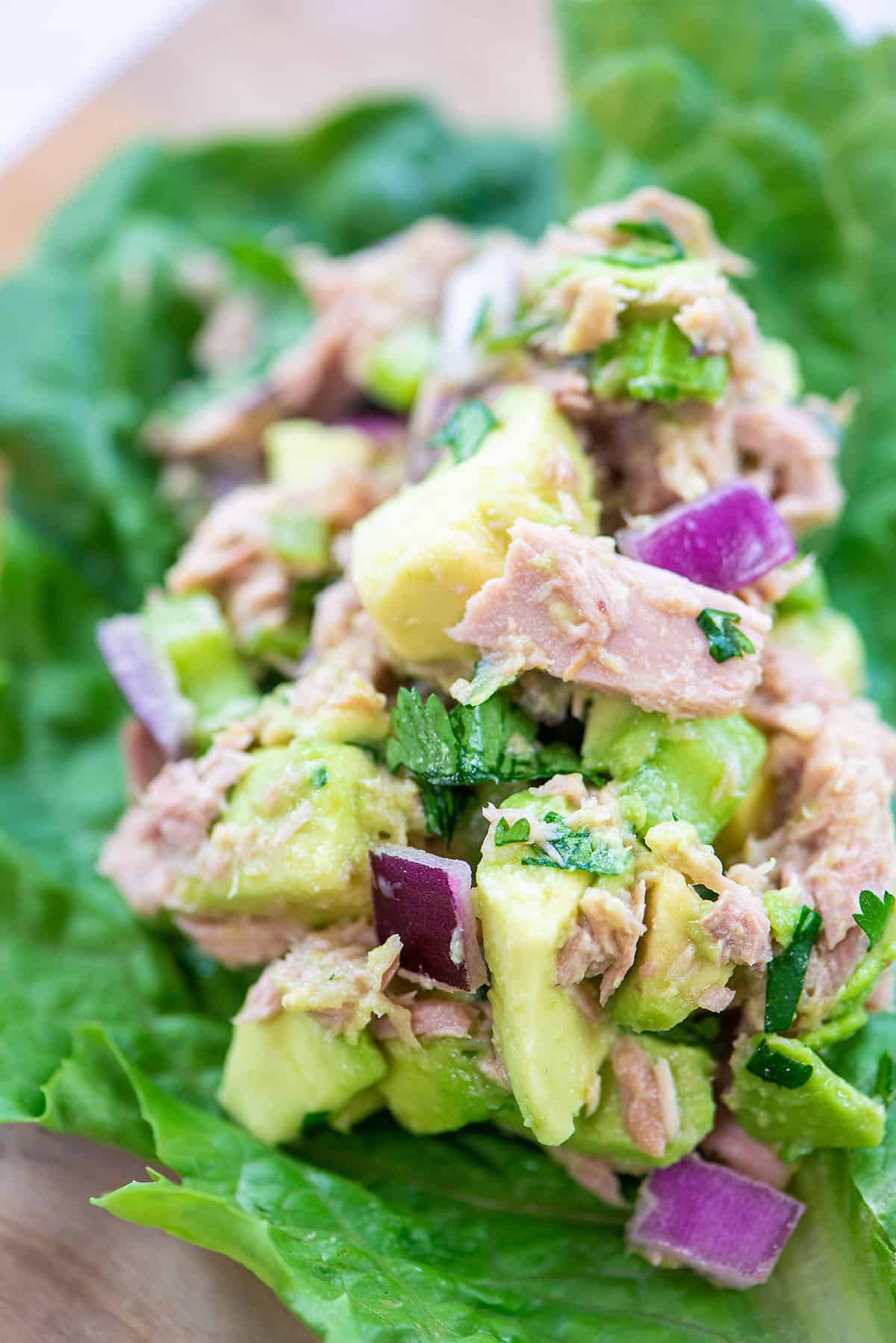 If you're not strict keto (meaning you're okay with a bit of gluten), low carb torillas work perfectly to make a wrap!
We love Mission Low Carb Tortillas, but other favorites include Jose Ole and La Banderita. You can also use a Joseph's Lavash Bread as a wrap here.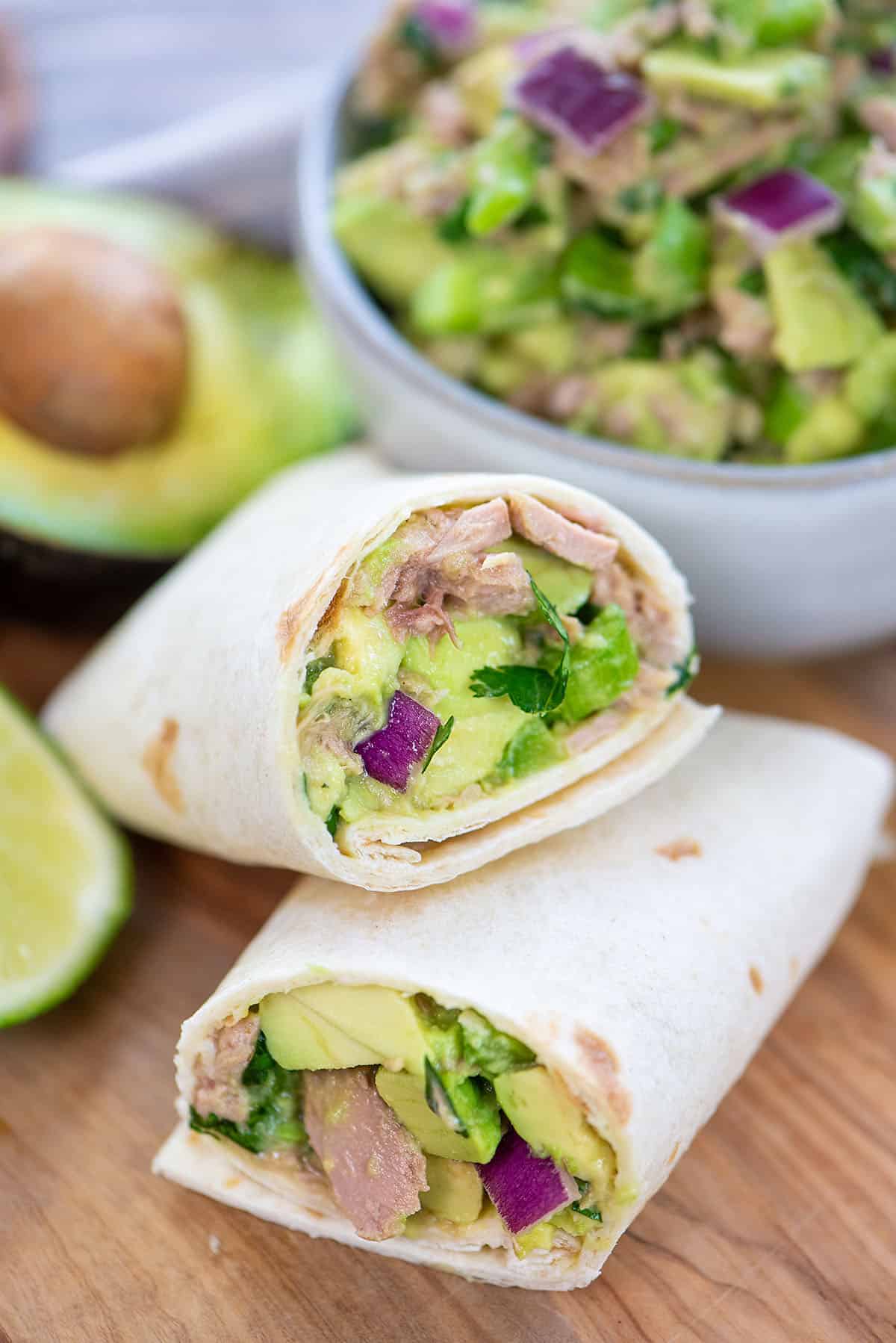 And our third favorite way to enjoy this avocado tuna salad recipe is to eat it like a sandwich using chaffles as a bun! You can see where we've made Big Mac Chaffles before, too! They make a great bread replacement!
FAQ's:
How to store avocado tuna salad?
You can keep this tuna salad safely stored in the refrigerator for up to 2 days if well sealed. Avocado will brown quickly after dicing, but tossing it in the lime juice helps a bit. Browned avocado tastes the same and is perfectly safe to eat.
Can you put eggs in tuna salad?
Adding chopped boiled eggs to your tuna salad is a great way to bump up the protein and stretch the salad even further!
What type of tuna is used in tuna salad?
We use either solid white or chunk light tuna in our tuna salad recipes. Tuna packed in oil tends to be more flavorful than tuna packed in water.
Helpful Tip!
Avocados can be tricky in terms of their ripeness. You don't want them overly ripe and too soft so make sure they're stored in the fridge if they start softening before you have a chance to make this recipe. If they're too hard, a neat trick is to store them next to some bananas! They'll help ripen the avocado faster.
More Low Carb Avocado Recipes: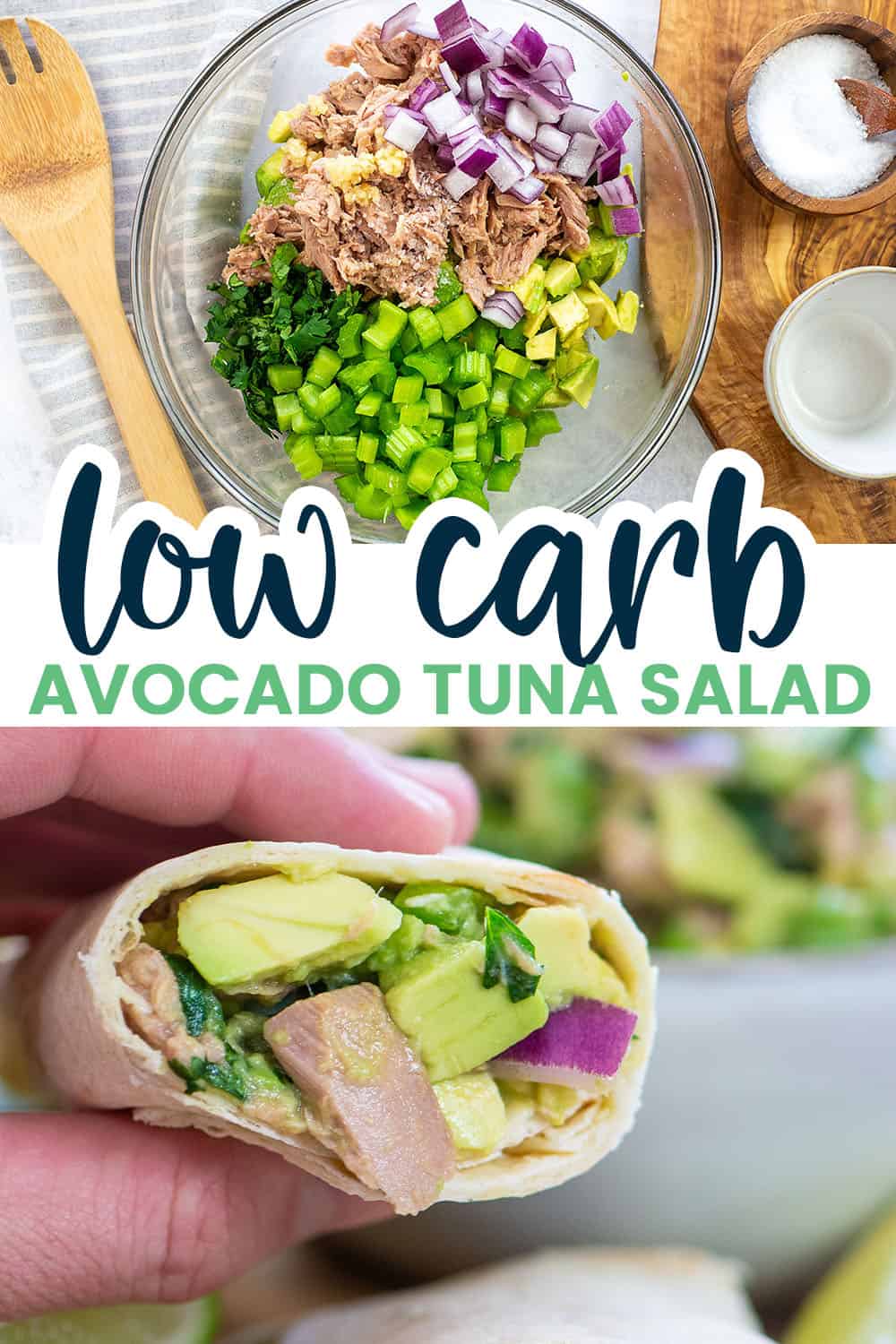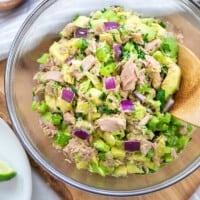 Avocado Tuna Salad
This creamy Avocado Tuna Salad makes a great lunch, whether you eat it with a fork or serve it in a low carb tortilla or as a lettuce wrap!
Ingredients
2 large avocados
2 tablespoons lime juice
15 ounces canned solid white tuna in oil, drained
¼ cup diced red onion
¼ cup diced celery
2 tablespoons diced cilantro
1 clove garlic, minced
½ teaspoon salt
Instructions
Dice the avocados and add to a large mixing bowl with the lime juice. Toss to coat.
Flake the tuna into chunks and add to the bowl with the avocados. Add in the remaining ingredients.
Stir well to combine.
Serve immediately.
Notes
Storage: For best storage, cover tightly and store in the fridge for 2-3 days. The avocado will start to brown the longer it's in the fridge. It's perfectly safe to eat and the flavor will not change, though it doesn't look as appetizing.
Texture: We like a chunkier texture in our tuna salad, but for more of a dressing on the salad, just stir the avocado more. The more its stirred, the more it will break down and coat the other ingredients.
Nutrition Information:
Yield: 4
Serving Size: 1
Amount Per Serving:
Calories: 369
Total Fat: 23g
Saturated Fat: 4g
Trans Fat: 0g
Unsaturated Fat: 18g
Cholesterol: 33mg
Sodium: 698mg
Carbohydrates: 11g
Net Carbohydrates: 4g
Fiber: 7g
Sugar: 2g
Protein: 31g
All information and tools presented and written within this site are intended for informational purposes only. This information is provided as a courtesy and there is no guarantee that the information is accurate.