This Caprese Stuffed Avocado dish is a healthy way to enjoy fresh flavorful ingredients like tomato, basil, mozzarella and of course avocado! This makes the ultimate summer lunch – so light and fresh and healthy!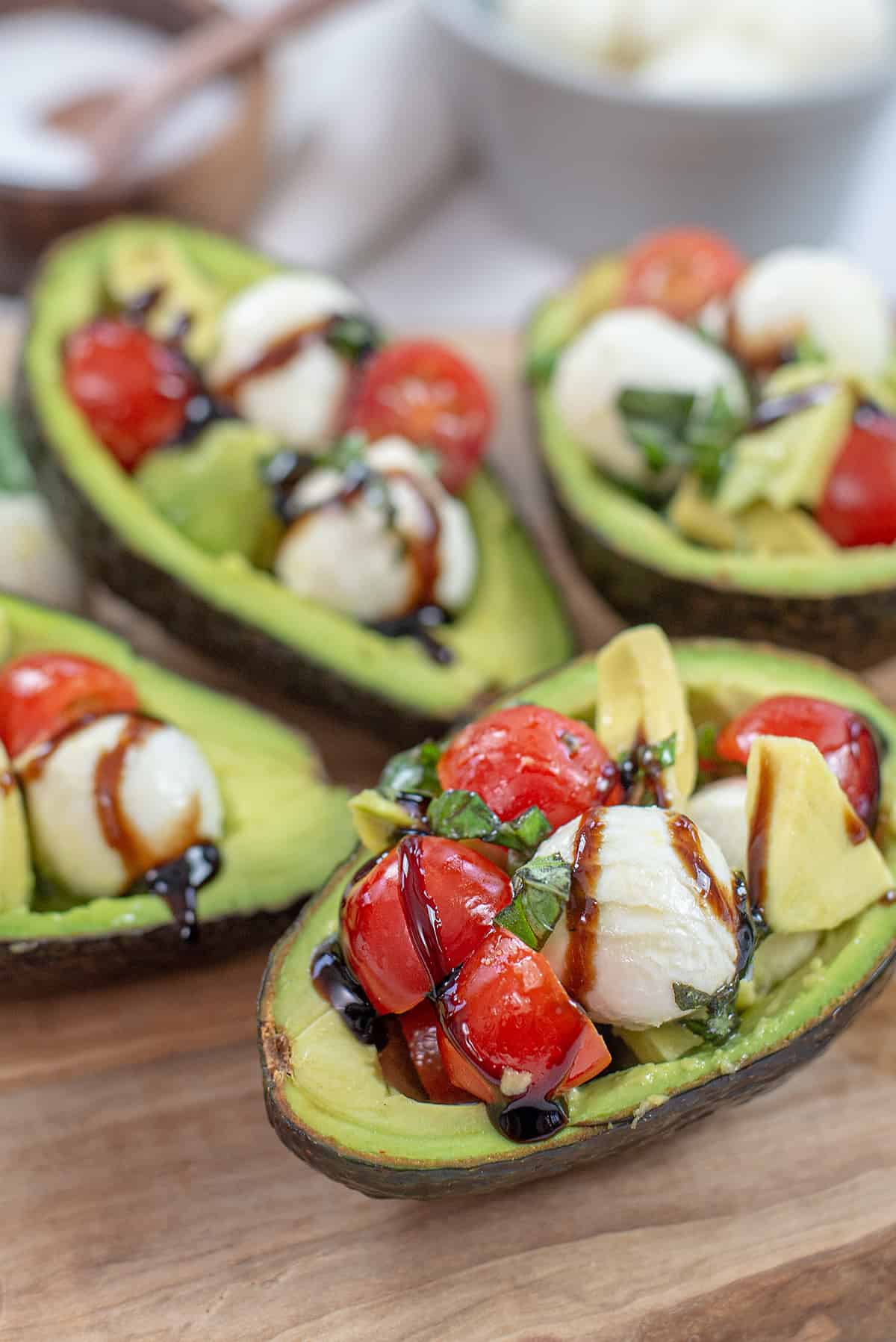 I am a total sucker for any and all things avocado.
We've shared quite a few avocado recipes, like our avocado chicken salad (a serious favorite around here!), keto green smoothie, and our keto guacamole.
And I've definitely been known to just eat plain avocados with a bit of salt! But, how about we stuff them with a caprese salad made of cherry tomatoes, fresh mozzarella pearls, and basil! So fresh, so flavorful, and seriously impossible to resist!
Love this for a light lunch!
Ingredient Notes: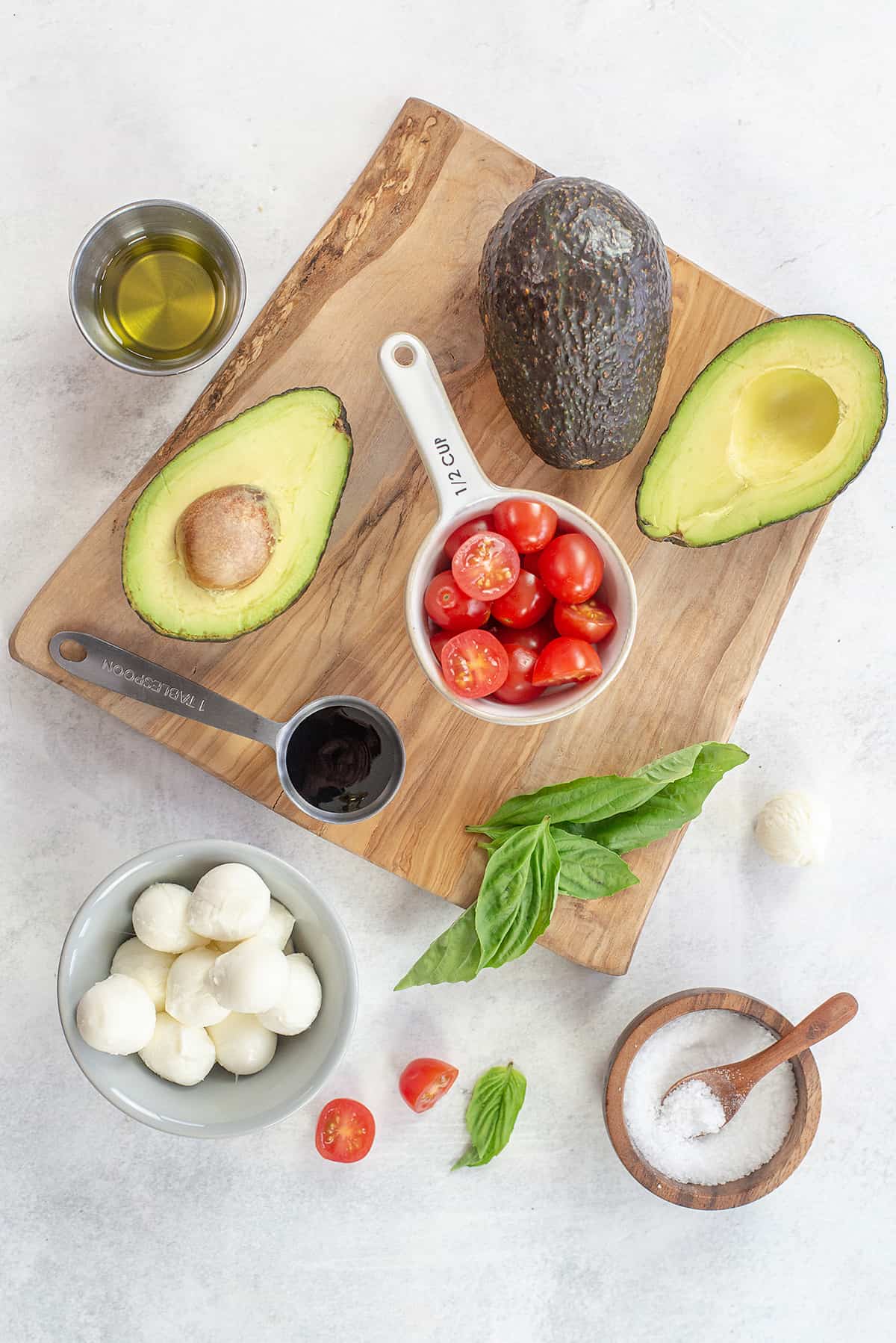 Avocado – We like to look for larger avocados so there's plenty of room for stuffing.
Caprese Mix –Cherry tomatoes, fresh mozzarella pearls, basil, olive oil, and a drizzle of balsamic glaze.
Why We Love This Recipe:
Fresh, flavorful, and fast!
Perfect for summer when you want something light and refreshing!
The avocado packs in good fats to help keep you satisfied.
How To Make Stuffed Avocado:
Scoop – First up you will need to prepare the avocado! Cut them in half, remove the pit, and then start scooping out most of the avocado. You'll want to leave a thin border around the edges of the skin. Don't throw away the scooped out avocado flesh! Instead, dice it up into small pieces and add it to a mixing bowl. It'll go in with the Caprese stuffing!
Mix – Drain the mozzarella pearls and pat them dry. Add them to a bowl with the cherry tomatoes, diced avocado, basil, and olive oil. Toss together gently until it is combined.
Stuff – After preparing the stuffing you can start spooning it into the hollowed avocado halves. Once you've finished stuffing the avocados you can finish them off with a drizzle of the balsamic glaze!
Helpful Tip!
Avocados can be tricky in terms of their ripeness. You don't want them overly ripe and too soft so make sure they're stored in the fridge if they start softening before you have a chance to make this recipe. If they're too hard, a neat trick is to store them next to some bananas! They'll help ripen the avocado faster.
Is balsamic glaze keto?
If you're following a strict keto diet that completely excludes sugar, you'll want to avoid balsamic glaze or make your own with an approved sweetener. If you're following a 'dirty' keto diet with a focus on carbs, a small amount of balsamic glaze can fit into your day.
This recipe really only uses a tiny amount, so we're happy to indulge every now and then. The carb count is negligible. 🙂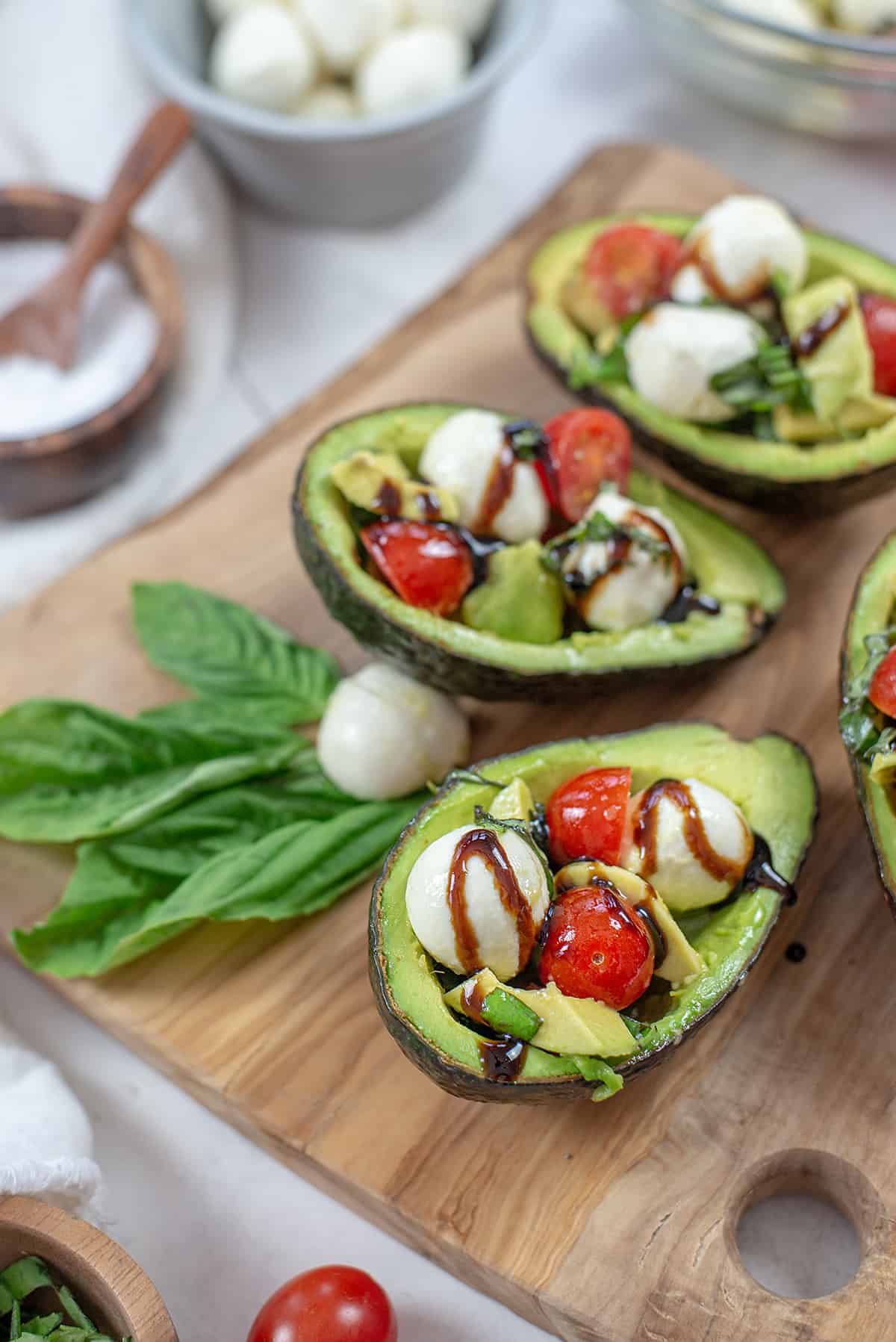 FAQ's:
What is Caprese?
It's basically a mixture of tomato, fresh mozzarella, and basil! It's used in numerous recipes like these stuffed avocados, or Caprese stuffed mushrooms or a Caprese salad!
How to store stuffed avocado?
I would not recommend trying to store these as the sliced avocado doesn't really hold up too well in the refrigerator. You could however prepare the Caprese stuffing mixture ahead of time and then cut up the avocado when ready to stuff and serve!
More Summer Favorites: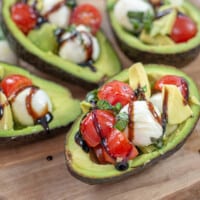 Caprese Stuffed Avocado
We filled ripe avocados with a simple caprese salad made of cherry tomatoes, fresh mozzarella peals, basil, and a little balsamic glaze. Be sure to use ripe avocados for the best flavor and texture!
Ingredients
2 large avocados, halved and pitted
½ cup cherry tomatoes, halved
½ cup fresh mozzarella pearls, drained
3 tablespoons thinly sliced basil
2 teaspoons olive oil
Salt, to taste
2 tablespoons balsamic glaze
Instructions
Use a spoon to scoop out most of the avocado, leaving a thin border around the edges.
Dice the avocado flesh into small pieces and place in a mixing bowl with the tomatoes, mozzarella, basil, and olive oil. Toss gently to combine.
Taste and season with salt.
Spoon mixture into the hollowed out avocados and drizzle with balsamic glaze.
Serve immediately.
Notes
The balsamic glaze does have sugar in it. You can make a homemade version with your favorite sweetener or skip the glaze entirely. Nutrition is calculated based on a glaze with 12g carbs per 2 tbsp serving.
Pat dry the mozzarella pearls before adding to the bowl to remove any excess moisture.
Nutrition Information:
Yield: 4
Serving Size: 1 avocado halve
Amount Per Serving:
Calories: 274
Total Fat: 22g
Saturated Fat: 5g
Trans Fat: 0g
Unsaturated Fat: 15g
Cholesterol: 18mg
Sodium: 301mg
Carbohydrates: 11g
Net Carbohydrates: 5g
Fiber: 6g
Sugar: 6g
Protein: 7g
All information and tools presented and written within this site are intended for informational purposes only. This information is provided as a courtesy and there is no guarantee that the information is accurate.