This Keto Berry Crisp is made with a mixture of juicy blueberries, blackberries, and raspberries all topped off with a crisp, buttery topping. This simple low carb dessert is perfect topped with sugar-free ice cream!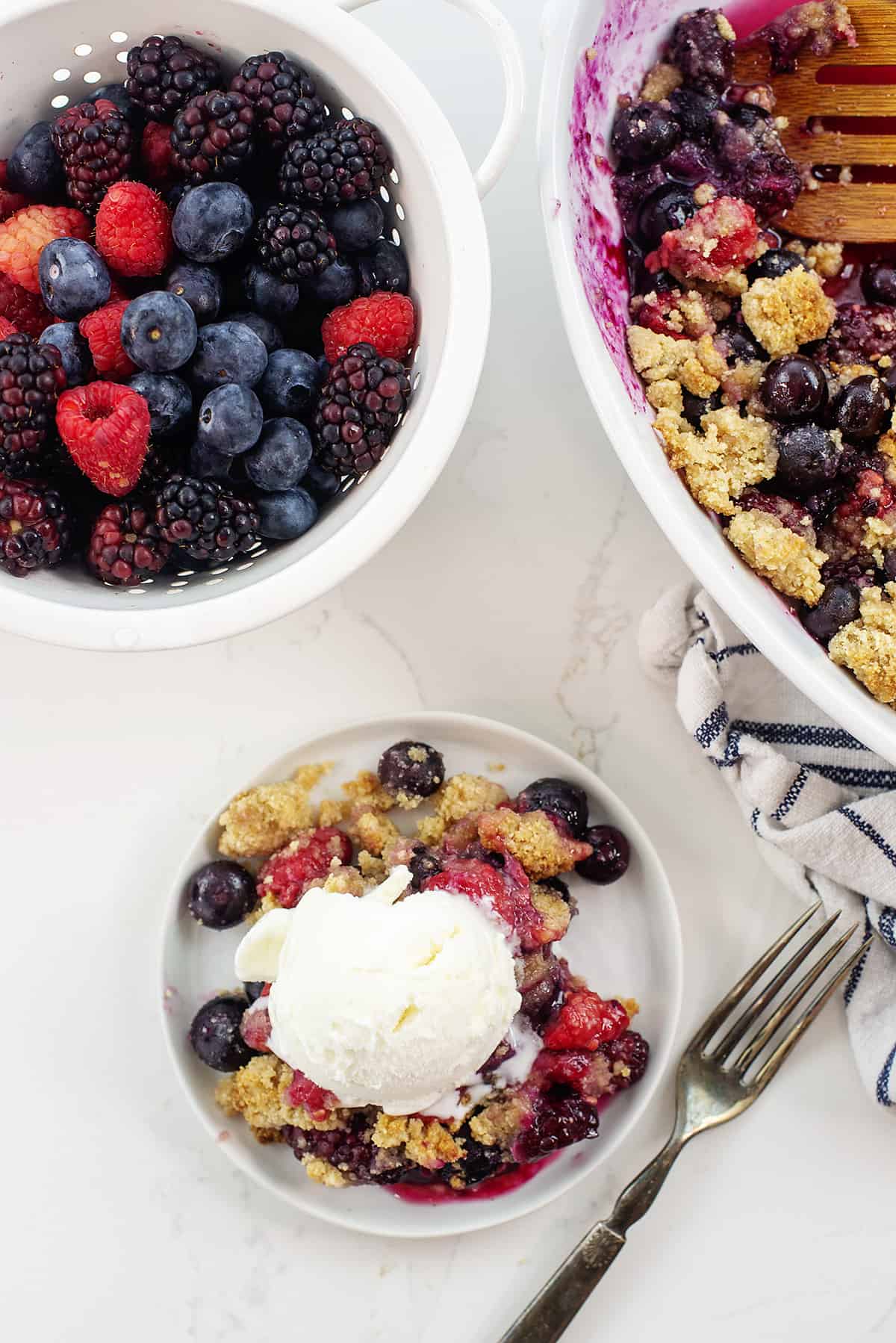 Oh boy, am I excited to share this keto berry crisp recipe with you!
Nothing says summer to me quite like a sweet treat that's bursting with fresh berries. Our keto blackberry cobbler is a major favorite around here, so we thought we'd mix in a few more berries and really liven things up!
The rich, buttery topping is a breeze to mix up (one bowl, stir together with a fork, boom, done!) and nothing beats sticky berries that have baked until the juices are bursting out. Pair all that with your favorite keto vanilla ice cream and you've got an insane summer dessert that really only takes about 10 minutes of prep!
Not much of a cobbler fan? Our keto strawberry shortcake and raspberries and cream are a couple of other favorite ways to enjoy summer fruit!
Ingredient Notes:
This post contains affiliate links. As an Amazon associate and member of other affiliate programs, I earn from qualifying purchases.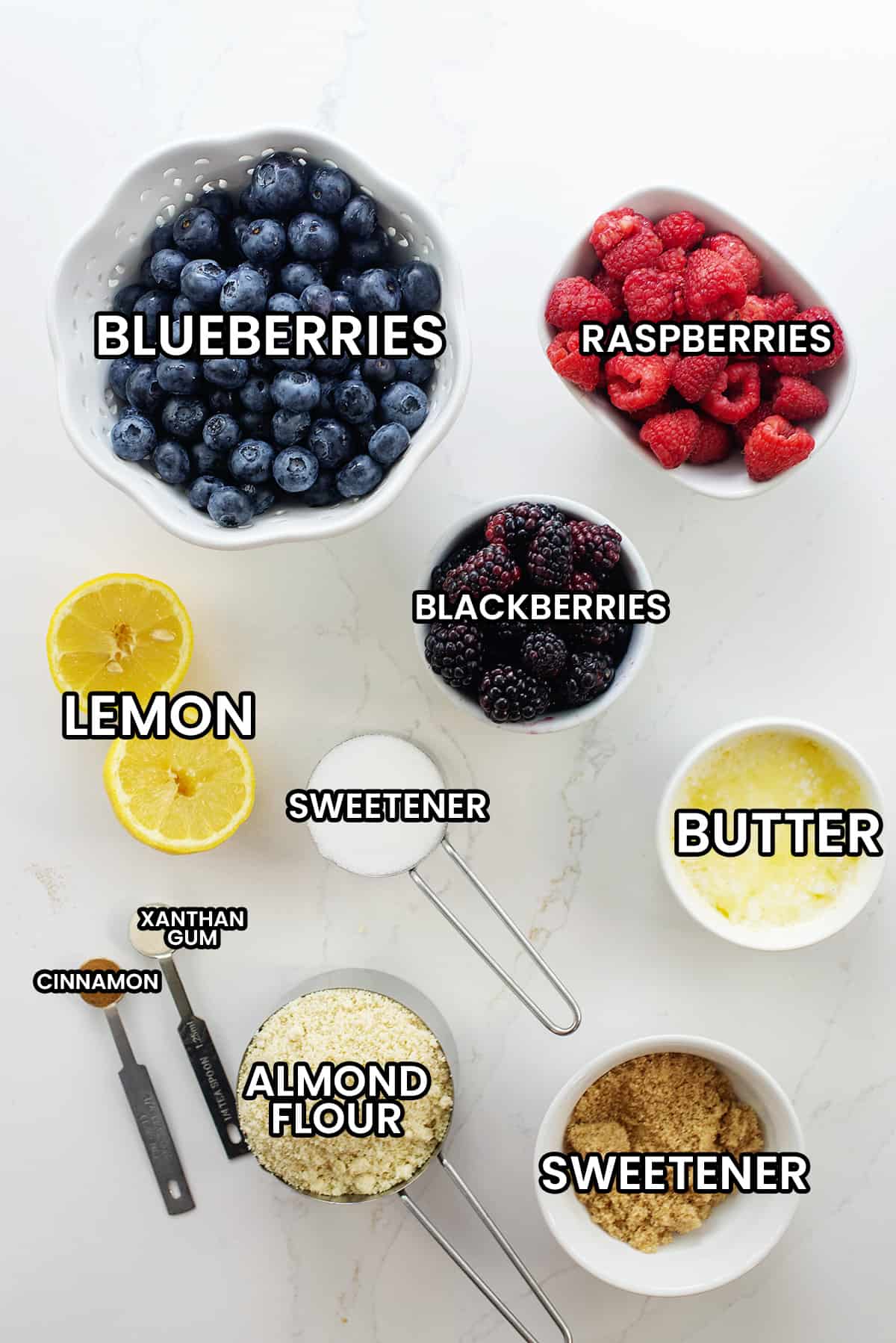 For the filling:
Fresh Berries – We're using fresh raspberries, blackberries, and blueberries. I've only tested this with fresh berries, but I do think frozen will work, though they may produce more liquid in the bottom of the dish.
Xanthan Gum – The xanthan gum works as a low carb and gluten free thickening agent. There is a lot of juice in fresh berries that'll get released as it bakes. This will help keep the dish from becoming soupy.
Sweetener – We use and love Lakanto products. We're using their original sweetener in this recipe. It bakes and tastes like real sugar with no impact on blood glucose, so it can be counted as ZERO net carbs! Use code THATLOWCARBLIFE for 20% off your order at Lakanto.
Lemon Juice – Some freshly squeezed lemon juice is preferable, but you can use the bottled kind too.
For the topping:
Almond Flour – We prefer finely ground almond flour. We haven't tested this topping with other types of flour.
Butter – Melt it and stir it right in.
Sweetener – While you can use the classic sweetener if that's all you have on hand, we love the brown sugar replacement from Lakanto in the topping. It adds a richer flavor.
Cinnamon – You'll mix this up with the sweetener to go into the crumbly topping for lots of cinnamon sweet flavor!
Shop Keto Ingredients
We use Thrive Market for a lot of our specialty ingredients and keto snacks or products. Their prices tend to be cheaper than the local stores and I love that you can so easily sort products by diet.
Like Costco, this is a membership site, but we find that it's more than worth it based on the amount we save over the regular grocery store.
They have monthly or yearly plans. Check it out here.
Why We Love This Recipe:
Fresh berries are perfect for a summer dessert!
Everything mixes together in 2 bowls – one for the filling, one for the topping. No mixer needed.
Takes about 10 minutes of hands on time and then 25 minutes in the oven. So quick!
How To Make Berry Crisp: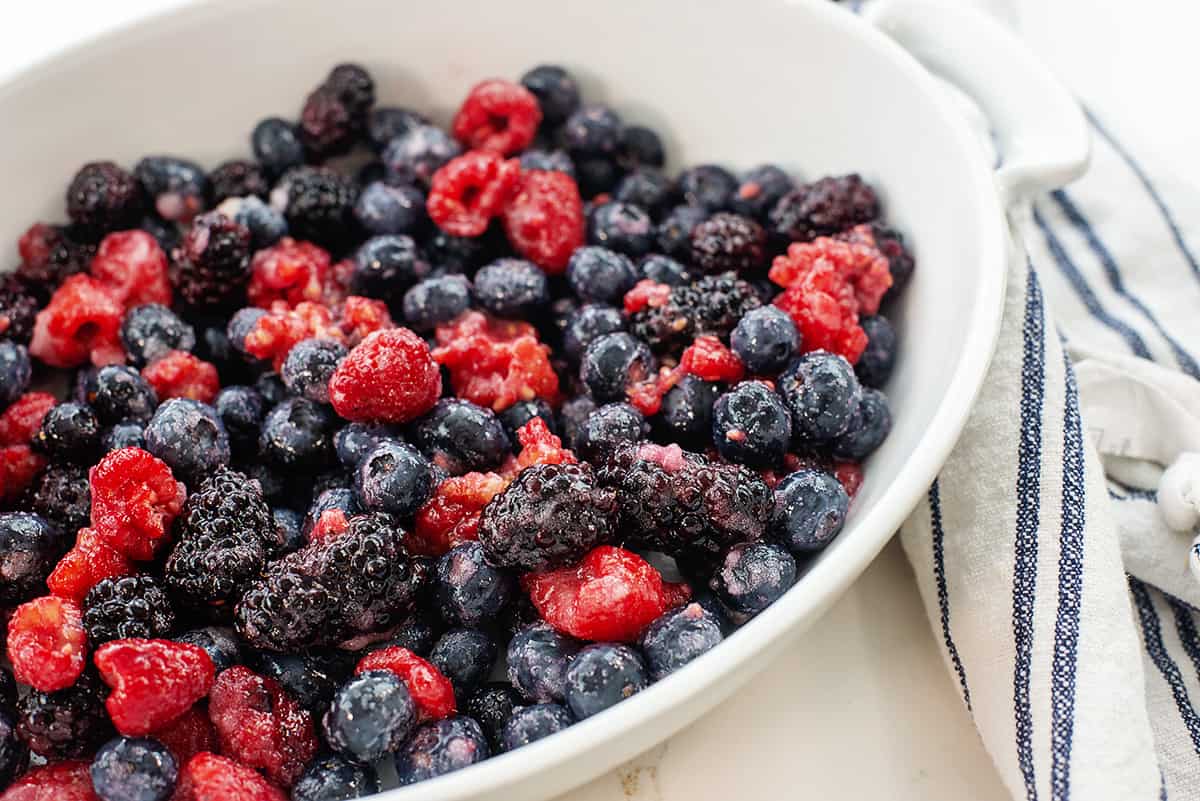 Filling – To get started you'll prepare the sweet triple berry filling. Add the blackberries, raspberries, and blueberries to a large mixing bowl along with the sweetener, lemon juice, and xanthan gum. Stir it to combine and pour the mixture into a 9×9 or similar sized baking dish.
Topping – In another mixing bowl add the almond flour, melted butter, sweetener, and cinnamon. Stir it up well until it forms into moist crumbs.
Sprinkle – Once you've finished preparing the topping you know what to do! Start sprinkling it over the top of the berry filling.
Bake – Pop this in the oven for 25 minutes. The topping should be a crisp golden brown with a bubbly, juicy berry filling! Let it cool for 5 minutes before serving. I'd recommend topping it with some keto whipped cream or some low carb vanilla ice cream!
Ingredient Spotlight
Xanthan Gum
Xanthan gum has an odd name, but it's just a soluble fiber used as a low carb thickener and stabilizer used in many products, including salad dressings and toothpastes. It's in many commercial products and we use it at home to thicken foods, such as in our keto beef stew or to thicken up the juices in this berry crisp. A little bit of xanthan gum goes a really long wa, so you won't need much and it'll last forever.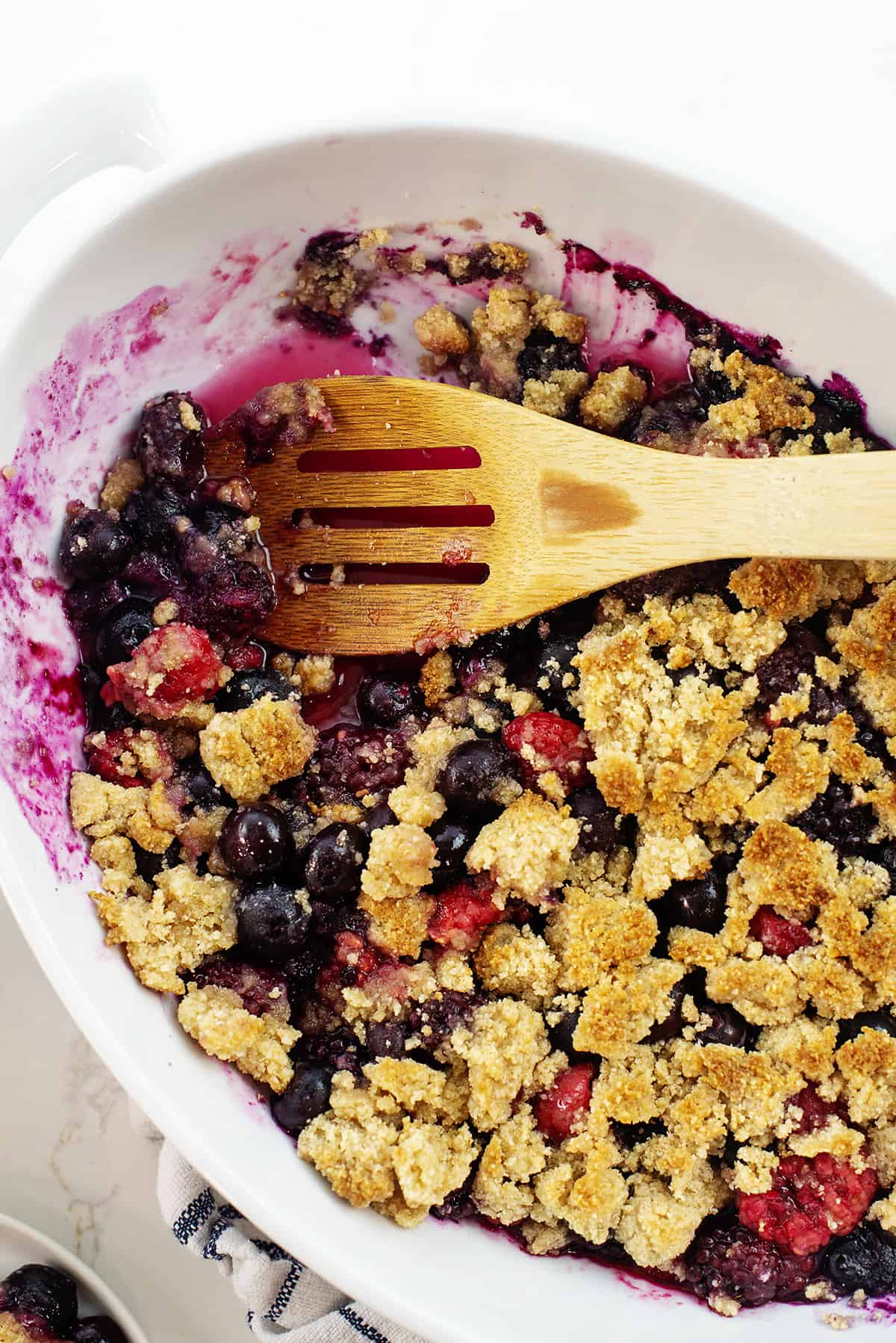 FAQ's:
How to store berry crisp?
You can keep the baked keto berry crisp stored in the refrigerator for about 3 days. Make sure it is well wrapped or in an airtight container.
Can I use frozen berries?
We've only tested this recipe with fresh berries, but frozen would likely work. We would thaw them first. There may be more liquid at the bottom of the dish as well.
More Keto Dessert Recipes: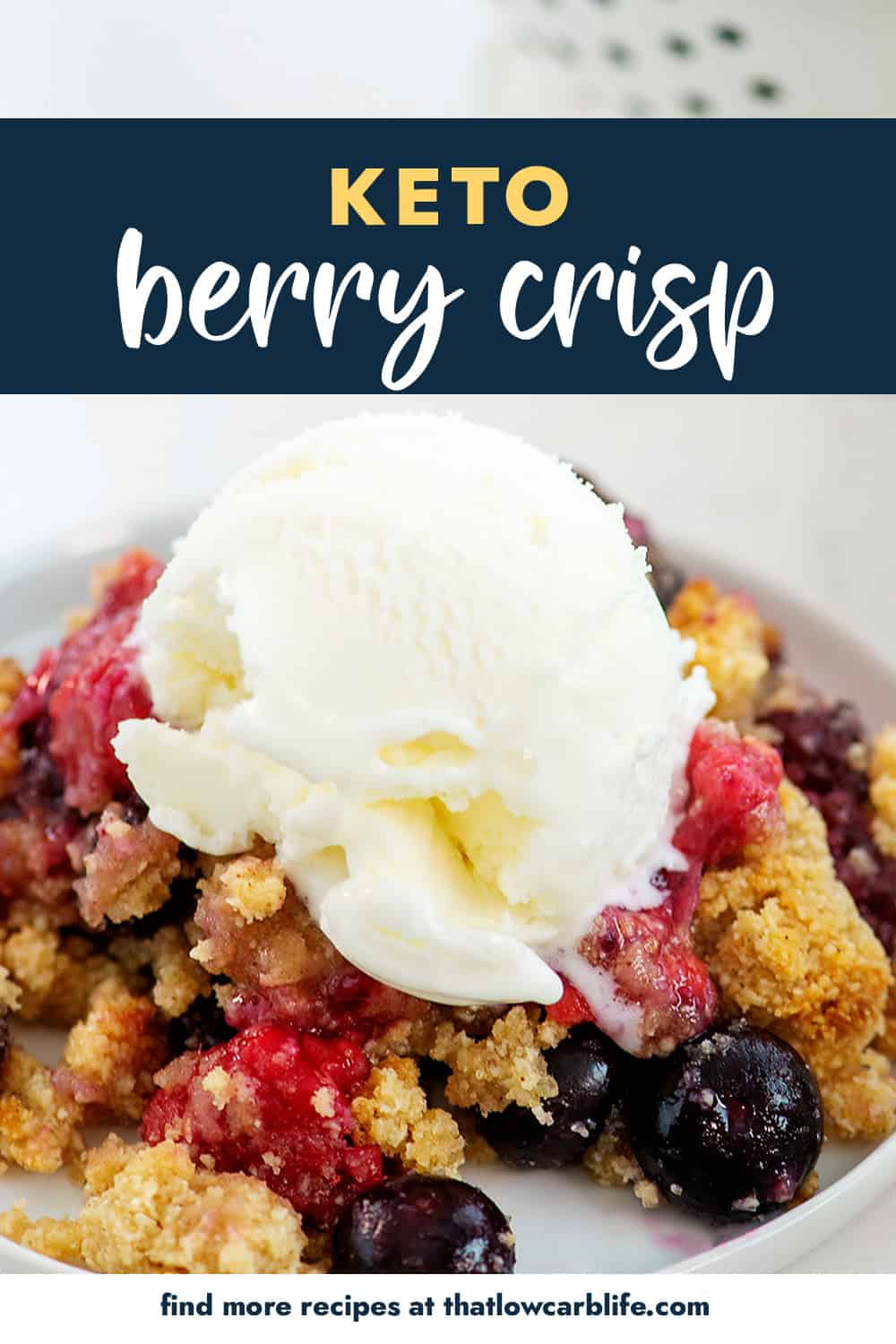 Keto Berry Crisp
We love using fresh berries to make a sweet summer dessert like this berry cobbler. The berries burst as they bake making a delicious sticky, juicy filling that pairs perfectly with the rich, buttery almond topping.
Ingredients
For the filling:
2 cups blackberries
1 cup raspberries
1 cup blueberries
1 teaspoon lemon juice
For the topping:
4 tablespoons butter, melted
Instructions
Preheat oven to 375 degrees.
Add the blackberries, raspberries, blueberries, xanthan gum, sweetener, and lemon juice to a bowl and stir well to coat the berries. Stir gently so as not to break down the berries too much.
Transfer to a 12 inch cast iron skillet or 9x9 baking dish.
Add the almond flour, melted butter, sweetener, and cinnamon to a small bowl and stir with a fork to form moist crumbs.
Sprinkle the topping over the berries.
Bake for 25 minutes.
Let set for 5 minutes before serving.
Notes
Berries: We've only tested this recipe with fresh fruit. If you want to try with frozen, I would recommend thawing the fruit and draining any excess liquid off. Frozen fruit will likely create more liquid at the bottom of the dish when baking.
You can use any mix of berries that you like, but the nutrition information will vary a bit.
Sweetener: We use and love Lakanto products. Use code THATLOWCARBLIFE for 20% off your order at Lakanto.
Xanthan Gum: This is a natural thickener used in many commercial products. A little goes a long way and it will last for years in your pantry. You can try this recipe without it, but you'll likely have a lot of liquid in the bottom of the dish.
Nutrition: Nutrition is calculated based on 8 servings. We just spooned this into 8 equal-sized portions. We did not measure by volume. Ice cream is not included in nutrition information.
Nutrition Information:
Yield: 8
Serving Size: 1
Amount Per Serving:
Calories: 168
Total Fat: 12g
Saturated Fat: 4g
Trans Fat: 0g
Unsaturated Fat: 0g
Cholesterol: 15mg
Sodium: 48mg
Carbohydrates: 12g
Net Carbohydrates: 6g
Fiber: 6g
Sugar: 6g
Protein: 4g
All information and tools presented and written within this site are intended for informational purposes only. This information is provided as a courtesy and there is no guarantee that the information is accurate.