There's nothing simpler or more satisfying than light, fluffy KETO WHIPPED CREAM! Whether you use it to top your low carb desserts or just to serve with berries, this is a simple way to satisfy that sweet tooth.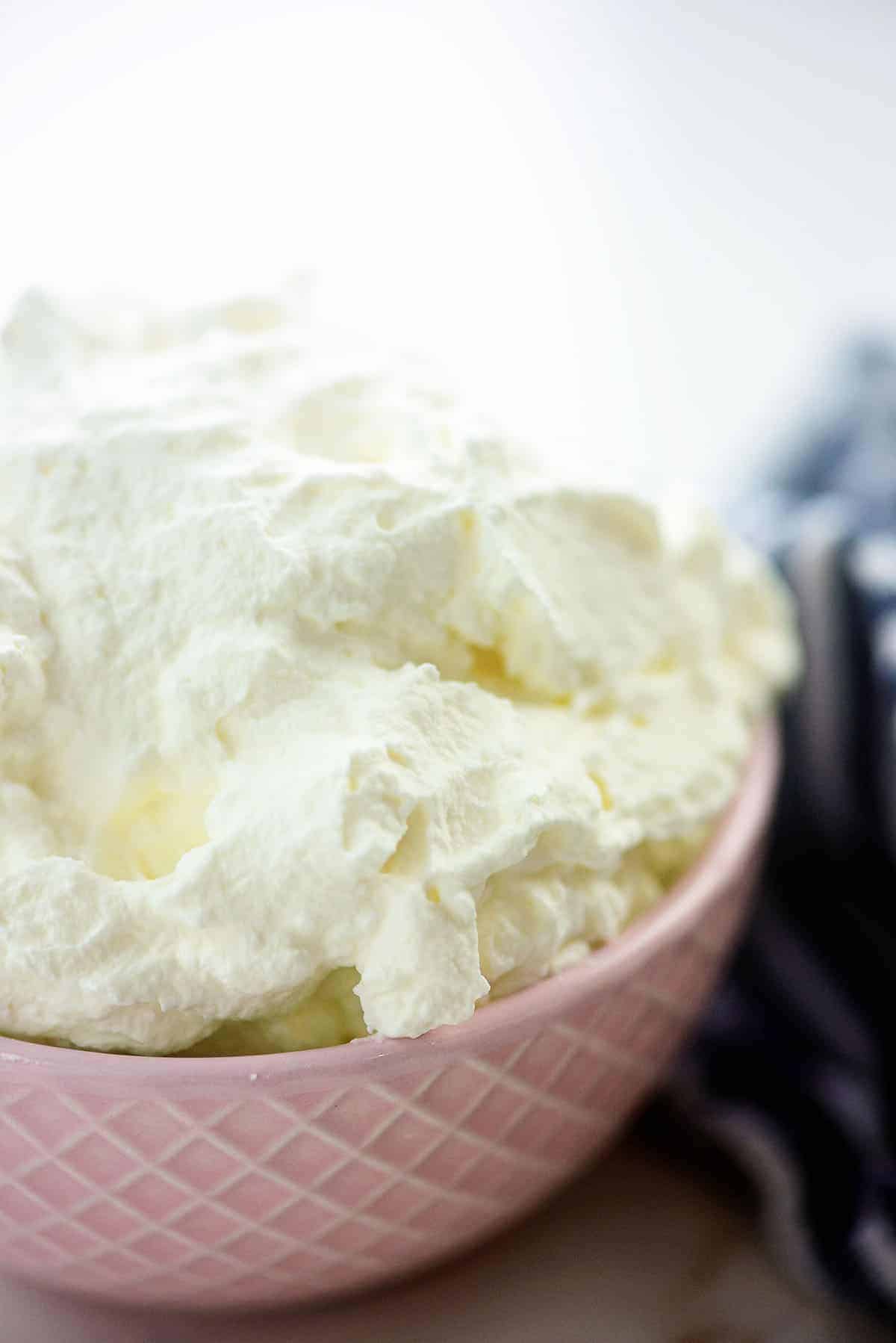 Okay, honest question…do you know what whipped cream is made of?
Just in case you don't, it's literally whipped cream. Heavy cream, whipped up with a mixer until it's thick and fluffy.
My husband and a few friends all thought it was made of whipped egg whites.
I'll be honest, I teased them about it a little bit…the ingredients for whipped cream are in the name, after all!
But, when you think about it. people that don't spend much time in the kitchen probably haven't put that together…who would expect cream to magically fluff up and turn so delicious?!
Ingredients:
This post contains affiliate links. As an Amazon associate and member of other affiliate programs, I earn from qualifying purchases.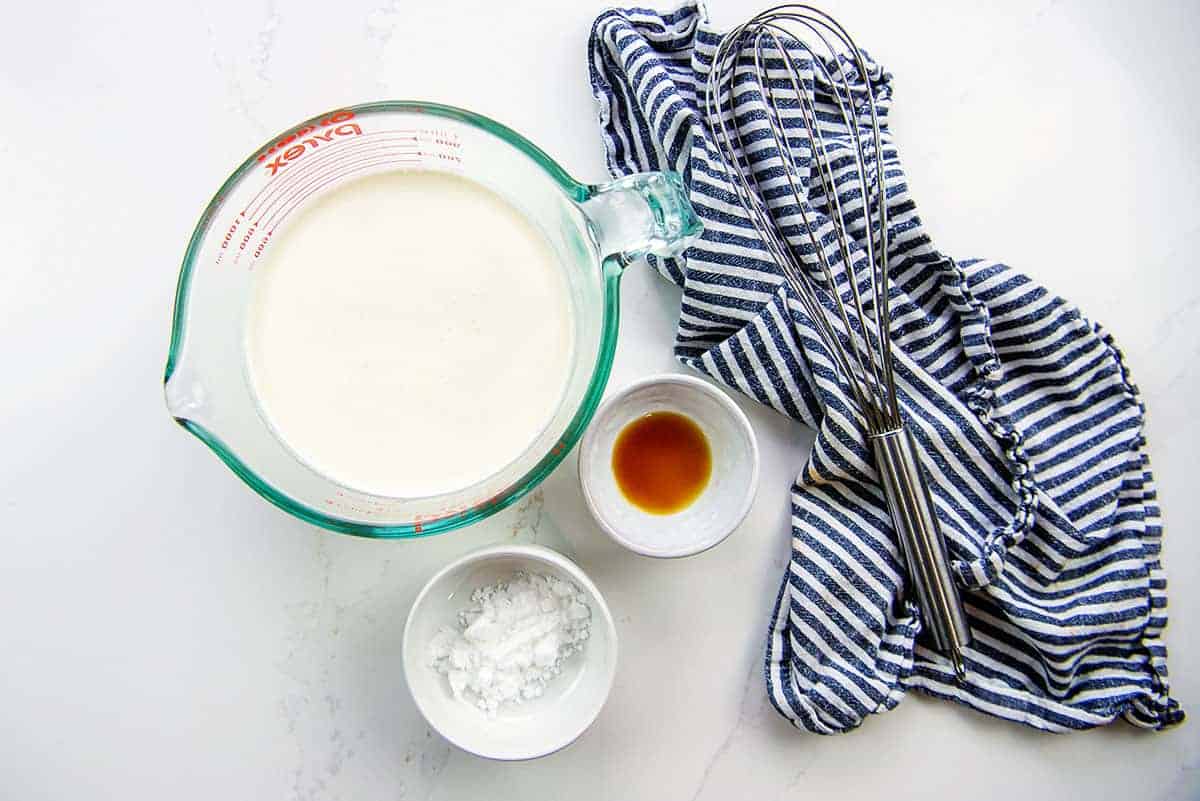 Heavy Whipping Cream – Heavy cream is a thick, rich liquid that's made from the high fat part of cow's milk. You'll find it in the dairy section. There is no substitute in this recipe.
Powdered Sweetener – We use Lakanto Powdered Monkfruit Sweetener. It's a blend of monkfruit and erythritol, has zero net carbs, and no impact on blood glucose. Plus, it tastes like regular sugar! Use code THATLOWCARBLIFE for 20% off your order at Lakanto.com.
Vanilla
How to:
It doesn't get much easier than making whipped cream!
You'll want to start with cold whipping cream. Using a cold bowl is helpful as well! Pop the bowl in the fridge or freezer for 20 minutes before starting.
Add the cream to the mixing bowl and use an electric mixer to whip air into the cream. Just keeping beating the mixture until it begins to thicken up.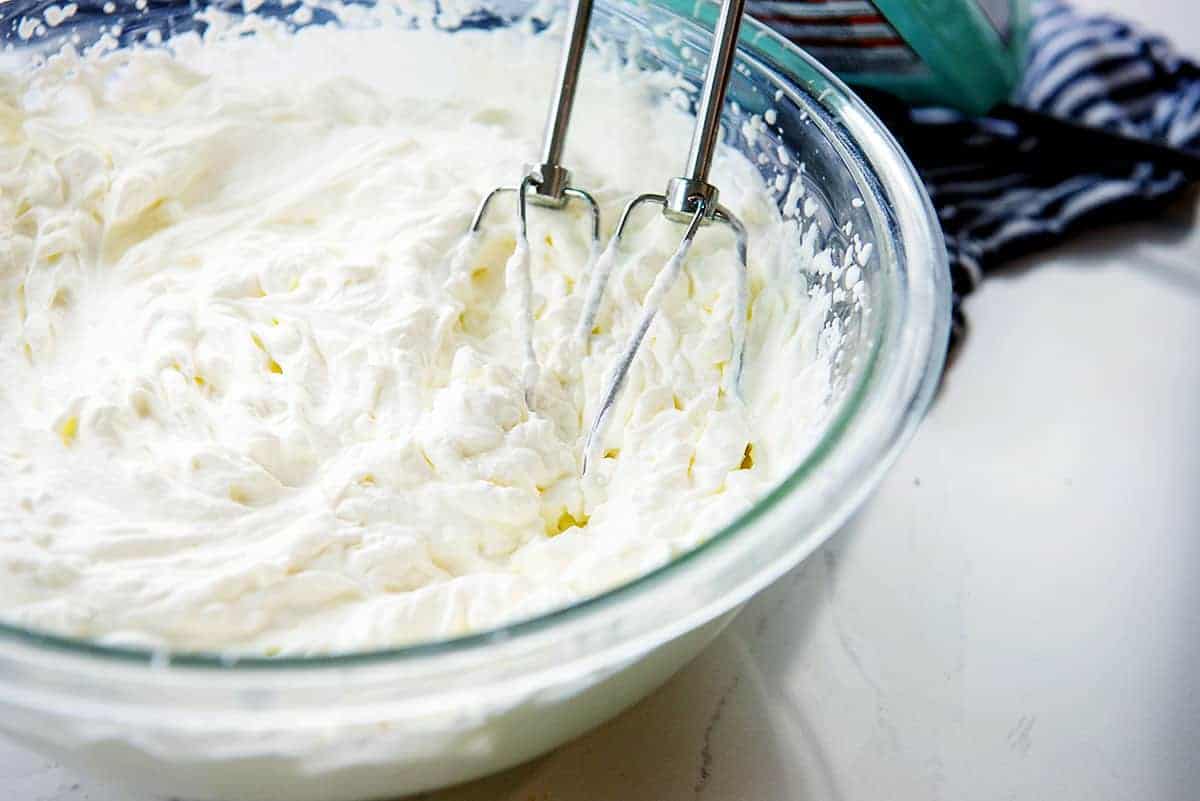 After 3 or 4 minutes, the cream will have thickened up. Add in the powdered sugar and vanilla and keep on mixing.
You'll just mix, mix, mix until your cream is light and fluffy and can hold it's shape.
You're ready to dig in!
This keto whipped cream will keep in the fridge for 3-4 days.
Whipped cream can separate as it sits, but we've honestly never had that problem using this recipe. I'm not sure if it's the monkfruit or if we've just gotten lucky. But either way, we make this regularly and it holds up great!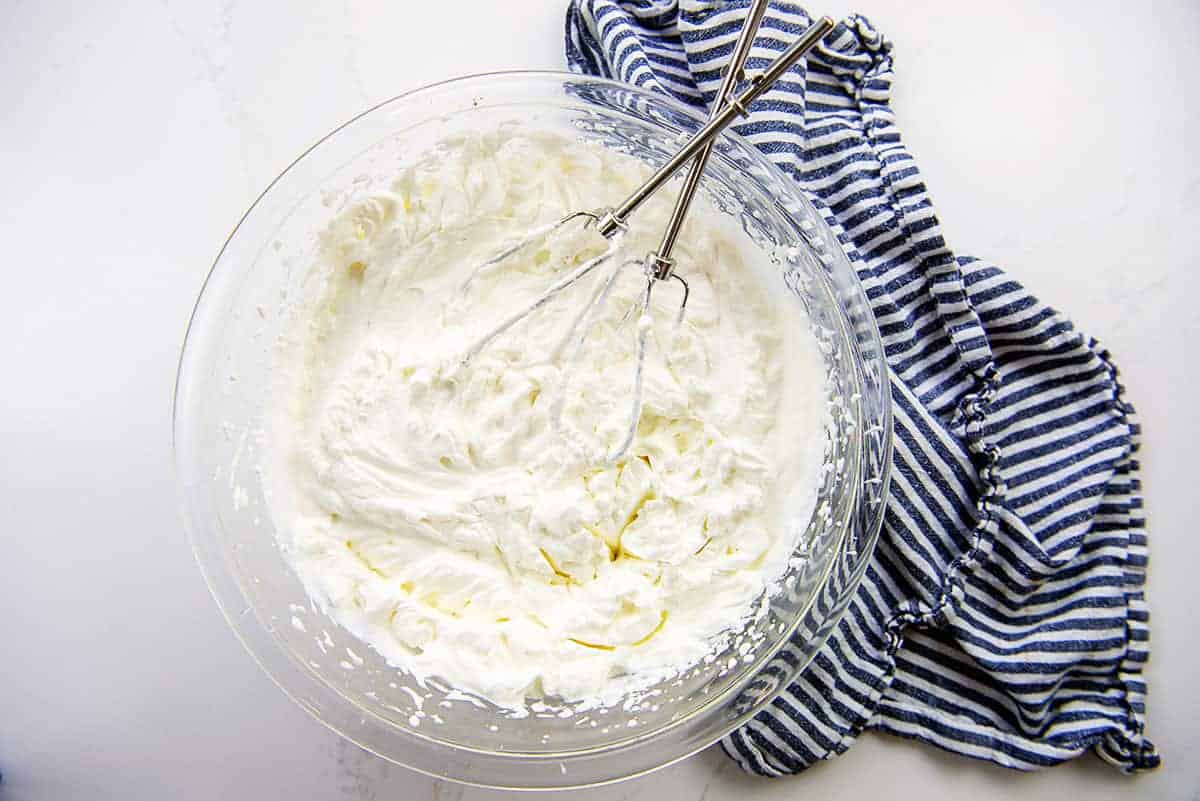 FAQ's:
Can you make whipped cream by hand?
Absolutely! Grab a wire whisk and get to work. It's going to take a whole lot of whipping and you might want a friend around as back up to take over when your arm gets tired. 😉 But, it can absolutely be done!
What happens if I over mix my cream?
Stop beating the cream once it's light and fluffy and can hold a peak.
If you continue mixing, the cream will get a bit grainy and instead of soft and fluffy. No problem, though! Just whisk in a few tablespoons of cream and it'll smooth right back out.
What happens if I keep beating whipped cream?
Butter is what happens!
At some point, the whipped cream will go from light and fluffy to grainy to a soft butter with lots of liquid left in the bowl. That liquid is buttermilk and the solid is butter! If you're trying to make butter, skip the powdered sugar and vanilla and add a pinch or two of salt.
How to Use Whipped Cream:
Whipped cream is delicious with berries! We often dip berries in freshly whipped cream for a simple, light treat after dinner.
I've also been known to microwave a serving of peanut butter until it's melted, toss in fresh raspberries and then dollop on some whipped cream. It's so satisfying and so easy!
Of course, this keto whipped cream is a must on our keto chocolate cheesecake, no bake pumpkin pie, and keto chocolate mousse.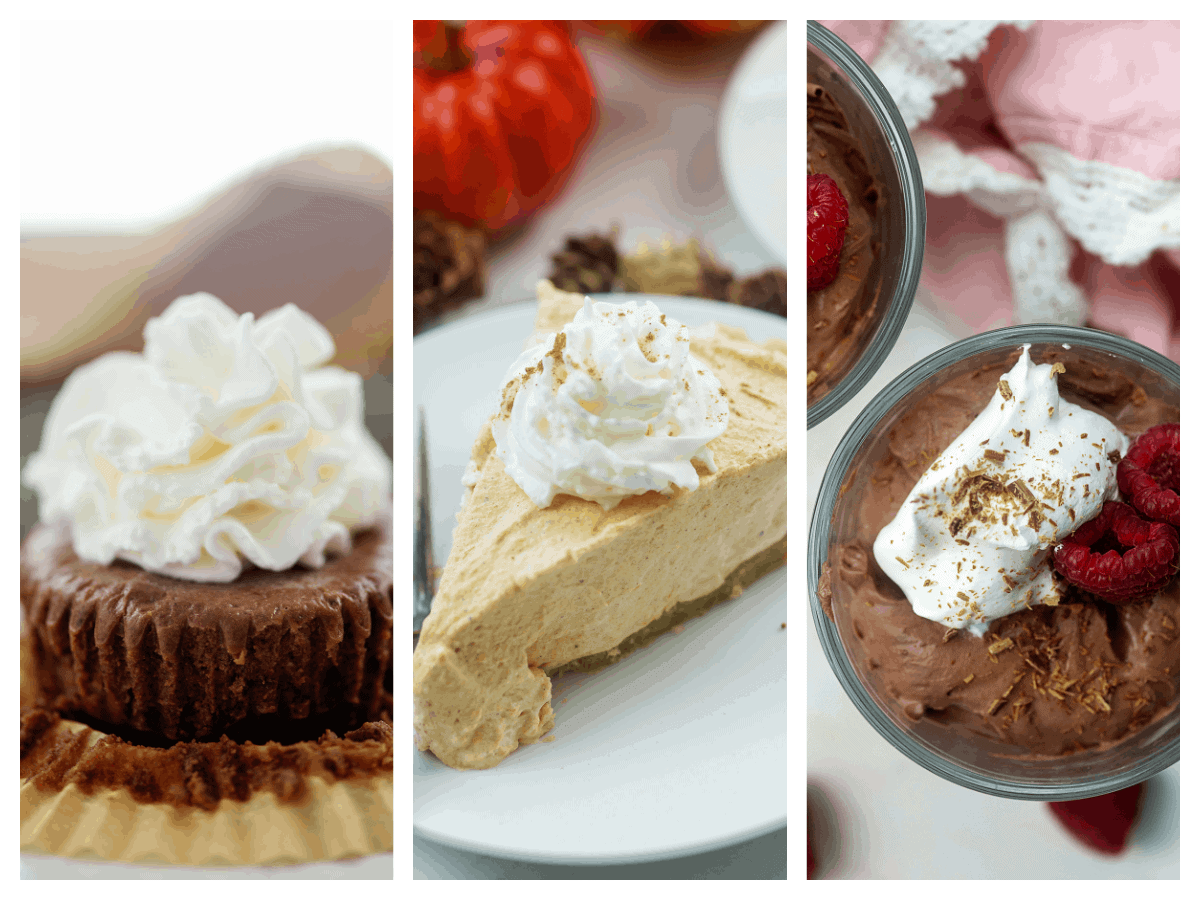 More low carb staples: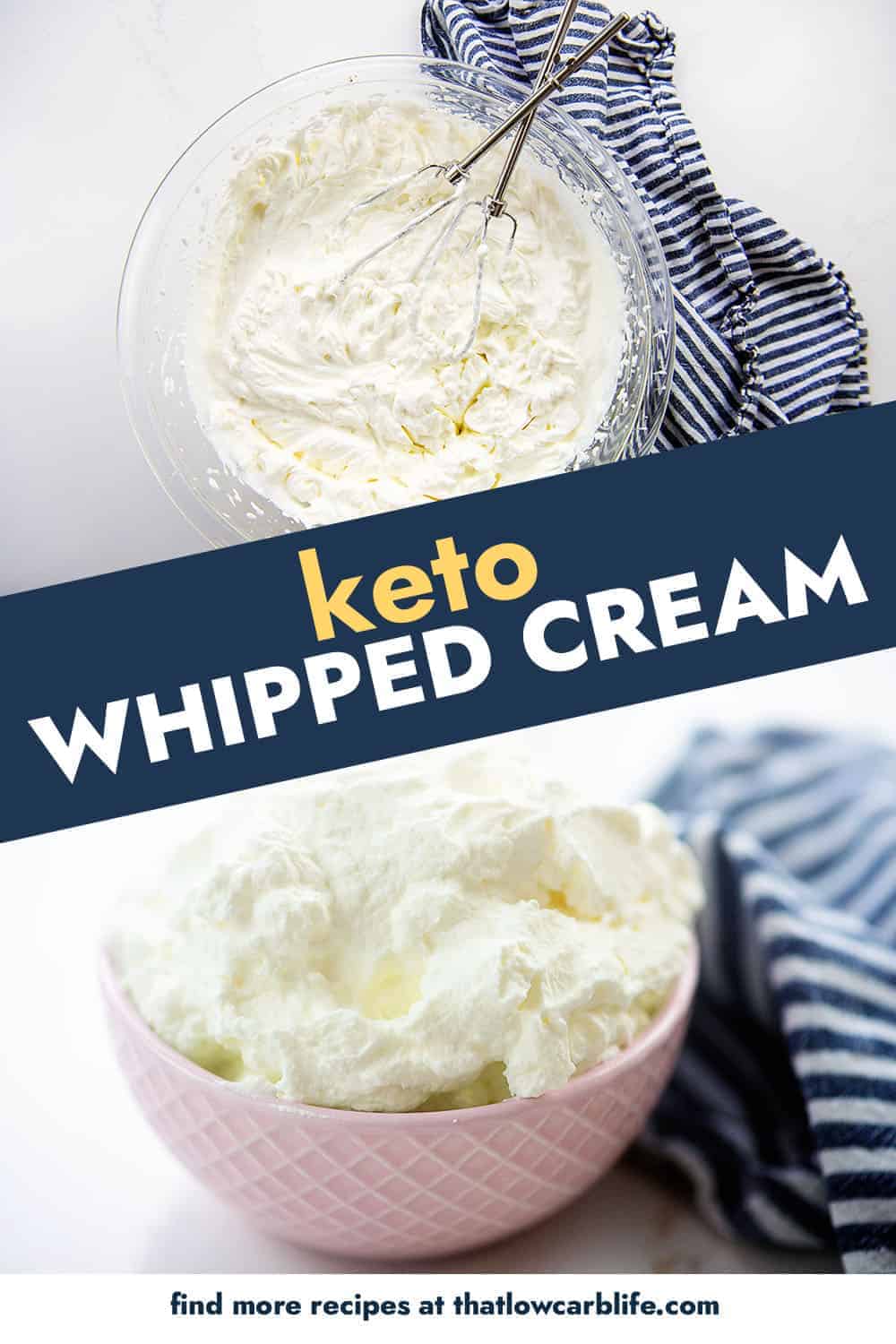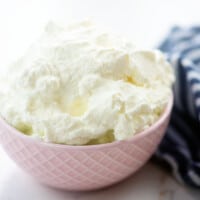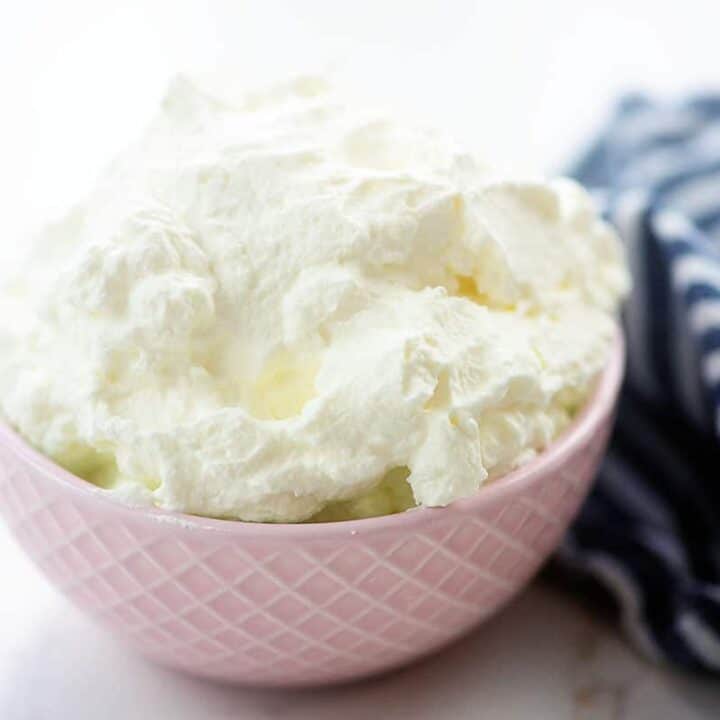 Keto Whipped Cream
This keto whipped cream is perfect for topping your low carb desserts or just for dipping fresh berries. It's light, fluffy, and so simple to make!
Ingredients
1 cup heavy whipping cream
1/2 teaspoon vanilla extract
Instructions
Add the cold whipping cream to a medium mixing bowl and beat with an electric mixer until soft peaks form.
Add the sweetener and vanilla to the cream and beat well until soft and billowy. Do not overmix.
Notes
This recipe is easily doubled or tripled. Cream doubles in volume, so 1 cup of cream will make 2 cups of whipped cream.
We double this recipe for enough whipped cream to fully cover the top of a pie with a thick layer of whipped cream.
Starting with a cold mixing bowl will make the whipping process go a bit faster, but it's not necessary.
We use and recommend Lakanto Powdered Sweetener. Use code THATLOWCARBLIFE for 20% off your order.
Nutrition Information:
Yield: 16
Serving Size: 2 tablespoons
Amount Per Serving:
Calories: 51
Total Fat: 5g
Saturated Fat: 3g
Trans Fat: 0g
Unsaturated Fat: 2g
Cholesterol: 17mg
Sodium: 4mg
Carbohydrates: 0g
Fiber: 0g
Sugar: 1g
Protein: 0g
All information and tools presented and written within this site are intended for informational purposes only. This information is provided as a courtesy and there is no guarantee that the information is accurate.