These crispy baked chicken wings are easy to make with a simple seasoning. You can enjoy these plain or toss them in your favorite sauce! Easy to make, too!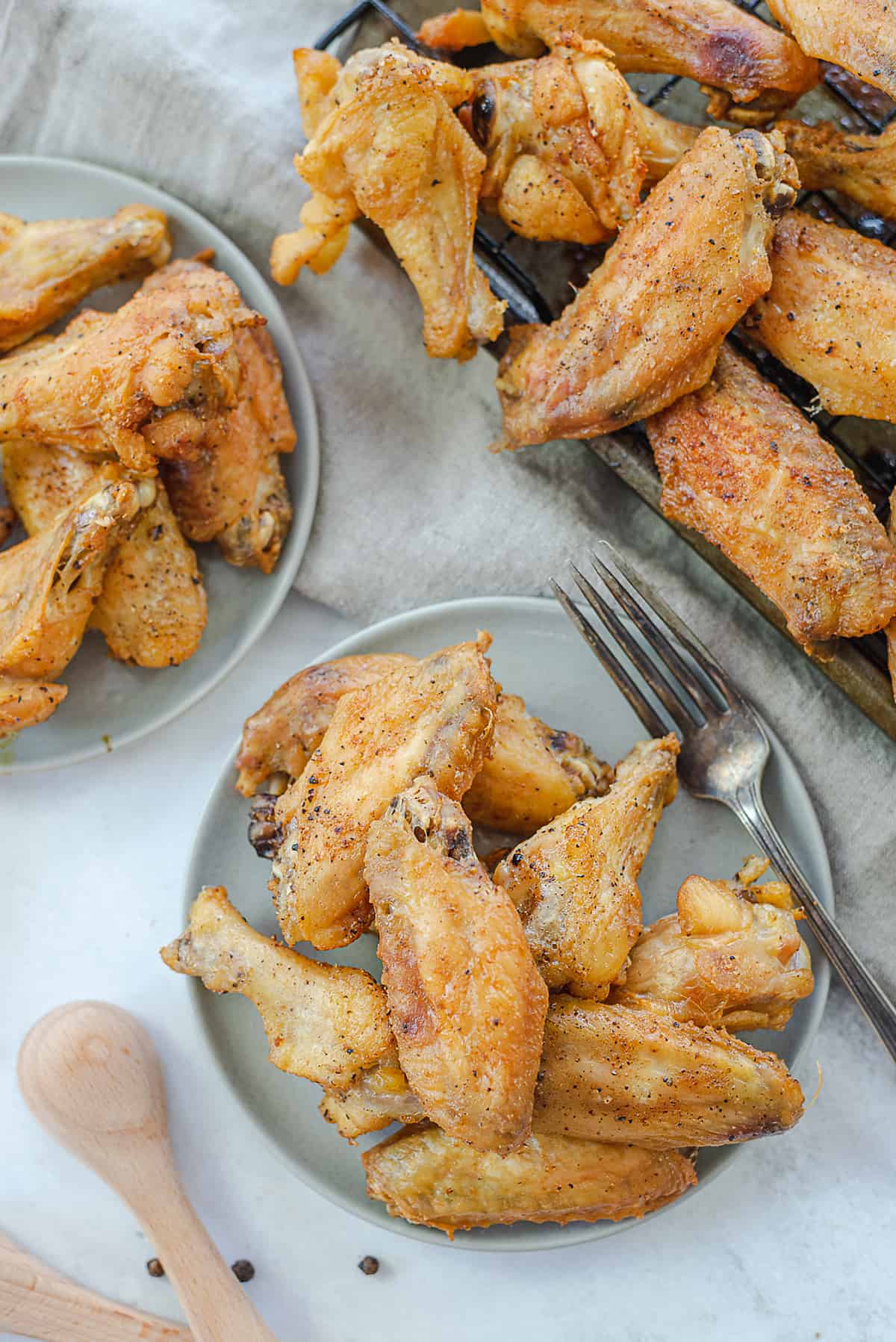 I've gotta know – do you like your wings naked or do you like your wings coated in a breading?
I'm a naked wings kind of girl – just give me ultimately crispy skin and I'm good go, with sauce or without!
These crispy baked chicken wings are quite literally perfect. We kept the seasoning super simple (with a SECRET INGREDIENT for extra crispy goodness) and baked these in a screamin' hot oven until the meat was tender and juicy and the skin was crispy crackly perfection.
I like to make wings for all kinds of occasions! They make a great snack or appetizer, they're perfect to feed a crowd during football games, and they're easy enough to make for dinner any night of the week.
Plus, let's just be real – my baked chicken wings recipe is one million times cheaper than ordering take out wings. At least. 😉
Ingredient Notes:
This post contains affiliate links. As an Amazon associate and member of other affiliate programs, I earn from qualifying purchases.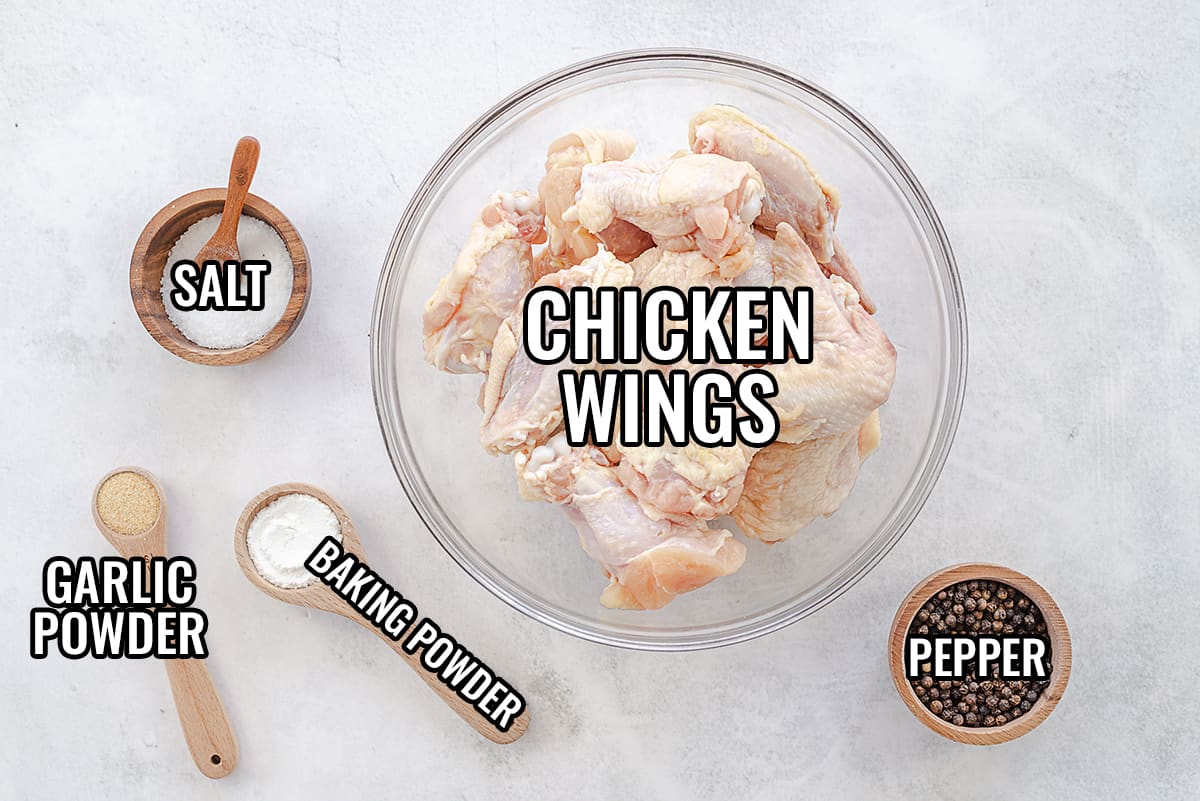 Chicken Wings – You can use either fresh or frozen (and thawed) party chicken wings for this recipe. Wings come in a couple of varieties: flats and drumettes. You can use a mix of both or either one if you have a preference! This recipe is for the party wings – with the flats and drums separated, not for full wings.
Seasoning – This is just a simple mix of salt, pepper, and garlic powder. We're keeping it simple so that we can sauce the wings later, if we prefer. You can also use any blend of seasonings or dry rub you like at this point.
Secret Ingredient – The secret to crispy baked chicken wings? Baking powder! Be sure to use aluminum free baking powder or you'll end up with some funky flavors, but otherwise baking powder does an amazing job at making ultra crispy skin.
Sauce – You can use any low carb sauce you'd like for these wings! We like to prepare a homemade buffalo wing sauce, but you could also do sugar free BBQ sauce, low carb teriyaki, or really anything your heart desires!
Why We Love This Recipe:
These are beyond simple to prepare for a weeknight dinner or a game day snack.
The skin comes out super crispy every time.
No one gets bored of wings, because you can doctor them up with different seasonings and sauces every time.
Tools Needed:
Sheet Pan – Use a big one to fit more wings at once!
Wire Rack – This helps air circulate around the entire wing and gets everything crispy.
How To Bake Chicken Wings:
Seasoning – You can get started by mixing together the simple seasoning for these baked chicken wings. In a small bowl add the salt, pepper, garlic powder, and baking powder. It's an easy seasoning that works well when eating the chicken wings with or without sauce!
Wings – Use paper towel to remove as much moisture from the wings as you can, add them to a large bowl, and start sprinkling the seasoning mixture over the top. Toss the wings until they are well coated in the seasoning.
Bake – Once you've finished seasoning the wings you can start baking! It's best to use a wire rack over a sheet pan so that the skin will crisp up on all sides. Use some nonstick spray on the wire rack, add the wings in a single layer, and bake for 20 minutes on each side. You'll flip them once halfway through for perfectly crispy baked chicken wings!
Sauce – You can definitely enjoy these baked chicken wings as they are without any sauce, but we love to prepare a simple low carb buffalo sauce for our wings! You can use any low carb sauce you'd like.
Helpful Tip!
Use a paper towel to remove as much moisture as possible from the wings before seasoning and baking them so that you can get perfectly crispy chicken skin!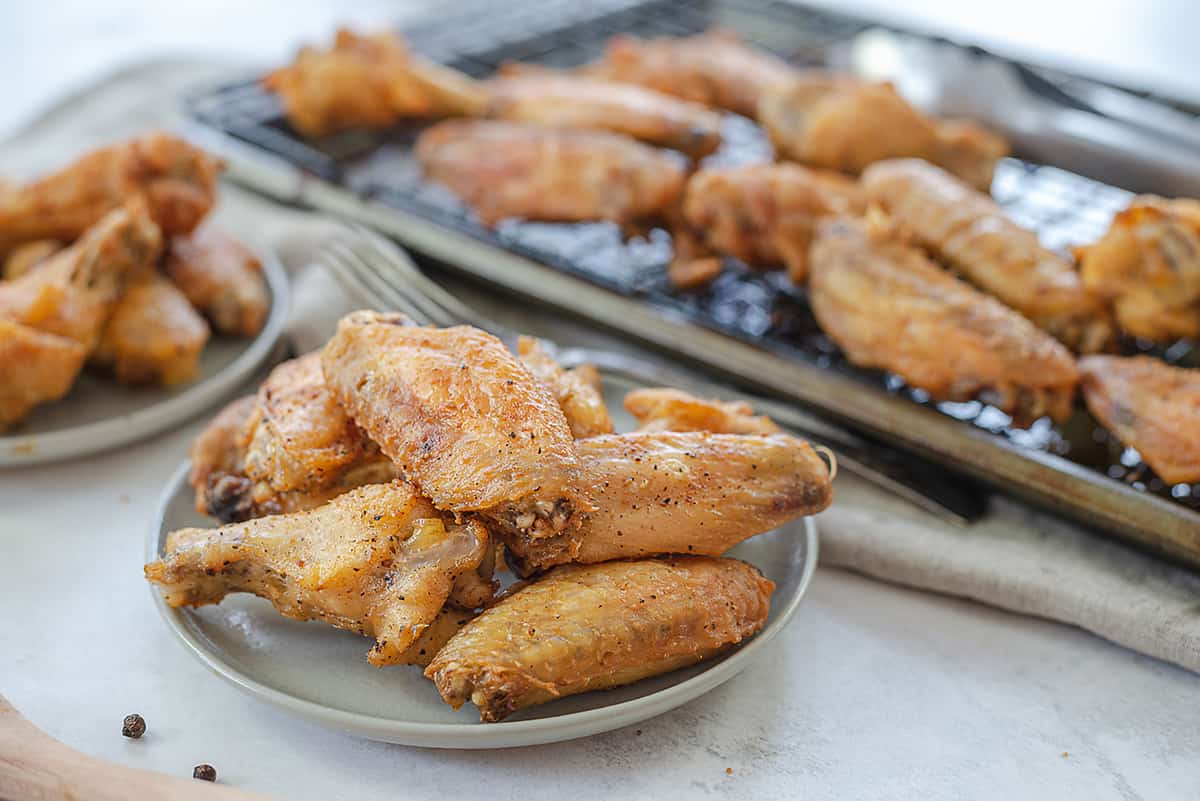 Chicken Wing Sauce & Seasoning Ideas:
Low Carb BBQ Sauce (Sweet Baby Ray's No Sugar Added is my favorite store bought sauce)
Buffalo Sauce
Lemon Pepper Seasoning
Ranch Seasoning
Of course, dipping your wings in our keto ranch dressing is a must!
How long to bake chicken wings at 425?
We like to cook our chicken wings at 425 degrees to help that skin get ultra crispy and keep the meat nice and moist. You'll bake at 425 degrees for 40 minutes, flipping the wings halfway through cooking.
Air Fryer Wings:
We love these oven baked wings for a couple of reasons – 1) They get super crispy and 2) You can make loads of wings all at once.
If you'd rather use your air fryer, though, that also works great and it won't heat up the whole kitchen. Using the air fryer is best for making about 10 wings at a time, depending on the size you have.
Set air fryer to 400 degrees and cook wings in a single layer for 30 minutes, flipping halfway through cooking.
This is our go to air fryer frozen wings recipe.
FAQ's:
How to make slow cooker chicken wings?
You can make perfectly tender chicken wings in a slow cooker, and then finish them off under a broiler to get the crispy skin! Check out this slow cooker chicken wings recipe.
Why do you put baking powder on chicken wings?
The alkalinity in the baking powder helps break down proteins in the skin which leads to even crispier chicken skin! Just be sure to use aluminum free baking powder so you don't taste the baking powder.
How to store baked chicken wings?
You can keep these chicken wings in the refrigerator for at least 3 to 4 days. Reheat in an air fryer for best texture.
More Low Carb Appetizer Recipes!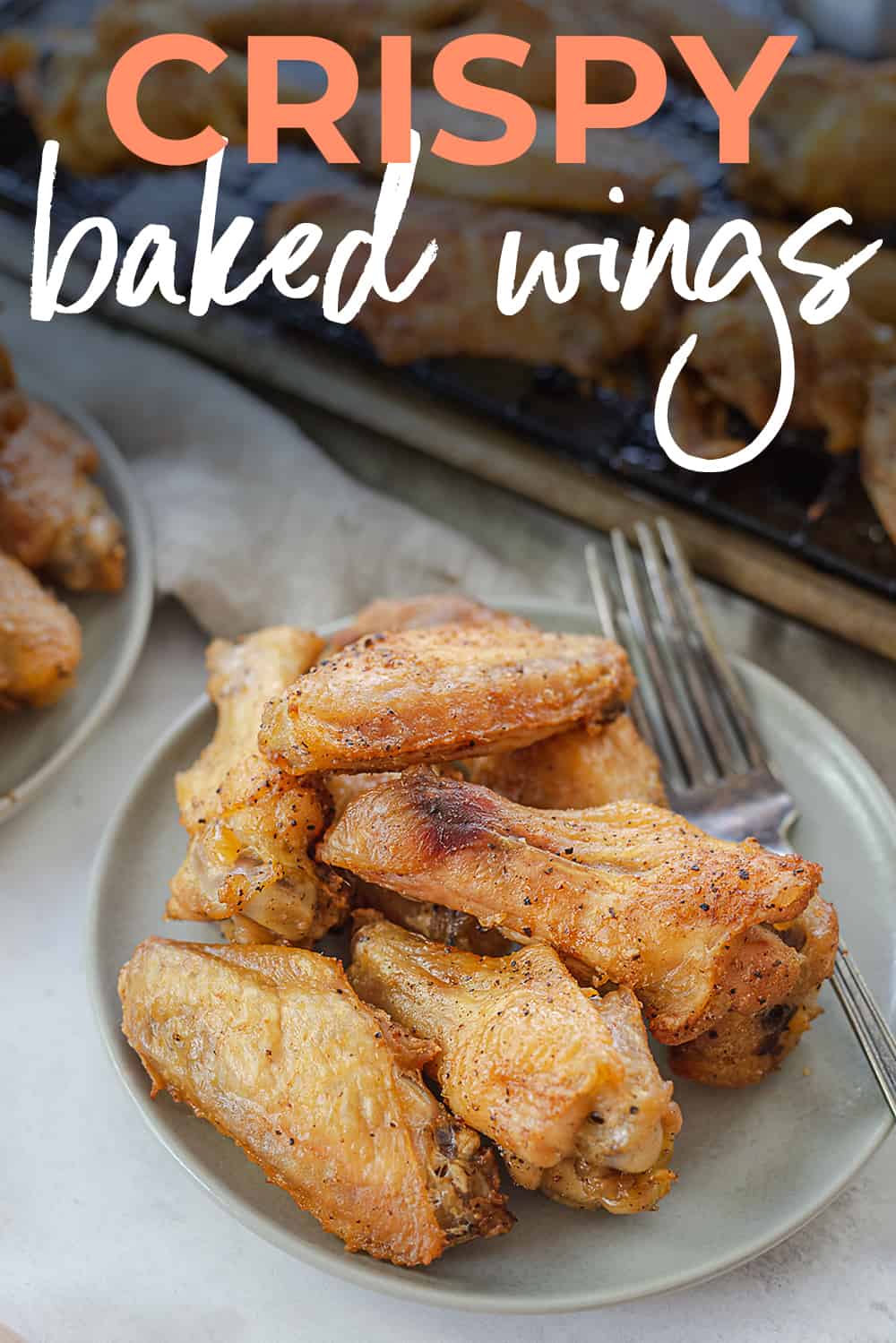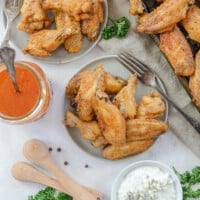 Baked Chicken Wings
These crispy baked chicken wings are coated in a simple seasoning blend and baked. They're perfect to munch on as they are or to toss in your favorite sauce. Feel free to mix up the seasonings to suit your tastes as well.
Ingredients
4 pounds chicken wing sections, fresh or frozen and thawed
1 tablespoon aluminum-free baking powder
2 teaspoons salt
1 teaspoon garlic powder
1 teaspoon cracked pepper
Sauce, if desired
Instructions
Preheat oven to 425 degrees. Place a wire rack over a sheet pan. Spray with nonstick spray.
Use paper towels to dry the chicken wings, removing as much liquid as possible for the most crispy wings.
Add the baking powder, salt, garlic powder, and pepper to a mixing bowl and stir to combine.
Add the chicken wings to a large bowl and sprinkle the seasoning over the top. Stir well to coat the chicken wings.
Arrange the chicken on the wire rack, skin side up, in a single layer and bake for 20 minutes. Flip and bake for another 20 minutes or until chicken is cooked through and skin is crispy.
Remove the wings from the oven and let set for 5 minutes before tossing with sauce or serving.
Notes
Crispy Wings: It's key to pat away as much moisture as possible. The baking powder also helps the skin crisp up, but be sure to use aluminum free baking powder or you'll be able to taste it. If you don't have aluminum free baking powder, just leave it out altogether - the wings will still be crispy, just not quite as much.
Seasonings: We kept it very basic in this recipe and we usually toss the wings in sauce or serve with a dip. Feel free to adjust the seasonings to whatever you'd like.
Air Fryer: Wings turn out great in the air fryer! Cook frozen wings at 400 degrees for 30 minutes, flipping halfway through cooking.
Nutrition Information:
Yield: 4
Serving Size: 1
Amount Per Serving:
Calories: 883
Total Fat: 65g
Saturated Fat: 23g
Trans Fat: 1g
Unsaturated Fat: 36g
Cholesterol: 220mg
Sodium: 2476mg
Carbohydrates: 1g
Net Carbohydrates: 1g
Fiber: 1g
Sugar: 1g
Protein: 45g
All information and tools presented and written within this site are intended for informational purposes only. This information is provided as a courtesy and there is no guarantee that the information is accurate.