These crispy Baked Lemon Pepper Wings are bursting with bright, citrus flavor thanks to the lemon pepper seasoning! Just 3 ingredients and no frying needed – these turn out perfectly crispy in the oven and make for a great dinner or appetizer!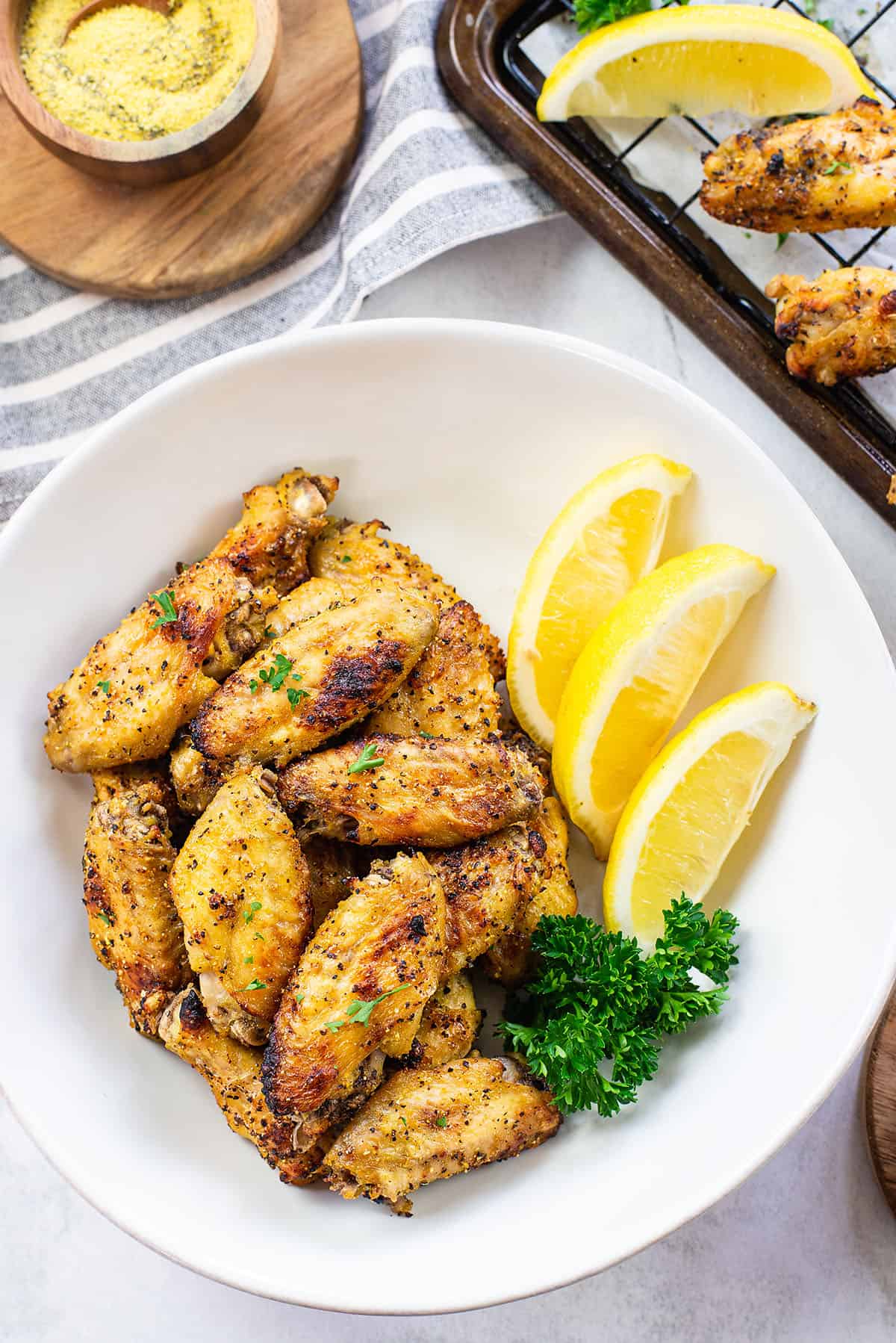 Crispy chicken wings are one of our go to meals, whether we're cooking them at home or ordering them from a restaurant! It's hard to beat wings and you never get bored since there are a million sauces and dry rubs to add to your wings!
These lemon pepper wings definitely rank up there as some of the easiest wings and they're just bursting with bright, zippy flavor that's hard to resist!
I love that you don't need to marinade these or really do much work at all – the recipe just comes together with a couple of ingredients, turns out perfect with minimal fuss, and is universally loved by all who try it!
A few other wing favorites include our slow cooker chicken wings (tossed in our 2 ingredient BBQ sauce!) and our dry rub chicken wings.
You might want to dip these in our fan favorite keto ranch dressing or keto blue cheese dressing.
Ingredient Notes:
This post contains affiliate links. As an Amazon associate and member of other affiliate programs, I earn from qualifying purchases.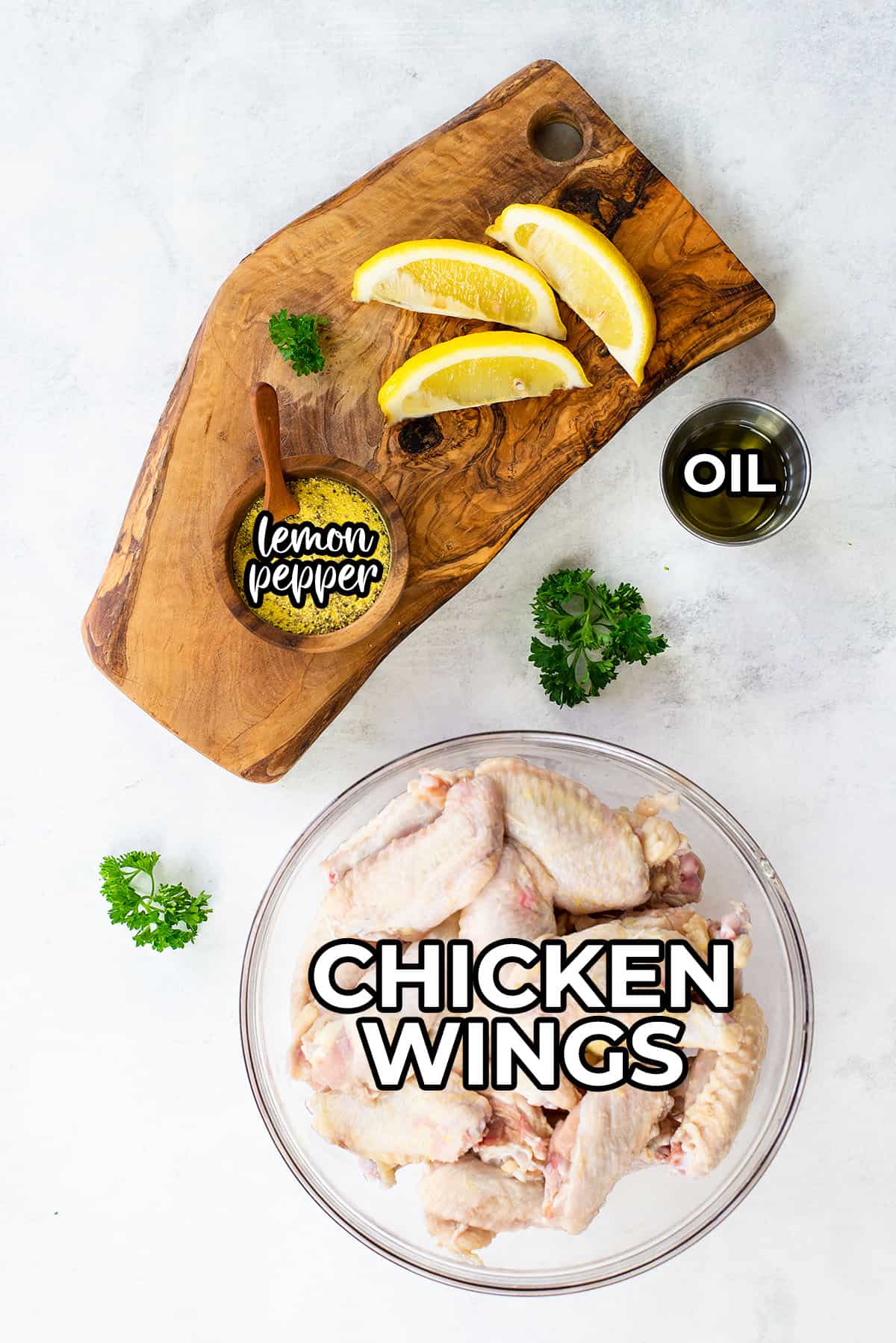 Chicken Wings – You will need some fresh or frozen and thawed chicken wing sections. Either the flats, drumettes, or both types will work but if you plan to cook a full sized wing the bake time may vary. The sectioned pieces will bake faster.
Lemon Pepper Seasoning – We're using prepared lemon pepper seasoning. You can use any brand you like, but some do have sugar. We really love Kinder's seasonings, but if you're strict keto you should note this does contain sugar.
Olive Oil – A bit of olive oil will help the seasoning stick to these baked lemon pepper chicken wings and help crisp up the skin.
Why We Love This Recipe:
Can't beat a 3 ingredient recipe!
Lemon Pepper is a big, bold flavor so these wings are very satisfying!
The wings are baked instead of fried making prep and clean up super simple.
How To Make Lemon Pepper Wings:
Prepare – While your oven is preheating place a wire rack over a baking sheet. The lemon pepper wings will cook a lot more evenly on the wire rack, and the baking sheet will catch any grease dripping from the wings as they bake.
Season – Now to prepare the wings you'll want to pat them dry and then place them in a large bowl with the olive oil and toss to coat. Next start sprinkling on the lemon pepper seasoning and use your hands to rub it into each of the chicken wing pieces. Make sure you coat each wing really well in the seasoning for maximum flavor!
Bake – You can now start arranging the chicken wings on the wire rack. Make sure to leave a little space between them and to not overcrowd so that they can cook evenly. Bake for about 40 minutes, flipping them halfway through. When the baked lemon pepper chicken wings are finished and the skin is nice and crispy you can serve them up hot!
Helpful Tip!
Be sure to use a paper towel to remove as much moisture as possible from the wings before seasoning and baking them so that you can get perfectly crispy chicken skin! You can also mix in about a tablespoon of aluminum-free baking powder with the seasoning if you want the wings to be extra crispy when they bake!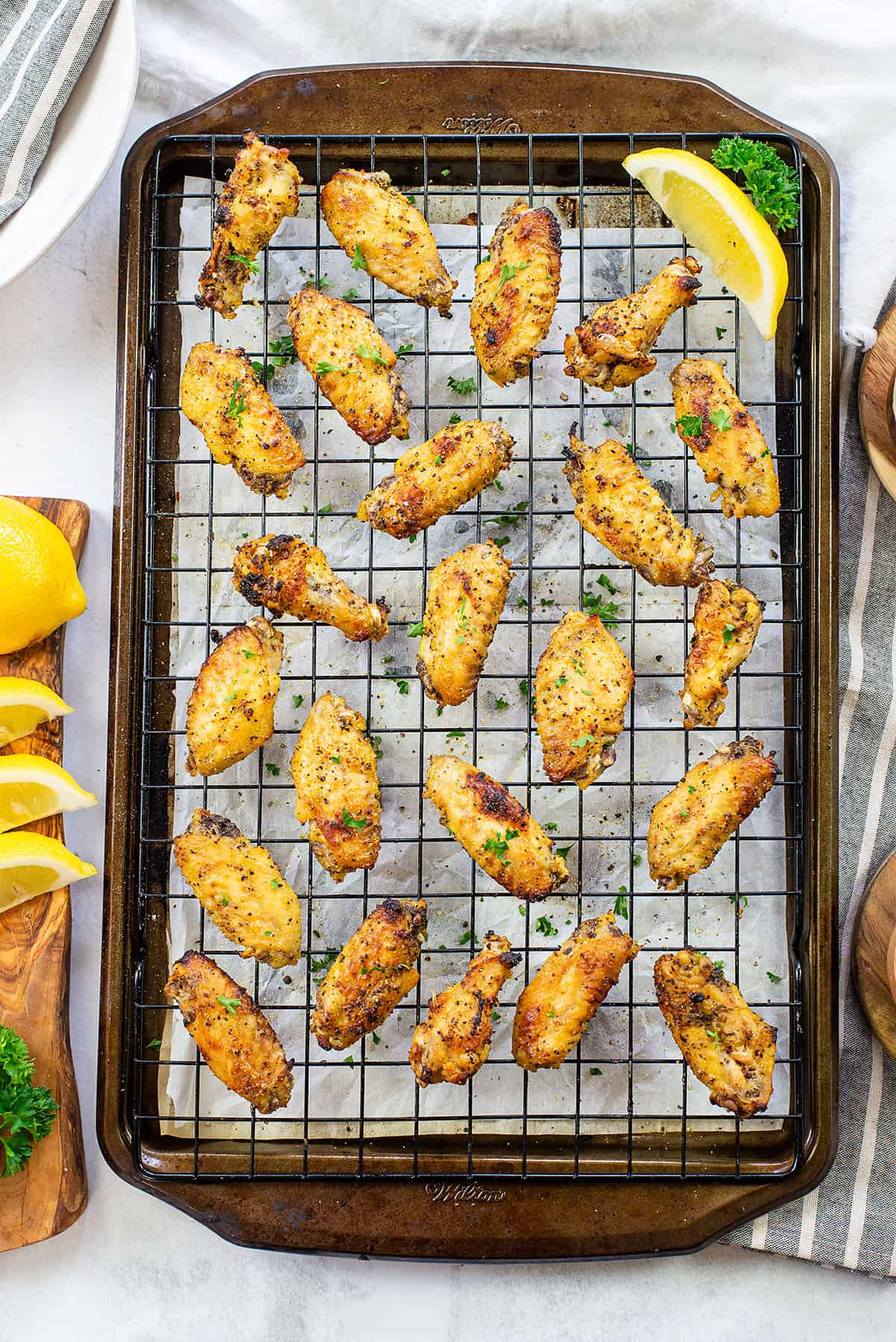 Air Fried Lemon Pepper Chicken Wings:
If you enjoyed this recipe baked, you'll probably also love it air fried! Check out these air fryer lemon pepper wings. Easy to make and there is a quick homemade lemon pepper seasoning recipe in there if you don't want to use store bought seasoning!
FAQ's:
How to store chicken wings?
You can keep these lemon pepper chicken wings in the refrigerator for at least 3 to 4 days. Reheat in an air fryer or a hot oven for the best texture. Reheating in the microwave will cause the skin to lose it's crispness.
Can you freeze chicken wings?
Yes, you should be able to freeze these lemon pepper wings after baking. Let them cool completely then flash freeze on a baking sheet in the freezer before transferring to an airtight freezer bag and storing for up to a couple of months. Reheat in an air fryer or oven.
Are these wings spicy?
There is a bit of spice from the black pepper, but we wouldn't consider these to be spicy.
What are the two types of chicken wings?
They are the flats, which are the flat looking pieces, and the drumettes which look like tiny chicken legs (drumsticks).
More Low Carb Chicken Recipes: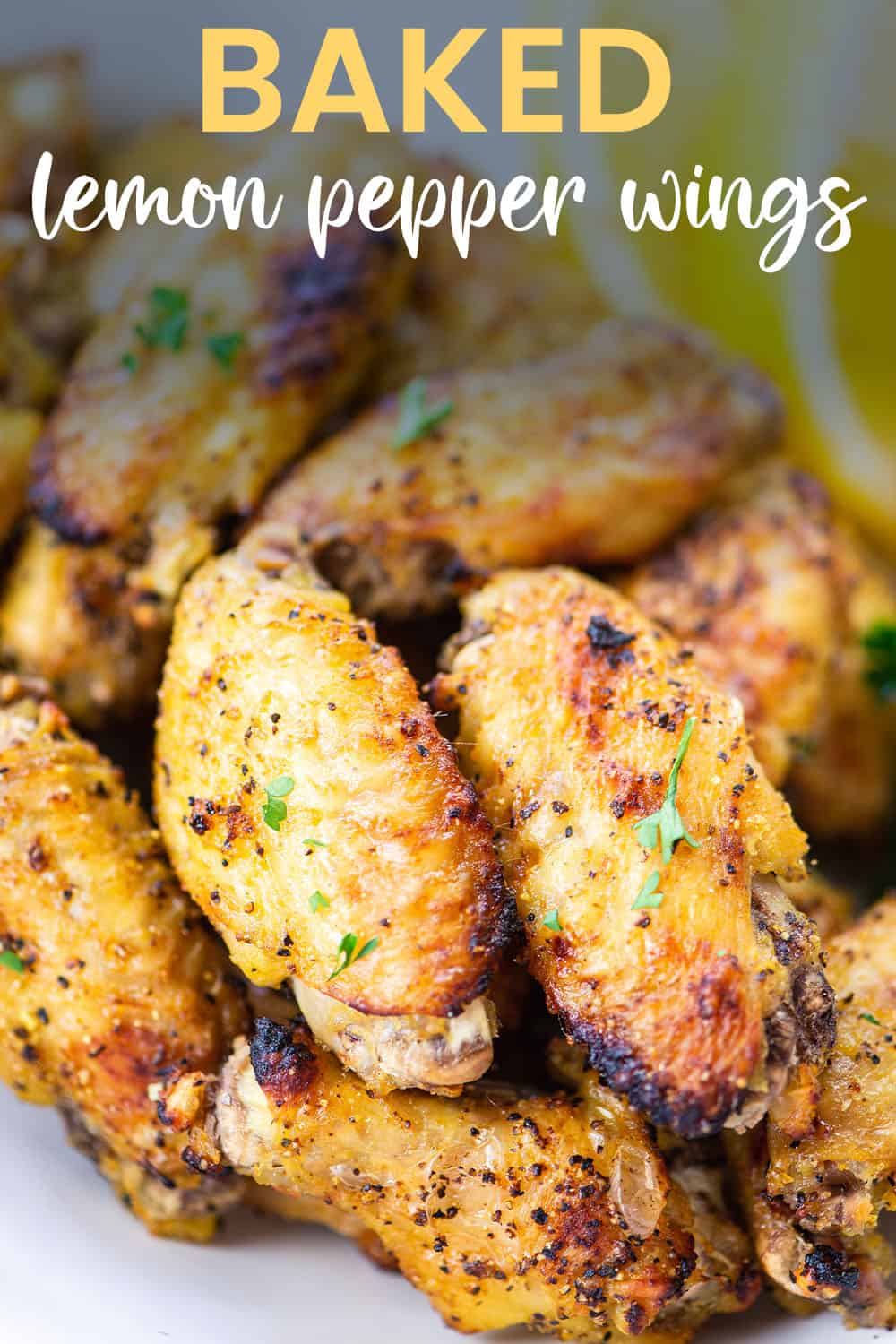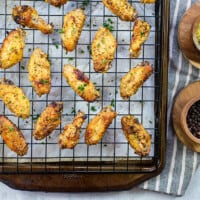 Baked Lemon Pepper Wings
These baked lemon pepper wings are just 3 ingredients, but they still turn out so flavorful and the skin is nice and crispy! Perfect for a snack or dinner. A pound of wings is around 10 wings, so this should make about 40 wings.
Ingredients
4 pounds chicken wings
2 tablespoons olive oil
3 tablespoons lemon pepper seasoning
Instructions
Preheat oven to 425 degrees. Place a wire rack over a baking sheet.
Add the chicken wing sections to a large bowl and drizzle with oil. Toss to coat.
Sprinkle the lemon pepper over the chicken and use your hands to massage the seasoning into the chicken, making sure to coat each piece really well.
Arrange wings on the wire rack, leaving a bit of space between each piece for air to flow.
Bake for 40 minutes, flipping the wings halfway through cooking.
Serve hot.
Nutrition Information:
Yield: 4
Serving Size: 10 wings
Amount Per Serving:
Calories: 940
Total Fat: 71g
Saturated Fat: 19g
Trans Fat: 0g
Cholesterol: 320mg
Sodium: 1070mg
Carbohydrates: 1g
Net Carbohydrates: 1g
Fiber: 0g
Sugar: 0g
Protein: 77g
All information and tools presented and written within this site are intended for informational purposes only. This information is provided as a courtesy and there is no guarantee that the information is accurate.