Our easy Roasted Chicken Breasts are juicy on the outside with a seasoned, crispy skin. We love how tender and juicy the meat is when we roast the chicken using this method. You'll need about 5 minutes of hands on time and 30 minutes in the oven to get this chicken recipe on the table.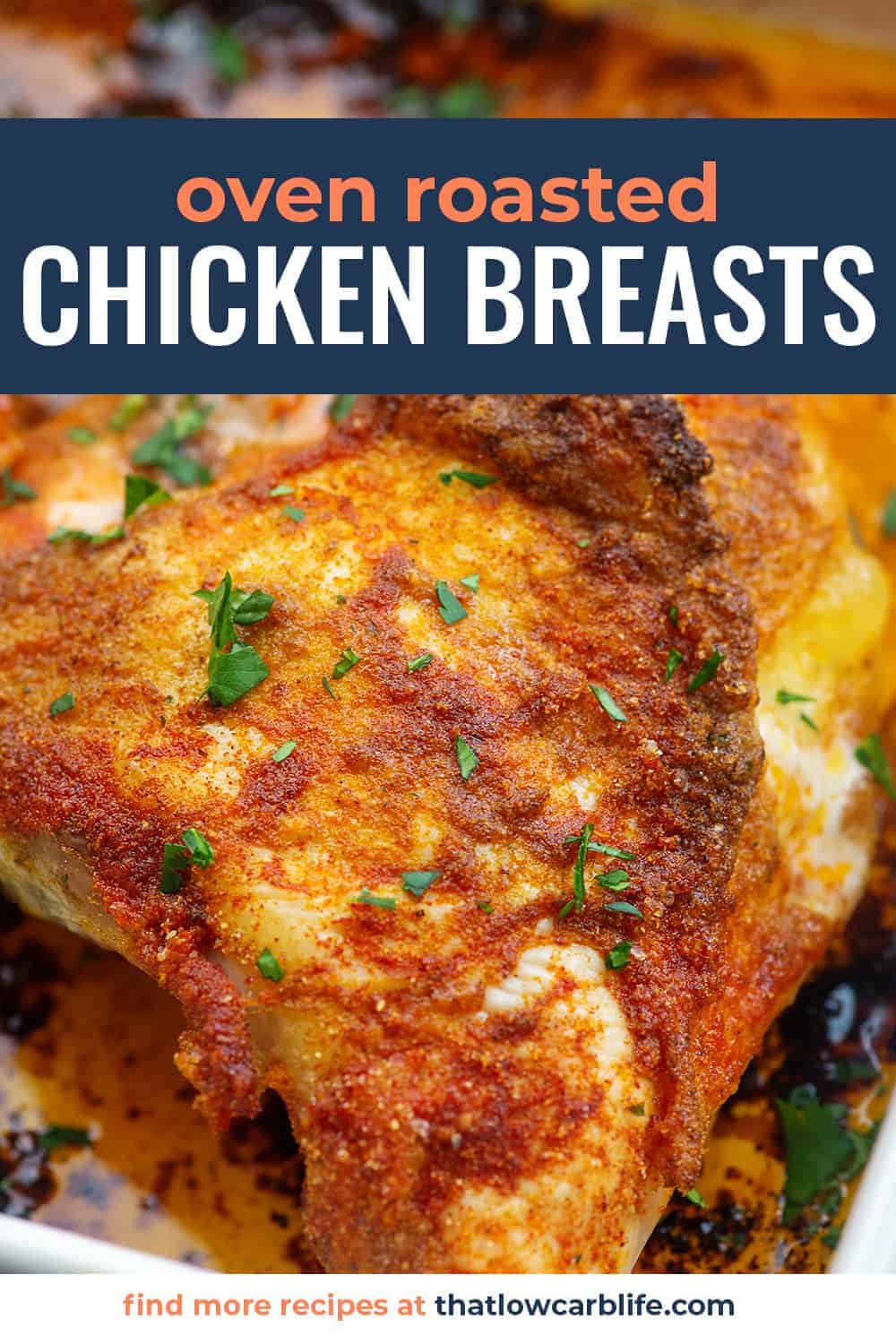 Do you remember what it was like as a kid to walk in the door from school and smell a chicken roasting in the oven?
That is the smell of home and comfort and goodness.
I don't roast a lot of whole chickens, but I do roast a lot of chicken pieces!
Take my baked chicken legs and keto chicken thighs…they happen on repeat around here.
I generally prefer white meat though, so it's only fair that I share my roasted chicken breast recipe with all of you!
We love this method of cooking bone-in chicken because the skin gets crispy and flavorful while the meat stays nice and juicy.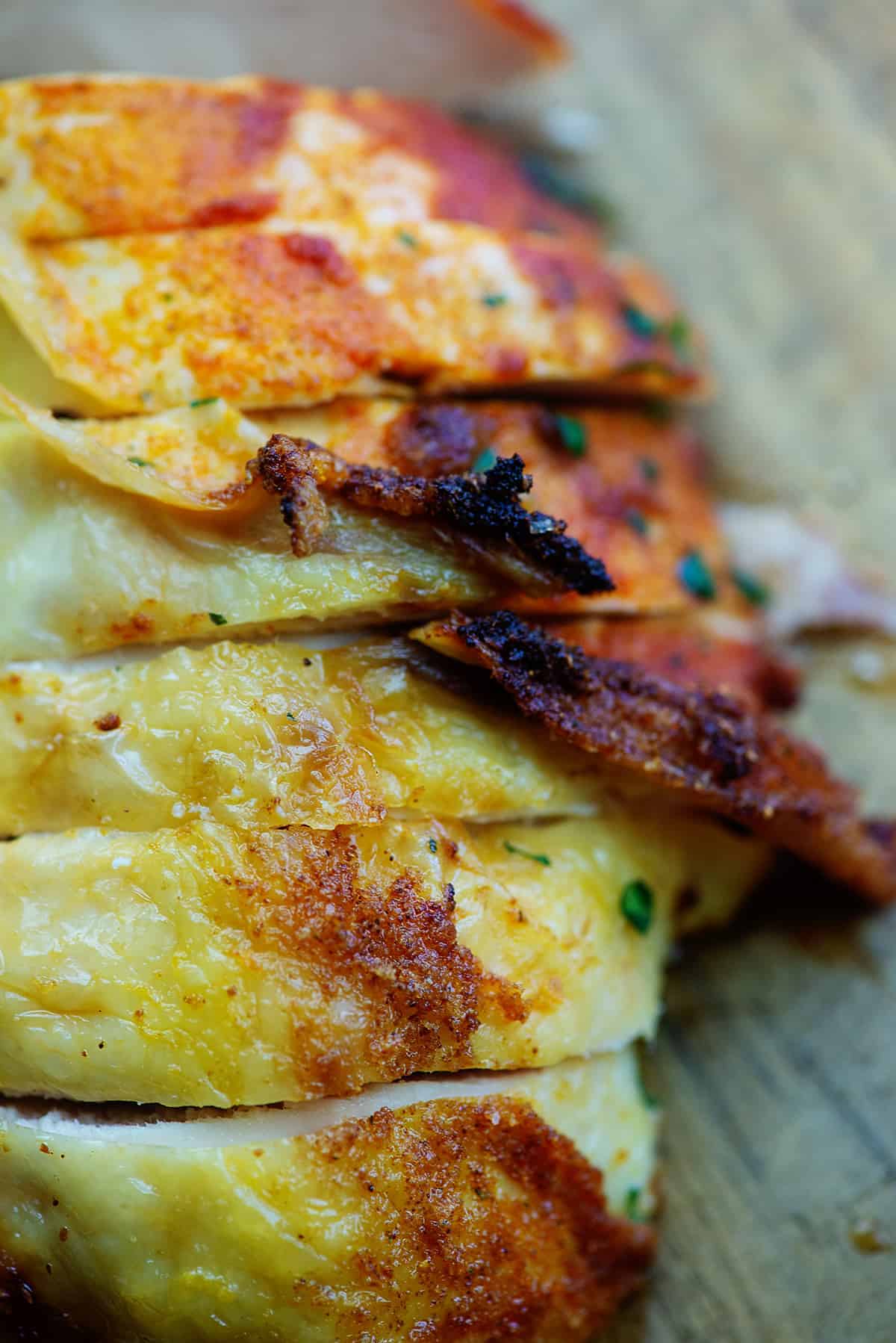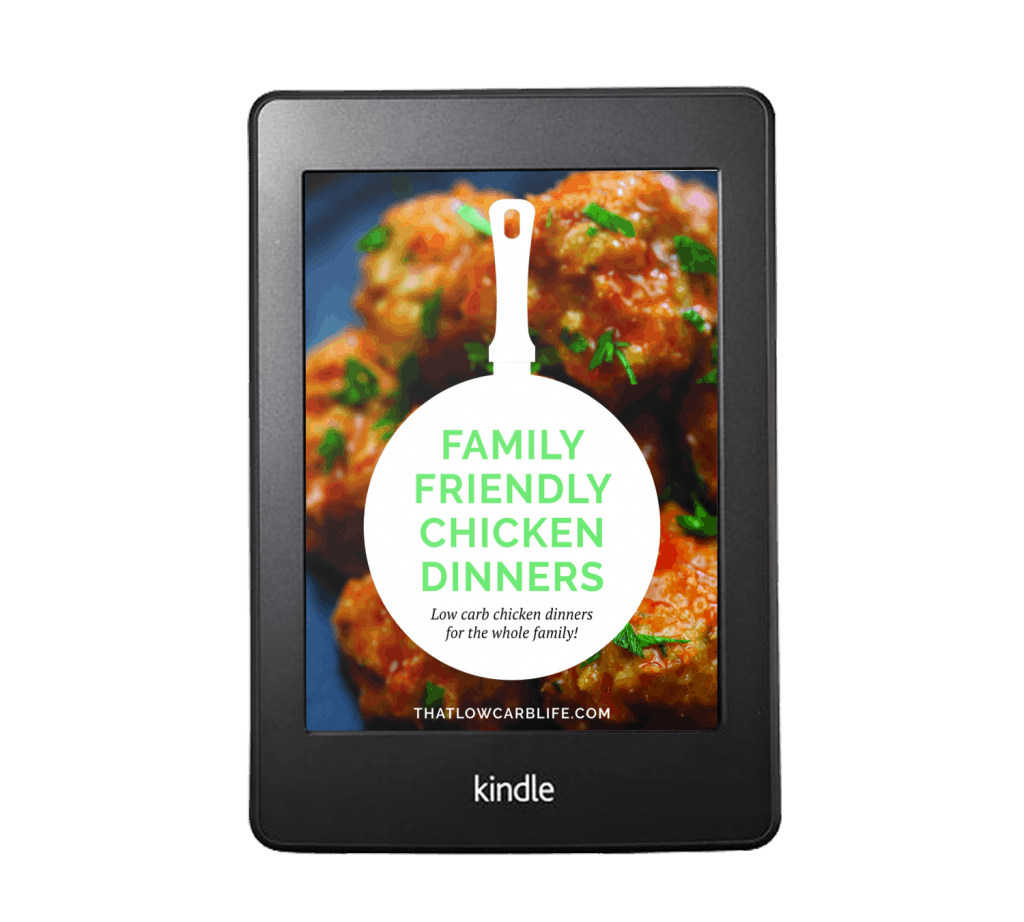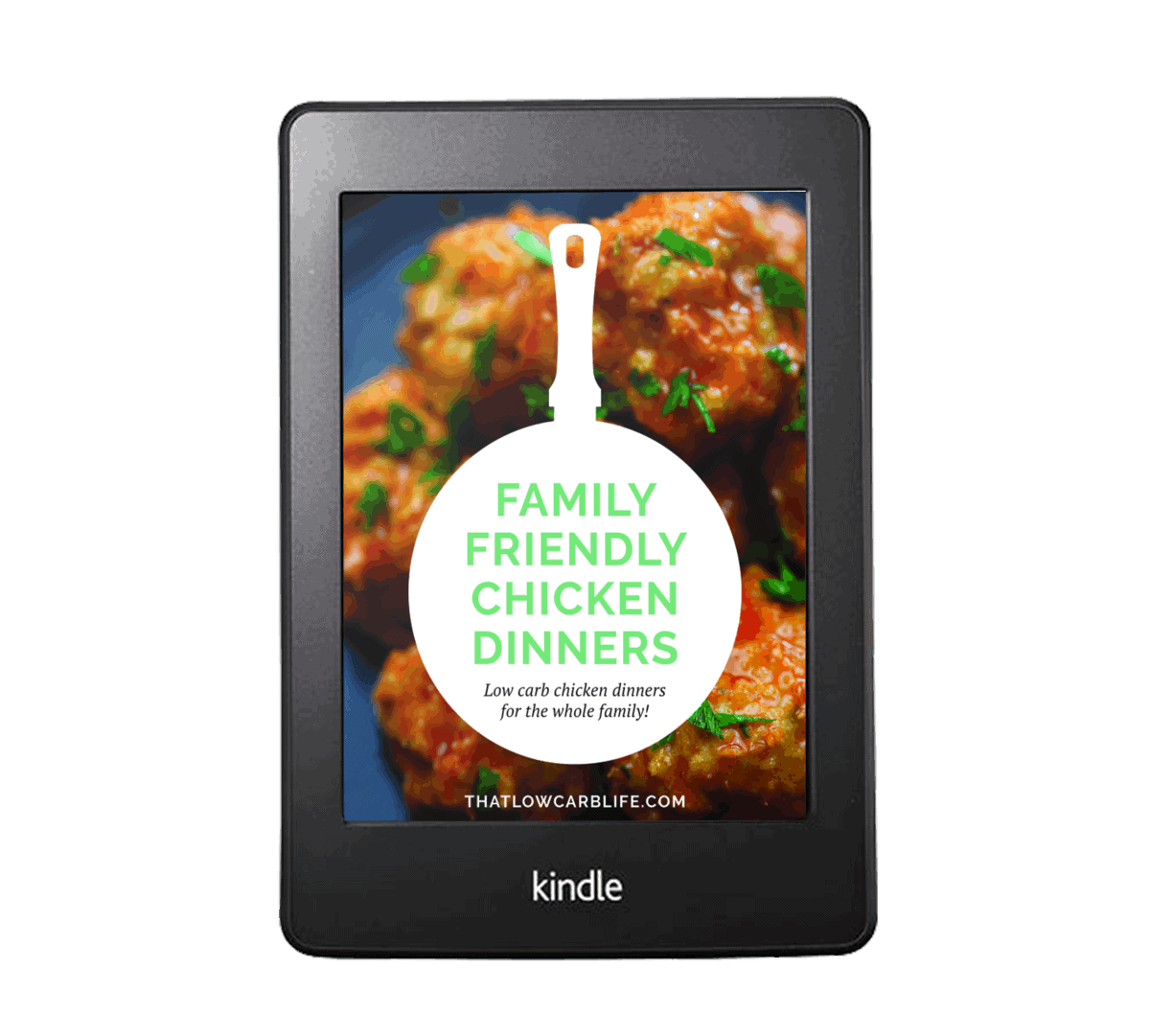 Feeding your family AND sticking to your diet is about to get a whole lot simpler!
Eating low carb doesn't have to mean cooking one meal for yourself and another meal for your family! With Family Friendly Chicken Dinners, you'll find 14 of my favorite chicken recipes that the entire family will love!
Ingredient Notes:
This post contains affiliate links. As an Amazon associate and member of other affiliate programs, I earn from qualifying purchases.
Chicken – You'll want bone-in, skin-on chicken breasts for our oven roasted chicken breast recipe.
Butter – You'll rub the chicken with softened butter before seasoning. It'll help the seasoning stick to the chicken and it makes for crispy, flavorful skin! You can use olive oil if preferred.
Seasoning – This seasoning mix is pretty simple; some garlic salt, paprika, and onion powder. If you want to spice things up a bit you can mix in a little cayenne pepper! Another option is to use smoked paprika if you want to add smoky flavor to the roasted chicken!
Shop Keto Ingredients
We use Thrive Market for a lot of our specialty ingredients and keto snacks or products. Their prices tend to be cheaper than the local stores and I love that you can so easily sort products by diet.rnrnLike Costco, this is a membership site, but we find that it's more than worth it based on the amount we save over the regular grocery store.rnrnThey have monthly or yearly plans. Check it out here.
How To Bake Chicken Breast:
Seasoning –To get started you'll want to mix up the seasoning. It's really pretty simple; just some garlic salt, paprika, and onion powder.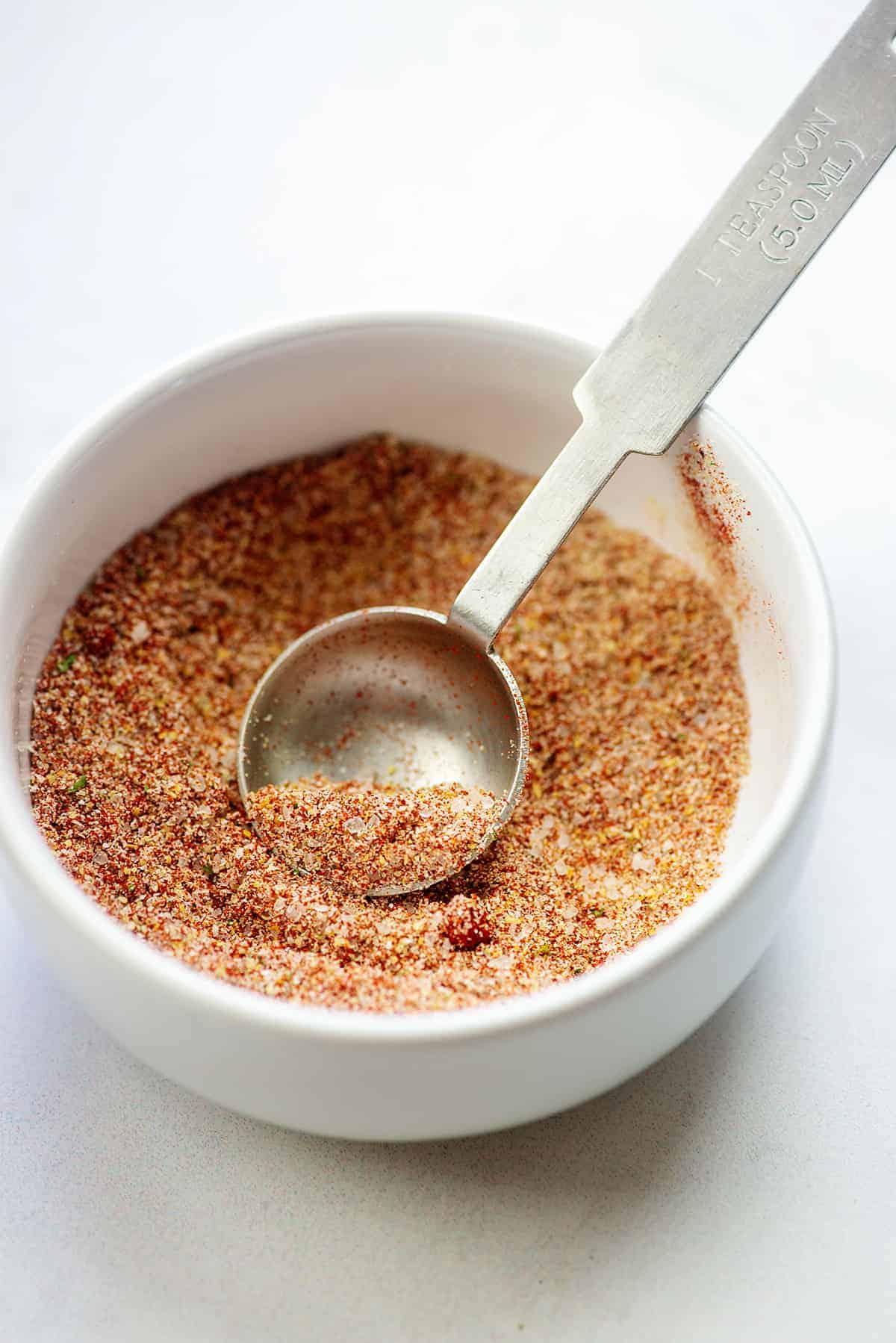 Butter – Rub the chicken all over with softened butter. It's easiest to just use your hands so go ahead and get in there and coat that chicken! The butter will help the seasoning stick and it'll add flavor to the skin and help it crisp as it roasts in the oven.
Coat – Start sprinkling the seasoning mixture over the buttered chicken. Try to get them as well coated in the seasoning as you can! We like flavor around here.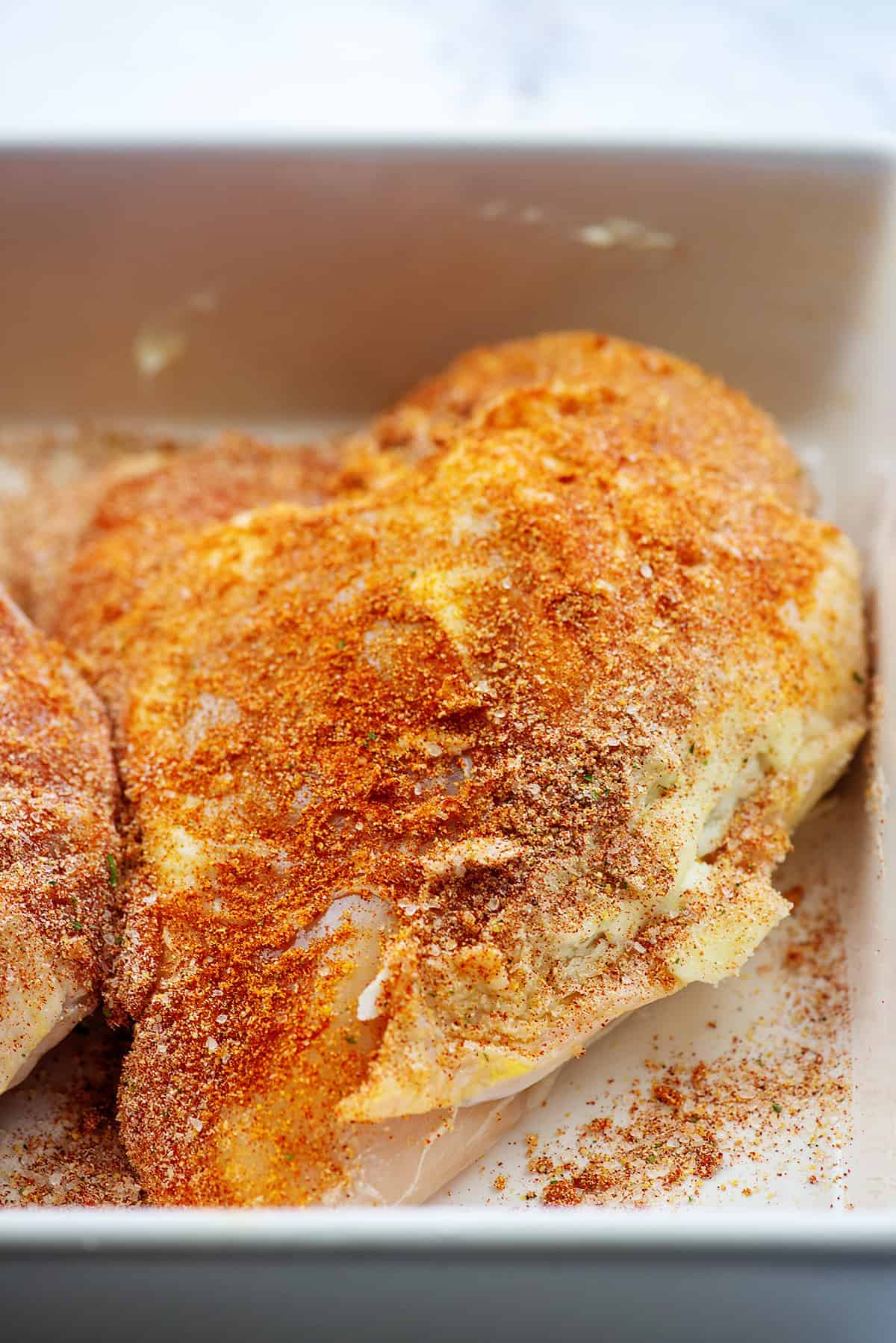 Bake – Place the chicken on a parchment lined baking sheet and pop it into a 425 degree oven. We're baking the chicken at a higher temperature to be sure that we get the skin nice and crispy. They'll roast in about 30-35 minutes. We recommend using a meat thermometer to check for doneness. See below for more on my favorite meat thermometer! Your chicken breasts are fully cooked when they reach 165 degrees.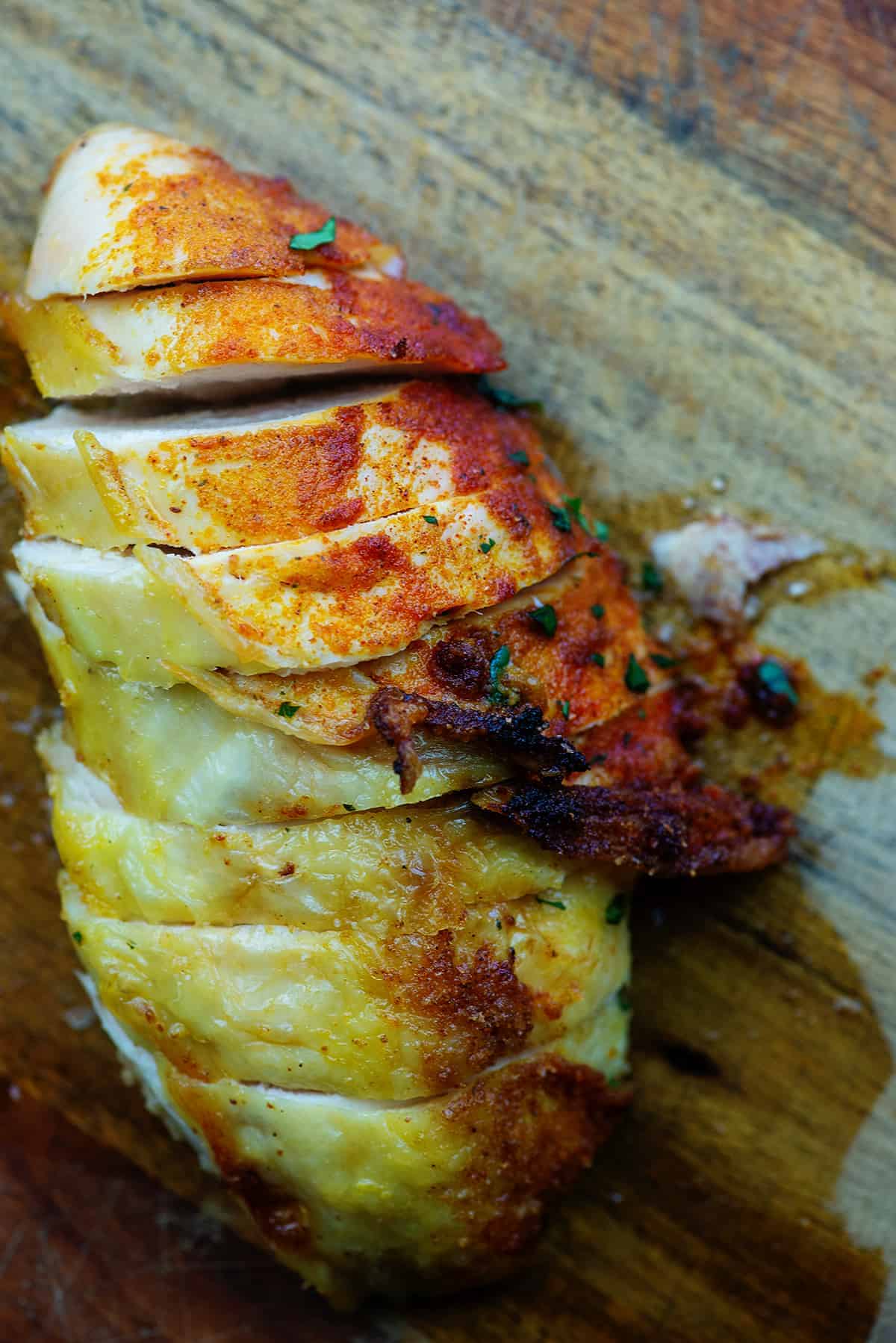 Our Favorite Meat Thermometer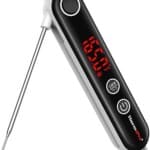 I love using this meat thermometer for making sure the meat is fully cooked! Easy for beginners & absolutely worth the low cost. Just stick it in the thickest part of the meat to check for doneness. This thermometer is also magnetic so it's easy to store right on the side of the fridge or oven for easy access! Get it on Amazon.
Roast Chicken Breast Seasoning Options:
BBQ – We love our BBQ rub on roasted chicken. Just swap the brown sugar in the recipe for your favorite sub, like Swerve or Lakanto.
Greek – We're obsessed with the flavors in Cavender's Greek Seasoning. It adds the perfect touch to just about any recipe.
Cajun – We use Tony's seasoning on lots of recipes. It's a bit salty, has a nice kick, and just generally works well on any protein or veggie!
Temperature for Oven Roasted Chicken Breasts:
We prefer a higher heat for our baked chicken breasts, to ensure that the skin crisps up and the chicken remains juicy.
We've tested a variety of temperatures and times and have found that the best results come from baking chicken breast in the oven at 425 degrees for about 30-35 minutes, depending on the size of the breasts.
FAQs:
How to store roasted chicken breasts?
These roasted chicken breasts are great for meal prep! Store them in an airtight container in the fridge for 4-5 days. Reheat in the air fryer at 350 degrees for 4-5 minutes to crisp the skin back up. Alternately, remove the meat from the bones and store in a small container to use in other recipes, likes soups and salads.
How long to bake chicken breast at 425?
At 425 degrees these bone-in chicken breasts should take about 30-35 minutes depending on their size. You shouldn't guess with chicken though! When the internal temp hits 165 the oven roasted chicken breast is fully cooked. Use a meat thermometer to be sure it is done!
Serving Suggestions:
These oven baked chicken breasts go great with a variety of side dishes. A few of our favorites include: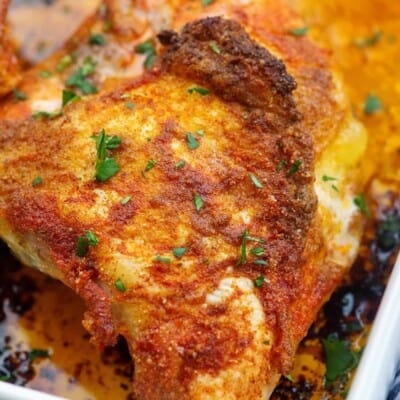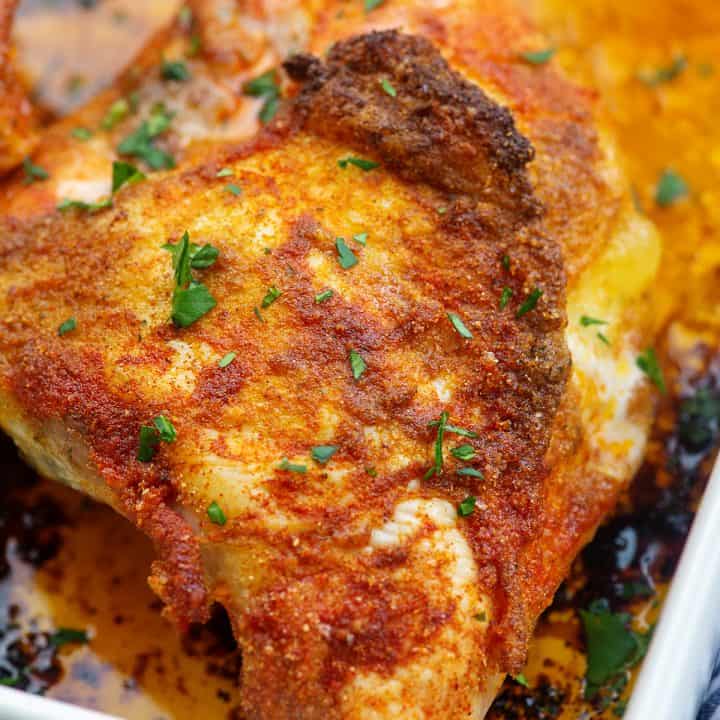 Roasted Chicken Breast
Crispy skin, juicy chicken, and a super simple seasoning make these roasted chicken breasts a favorite in our house. We cook one breast per person and usually end up with a bit of leftover meat that we chop up for later in the week.
Prep5 minutes
Cook40 minutes
Total45 minutes
Ingredients
4 chicken breasts bone-in and skin on
2 tablespoons butter softened
1 teaspoon garlic salt
1 teaspoon onion powder
1 teaspoon paprika
Instructions
Preheat oven to 425 degrees. Line a baking dish with parchment paper.

Rub the chicken pieces with the softened butter.

Stir together the spices and sprinkle evenly over the chicken.

Bake for 30-35 minutes or until the internal temperature is 165 degrees.

Let chicken rest 10 minutes before serving.
Tips & Notes:
We love our simple seasoning blend for roasting chicken, but any blend of spices will work well. Try adding cayenne for a little heat or use a premade spice blend, such as cayenne or Greek seasoning. You can use olive oil in place of butter, if preferred.
Nutrition Information:
Serving: 1chicken breast| Calories: 254kcal (13%)| Carbohydrates: 1g| Protein: 37g (74%)| Fat: 10g (15%)| Saturated Fat: 5g (31%)| Polyunsaturated Fat: 4g| Cholesterol: 117mg (39%)| Sodium: 532mg (23%)| Net Carbs: 1g (2%)