Broccoli cheese casserole is one of those side dishes that gets gobbled up every time. It's so creamy, cheesy, and full of flavor. Even your picky eaters will devour this broccoli.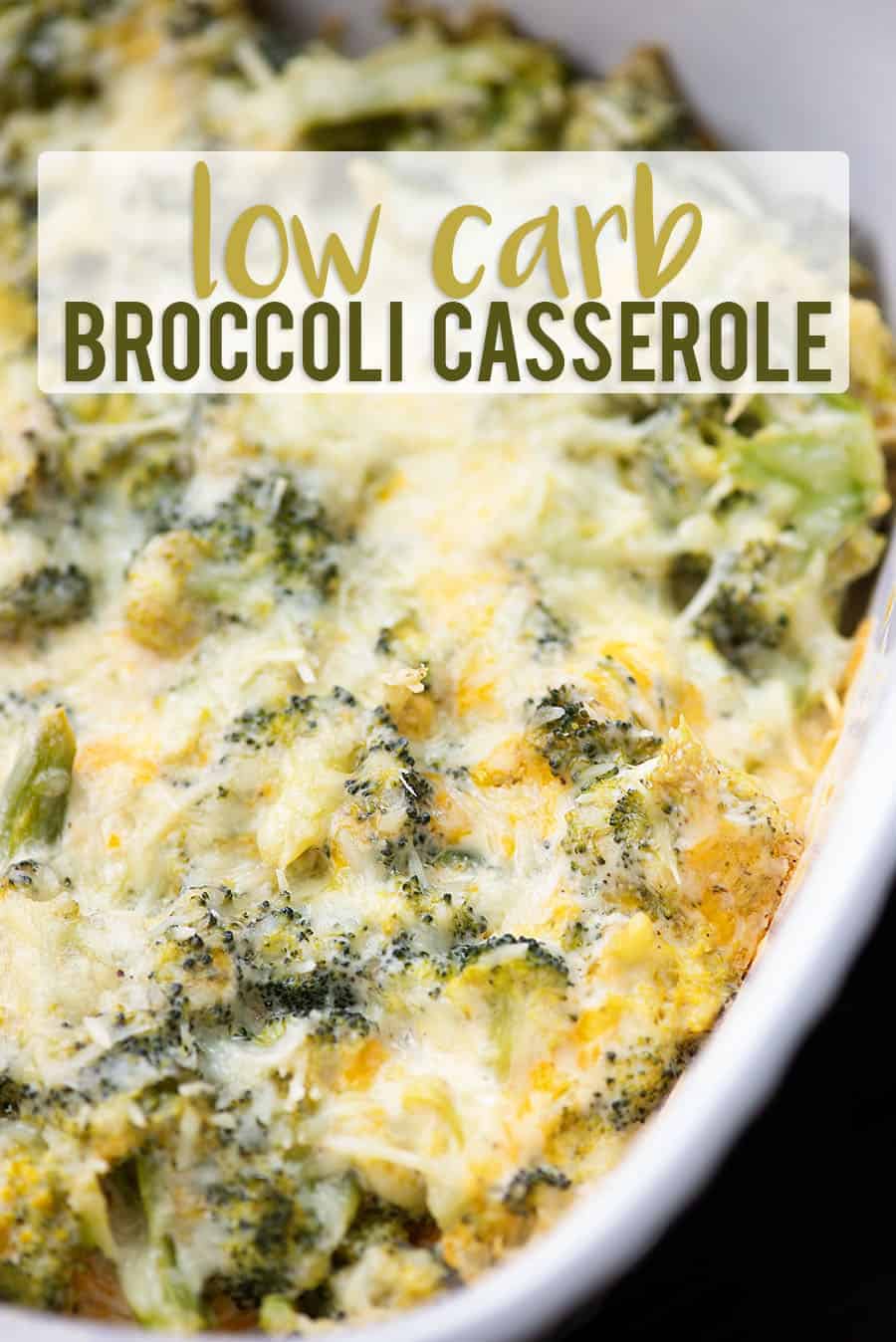 Would you believe that my parents never made me eat broccoli as a kid?
I honestly don't think I ever even tasted broccoli until I was a teenager.
Which, hey, I'm not complaining. Broccoli was scary and green looking and I was super picky. My parents picked their battles.
But now? I LOVE broccoli. It's probably my favorite veggie and I often eat it steamed with just a sprinkling of salt. No butter, no cheese, just good ol' broccoli.
Sometimes, though, you've got to get a little fancy with your vegetables and that's where this easy broccoli cheese casserole comes into play.
Y'all are going to love how cheesy and melty and flavorful this low carb broccoli casserole recipe is!
👩‍🍳 Ingredient Notes:
This post contains affiliate links. As an Amazon associate and member of other affiliate programs, I earn from qualifying purchases.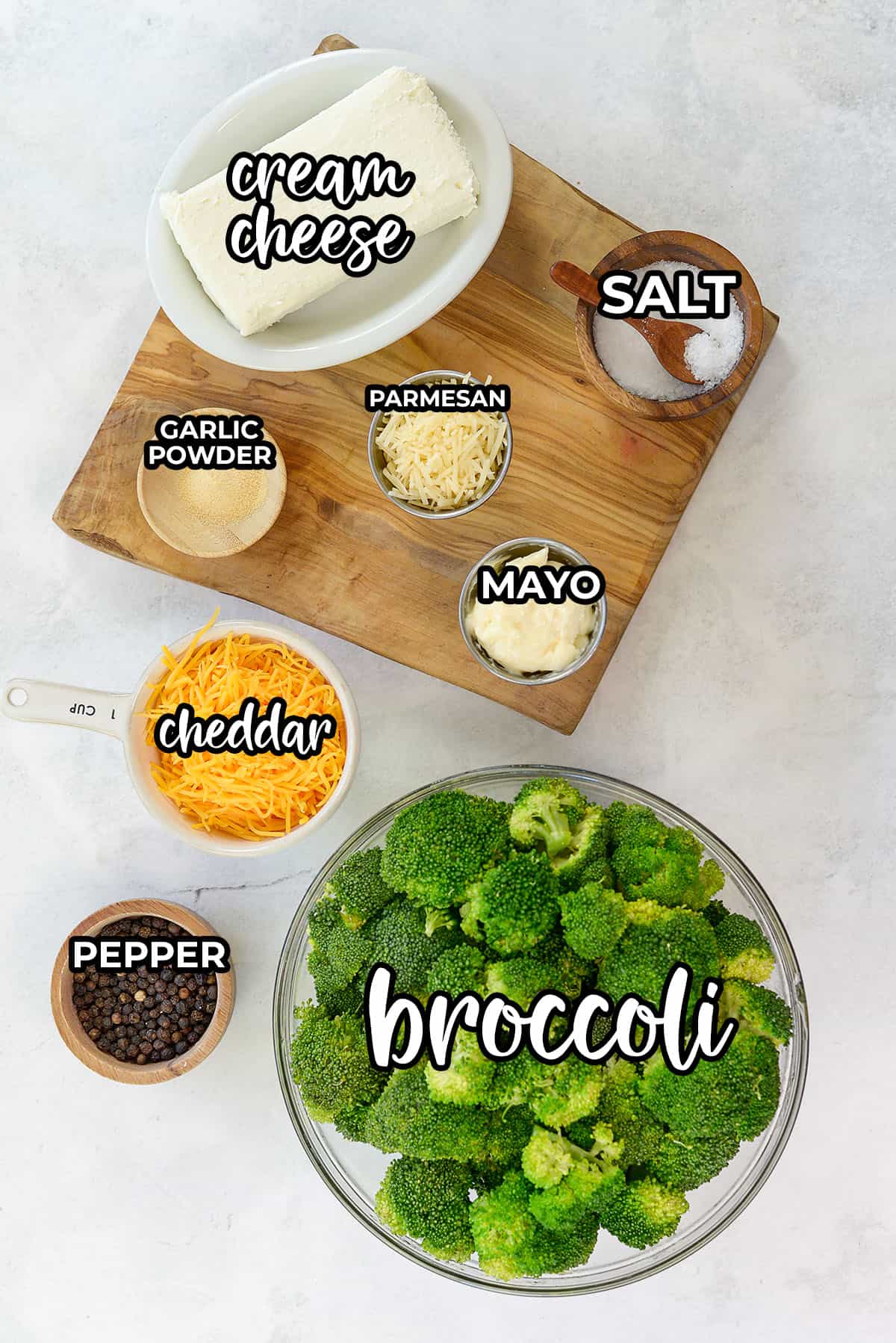 Fresh Broccoli – You'll note that I'm a fan of the fresh broccoli over the frozen! It just tastes better, but I do understand the convenience of the frozen kind. If that's what you've got, it should work. I've just never made it myself in this recipe.
Cheese – This broccoli and cheese casserole is loaded up with rich cream cheese, freshly grated cheddar cheese, and some grated Parmesan cheese! That's going to add tons of creamy, decadent cheesy flavor to this casserole.
Mayo – It's going to add even more creamy flavor to this keto casserole.
Seasoning – You don't need many seasonings for this casserole. The rich, cheesy flavors with the broccoli pretty much do most of the work but we do like to mix in some garlic powder, salt, and ground black pepper!
Why We Love This Recipe:
u003culu003ern tu003cliu003eBroccoli and cheese is a classic recipe that just about everyone can enjoy, including the kids!u003c/liu003ern tu003cliu003eIt's an easy casserole recipe that you can put together in no time.u003c/liu003ern tu003cliu003eWith all that rich, creamy cheese nobody will even notice that this is a keto casserole.u003c/liu003ernu003c/ulu003e
u0026#x1f966; How To Make Broccoli Casserole:
u003culu003ern tu003cliu003eu003cstrongu003eBroccoli – u003c/strongu003eWe're starting with fresh broccoli for this recipe, because I personally think it has the best taste and texture. I do usually buy pre-cut broccoli florets in the produce section, but a head of broccoli works just as well. Chop the broccoli into small florets.u003c/liu003ern tu003cliu003eu003cstrongu003eSteam – u003c/strongu003eYou'll start out by steaming the broccoli lightly, either in a stove top steamer or in the microwave. For this recipe, I nearly always opt for the microwave, just because it's easy. Pop your broccoli into a large bowl with two tablespoons of water, cover tightly with plastic wrap, and microwave for 2 minutes.u003c/liu003ern tu003cliu003eu003cstrongu003eCheese – u003c/strongu003eYou'll mix together cream cheese, grated cheddar, garlic powder, salt, and pepper.u003c/liu003ern tu003cliu003eu003cstrongu003eMix – u003c/strongu003eScoop that mixture right on top of your hot and steamy broccoli and start stirring. The mixture should melt right into the broccoli pretty quickly as you stir.u003c/liu003ern tu003cliu003eu003cstrongu003eBake – u003c/strongu003eTransfer this to a baking dish and sprinkle the top with Parmesan cheese. Bake it up and you'll have this decadent broccoli and cheese casserole that the whole family will love! This u003cstrongu003eeasy broccoli casserole u003c/strongu003eis ready to go in just about 20 minutes.Serve alongside some grilled chicken or steak with a side of u003ca href=u0022https://thatlowcarblife.com/keto-coleslaw/u0022 target=u0022_blanku0022 rel=u0022noopeneru0022u003eketo coleslawu003c/au003e!rnrnIf you love this keto broccoli casserole recipe, be sure to try my u003ca href=u0022https://thatlowcarblife.com/broccoli-salad-with-bacon/u0022 target=u0022_blanku0022 rel=u0022noopeneru0022u003ebroccoli saladu003c/au003e and u003ca href=u0022https://thatlowcarblife.com/cauliflower-potato-salad/u0022 target=u0022_blanku0022 rel=u0022noopeneru0022u003ecauliflower potato salad!u003c/au003eu003c/liu003ernu003c/ulu003ernu003cp style=u0022text-align: center;u0022u003eu003cimg class=u0022aligncenter size-full wp-image-373u0022 src=u0022https://thatlowcarblife.com/wp-content/uploads/2018/04/keto-broccoli-casserole.jpgu0022 alt=u0022keto broccoli casserole on white plateu0022 width=u0022900u0022 height=u00221348u0022 /u003eu003c/pu003ernu0026nbsp;
❔ FAQs:
How to store broccoli cheese casserole?
You can keep this low carb casserole stored in the fridge for about 3 to 4 days in an airtight or well sealed container.
How to freeze broccoli cheese casserole?
This casserole should freeze well for up to few months. Keep it in a freezer safe container or wrapped in some foil and plastic.
Can I use frozen broccoli?
I've never tried it in this recipe and would definitely recommend using fresh broccoli, but I think it would work fine with frozen.
🥘 More Keto Casserole Recipes: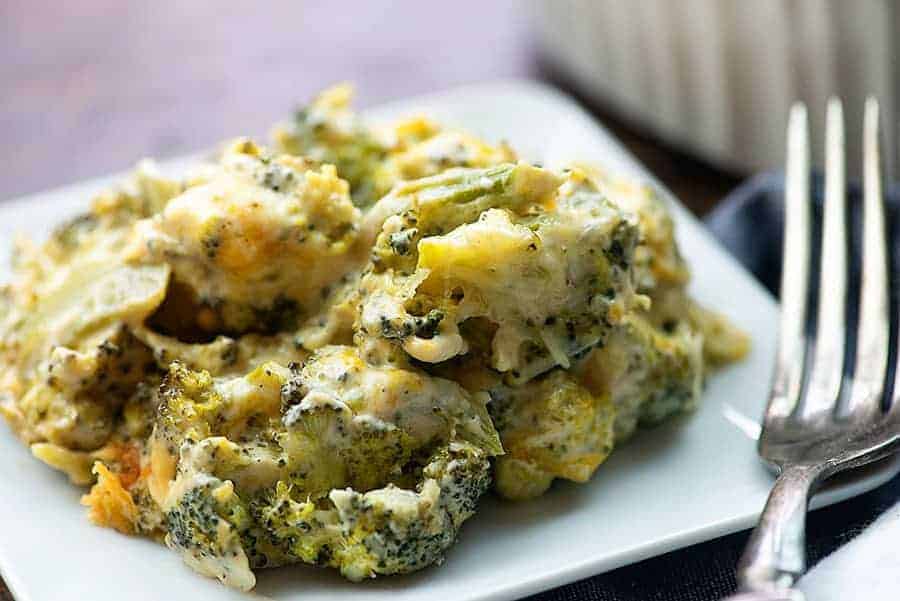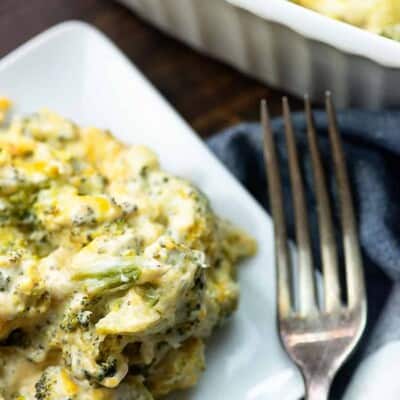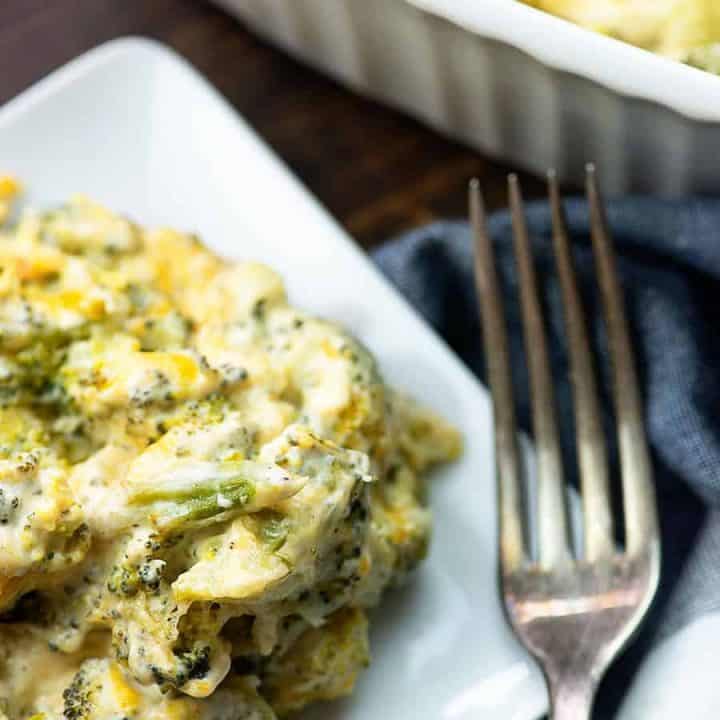 Broccoli Cheese Casserole
This low carb broccoli cheese casserole is ready in just about 20 minutes and is always a hit with my kids. Cheesy broccoli makes the perfect side to any grilled meat.
Prep15 minutes
Cook12 minutes
Total27 minutes
Ingredients
20 ounces fresh broccoli florets
8 ounces cream cheese room temperature
¼ cup mayonnaise
1 cup freshly shredded cheddar cheese
1 teaspoon garlic powder
½ teaspoon ground black pepper
¼ teaspoon salt
¼ cup grated Parmesan
Instructions
Preheat oven to 350 degrees.

Add the broccoli to a large microwave safe bowl along with 2 tablespoons of water. Cover tightly with plastic wrap and microwave for 2 minutes. Let sit, covered, for 2 minutes.

Add the cream cheese, mayonnaise, cheddar, garlic powder, salt, and pepper to a small bowl and mix well to combine.

Stir the cream cheese mixture into the steamed broccoli until well combined.

Transfer broccoli to an 8×8 baking dish and sprinkle the Parmesan over the top.

Bake for 10 minutes.
Tips & Notes:
This recipe is very cheesy! Feel free to add more broccoli or less cream cheese, if you don't want it quite so rich and decadent. We purchase bags of FRESH broccoli florets in the produce section. It's more expensive than buying a head and chopping yourself, but it's my favorite time saver and helps us eat more broccoli when I know I don't have to spend time prepping it.
Nutrition Information:
Serving: 1| Calories: 323kcal (16%)| Carbohydrates: 8g (3%)| Protein: 10g (20%)| Fat: 28g (43%)| Saturated Fat: 13g (81%)| Polyunsaturated Fat: 12g| Cholesterol: 64mg (21%)| Sodium: 502mg (22%)| Fiber: 3g (13%)| Sugar: 3g (3%)| Net Carbs: 5g (10%)