Our Keto Meatball Casserole, made with homemade meatballs or store-bought frozen meatballs, is the ultimate comfort food dinner! Saucy, cheesy, and easy to throw together in 10 minutes. This is one of those family favorite dinners we make again and again.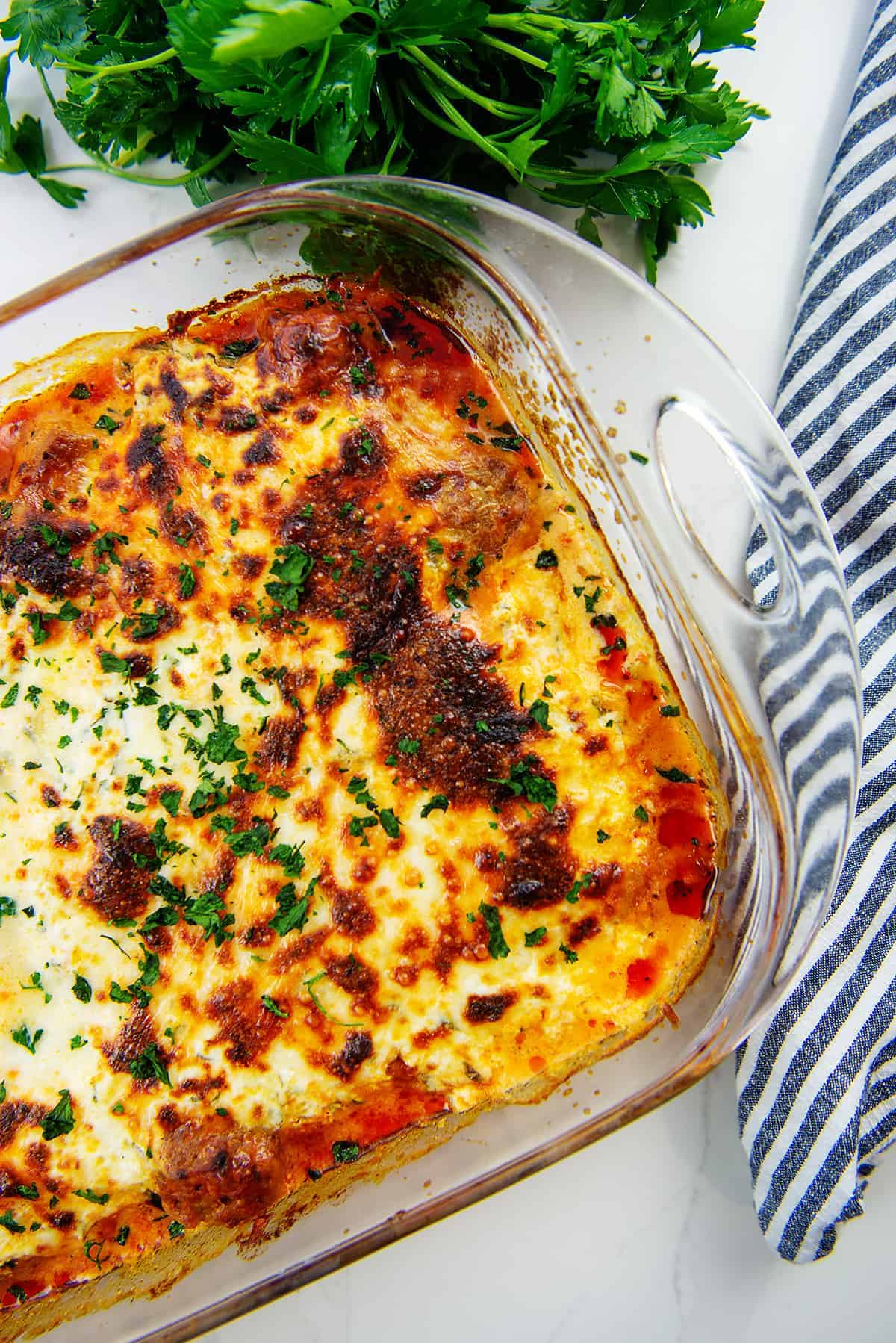 I love a good meatball, whether we're serving them up as the main dish, a snack, or an appetizer! We make them often and I'll never get tired of all the variations.
Have you tried out buffalo chicken meatballs or jalapeno popper meatballs? The ultimate dinner or snack!
And meatballs aren't hard to make, which is another bonus.
But you know what? For me, the HARDEST thing about keto and low carb is all of the prep work and meal planning. I need some simple recipes that I can just pull of thin air on busy nights or days when I just don't want to think about it all, you know?
This meatball casserole is one of those meals – I actually start with frozen meatballs most of the time (huge time saver though not 100% clean keto, if you place a focus on ingredients) and then just toss them with sauce, layer on the cheese, and bake until hot and bubbly.
You ready to dig in to this one yet?
Frozen Meatballs Vs. Homemade:
If you're in a time crunch, or just want an easy dump and go recipe, then frozen meatballs are the way to go! They bake up tender and flavorful and they're easy to keep on hand in the freezer for busy nights.
If you'd prefer to use homemade meatballs, then give our recipe for mozzarella stuffed meatballs a try. You can skip stuffing them with cheese, if you like. If you're using freshly baked homemade meatballs, assemble the casserole and bake for just 20 minutes.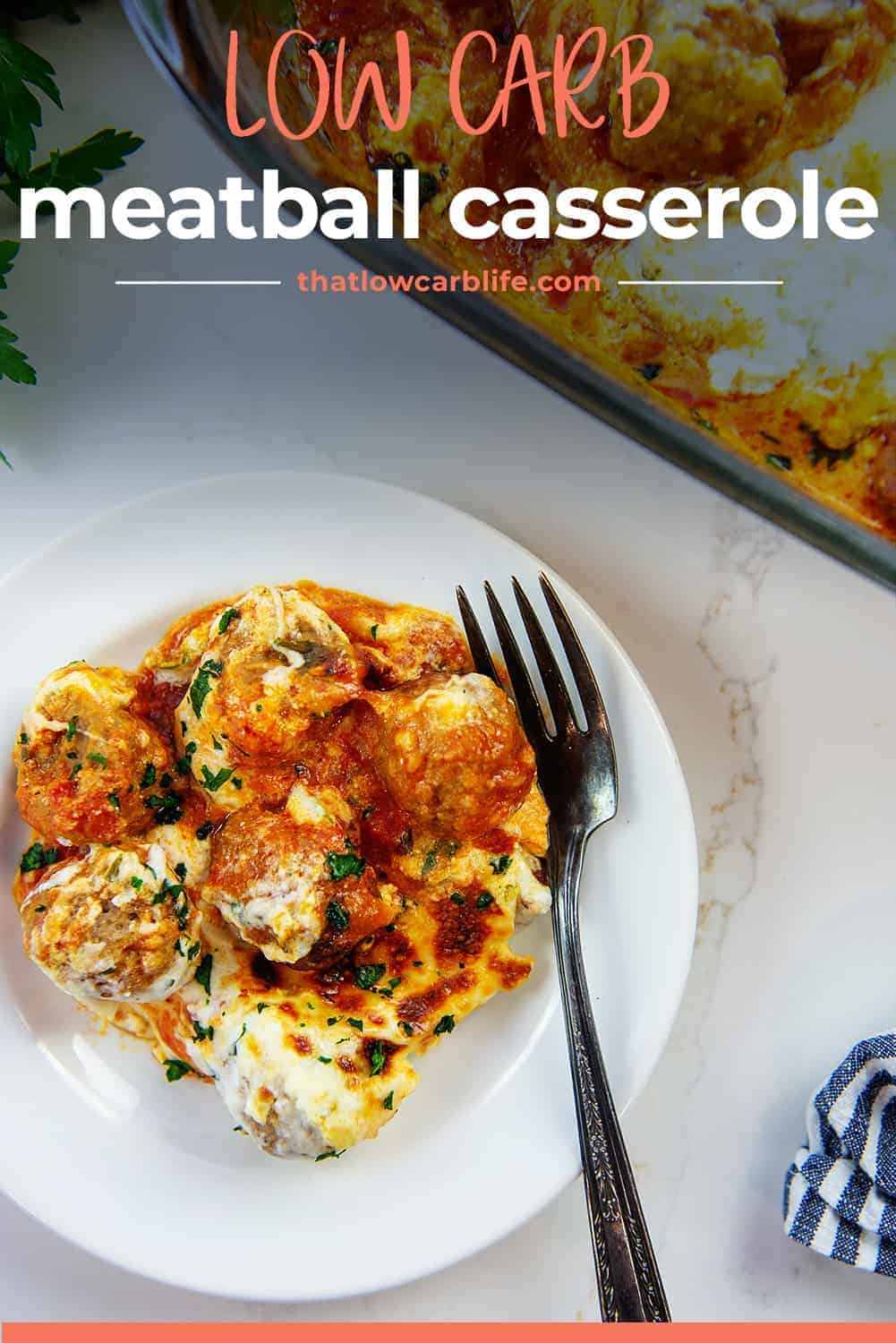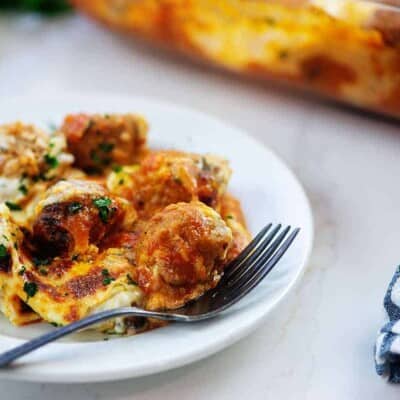 Keto Meatball Casserole
This cheesy meatball casserole can be made with frozen meatballs or with our homemade meatballs. If you're avoiding ingredients like wheat and soy, you'll likely want to use homemade meatballs to keep this one clean keto.
Prep10 minutes
Cook1 hour
Total1 hour 10 minutes
Ingredients
26 ounces frozen meatballs see notes
24 ounces marinara sauce
8 ounces ricotta cheese
4 ounces cream cheese softened
½ cup Parmesan cheese
2 cloves garlic minced
¼ cup minced parsley plus more for garnish
1 cup mozzarella
Instructions
Preheat oven to 375 degrees. Spray a 9×13 baking dish with non-stick spray.

Add the meatballs to the baking dish and top with the marinara. Use a spoon to stir the meatballs to coat in the sauce.

Add the ricotta, cream cheese, Parmesan, garlic, and parsley to a small mixing bowl and stir until smooth and creamy.

Dollop spoonfuls of the ricotta mixture over the meatballs.

Sprinkle with the mozzarella cheese.

Cover with foil and bake for 1 hour. Remove foil during the last 10 minutes to brown the top, if desired.

Sprinkle with additional parsley before serving.
Tips & Notes:
Nutrition information is based on using frozen meatballs with 4 net (5 total) carbs per 6 meatballs.
Frozen meatballs will likely contain wheat and/or soy. If you avoid those ingredients you may use our homemade meatballs. Bake the meatballs as directed, assemble the recipe, and bake for just 20 minutes.
Nutrition Information:
Serving: 8meatballs| Calories: 456kcal (23%)| Carbohydrates: 11g (4%)| Protein: 25g (50%)| Fat: 34g (52%)| Saturated Fat: 12g (75%)| Cholesterol: 78mg (26%)| Sodium: 948mg (41%)| Fiber: 2g (8%)| Sugar: 2g (2%)| Net Carbs: 9g (18%)
Ingredient Notes:
This post contains affiliate links. As an Amazon associate and member of other affiliate programs, I earn from qualifying purchases.
Meatballs – As I said, you can use the frozen variety or homemade. We like Rosina brand frozen meatballs with 4 net carbs per 6 meatballs. Walmart brand meatballs are 2 net carbs for 6, but we like the flavor and texture of Rosina brand better.
Marinara Sauce – We use and love Rao's sauce for just about everything. Not only is it sugar free, it also has the best flavor of any jarred sauce that we've tried.
Cheese – We're using a mixture of ricotta, cream cheese, mozzarella, and Parmesan.
Garlic – Every Italian inspired recipe must have garlic!
Parsley – We prefer freshly minced parsley to add some fresh flavor to this dish, but you could add in dried if that's what you have on hand.
Shop Keto Ingredients
We use Thrive Market for a lot of our specialty ingredients and keto snacks or products. Their prices tend to be cheaper than the local stores and I love that you can so easily sort products by diet.
Like Costco, this is a membership site, but we find that it's more than worth it based on the amount we save over the regular grocery store.
They have monthly or yearly plans. Check it out here.
Why We Love This Recipe:
This is a quick and easy casserole recipe! Especially thanks to the frozen meatballs which are such an easy option for dinner!
With four kinds of cheese, this is an extra cheesy casserole recipe!
You can easily serve this with a side of penne or other pasta for the carb lovers in your family. It also goes great with spaghetti squash or zucchini noodles.
Keto vs. Low Carb:
I know, without a doubt, that I'm going to get some pushback on calling this recipe keto, because of the use of frozen meatballs, but hear me out…keto is a metabolic state. Eating less than 20 net carbs a day will put you in ketosis and that's MY version of keto, as someone who's eaten this way for many years and lost quite a lot of weight doing so, even though about 99.9% of the recipes on this blog are 'clean' keto. I don't eliminate all wheat, sugar, soy, etc. and many others don't either.
If you DO eliminate those things, that's totally cool! You'll just want to use my recipe for mozzarella stuffed meatballs (totally clean ingredients!) and make them from scratch. That's totally fine and I do that sometimes too! I love that we have options here, so do what works best for you and your family!
How To Make This Meatball Casserole Recipe:
Prep the Meatballs – If you're starting with frozen meatballs, there's really no prep needed. Just toss the meatballs in a 9×13 baking dish and pour marinara over the sauce. Stir them up so the meatballs are coated in sauce.If you're making the homemade meatballs, you'll want to mix and shape the meatballs and then bake them off, drain any grease, and then pour the marinara over the top.You'll spend more time making the meatballs from scratch, but the bonus is that the casserole will bake much quicker since the meatballs will be hot instead of frozen.
Combine the Cheese – Stir together the ricotta, cream cheese, and Parmesan with the parsley and garlic until it's smooth and creamy. Taste the mixture and add a bit of salt if you think it needs it.Dollop spoonfuls of the cheese mixture of the meatballs and then sprinkle more mozzarella over the top. This is a cheesy, decadent meatball casserole and I am here for it!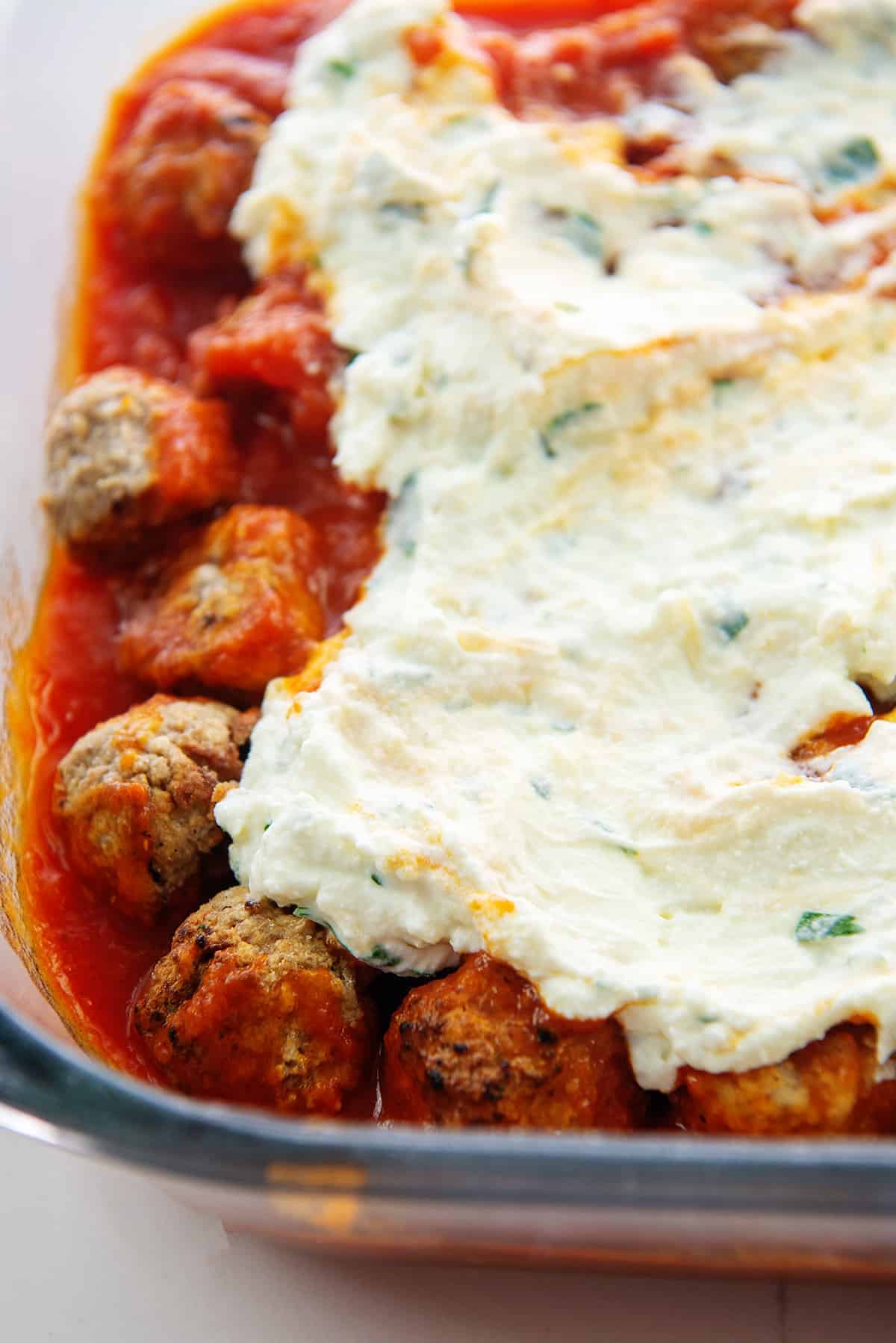 Bake – Cover the dish tightly with foil and pop it in the oven.If you're starting with frozen meatballs, you'll want to bake this for one hour. Those meatballs need time to thoroughly heat up.If you're starting with homemade meatballs, you'll want to cover and bake for 20. We like to take the foil off during the last 10 minutes of baking to let the cheese on top get a little browned, but you do you.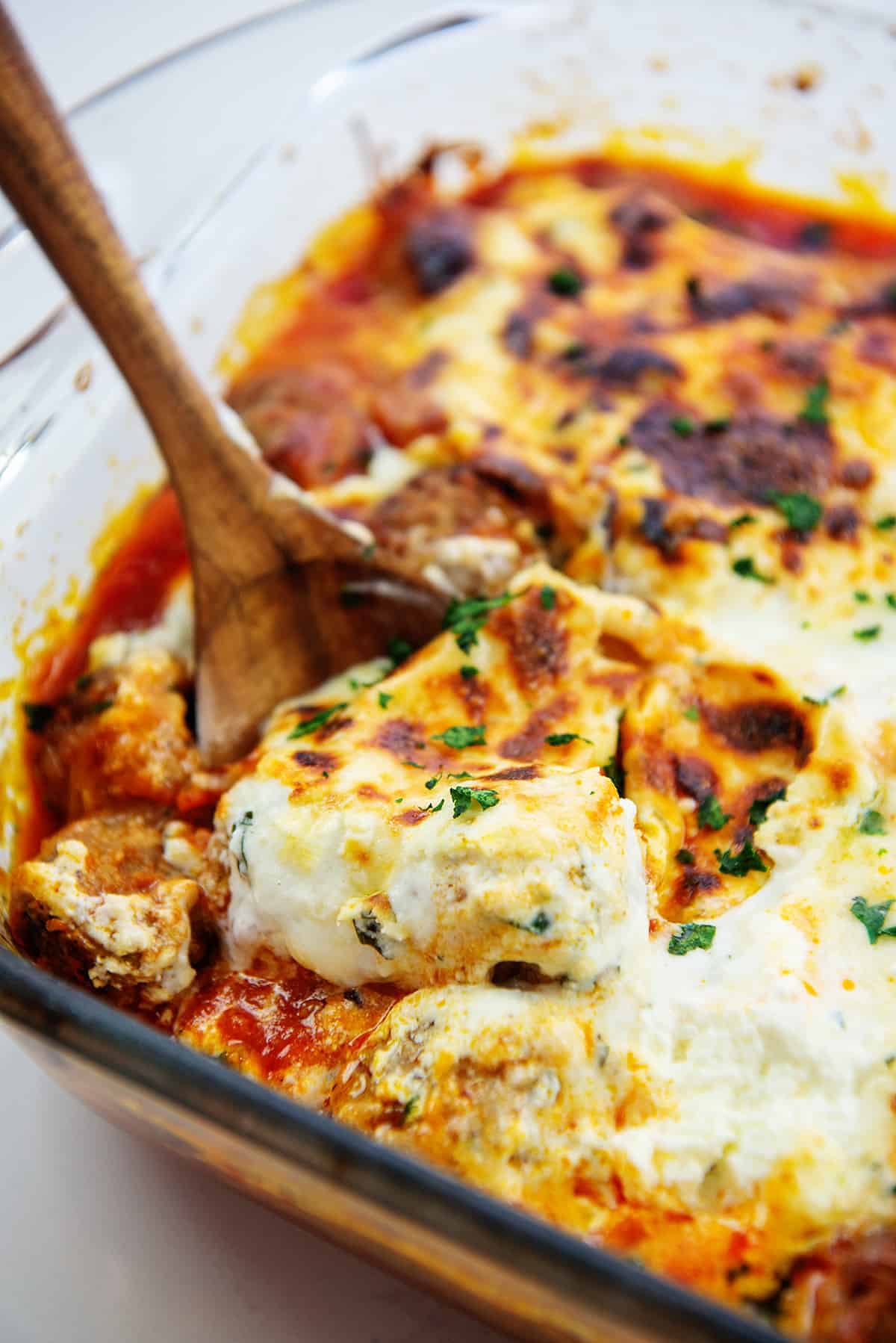 Serving Ideas:
This meatball casserole is absolutely perfect served with a side salad topped with our homemade Italian dressing and some steamed veggies.
Of course, we've been known to pile it over some of our Instant Pot spaghetti squash. On busy nights, we use the frozen bags of steamable spaghetti squash – zero prep work, just microwave! Sometimes my kids will even boil a pot of spaghetti noodles for their portion.
You'll obviously want to serve with our garlic bread chaffle.
FAQs:
How to store meatball casserole?
You can keep this keto meatball casserole in the refrigerator for up to 2 to 3 days if it is well covered. You can also freeze the casserole for up to a couple months. It can be reheated in the oven.
What meatballs are keto friendly?
Just about every store bought brand of frozen meatballs is going to contain breadcrumbs or sugar or something that isn't completely keto friendly. If you are just tracking net carbs it shouldn't be a problem. There are some brands of gluten free meatballs that are probably more keto friendly, like Rosina or Farm Rich. Or, just make your own!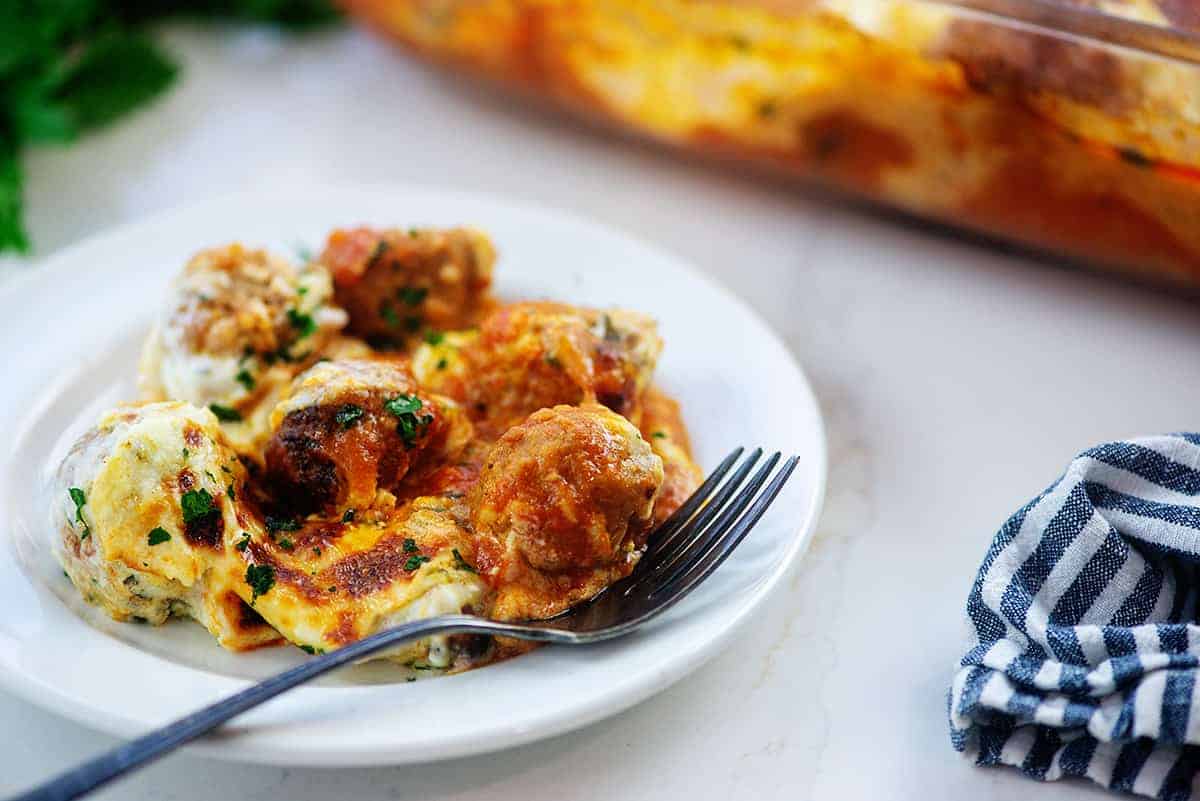 More Italian inspired recipes: