These ZUCCHINI PIZZA BOATS are the answer to your pizza craving! Loaded with pizza sauce, Italian sausage, pepperoni, and plenty of cheese, these zucchini boats have all the flavors of a pizza without all the carbs.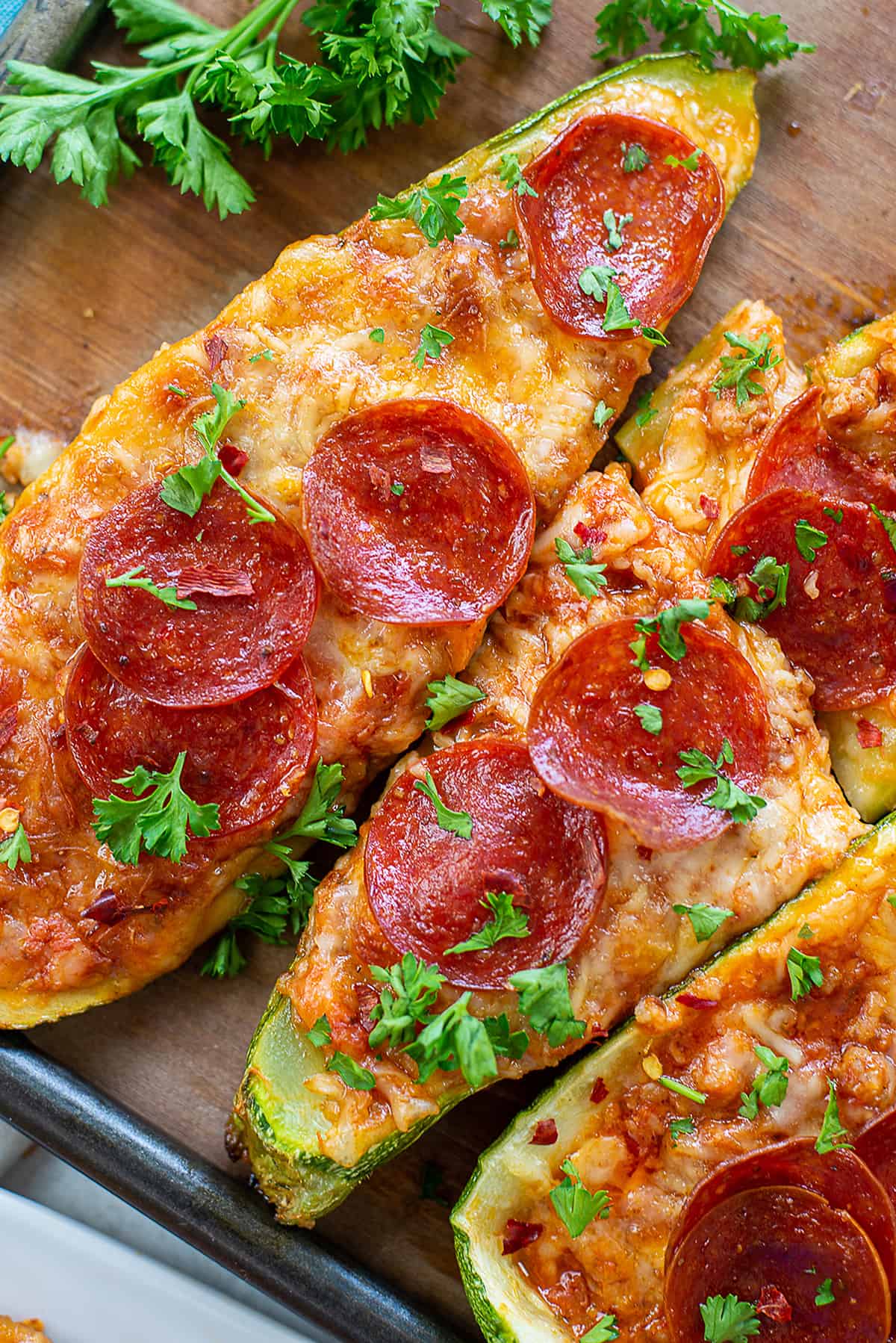 When it comes to take out, there are generally always a few safe bets for staying low carb. (We actually have a whole email series with loads of ideas for a variety of restaurants. It's free to sign up here!)
Burgers without buns, steak, fajitas with a fork instead of a tortilla, salad without croutons, and pizza – toppings only!
Oh yes. I've totally been the person at the pizza buffet eating the toppings off a plate full of pizza and leaving the crust behind for the trash.

It embarrasses the heck out of my family, but it's actually super good and it really feels indulgent. Pair with a salad and you've got a tasty dinner that doesn't feel diet-y.
Of course, I do hate wasting the crust. I mean – it's garbage in your body, so it's better to just put it right in the trash, but still. Wasteful.
So, at home, I either make fathead dough, pizza chaffles, or zucchini pizza boats. You can't go wrong with any of these recipes but let's talk more about the zucchini – arguably the healthiest option of the bunch.
Oh, and check out our enchilada zucchini boats too!
Ingredient Notes: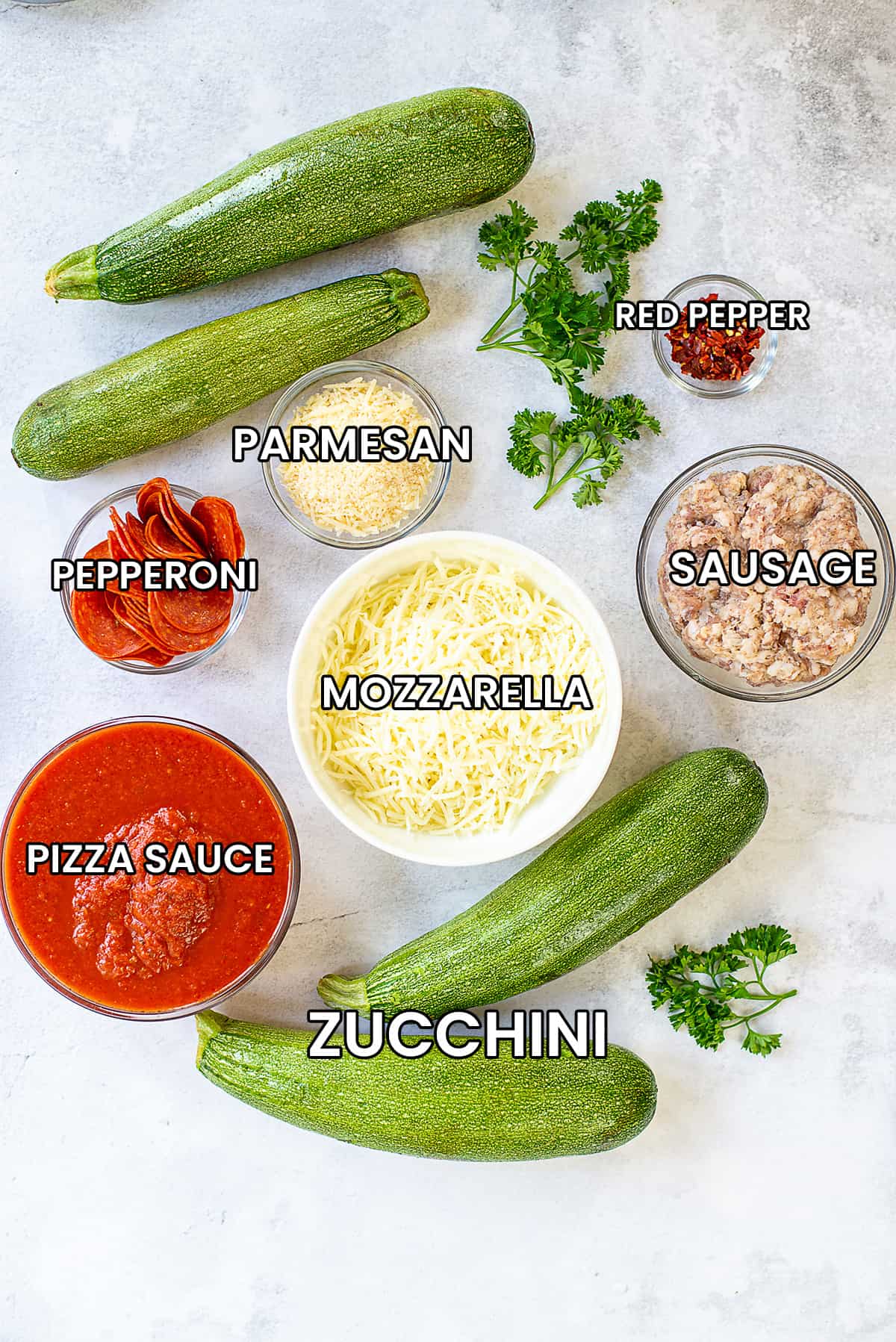 Zucchini – This will be replacing the crust that you'd usually have with a pizza. A whole lot healthier and not so many carbs!
Sausage – Italian sausage makes the perfect filling for this recipe when it is mixed with some mozzarella cheese and marinara sauce.
Pepperoni – A couple of pepperoni slices are a great topping for these zucchini boats!
What Readers Are Saying:
"This was great. I love all the ingredients, particularly Italian sausage, which is what I used. I also added sliced black olives and used 4 slices of pepperoni per zucchini. Very tasty!" – Aron
How To:
Zucchini – Slice the zucchini in half lengthwise and use a spoon to scrape out all of the seeds. This will create an area for all of your pizza toppings and sauce to live.
Sausage – Brown your sausage to get it ready for filling the zucchini. Combine the sauce with your marinara and mozzarella.
Fill the Zucchini – Spoon the sausage mixture into the zucchini, sprinkle on a little more cheese, and top it off with pepperoni.
Bake – Pop these in a hot oven for about 30 minutes to get the zucchini soft and cheese melty.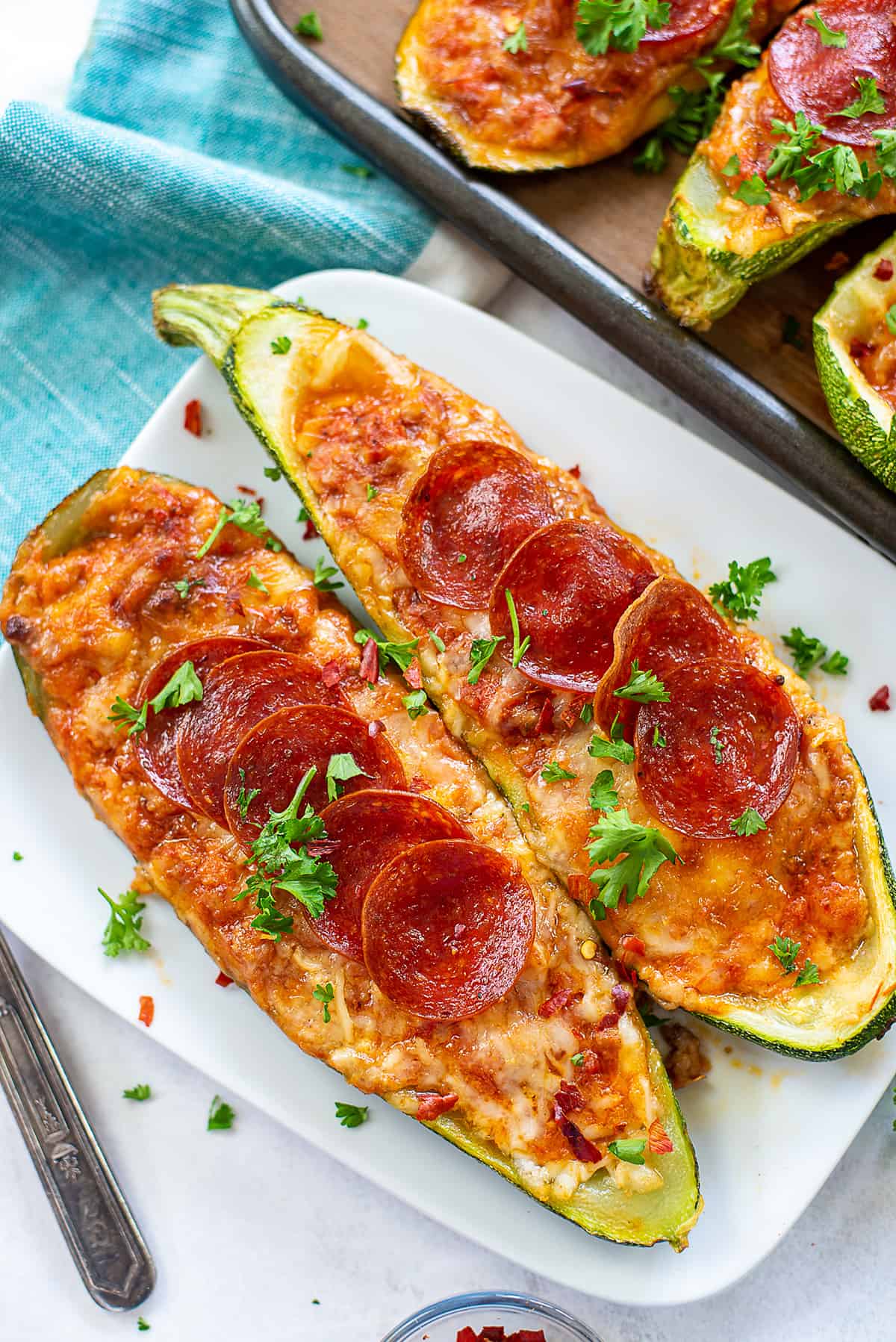 FAQ's:
What other toppings could I use?
Any pizza toppings you like should work well here. Ideas include mushrooms, black olives, onions, peppers, and ham.
How many carbs are in each pizza boat?
There are 3 net carbs in each zucchini pizza boat or 6 net carbs per serving (2 boats).
Can I make this recipe in the air fryer?
Absolutely – this should work great in air fryer! Cook at 350 degrees for 10 minutes, test the zucchini to see if it's soft enough, and continue cooking until it's as soft as you'd like.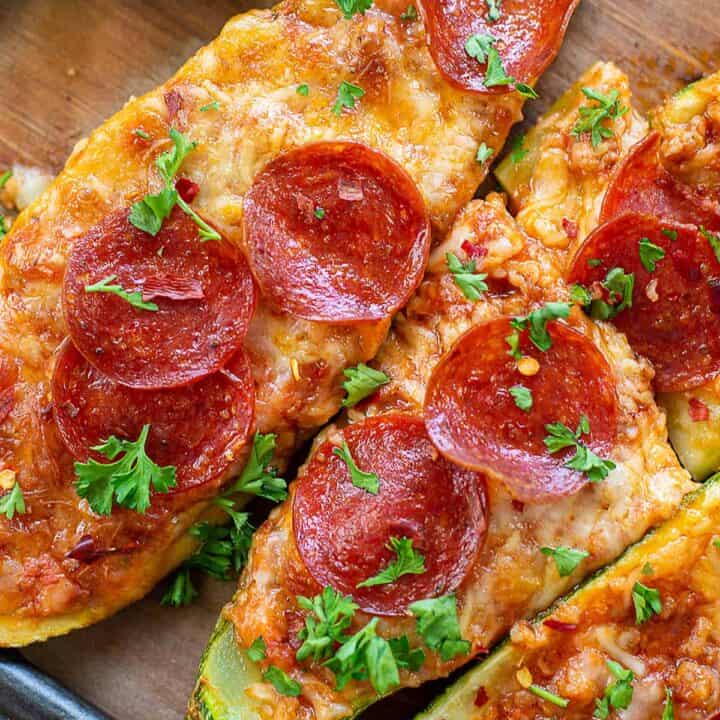 Pizza Stuffed Zucchini
This pizza stuffed zucchini skips the crust and leaves you with all of the tasty pizza toppings stuffed inside a hollowed out zucchini.
Ingredients
½ pound sausage
½ cup marinara
2 cups mozzarella, divided
¼ cup parmesan
4 medium zucchini
16 pepperoni slices
1 teaspoon chopped basil
Red pepper flakes, for serving
Instructions
Preheat oven to 375 degrees. Spray a large baking sheet with non-stick spray.
Brown the sausage in a medium skillet over medium heat, crumbling as it cooks. Drain the grease and place sausage in a small mixing bowl.
Add the marinara and 1 ½ cups of mozzarella to the bowl. Stir to combine.
Slice the zucchini in half length-wise and use a spoon to scrape out the seeds.
Fill the hollowed space in the zucchini with the meat mixture.
Sprinkle the remaining mozzarella and the Parmesan on the zucchini.
Place 2 pepperoni on each zucchini.
Bake for 30 minutes or until the zucchini is as tender as you'd prefer.
Sprinkle with basil and red pepper flakes, if desired, before serving.
Notes
Feel free to add whatever toppings you like to your pizza boats. Black olives, mushrooms, and green peppers are some of our favorites.
Nutrition Information:
Yield: 4
Serving Size: 2 zucchini boats
Amount Per Serving:
Calories: 157
Total Fat: 13g
Cholesterol: 93mg
Sodium: 560mg
Carbohydrates: 8g
Net Carbohydrates: 6g
Fiber: 2g
Sugar: 5g
Protein: 10g
All information and tools presented and written within this site are intended for informational purposes only. This information is provided as a courtesy and there is no guarantee that the information is accurate.