All the pizza flavor, none of the carbs in this Chicken Crust Pizza! Also called protein pizza, because we're using healthy lean protein as the base and topping this keto pizza with all of our favorite toppings!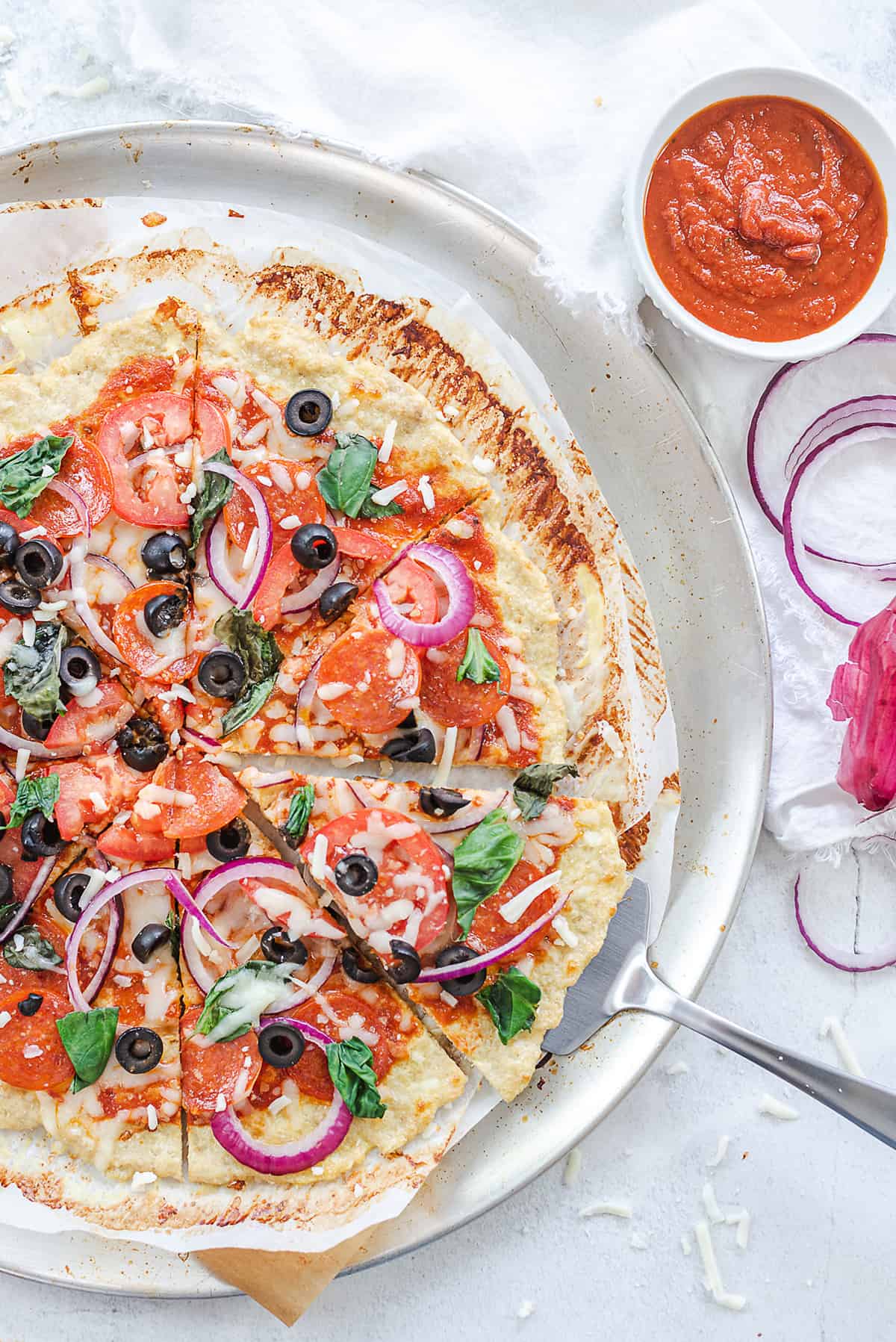 I've shared many recipes for pizza here on this site, because let's be honest…pizza is life.
It's our go to on Friday nights and I love that the whole family gets excited for pizza night. Pizza is especially awesome for those new to low carb who are trying to impress their families with some new recipes…I mean who doesn't love PIZZA??
While we normally make a fathead pizza, we've been experimenting with this protein pizza recipe, too! It starts with ground chicken as the crust and then you top it off with all the usual pizza ingredients.
This chicken crust pizza is super filling and my family loves it too. Plus it's pretty simple to whip up – way easier than a traditional yeast dough, that's for sure!
Ingredient Notes:
This post contains affiliate links. As an Amazon associate and member of other affiliate programs, I earn from qualifying purchases.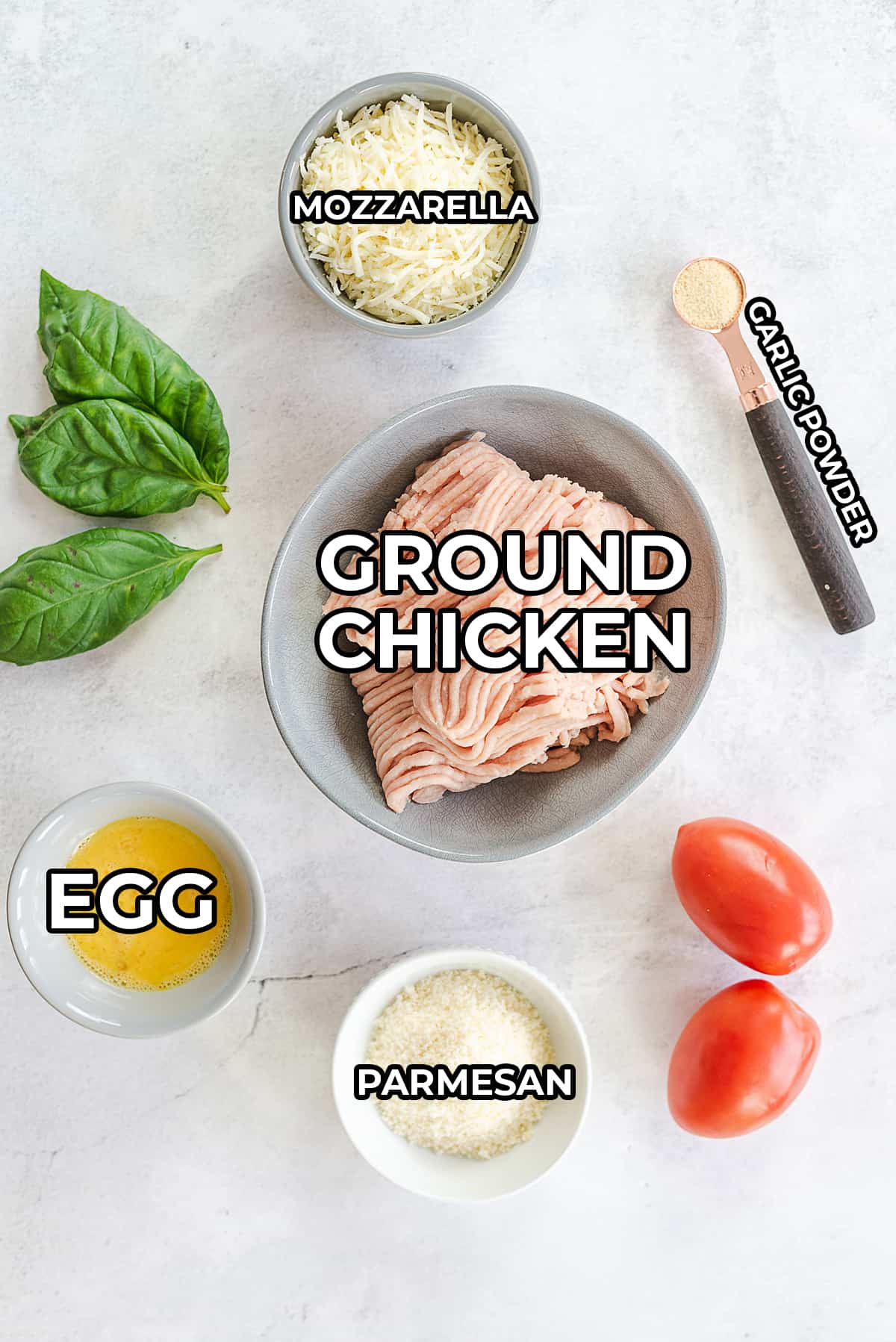 Chicken – We're using lean ground chicken. Ground turkey will work just as well and can be easier to find.
Cheese – The cheese goes both IN the crust and ON the crust. It'll help bind everything together and make for the ultimate pizza experience.
Toppings – As with any pizza you get to customize your toppings! Use some sugar free pizza or marinara sauce (We love Rao's Marinara!), pile on the cheese, and then add your toppings like pepperoni, olives, and whatever else you like.
Why We Love This Recipe:
The crust is simple and quick – just combine the ingredients in a bowl, shape, and bake.
It's easy to customize pizza toppings to suit your tastes.
The whole family gobbles this one done and it's very filling and protein packed!
How To:
Chicken Crust – To prepare this easy keto pizza crust you're going to add the ground chicken to a mixing bowl along with the egg, cheeses, and garlic powder! Stir all that up until it is well combined and the chicken is fully coated in the cheese and seasoning mixture. When combined press the mixture into a parchment lined pizza pan to form a crust, about a quarter to a half inch thick.
Bake – Pop the crust into the oven to bake a bit before adding the toppings. It'll take about 18 minutes.
Toppings – This is the best part! Now you get to customize your pizza. Brush on some pizza sauce, pile on some cheese, and add your favorite toppings like pepperoni or olives! Anything low carb works. Build your pizza your way and then you can finish it off in the oven.
Finish – It shouldn't take long for the pizza to finish! When you've added some sugar free sauce, cheese, and toppings just pop it back in the oven for about 10 minutes or until the cheese is melty and the toppings are cooked to your preference! Let it cool for about five minutes before slicing and serving.
Favorite Toppings:
Some favorite toppings include pepperoni, black olives, red onion, sliced tomatoes, and fresh basil.
Other ideas include swapping the marinara for our keto Alfredo sauce and adding chopped chicken and spinach for the toppings.
Top with your favorite sugar free barbecue sauce and bits of chicken, red onion, and cilantro for a BBQ chicken pizza.
Helpful Tips!
Be sure to bake your chicken crust on parchment paper so that it easily removes from the pan.
Keep in mind the crust also has cheese, so be careful not to overdo it on the toppings – unless you live for cheese. 😉
The crust does hold up nicely and is able to be picked up by hand, but if you overload it with toppings it may not hold up quite as well.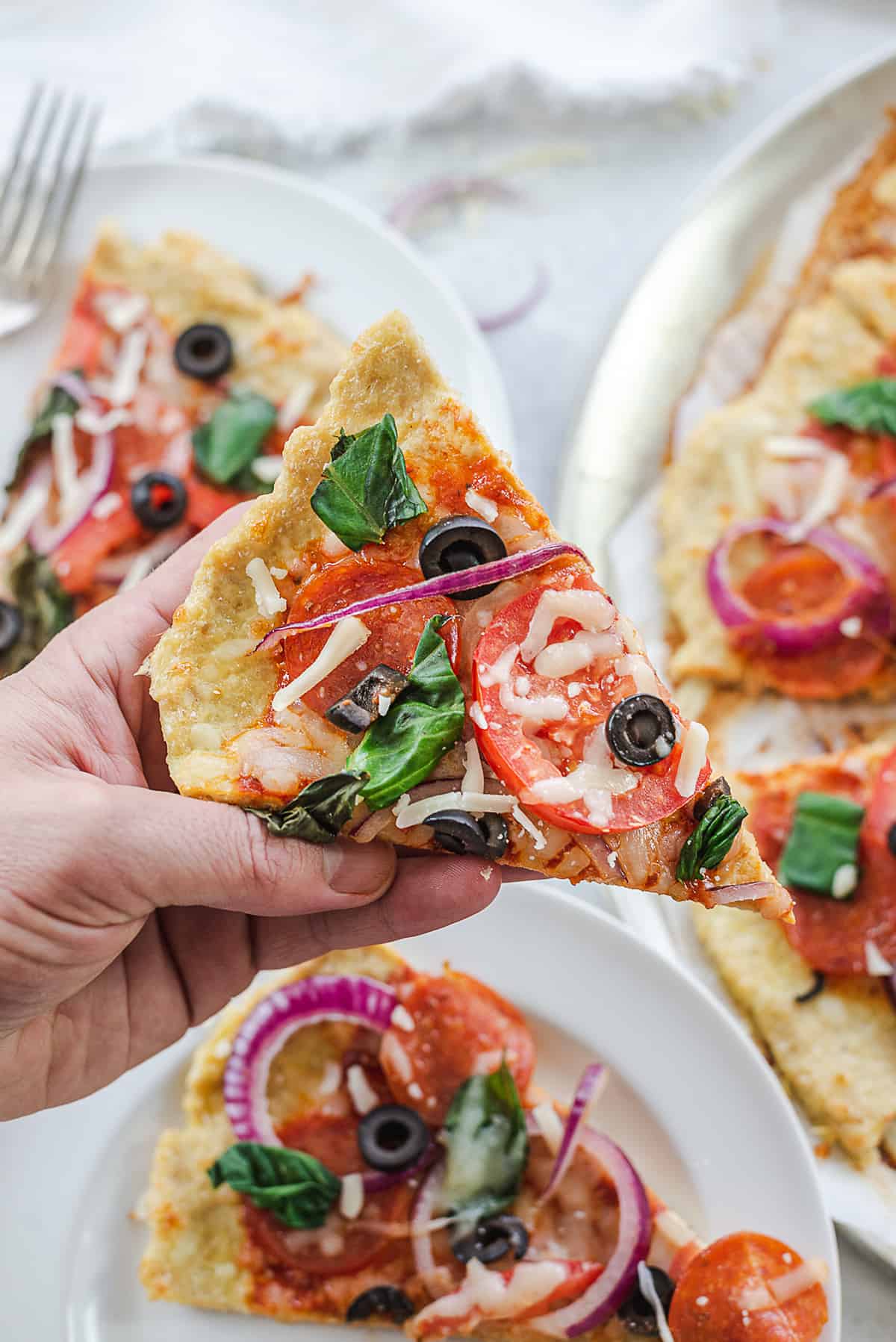 FAQ's:
What is chicken crust pizza?
Pretty much what it sounds like! Pizza with a crust made from chicken. It's low carb and it makes for an easy and flavorful pizza crust that's packed with protein instead of carbs.
Can you freeze chicken crust pizza?
Sure! Prepare and bake the crust per the instructions and then wrap it well and freeze it. When ready to eat, heat in the oven at 400 degrees for 5 minutes, add add the sauce and toppings and bake until the cheese has melted and the pizza is hot.
Can you store chicken crust pizza?
Yes, the cooked pizza should last for at least a couple of days in the refrigerator if covered. You can re-heat in the microwave or the oven.
More Low Carb Pizza Recipes: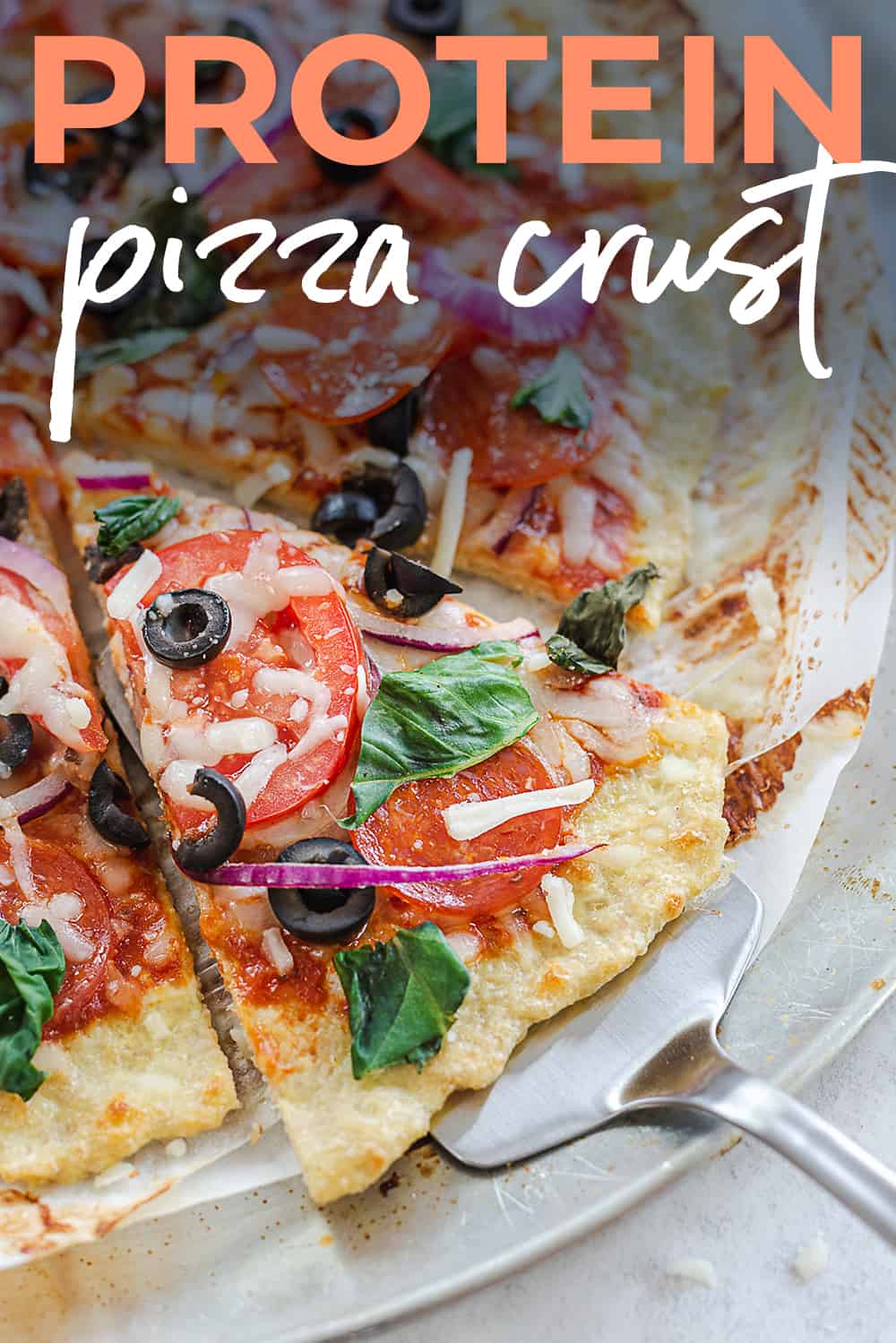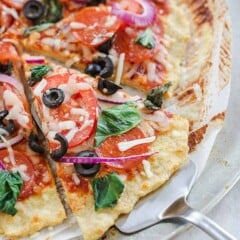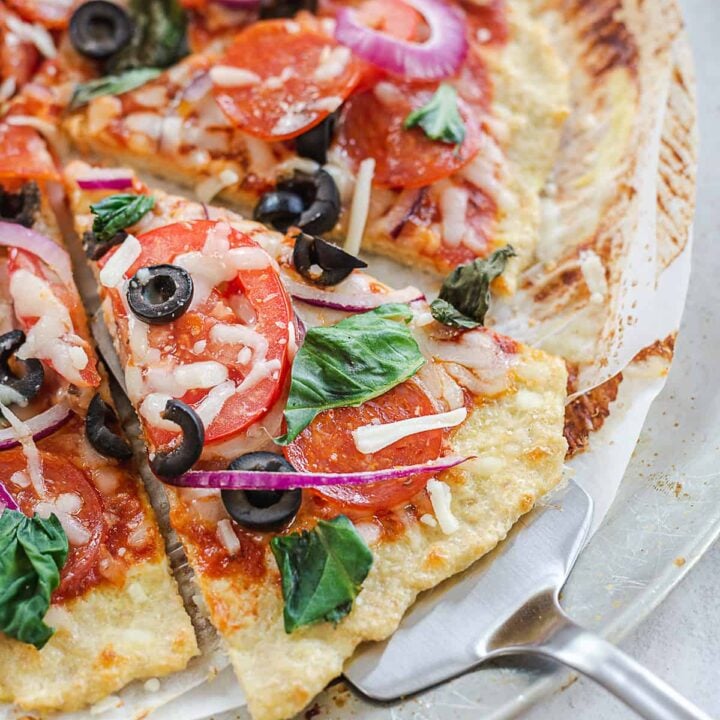 Chicken Crust Pizza
This chicken crust pizza is packed with protein! It's a great low carb option and it's so easy to make.
Ingredients
For the crust:
1 pound ground chicken
1 large egg, beaten
½ cup shredded mozzarella
¼ cup grated (powdered) Parmesan
1 teaspoon garlic powder
For topping:
1/3 cup sugar free pizza sauce or marinara
1 cup shredded mozzarella
desired toppings
Instructions
Preheat oven to 400 degrees. Cut a piece of parchment paper to fit your pizza pan.
Add the chicken, egg, mozzarella, parmesan, and garlic powder to a mixing bowl and stir well to combine.
Once combined, press the mixture onto the parchment lined pizza pan to about ¼-½ inch thick.
Bake for 18 minutes.
Remove from the oven and top with your favorite pizza toppings.
Bake for 10 more minutes or until cheese has melted and toppings are cooked to your liking.
Remove from the oven and let sit for 5 minutes before slicing into 8 slices and serving.
Notes
The nutrition information includes everything written out in the recipe. It doesn't not include any toppings other than the marinara and cheese for topping your pizza.
To freeze, make pizza crust and bake, but do not top. Cool and then place in a freezer safe bag for up to 3 months. To eat, bake the crust in a 400 degree oven for 5 minutes and then top with desired toppings and continue baking until heated through.
Nutrition Information:
Yield: 8
Serving Size: 1 slice
Amount Per Serving:
Calories: 211
Total Fat: 10g
Saturated Fat: 4g
Trans Fat: 0g
Unsaturated Fat: 5g
Cholesterol: 95mg
Sodium: 261mg
Carbohydrates: 2g
Net Carbohydrates: 2g
Fiber: 0g
Sugar: 0g
Protein: 18g
All information and tools presented and written within this site are intended for informational purposes only. This information is provided as a courtesy and there is no guarantee that the information is accurate.