Our BIG MAC PIZZA is loaded with ground beef, special sauce, pickles, and cheese. We even top it off with a sprinkle of sesame seeds. This low carb pizza will quickly become a family favorite!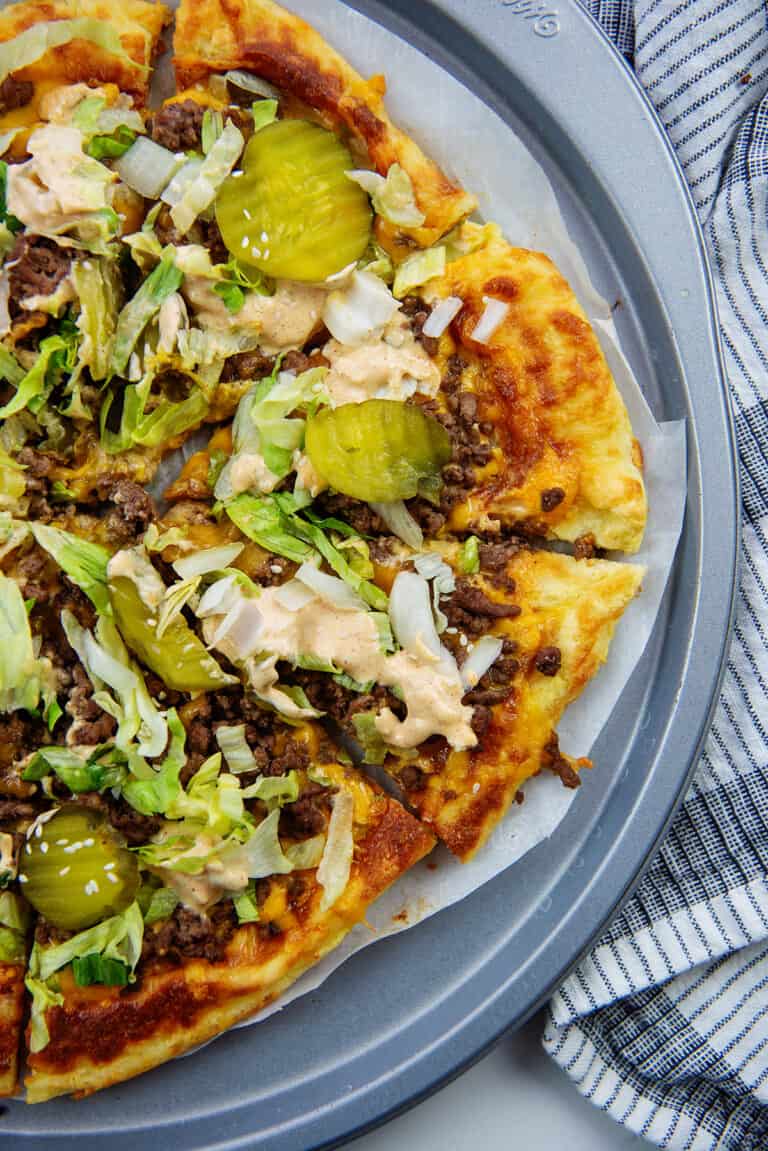 If you've been around here for any length of time, you might have noticed my love of the Big Mac.
We now we have recipes for the Big Mac Salad, Big Mac Casserole, and even a Big Mac Chaffle.
It's safe to say that I love a good Big Mac. It's the sauce that does it for me.
Of course, everyone loves pizza, so it was high time we married the two together!
Enter this Big Mac Pizza – we turned it keto, but kept it something that's family friendly.
Which, in my house, means we're using a fathead dough. My kids and husband love that dough just as much as any wheat dough out there. It's fabulous, easy, and I'm going to show you how to make it.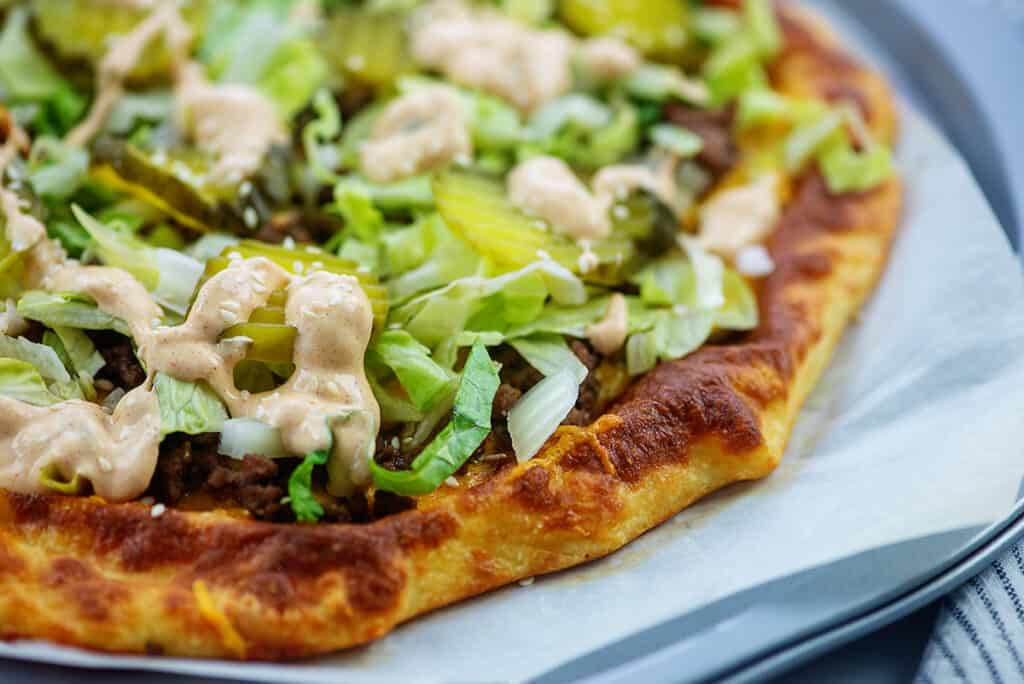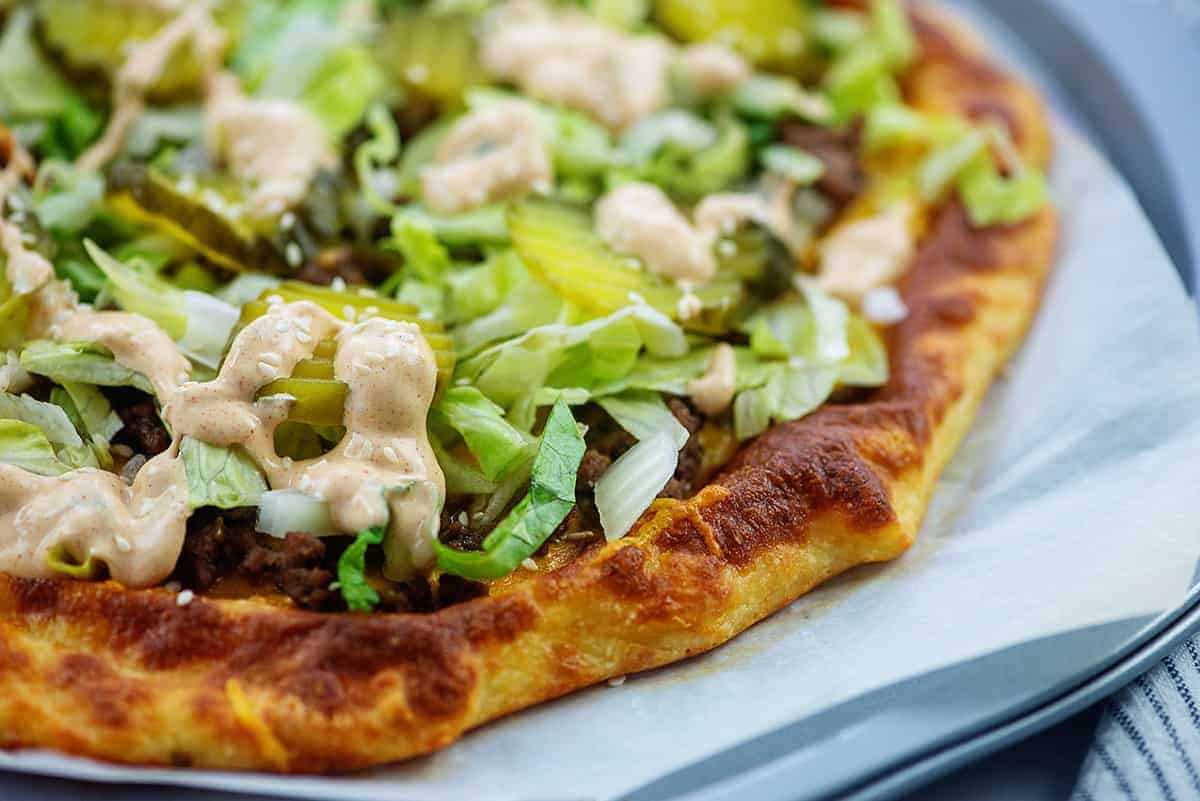 Fathead Crust Ingredients:
Mozzarella Cheese
Cream Cheese
Almond Flour – We have only tested this recipe using almond flour. Coconut flour would likely work, but at a lesser amount or with more eggs.
Egg
Big Mac Pizza Toppings:
Ground Beef
Seasonings – We're using a mix of onion powder, garlic powder, salt, and pepper.
Lettuce – Shredded or finely chopped.
Cheddar – American cheese would be more authentic to the Big Mac, but I just couldn't bring myself to put it on a pizza.
Pickles – Dill pickle chips are perfect here.
Onion
Big Mac Sauce – This is a simple mix of sugar-free ketchup, mayonnaise, dill relish, mustard, vinegar, onion powder, and paprika. It's sweet, tangy, and perfect for topping this pizza.
Sesame Seeds – Not strictly necessary, but we think they're a fun addition!
How to:
Make the Crust: Fathead crust is very simple to make. Melt the mozzarella and cream cheese together in the microwave and then stir in the almond flour and egg to form a dough.
Bake this on a parchment lined baking sheet (this is important – the dough will stick if you don't use parchment!) for about 10 minutes and then add your toppings.
Make the Big Mac Sauce: While the pizza is baking, whisk together all of the ingredients for the sauce. We use Heinz No Sugar Added Ketchup, but any sugar-free ketchup will work well here. We just like the classic flavor of Heinz.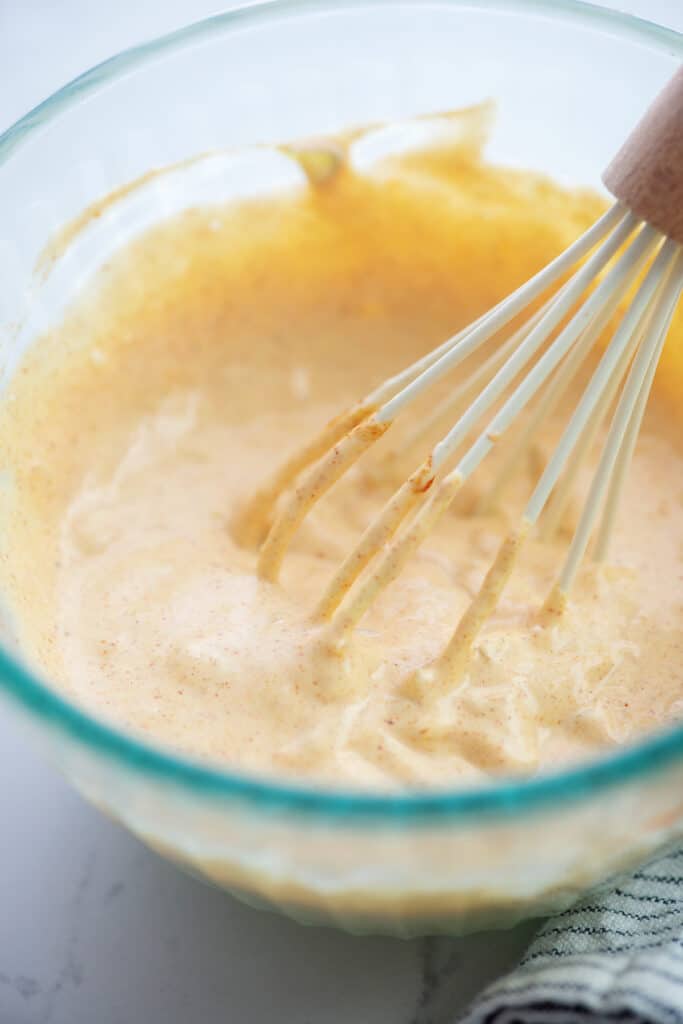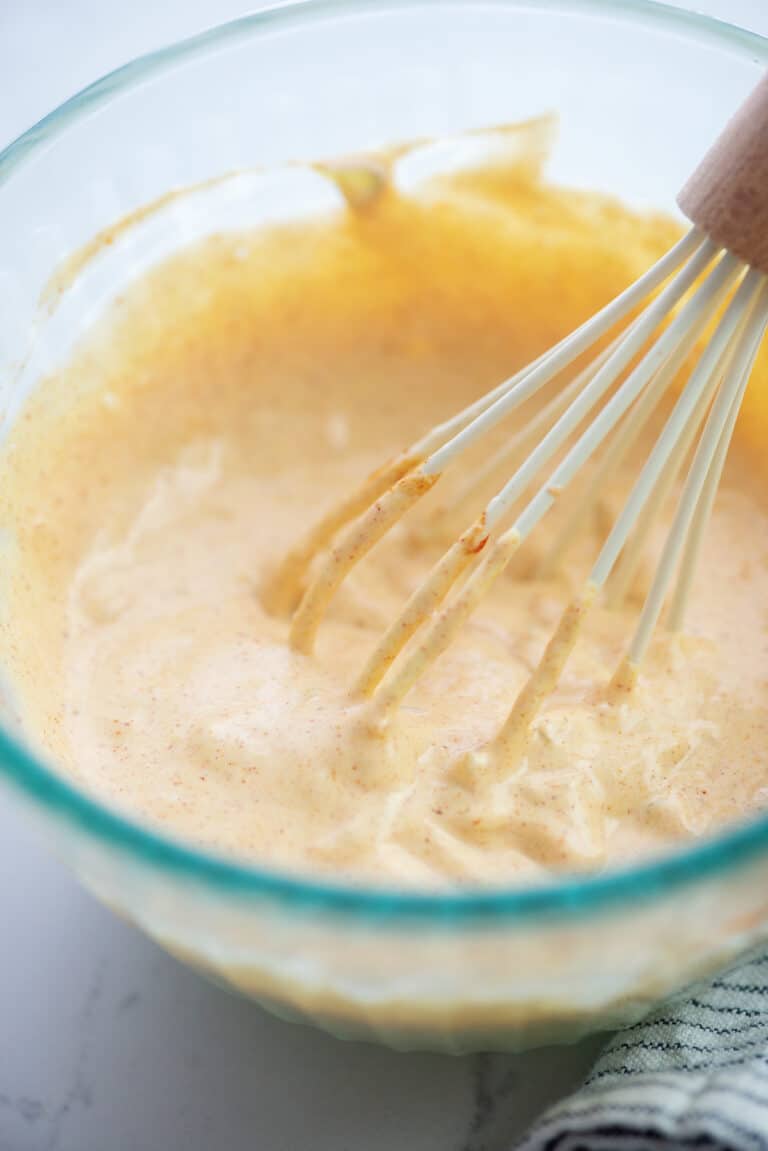 Make the Beef: Brown the beef in a skillet and season well.
Sauce the Pizza: Spread a bit of the Big Mac sauce over the parbaked pizza crust. Sprinkle on plenty of cheddar and spoon the beef over the top.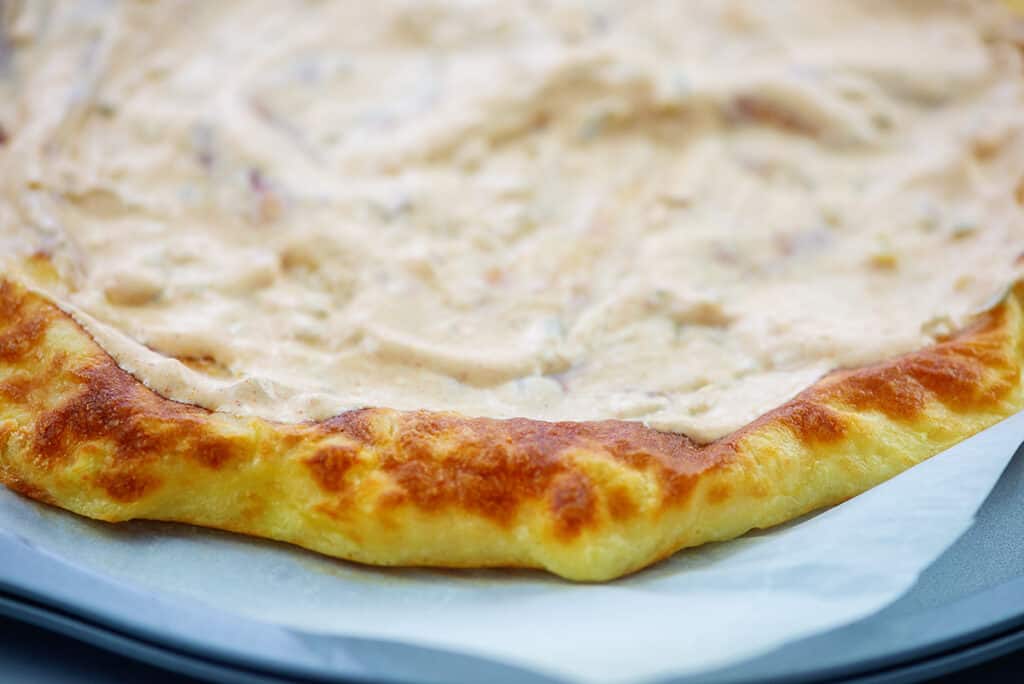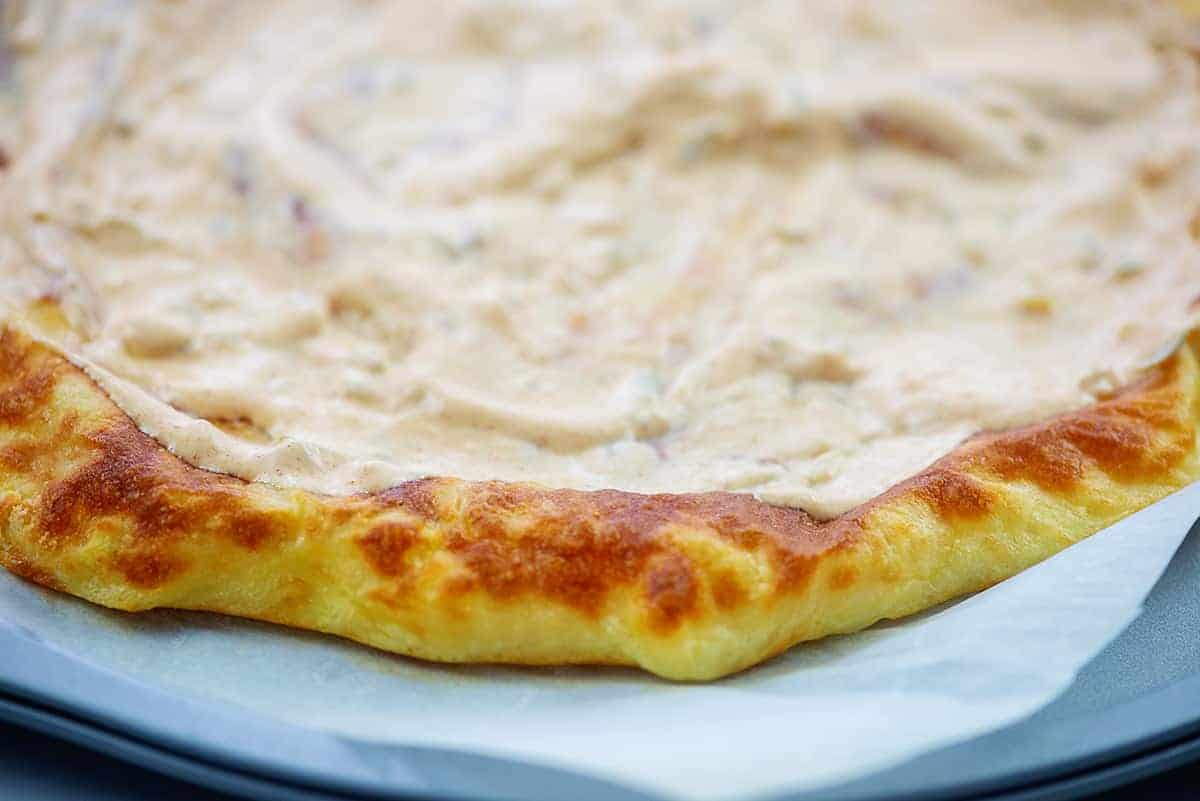 Top the Pizza: When the pizza is finished baking, sprinkle on the shredded lettuce, minced onion, and pickles. Drizzle the sauce over the top and sprinkle with the sesame seeds.
Does this reheat well?
Unfortunately, this is one of those pizzas that you really need to finish off right away. The lettuce on top just doesn't hold up to reheating.
If you really don't think you'll finish it off, you can top individual slices of pizza with the toppings and store leftovers separately. Fathead pizza reheats well in the microwave or oven.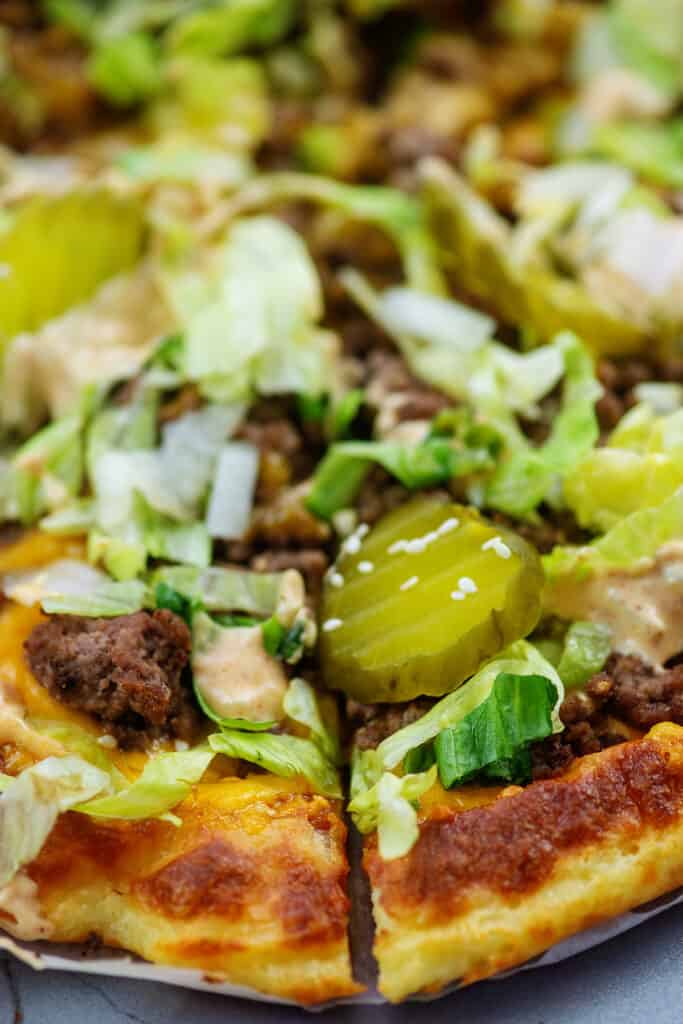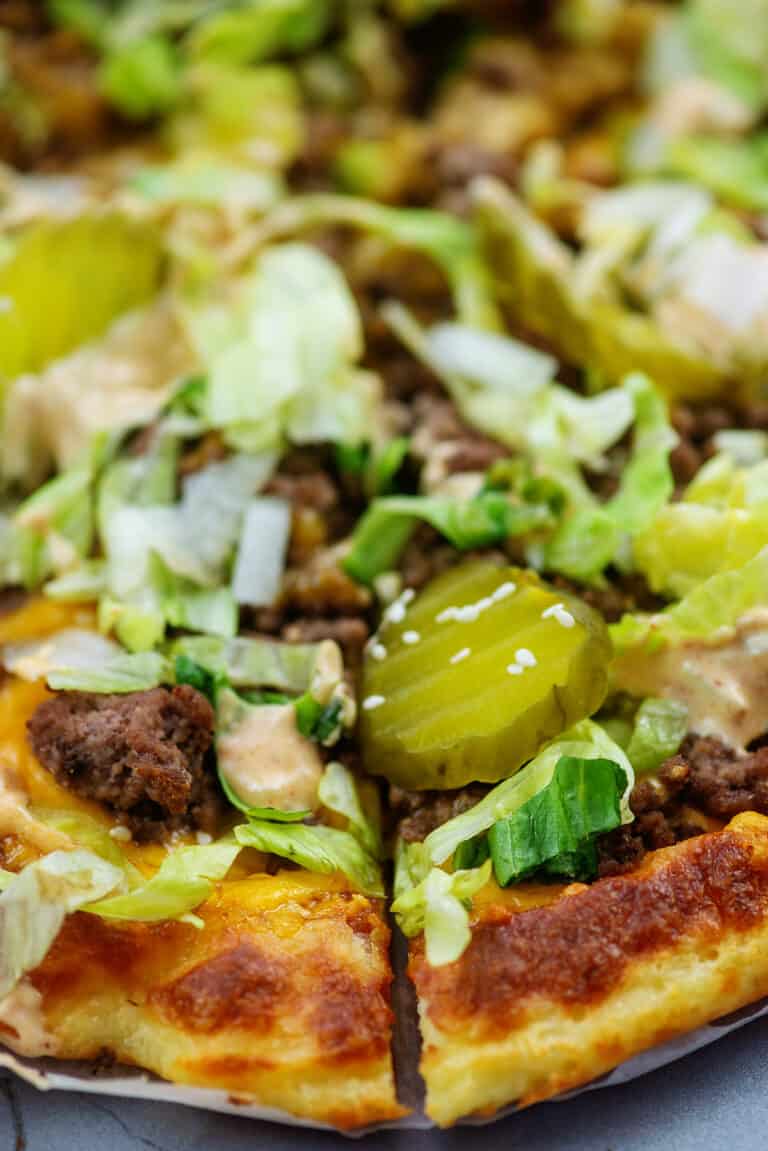 More low carb pizza recipes: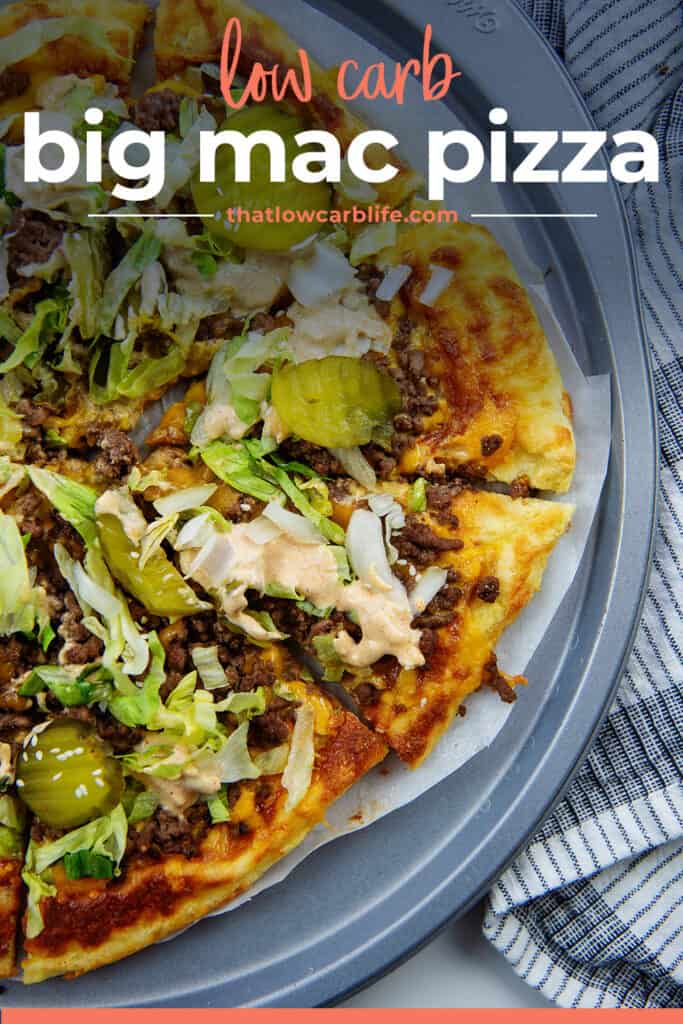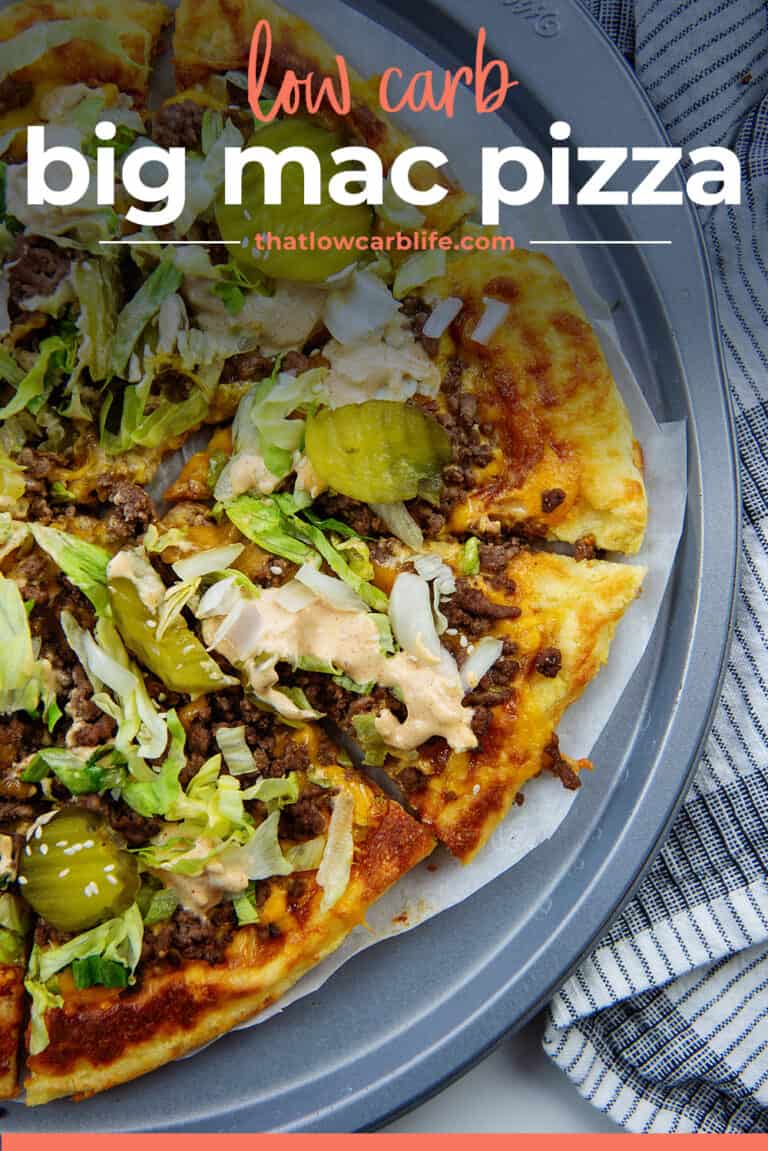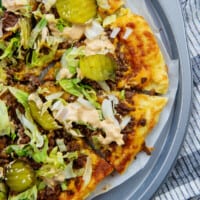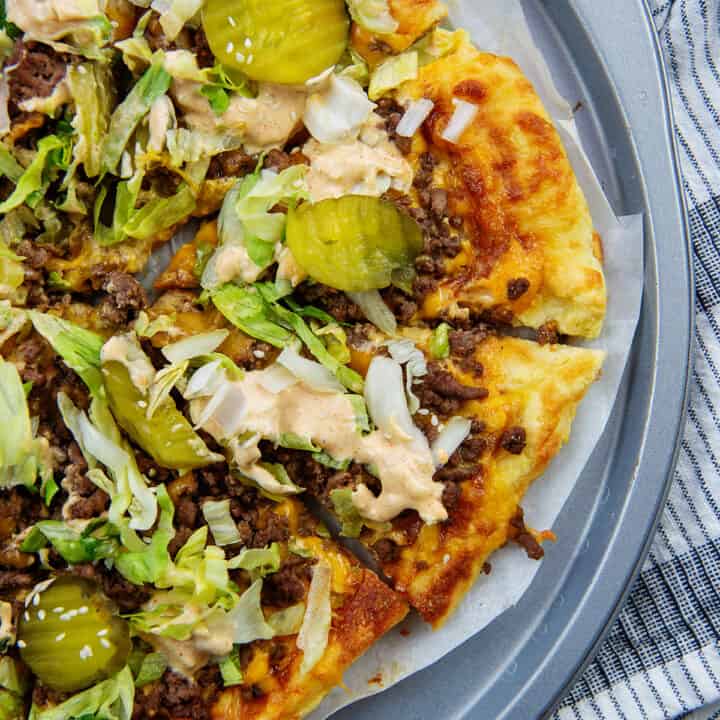 Big Mac Pizza
Seasoned beef, shredded lettuce, dill pickles, and minced onion make the perfect topping for this low carb pizza. Drizzle it all with our homemade Big Mac Sauce and you'll have something even better than our favorite drive-thru sandwich!
Ingredients
For the crust:
2 cups shredded mozzarella
2 tablespoons cream cheese
1 egg
¾ cup almond flour
For the Big Mac sauce:
1/2 cup mayonnaise
2 tablespoons sugar free ketchup
2 tablespoons dill relish
2 teaspoons mustard
2 teaspoons distilled white vinegar
½ teaspoon onion powder
½ teaspoon paprika
For the topping:
8 ounces lean ground beef
1 teaspoon salt
½ teaspoon cracked pepper
½ teaspoon onion powder
½ teaspoon garlic powder
1 1/2 cup shredded cheddar
1/2 cup shredded lettuce
1/4 cup sliced dill pickles
2 tablespoons minced onion
1 teaspoon sesame seeds
Instructions
To make the crust:
Preheat oven to 425 degrees.
Add mozzarella and cream cheese to a microwave safe bowl and microwave for 1 minute. Stir to combine and return to the microwave until cheese has melted, about 30 more seconds.
Stir in the almond flour and egg to combine.
Place the dough on a large sheet of parchment paper. Top with a second sheet of parchment.
Roll the dough out into a 12 inch diameter circle.
Remove the top piece of parchment and transfer the bottom sheet with the dough on it to a pizza pan.
Bake for 8 minutes or until crust is lightly golden.
For an extra sturdy crust that holds up well, carefully flip the crust over and bake for 3 more minutes.
To make the sauce:
While the crust is baking, combine all of the sauce ingredients in a small bowl and whisk well to combine.
For topping:
While the crust is baking, add the ground beef to a skillet and brown, crumbling the meat as it cooks.
Season the beef with the salt, pepper, garlic powder, and onion powder.
Spread 1/4 cup of Big Mac sauce over the parbaked pizza crust. Srinkle the cheese evenly over the top. Top with the cooked beef.
Return the pizza to the oven and bake for 10 minutes or until the crust is golden brown around the edges and the cheese has melted.
Sprinkle the lettuce, pickles, onion, and sesame seeds over the top of the baked pizza.
Serve immediately with remaining sauce drizzled over the top or on the side for dipping.
Notes
If you have leftover sauce, it'll last in the fridge for up to a week. It's delicious on bunless burgers!
Nutrition Information:
Yield: 8
Serving Size: 1 slice
Amount Per Serving:
Calories: 401
Total Fat: 32g
Saturated Fat: 11g
Trans Fat: 0g
Unsaturated Fat: 19g
Cholesterol: 93mg
Sodium: 798mg
Carbohydrates: 6g
Net Carbohydrates: 4g
Fiber: 2g
Sugar: 2g
Protein: 22g
All information and tools presented and written within this site are intended for informational purposes only. This information is provided as a courtesy and there is no guarantee that the information is accurate.