This CHEESEBURGER PIZZA will quickly become a family favorite for pizza night! We use a fathead crust for this recipe and top it off with a homemade Thousand Island dressing, plenty of ground beef, lots of cheese, and pickles!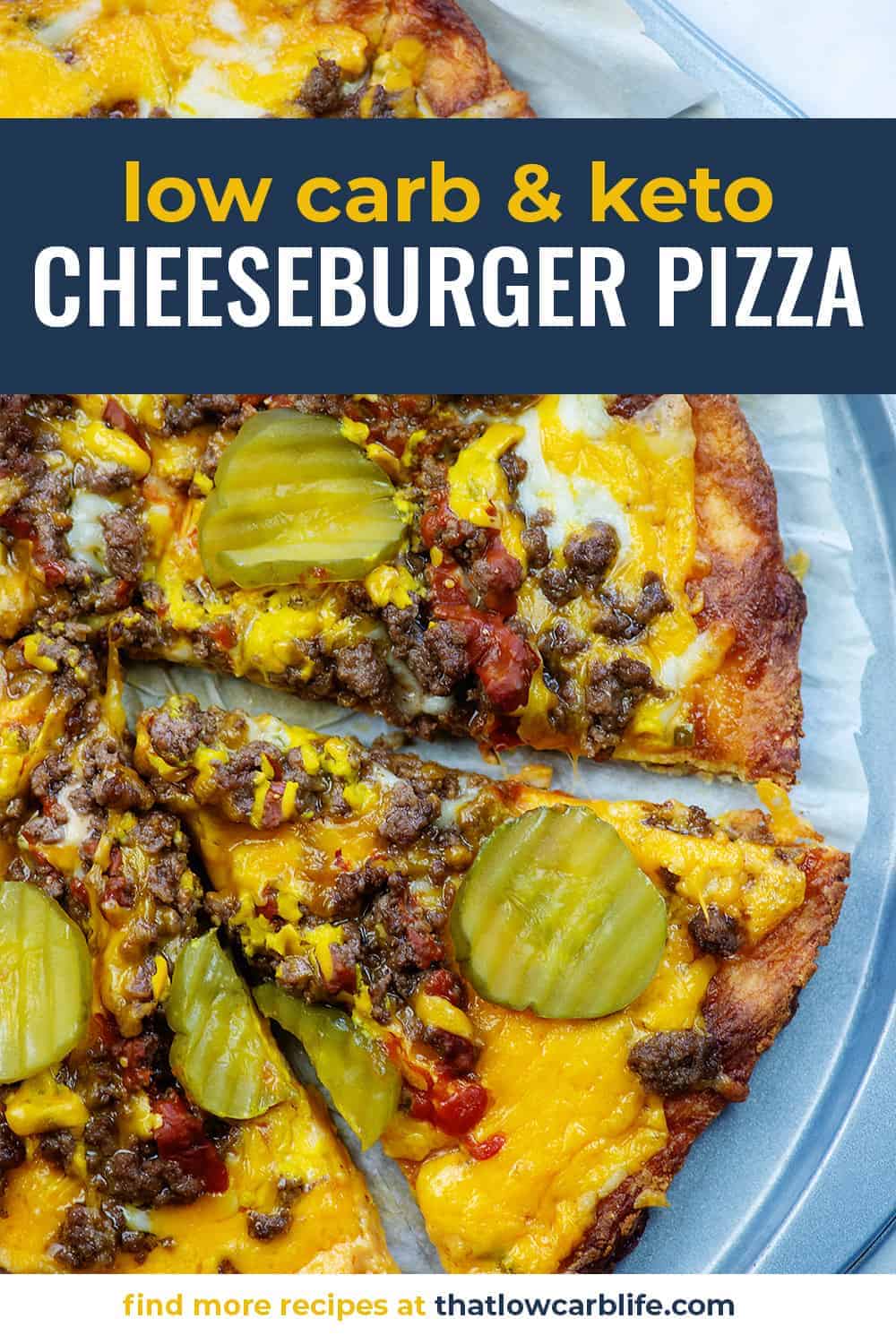 You may have noticed that my family has a thing for pizza night, based on the number of low carb pizza recipes I've shared with you.
We love the classic pepperoni pizza and, honestly, it's probably what we eat the most of.
But, it's easy to get tired of the same old thing, so I like to mix it up and throw something new into the mix every now and then.
Enter this cheeseburger pizza recipe! This will totally satisfy that cheeseburger craving AND your pizza craving – all in one bite!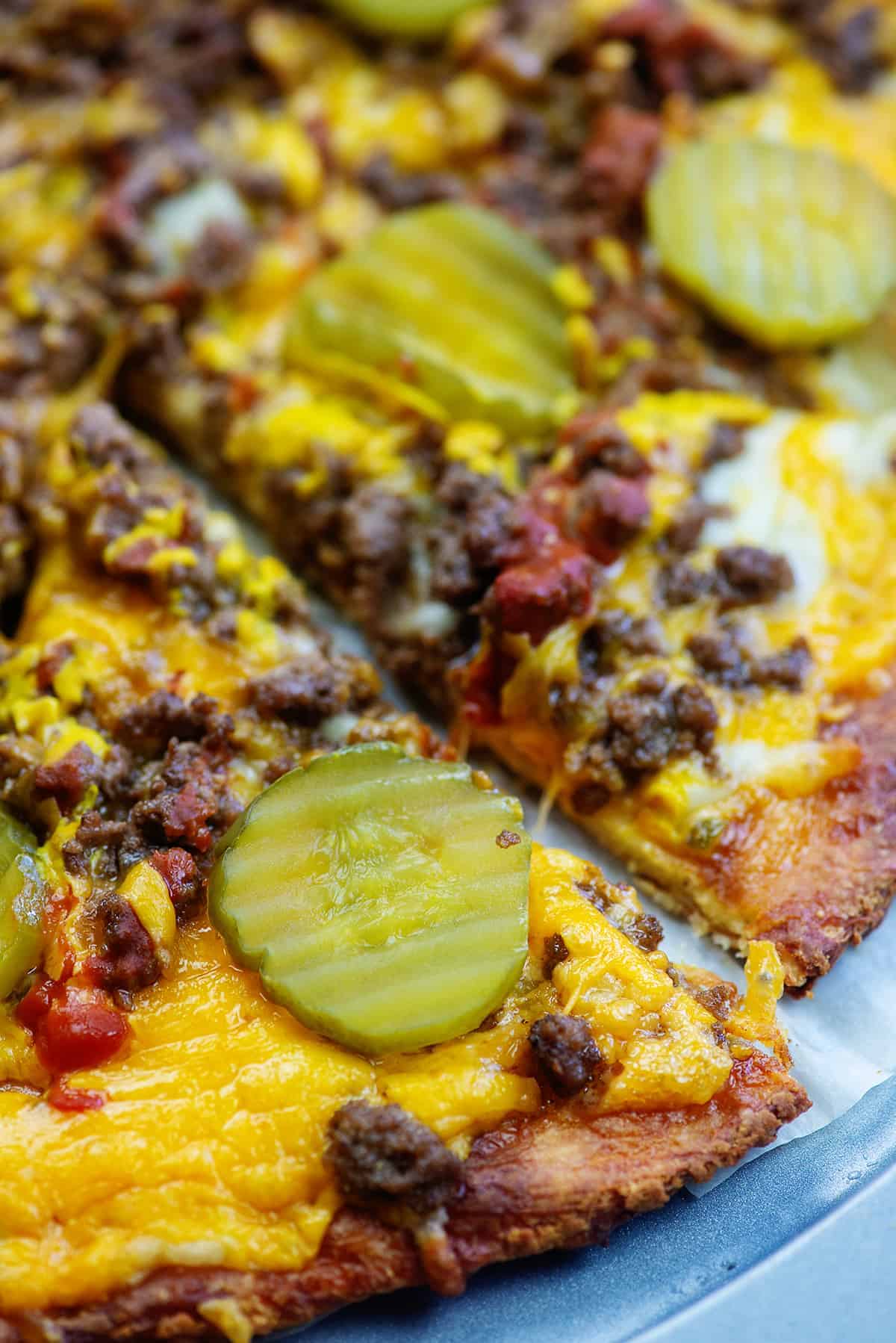 How to:
This recipe starts with a simple fathead dough.
Fathead dough is a low carb favorite, created and shared in a documentary about healthy eating by Tom Naughton.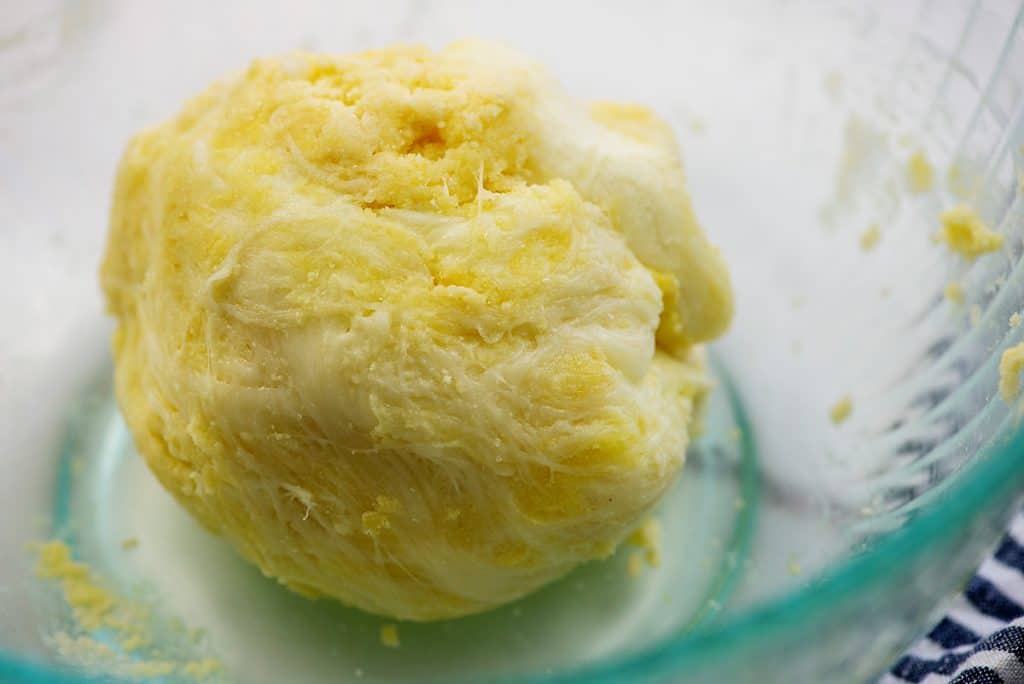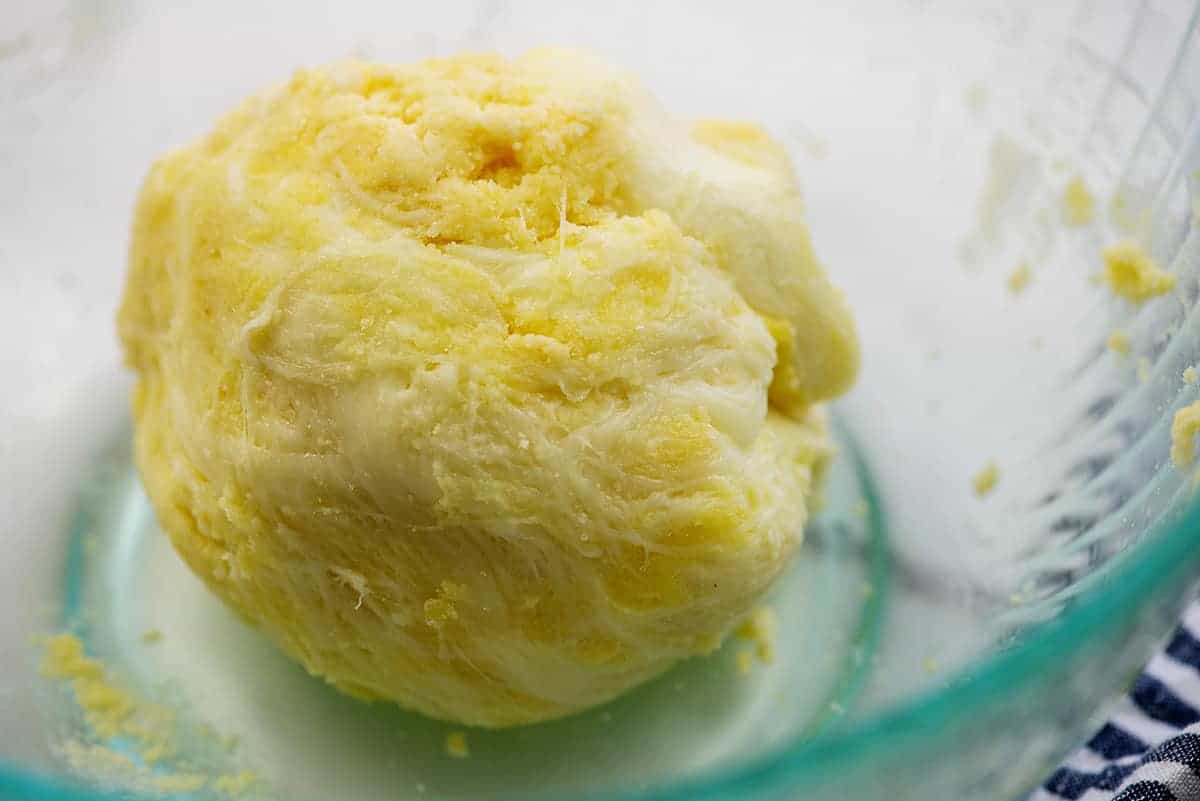 Top your parbaked pizza crust with my keto thousand island dressing. It's the perfect pizza sauce for this recipe.
Top that off with plenty of cheddar, mozzarella, and seasoned ground beef.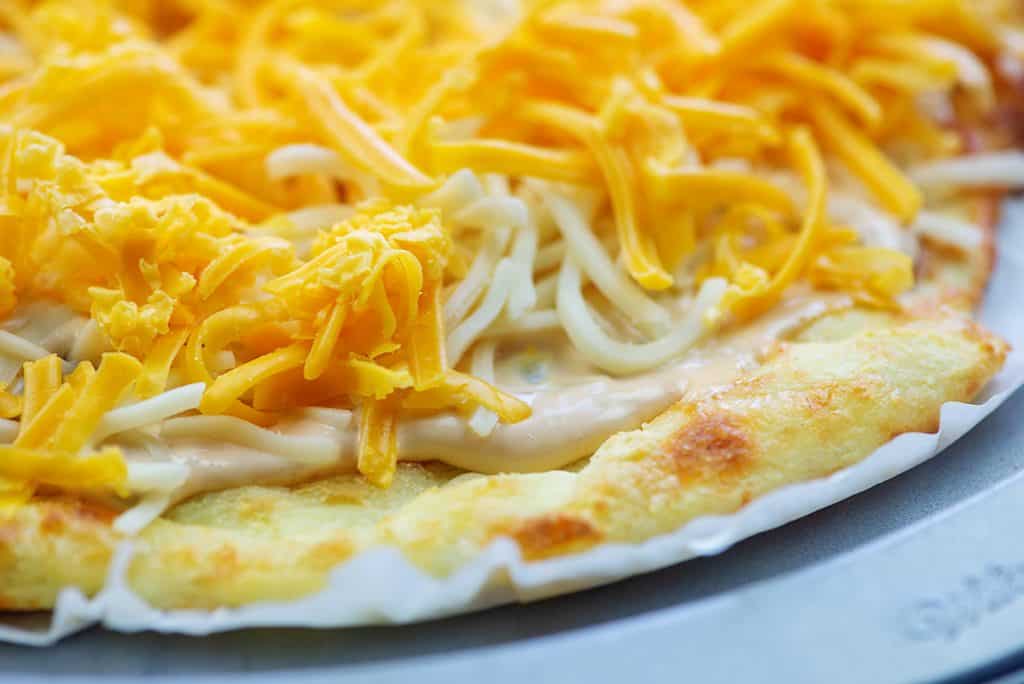 We also drizzle on just a touch of ketchup and mustard.
Once baked, place dill pickle slices all around the pizza and cut into 8 slices.
The pickles add the perfect touch to this pizza! You could also sprinkle on some red onion or add the onion to the beef mixture before baking.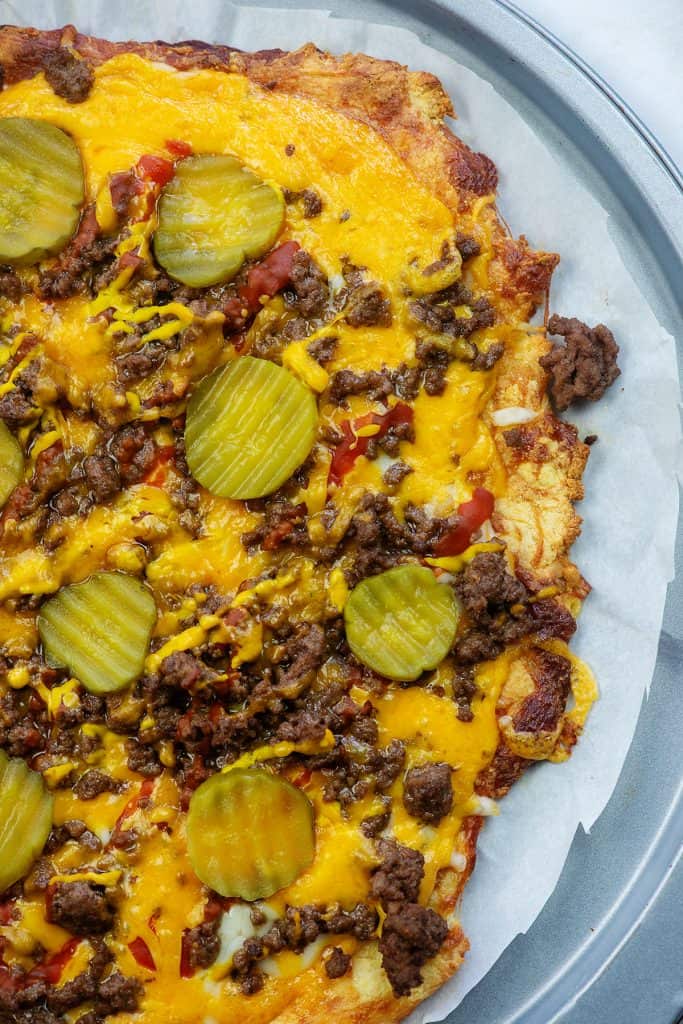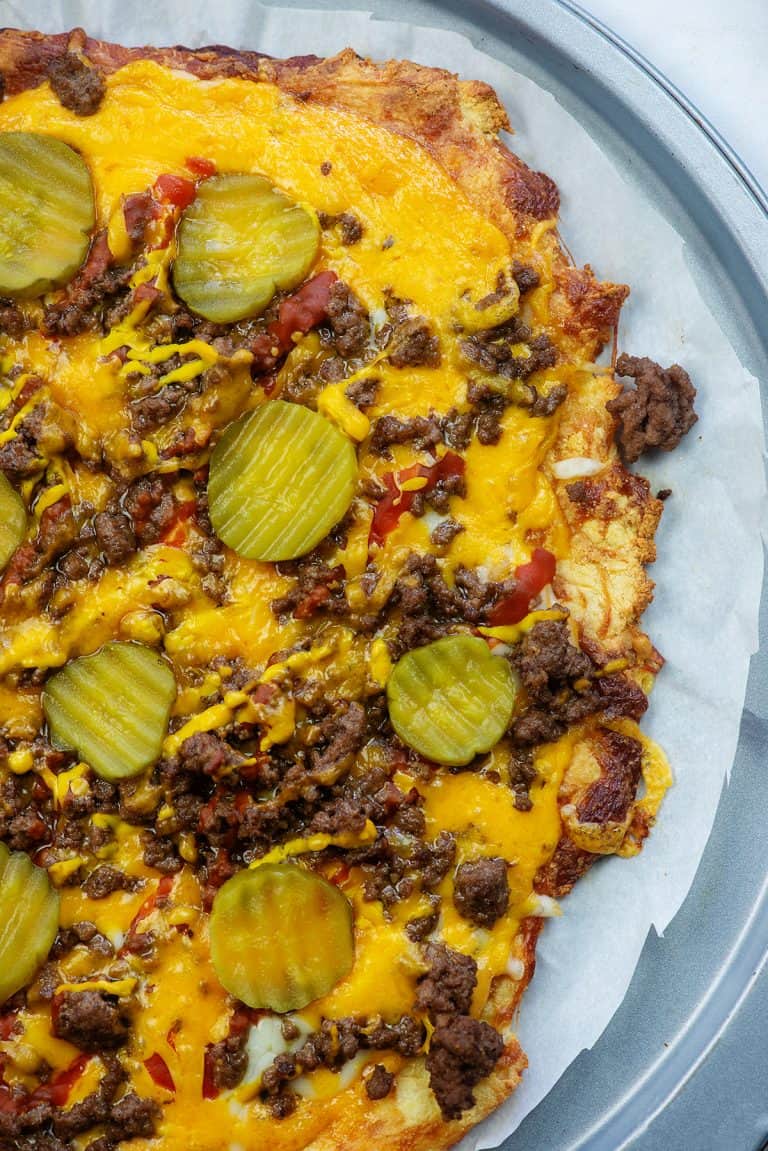 About the crust:
You can use any low carb crust that you prefer. We always use fathead dough because it's a family favorite – even the kids prefer this over traditional crust.
It bakes up chewy and sturdy enough to eat with your hands.
Beware of store bought cauliflower crusts – many of them contain loads of carbs and are just as bad as a traditional crust.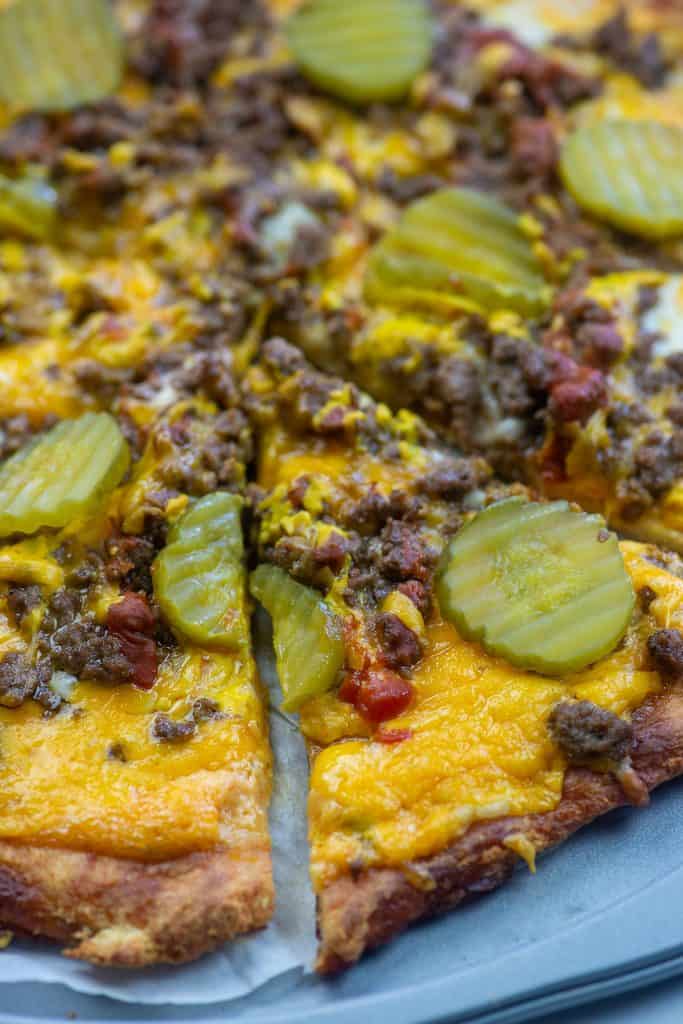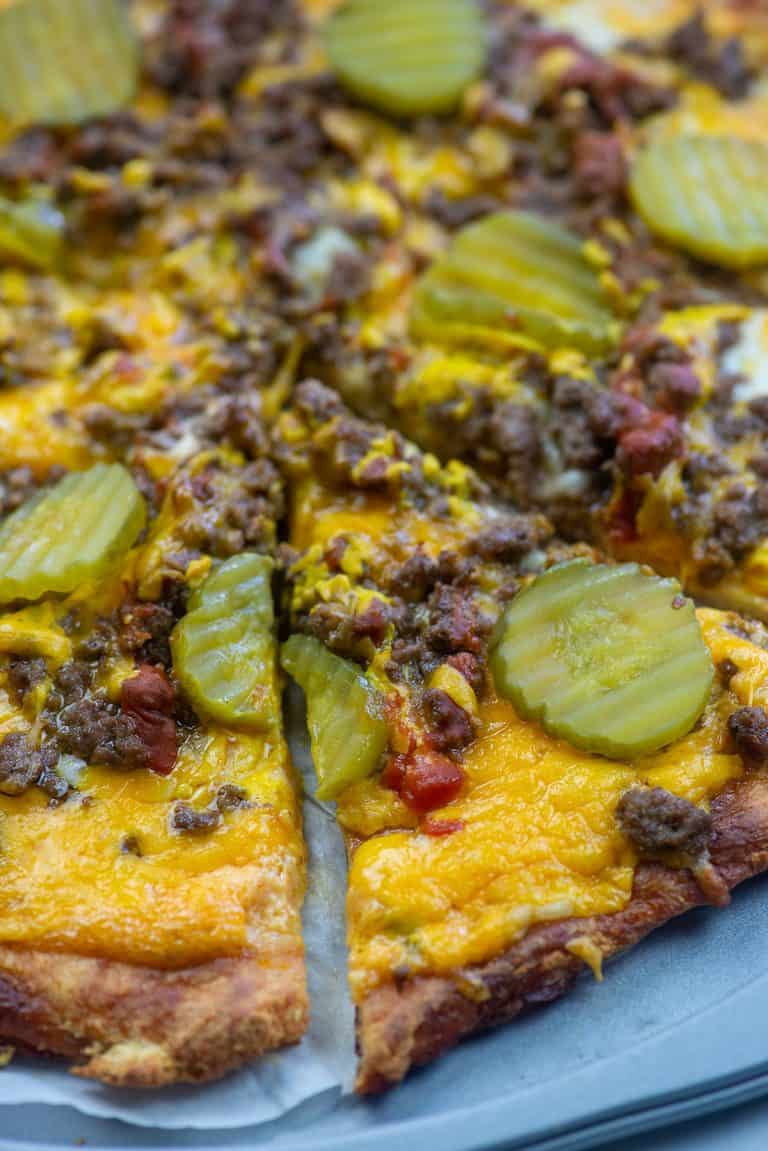 More recipes like this:
Not feeling the pizza, but craving a burger? Try this keto cheeseburger casserole!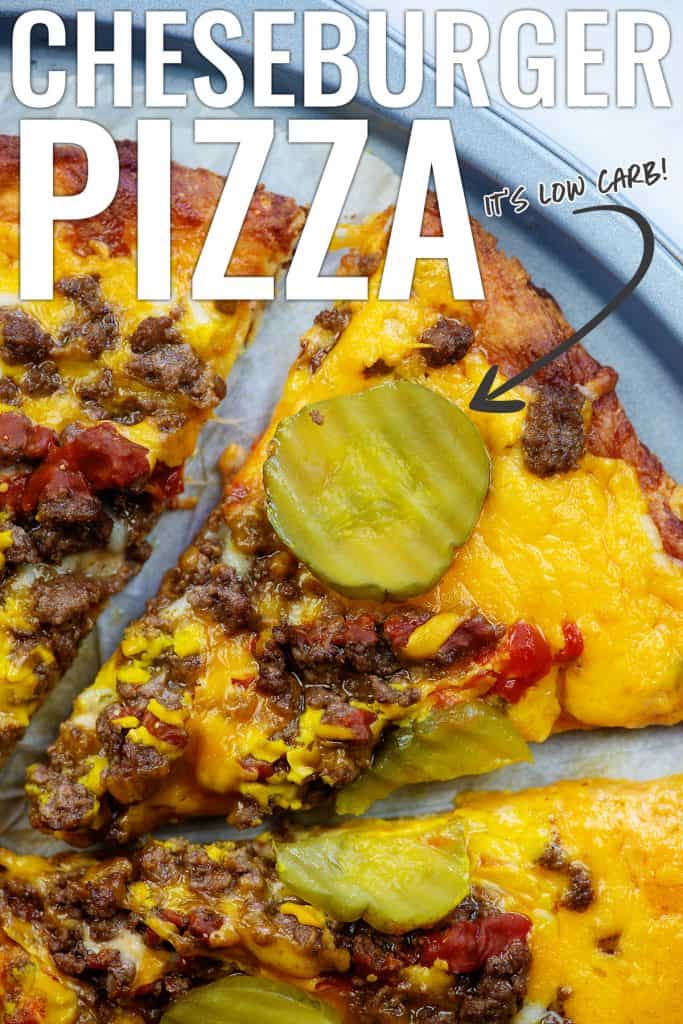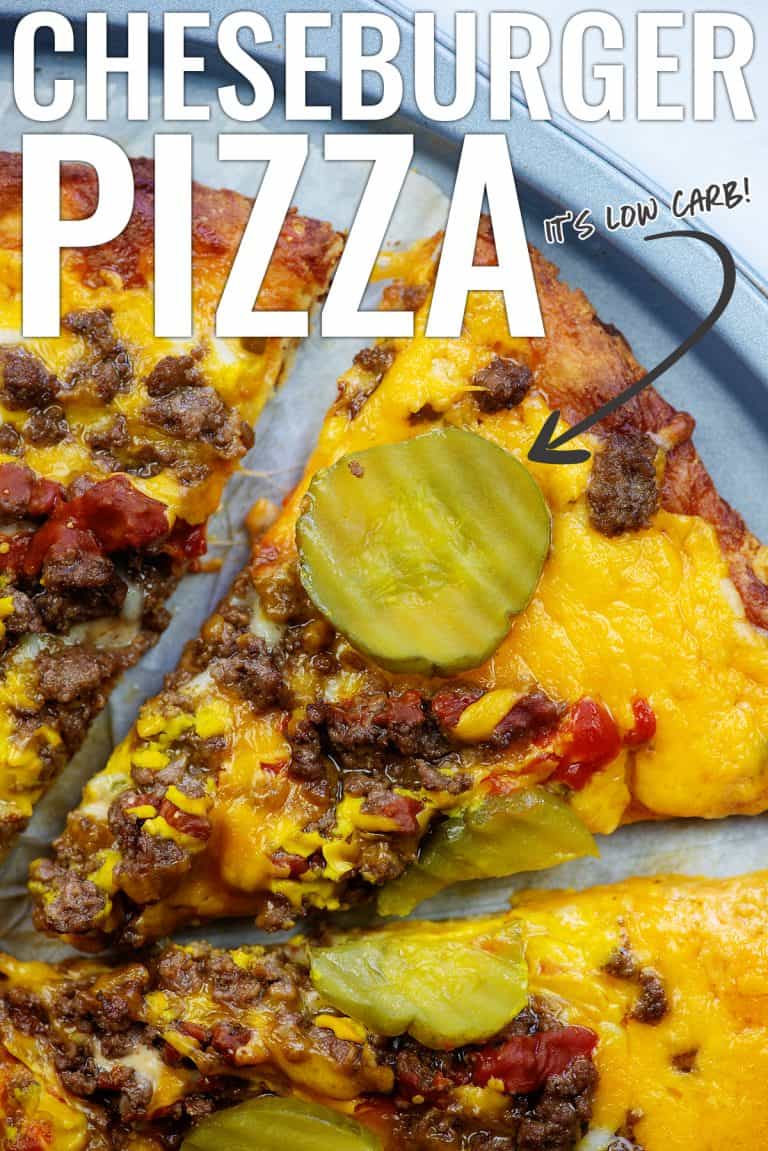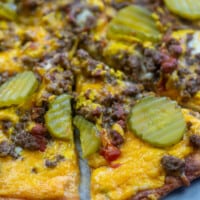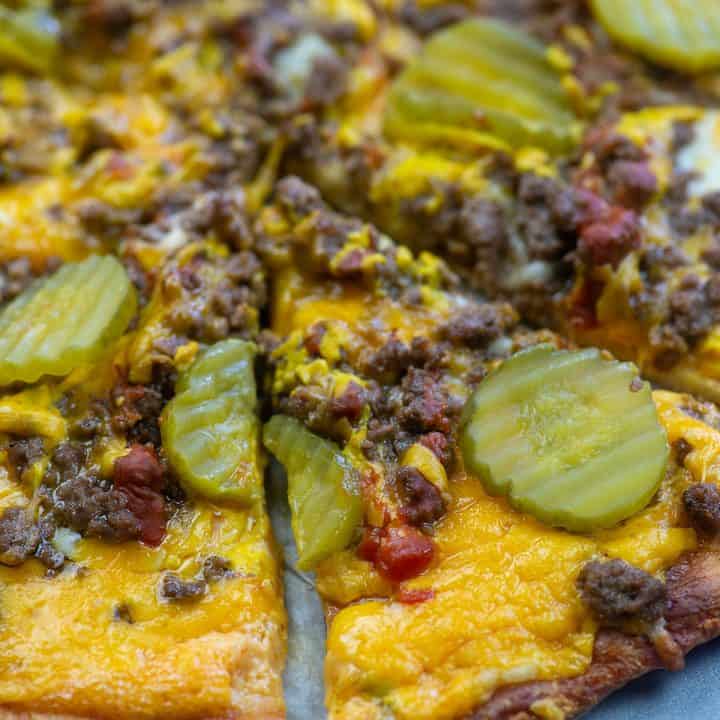 Cheeseburger Pizza
Fathead dough makes the perfect pizza crust for this cheeseburger pizza. Top it off with thousand island, ground beef, and plenty of dill pickles.
Ingredients
For the crust:
2 cups shredded mozzarella
2 tablespoons cream cheese
1 egg
For topping:
½ pound ground beef
1 tablespoon Worcestershire sauce
½ teaspoon onion powder
½ teaspoon garlic powder
½ teaspoon salt
1 cup shredded cheddar
1 cup shredded mozzarella
1 tablespoon mustard
½ cup dill pickle slices, drained
Instructions
For the crust:
Preheat oven to 425 degrees.
Add 2 cups of mozzarella and cream cheese to a microwave safe bowl and microwave for 1 minute. Stir to combine and return to microwave until cheese has melted, about 30 more seconds.
Stir in the almond flour and egg to combine.
Place the dough on a large sheet of parchment paper. Top with a second sheet of parchment.
Roll the dough out into a 12 inch diameter circle.
Remove the top piece of parchment and transfer the bottom sheet with the dough on it to a pizza pan.
Bake for 10 minutes or until crust is lightly golden.
For an extra sturdy crust that holds up well, carefully flip the crust over and bake for 3 more minutes.

For the topping:
While pizza crust is baking, brown the ground beef, crumbling it as it cooks. Drain the grease and season with the Worcestershire sauce, onion powder, garlic powder, and salt. Stir well to combine.
Spread the Thousand Island dressing over the baked pizza crust and top with the cheddar and mozzarella.
Spoon the cooked beef over the cheese. Drizzle with ketchup and mustard.
Return pizza to the oven and bake for 10 minutes or until crust is golden and cheese has melted.
Arrange pickle slices over the pizza and slice into 8 pieces.
Serve hot.
Notes
Feel free to add onions, lettuce, and tomato, depending on what you like on your cheeseburger.
Store-bought thousand island dressing tends to have a lot of sugar added. I recommend using the linked recipe above to keep the carb count low.
Recommended Products
As an Amazon Associate and member of other affiliate programs, I earn from qualifying purchases.
Nutrition Information:
Yield: 8 slices
Serving Size: 1
Amount Per Serving:
Calories: 359
Total Fat: 27g
Saturated Fat: 10g
Trans Fat: 1g
Unsaturated Fat: 14g
Cholesterol: 89mg
Sodium: 724mg
Carbohydrates: 6g
Net Carbohydrates: 4g
Fiber: 2g
Sugar: 3g
Protein: 22g
All information and tools presented and written within this site are intended for informational purposes only. This information is provided as a courtesy and there is no guarantee that the information is accurate.