This Keto Thousand Island Dressing is a total staple in our house. It's easy to whip up, is much healthier than the bottled version, and it's delicious on salad or as a dip for burgers or chicken.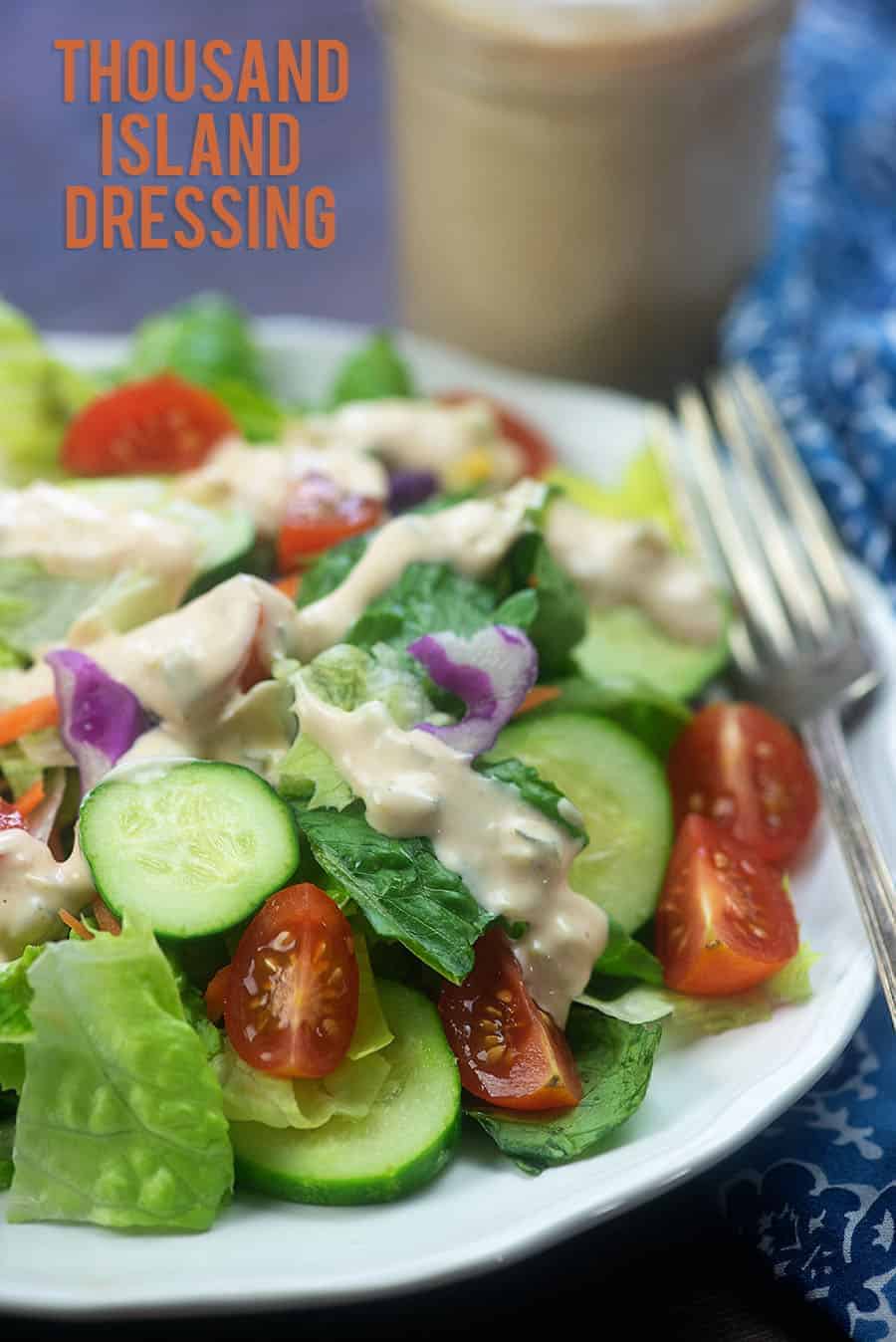 I'm a total sauce junkie. I admit it.
When we go to restaurants, the thing I'm most interested in is what kind of sauces they have. I'll dip my steamed broccoli in just about anything. I'll drizzle my salad with all kinds of goodness. Grilled chicken always needs a sauce. A bunless burger gets even more delicious when you top it off with something flavorful.

Of course, many store-bought and restaurant-made sauces are loaded with sugar which means carb city.
I try to avoid visiting carb city. 😉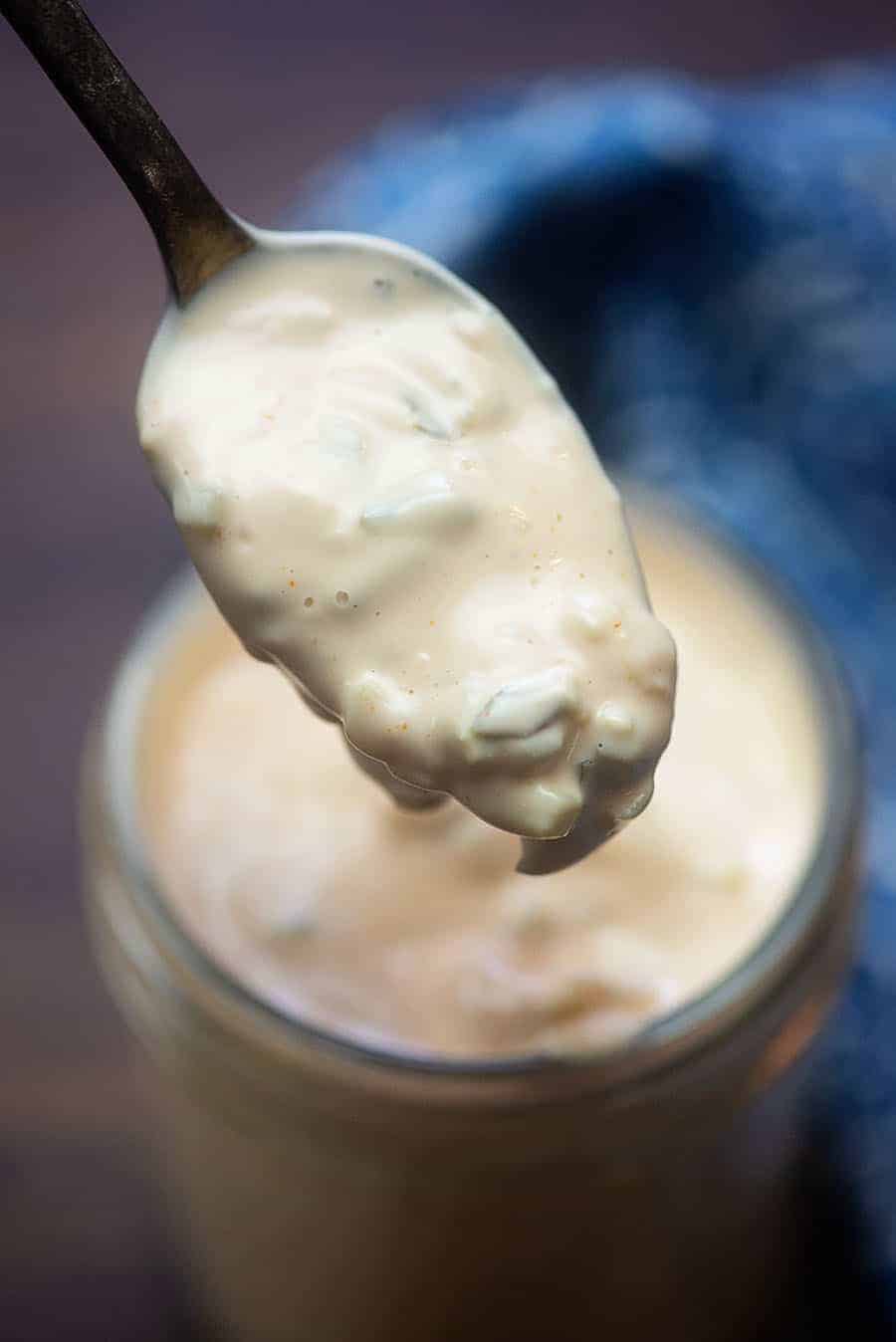 Have you ever checked the nutrition label to see how many carbs are in thousand island dressing? It can be quite a lot.
Not today, friends. This homemade thousand island dressing recipe is beyond easy and just uses a handful of ingredients that you probably already have in your fridge!
Let's do this…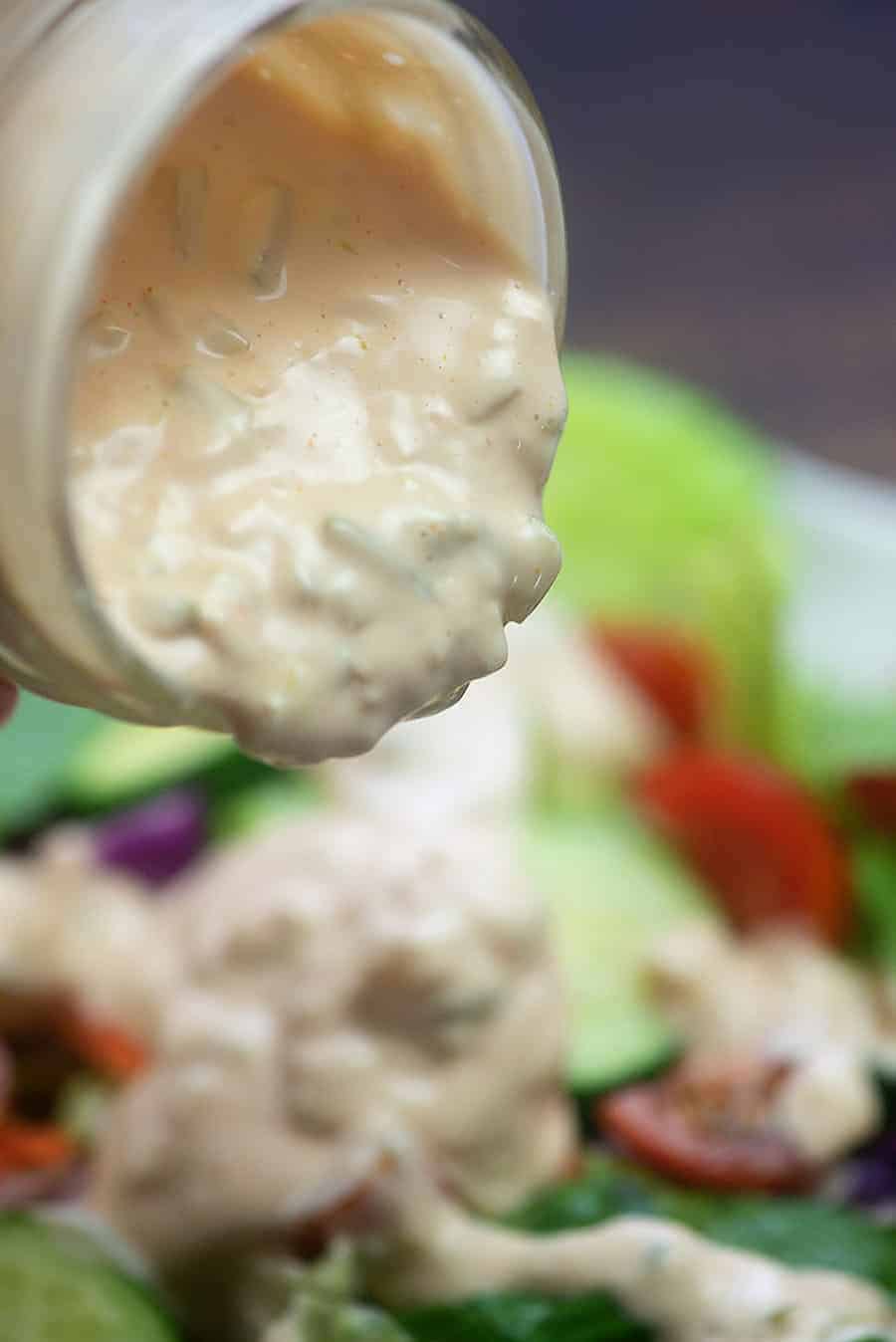 Ingredient Notes:
This post contains affiliate links. As an Amazon associate and member of other affiliate programs, I earn from qualifying purchases.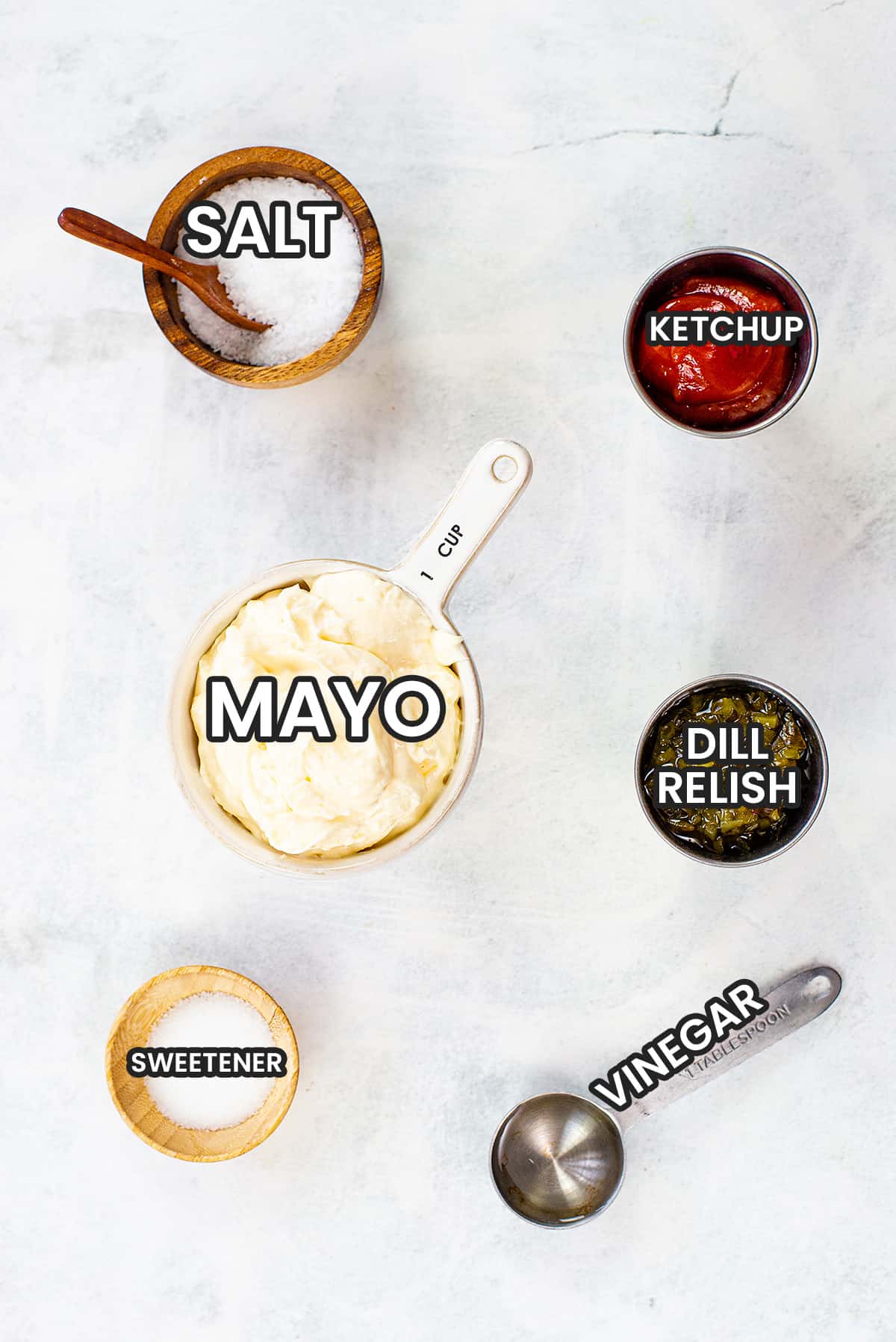 Mayonnaise – For the mayo, you can use whatever brand you prefer. If you're keto, give this avocado oil mayo a try. Just be sure not to use Miracle Whip.
Reduced Sugar Ketchup – I always buy and use Heinz no sugar added ketchup. It's my favorite and my kids don't notice any weird aftertaste.
Pickle Relish – Now, I'm going to get a little controversial here – I use dill pickle relish in my 1000 island dressing. A lot of people use sweet relish, but I'm just not about that life. If you do go for sweet relish, make sure to find a version using a sweetener instead of sugar. Those carbs can really sneak up on you!
White Distilled Vinegar – It'll add a little bit of tangy flavor and help balance out some of the other sweetness.
Sweetener – This recipe needs a pinch of your favorite sweetener. My favorite is this Lakanto Monkfruit Sweetener. We don't notice any after taste with Lakanto and it's all natural and a zero on the glycemic index.
Shop Keto Ingredients
We use Thrive Market for a lot of our specialty ingredients and keto snacks or products. Their prices tend to be cheaper than the local stores and I love that you can so easily sort products by diet.
Like Costco, this is a membership site, but we find that it's more than worth it based on the amount we save over the regular grocery store.
They have monthly or yearly plans. Check it out here.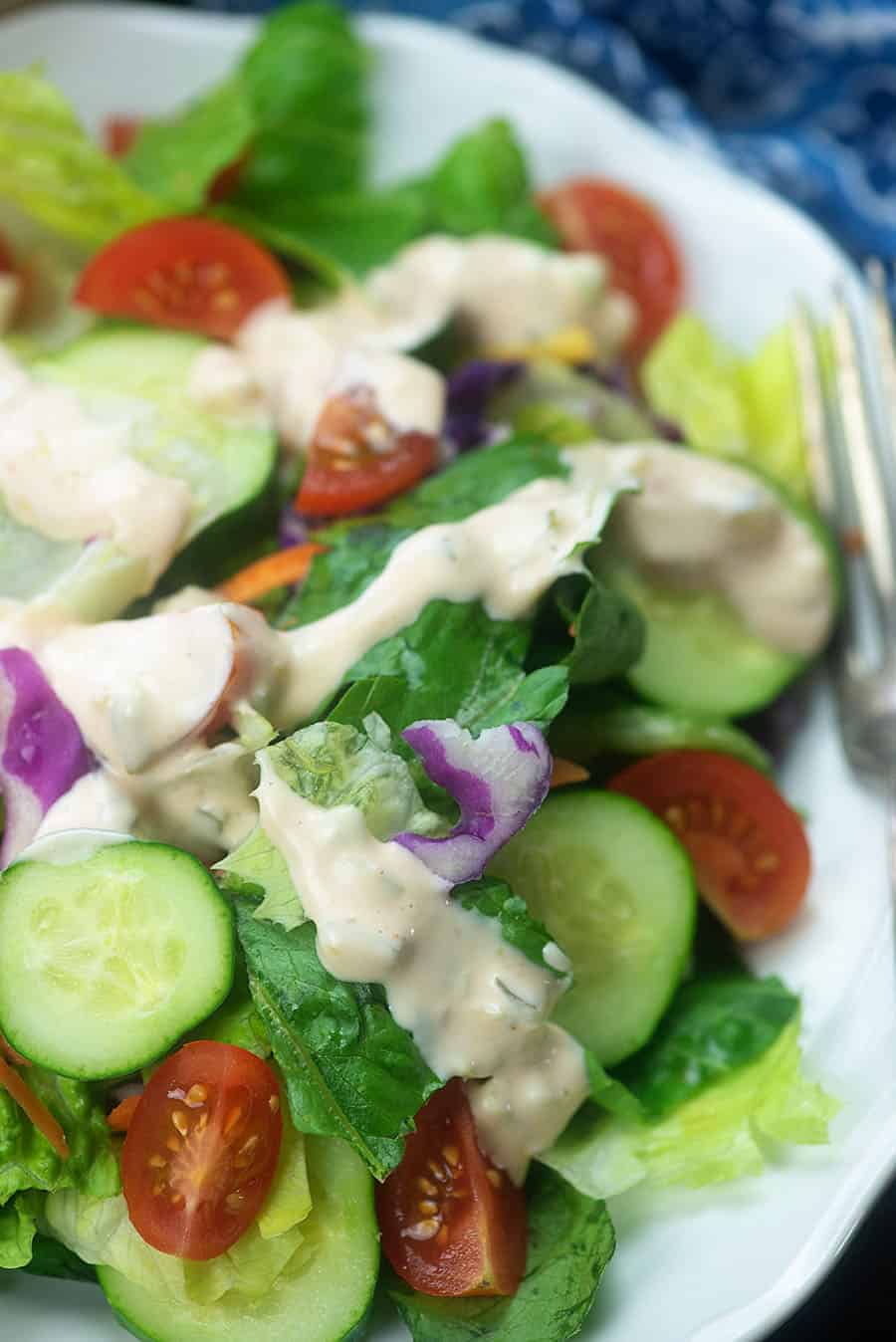 Why We Love This Recipe:
It's simple! Just toss the ingredients into a mixing bowl and whisk. What could be easier than that?
This homemade keto dressing recipe is healthier than the bottled thousand island dressing, and it tastes better too!
You can use this keto dressing on salads or as a dip!
How To Make Keto Thousand Island Dressing: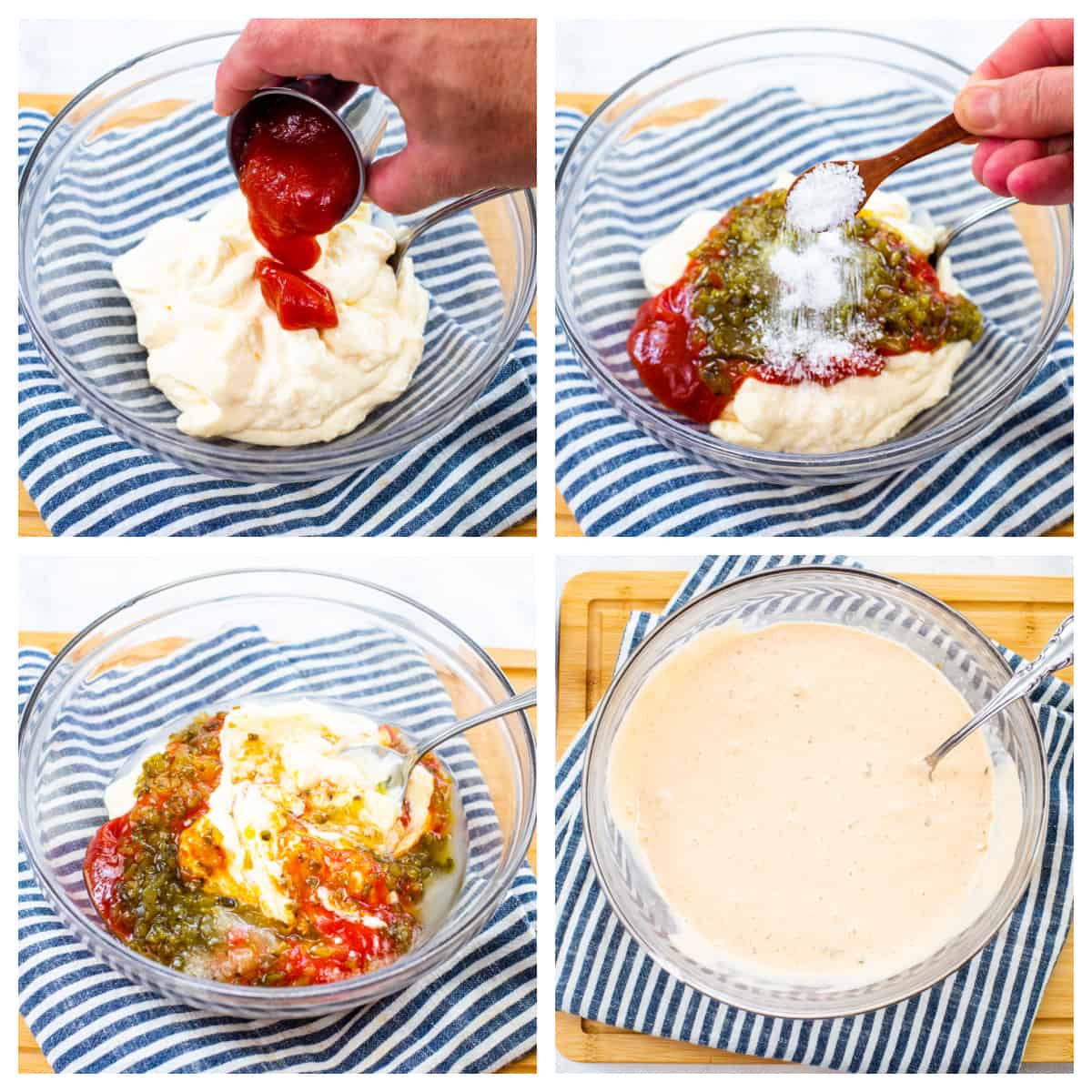 Whisk –This is a really simple recipe! Start gathering all of the salad dressing ingredients and place them into a small mixing bowl. Now, start whisking them all together! It doesn't get easier than that! I store my homemade thousand island dressing in a mason jar in the fridge.
Serve – After you've prepared the keto thousand island dressing you can do the obvious, and pour it on some salad! But it's not just good on salads, it's also great as a dip! Burgers, chicken, and all sorts of other goodies go well with this keto dressing!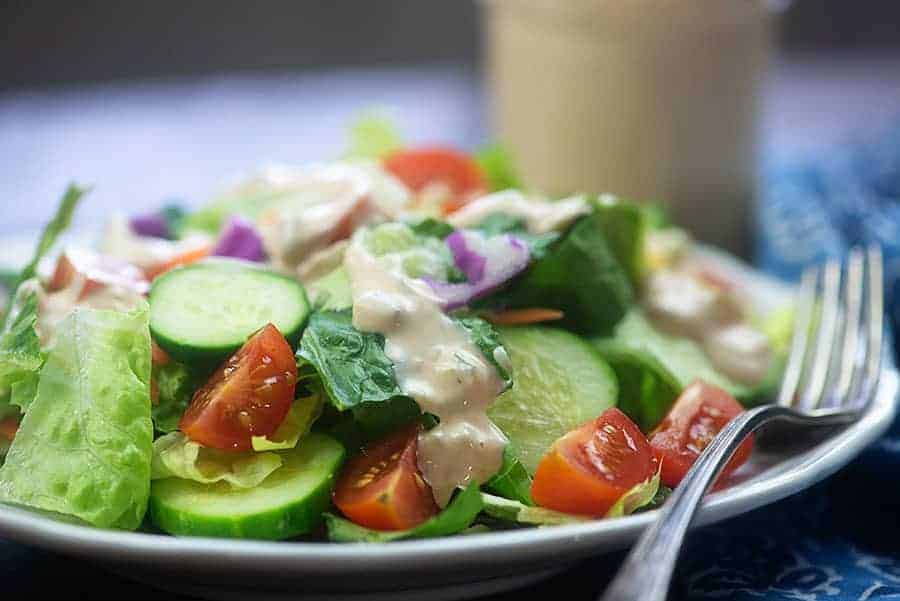 How long will mayo based salad dressing last in the fridge:
Personally, I keep this for dressing for 2 weeks. We've usually used a batch this size in that amount of time and I feel completely safe eating it during that time.
I err on the side of caution and toss any remainders.
However, in theory, this recipe should last longer. Personally, I'm a fan of better safe than sorry, especially when it comes to mayo. 😉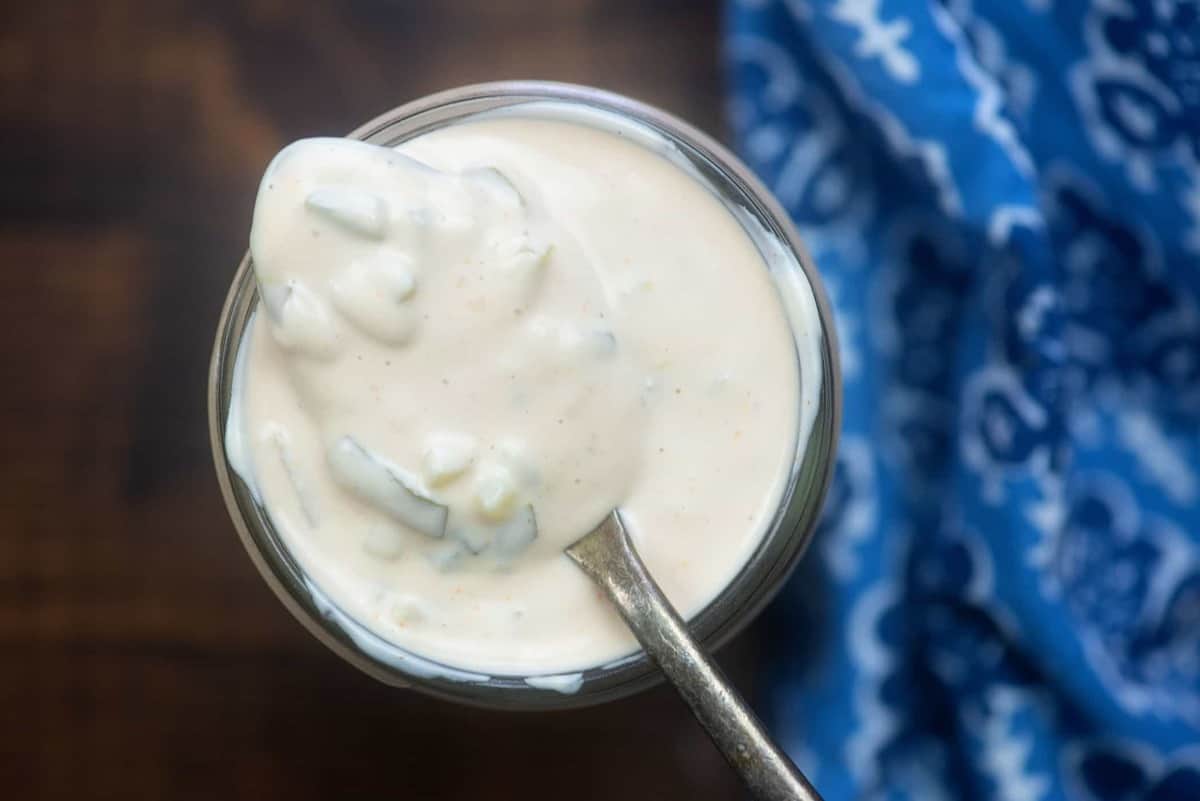 More keto salad dressing recipes:
Keto Ranch Dressing: If you love this salad dressing, be sure to try my homemade ranch dressing too. It's so thick and creamy and packed with herbs.
Keto Italian Dressing: This keto Italian dressing is easy to make and is perfect for salads or for marinades!
Green Goddess Salad Dressing: This healthy homemade keto salad dressing is perfectly creamy and great for dipping veggies or pouring on a salad!
Keto Blue Cheese Dressing: If you enjoy the strong flavors of blue cheese then you're going to love this keto blue cheese dressing!
Greek Dressing Recipe: This zesty, tangy Greek dressing is low carb and perfect for use on salads and in marinades!
More low carb recipes you'll love:
Mustard BBQ Sauce: I drizzle this over pulled pork for the ultimate combo.
Garlic Butter Shrimp: Easiest dinner ever!!
Cheesy Cauliflower Bake: This simple, hearty low carb dish is made in the air fryer so you know it's easy!
Cucumber Salad: So perfect! I make this ahead and eat it all week.
Brussels Sprouts with Bacon: If you're trying to convince the kids to try Brussels sprouts, this is how to do it!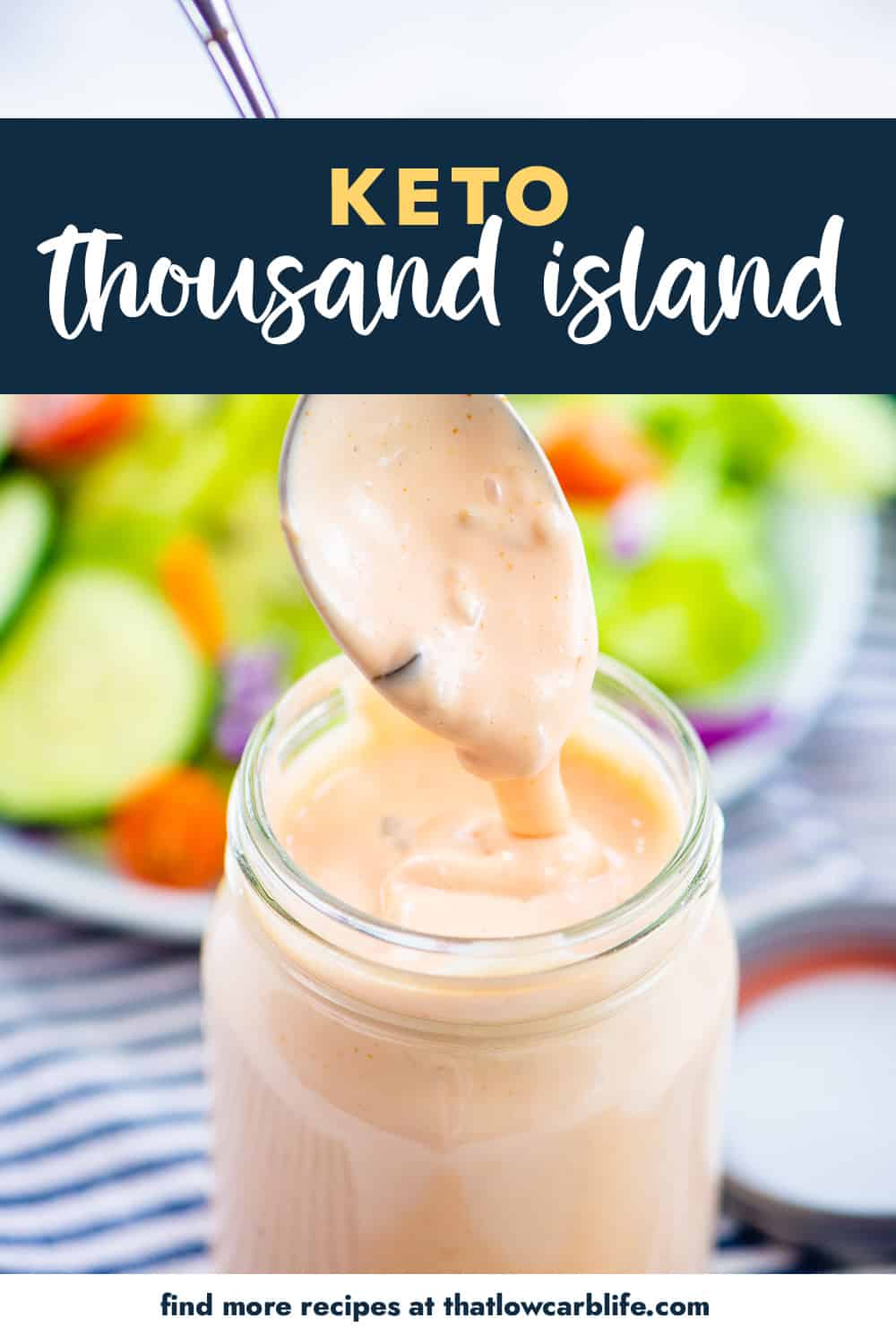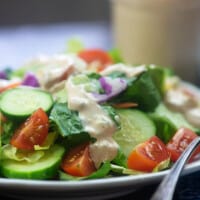 Thousand Island Dressing
This thousand island dressing is perfect drizzled over a salad, but I really like to eat it with bunless burgers too!
Per 2 tablespoons: 184 calories, 20g fat, 0g protein, 1g carbs
Ingredients
1 cup mayonnaise
3 tablespoons reduced sugar ketchup
3 tablespoons dill pickle relish
1 tablespoon white distilled vinegar
1/2 teaspoon salt
1/4 teaspoon sweetener
Instructions
Add all of the ingredients to a small bowl and whisk well to combine. Taste and add additional salt or sweetener as desired.
Store in a mason jar, tightly closed, in the refrigerator for up to 2 weeks.
Notes
Use sugar free sweet relish, if preferred.
For a thinner dressing, add almond milk or heavy cream to reach your desired texture.
Nutrition Information:
Yield: 12
Serving Size: 2 tablespoons
Amount Per Serving:
Calories: 184
Total Fat: 20g
Saturated Fat: 3g
Trans Fat: 0g
Unsaturated Fat: 17g
Cholesterol: 12mg
Sodium: 372mg
Carbohydrates: 1g
Fiber: 0g
Sugar: 1g
Protein: 0g
All information and tools presented and written within this site are intended for informational purposes only. This information is provided as a courtesy and there is no guarantee that the information is accurate.