This keto green goddess salad dressing is perfectly creamy with lots of fresh flavor and is perfect for dipping veggies or pouring on a keto salad!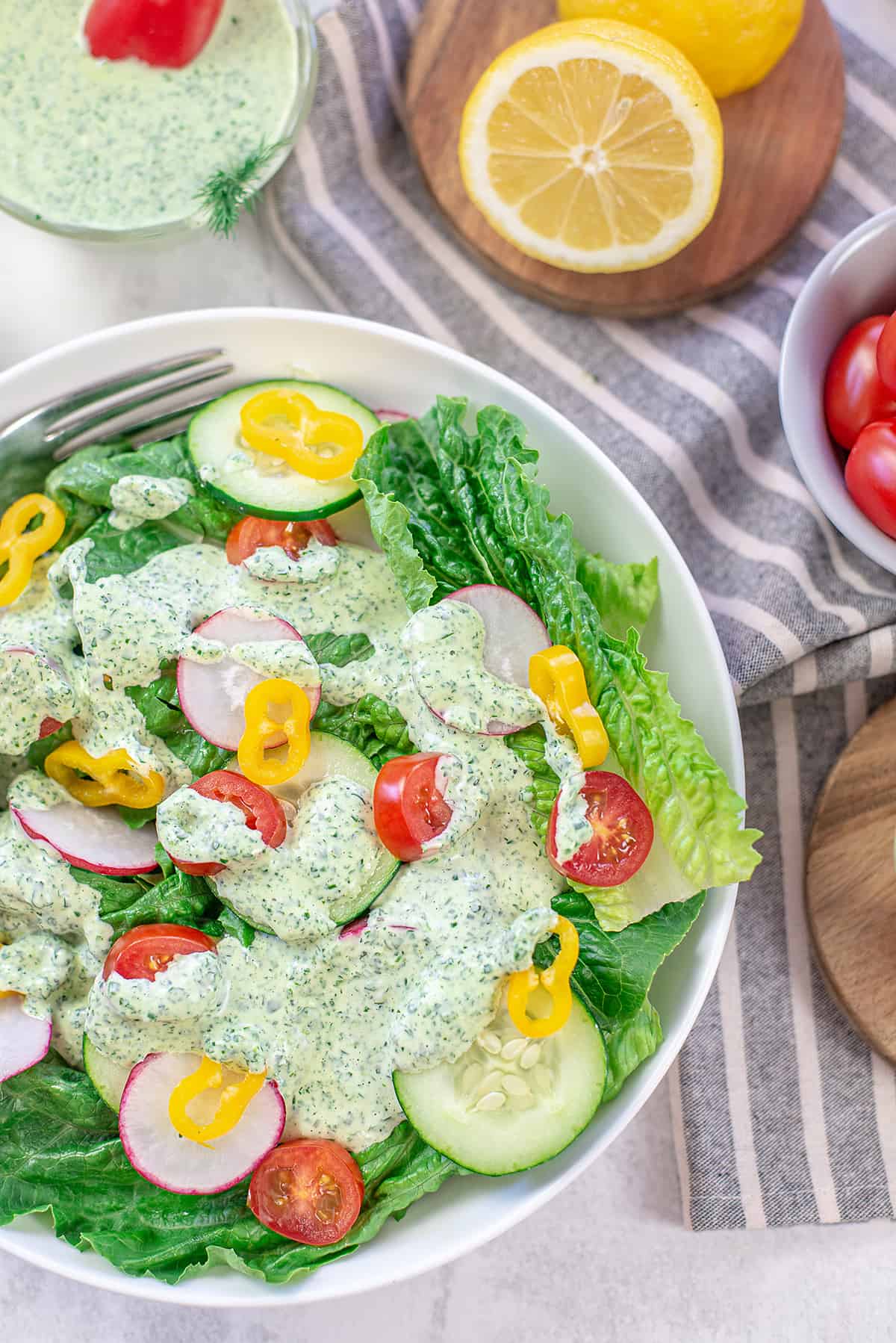 Eating salad is…not my strong suit. 😉 I mean, I LOVE salad, I just like it best when someone else prepares it for me.
The only way I'm eating salad at home is if I have a tasty homemade dressing to pour over the top. This keto green goddess salad dressing is so bright and fresh and creamy and just all around perfect for Spring and summer when the fresh herbs are in abundance.
Of course, this homemade green goddess dressing is good for more than just salads – try serving it up as a dip next to a pile of fresh veggies, like you would our Dill Veggie Dip.
More Homemade Salad Dressings
Love a good salad, but need a fresh and tasty dressing to top it off? We've got you covered!
Ingredient Notes:
This post contains affiliate links. As an Amazon associate and member of other affiliate programs, I earn from qualifying purchases.
Greek Yogurt – This creamy keto dressing starts with some non-fat Greek yogurt! It's the perfect base for the dressing and will take on lots of flavors from the other ingredients! Plus it adds protein!
Mayonnaise – Some mayo will add even more creaminess to the dressing!
Herbs – You'll need a mix of dill, parsley, cilantro, chives, and fresh tarragon. Feel free to mix and match to suit your tastes and what you have on hand.
Lemon Juice – Brightens up the dressing and makes the flavors pop.
Seasoning – Just some salt and pepper. You'll also add in a clove of garlic that'll get blended in for even more flavor!
Why We Love This Recipe:
Bright, fresh, and flavorful!
Homemade salad dressing is so simple and tastes so much better than store bought.
You can easily customize this with whatever herbs you have on hand.
When you make your own dressing, you know exactly what goes in it – no funky ingredients!
Tools Needed:
Food Processor or Blender – We use our favorite food processor to blend this up. Here's the one we use. It's a total workhorse and we use it daily to shred cheese, chop veggies, and blend ingredients together. This personal blender should also work well.
Mason Jars – Perfect for storing your leftover dressing.
How To:
Process – Add everything to your food processor and blend until smooth.
Adjust – Taste your dressing and season with extra salt or a squeeze of lemon juice, to taste. For a thinner dressing, add a splash of almond milk.
Serve – Serve with fresh veggies or drizzled over a salad.
FAQ's:
How to store dressing?
You can keep this keto green goddess dressing stored in an airtight container or jar in the refrigerator for about 3 to 4 days.
Is Greek yogurt keto?
In moderation, Greek yogurt can be a great addition to a keto diet. It does contain some carbs, so we limit the amount we consume. Be sure to use unsweetened Greek yogurt.
More Fresh Favorites: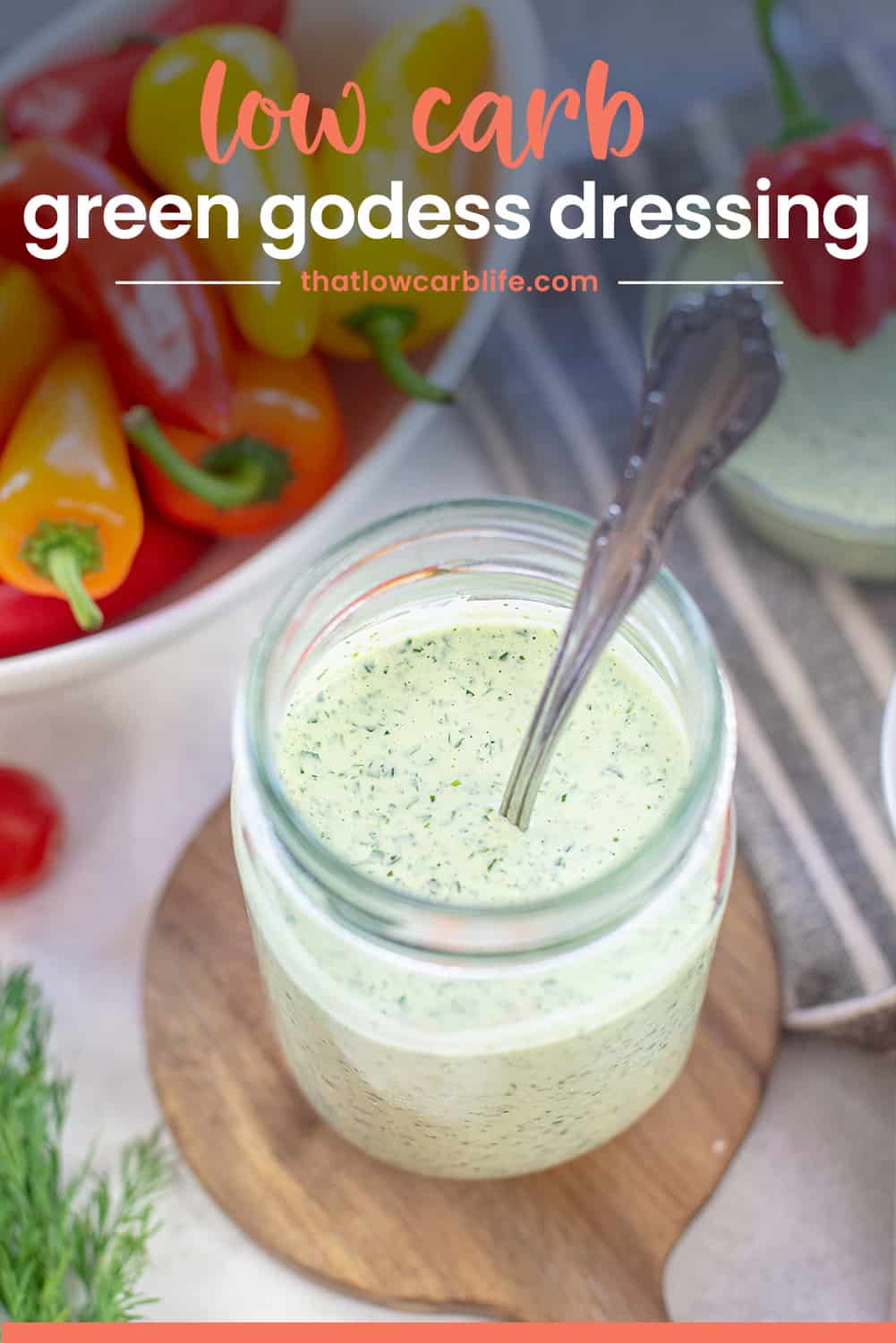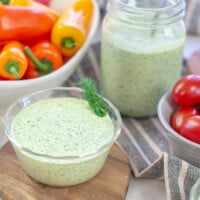 Green Goddess Salad Dressing
This green goddess dressing is bursting with fresh herbs, tangy Greek yogurt, and a hit of garlic and lemon. Perfect for drizzling over a green salad or for serving as a dip for veggies.
Ingredients
½ cup nonfat Greek yogurt
½ cup mayonnaise
1 cup parsley, packed
1/2 cup cilantro, packed
2 tablespoons dill
2 tablespoons chopped chives
2 tablespoons fresh tarragon, optional
2 tablespoons lemon juice
1 large garlic clove
½ teaspoon salt
½ teaspoon cracked pepper
Instructions
Add all ingredients to a food processor or blender and process until smooth.
Taste and add additional herbs or salt and pepper, to taste.
Store tightly covered in the fridge for 3-4 days.
Notes
We like to serve this over a green salad or as a dip for fresh veggies, such as mini sweet peppers, tomatoes, celery, and broccoli.
Nutrition Information:
Yield: 8
Serving Size: 2 tablespoons
Amount Per Serving:
Calories: 110
Total Fat: 10g
Saturated Fat: 2g
Trans Fat: 0g
Unsaturated Fat: 9g
Cholesterol: 6mg
Sodium: 230mg
Carbohydrates: 3g
Net Carbohydrates: 2g
Fiber: 1g
Sugar: 2g
Protein: 2g
All information and tools presented and written within this site are intended for informational purposes only. This information is provided as a courtesy and there is no guarantee that the information is accurate.