This Greek Cucumber Salad is light and refreshing with big flavors thanks to that tangy homemade Greek dressing! Our keto Greek salad is loaded with fresh vegetables, kalamata olives, and feta cheese.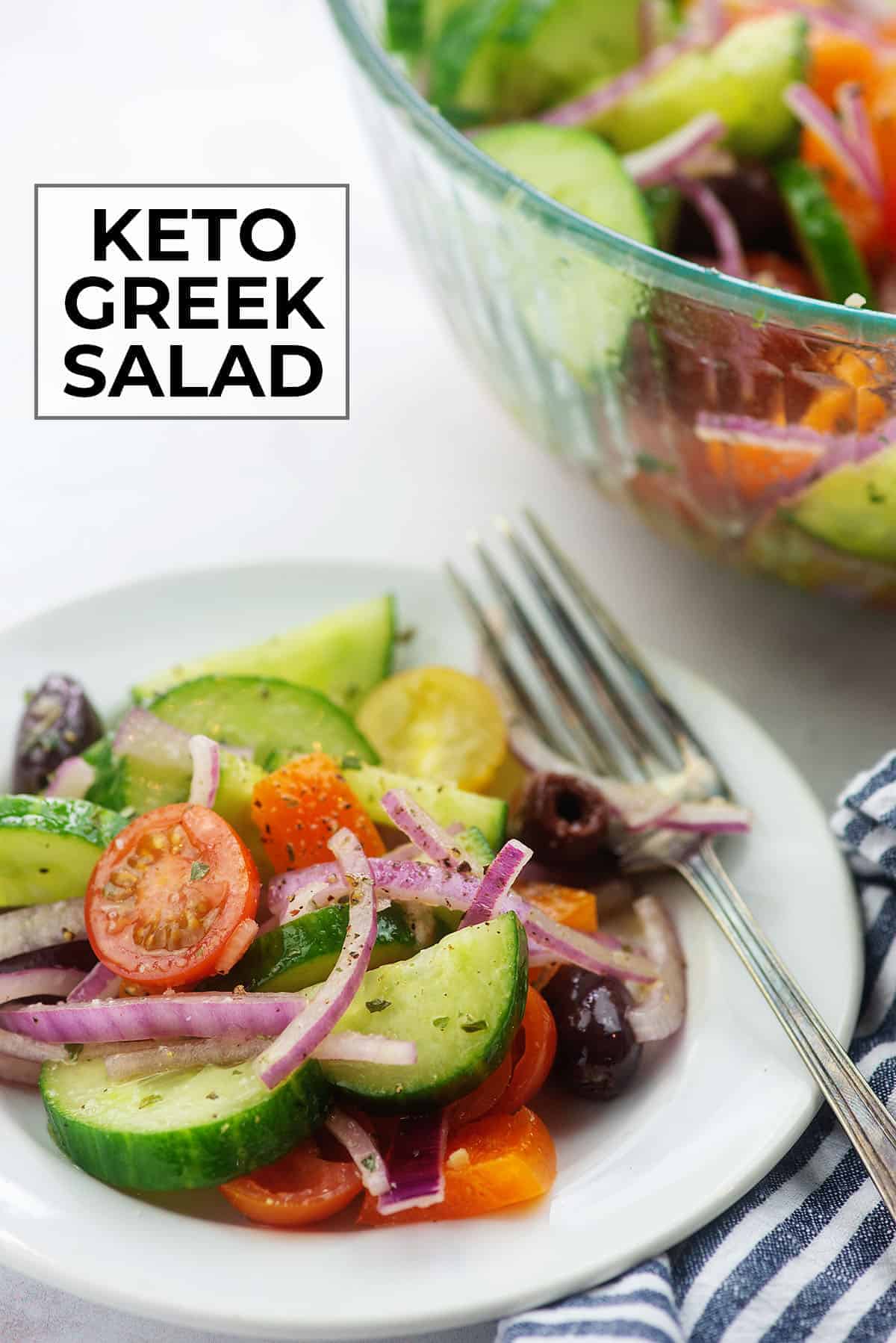 One of my favorite parts about summer is the easy side dish options!
In the winter, I feel compelled to make hearty, warm, comforting side dishes like my broccoli cheese casserole or keto cauliflower casserole.
I mean, don't get me wrong – those are two of my favorite dishes of all time!
I just like making lighter (and easier!) side dishes too! Take my keto broccoli salad and keto cucumber salad! Both are perfect for summer and we just love them!
This keto Greek salad recipe is the perfect light side dish – packed with flavor, delicious served straight from the fridge, light and refreshing, and totally simple!
Did I mention the feta cheese? I'm down for anything that involves salty, creamy feta! 😉
Why We Love This Greek salad Recipe:
Simple: Nothing but fresh, simple ingredients to be found in this salad! The prep is quick and easy.
Flavor: I love all that zesty flavor in the homemade Greek dressing! The veggies taste amazing when they've chilled in the dressing for awhile.
Light & Refreshing: This cold cucumber salad is so refreshing! It's got the perfect mix of light veggies, tangy dressing, and crumbled feta cheese.
Customizable: Not a fan of onions? Leave them out! No time to make your own dressing? Store bought works just fine. Love extra garlic? Knock yourself out!
Ingredient Notes:
This post contains affiliate links. As an Amazon associate and member of other affiliate programs, I earn from qualifying purchases.
For the salad: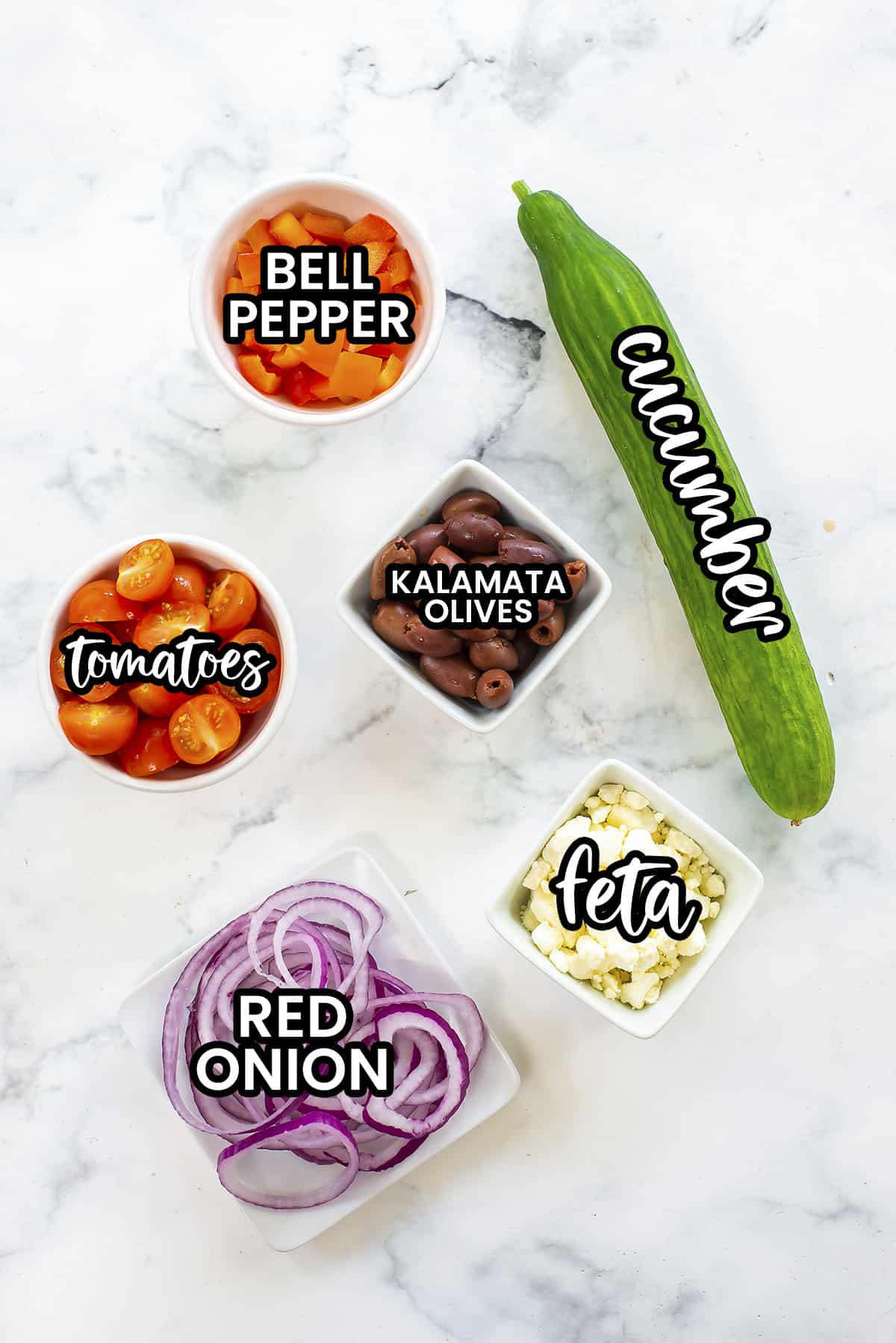 Veggies – This recipe is all about the fresh veggies! You'll start with an English cucumber sliced into 1/2″ pieces, some sliced red bell pepper, halved cherry tomatoes, and thin slices of red onion.
Kalamata Olives – I really love kalamata olives in this, but you could use black olives as well.
Feta Cheese – You can purchase feta crumbles or buy a block and crumble it yourself. The block of feta is always creamier than the pre-crumbled stuff and that's what we prefer.
For the dressing: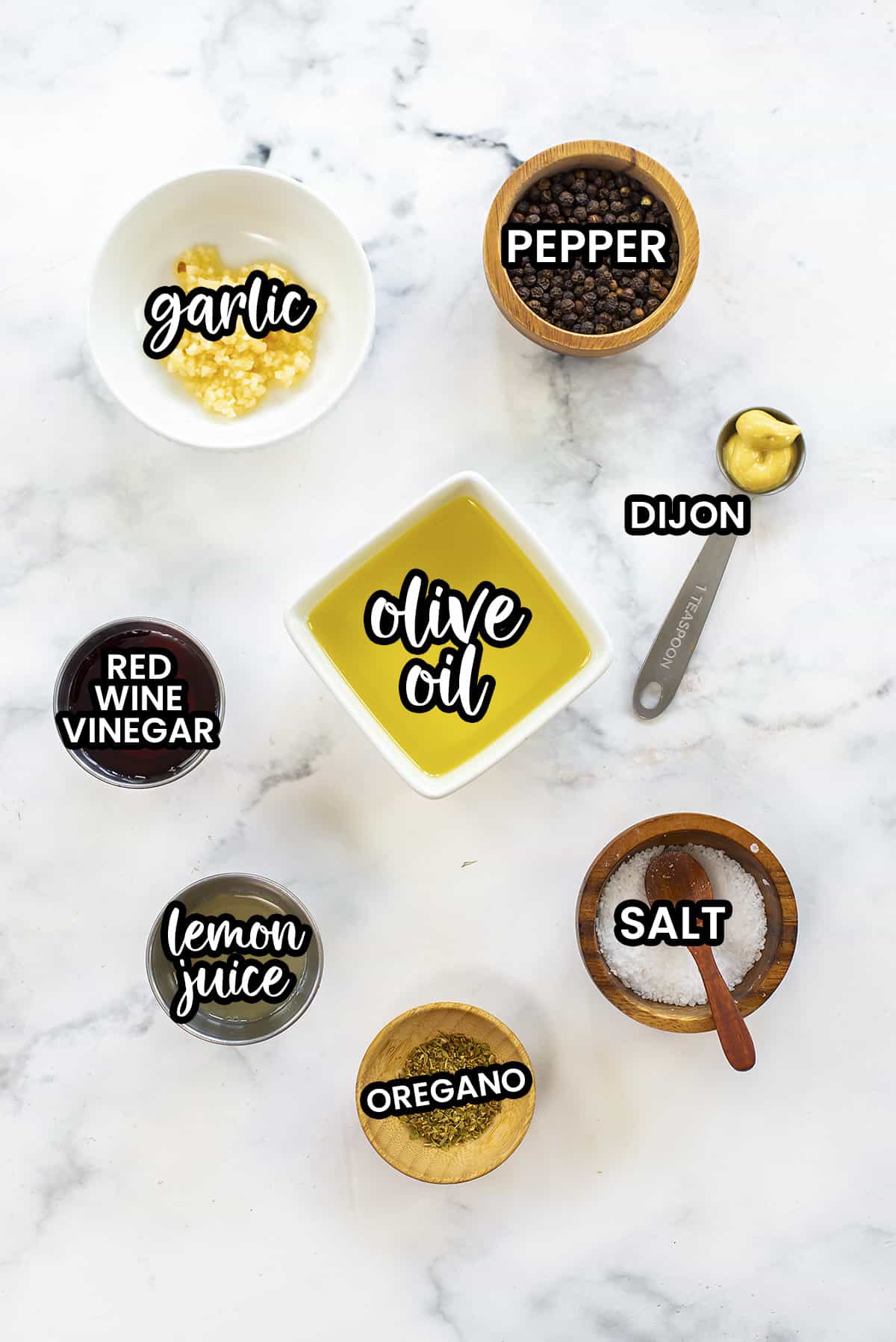 Olive Oil – You're going to want the good stuff! The olive oil is a big component of the dressing and while you don't need to spend a fortune on the fanciest olive oil you can find, the cheapest oil usually isn't as good of quality.
Red Wine Vinegar – It's the perfect way to add a bit of tangy flavor to the dressing!
Dijon Mustard – As with the vinegar it's going to add more flavor to this homemade Greek salad dressing.
Lemon Juice – Fresh squeezed is best! You can use the bottled kind too if that's what you've got.
Minced Garlic – A must in any Greek recipe.
Seasoning – Some salt, cracked pepper, and dried oregano!
Shop Keto Ingredients
We use Thrive Market for a lot of our specialty ingredients and keto snacks or products. Their prices tend to be cheaper than the local stores and I love that you can so easily sort products by diet.
Like Costco, this is a membership site, but we find that it's more than worth it based on the amount we save over the regular grocery store.
They have monthly or yearly plans. Check it out here.
What Readers Are Saying:
"This dressing is so good! Thanks for the recipe Karly. It also works great as a meat marinade, I gave that a try last night." – Ginger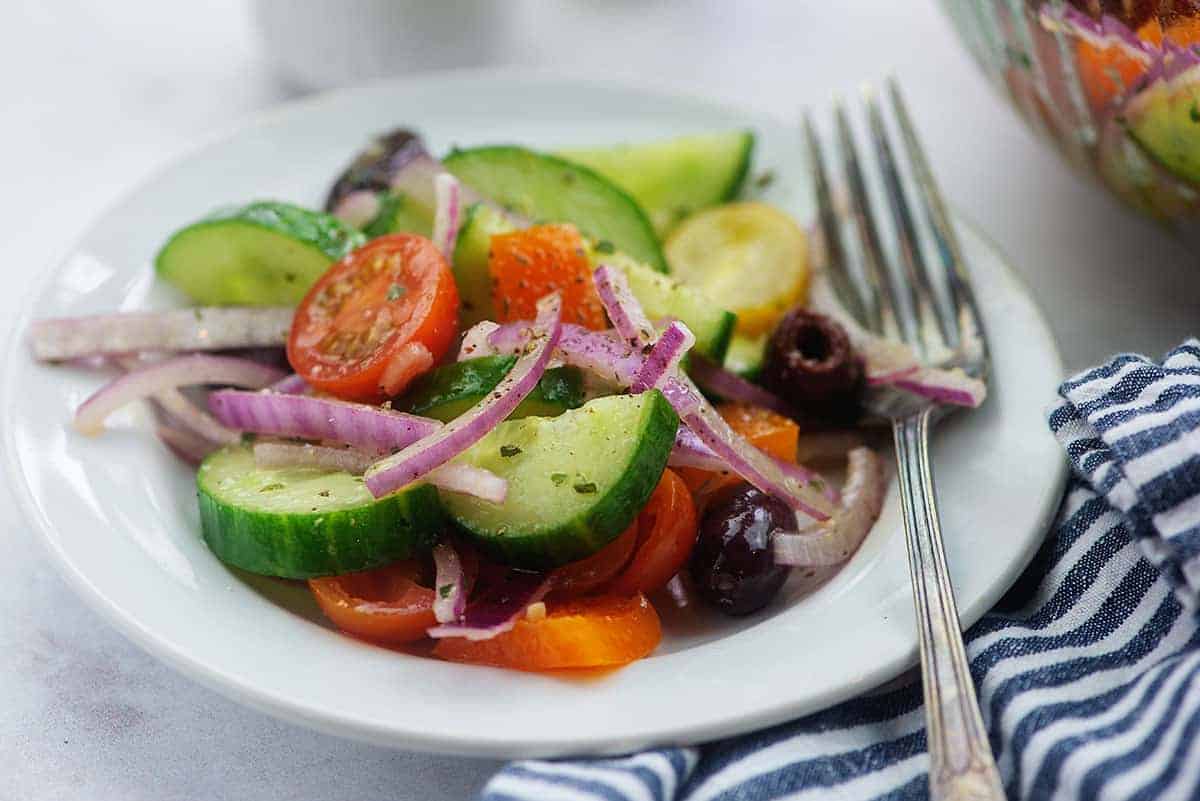 Are Cucumbers Low Carb?
Yes, cucumbers are low in total carbs and high in fiber! And that makes them a great choice for low carb and keto diets. They're mostly just water and fiber with very few carbohydrates.
A single cup of raw, sliced cucumber contains only 1.5 net carbs! You can use cucumbers to bulk up lots of other dishes without piling on the carbs.
Try these cucumber salmon bites if you're looking for a simple and savory low carb cucumber recipe. They only take about 10 minutes to prepare!
Are Cucumbers Good For You?
You bet! Not only are they low in carbs, they're mostly just water. About 95% water to be exact. That makes them an excellent source of hydration.
Cucumbers are also rich in essential nutrients like vitamins and minerals. It's important to note that the majority of beneficial nutrients in cucumbers are found in the skin. Peeling them removes most nutrients, but it's up to you!
They also contain antioxidants, are a good source of fiber, and are beneficial to digestive health. Cucumbers are clearly a healthy choice!
How To Make The Best Greek Salad Recipe: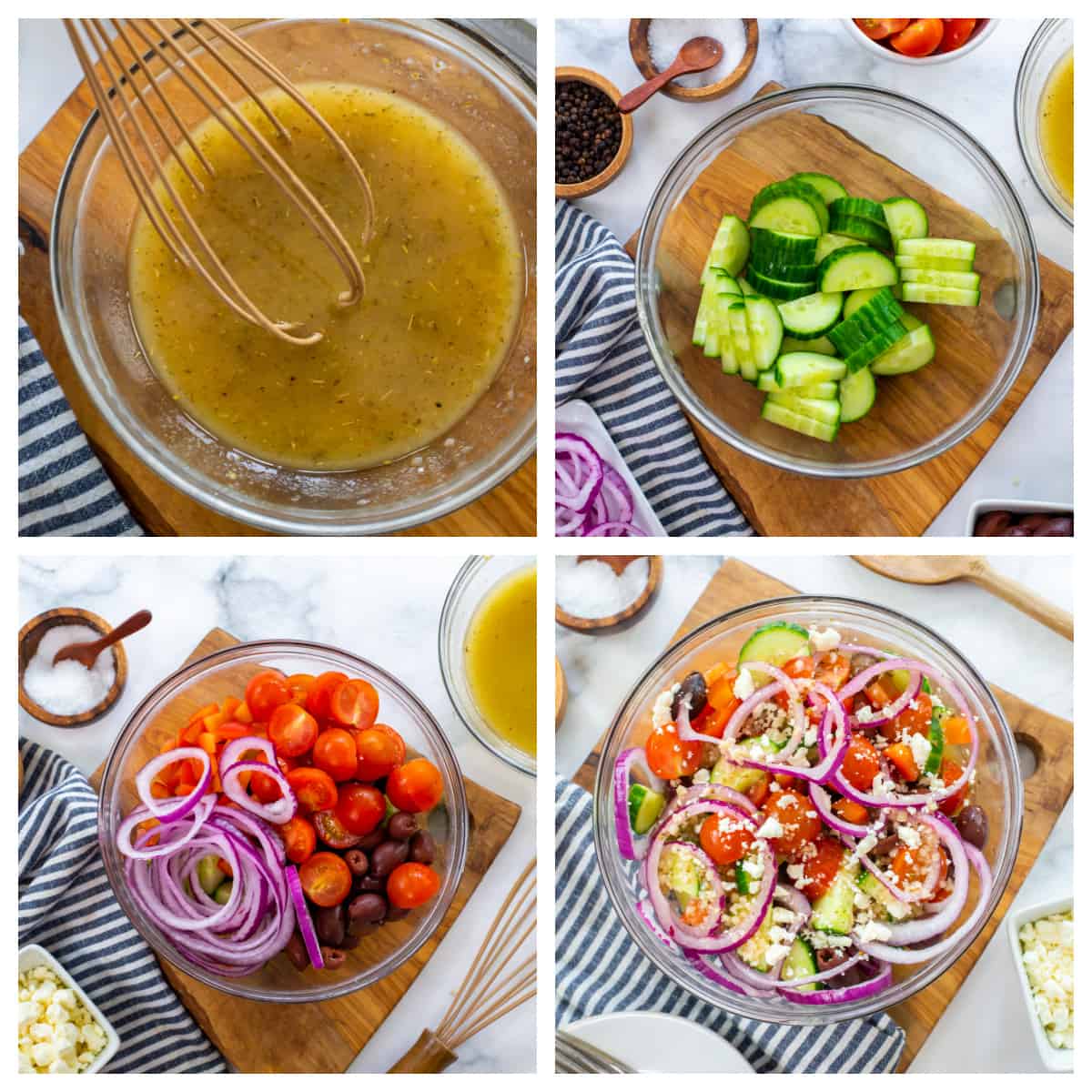 Dressing – To prepare the dressing, you'll want to whisk together olive oil, red wine vinegar, lemon juice, garlic, Dijon mustard, oregano, salt, and pepper. This is one of those dressings that is positively bursting with flavor! And yes, it's delicious on a green salad too!
Chop – This recipe starts out with a pile of veggies, so grab a cutting board and a good knife. Slice 1 English cucumber in half and then into small pieces, to form half moon shapes. Halve your cherry tomatoes, slice thin slivers of red onion, and dice up a bell pepper. Add all of these veggies to a mixing bowl along with some Kalamata olives and crumbled or cubed feta cheese.
Serve – Pour the dressing over the vegetables and toss to combine. We like this salad best cold from the fridge, so we usually make this an hour or two in advance. This also allows the veggies to soak up that delicious dressing and really get flavorful. You can also serve this Greek cucumber salad at room temperature, if you prefer.
Helpful Tools:
Lemon Squeezer – We love freshly squeezed lemon and lime! This tool makes it easy and mess free, and we use it all the time!
Knife – You'll need a good, sharp knife for chopping all those veggies!
Make Greek Cucumber Salad Ahead:
You've got a couple of options for preparing this keto cucumber salad recipe ahead of time! You're already going to need to let the salad chill for a couple of hours in the fridge, but if you need more time keep on reading.
The prepared salad will keep in the fridge for about 4 to 5 days depending on the freshness of the vegetables.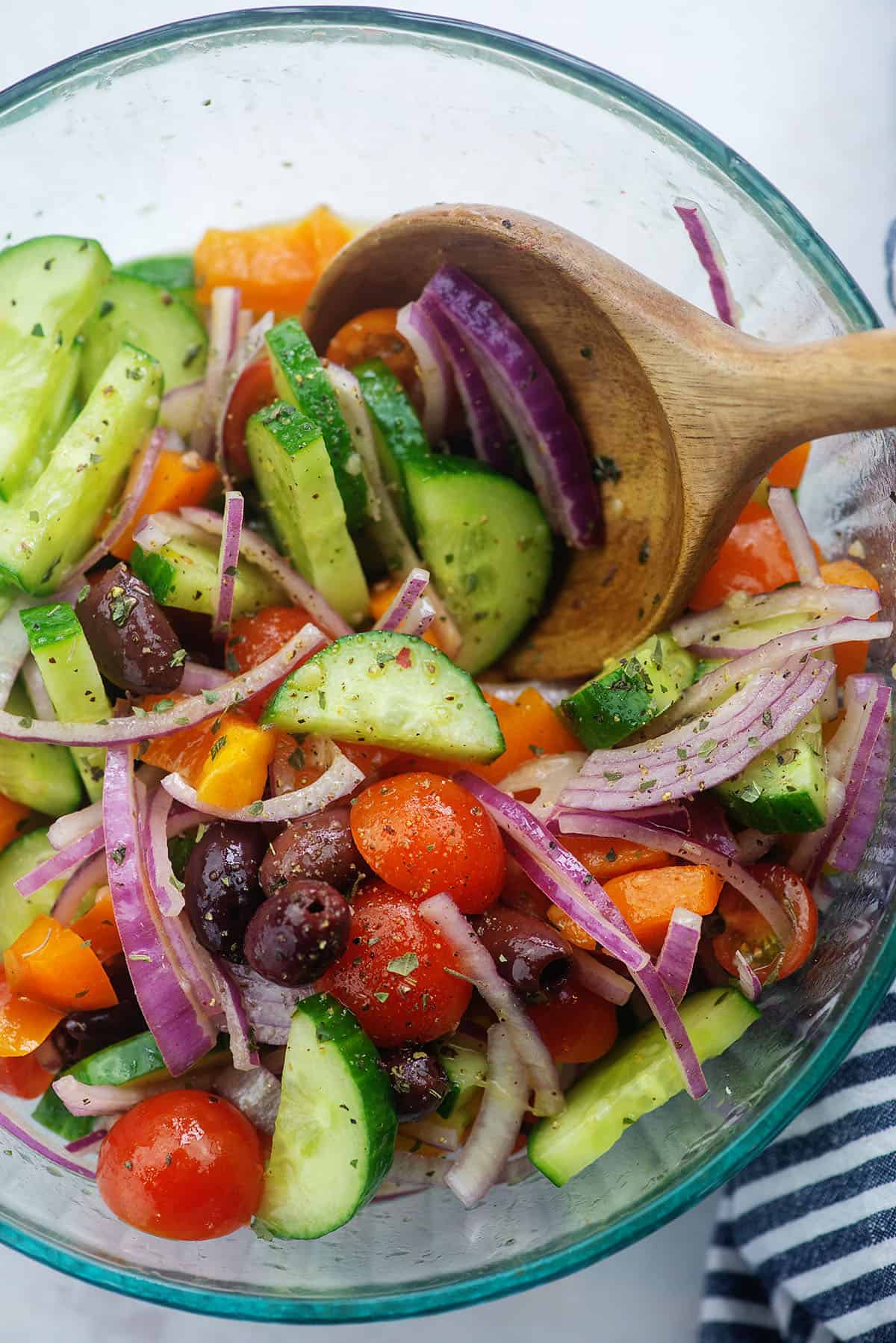 FAQs:
Should I peel the cucumbers?
The skin of a cucumber contains the majority of the nutrients. Peeling them leaves you with mostly water. That's fine if you prefer them that way! We recommend using English cucumbers, because they have thin peels that are not too bitter.
How to store cucumber salad?
This keto Greek salad will last nicely in the fridge for 4-5 days, depending on how fresh the vegetables were when making the salad. Store this tightly covered in the refrigerator.
Can I store the homemade dressing?
Yes, this Greek salad dressing will keep well in the refrigerator for up to a few days. Preferably in something sealed like a mason jar! This homemade dressing is great on lots of salads, and even works well as marinade for meat!
More Summer Side Dish Recipes:
We love switching up our side dishes to keep dinner exciting! That's why I wrote an eBook dedicated to low carb side dishes!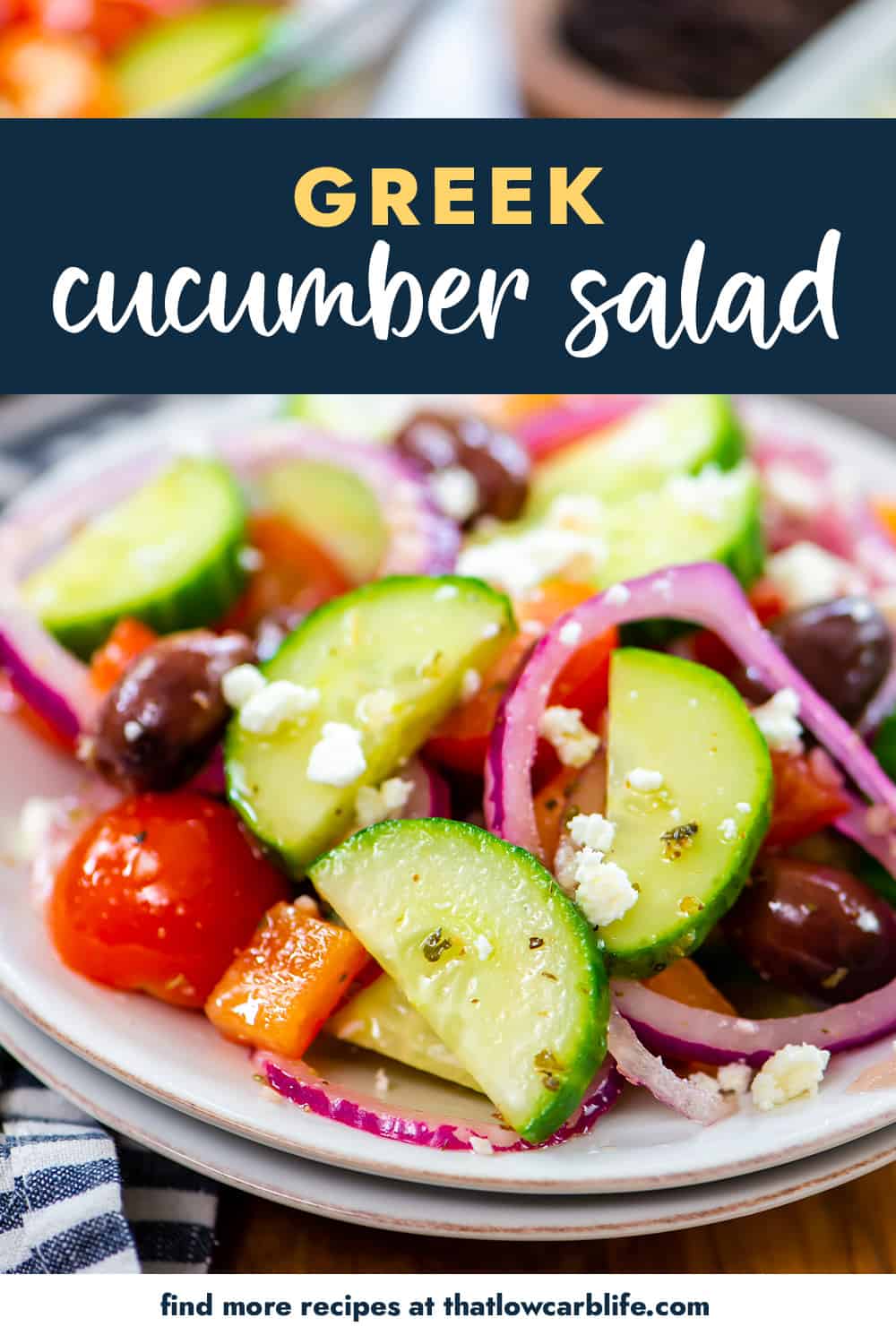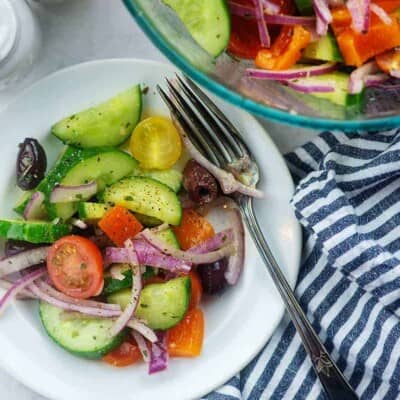 Greek Cucumber Salad
This Greek cucumber salad is so light and refreshing. The Greek salad dressing is absolutely packed with tangy flavor!
Prep10 minutes
Chill Time1 hour
Total1 hour 10 minutes
Ingredients
Greek Salad
1 English cucumber
1 red bell pepper diced
1 cup cherry tomatoes halved
½ red onion thinly sliced
½ cup pitted kalamata olives
6 ounces feta cheese crumbled or cubed
Instructions
For the Greek Salad:
Slice the cucumber in half lengthwise and then into 1/2 inch thick pieces.

Add the cucumber to a mixing bowl along with the diced peppers, cherry tomatoes, sliced onion, olives, and feta cheese.
For the Greek salad dressing:
Whisk together all of the ingredients for the dressing and taste for flavor. Adjust seasonings to taste.
To assemble:
Pour dressing over the vegetables and toss to combine.

Cover and refrigerate for one hour or longer to allow flavors to develop.

Serve cold or at room temperature.
Tips & Notes:
This Greek salad dressing is on the tangy side, so feel free to reduce the amount of vinegar or lemon to suit your own personal taste. We think it's pretty perfect though and also works great on a green salad. We prefer English cucumbers in this recipe, but any variety should be fine. You may consider peeling thicker skinned cucumbers.
Nutrition Information:
Serving: 1| Calories: 203kcal (10%)| Carbohydrates: 6g (2%)| Protein: 4g (8%)| Fat: 19g (29%)| Saturated Fat: 5g (31%)| Polyunsaturated Fat: 13g| Cholesterol: 19mg (6%)| Sodium: 541mg (24%)| Fiber: 1g (4%)| Sugar: 3g (3%)| Net Carbs: 5g (10%)