Our Loaded Cauliflower Casserole is one of my favorite side dishes and it's a hit with the whole family! Rich and creamy, loaded with cheddar and bacon, and super simple to whip up!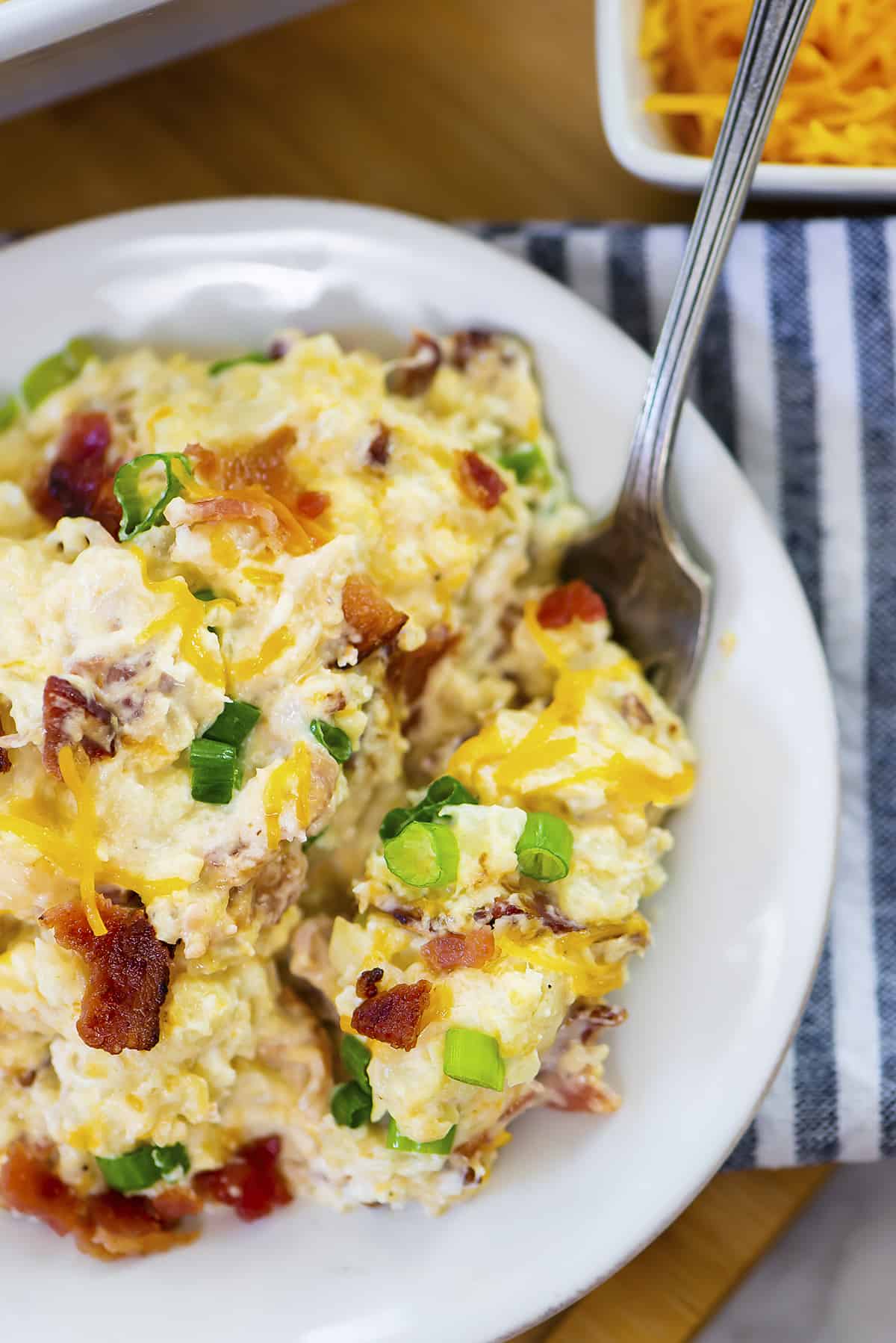 Things I've been craving lately: loaded french fries. Ugh.
There is a restaurant nearby that serves the best dang fries that are topped with cheddar, bacon, sour cream, and green onions. I used to eat them way too often.
I've given up the french fries for cauliflower and no, it's definitely not the same, but my pants fit better and cauliflower is delicious.
I've even made loaded radishes, which probably sounds weird but trust me – they're so good. Loaded deviled eggs are a thing around here too!
Anyway, I'm all about cauliflower casserole recipes. Cauliflower just makes a great base for pretty much everything, you know?
This cauliflower casserole with bacon and cream cheese is going to rock your world.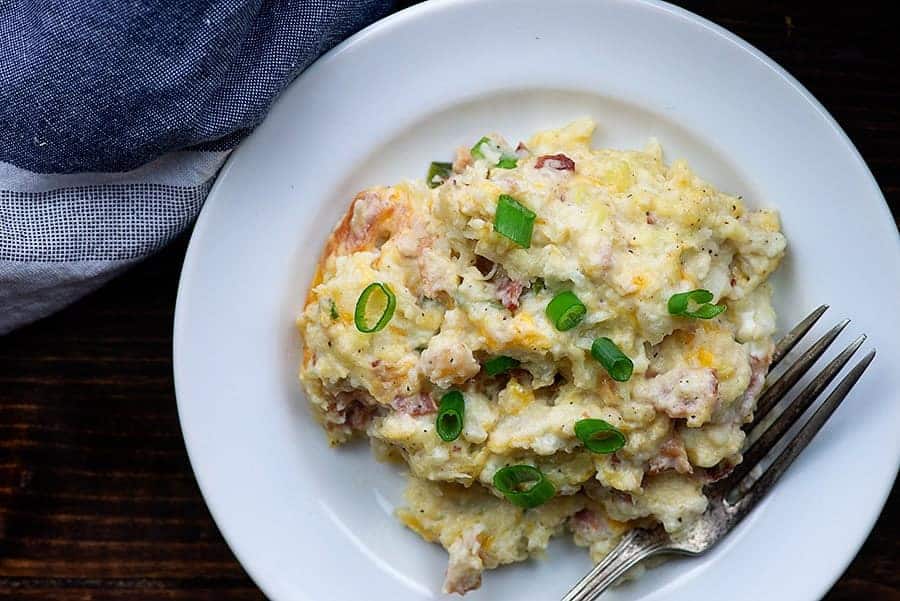 Ingredient Notes:
This post contains affiliate links. As an Amazon associate and member of other affiliate programs, I earn from qualifying purchases.
Cauliflower – I almost always go for fresh veggies over frozen. You could use frozen in this recipe if that's what you have on hand, but you'll likely have a more watery casserole than if you start with fresh cauliflower.
Cream Cheese – The low carb classic…we add cream cheese to everything we can. 😉
Sour Cream – This adds a little tang and some extra creamy goodness to the casserole.
Bacon – You'll need some fried and crumbled bacon ready to go for this recipe. We usually make a bunch ahead of time if we know we'll be using it in recipes. This air fryer bacon is an easy, mess-free way to make bacon!
Cheddar Cheese – We love creamy, cheesy casseroles! You'll mix this up with the cream cheese and sour cream.
Seasoning – Just some salt, pepper, and garlic powder!
Green Onion – Feel free to skip this for picky eaters, but we love the flavor green onions add. Chives would also work well.
Why We Love This Recipe:
This keto side dish goes well with just about anything! We like to serve it up with our pork tenderloin or grilled chicken.
If you like creamy, cheesy flavor then you're going to love this casserole! The cream cheese, sour cream, and cheddar mix is pretty amazing.
Nope, this isn't potatoes, but it sure satisfies my craving! These are thick and rich, nice and creamy, and just a great side dish option whether you're cutting carbs or not.
Special Tools Needed:
Potato Masher – This makes mashing your cauliflower a breeze!
Baking Dish – A 9×9 square dish or any shaped 2 quart dish will be perfect for baking up this keto cauliflower casserole recipe.
How To Make Loaded Cauliflower Casserole: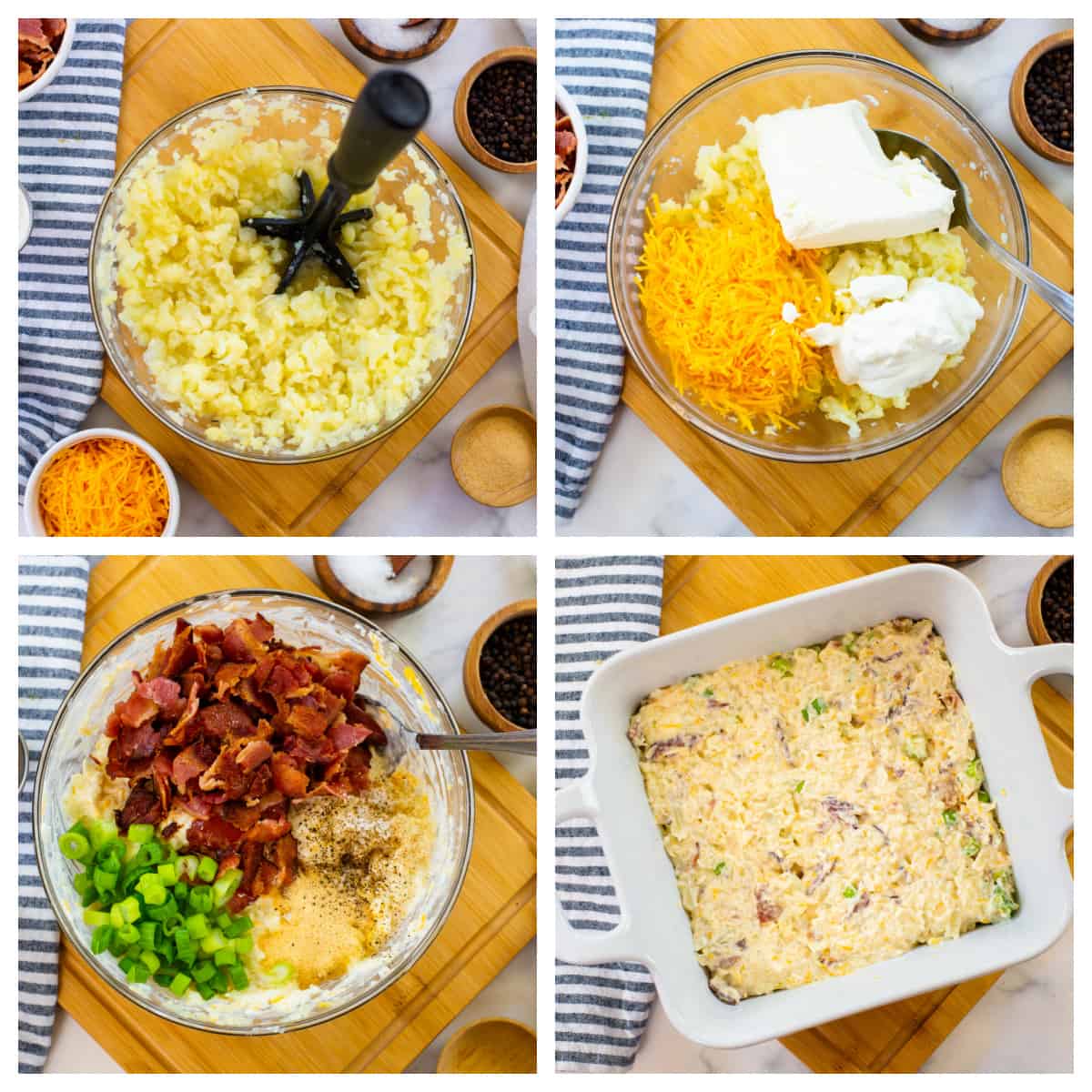 Steam & Mash – Chop your cauliflower into florets and pop it into a microwave safe bowl with a tablespoon or two of water. Cover with plastic wrap and microwave for about 4 minutes. You could also steam your cauliflower on the stove, if you prefer.
Once the cauliflower is nice and soft, grab a potato masher and go to town.
Dairy – Once your cauliflower is mashed, stir in the good stuff – sour cream, cream cheese, and cheddar. This is going to be so creamy and amazing.
Bacon & Seasonings – You'll also stir in some bacon, green onions, garlic powder, salt, and pepper. It'll add some good savory flavor to this loaded cauliflower casserole. I'm pretty sure bacon makes everything better!
Bake – The cauliflower casserole just goes in the oven for about 20 minutes and you're ready to serve! It's a perfectly creamy and cheesy low carb side dish. See below for some suggestions on what to serve with it!
And if you enjoyed this recipe, I think you'll love this easy and cheesy cauliflower bake recipe that's made in the air fryer!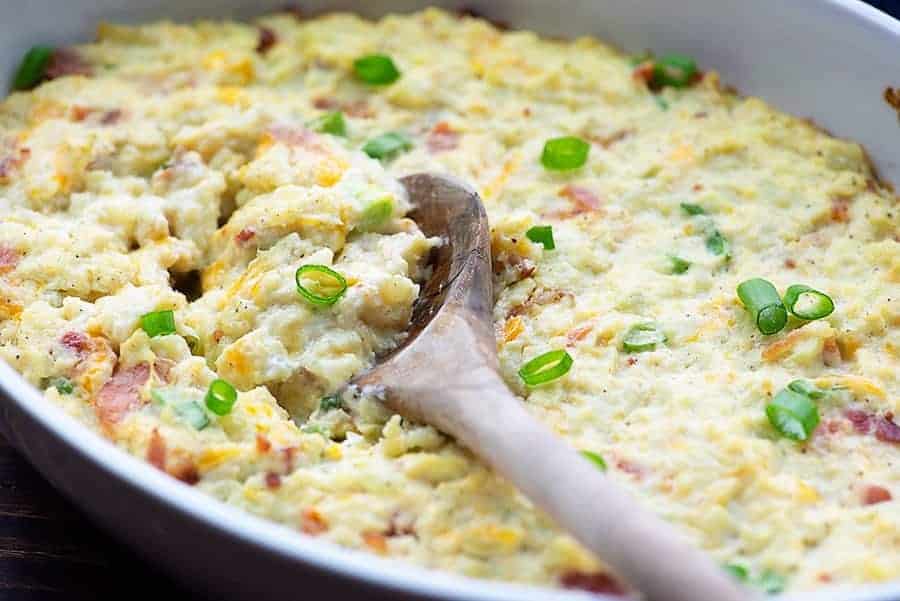 What To Serve With Cheesy Cauliflower Casserole:
My breaded baked pork chops go fabulously with this cauliflower casserole.
Of course, you can also keep things super simple with some grilled chicken or steak bites as your main dish.
Serve this at your next holiday dinner alongside our keto crockpot ham.
This is just the sort of low carb side dish that'll pair well with pretty much any meat.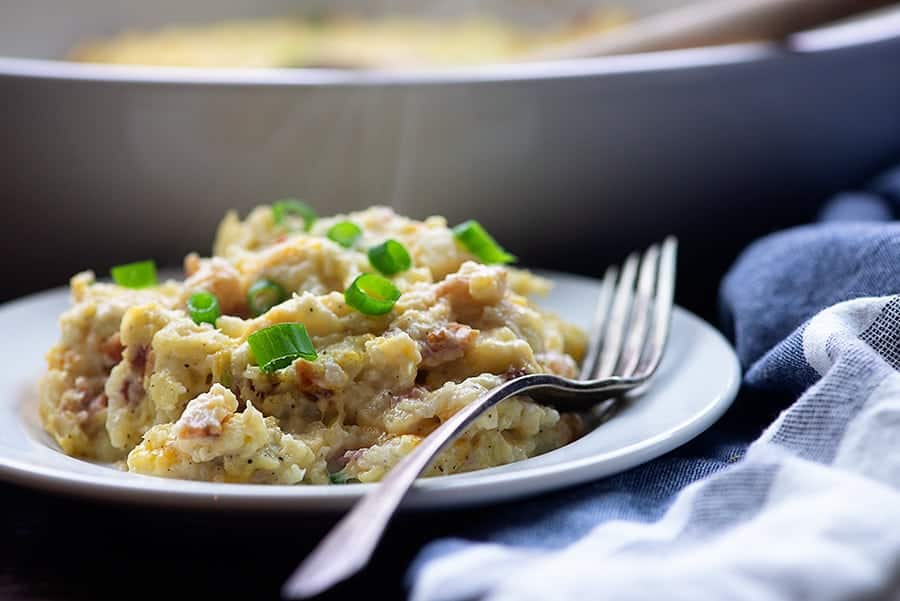 FAQs:
How do I store this cauliflower casserole?
You can keep this loaded cauliflower casserole stored in an airtight container in the fridge for about 3 to 4 days. This casserole should also freeze pretty well for up to a few months.
Can I use frozen cauliflower?
I prefer the flavor of fresh over frozen but I think it would work fine in this recipe since you'll be mashing it. The casserole may be a bit more 'loose' or wet if you start with frozen cauliflower.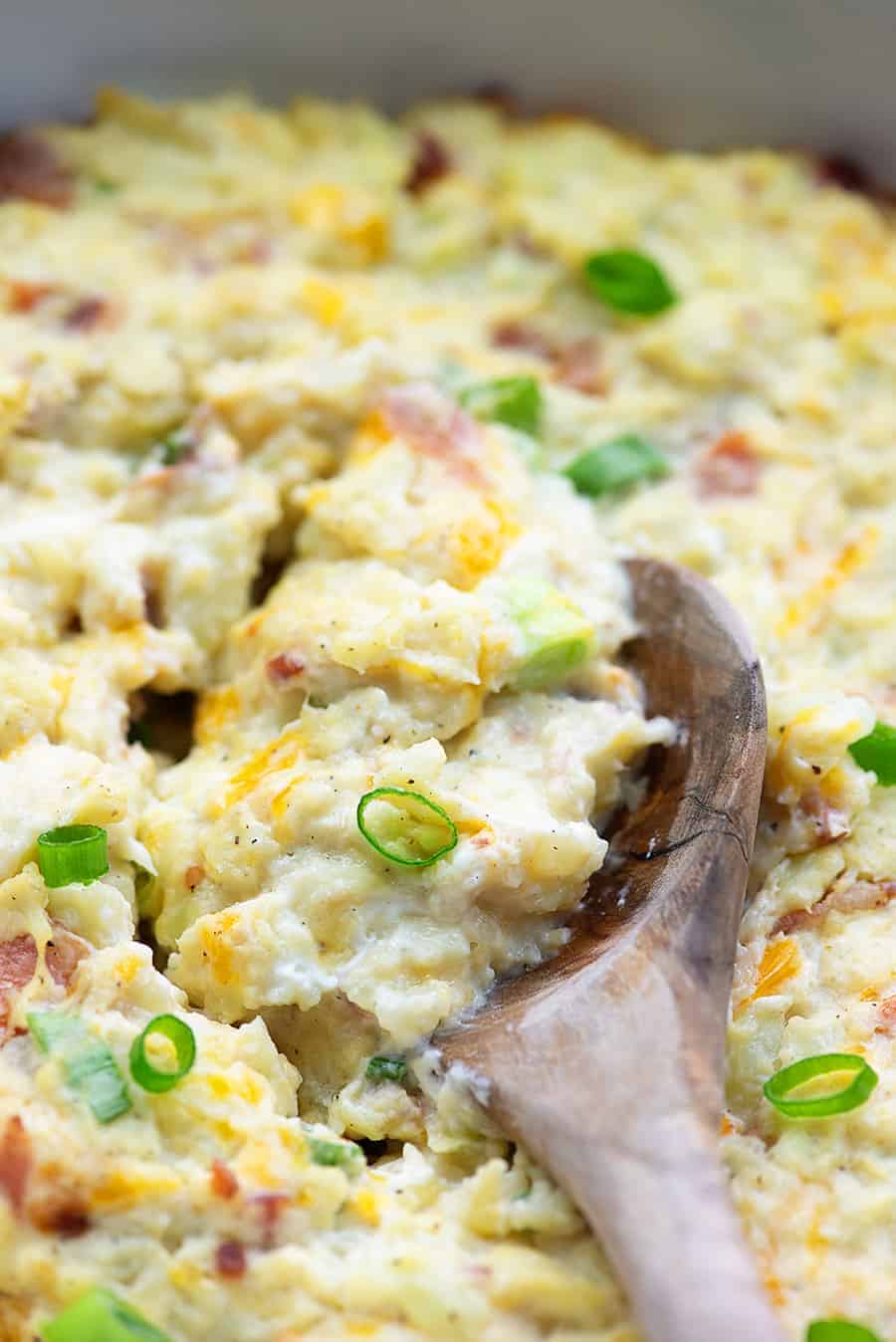 More Keto Cauliflower Recipes:
Cauliflower really is the king of low carb foods! 🙂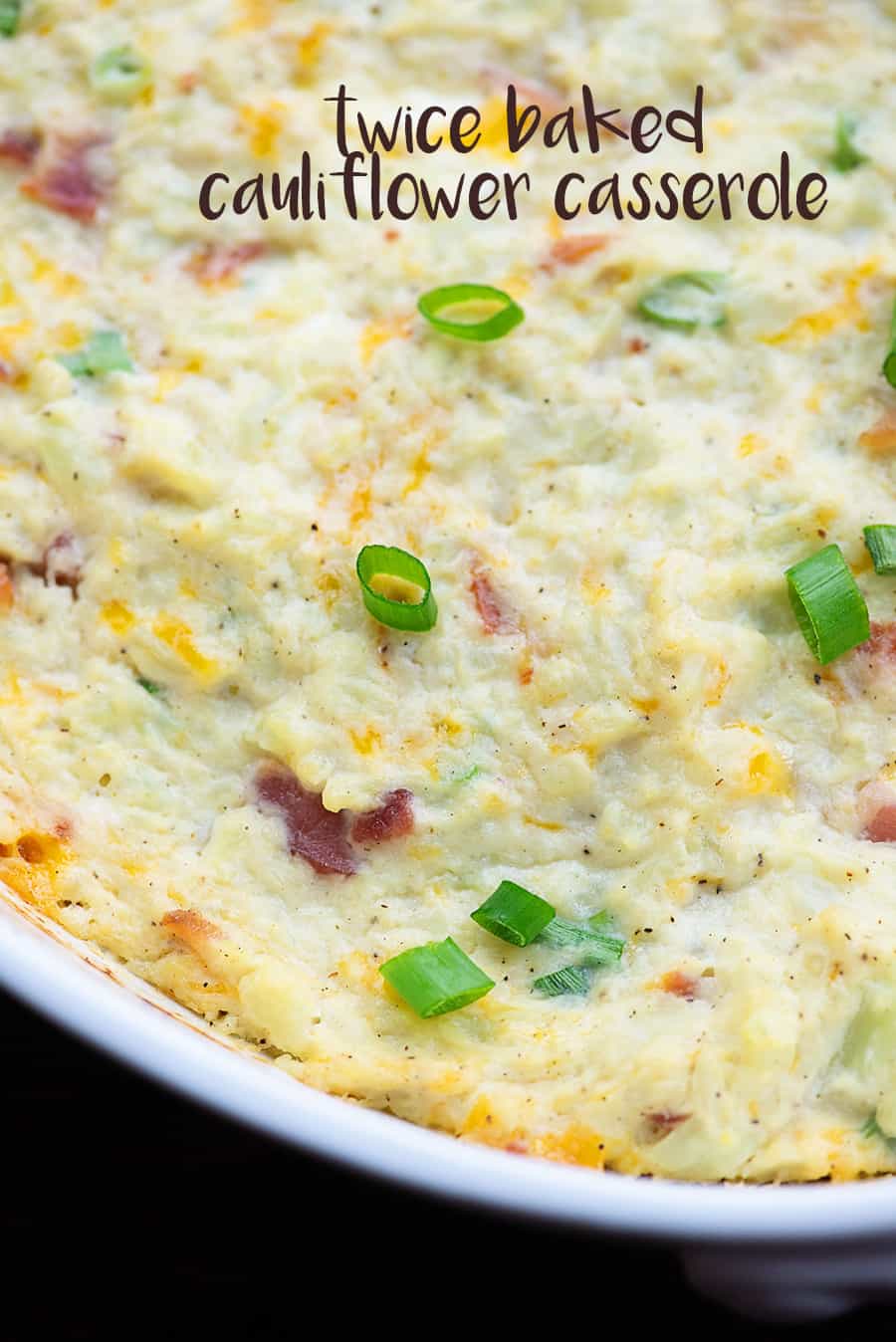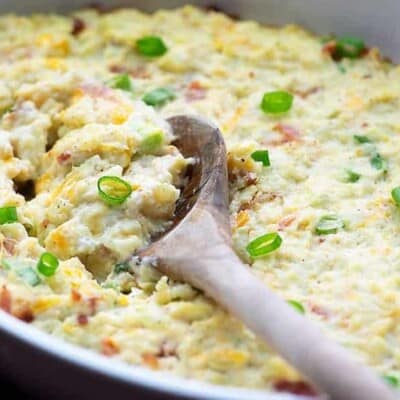 Loaded Cauliflower Casserole
This cheesy cauliflower casserole sure doesn't taste like diet food. It's loaded with cheddar, bacon, cream cheese, and sour cream. My kids love this one!
Prep10 minutes
Cook20 minutes
Total30 minutes
Ingredients
20 ounces cauliflower florets
1 cup grated cheddar
4 ounces cream cheese room temperature
¼ cup sour cream
6 slices bacon fried and crumbled
3 tablespoons diced green onions
1 teaspoon garlic powder
1 teaspoon salt
1 teaspoon pepper
Instructions
Preheat oven to 350 degrees. Spray a 9×9 baking dish with non-stick spray.

Add the cauliflower to a large microwave safe bowl along with 1 tablespoon of water. Cover tightly with plastic wrap and microwave for 4 minutes or until cauliflower is soft. Drain liquid from bowl.

Mash cauliflower with a potato masher.

Add the cheddar, cream cheese, and sour cream to the bowl and stir well until the cheese has melted into the cauliflower.

Stir in the bacon, green onions, garlic powder, salt, and pepper.

Spread mixture into prepared baking dish and bake uncovered for 20 minutes.

Serve hot.
Tips & Notes:
We always cook with fresh cauliflower, but frozen may work in this recipe. Adjust the cook time as needed to get it soft enough to mash and drain well.
Nutrition Information:
Serving: 1| Calories: 240kcal (12%)| Carbohydrates: 6g (2%)| Protein: 12g (24%)| Fat: 19g (29%)| Saturated Fat: 10g (63%)| Polyunsaturated Fat: 7g| Cholesterol: 55mg (18%)| Sodium: 747mg (32%)| Fiber: 2g (8%)| Sugar: 2g (2%)| Net Carbs: 4g (8%)