Loaded cauliflower casserole is one of my favorite side dishes and it's a hit with my whole family! I pack in a bunch of bacon and cheddar to keep this low carb side dish recipe super creamy and flavorful.

Things I've been craving lately: loaded french fries. Ugh.
There is a restaurant nearby that serves the best dang fries that are topped with cheddar, bacon, sour cream, and green onions. I used to eat them way too often.
I've given up the french fries for cauliflower and no, it's definitely not the same, but my pants fit better and cauliflower is delicious.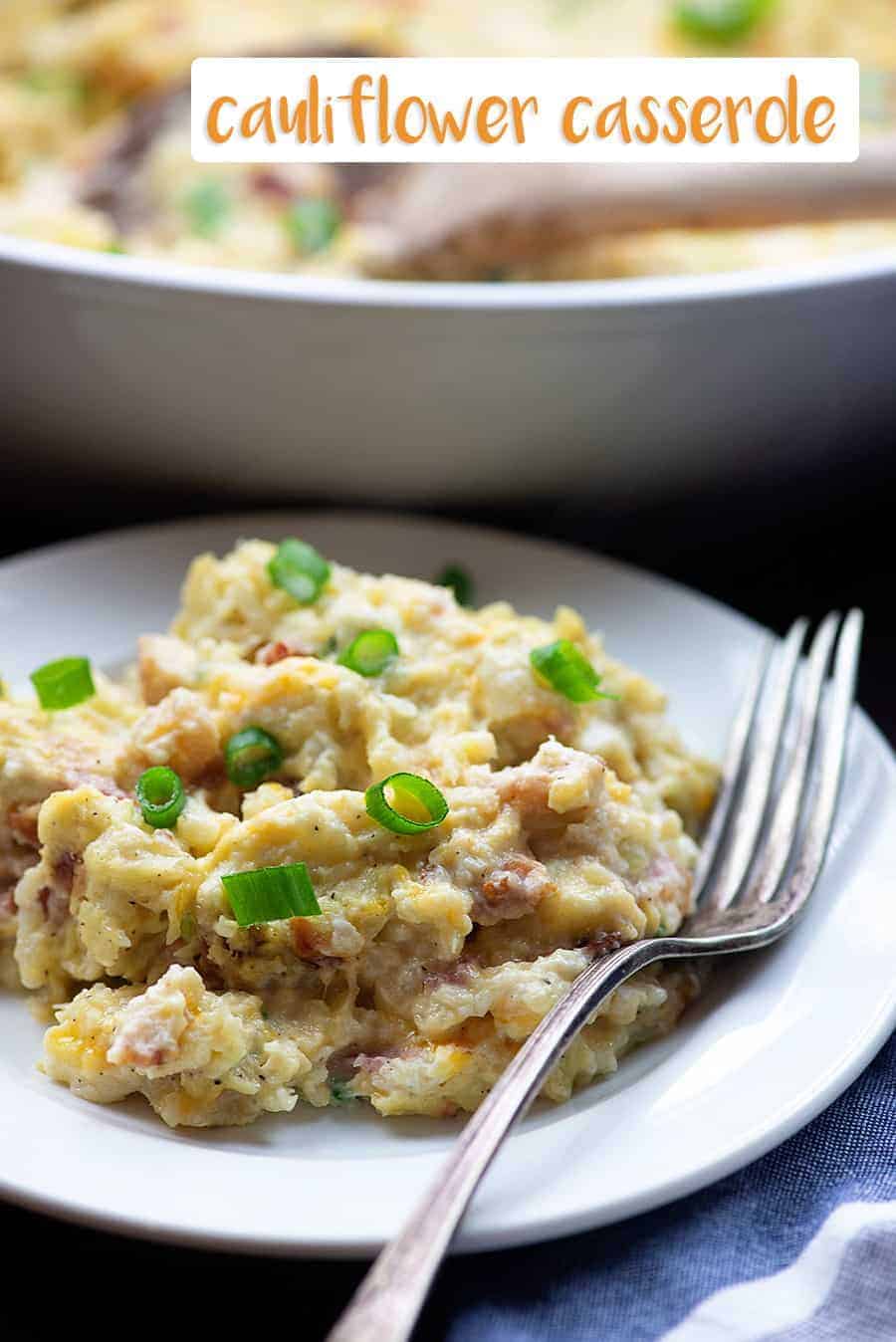 I've even been working on a loaded radish recipe for you guys, which probably sounds weird but trust me – it's going to be good. Still tweaking a few things in hopes of getting the radishes to cook up a bit crunchier.
Anyway, I'm all about cauliflower casserole recipes. Cauliflower just makes a great base for pretty much everything, you know?
This cauliflower casserole with bacon and cream cheese is going to rock your world.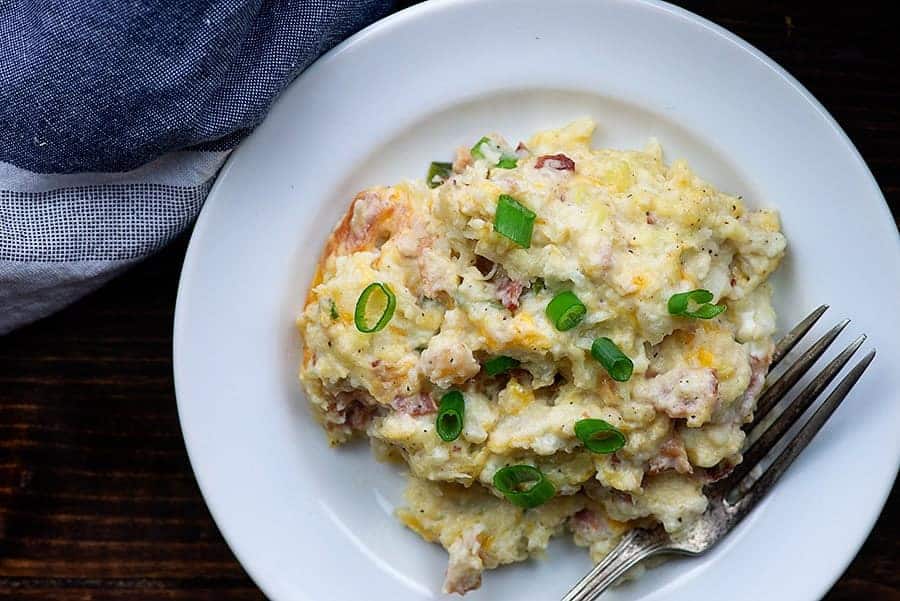 How to make this loaded cauliflower bake:
Start with a head of cauliflower, chopped up into florets.
I pop my cauliflower into a large microwave safe bowl, add a tablespoon of water, and cover with plastic wrap. Then I just microwave for about 4 minutes. You could also steam your cauliflower on the stove, if you prefer.
Once the cauliflower is nice and soft, grab a potato masher and go to town.
Once your cauliflower is mashed, stir in the good stuff – sour cream, cream cheese, and cheddar. This is going to be so creamy and amazing.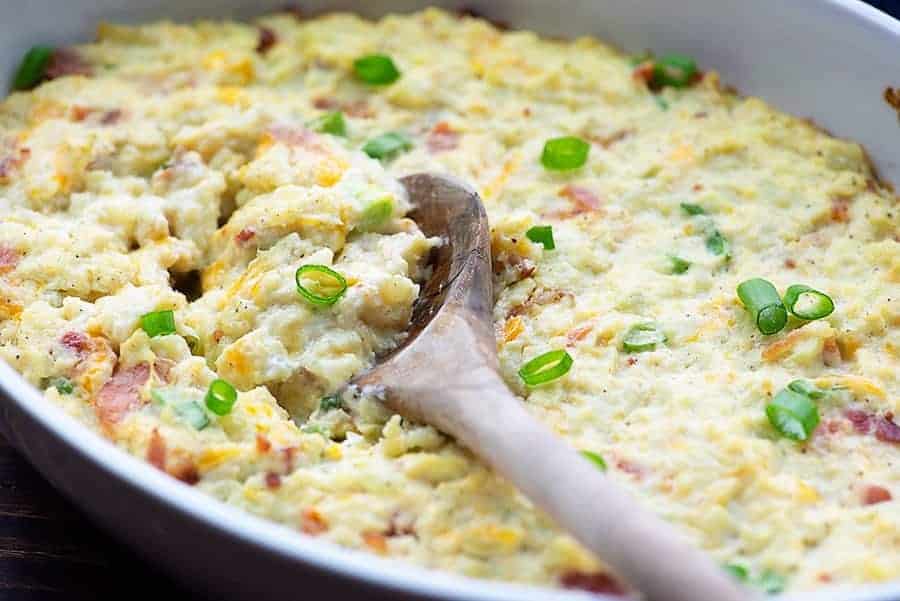 You'll also stir in some bacon, green onions, garlic powder, salt, and pepper.
This just goes in the oven for about 20 minutes and you're ready to serve!
Special Tools Needed for this loaded cauliflower casserole:
Potato masher: This makes mashing your cauliflower a breeze! This one from Amazon (affiliate link) has great reviews.
Baking dish: A 9×9 square dish or any shaped 2 quart dish will be perfect for this recipe. I just ordered this one (affiliate link) because it's pretty and I have a thang for pretty dishes. 😉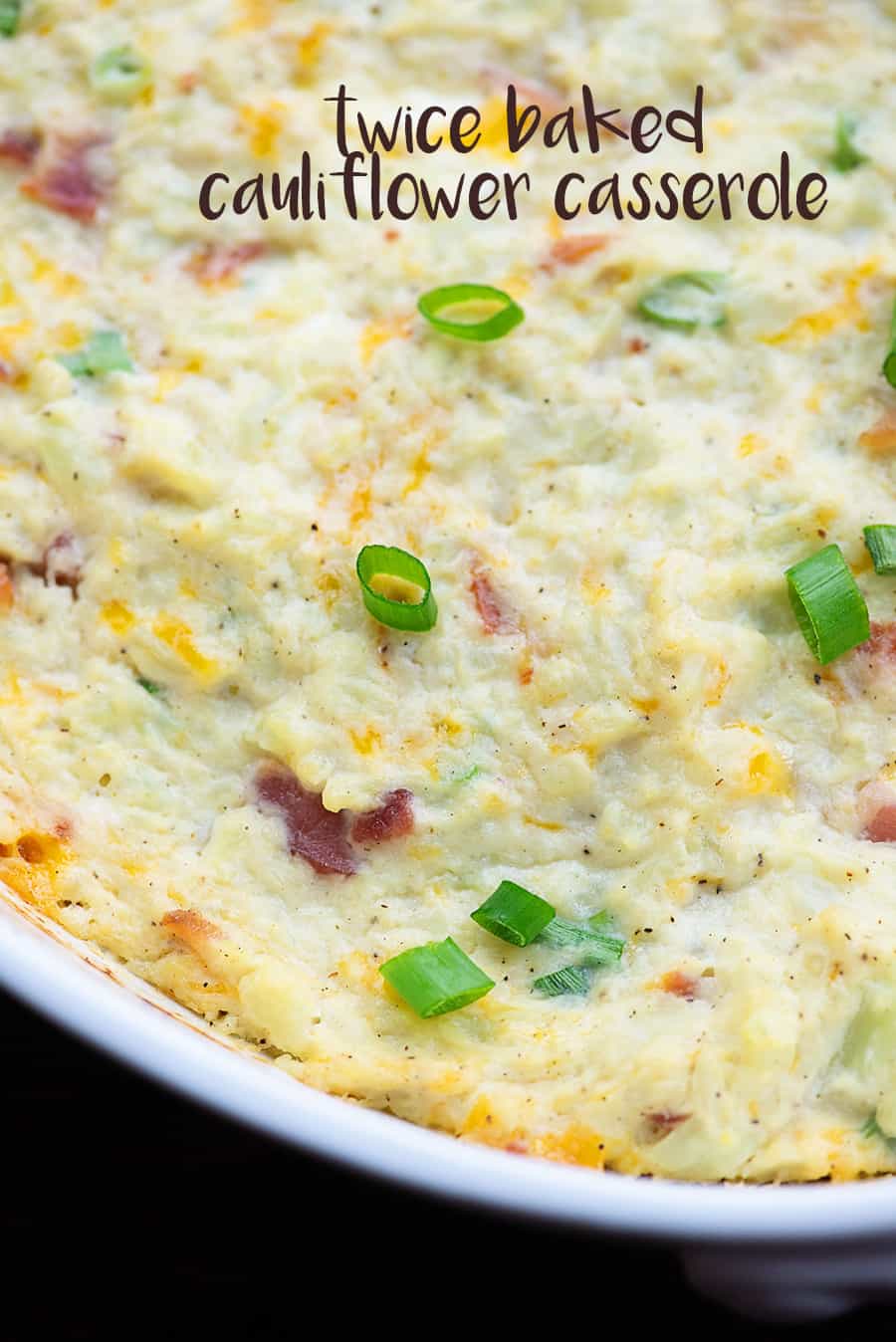 What to serve with this cheesy cauliflower casserole:
My garlic butter pork tenderloin is the perfect main course to serve alongside this cauliflower casserole.
Of course, you can also keep things super simple with some grilled chicken or steak as your main dish. This loaded cauliflower bake is going to steal the spotlight anyway. 😉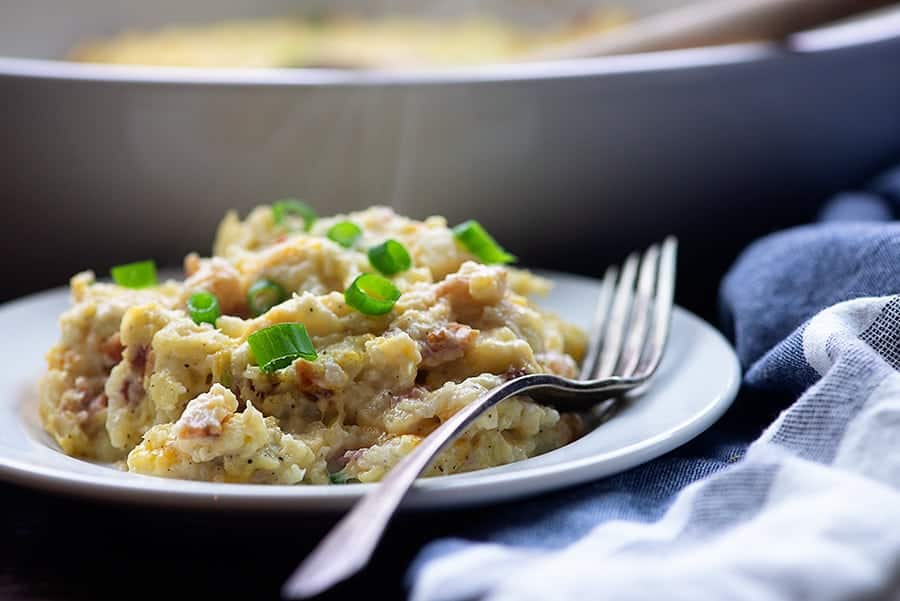 More low carb cauliflower recipes:
My cauliflower potato salad is always a hit.
The kids go crazy for this cauliflower chicken fried rice.
And, when I make taco salad, I always make some cilantro lime cauliflower rice to go alongside it.
Cauliflower really is the king of low carb foods! 🙂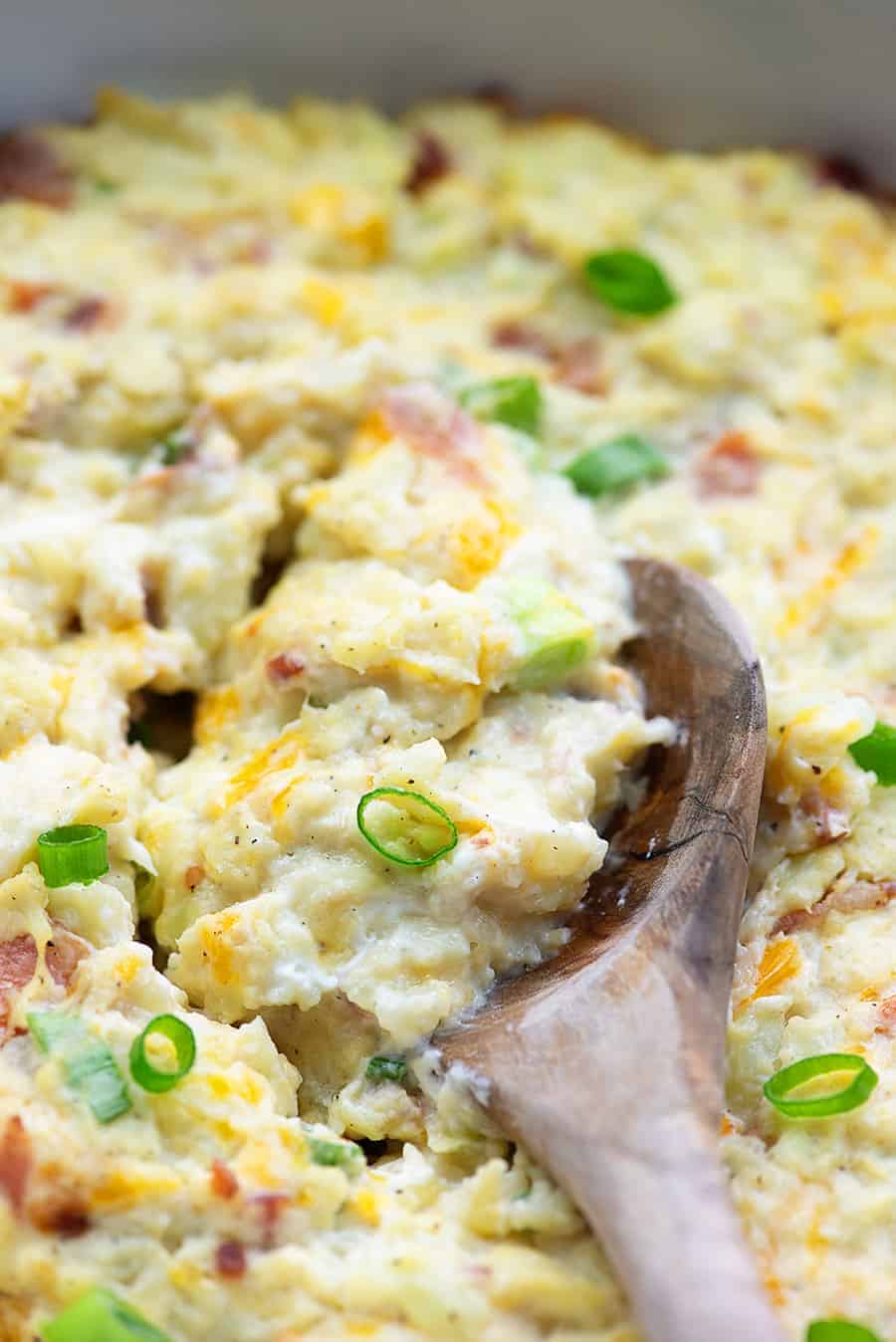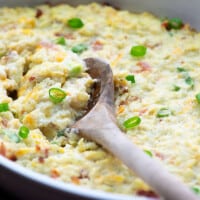 Loaded Cauliflower Casserole
This cheesy cauliflower casserole sure doesn't taste like diet food. It's loaded with cheddar, bacon, cream cheese, and sour cream. My kids love this one!
Ingredients
20 ounces cauliflower florets
1 cup grated cheddar
4 ounces cream cheese, room temperature
¼ cup sour cream
6 slices bacon, fried and crumbled
3 tablespoons diced green onions
1 teaspoon garlic powder
1 teaspoon salt
1 teaspoon pepper
Instructions
Preheat oven to 350 degrees. Spray a 9x9 baking dish with non-stick spray.
Add the cauliflower to a large microwave safe bowl along with 1 tablespoon of water. Cover tightly with plastic wrap and microwave for 4 minutes or until cauliflower is soft.
Mash cauliflower with a potato masher.
Add the cheddar, cream cheese, and sour cream to the bowl and stir well until the cheese has melted into the cauliflower.
Stir in the bacon, green onions, garlic powder, salt, and pepper.
Spread mixture into prepared baking dish and bake uncovered for 20 minutes.
Serve hot.
Notes
We always cook with fresh cauliflower, but frozen may work in this recipe. Adjust the cook time as needed to get it soft enough to mash.
Recommended Products
As an Amazon Associate and member of other affiliate programs, I earn from qualifying purchases.
Nutrition Information:
Yield: 6
Serving Size: 1
Amount Per Serving:
Calories: 240
Total Fat: 19g
Saturated Fat: 10g
Trans Fat: 0g
Unsaturated Fat: 7g
Cholesterol: 55mg
Sodium: 747mg
Carbohydrates: 6g
Net Carbohydrates: 4g
Fiber: 2g
Sugar: 2g
Protein: 12g
All information and tools presented and written within this site are intended for informational purposes only. This information is provided as a courtesy and there is no guarantee that the information is accurate.