Cauliflower chicken fried rice is a great alternative to grabbing take out! It's a low carb, healthy side dish that's packed with veggies – and it's one the whole family will enjoy!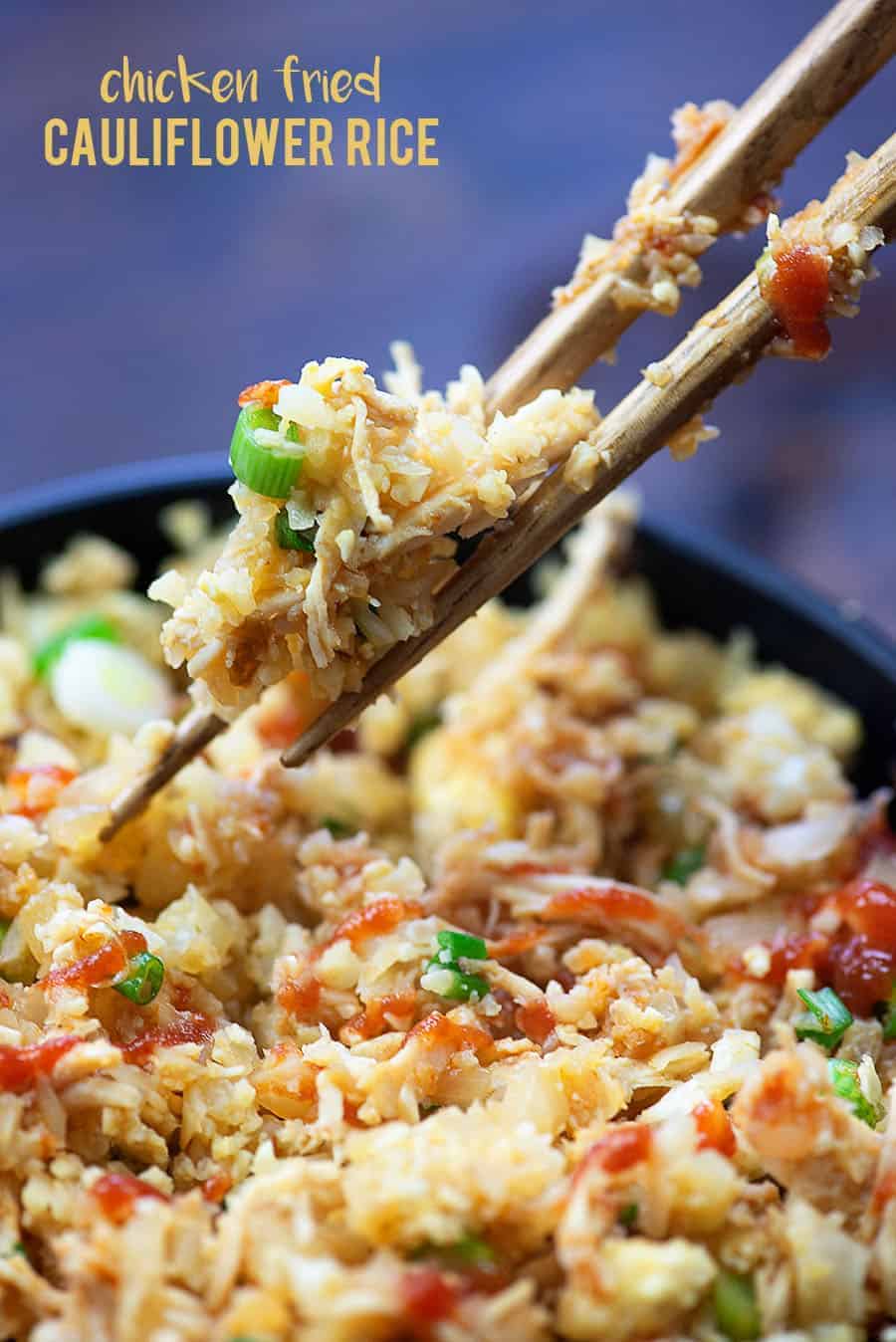 I'm getting a little nervous that I'm going to burn my kids out on plain ol' cauliflower rice lately.
I mean, I'm fairly obsessed with the stuff.
It can be as easy or as complicated as you make – start with a bag of frozen riced cauliflower or start with a head of fresh cauliflower. Either option comes out delicious. We like our roasted cauliflower rice quite a bit!
Add some butter and a little garlic salt and I'm a happy girl.
I like to experiment though, so I decided to mix things up and make this cauliflower fried rice.
My cauliflower chicken fried rice recipe is low in carbs, healthy enough for just about any diet, and it's packing some major flavor! We love swapping veggies for carbs around here and my family is slowly coming on board as they learn that it can actually be quite tasty.
Ingredient Notes:
This post contains affiliate links. As an Amazon associate and member of other affiliate programs, I earn from qualifying purchases.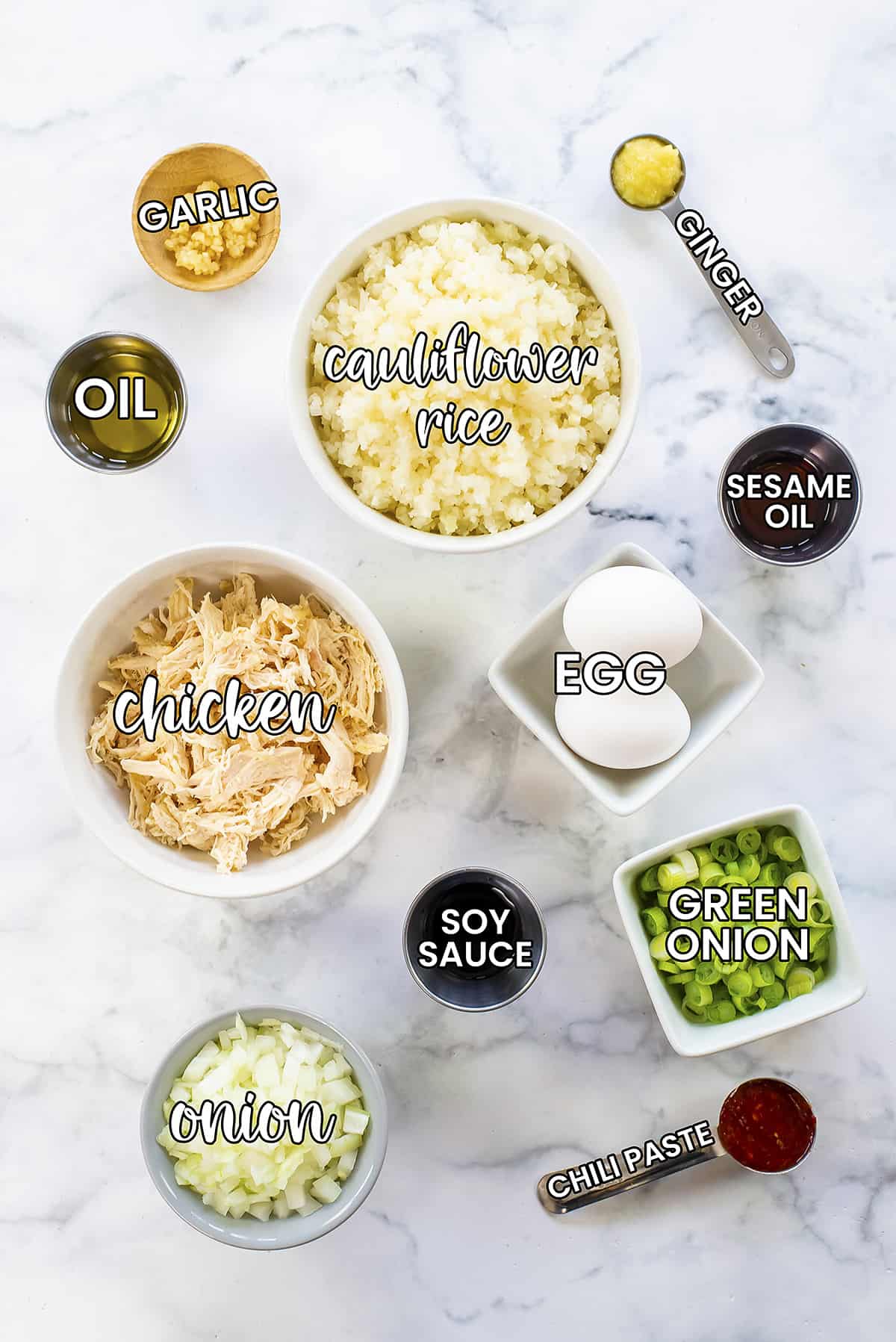 Chicken – I'm starting this recipe off with some pre-cooked, shredded chicken. Try out my easy shredded chicken, it's perfect to have on hand for recipes like this!
Riced Cauliflower – You can buy cauliflower that has been pre-riced or you can turn it into cauliflower rice yourself. I like to make it myself so it is nice and fresh! More on that below.
Eggs – Another ingredient commonly found in fried rice recipes, it's a great way to add protein and flavor but is also something you could omit if you don't want them in your fried rice.
Flavoring- We're adding yellow and green onion, ginger, and garlic along with chili paste for spice, and soy sauce for that umami salty flavor. You can swap in coconut aminos if you're strict keto and avoid soy.
Sesame Oil – Along with the scallions you'll also drizzle sesame oil over the cauliflower fried rice before serving. It'll add toasty sesame seed flavor and fragrance to the rice!
Why We Love This Recipe:
We love all those Asian flavors! The ginger, chili paste, and sesame oil really make this recipe work.
You can swap out the chicken for beef, pork, shrimp, tofu, or whatever you like!
How To Make Cauliflower Fried Rice:
Cauliflower Rice – I like to start with a head of fresh cauliflower, but you can certainly use already riced cauliflower if you prefer.

To make cauliflower rice, just add your cauliflower florets to a food processor and process until you have small, rice-like pieces. It only takes about 30 seconds!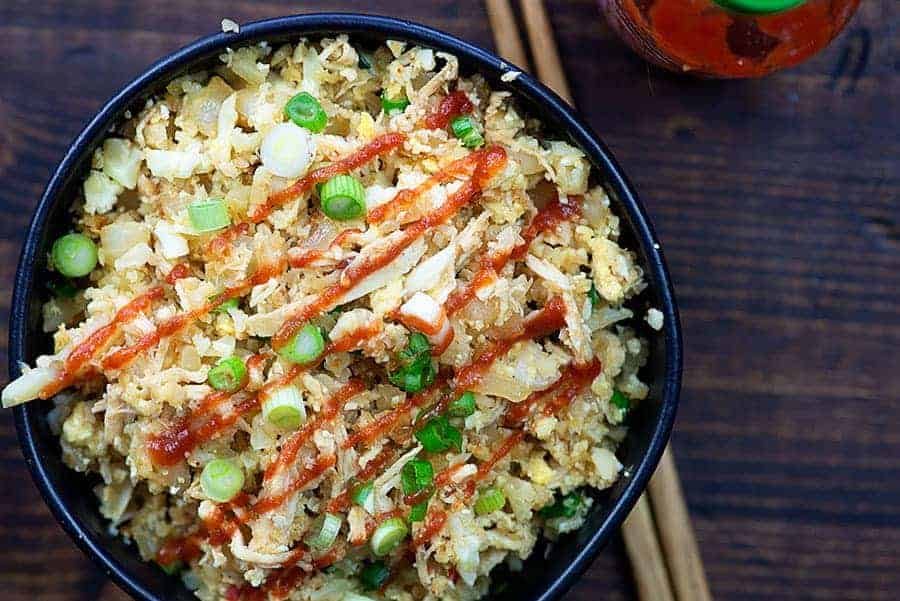 Sauté – Once you've riced your cauliflower, you'll bust out a big skillet, heat it up, and get cooking. Heat a little olive oil in a pan, sauté some diced onions, add in your cooked chicken, garlic, and minced ginger, and get it all cooking together.
Mix – Stir in the cauliflower rice and season with soy sauce or coconut aminos and chili paste or sriracha.

Once the cauliflower starts to soften up, push it off to the side of the pan and crack in a couple of eggs. I season my eggs with a dash of soy sauce and then scramble them up and mix them back into the rice.

Serve – Stir in some scallions and finish it off with a drizzle of sesame oil!

This cauliflower chicken fried rice is beyond easy and comes together in about 20 minutes!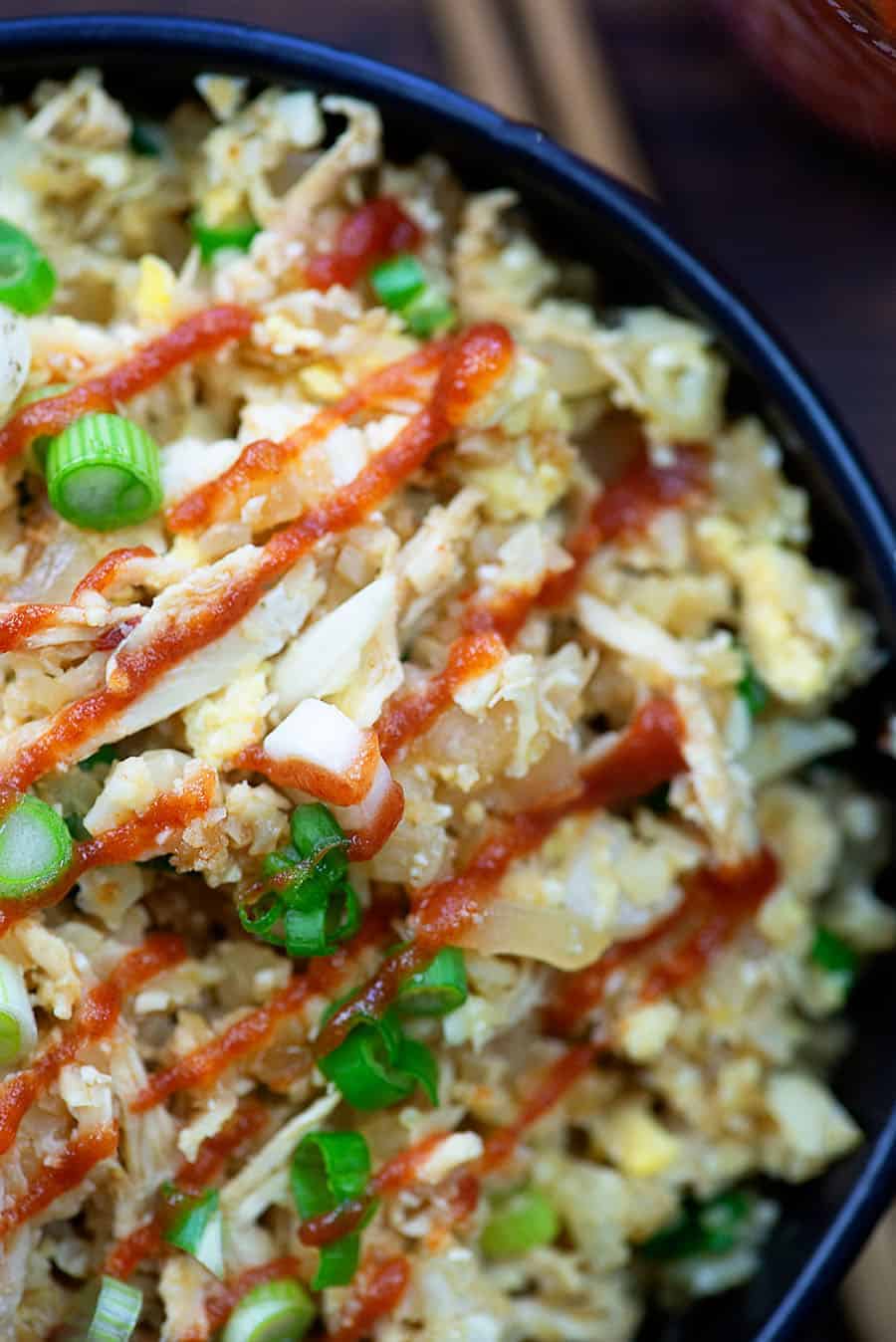 What To Serve With Cauliflower Fried Rice:
What to serve with cauliflower fried rice?
My teriyaki chicken stir fry recipe is low carb, full of flavor, and perfect alongside this rice!
This egg roll in a bowl actually tastes great when you just combine it with the fried rice. I stir them all up together and it really stretches the meal and adds some extra oomph.
My Szechuan green beans are a great way to work in some more veggies and add a bit more spicy flavor to the meal!
Swaps & Substitutions:
Soy Sauce – Swap this for coconut aminos if you avoid soy.
Sesame Oil – If you have an allergy, you can skip the sesame oil altogether. It adds a nutty flavor and makes a great finishing oil, but I'm not sure of a good sub.
Protein – Ground chicken works well in place of shredded. You may also use beef, turkey, tofu, or pork in place of the chicken.
Chili Paste – We love the bright, zippy flavor of chili paste, but you can also use sriracha in it's place.
FAQ's:
How to keep cauliflower rice from getting soggy?
Whether you rice your own cauliflower or buy it riced, you may want to use a paper towel to press out some of the excess moisture before cooking to help it crisp up when it cooks.
How to store leftovers?
You can keep any leftover cauliflower fried rice with chicken stored in an airtight container in your fridge for about 3 to 4 days. You could also freeze it for about 2 to 3 months.
More Keto Cauliflower Rice Recipes!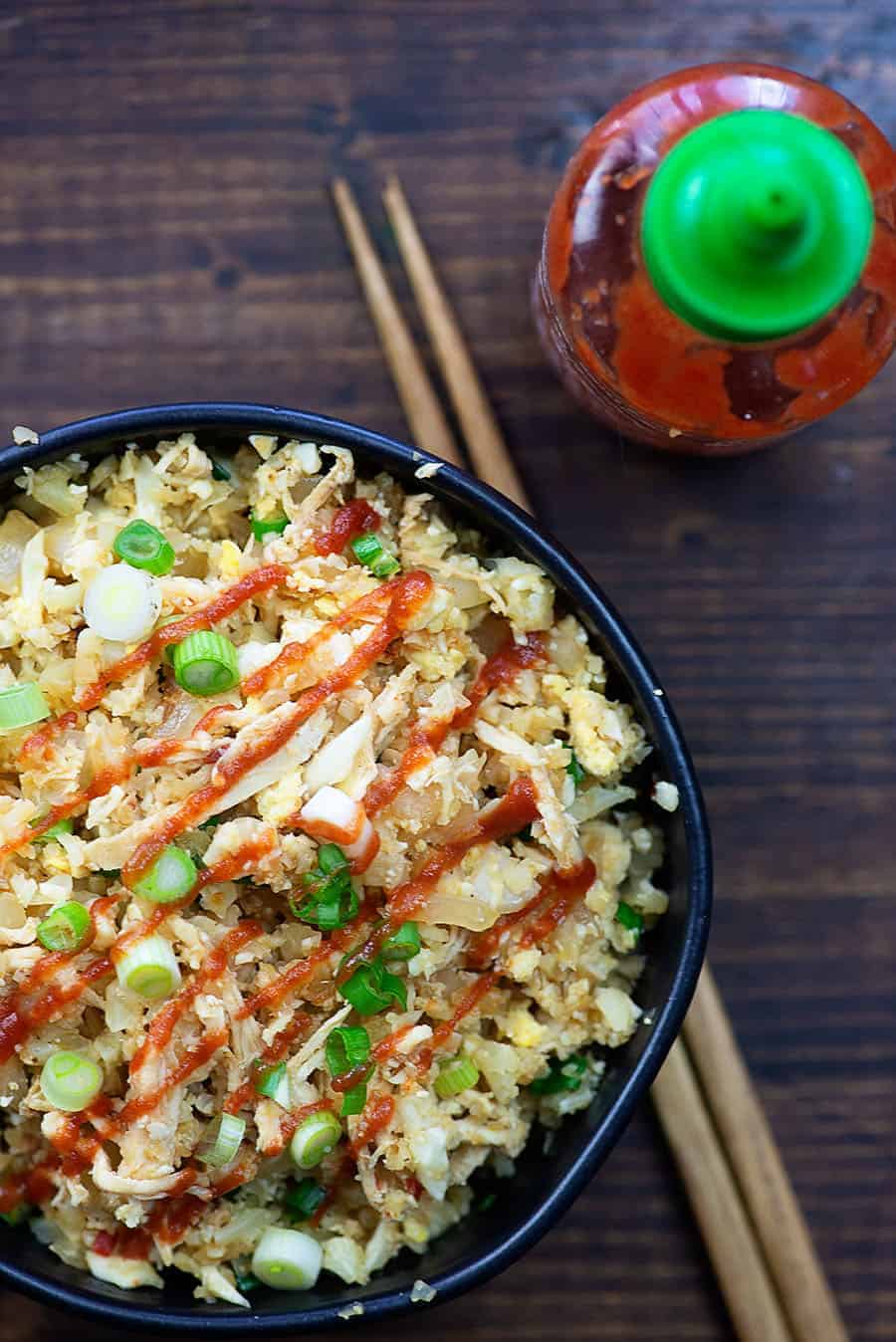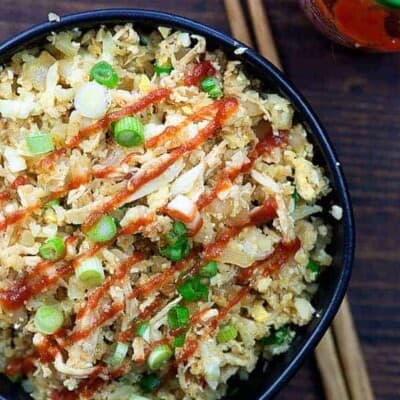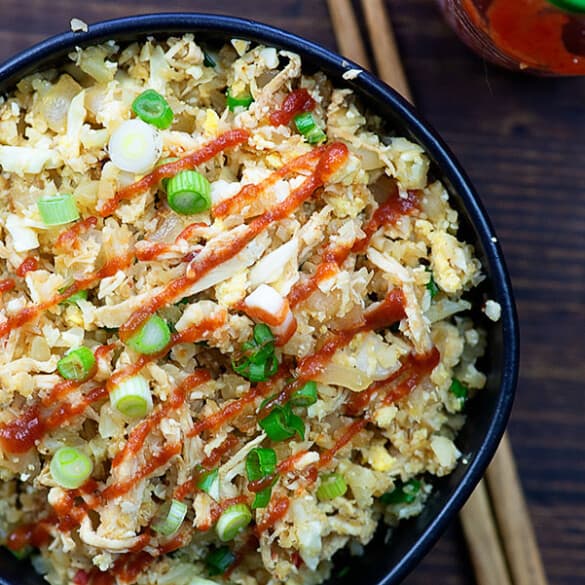 Cauliflower Chicken Fried Rice
This healthy fried cauliflower rice is perfect for those days when you get a craving for Asian take out!
Prep10 minutes
Cook10 minutes
Total20 minutes
Ingredients
2 tablespoons olive oil
1/2 cup diced onion
1 clove garlic minced
1 teaspoon fresh ginger minced
1 cup cooked shredded chicken
4 teaspoons soy sauce divided
1 pound riced cauliflower
1 tablespoon chili paste
2 large eggs
1 tablespoon sesame oil
1/2 cup chopped scallions
Instructions
Heat oil in a large skillet or wok over medium heat.

Add the onion and cook, stirring often, until translucent.

Add the garlic, ginger, and chicken to the pan and continue cooking for 2 minutes.

Add the cauliflower to the skillet and season with 3 teaspoons (1 tablespoon) of soy sauce and chili paste. Stir well and cook for 3 minutes or until cauliflower has softened.

Push the cauliflower rice to the side of the pan and crack the eggs into the empty space in the pan. Season with 1 teaspoon soy sauce and scramble.

When eggs are cooked through, stir the eggs into the rice.

Remove from the heat and stir in the scallions.

Drizzle with sesame oil and serve.
Tips & Notes:
You may start with frozen rice cauliflower or a head of cauliflower that you rice yourself. Either option works great. This recipe also works well with other proteins, such as beef, ham, or tofu. Swap the soy sauce for coconut aminos if you avoid soy.
Nutrition Information:
Calories: 186kcal (9%)| Carbohydrates: 6g (2%)| Protein: 12g (24%)| Fat: 12g (18%)| Fiber: 2g (8%)| Sugar: 3g (3%)| Vitamin A: 157IU (3%)| Vitamin C: 56mg (68%)| Calcium: 47mg (5%)| Iron: 2mg (11%)| Net Carbs: 4g (8%)