Cauliflower chicken fried rice is a great alternative to grabbing take out! It's a low carb, healthy side dish that the whole family enjoys.

I'm getting a little nervous that I'm going to burn my kids out on plain ol' cauliflower rice lately.
I mean, I'm fairly obsessed with the stuff.
It can be as easy or as complicated as you make – start with a bag of frozen riced cauliflower or start with a head of fresh cauliflower. Either option comes out delicious.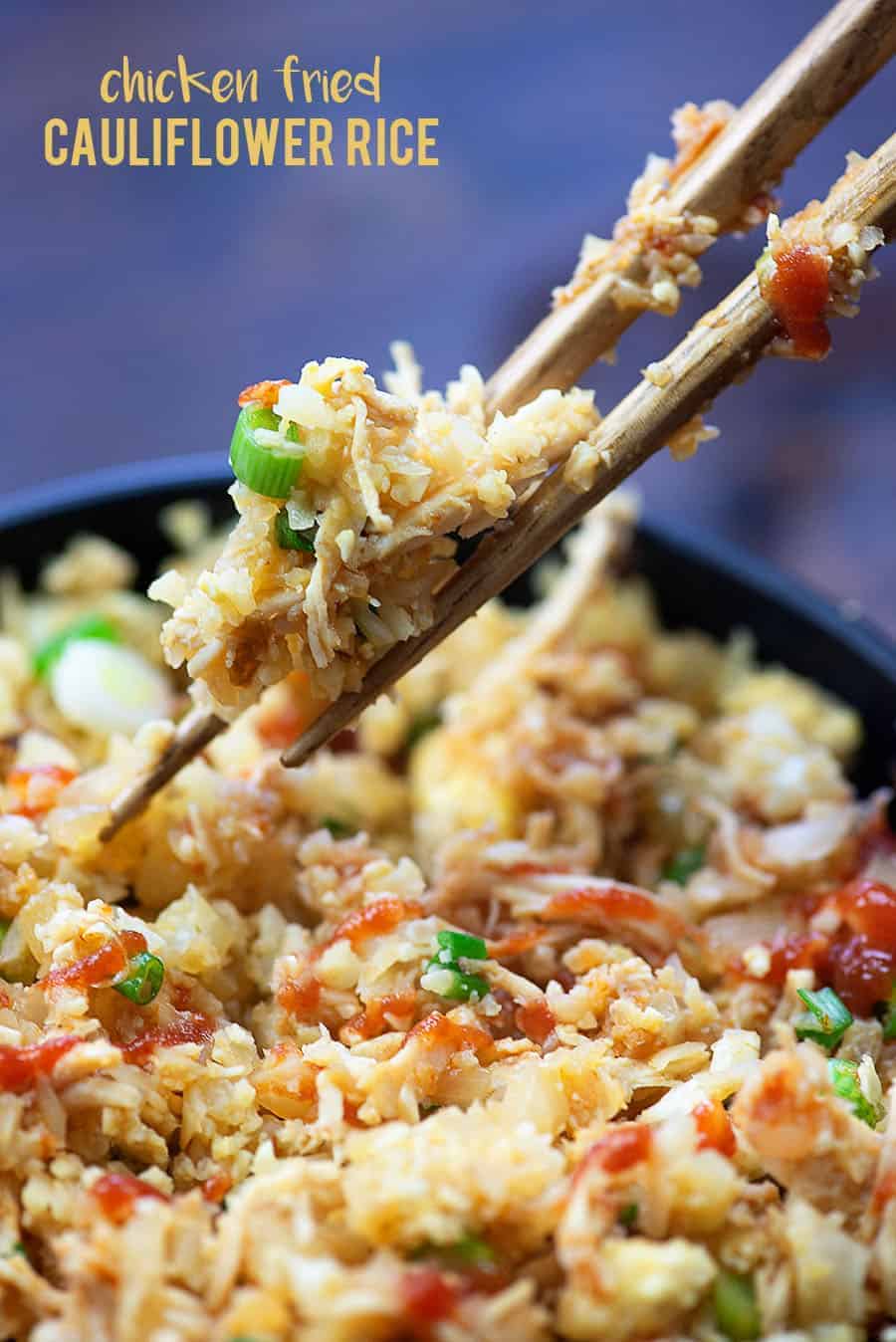 Add some butter and a little garlic salt and I'm a happy girl.
I like to experiment though, so I decided to mix things up and make this cauliflower fried rice.
My cauliflower fried rice recipe is low in carbs, healthy enough for just about any diet, and it's packing some major flavor!
How to make cauliflower fried rice:
I like to start with a head of fresh cauliflower, but you can certainly use already riced cauliflower if you prefer.
To make cauliflower rice, just add your cauliflower florets to a food processor and process until you have small, rice-like pieces. It only takes about 30 seconds!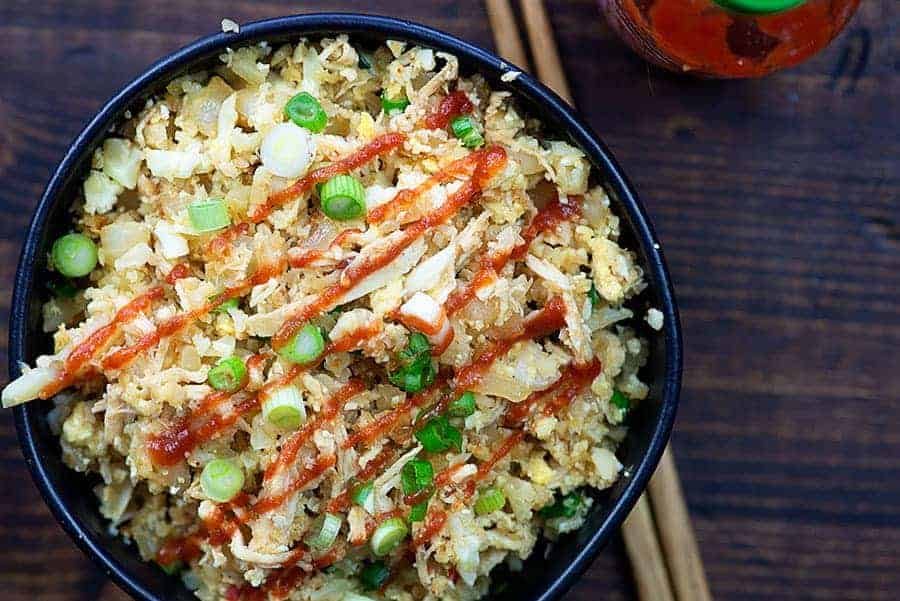 Here's the food processor I use. (Affiliate link) I love it and it gets put to use in my kitchen shredding cheese and slicing veggies every day.
Once you've riced your cauliflower, you'll bust out a big skillet, heat it up, and get cooking.
Heat a little olive oil in a pan, saute some diced onions, add in your cooked chicken, garlic, and ginger, and get it all cooking together.
Stir in the cauliflower rice and season with soy sauce or coconut aminos and chili paste or sriracha.
Once the cauliflower starts to soften up, push it off to the side of the pan and crack in a couple of eggs. I season my eggs with a dash of soy sauce and then scramble them up and mix them back into the rice.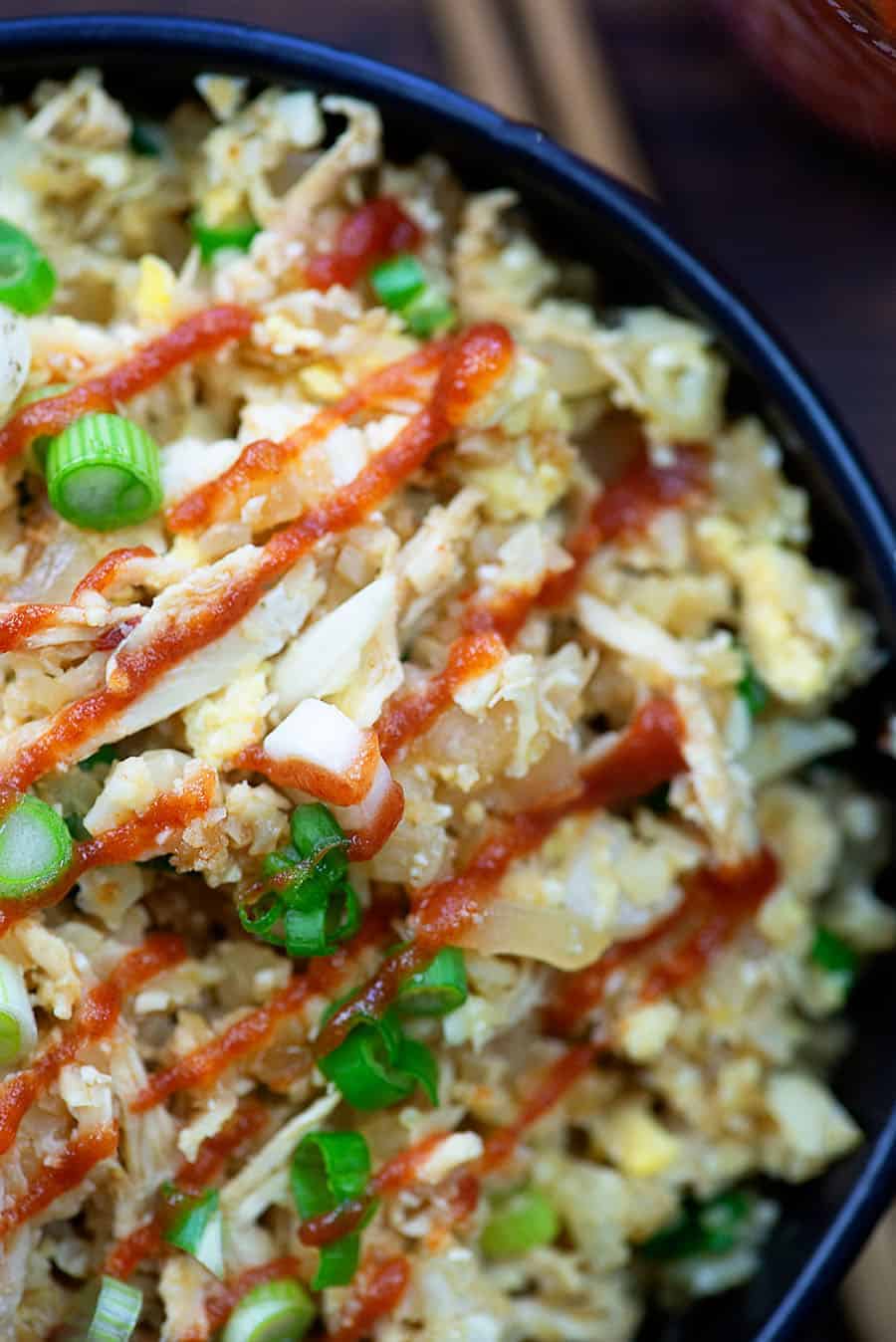 Stir in some scallions and finish it off with a drizzle of sesame oil!
This cauliflower chicken fried rice is beyond easy and comes together in about 20 minutes!
What to serve with cauliflower fried rice?
My teriyaki chicken stir fry recipe is low carb, full of flavor, and perfect alongside this rice!
This egg roll in a bowl actually tastes great when you just combine it with the fried rice. I stir them all up together and it really stretches the meal and adds some extra oomph.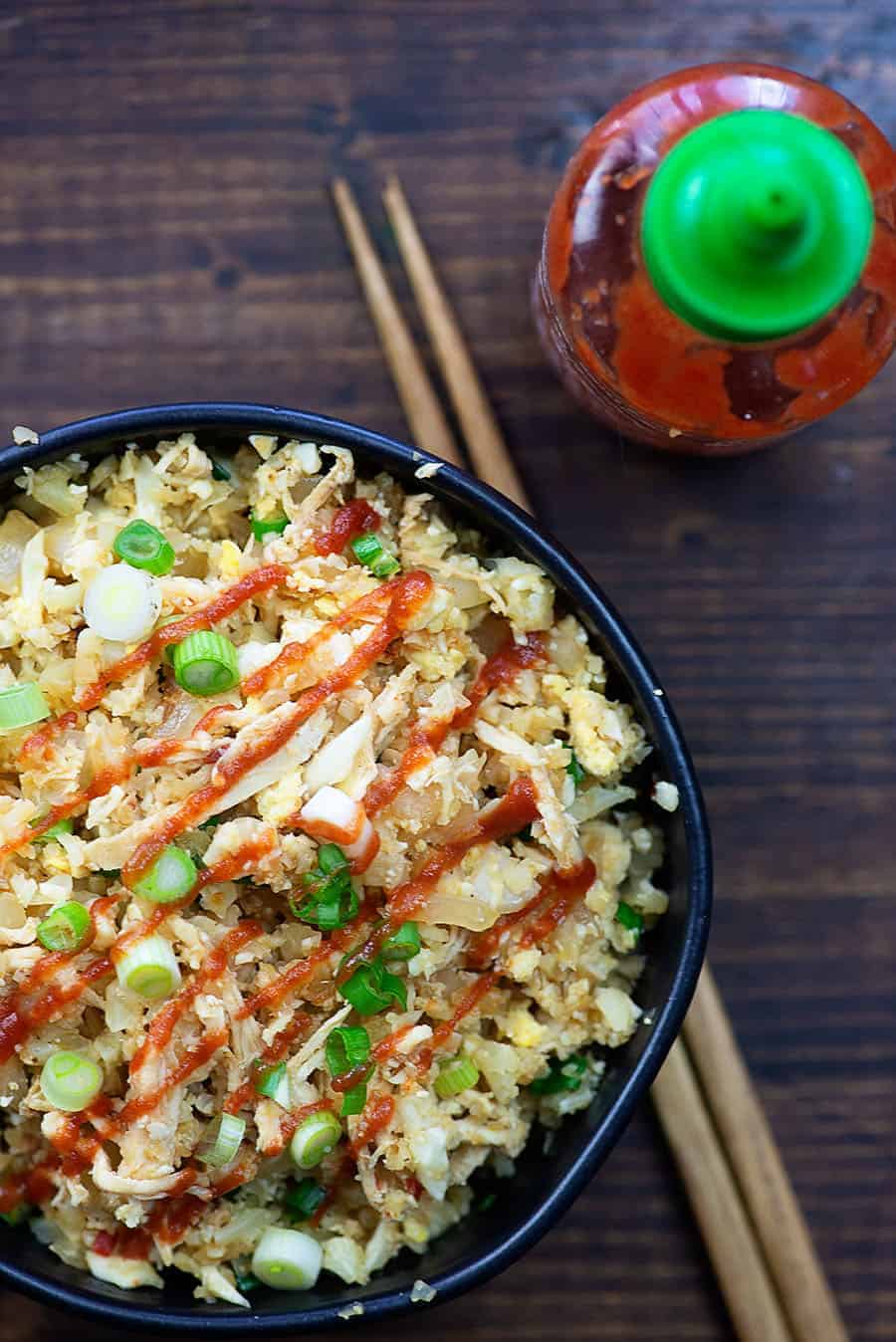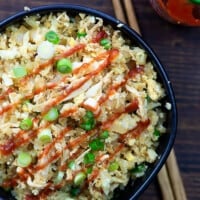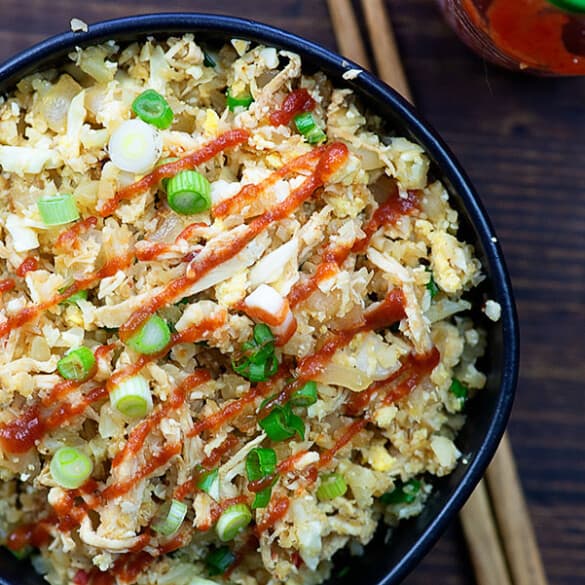 Cauliflower Chicken Fried Rice
This healthy fried cauliflower rice is perfect for those days when you get a craving for Asian take out!
Ingredients
2 tablespoons olive or avocado oil
1/2 cup diced onion
1 clove garlic, minced
1 teaspoon fresh ginger, minced
1 cup cooked shredded chicken
4 teaspoons soy sauce, divided
1 pound riced cauliflower
1 tablespoon chili paste
2 large eggs
1 tablespoon sesame oil
1/2 cup chopped scallions
Instructions
Heat oil in a large skillet or wok over medium heat.
Add the onion and cook, stirring often, until translucent.
Add the garlic, ginger, and chicken to the pan and continue cooking for 2 minutes.
Add the cauliflower to the skillet and season with 3 teaspoons (1 tablespoon) of soy sauce and chili paste. Stir well and cook for 3 minutes or until cauliflower has softened.
Push the cauliflower rice to the side of the pan and crack the eggs into the empty space in the pan. Season with 1 teaspoon soy sauce and scramble.
When eggs are cooked through, stir the eggs into the rice.
Remove from the heat and stir in the scallions.
Drizzle with sesame oil and serve.
Notes
Ham, bacon, or shrimp may be used in place of chicken.
Recommended Products
As an Amazon Associate and member of other affiliate programs, I earn from qualifying purchases.
Nutrition Information:
Yield: 4
Serving Size: 1
Amount Per Serving:
Calories: 221
Total Fat: 12g
Saturated Fat: 3g
Trans Fat: 0g
Unsaturated Fat: 9g
Cholesterol: 118mg
Sodium: 644mg
Carbohydrates: 9g
Net Carbohydrates: 6g
Fiber: 3g
Sugar: 6g
Protein: 15g
All information and tools presented and written within this site are intended for informational purposes only. This information is provided as a courtesy and there is no guarantee that the information is accurate.