These Szechuan Green Beans are the perfect side dish for your next Asian meal. They may be low carb, but they pack huge flavor with plenty of garlic, ginger, and spice.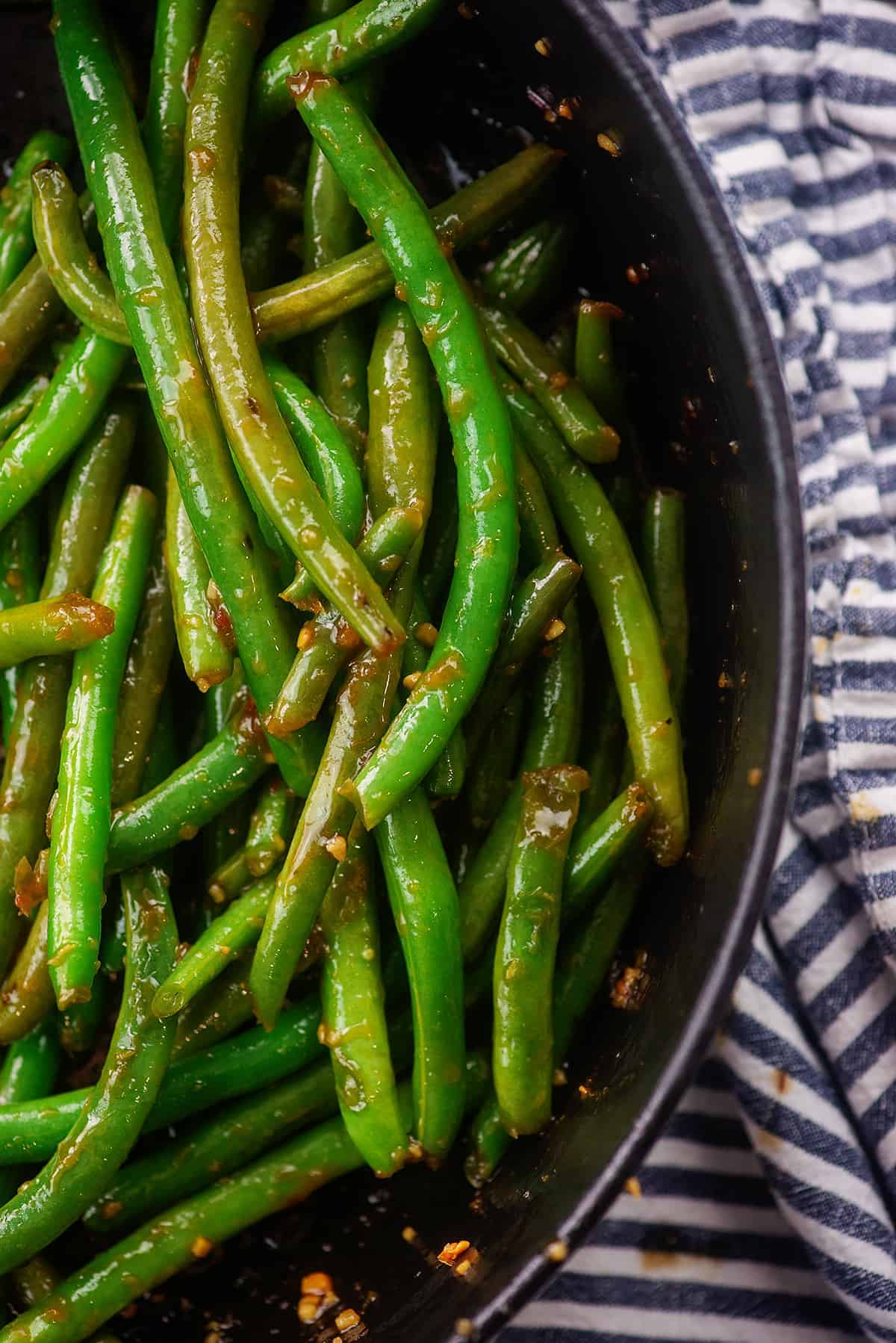 My family and I love to support local restaurants, especially since that gives me the night off of cooking. 😉
However, the one cuisine that I always struggle with while eating out is Asian food.
It tends to be full of sweet, sugary sauces and a lot of the foods are breaded and deep fried. (At least, the Asian foods that I like most are this way, haha!)
We've ended up creating a few of our own recipes to satisfy those Asian take out cravings from home and they're all nearly as easy as calling in an order and picking it up. 😉
These Szechuan green beans might just be my new favorite – I actually made a batch of these and munched on them while watching tv the other night. <— Weird, but true.
The flavors here are strong and bold and the spicy green beans are really hard to resist!
Ingredient Notes:
This post contains affiliate links. As an Amazon associate and member of other affiliate programs, I earn from qualifying purchases.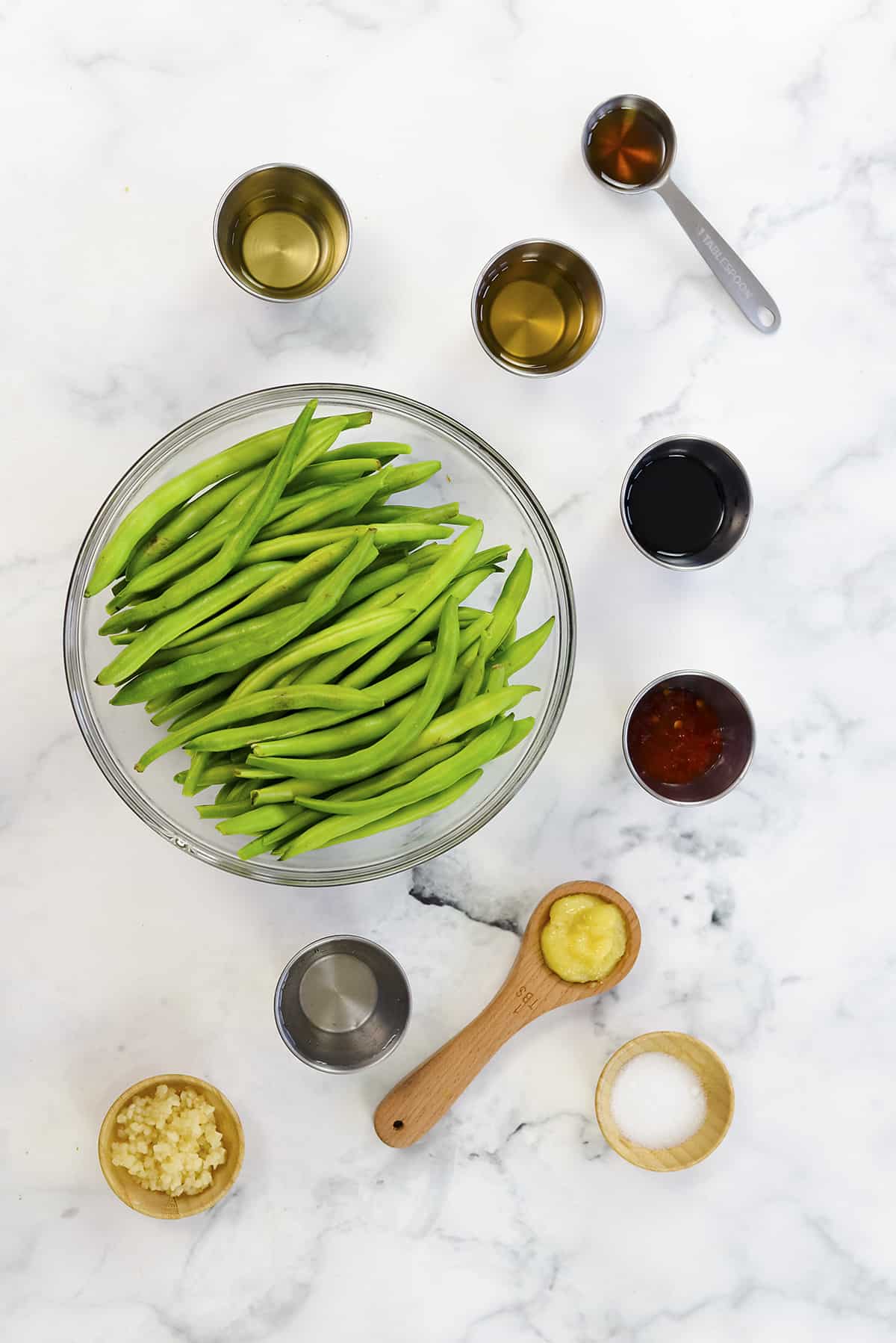 Green Beans – We definitely prefer fresh green beans, but frozen will likely work as well. Do not use canned green beans. These Szechuan green beans should still be a little bit crisp after cooking, and fresh green beans will sear the best.
Soy Sauce or Coconut Aminos – Soy sauce gives these keto green beans a deep, savory, salty flavor. Many people following a keto diet don't eat soy, so feel free to swap that for coconut aminos.
Sambal Oelek – This is a chili pasta made of just ground chiles, vinegar, and salt. It has a bright, clean flavor with loads of spice. A little goes a long way. You can substitute chili garlic paste or sriracha, if that's what you have on hand.
Rice Vinegar – A common ingredient in many Asian inspired dishes.
Sweetener – We add just a pinch of sweetener to balance out the acidity and saltiness of this dish. We use and recommend Lakanto Monkfruit sweeteners for the best taste.
Garlic & Ginger – Some freshly minced garlic and minced ginger are going to add lots of great flavor to these Szechuan green beans. The ginger especially will add some familiar Asian flavors to the dish.
Sesame Oil – Another common ingredient in many popular Asian recipes, this actually goes on just before serving. It has a low smoke point so it isn't suitable for cooking but is a great topping that adds a nutty toasted sesame seed flavor.
Shop Keto Ingredients
We use Thrive Market for a lot of our specialty ingredients and keto snacks or products. Their prices tend to be cheaper than the local stores and I love that you can so easily sort products by diet.
Like Costco, this is a membership site, but we find that it's more than worth it based on the amount we save over the regular grocery store.
They have monthly or yearly plans. Check it out here.
Why We Love This Recipe:
No one likes boring, bland veggies and these are anything but!
This is a quick way to make fresh green beans and they retain that fresh, crisp texture after cooking.
A lot of Asian recipes have quite a bit of sugar in them, so we love to cook our Asian inspired meals at home to control that.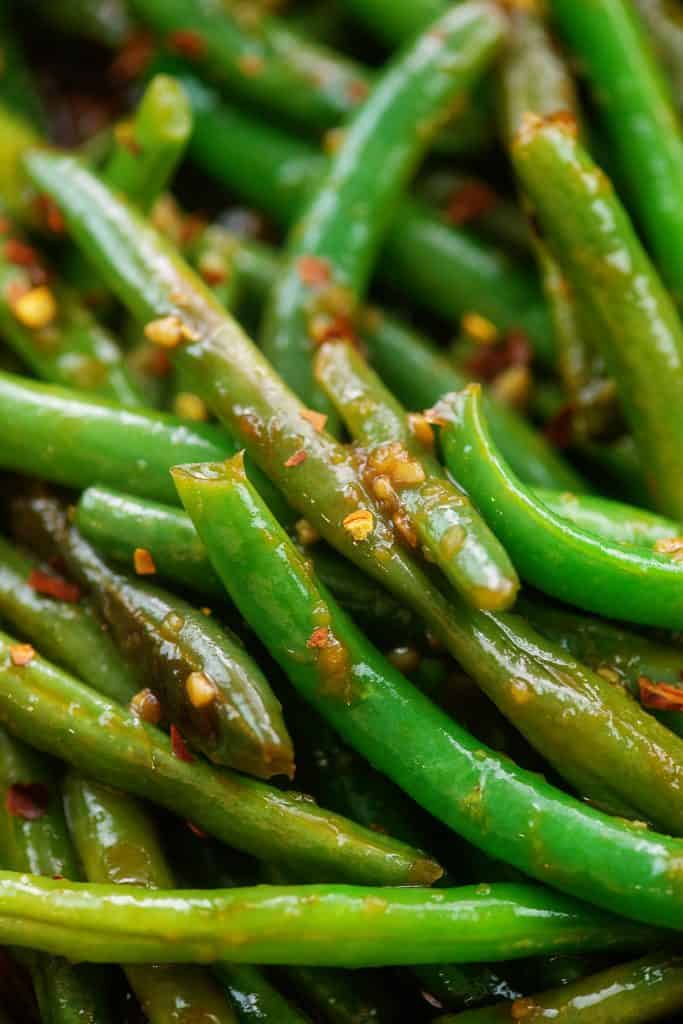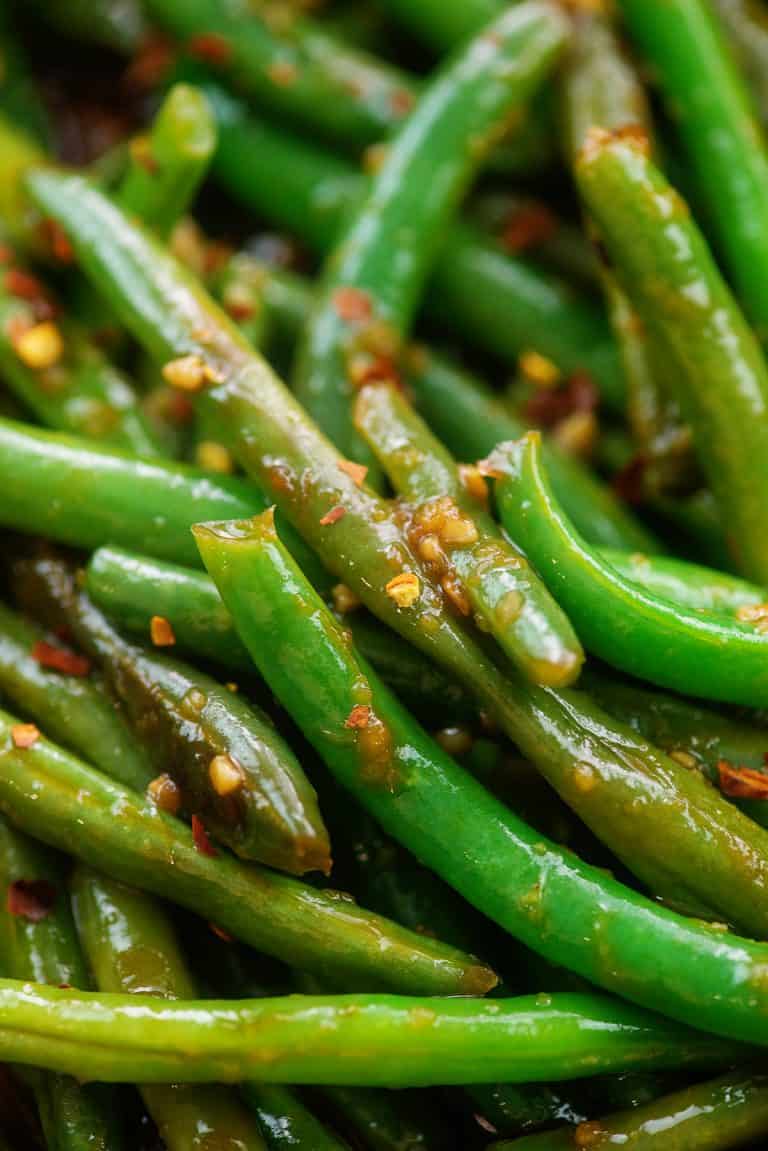 Helpful Tools:
Wok – I normally make these Szechuan green beans in my wok, but you'll see that we made them in our cast iron for the video. Either work great!
Cast Iron Skillet – If you don't have a wok a cast iron skillet is the next best thing! It'll get nice and hot and sear the green beans well.
How To Make Chinese Green Beans: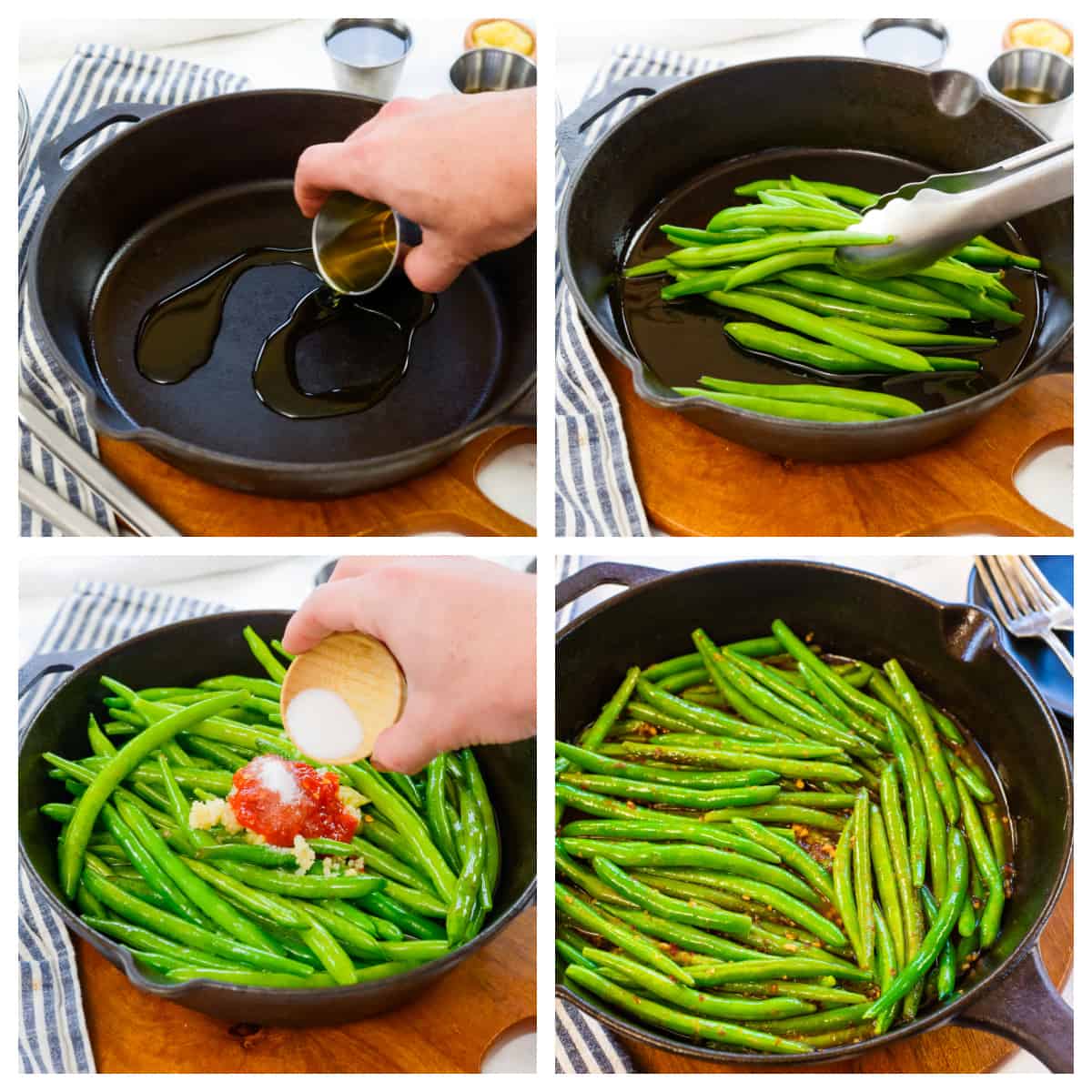 Prepare – You'll want to start by rinsing the beans and trimming the ends. We prefer to use fresh green beans in this recipe for the best taste and texture. Add some avocado oil to your wok or skillet and heat until it is shimmering.
Stir Fry – Toss in the green beans and start stir frying them for around 5 minutes. They'll soften up a bit as you cook.
Szechuan Sauce – Add the soy sauce or coconut aminos, rice vinegar, chili paste, minced ginger and garlic, sweetener, and water to the wok with the green beans. Stir it all up to combine and coat the green beans in the Szechuan sauce.
Finish – After coating the green beans in the sauce continue cooking until the sauce has reduced down and most of the liquid has evaporated. Remove it from the heat and drizzle with some sesame oil just before serving!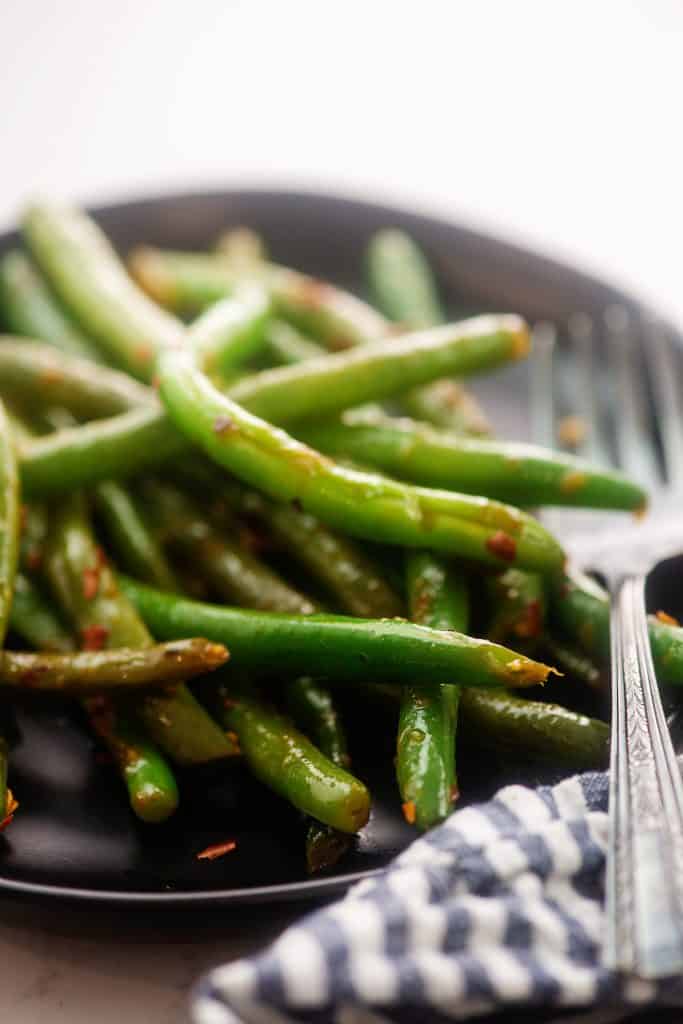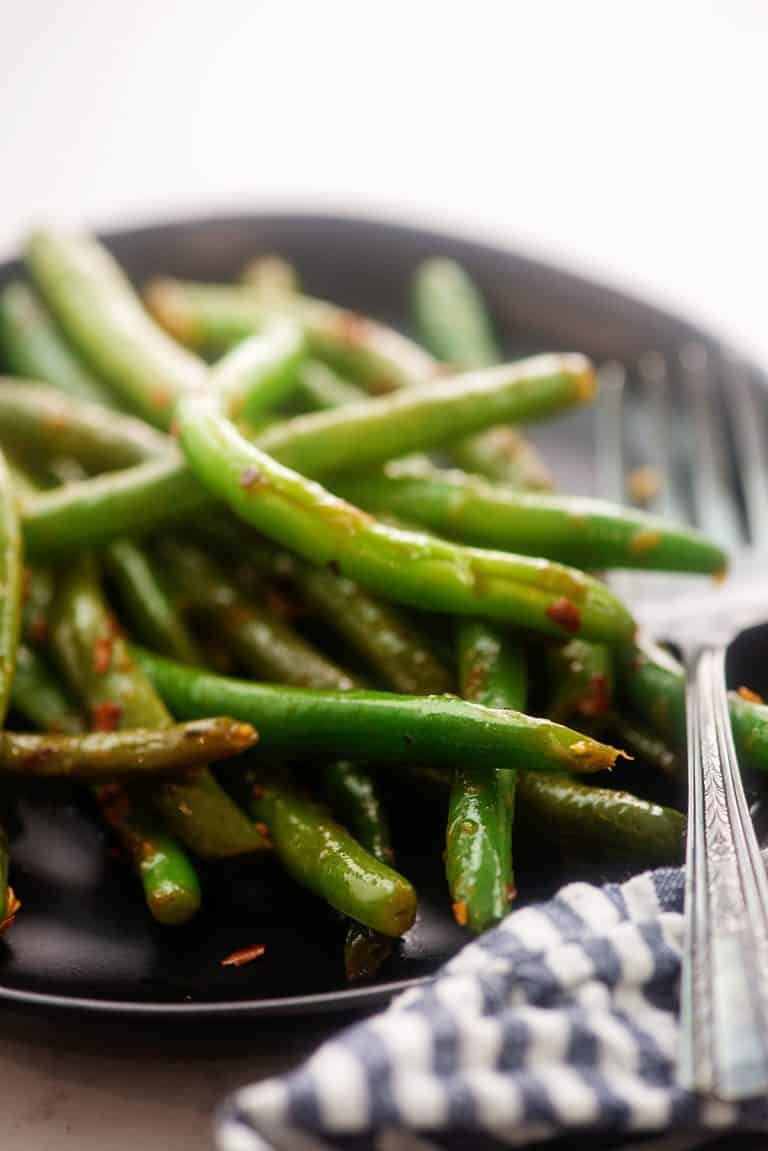 What To Serve With Asian Green Beans:
These spicy Asian inspired green beans are a perfect side dish with our keto chicken stir fry and steak stir fry. They'd also go really well with this crockpot pork tenderloin! Any meat dish should pair nicely with these green beans.
Other Asian inspired favorites include my cauliflower chicken fried rice and this egg roll in a bowl.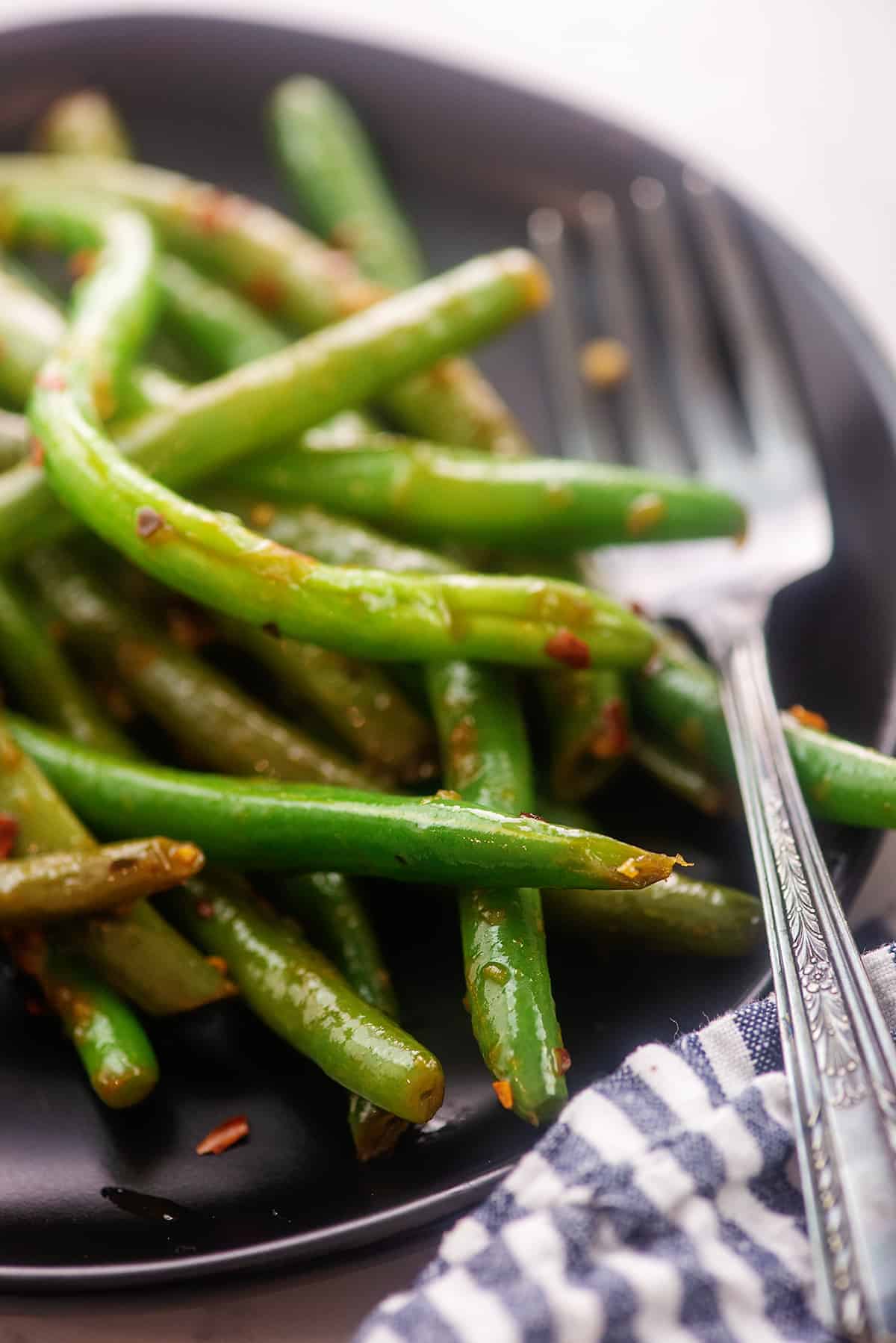 FAQs:
Is soy sauce keto?
I personally believe that keto is more about the number of carbs that you consume (meaning you eat few enough carbs that your body is in ketosis), but many people exclude specific ingredients from a keto diet. Those ingredients often include sugar, wheat, and soy. If you prefer to not eat soy, you'll want to use coconut aminos in place of the soy sauce here.
How to store green beans?
These Szechuan green beans can be stored in an airtight container in the fridge for 3-4 days.
More Low Carb Green Bean Recipes: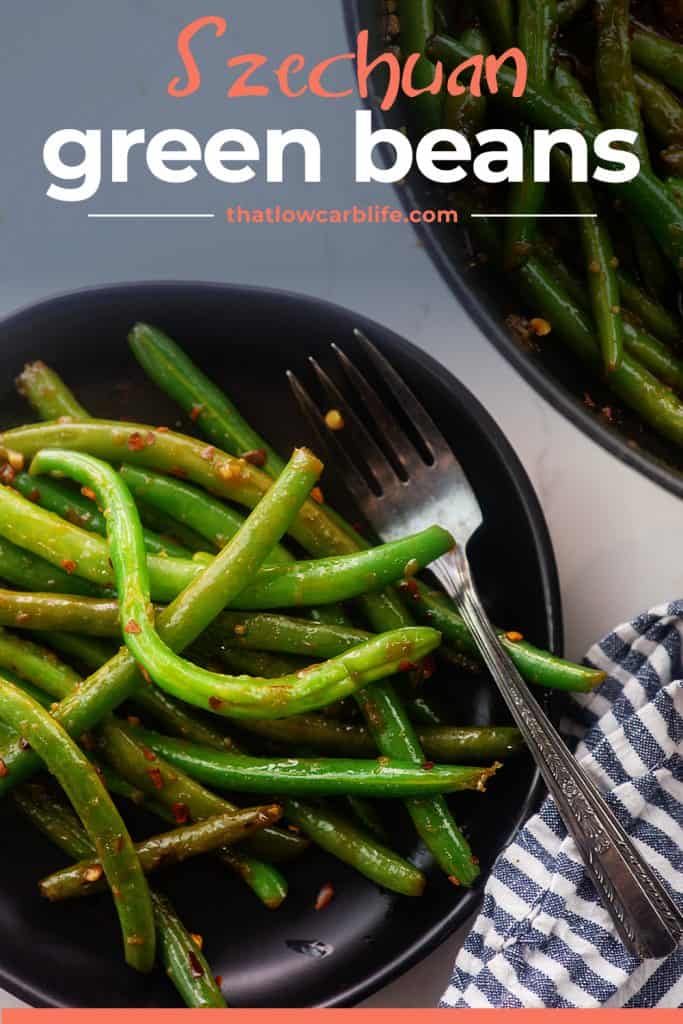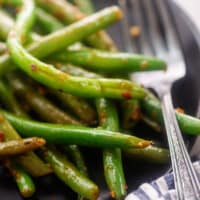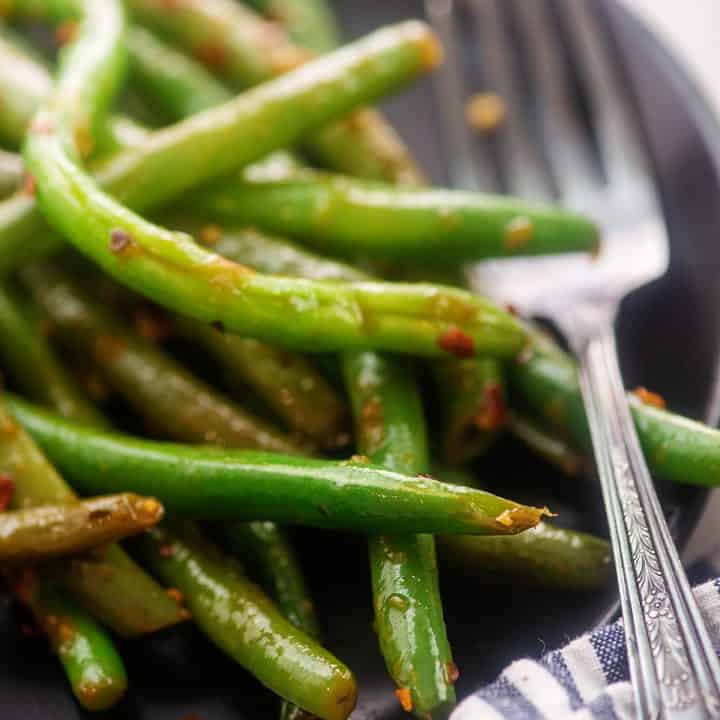 Szechuan Green Beans
These spicy Asian green beans are so simple to make and they have loads of big, bold flavors. You can increase the spice by adding extra chili paste or increase the sweetness with a bit more sweetener.
Ingredients
1 pound fresh green beans
2 tablespoons avocado oil
2 tablespoons soy sauce
1 tablespoon rice vinegar
1 tablespoon minced ginger
2 cloves garlic, minced
1/2 teaspoon sweetener
¼ cup water
Instructions
Wash and trim the green beans.
Heat a large skillet or wok over medium heat. Add the oil and heat until shimmering.
Add the green beans to the skillet and cook for 3-5 minutes, stirring often.
Add the soy sauce, vinegar, chili paste, ginger, garlic, sweetener, and water and continue cooking, stirring often, until most of the liquid has evaporated.
Drizzle with sesame oil just before serving.
Notes
We use and love Lakanto monkfruit for the sweetener. We buy most of our sweeteners and specialty ingredients at Thrive Market.
Nutrition Information:
Yield: 4
Serving Size: 1
Amount Per Serving:
Calories: 138
Total Fat: 9g
Saturated Fat: 1g
Trans Fat: 0g
Unsaturated Fat: 8g
Cholesterol: 0mg
Sodium: 670mg
Carbohydrates: 10g
Net Carbohydrates: 7g
Fiber: 3g
Sugar: 5g
Protein: 3g
All information and tools presented and written within this site are intended for informational purposes only. This information is provided as a courtesy and there is no guarantee that the information is accurate.