Sheet pan chicken and green beans tossed in garlic butter and roasted to perfection in the oven! This is one of those easy weeknight meals that we make again and again. The whole family devours this one!
My family used to tease me that the only thing I ever cooked was chicken.
It's true. I was once a chicken fanatic.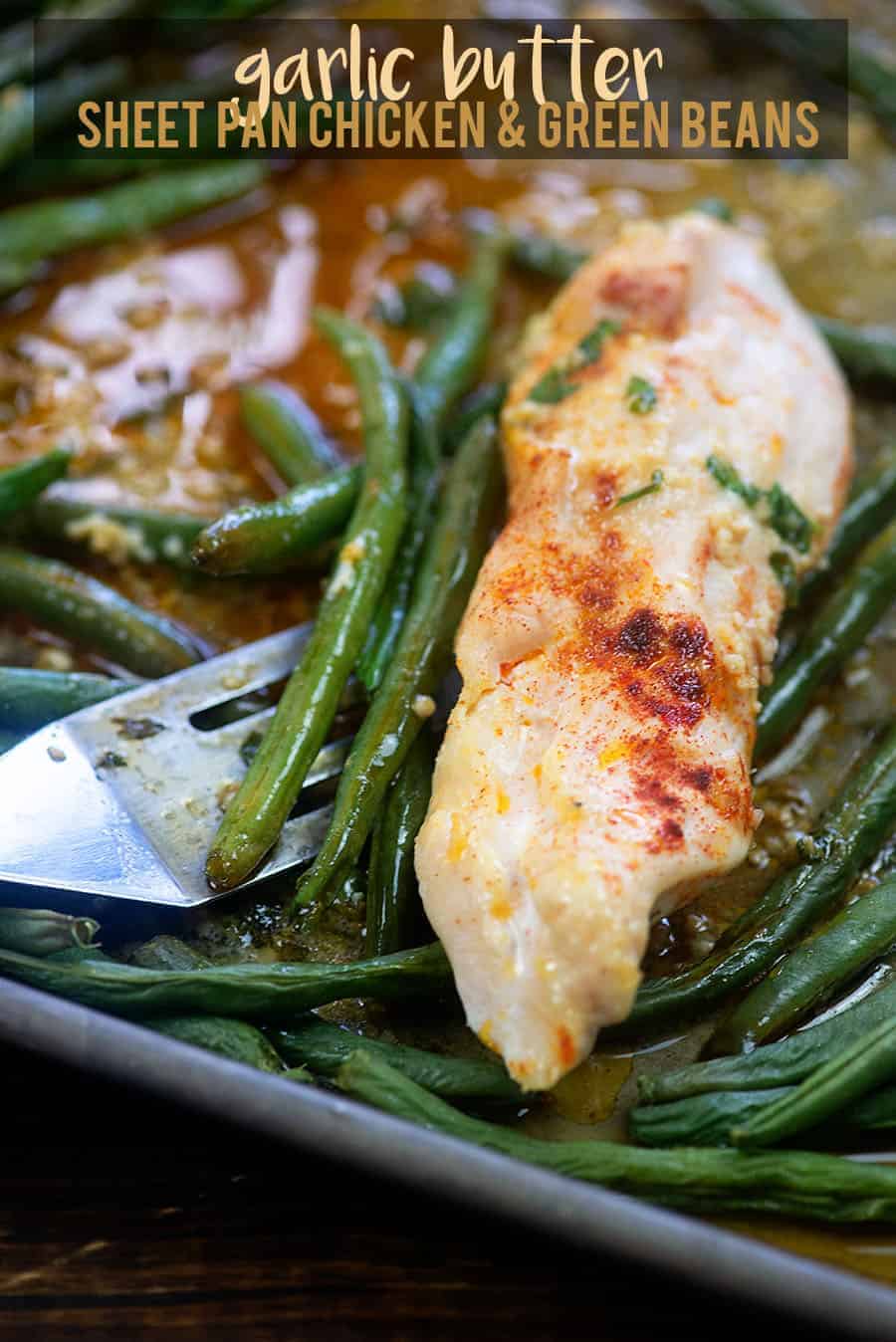 And okay, who am I kidding, I'm still a chicken fanatic!

I just think chicken is so easy and you can put so many different spins on chicken that it's nearly impossible to get bored with it!
This time around I made a low carb chicken recipe on a sheet pan (hello, easy) with a pile of fresh green beans (hello, tasty) and topped it off with garlic butter (hello, low carb, this is why I love you).
It doesn't get easier than sheet pan dinners like this!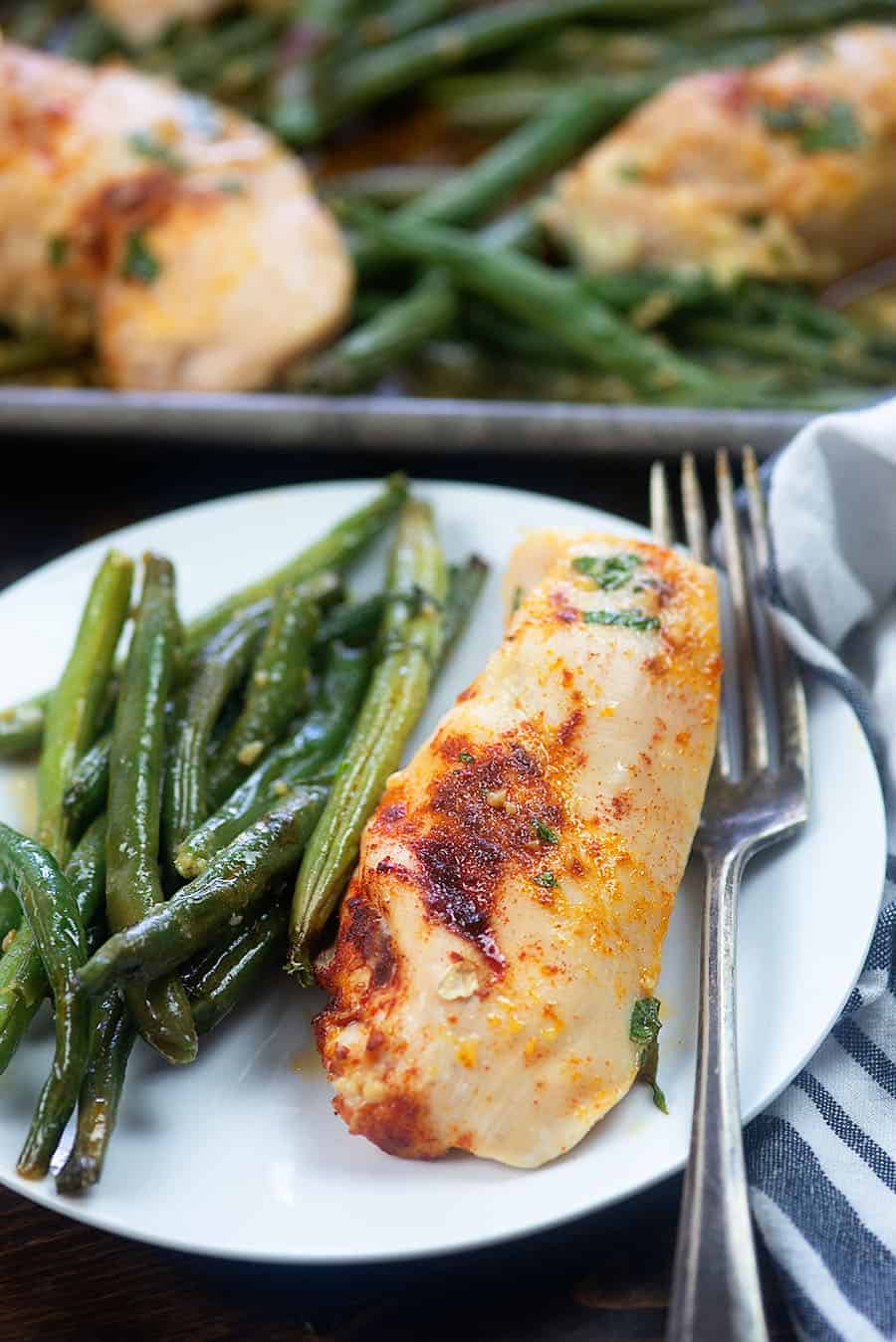 How to make sheet pan dinners your whole family will love:
Add garlic butter to any sheet pan meal and I feel like you have a winner! 😉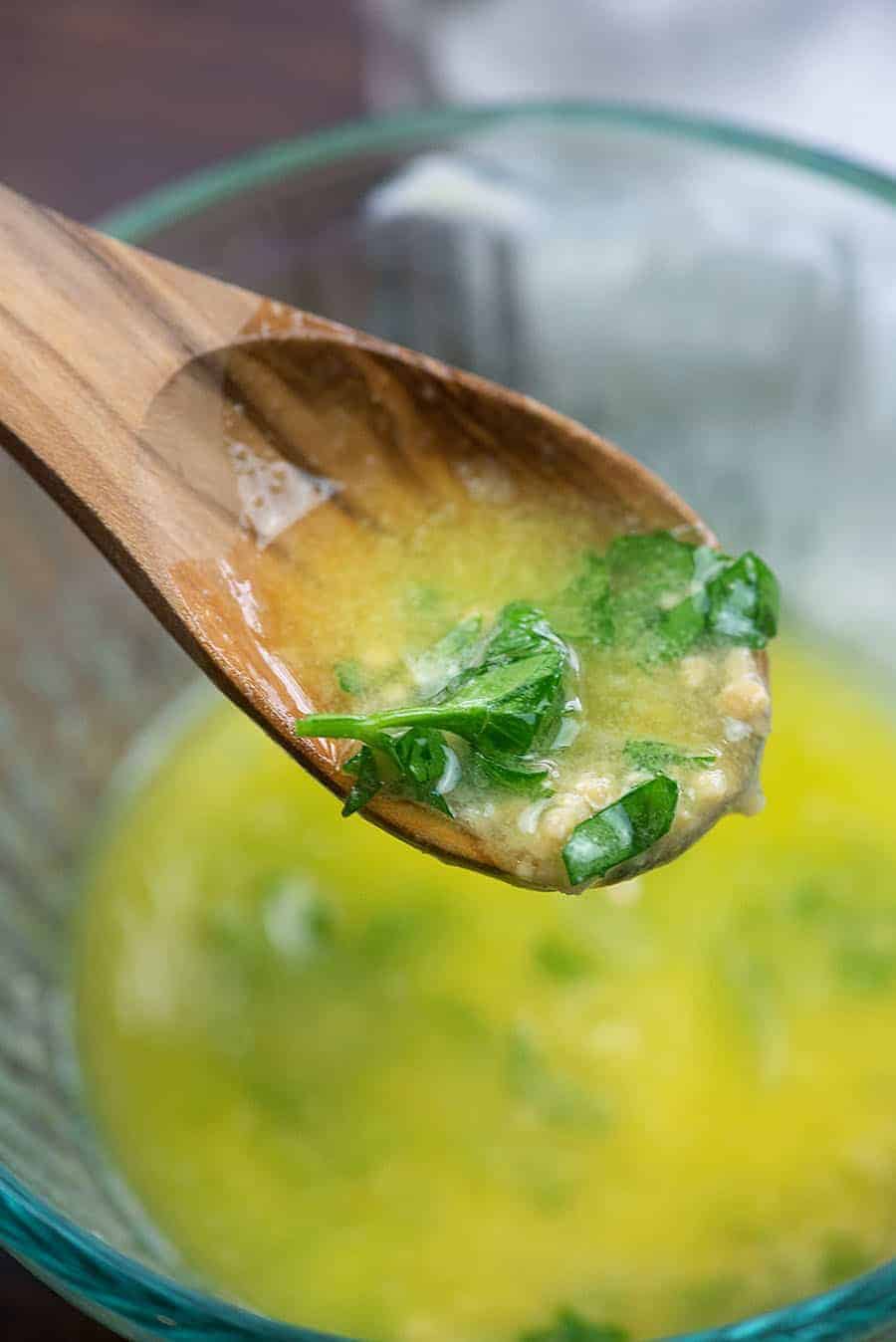 First, we're going to whip up the simple garlic butter by melting some butter and stirring in some freshly minced garlic, a little onion powder, freshly parsley, and some salt.
Set that aside and grab your green beans.
I'm using fresh green beans here. Just trim the ends off as needed and scatter them over a large, rimmed sheet pan.
Add a pound to a pound and a half of boneless skinless chicken breasts (or thighs) right over the green beans. My chicken breasts were huge, so I cut them in half lengthwise. I wanted to keep the thickness so that the green beans and chicken would cook in the same amount of time, but I didn't just want two humongous pieces of chicken.
Season the chicken with a little paprika and salt and then pour the garlic butter over the chicken and green beans.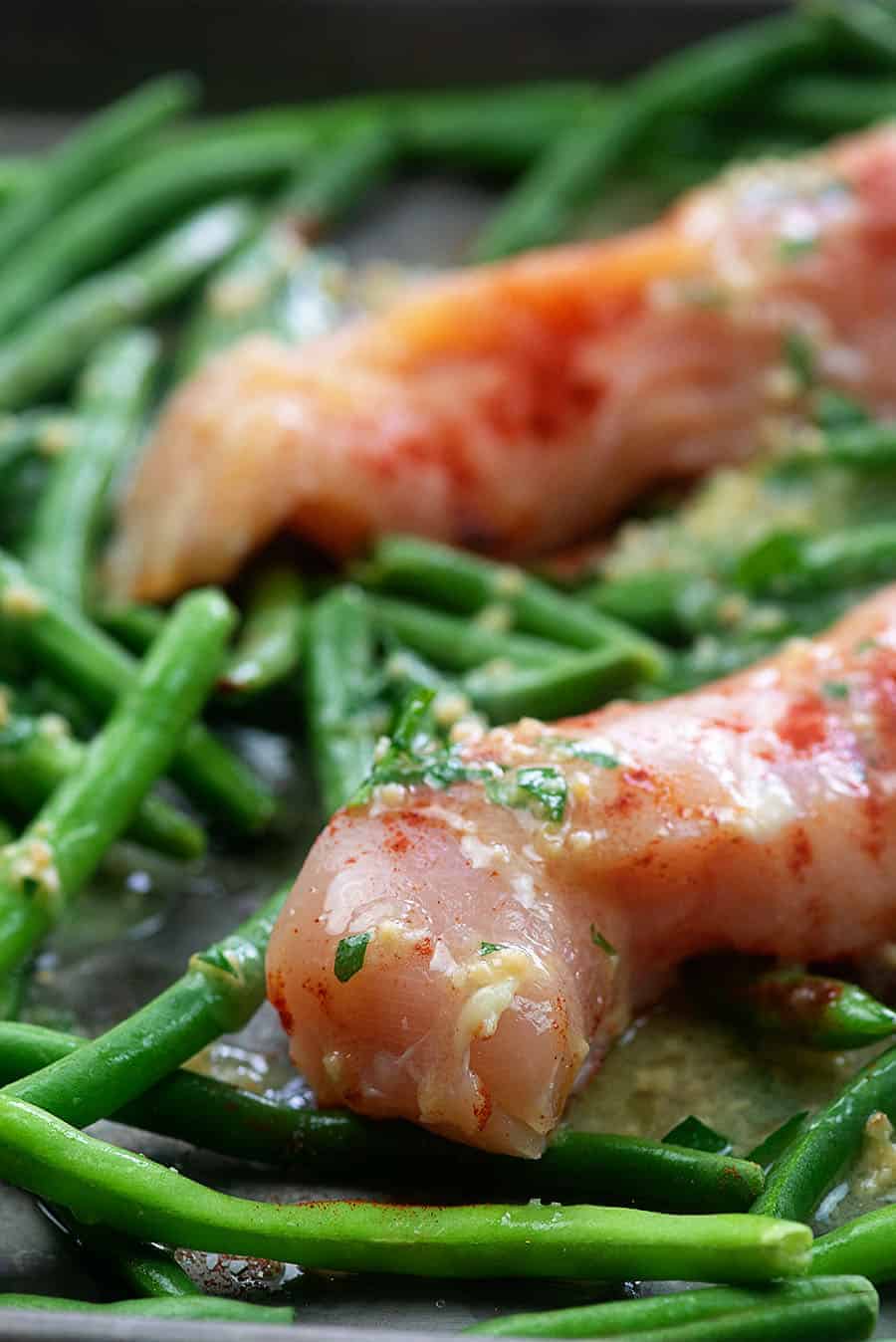 Pop this in a 375 degree oven for about 25 minutes or until your chicken is cooked through. I always use a meat thermometer to test my chicken. Highly recommend this one (affiliate link) if you're in the market for an easy one to use!
What comes out of your oven is juicy, tender, super flavorful sheet pan chicken and green beans that are perfectly roasted and seasoned.
You seriously can't mess this recipe up!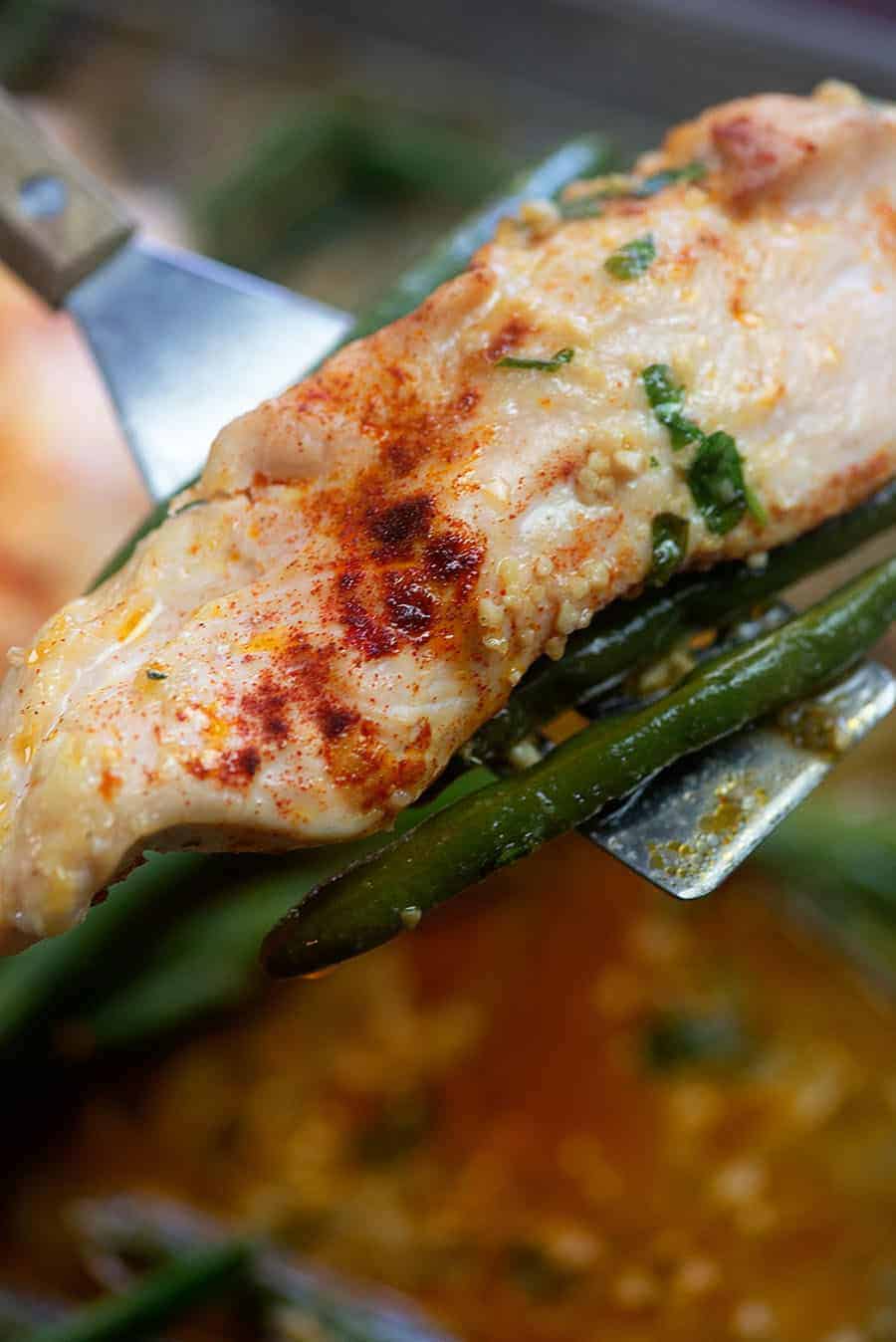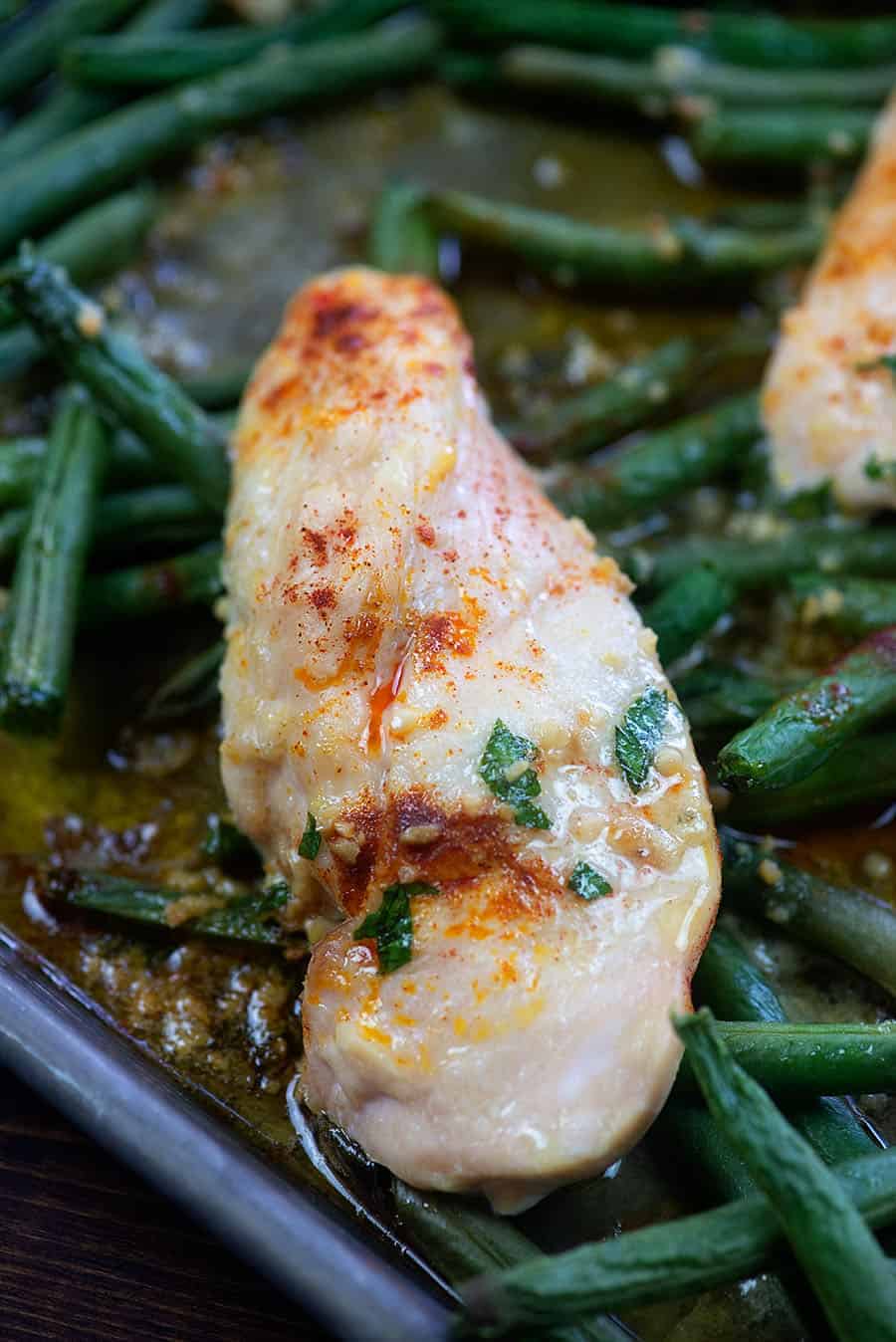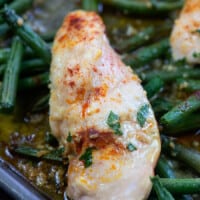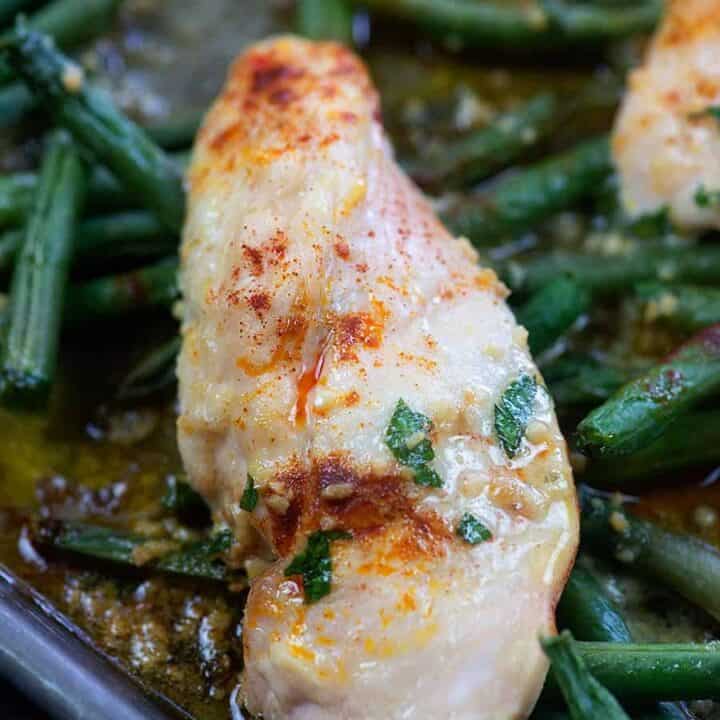 Sheet Pan Chicken and Green Beans
Garlic butter makes the perfect topping for this sheet pan chicken recipe.
Ingredients
½ cup butter, melted
3 cloves garlic, minced
1 teaspoon onion powder
1 tablespoon parsley
1 pound green beans
1 ¼ pounds chicken breasts
½ teaspoon salt
1 teaspoon paprika
Instructions
Preheat oven to 375 degrees. Spray a rimmed half sheet pan with non-stick spray.
Add the butter to a small mixing bowl with the garlic, onion powder, parsley, and salt. Stir well and set aside.
Trim the ends of the green beans and place in a single layer on the sheet pan.
Top with the chicken breasts.
Sprinkle the chicken breasts with paprika and salt on each side.
Pour the garlic butter evenly over the green beans and chicken.
Bake for 25 minutes or until the chicken is cooked through.
Serve hot.
Nutrition Information:
Yield: 4
Serving Size: 1 grams
Amount Per Serving:
Calories: 383
Total Fat: 27g
Saturated Fat: 15g
Trans Fat: 1g
Unsaturated Fat: 10g
Cholesterol: 182mg
Sodium: 555mg
Carbohydrates: 9g
Net Carbohydrates: 6g
Fiber: 3g
Sugar: 4g
Protein: 30g
All information and tools presented and written within this site are intended for informational purposes only. This information is provided as a courtesy and there is no guarantee that the information is accurate.