These pan fried Brussel sprouts and bacon make for a quick low carb side dish. With just 5 net carbs per serving, these are perfect served alongside a steak or some grilled chicken. Plus, adding bacon is the easiest way to get my family to eat their veggies!
Would you believe that I was a full grown woman before I ever even looked a Brussels sprout in the face.
Not that they have faces.
But, you know what I mean.
My parents knew better, because I'm sorry, but no. I was a picky child and there was no way I was going to eat a weird tiny little cabbage like vegetable.
I grew up though and now I make my kids eat all kinds of weird things.
Circle of life and all that.
They don't always enjoy it and they often even complain about it, but as time goes on, they've gotten used to trying new things. They surprise themselves (and me!) by liking new to them veggies pretty regularly.
This Brussel sprouts with bacon recipe is a great way to introduce sprouts to kids. I mean, bacon. It's basically the best way to introduce any new vegetable, if you ask me.
The whole family is now a big fan of Brussels sprouts. We serve up these Brussels sprouts with bacon for a quick side dish often, but we're also big on our balsamic roasted brussels sprouts.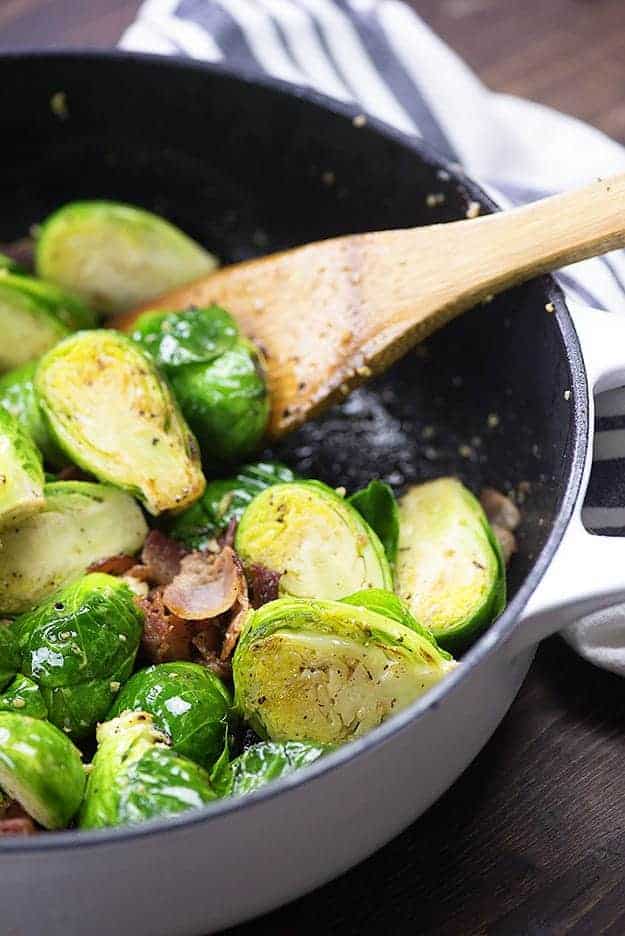 Ingredient Notes:
This post contains affiliate links. As an Amazon associate and member of other affiliate programs, I earn from qualifying purchases.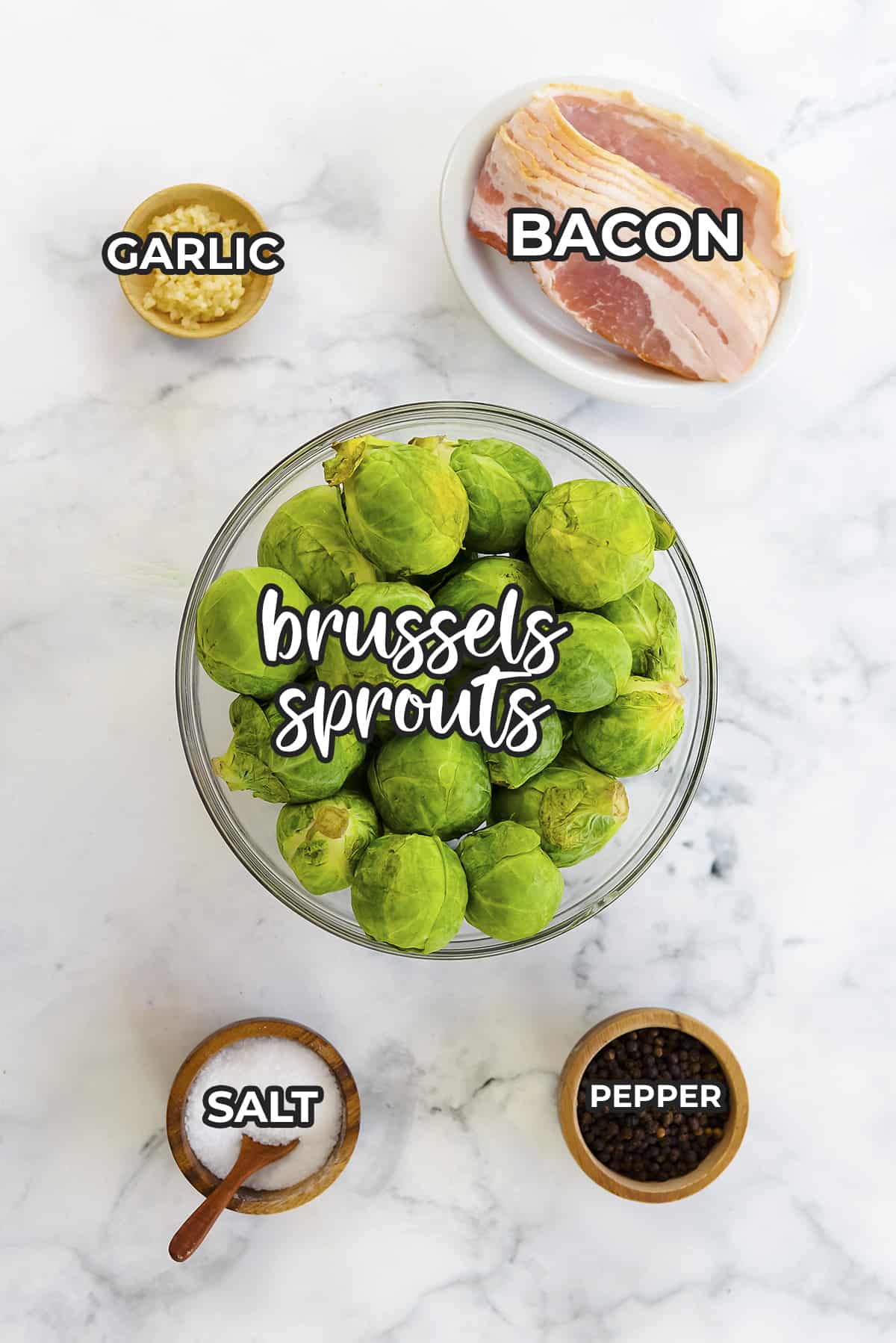 Brussels Sprouts – You'll need fresh, not frozen, Brussels sprouts for this recipe. Remove any damaged or loose leaves from the outer layer before cooking. You'll cut them into halves so that they cook up quicker, plus it makes for more crispy edges!
Bacon – Some chopped bacon is going to add loads of flavor to this keto side dish! You'll fry the bacon first and then saute the Brussels sprouts in the bacon grease. It's going to work all that bacon flavor into the sprouts!
Seasoning – To season I just add some salt, pepper, and minced garlic to taste. The bacon will add most of the flavor to this dish!
Why We Love This Recipe:
u003culu003ern tu003cliu003eThis is a simple side dish that I feel good about feeding my family.u003c/liu003ern tu003cliu003eThe bacon makes the veggies a little more appealing to kids, so they're more likely to give it a chance!u003c/liu003ern tu003cliu003eThis dish only takes 25 minutes and is very easy to prep.u003c/liu003ernu003c/ulu003e
Cooking Method:
There are a few different methods for cooking Brussels sprouts, like boiling, steaming, roasting, pressure cooking, air frying and pan-frying!
Boiled Brussels Sprouts – They are super quick – just toss them in a pot of boiling water for 5 minutes. That's really not my favorite method, though. And, honestly, it's kind of how Brussels sprouts got such a bad rep, if you ask me. I don't recommend you do this.
Roasted Brussels Sprouts – It brings out so much flavor and, like most vegetables, it just makes them taste way better. Roasting is magic and it's my go-to method most of the time. Try my smashed brussels sprouts – they're amazing!
Instant Pot Brussels Sprouts – Another quick and easy method for preparing sprouts! So versatile!
Air Fryer Brussels Sprouts – This is a great way to make sprouts! It gets them nice and crispy and it's easy and mess free. Plus you can make the bacon at the same time in the air fryer so it ends up pretty close to these sautéed sprouts!
Today, though, I'm going to show you how to make sautéed Brussel sprouts! These keto Brussel sprouts are beyond easy to make and need just a few ingredients to take them from bland to fabulous. You're going to love this low carb side dish!
How To Saute Brussels Sprouts:
u003cimg class=u0022alignnone size-full wp-image-17369u0022 src=u0022https://thatlowcarblife.com/wp-content/uploads/2018/02/how-to-copy-2-3.jpgu0022 alt=u0022Collage showing how to make sauteed brussels sprouts.u0022 width=u00221200u0022 height=u00221200u0022 data-pin-nopin=u0022trueu0022 /u003ernu003culu003ern tu003cliu003eu003cstrongu003eBacon – u003c/strongu003eThis recipe starts with some chopped raw bacon. Fry the bacon up in a nice heavy skillet like a cast iron until it starts to become nice and crisp.u003c/liu003ern tu003cliu003eu003cstrongu003eSprouts – u003c/strongu003eDon't drain the grease from the pan! It's going to add lots of great flavor to the Brussels sprouts. Go ahead and toss in the halved sprouts and continue cooking, stirring occasionally, for about 15 minutes or until the sprouts are as tender crisp as you like.u003c/liu003ern tu003cliu003eu003cstrongu003eSeason – u003c/strongu003eOnce the veggies have cooked, stir in the garlic, salt, and pepper and let them go for another minute or two.u003c/liu003ern tu003cliu003eu003cstrongu003eServe – u003c/strongu003ePan frying Brussels sprouts is super easy and doesn't take long at all! The crispy bottoms are the best part! We love to serve these sprouts up as a low carb side dish with just about anything! They're great with steak, chicken, or pork. My u003ca href=u0022https://thatlowcarblife.com/lemon-garlic-pork-chops/u0022u003elemon garlic pork chopsu003c/au003e would go pretty great with these sprouts! See below for more suggestions.u003c/liu003ernu003c/ulu003e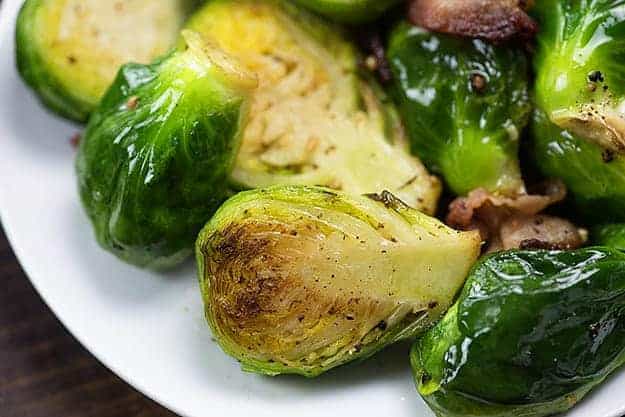 What To Serve With Brussels Sprouts:
If you're wondering what to serve with this bacon and brussels sprouts recipe I've got some good ideas below! These sprouts make for a perfect low carb side dish that'll pair well with just about any meat or savory recipe. Try serving with one of these recipes: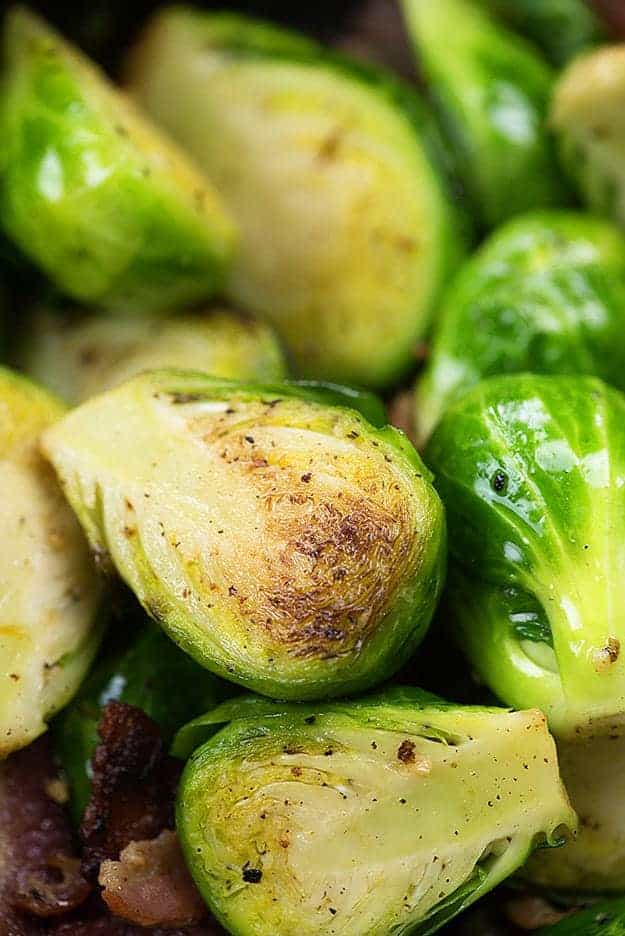 FAQs:
How many carbs in Brussels sprouts?
There are about 4 net carbs per 5 Brussels sprouts, which makes them a great choice for a low carb side dish. I cut my sprouts in half for this recipe, which will yield a nice serving size that will fill you up and leave you satisfied.
How to store brussels sprouts?
You can keep any leftovers stored in the fridge in an airtight container for about 2 to 3 days. You could probably freeze this too but I'm not a big fan of frozen Brussels sprouts. They can get a little mushy.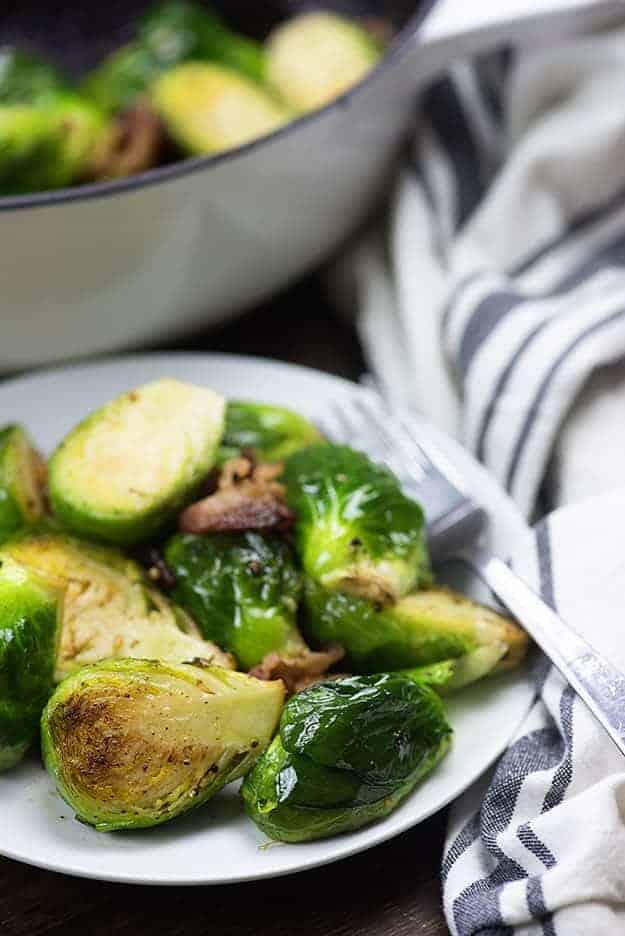 More Keto Side Dishes: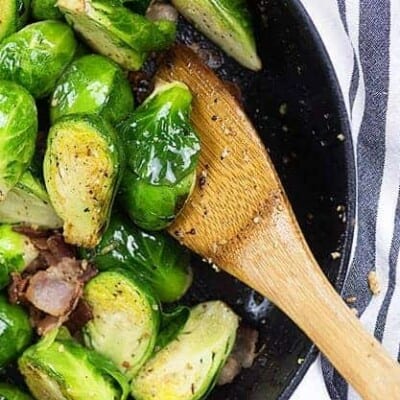 Brussels Sprouts with Bacon
These Brussel sprouts with bacon are pan fried for a quick low carb side dish. Bacon makes everything better – especially Brussels sprouts!
Prep5 minutes
Cook20 minutes
Total25 minutes
Ingredients
6 slices bacon chopped
1 pound brussels sprouts halved
2 teaspoons garlic minced
1/2 teaspoon salt
1/2 teaspoon ground black pepper
Instructions
Heat a large skillet over medium heat. Add the bacon to the skillet and cook until nearly crisp, stirring often.

Add the Brussels sprouts to the pan and cook, stirring occasionally, for 15 minutes or until sprouts are cooked to your liking.

Add the garlic, salt, and pepper to the pan and cook for 1 more minute, stirring constantly.

Serve immediately.
Tips & Notes:
Sprinkle a bit of red pepper flakes on top for a little kick, if you'd like.
Nutrition Information:
Serving: 1| Calories: 124kcal (6%)| Carbohydrates: 8g (3%)| Protein: 9g (18%)| Fat: 7g (11%)| Saturated Fat: 2g (13%)| Polyunsaturated Fat: 4g| Cholesterol: 17mg (6%)| Sodium: 579mg (25%)| Fiber: 3g (13%)| Sugar: 2g (2%)| Net Carbs: 5g (10%)