Keto meatballs baked in a sweet and tangy low carb BBQ sauce! These little BBQ meatballs make the perfect appetizer, but they're also really good served on a bed of mashed cauliflower!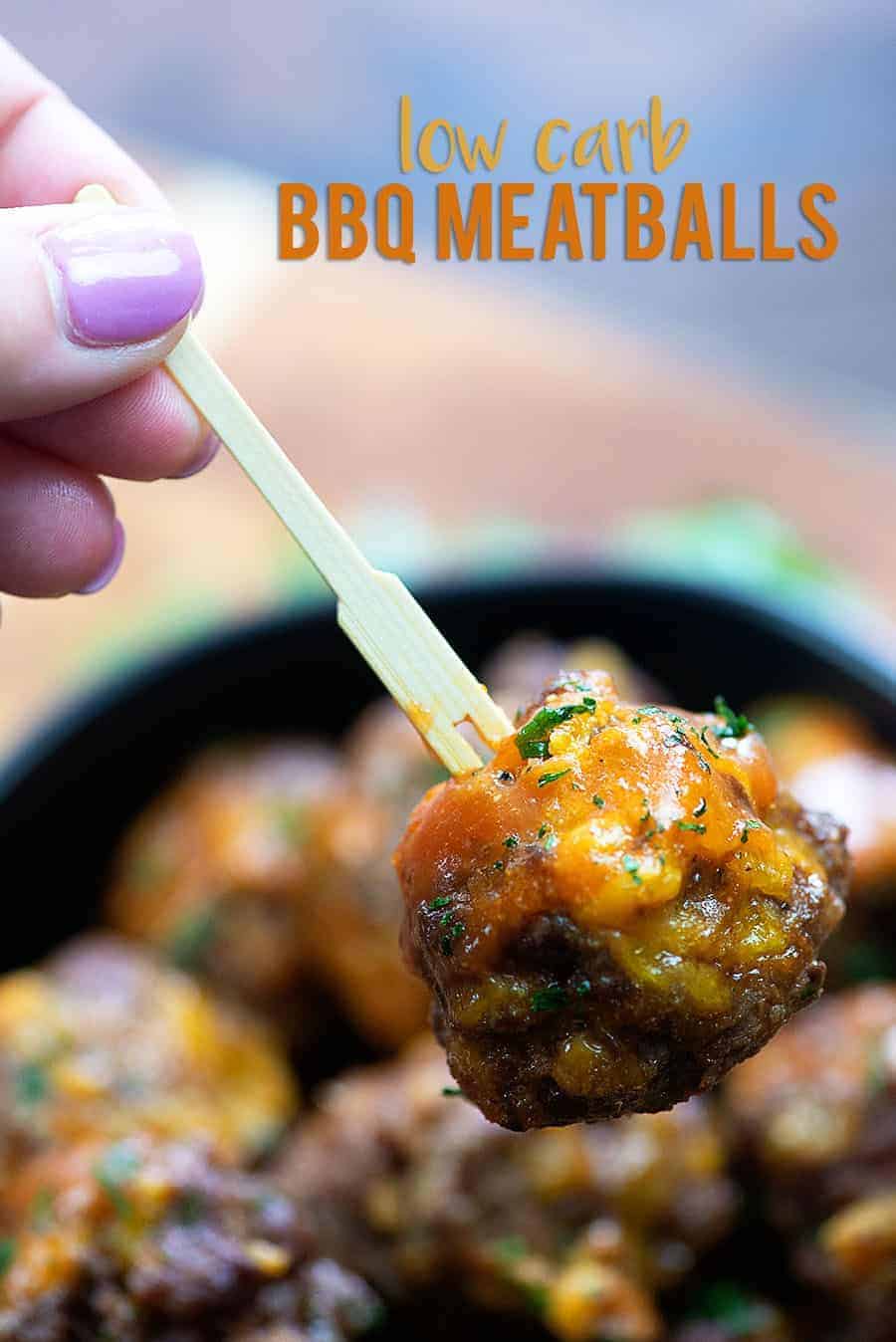 I am likely the world's biggest meatball fan. Meatloaf, too!
Growing up, my mama never made meatballs or meatloaf and I literally never tasted either until I was grown and married.
Y'all. That first bite of a BBQ meatball was life changing.
Now I make meatballs and meatloaf all the time! Have you tried my mozzarella stuffed meatballs yet or my buffalo chicken meatballs? How about my keto meatloaf? Oh man. So good!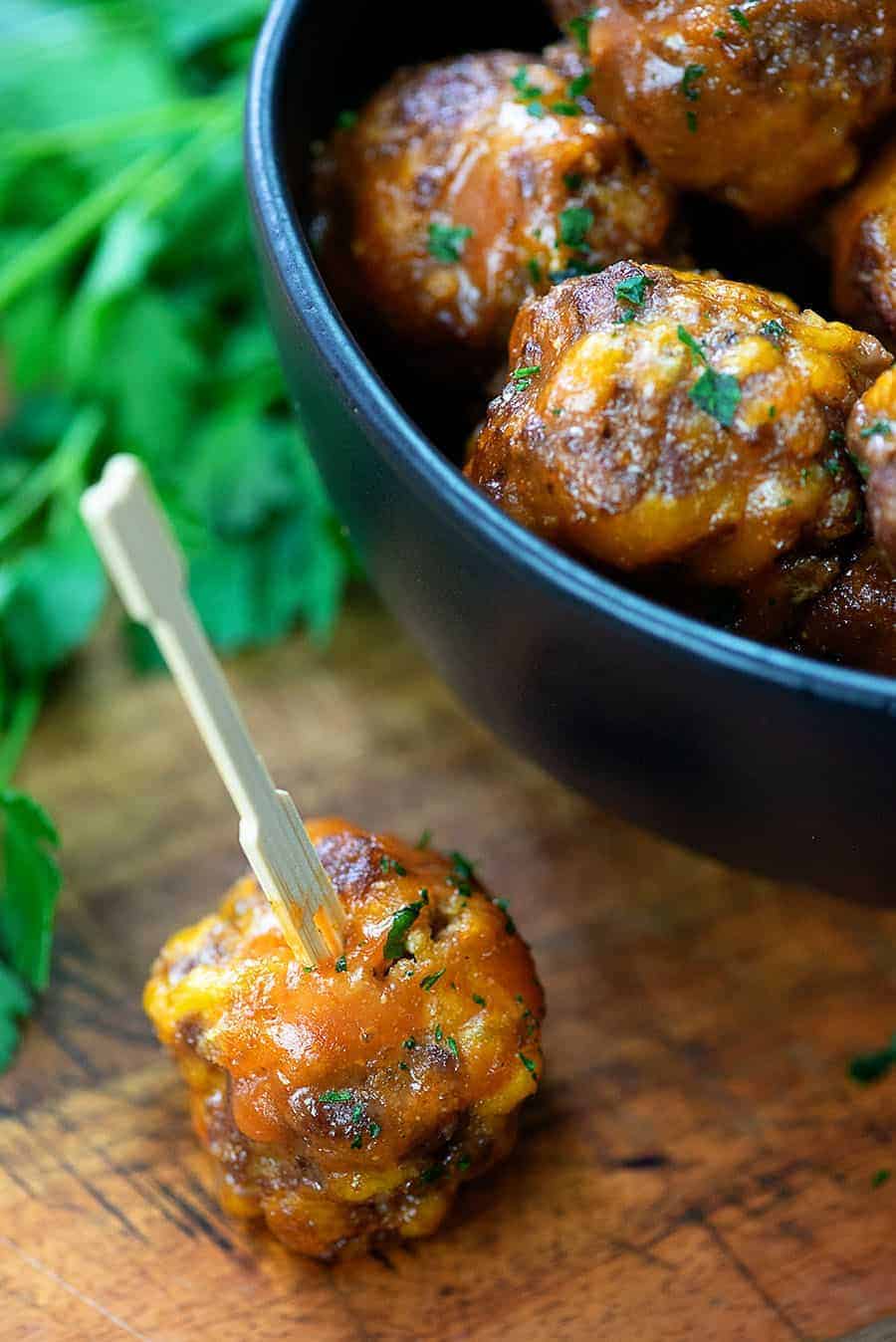 Anyway, I've made low carb meatballs a variety of ways – from using Parmesan as the binder to almond flour to…wait for it…pork rinds.
Personally, I'm not one to sit around and just eat a bag of pork rinds. However, they work so great as a low carb binder for meatloaf and meatballs!
For this keto meatball recipe, I went next level and used BBQ seasoned pork rinds. You can use plain pork rinds if you prefer, but the BBQ adds a little extra flavor without any extra carbs. Magic.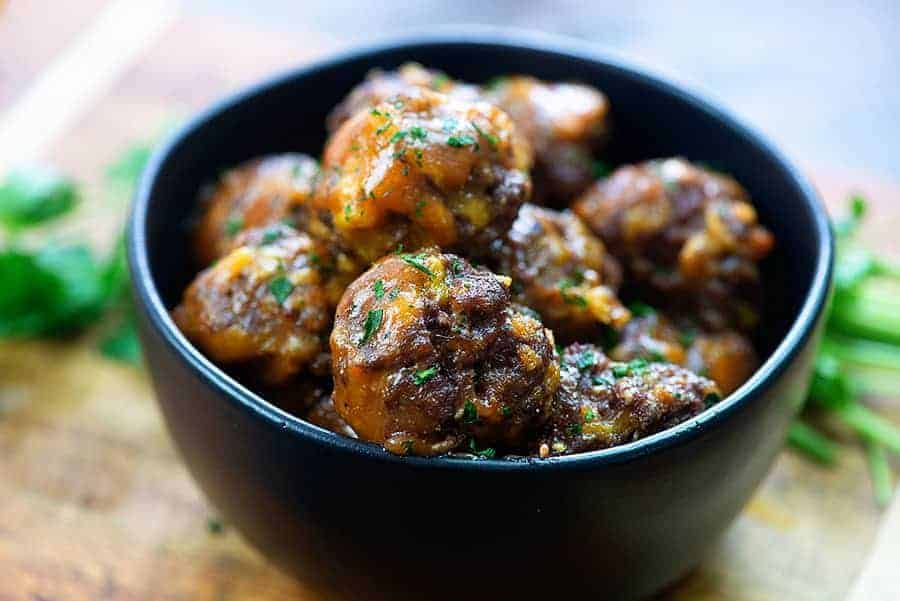 How to make keto meatballs:
We're making these keto meatballs in the oven. No need to pan fry them, just roll 'em up and pop 'em on a baking sheet. Easy peasy.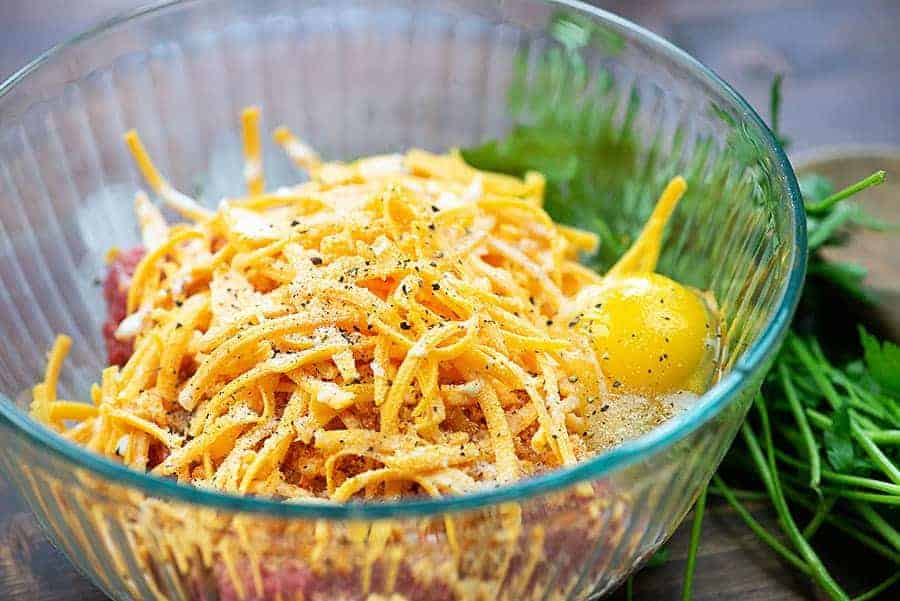 You'll start with a pound of lean ground beef, some pork rinds, cheddar cheese, egg, cream, and water.
All of that gets mushed together with your hands until it's nice and combined.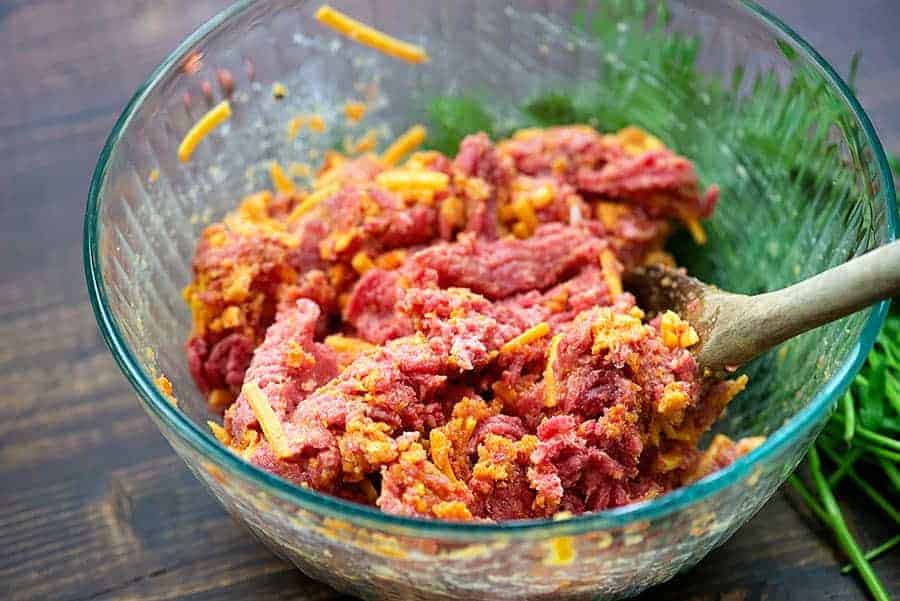 Next, you'll roll out your meatballs. I just use my hands for this.
I made these as appetizer sized meatballs this time around, but you can also make them larger and serve them up for dinner. You'll get 15 appetizer sized meatballs here.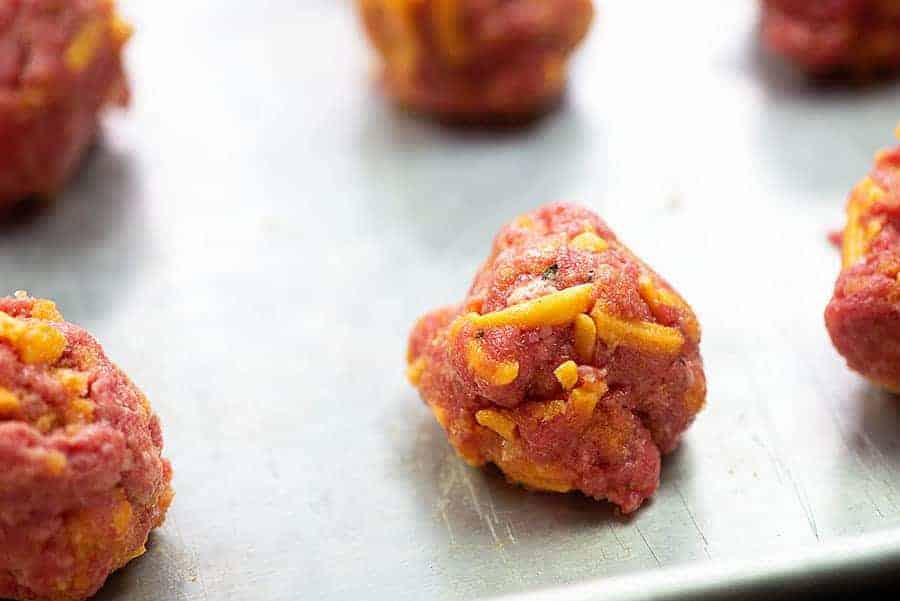 Place them on a baking sheet and pop them in a 400 degree oven. These take about 15 minutes to bake.
Once they're cooked through, whisk together some reduced sugar ketchup and some bottled Italian salad dressing. This will be the sweet and tangy sauce that coats the BBQ meatballs.
Brush the sauce over the meatballs and pop them under the broiler for 1-2 minutes to get the sauce a little caramelized and sticky.
Top 'em off with a sprinkle of parsley and serve!
This low carb meatball recipe is super easy and ready in about 20 minutes.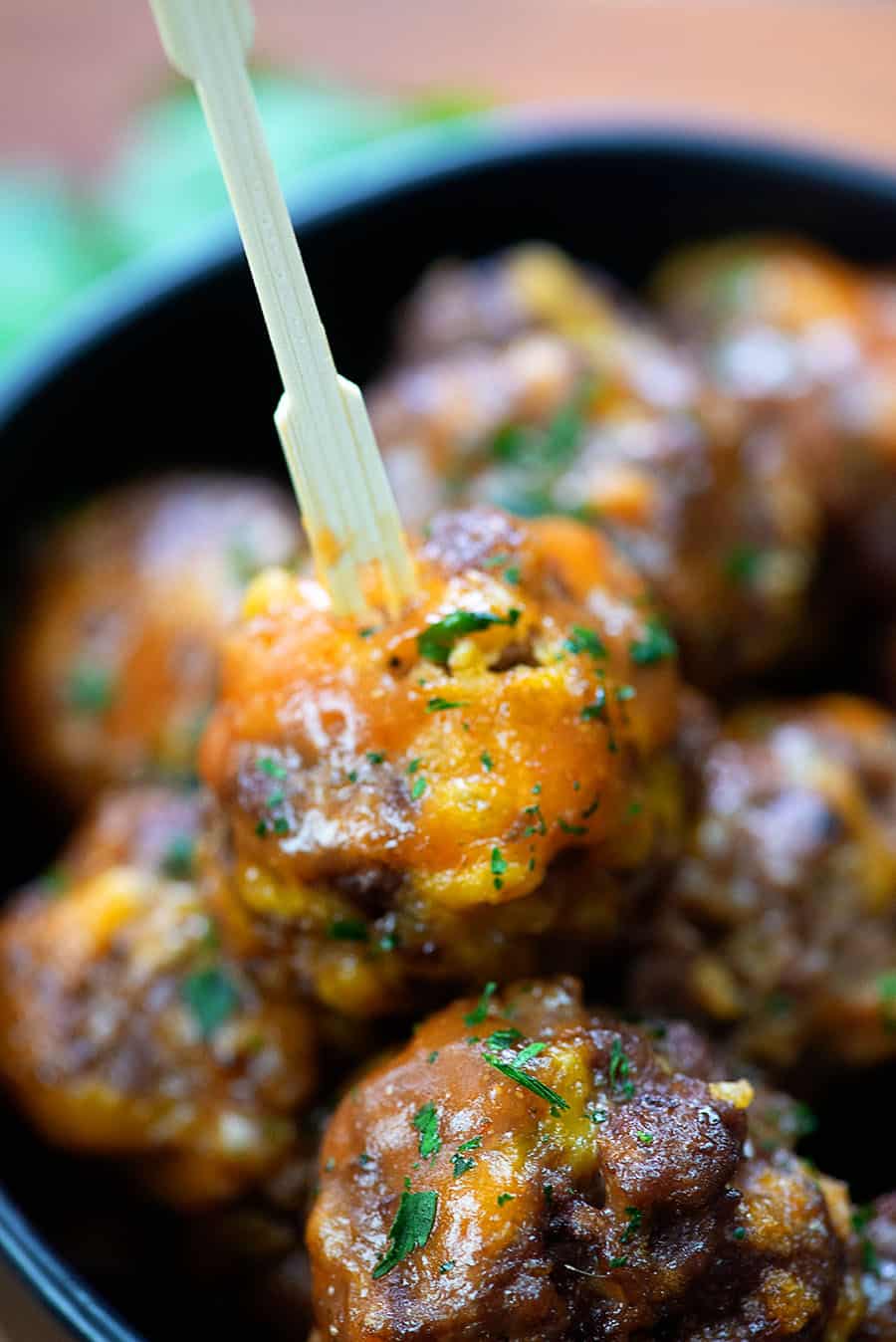 More low carb appetizers you might like:
Keto deviled eggs: These are full of bacon and cheddar! <3
Slow Cooker Wings: These wings are so juicy and the skin gets nice and crispy under the broiler!
Green Olive Deviled Eggs: I love the punch of flavor green olives give these eggs!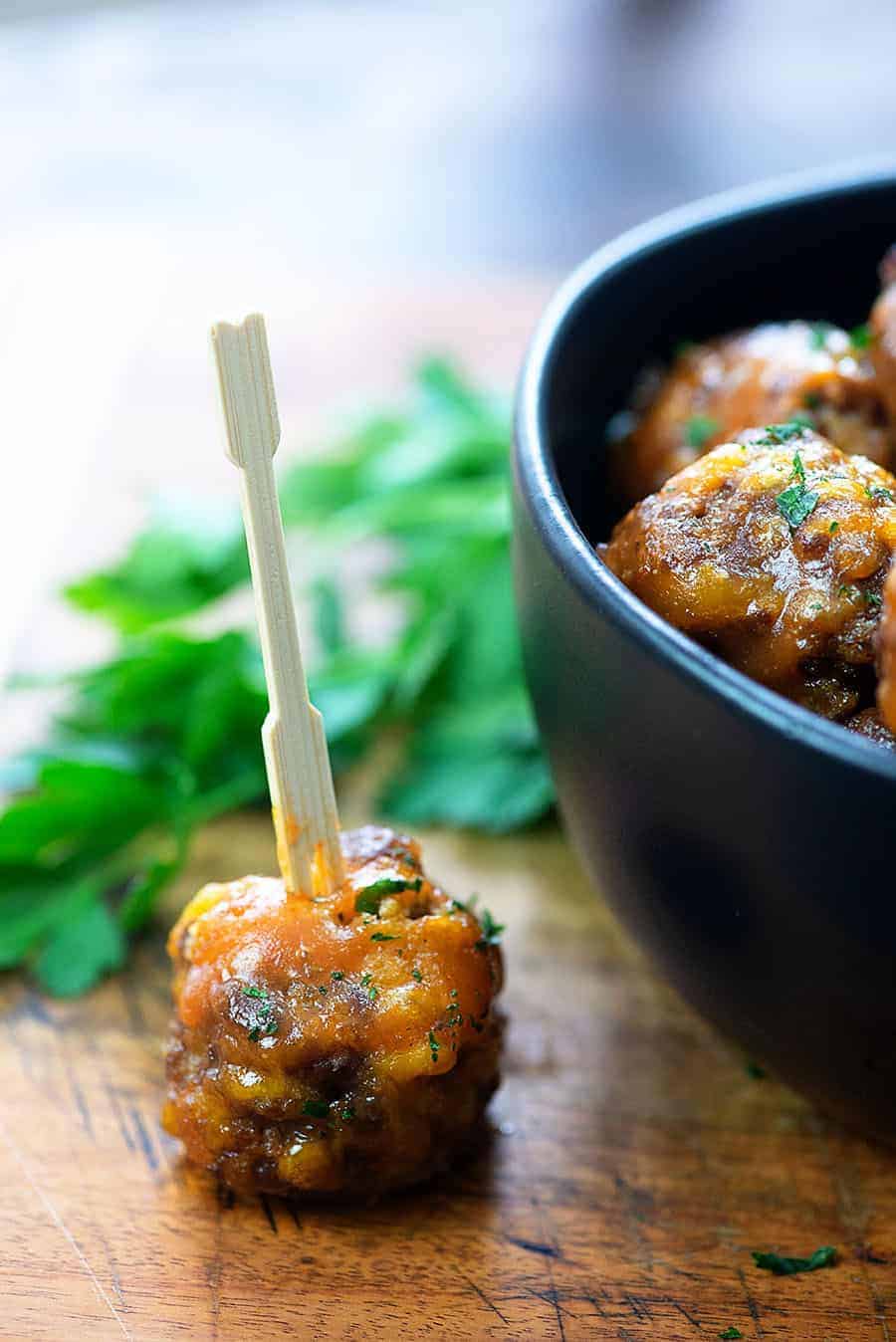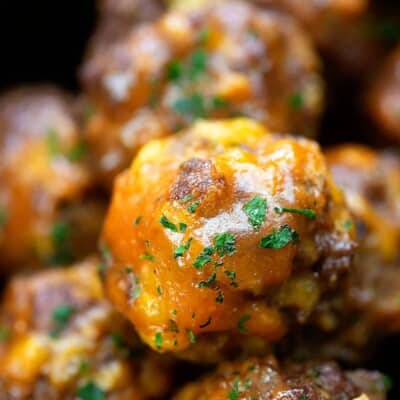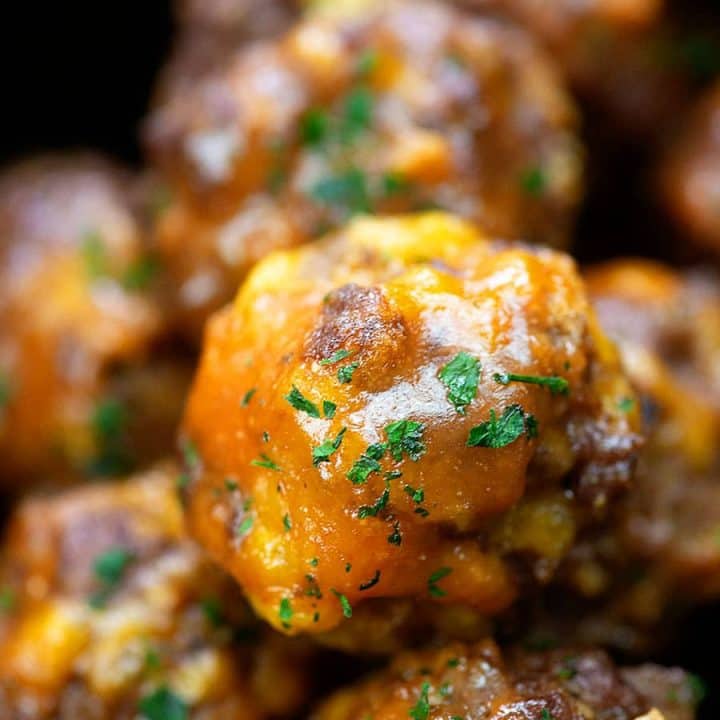 BBQ Keto Meatballs
These keto meatballs are coated in a simple 2 ingredient BBQ sauce. These meatballs make a great appetizer, but they're also good served over mashed cauliflower.
Prep10 minutes
Cook15 minutes
Total25 minutes
Ingredients
1 pound lean ground beef
1 cup crushed BBQ flavored pork rinds
1/2 cup grated cheddar
1 large egg
2 tablespoons heavy cream
2 tablespoons water
1/2 teaspoon garlic powder
1/2 teaspoon salt
1/2 teaspoon ground pepper
2 tablespoons reduced sugar ketchup
2 tablespoons Italian salad dressing
Instructions
Preheat oven to 400 degrees. Spray a large baking sheet with non-stick spray.

Add the ground beef, pork rinds, egg, cheddar, cream, water, salt, pepper, and garlic powder to a large mixing bowl and mix well to combine.

Roll the meat mixture into 15 small meatballs and place on the baking sheet.

Bake for 15 minutes or until meatballs are cooked through.

Whisk together the ketchup and salad dressing. Brush over the meatballs.

Return the meatballs to the oven and turn the broiler to high. Broil for 1-2 minutes or until sauce just begins to caramelize.

Serve immediately.
Tips & Notes:
You may use your favorite sugar free BBQ sauce in place of the ketchup and Italian dressing, if you desire.
Nutrition Information:
Serving: 3meatballs| Calories: 442kcal (22%)| Carbohydrates: 4g (1%)| Protein: 40g (80%)| Fat: 23g (35%)| Saturated Fat: 10g (63%)| Polyunsaturated Fat: 11g| Trans Fat: 1g| Cholesterol: 159mg (53%)| Sodium: 905mg (39%)| Fiber: 1g (4%)| Sugar: 2g (2%)| Net Carbs: 3g (6%)