These keto deviled eggs are full of cheddar and bacon. Everyone raves about this recipe and I bet you will too – hard to go wrong with Bacon Deviled Eggs!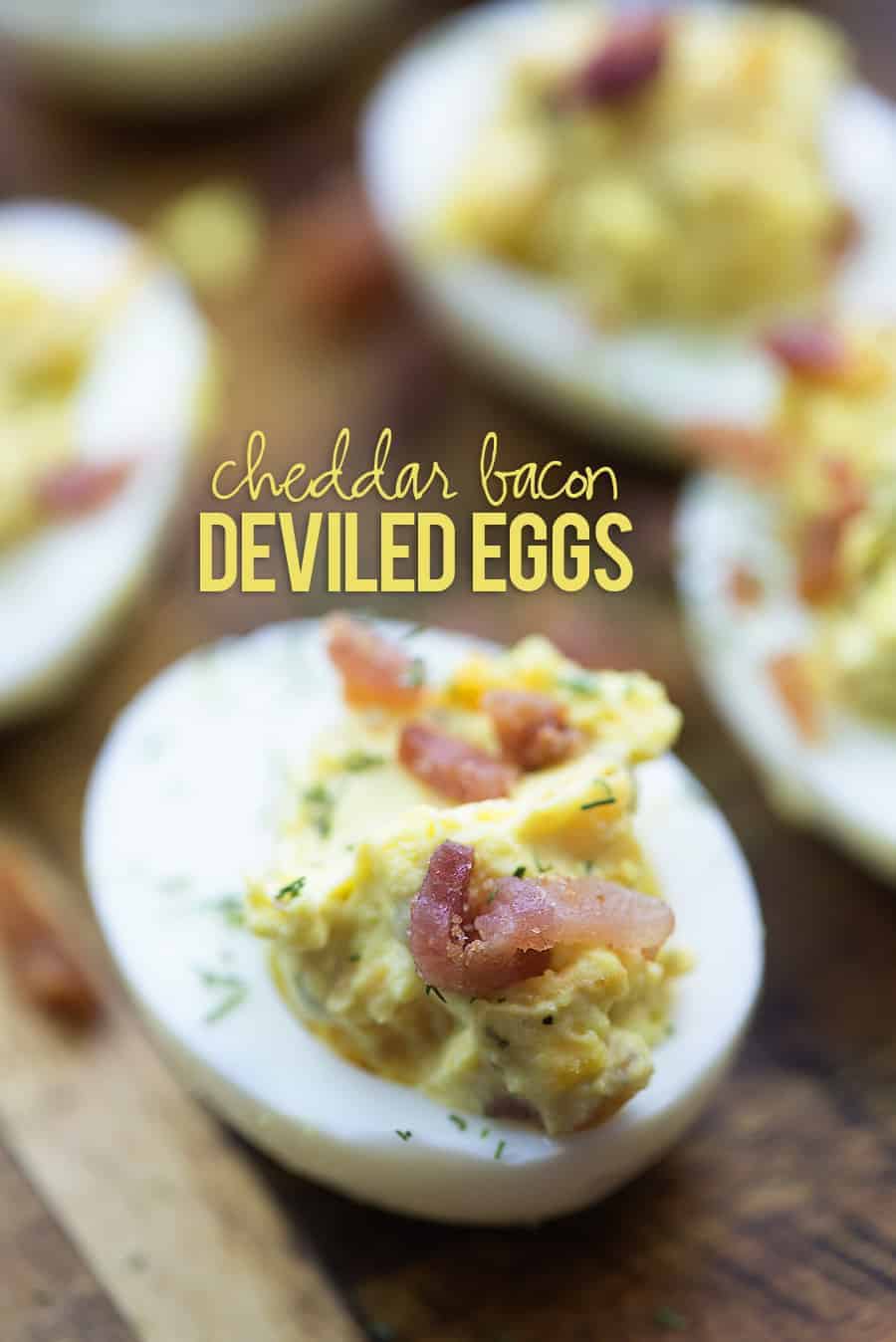 Deviled eggs is one of my go-to snacks. Whether it's just me at home alone, craving something tasty, or it's me with a house full of guests, deviled eggs seem to always be the answer.
My husband could down a dozen deviled eggs with no problem, so when I make them in this house, I usually make a lot. 😉
This deviled egg recipe with bacon is probably his favorite recipe for deviled eggs yet.
I mean, the man loves bacon and he can never get enough cheese, so this was an obvious win for him.
As for me, I have a hard time choosing between these and the more traditional deviled eggs with bits of pickle relish and onion mixed throughout. They're both so good!
Ingredients for Bacon Deviled Eggs:
For these bacon deviled eggs, you'll need a few ingredients that are a bit outside the norm.
You'll start with 6 hard boiled eggs. Peel them and slice them in half.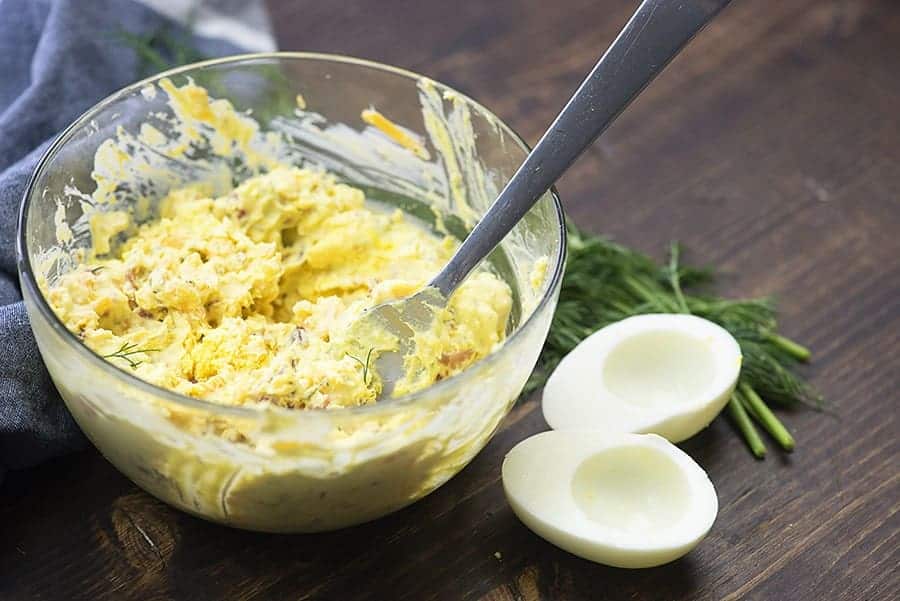 Pop the yolks out and add them to a small bowl with mayonnaise, mustard, dill, salt, pepper, freshly grated cheddar, and crispy, crumbled bacon.
You can definitely use the packages of bacon bits that normally go on salads here, but freshly fried and crumbled bacon is 10x better. I understand being short on time and needing to speed things up though. 😉
I don't add onion or relish to this recipe, but you can if you like.
Personally, we all think that the smokiness of the bacon combined with the cheddar really makes these eggs special and the onion and relish would detract from that. You do you, though.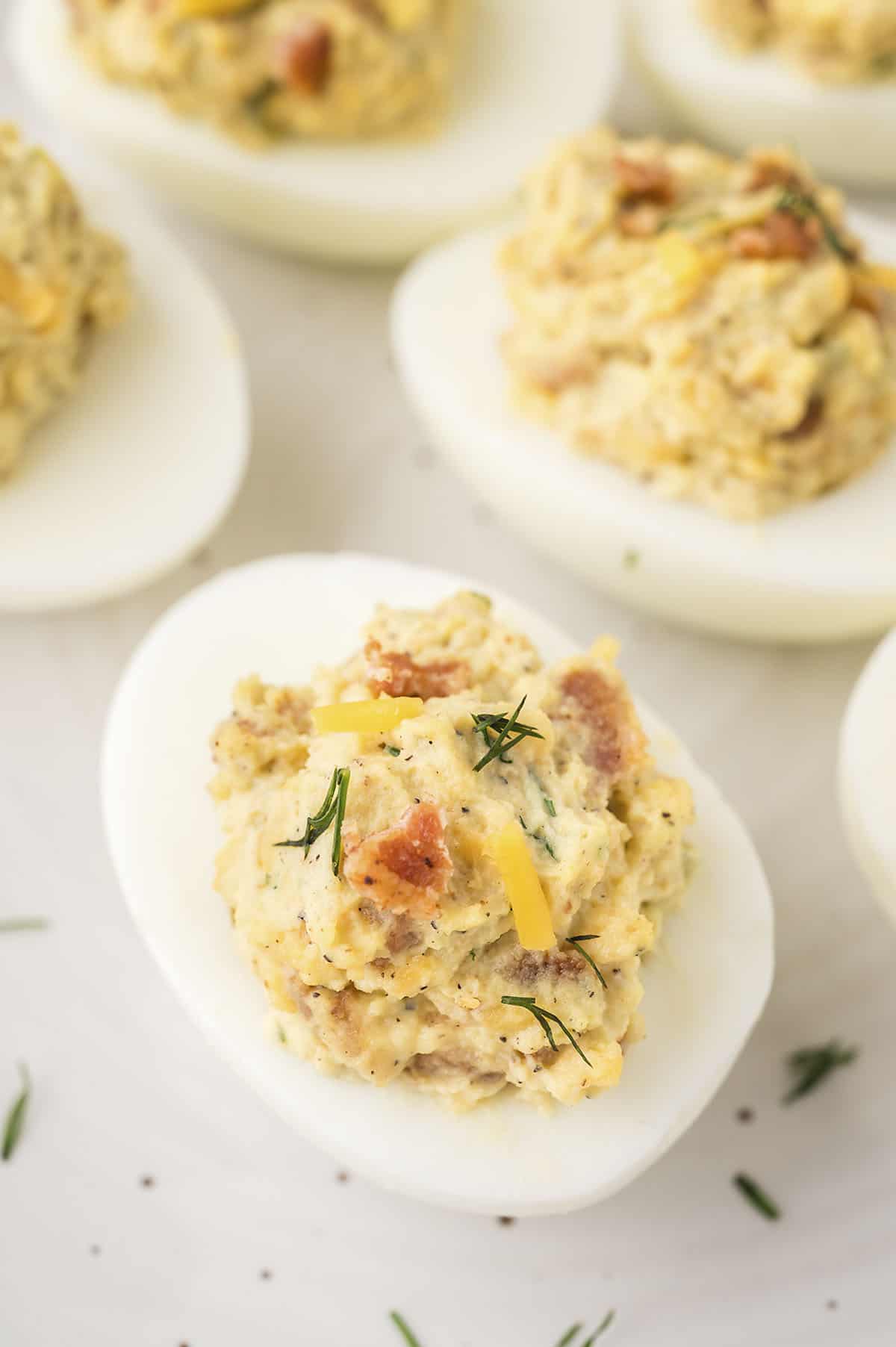 Keto deviled eggs are the perfect snack!
Eggs have, I believe, 0.6 carbs per egg.
The rest of the ingredients all have trace amounts of carbs, as well.
That makes these keto deviled eggs a perfect snack for those days when you need something to eat, but you're on the verge of hitting your carb intake for the day.
Plus these are full of protein and fat, so they really fill you up and keep you going.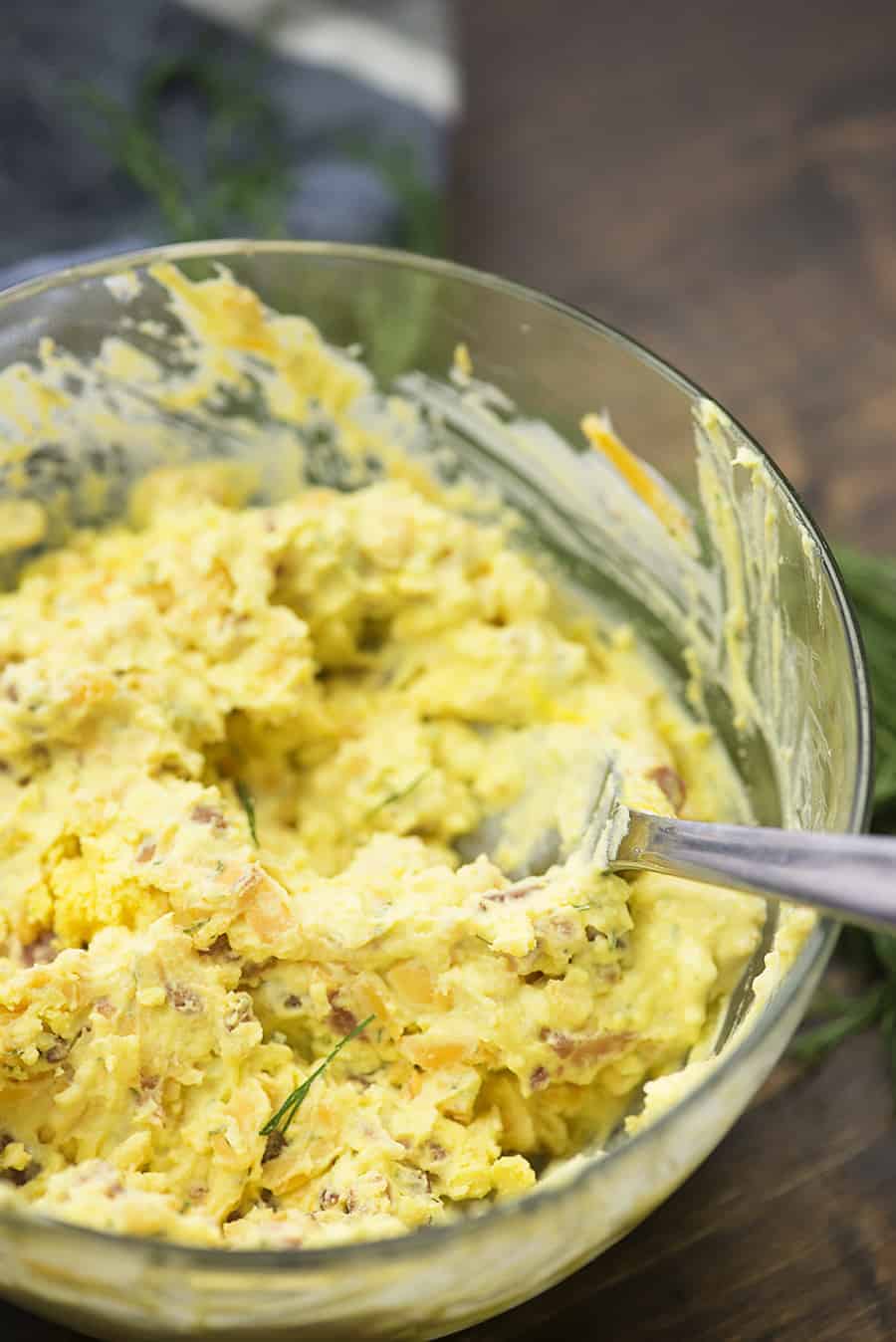 This recipe for deviled eggs is great to make ahead and keep in the fridge.
I make a big batch of these on the weekend and we always have a few with our Sunday dinner. They make an easy little side!
The rest of the eggs get popped in an air-tight container and left in the fridge for the week.
We pull them out to snack on all week long or use them to bulk up meals when I'm feeling too lazy to cook a full meal. 😉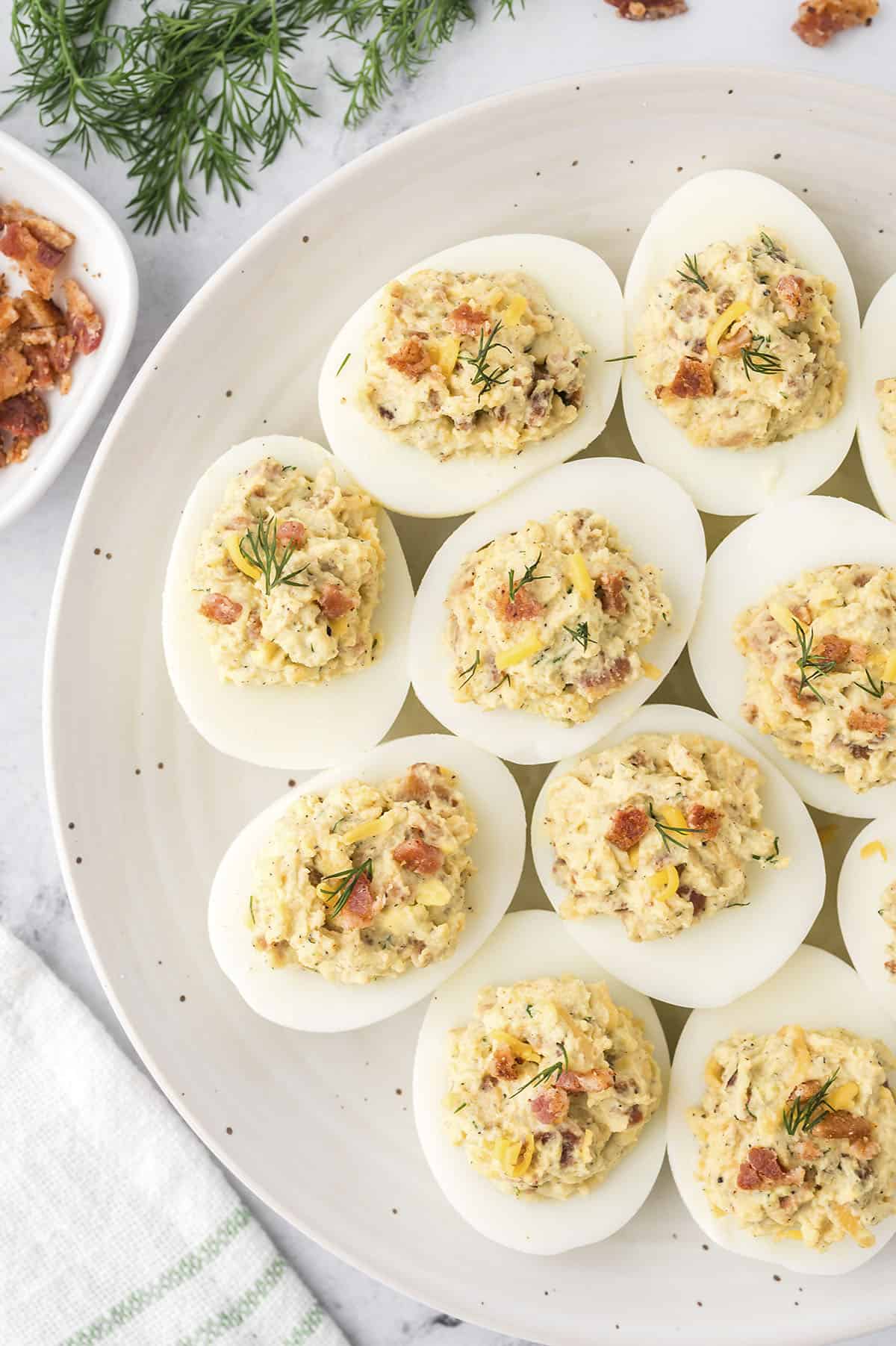 What are your favorite ways to make keto deviled eggs? Do you add any special ingredients to amp up the flavor or do you prefer a classic deviled egg?
And if you love eggs for snacks or quick lunches, be sure try my keto egg salad! It's seriously so good – full of avocado instead of mayo for something a little healthier and different!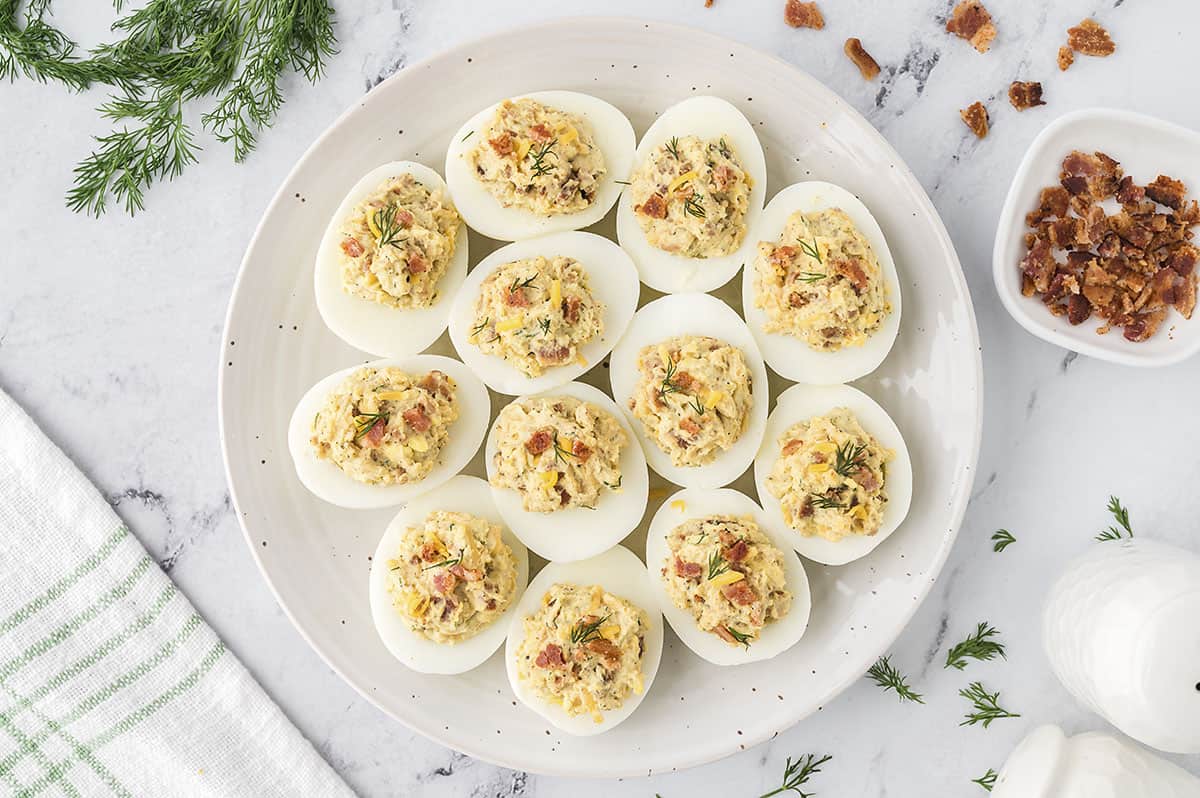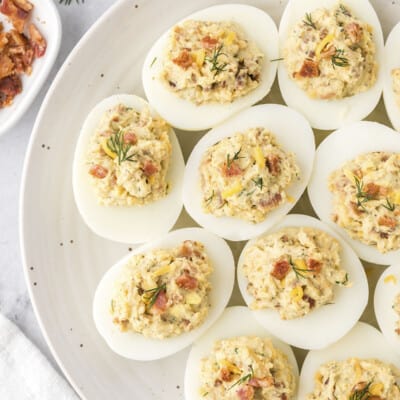 Cheddar Bacon Deviled Eggs
These keto deviled eggs are full of bacon and cheddar. They make a great low carb snack or appetizer and everyone goes nuts for these thanks to the bacon!
Prep10 minutes
Total10 minutes
Ingredients
6 large eggs boiled and peeled
3 tablespoons mayonnaise
1 tablespoon white distilled vinegar
1 teaspoon yellow mustard
1 teaspoon fresh dill weed
1/2 teaspoon salt
1/2 teaspoon pepper
1/2 cup grated cheddar cheese
4 slices bacon cooked and crumbled
Instructions
Slice the hard boiled eggs in half and place yolks in a small mixing bowl. Set aside whites.

Add the mayonnaise, mustard, vinegar, dill, salt, and pepper to the mixing bowl with the yolks and stir well to combine.

Stir in the grated cheddar and crumbled bacon.

Spoon the filling into each of the egg whites.

Sprinkle with additional dill or bacon crumbles, as desired.
Tips & Notes:
My favorite way to make boiled eggs is in the Instant Pot. Add 1 cup of water along with the eggs to the pot, seal, and cook on high pressure for 5 minutes. Natural release for 5 minutes and then transfer eggs to an ice bath for 5 minutes. Perfectly cooked eggs and they peel like a dream. Store deviled eggs in the fridge in a tightly covered container for up to one week.
Nutrition Information:
Serving: 1deviled egg| Calories: 100kcal (5%)| Carbohydrates: 1g| Protein: 6g (12%)| Fat: 8g (12%)| Saturated Fat: 3g (19%)| Polyunsaturated Fat: 5g| Cholesterol: 103mg (34%)| Sodium: 241mg (10%)| Net Carbs: 1g (2%)