These SMOKED SALMON DEVILED EGGS are a nice twist on a classic. Guests love them, but we also like to make a batch to keep in the fridge to snack on. So simple, too!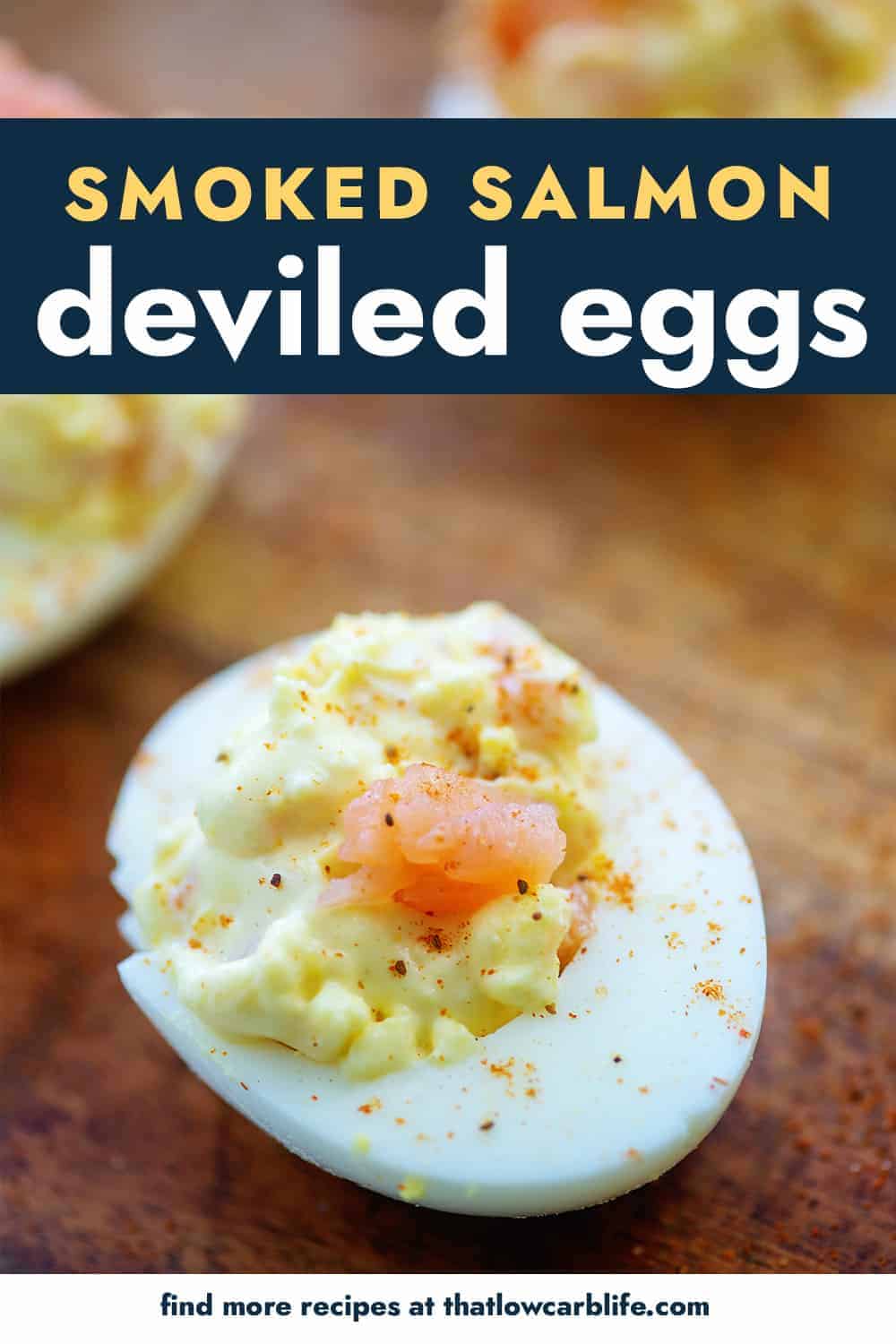 We've been really building up our deviled egg recipe collection over here.
Have you noticed all of the crazy recipes we've come up with over the last couple of years? A few of the recipes include avocado deviled eggs and deviled eggs with bacon. But there are loads more, if you poke around in the low carb snacks section of my website.
Today, though, I'm bringing you the recipe for my husband's all time favorite deviled egg…and that's saying something because the man knows his deviled eggs!
Chad, the husband, doesn't do a whole lot of cooking for our family. It makes sense, because I enjoy it and I'm good at it.
But these eggs? He will ask me to add the ingredients to our grocery order and then make the eggs himself, because he loves them that much. I honestly think this might be the only food he's ever made repeatedly, on his own, again and again. He LOVES them!
And really, what's not to love about smoked salmon, cream cheese, and creamy deviled eggs? Nothing!
Ingredient Notes:
Eggs – You're going to need some large hard boiled eggs for this recipe! You can prepare them however you wish but I would recommend checking the FAQs section below for a method that makes them easy to peel.
Salmon – The strong flavors from smoked salmon mix really well with the creamy deviled egg filling.
Filling – The creamy filling for these smoked salmon deviled eggs is a simple but flavorful mix of cream cheese, mayo, Dijon mustard, the egg yolks, and of course the smoked salmon!
What Readers Are Saying:
"SO GOOD!!! I only had 5 eggs so I just eyed the ingredients. My three children and I devoured them! The seven year old was late to show up and only got one and she is asking me to make another batch immediately." – Trina
How To:
Peel – First up you'll need to prepare the boiled eggs and peel them. See the FAQs section below for some tips! Once peeled slice the eggs in half and start scooping out the yolks to a small mixing bowl. Set the egg whites aside for now.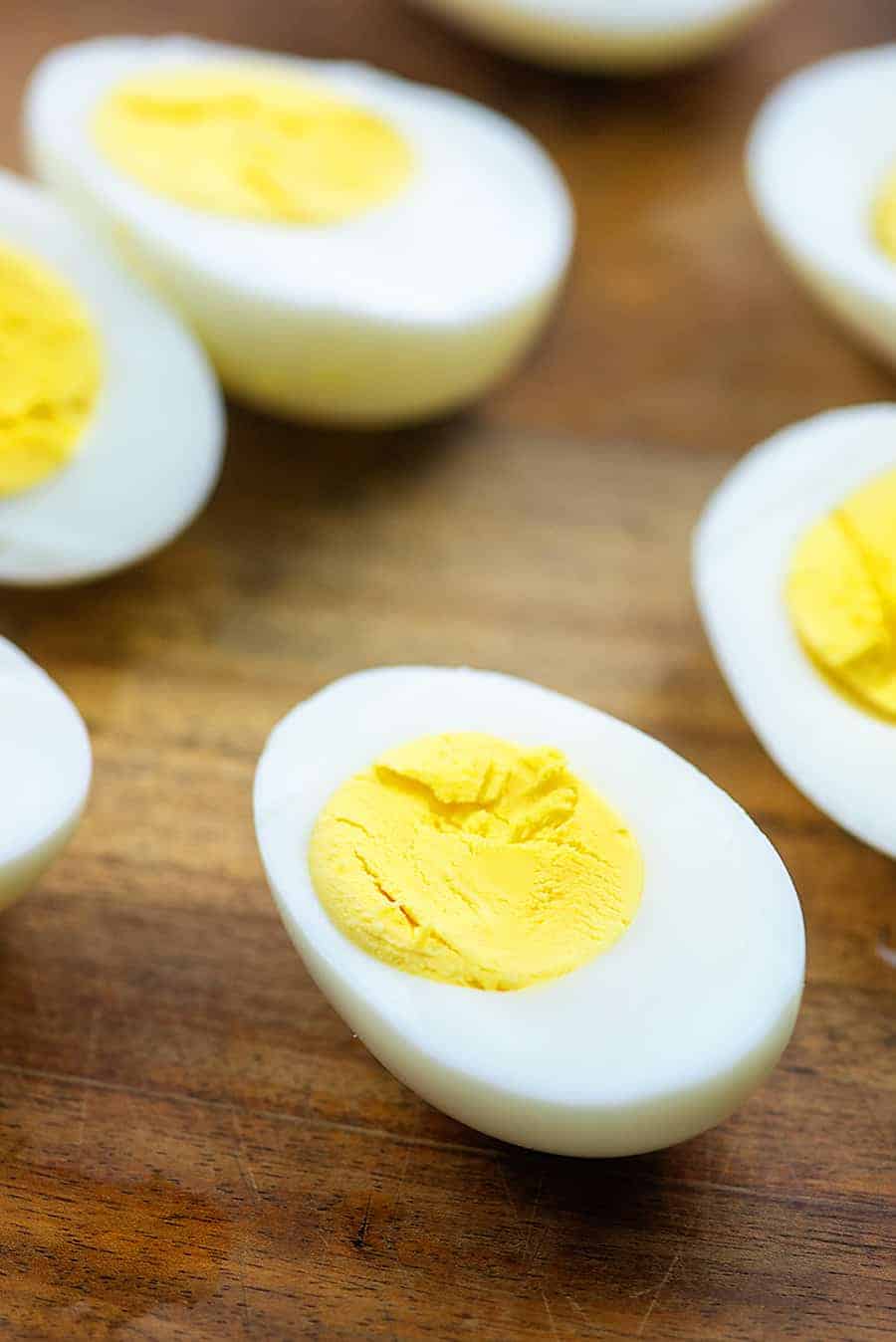 Filling – To prepare the filling you'll just add the softened cream cheese along with the mayo, mustard, and salt to the mixing bowl with the egg yolks. The easiest method to mix it all up is to just mash it together with a fork! Do that until it is smooth and creamy.
Salmon – To finish preparing the filling you'll go ahead and add in the key ingredient: The smoked salmon! Just fold that in with the other filling ingredients and you are almost finished.
Finish – With the filling prepared you can start spooning it into each of the hollowed out egg whites. We usually pack them pretty full with lots of the good creamy filling! To finish off these smoked salmon deviled eggs sprinkle some Old Bay seasoning over the top.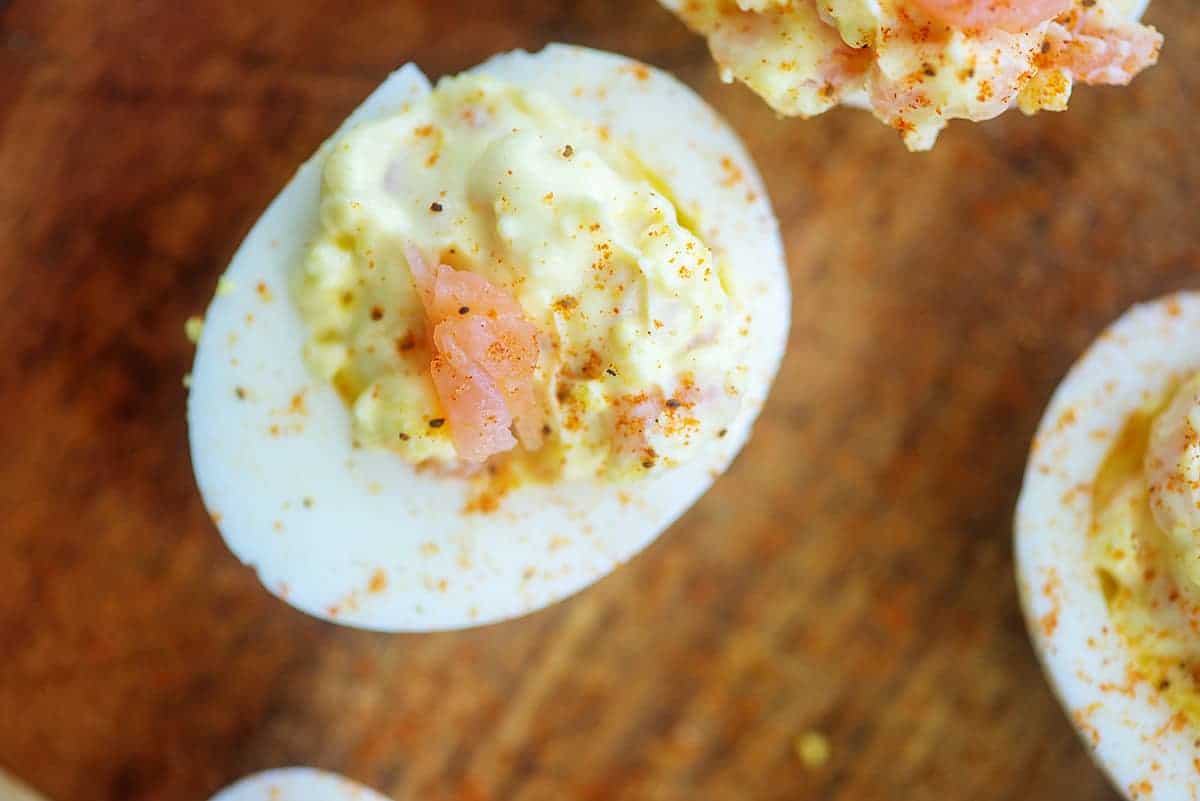 FAQs:
How to cook boiled eggs?
The easiest way to make boiled eggs that peel like a dream is to just use an Instant Pot! I've tested just about every other method and I can honestly say that this is the best! We do the 5-5-5 method. Just place however many eggs you want in the Instant Pot, add 1 cup of water, and cook on high pressure for 5 minutes. Natural release for 5 minutes. Place in an ice bath for 5 minutes. Easy peasy!
How long do deviled eggs last?
Stored in the refrigerator, deviled eggs are safe to keep for 2 days. When we want deviled eggs all week, we boil enough eggs to make that happen and then just whip up a batch every couple days.
What type of smoked salmon to use?
We prefer these smoked salmon deviled eggs made with cold smoked salmon. Cold smoked salmon is smoked at a lower temperature than hot smoked salmon and tends to be much more moist and smooth, while hot smoked salmon is more flaky and can be a bit drier. Either cold or hot smoked salmon will work here, so just grab what you prefer!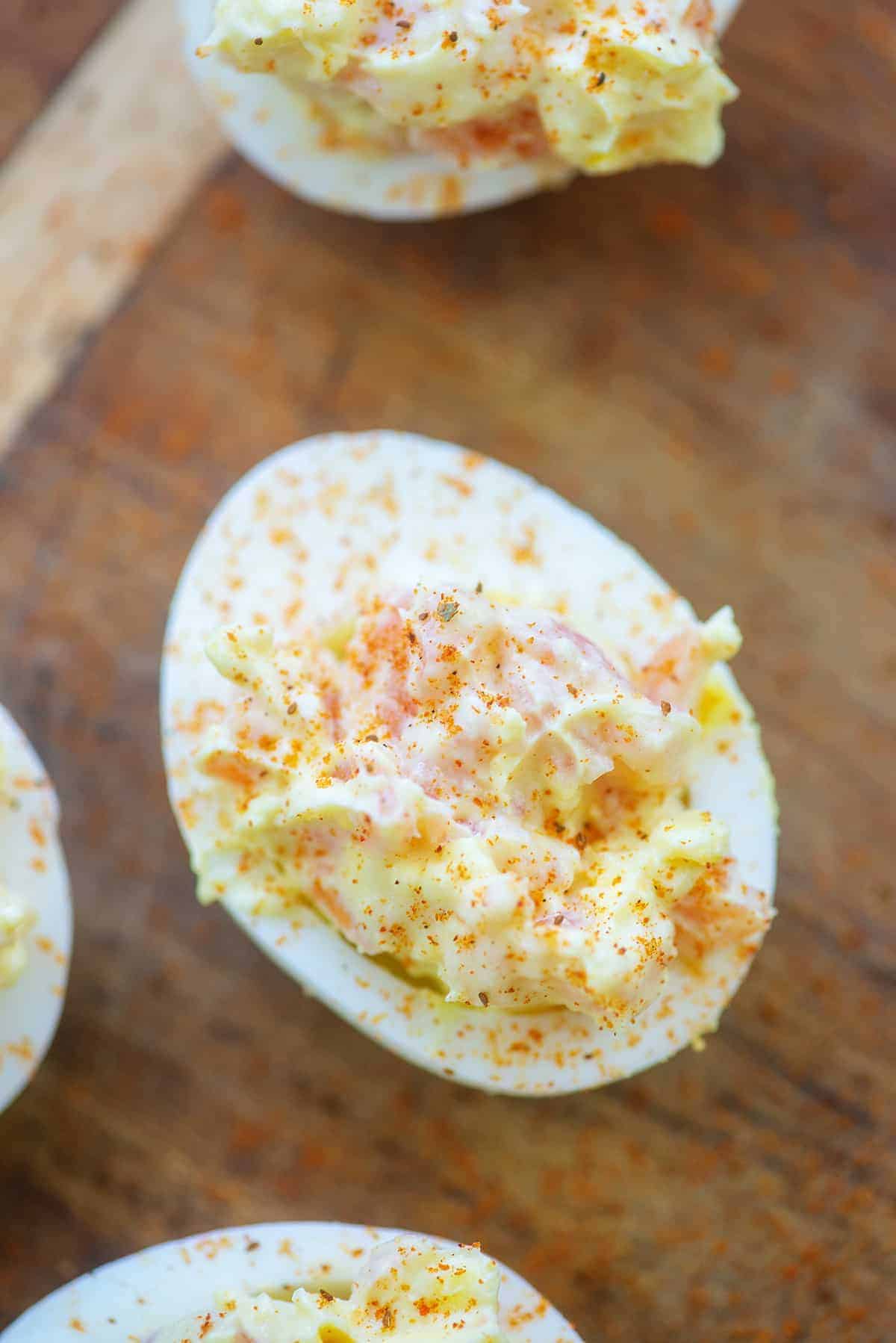 More Low Carb Seafood Recipes: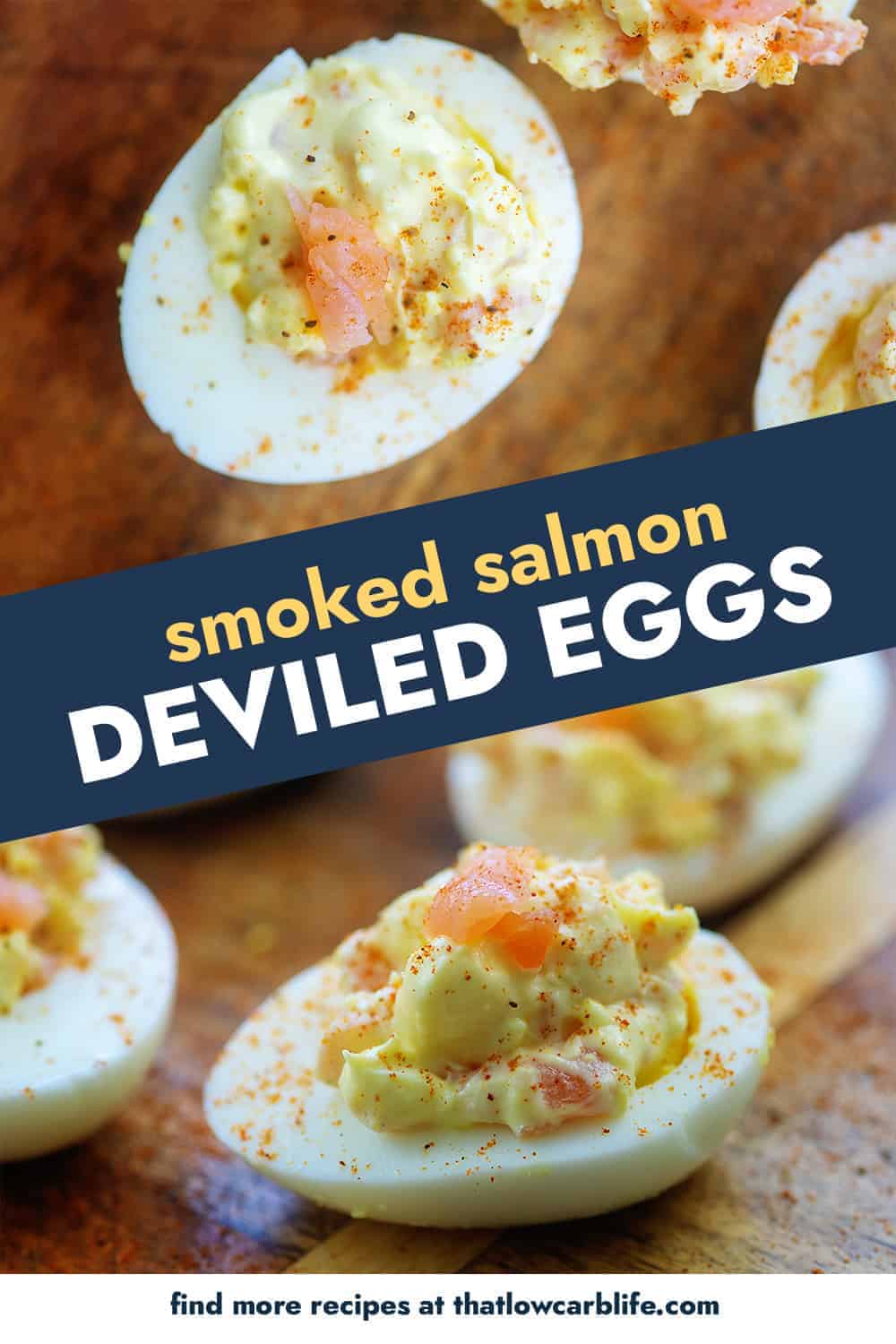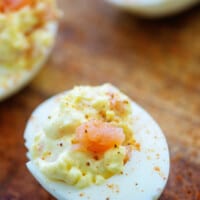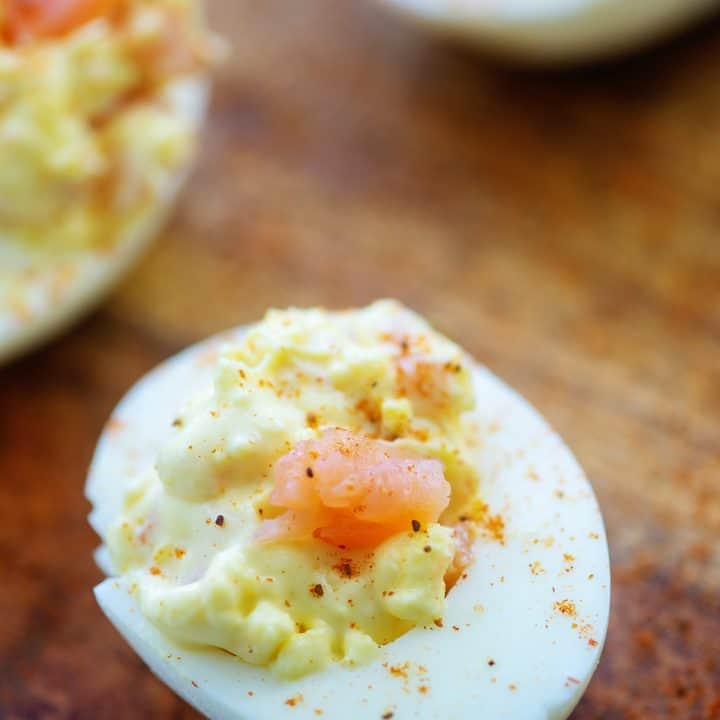 Smoked Salmon Deviled Eggs
These keto deviled eggs are jam packed with smoked salmon to give them a smoky flavor. We also stir in cream cheese and then top them off with a bit of Old Bay.
Ingredients
6 large hard boiled eggs
⅓ cup mayonnaise
2 ounces cream cheese, softened
1 teaspoon dijon mustard
1 teaspoon salt
4 ounces smoked salmon, minced
Old Bay seasoning, for garnish
Instructions
Peel the hard boiled eggs and slice in half. Remove the yolks to a small bowl and set whites aside.
Add the mayonnaise, cream cheese, dijon mustard, and salt to the bowl with the yolks and use a fork to mash it all together until smooth and creamy.
Fold the smoked salmon into the mixture.
Spoon the mixture evenly between the egg whites.
Sprinkle with Old Bay just before serving.
Notes
You will likely have a bit of filling leftover. It's delicious eaten on it's own or on a low carb cracker.
We prefer cold smoked salmon in this recipe, but any smoked salmon will work.
Nutrition Information:
Yield: 6
Serving Size: 2 deviled eggs
Amount Per Serving:
Calories: 216
Total Fat: 18g
Saturated Fat: 5g
Trans Fat: 0g
Unsaturated Fat: 12g
Cholesterol: 205mg
Sodium: 947mg
Carbohydrates: 1g
Fiber: 0g
Sugar: 1g
Protein: 10g
All information and tools presented and written within this site are intended for informational purposes only. This information is provided as a courtesy and there is no guarantee that the information is accurate.