Garlic butter shrimp is a quick, 20 minute keto shrimp recipe that tastes like it came from a fancy restaurant! Read the reviews – people are raving about this recipe!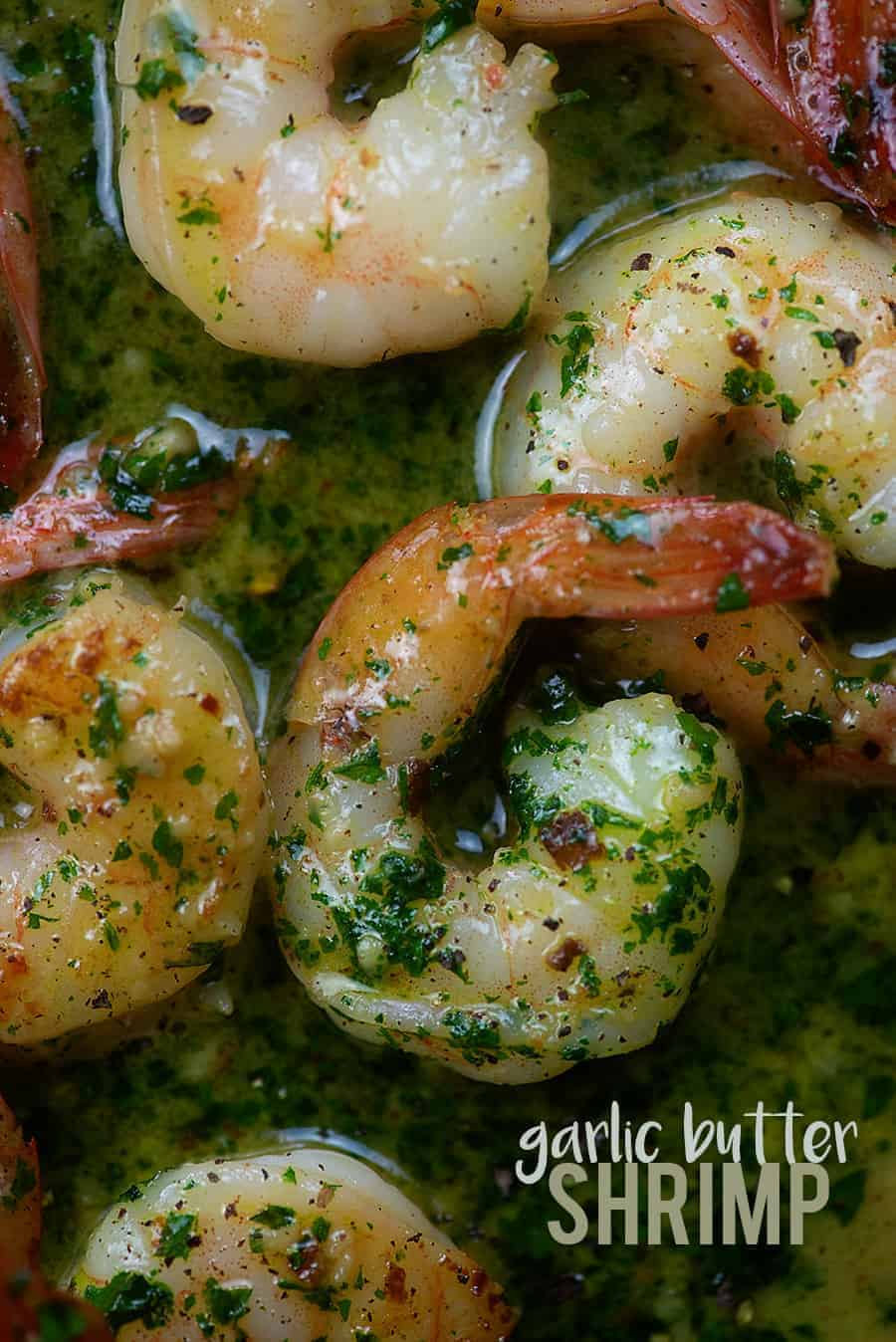 Everyone thinks that food bloggers must eat such fancy dinners every night.
They imagine all this 5 star restaurant quality food coming out of the kitchen for every meal and, well, I don't want to shatter any illusions you may have, but ha. Hahahaha.
I love good food and I can certainly cook a delicious meal.
Also, I am lazy and I love Netflix and laying on the couch while my dog does her weird purr-growl thing at me while I rub her belly.
Sooooo, it's not all fancy dinners all the time.
In fact, it's very often easy dinners that take about 20 minutes to make. Netflix isn't going to watch itself, you know?
Luckily, I've gotten really good at making a 20 minute dinner taste like it came from a fancy restaurant. This lemon garlic butter shrimp recipe is one of those recipes, my friends.
Low carb shrimp recipes are the best, because shrimp cooks so dang fast and easily. Our cilantro lime shrimp and creamy tuscan shrimp are a couple of other quick favorites!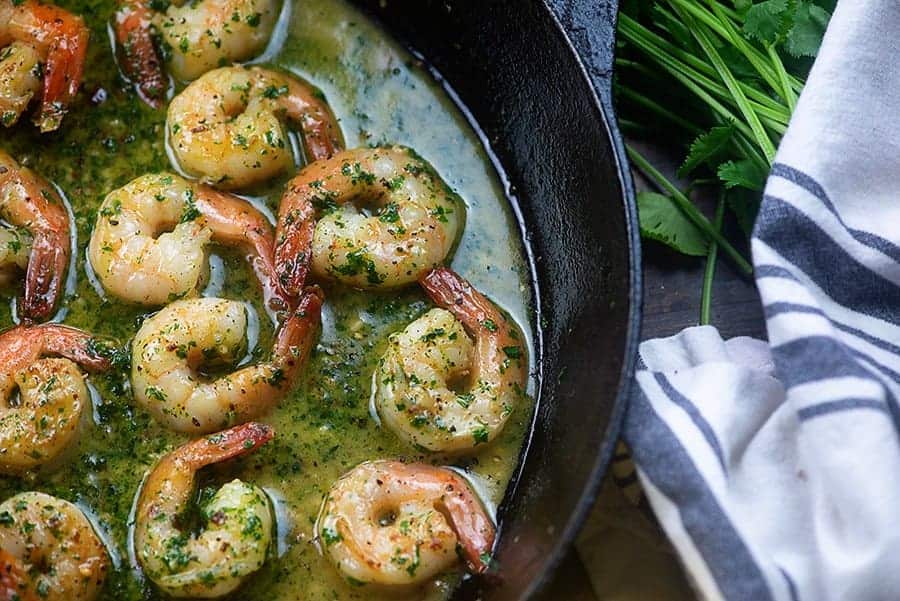 Ingredient Notes:
This post contains affiliate links. As an Amazon associate and member of other affiliate programs, I earn from qualifying purchases.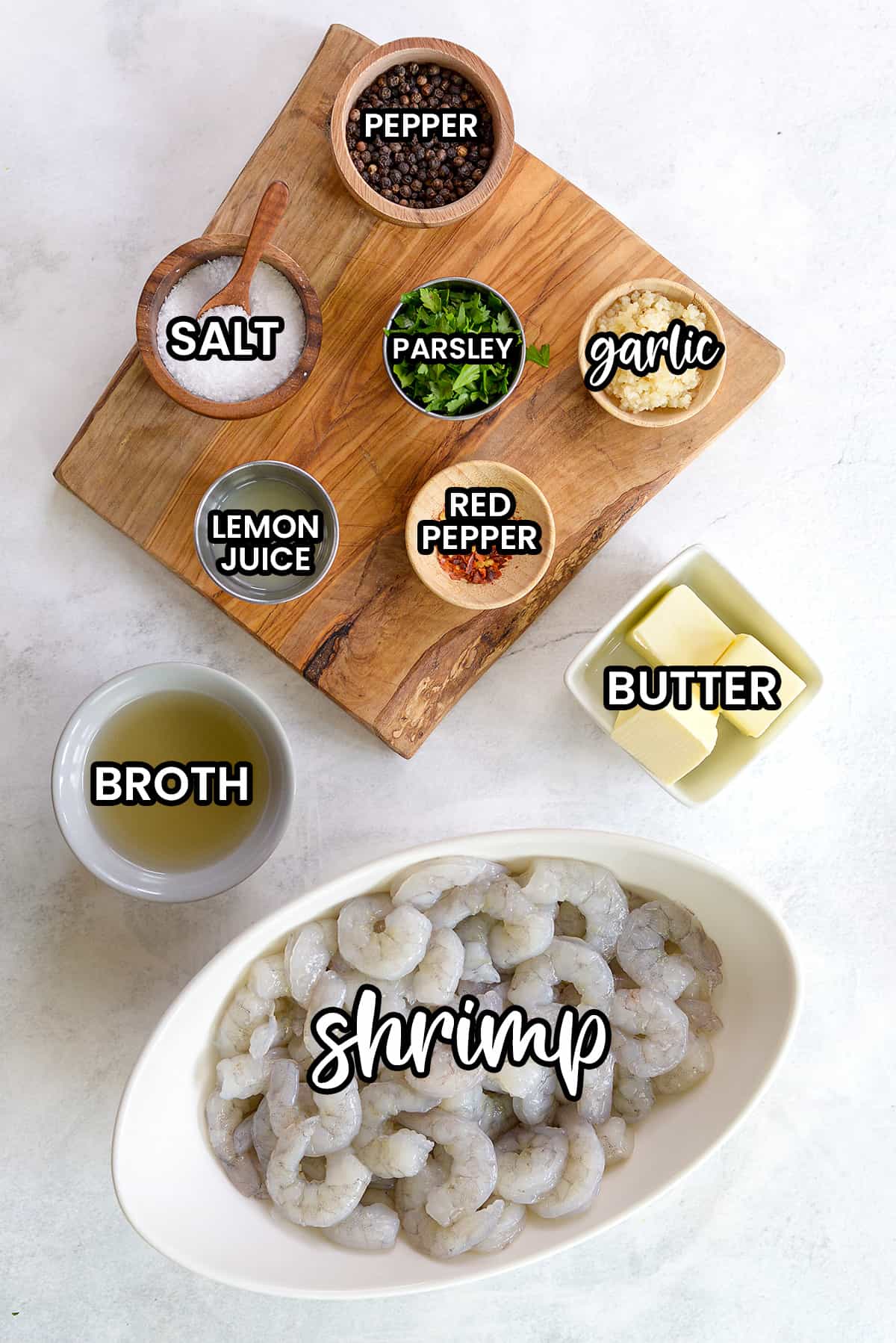 Shrimp – I like jumbo shrimp, but you can use any size. You'll want to use either fresh shrimp, or frozen and thawed shrimp.
Garlic Butter Sauce – This savory garlic butter shrimp sauce is amazing – it's just butter, garlic, lemon juice, and a bit of broth and red pepper flakes.
Why We Love This Recipe:
This recipe is ready in just 20 minutes from start to finish!
This dish is naturally low carb – no funky ingredients or weird swaps and everyone loves it, regardless of diet!
Check the reviews – this dish is made to impress guests and it does the job well!
Helpful Tools:
Cast Iron Skillet – A good cast iron skillet really does make a difference! They can get really hot, and they are perfect for frying things like shrimp, or bacon! Get yourself a nice large cast iron sized skillet so you have plenty of room.
Citrus Squeezer – This handy tool is made for squeezing lemons and limes! It cuts down on mess and you can be sure you'll get every last drop of citrus out of the fresh fruit.
How To Make Garlic Butter Shrimp:
Shrimp – Heat up a skillet and add in some butter. Once the butter is melted, drop in your shrimp and cook, stirring occasionally, until the shrimp are cooked through. This should take about 5 minutes, depending on the size of your shrimp. You'll know they're done when they turn a pretty pink. Remove the shrimp to a plate and set aside.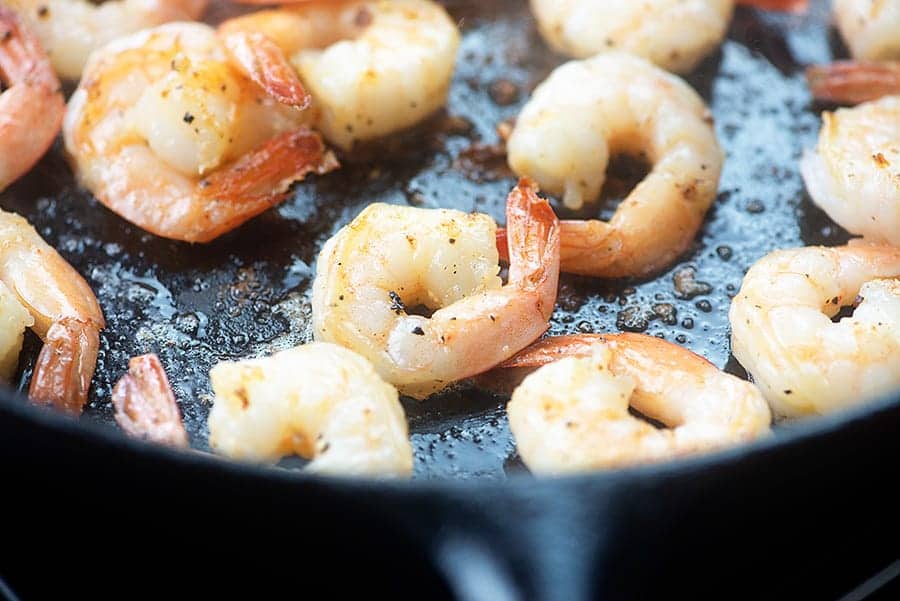 Garlic – Drop some minced garlic into your hot pan and stir it around for about 30 seconds. Whisk in some chicken broth and let that reduce for a few minutes, stirring often. Once your chicken broth has reduced down, add some butter. This is going to make the sauce so rich and creamy.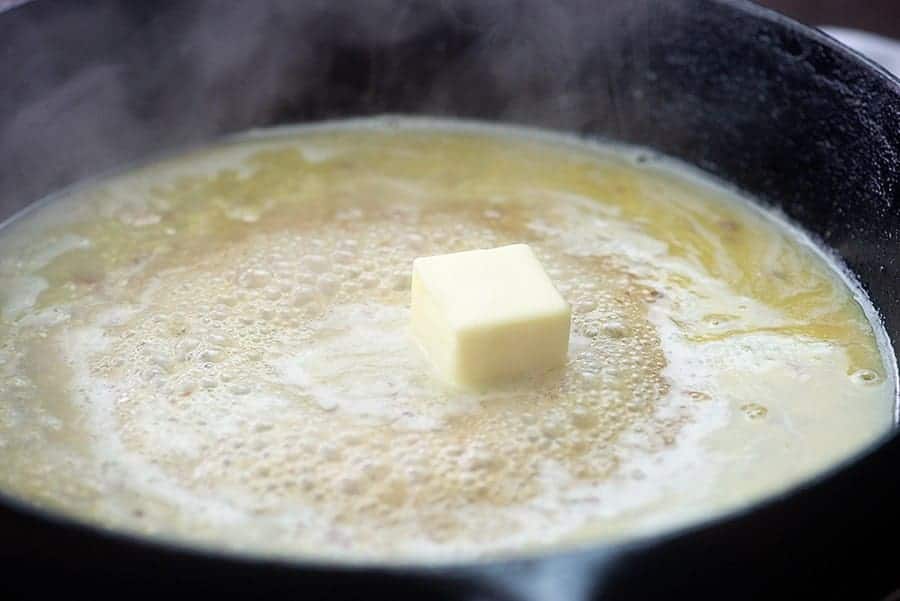 Lemon – Squeeze in a bit of lemon and add a dash of red pepper. The amount called for won't really give you a spicy garlic shrimp, but it does give it just a little kick. Add more or less depending on your tastes. You really can't mess this up.
Mix – Finally, add your shrimp back into the sauce, give it a good stir, and add in some fresh parsley.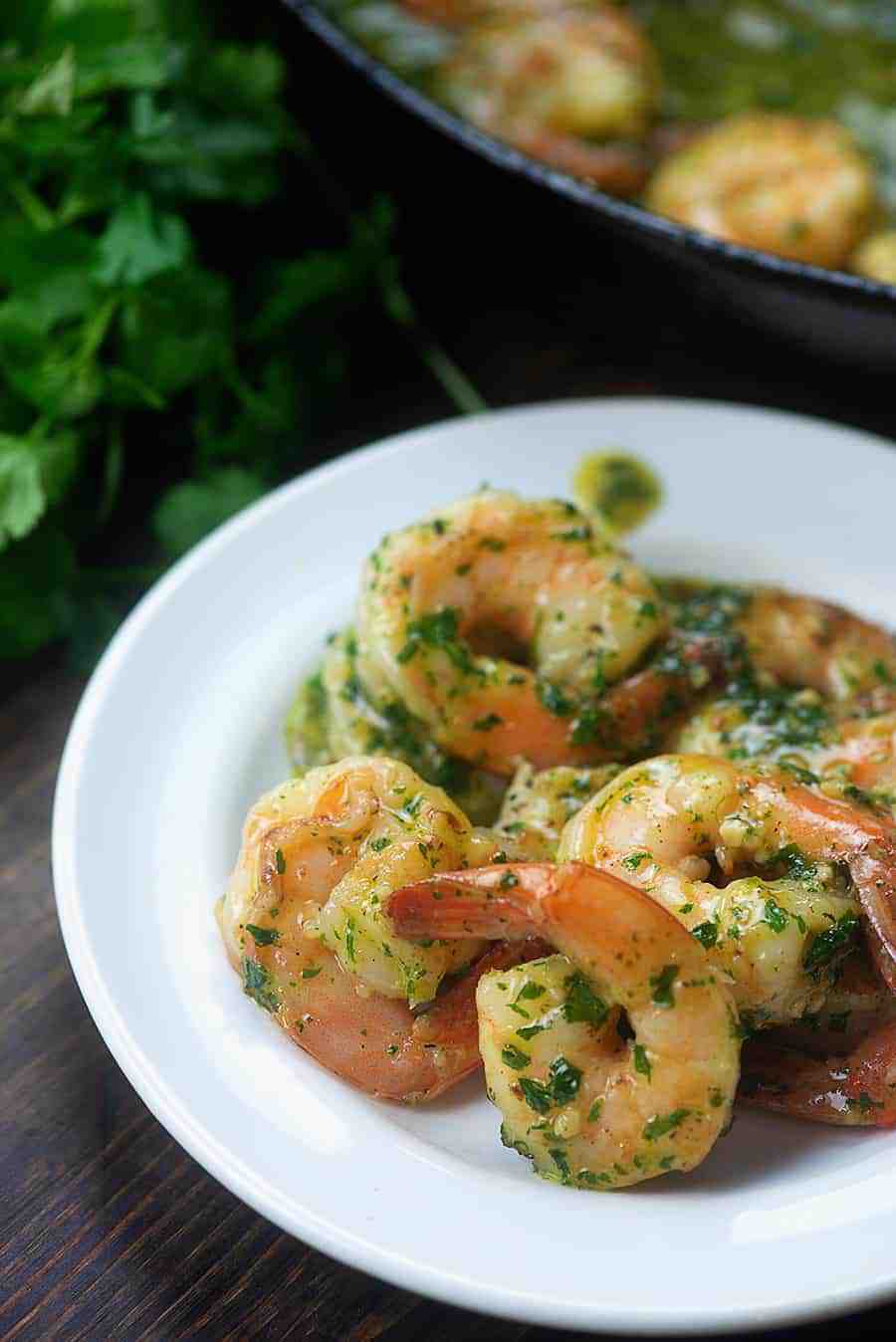 Serve –If you'd like to keep this low carb, but go the garlic butter shrimp pasta route (and why wouldn't you want to do that?), the shrimp is so amazing served over zucchini noodles.
Just spiralize your zucchini, pat it down to remove any excess water, and then toss it in a hot pan with a little olive oil. Cook for about 2 minutes and then drizzle the zoodles with a little of this buttery garlic sauce and top with the shrimp!
FAQs:
How to store garlic butter shrimp?
Personally I'm not a big fan of leftover seafood(fresh is best!), but this garlic butter shrimp will keep in the fridge for up to 3 days if well sealed.
Is shrimp healthy?
Shrimp is a nutritious protein that's low in calories, high in protein, and packed with vitamins and minerals.
For more seafood, check out my lemon baked cod. And if you're just really feeling the easy recipes, try these slow cooker chicken wings. They're tossed in BBQ and you'll never guess what my low carb BBQ sauce is made of. 🙂
Even More Keto Seafood Recipes:
If you like this garlic butter shrimp recipe, let me know in the comment section below.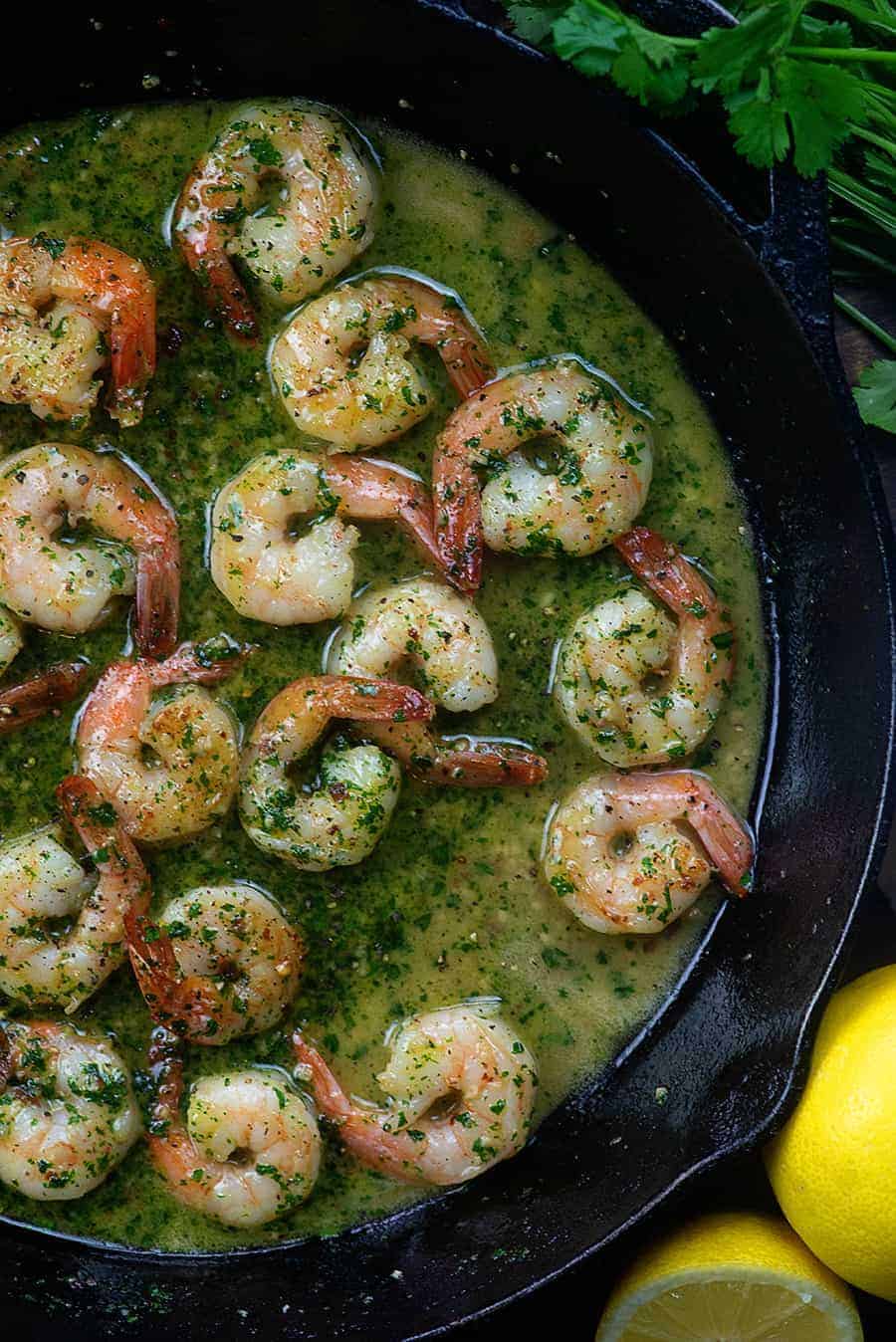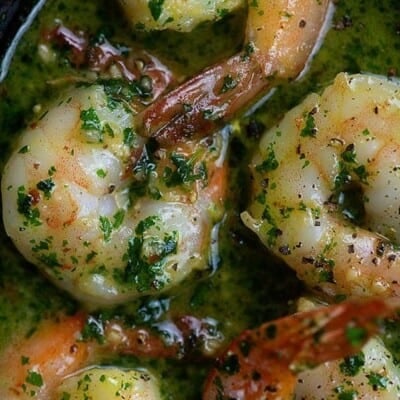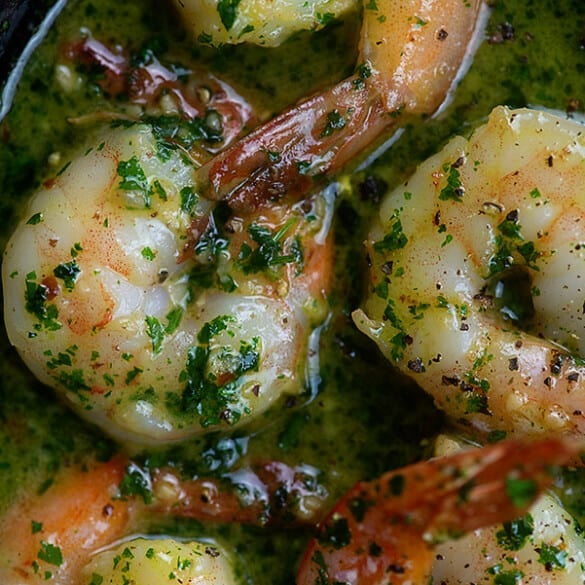 Garlic Butter Shrimp
Ready in 20 minutes, this garlic butter shrimp recipe tastes like a fancy meal but it's easy enough for any night of the week. Serve over zucchini noodles or with a side of steamed broccoli.
Prep2 minutes
Cook18 minutes
Total20 minutes
Ingredients
1 pound large raw shrimp peeled and deveined
6 tablespoons butter divided
1/2 teaspoon kosher salt
1/2 teaspoon black pepper
5 garlic cloves minced
1/2 cup chicken stock
¼ teaspoon red pepper flakes
2 tablespoons lemon juice
2 tablespoons minced parsley
Instructions
Heat 2 tablespoons of butter in a large heavy bottomed skillet over medium heat.

Add the shrimp to the skillet and sprinkle with salt and pepper.

Cook, stirring occasionally, for 4-5 minutes or until shrimp is cooked through.

Remove shrimp to a plate and set aside.

Add the garlic to the skillet and cook, stirring constantly, for 30 seconds.

Add the chicken stock and whisk to combine. Simmer until stock has reduced by half about 5-10 minutes.

Add the remaining 4 tablespoons butter, lemon juice, and red pepper to the sauce. Stir to melt the butter and cook for 2 more minutes.

Remove from the heat and return the shrimp to the sauce. Sprinkle the parsley over the top and stir to combine.

Serve immediately.
Tips & Notes:
The red pepper flakes don't really make this dish spicy, but you can reduce or omit them if you'd like. You may use any size shrimp you like – adjust cook time as needed.
Nutrition Information:
Serving: 1| Calories: 307kcal (15%)| Carbohydrates: 3g (1%)| Protein: 27g (54%)| Fat: 20g (31%)| Saturated Fat: 12g (75%)| Polyunsaturated Fat: 6g| Trans Fat: 1g| Cholesterol: 286mg (95%)| Sodium: 1522mg (66%)| Sugar: 1g (1%)| Net Carbs: 3g (6%)