Posted: 05.03.18
Updated: 11.08.19
Garlic butter shrimp is one of those keto shrimp recipes that you'll make again and again – so easy and bursting with flavor!

Everyone thinks that food bloggers must eat such fancy dinners every night.
They imagine all this 5 star restaurant quality food coming out of the kitchen for every meal and, well, I don't want to shatter any illusions you may have, but ha. Hahahaha.
I love good food and I can certainly cook a delicious meal.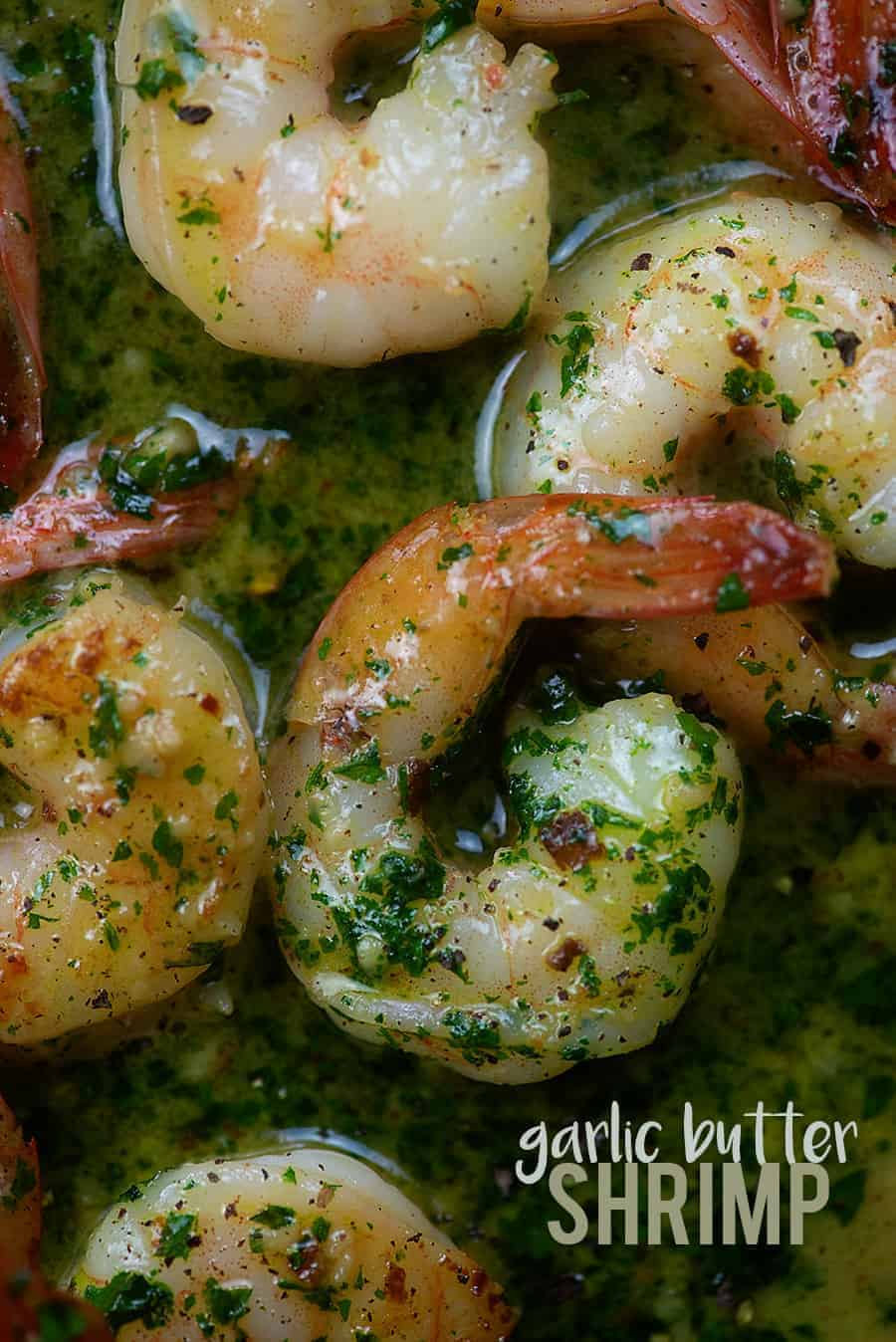 Also, I am lazy and I love Netflix and laying on the couch while my dog does her weird purr-growl thing at me while I rub her belly.
Sooooo, it's not all fancy dinners all the time.
In fact, it's very often easy dinners that take about 20 minutes to make. Netflix isn't going to watch itself, you know?
Luckily, I've gotten really good at making a 20 minute dinner taste like it came from a fancy restaurant. This lemon garlic butter shrimp is one of those recipes, my friends.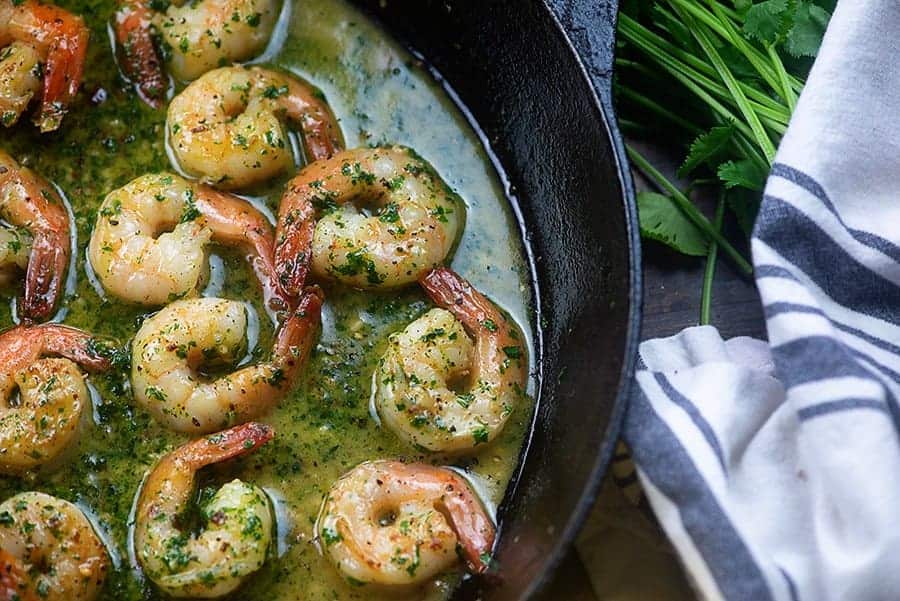 Low carb shrimp recipes are the best, because shrimp cooks so dang fast and easily. Do you make it at home often?
How to make lemon garlic butter shrimp:
I like to use jumbo shrimp for this recipe, but you can use any size you have on hand. Just adjust your cooking time as needed.
Heat up a skillet and add in some butter.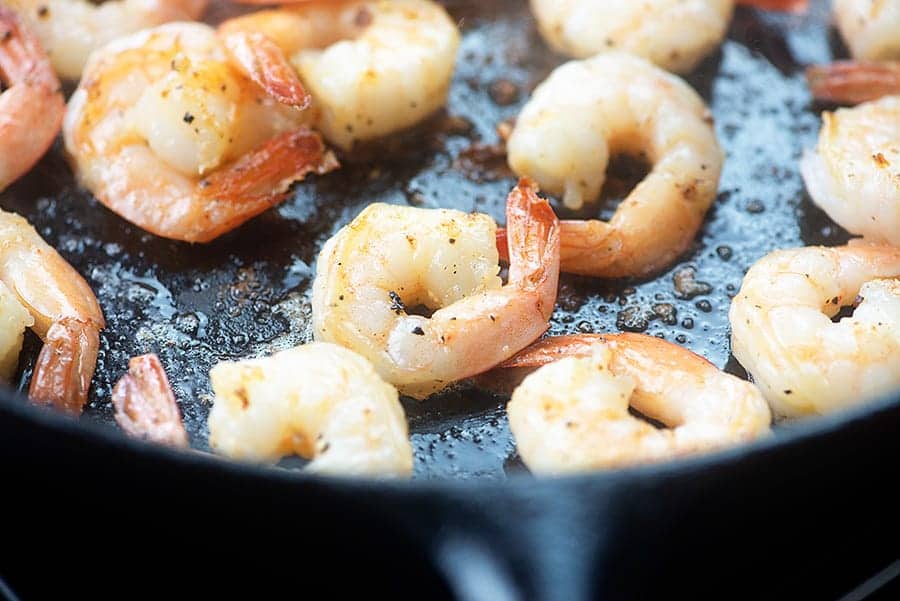 Once the butter is melted, drop in your shrimp and cook, stirring occasionally, until the shrimp are cooked through. This should take about 5 minutes, depending on the size of your shrimp. You'll know they're done when they turn a pretty pink.
Remove the shrimp to a plate and set aside.
Drop some minced garlic into your hot pan and stir it around for about 30 seconds. Whisk in some chicken broth and let that reduce for a few minutes, stirring often.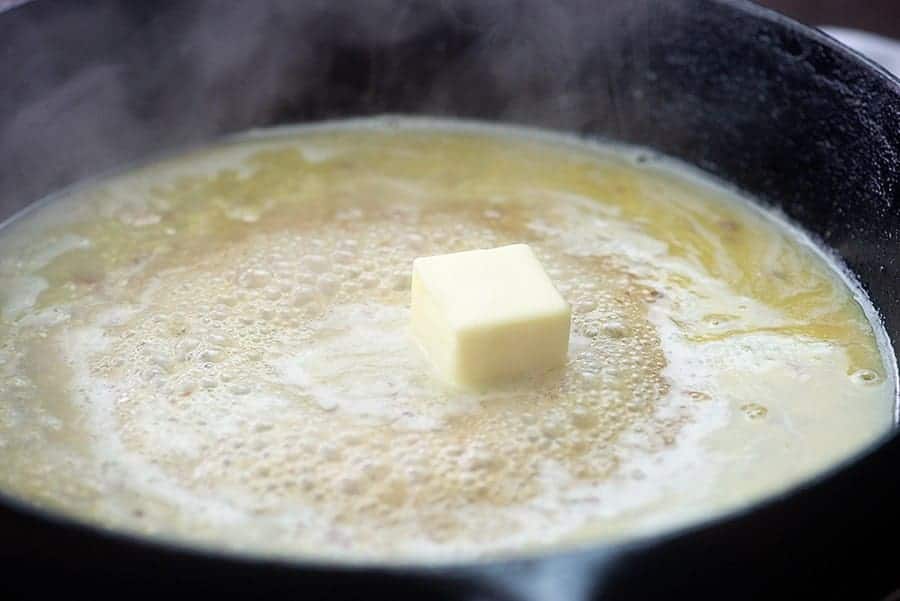 Once your chicken broth has reduced down, add some butter. This is going to make the sauce so rich and creamy.
Squeeze in a bit of lemon and add a dash of red pepper. The amount called for won't really give you a spicy garlic shrimp, but it does give it just a little kick. Add more or less depending on your tastes. You really can't mess this up.
Finally, add your shrimp back into the sauce, give it a good stir, and add in some fresh parsley.
You're done!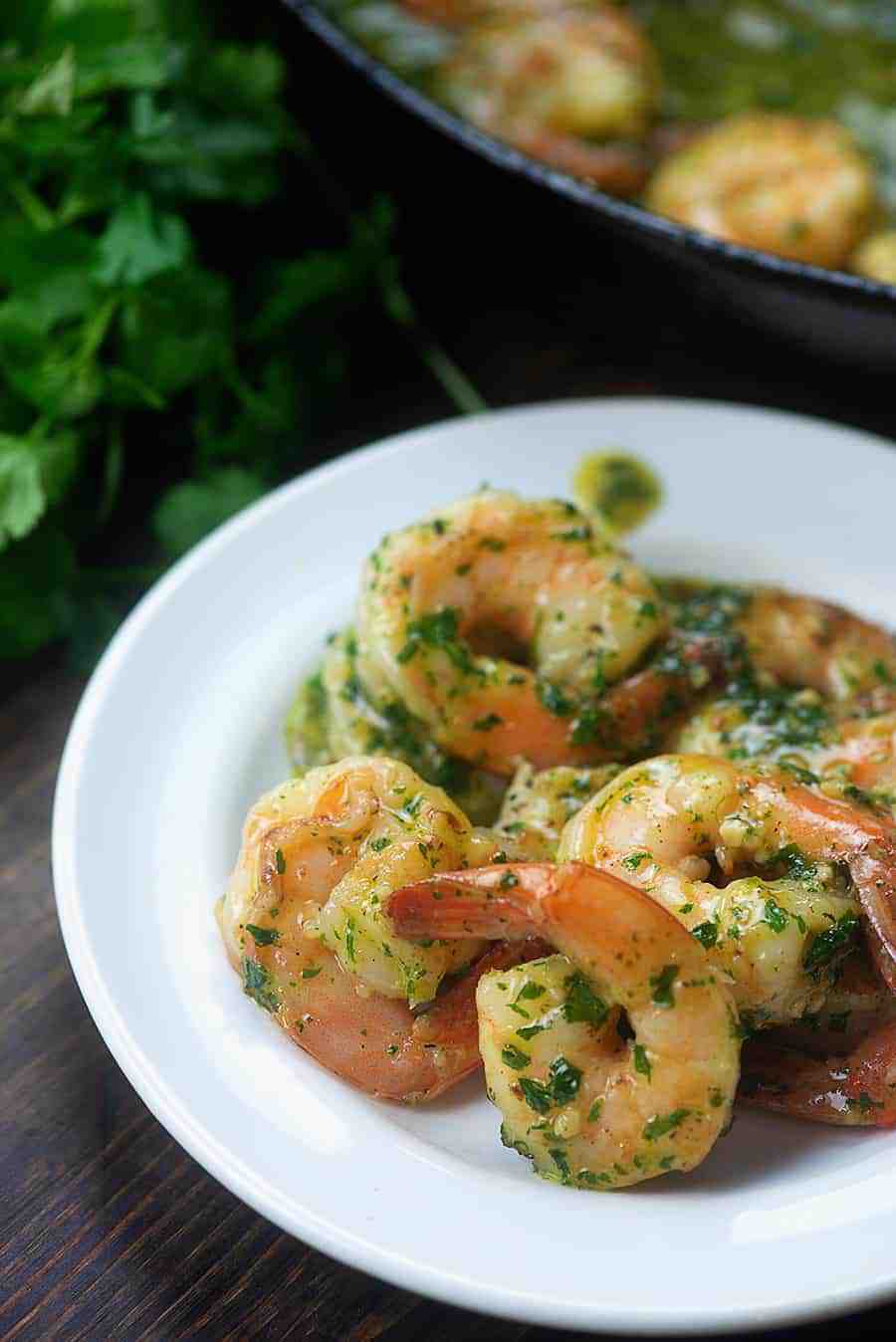 If you'd like to keep this low carb, but go the garlic butter shrimp pasta route (and why wouldn't you want to do that?), the shrimp is so amazing served over zucchini noodles.
Just spiralize your zucchini, pat it down to remove any excess water, and then toss it in a hot pan with a little olive oil. Cook for about 2 minutes and then drizzle the zoodles with a little of this buttery garlic sauce and top with the shrimp!
This is the spiralizer I use and I love it. (affiliate link)
If you like this garlic butter shrimp recipe, let me know in the comment section below. I know that some people are not huge seafood fans, so I'm definitely open to hearing your opinions. More low carb shrimp recipes coming your way, unless I hear otherwise!
For more seafood, check out my lemon baked cod. And if you're just really feeling the easy recipes, try these slow cooker chicken wings. They're tossed in BBQ and you'll never guess what my low carb BBQ sauce is made of. 🙂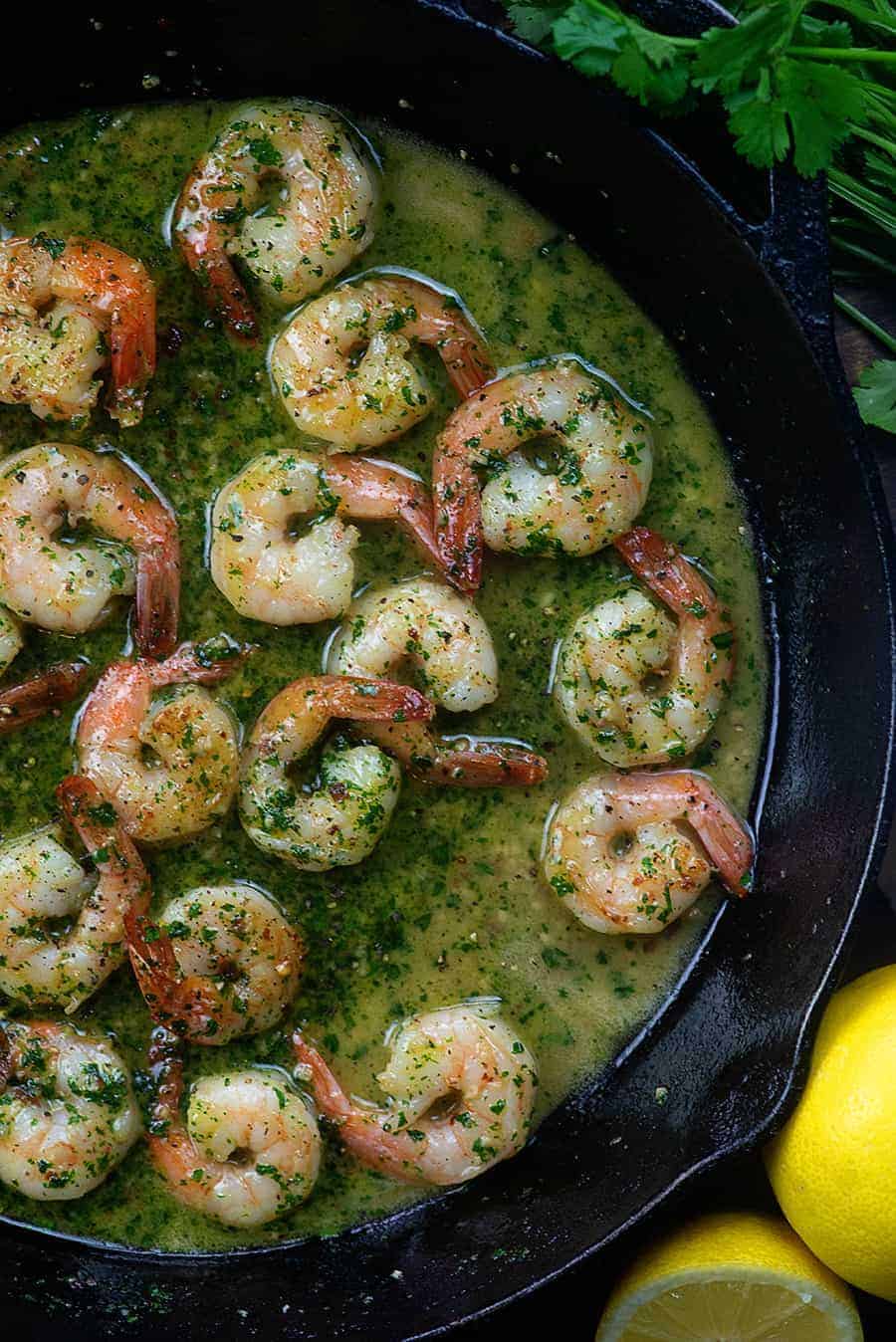 Follow me on social for more recipe ideas & inspiration!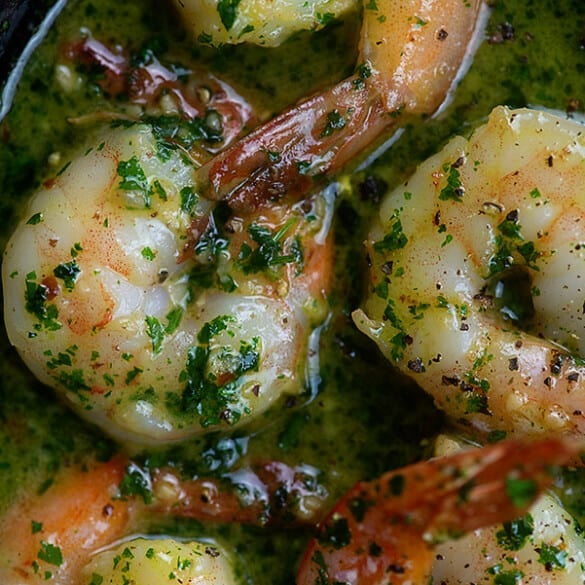 Garlic Butter Shrimp
Ready in 20 minutes, this garlic butter shrimp recipe tastes like a fancy meal but it's easy enough for any night of the week. Serve over zucchini noodles or with a side of steamed broccoli.
Ingredients
1 pound shrimp, peeled and deveined
6 tablespoons butter, divided
1/2 teaspoon kosher salt
1/2 teaspoon black pepper
5 garlic cloves, minced
1/2 cup chicken stock
¼ teaspoon red pepper flakes
2 tablespoons lemon juice
2 tablespoons minced parsley
Instructions
Heat 2 tablespoons of butter in a large heavy bottomed skillet over medium heat.
Add the shrimp to the skillet and sprinkle with salt and pepper.
Cook, stirring occasionally, for 4-5 minutes or until shrimp is cooked through.
Remove shrimp to a plate and set aside.
Add the garlic to the skillet and cook, stirring constantly, for 30 seconds.
Add the chicken stock and whisk to combine. Simmer until stock has reduced by half about 5-10 minutes.
Add the remaining 4 tablespoons butter, lemon juice, and red pepper to the sauce. Stir to melt the butter and cook for 2 more minutes.
Remove from the heat and return the shrimp to the sauce. Sprinkle the parsley over the top and stir to combine.
Serve immediately.
Nutrition Information:
Yield:

4
Serving Size:

1
Amount Per Serving:
Calories:

307
Total Fat:

20g
Saturated Fat:

12g
Trans Fat:

1g
Unsaturated Fat:

6g
Cholesterol:

286mg
Sodium:

1522mg
Carbohydrates:

3g
Net Carbohydrates:

3g
Fiber:

0g
Sugar:

1g
Protein:

27g
All information and tools presented and written within this site are intended for informational purposes only. This information is provided as a courtesy and there is no guarantee that the information is accurate.
Want To Save This Recipe?