This creamy Cajun salmon recipe is keto friendly, family friendly, and quick and simple enough for any night of the week! That cajun cream sauce is so flavorful and the perfect way to spice up your salmon filets! One skillet and ready in just 25 minutes!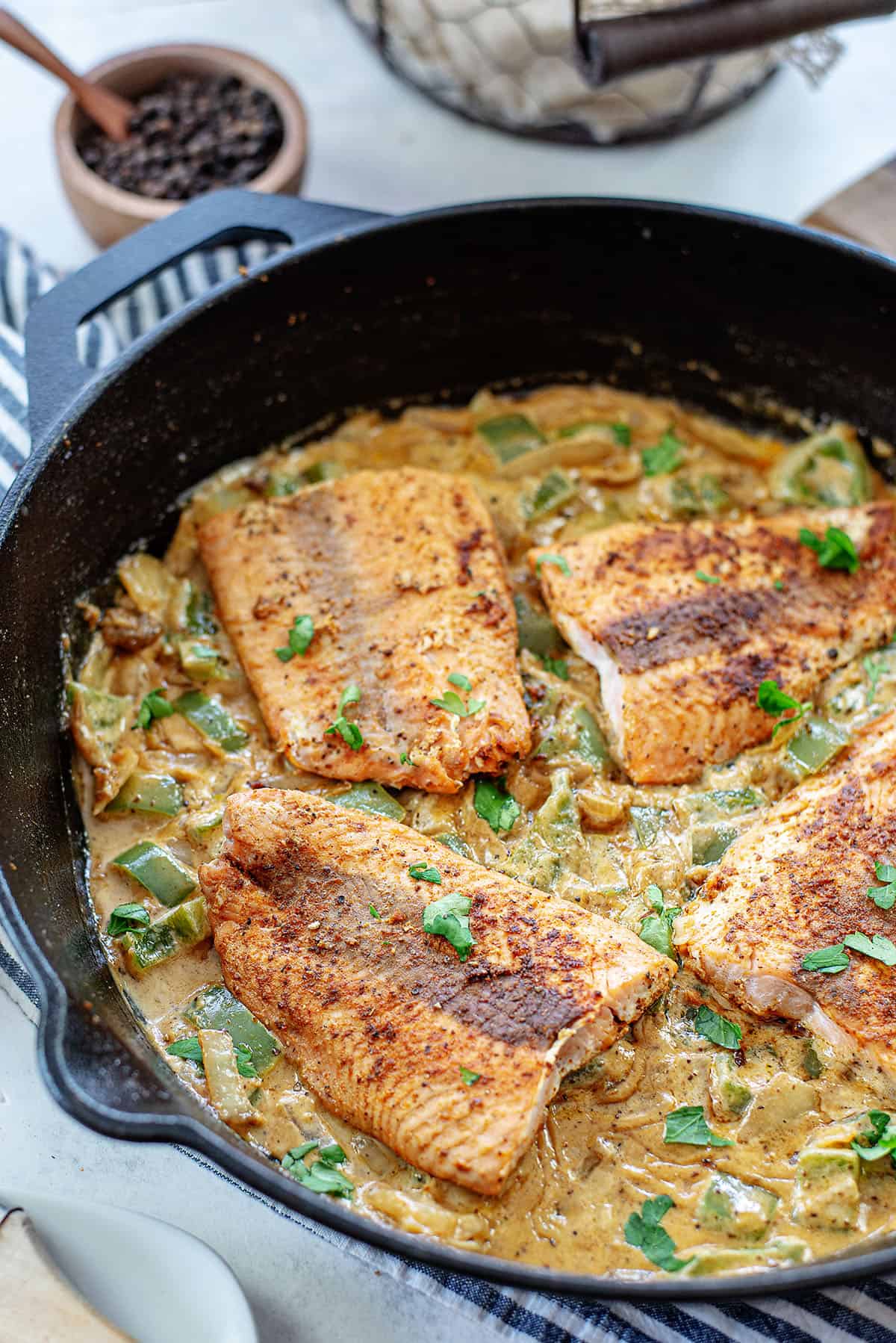 What is it about a cream sauce that just makes dinner feel a little fancy?
I don't know, but I love it, because creamy sauces are a breeze to make and they really do dress up any meal!
This creamy Cajun salmon is the perfect example. Sure, you could rub some Cajun spice on salmon and call it a day, but why not elevate the dish by making a simple sauce out of peppers, onion, and cream??
We're big fans of Cajun flavors in our house, if you hadn't noticed and you'll find us sprinkling our favorite Cajun blend on all kinds of things, from eggs to broccoli to chicken.
Ingredient Notes:
This post contains affiliate links. As an Amazon associate and member of other affiliate programs, I earn from qualifying purchases.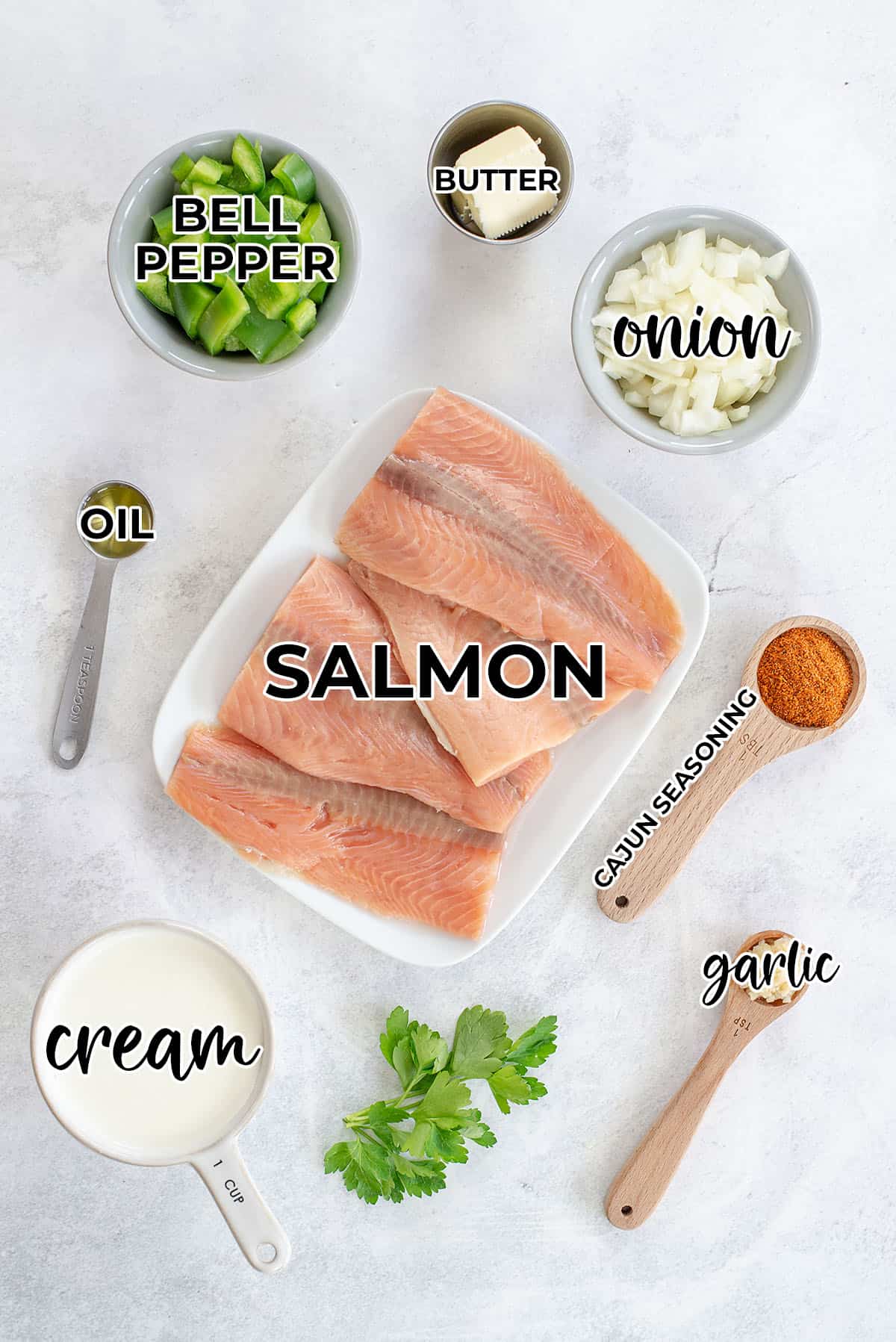 Salmon Filets – We prefer wild caught salmon.
Veggies – Bell peppers, onions, and garlic add texture and flavor to the sauce.
Creamy Cajun Sauce – You'll coat the salmon and veggies in your preferred brand of Cajun seasoning, which will then also get mixed up with some heavy cream to make the flavorful rich sauce for this fish dish! Half and half or light cream would also work, but the sauce won't be as thick.
Our Favorite Cajun Seasoning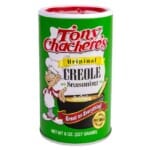 We use and love Tony Chachere's Original Creole Seasoning in our house! It has a nice kick to it, is perfect for seasoning steak, chicken, and pork or amping up the flavor of roasted veggies, soups, and even eggs. We use it on just about everything and it's perfect in this recipe!
How To:
Season – Start by patting the salmon filets dry and then drizzling on the olive oil, which will help hold the Cajun seasoning in place. Sprinkle on your favorite Cajun seasoning (hot or mild is up to you!) and then rub it in to coat the salmon filets.
Salmon – The best way to start cooking these filets is to do so with the skin side down. It'll take longer to cook through the skin, and it won't dry out as quickly! Once the skin is crispy you can give it a flip and let it cook through, but don't overcook it! It should be done when it easily flakes apart with a fork.
Sauté – Remove the salmon and set it aside. Start melting butter in the same skillet and then add in the bell pepper and onion. Sprinkle some more of the Cajun seasoning onto the veggies and then start sautéing them until they've softened up, about five minutes. Finally, add in the garlic and cook for another minute, until fragrant.
Sauce – Now for the creamy sauce! It's really pretty simple, just pour a cup of heavy cream into the skillet with the veggies and seasoning and then give it all a good whisk while doing your best to scrape up any browned bits on the skillet bottom. Those browned bits are flavor! Let the creamy sauce cook for a few minutes over low heat and it will quickly thicken up.
Serve – And last but not least you can now return the cooked Cajun salmon filets to the skillet with the creamy sauce and veggies and then coat the filets in all that wonderful sauce. We like to garnish these filets with some freshly chopped parsley. Try this dish with some flavorful Instant Pot steamed broccoli or perhaps some roasted asparagus as a side!
Helpful Tip!
Use any colored bell pepper you like – red peppers are the sweetest!
Mince the vegetables up very fine if you have picky eaters. Leave them in large chunks if you like the texture!
Why We Love This Recipe:
This is a simple dish that's ready in less than 30 minutes, but still looks and tastes like it took a good bit of effort.
The cream sauce balances out the spice of the Cajun seasoning nicely, but it's easy to make things more spicy (extra cayenne) or less spicy (less seasoning) with simple adjustments.
Everything cooks in one dish, which makes for easy clean up!
FAQ's:
How long is cooked salmon good for?
Cooked salmon will last in the fridge for up to 3 days. To reheat, we recommend using a low power and cooking in 30 second increments in the microwave along with the sauce.
Is salmon keto?
Yes, like all fresh meat and seafood it is keto! Some recipes may add ingredients that are not but the ingredients in this recipe are keto friendly, so no worries!
Creamy Cajun Chicken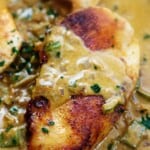 This low carb creamy Cajun chicken recipe features pan seared chicken breast and veggies coated in Cajun seasoning with a rich, creamy sauce!
It has all the same flavors as this salmon recipe and is just as easy, but we used chicken breasts instead!
More Low Carb Seafood Recipes: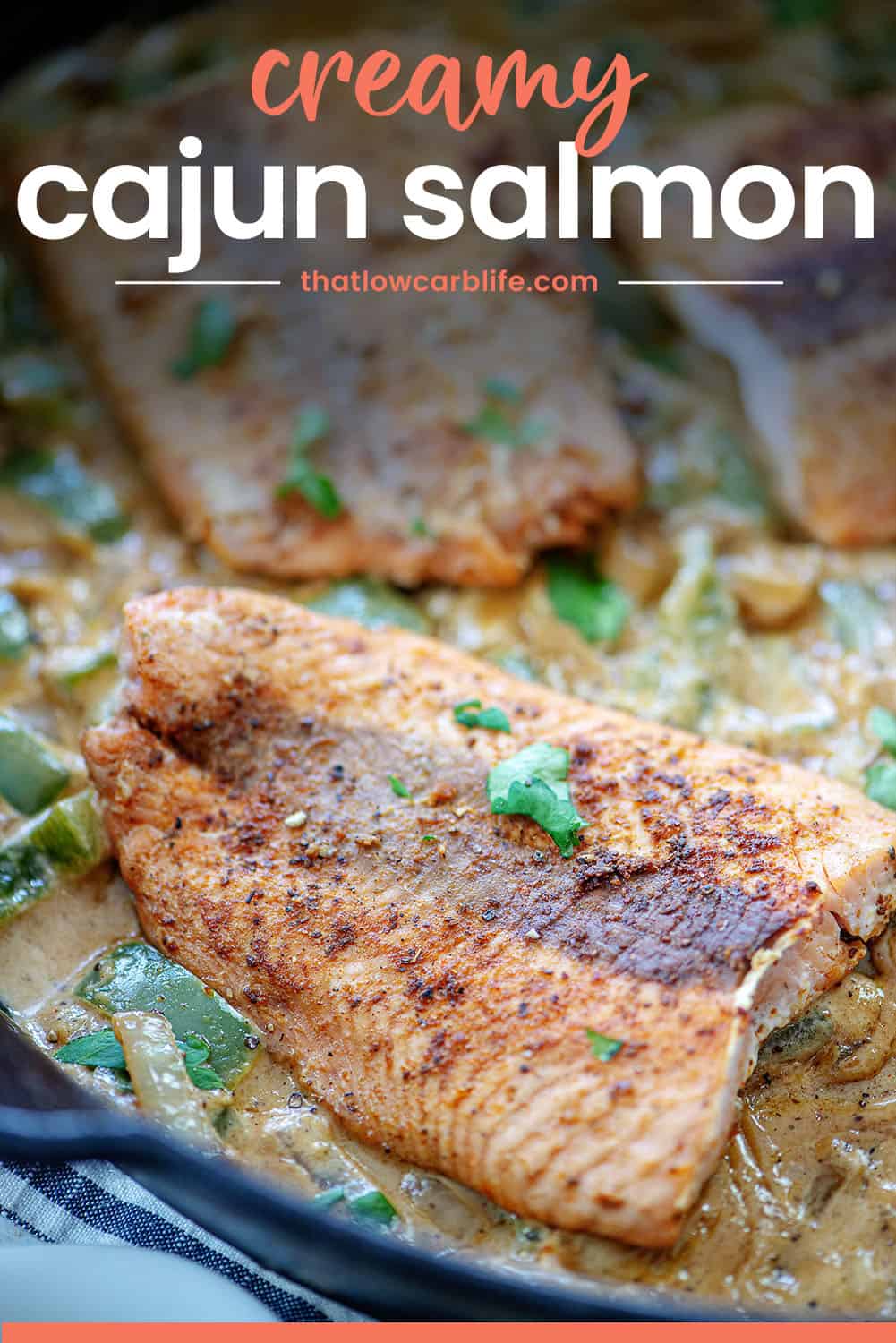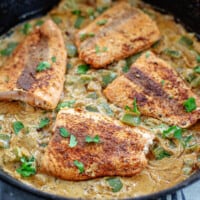 Creamy Cajun Salmon
Making a quick cream sauce really elevates this dish into something special. The spice of the Cajun seasoning gets balanced out nicely with the creamy sauce and everything cooks together in one skillet.
Ingredients
4 salmon filets
1 teaspoon olive oil
3 teaspoons Cajun seasoning, divided
2 tablespoons butter
½ yellow onion, diced
1 green bell pepper, diced
2 cloves garlic, minced
1 cup heavy cream
Fresh chopped parsley, for garnish
Instructions
Pat the salmon dry and drizzle with olive oil. Season with 2 teaspoons of Cajun seasoning and rub it in to coat the salmon.
Heat a large skillet over medium heat and add the salmon skin side down. Cook until the skin is crispy, about 3-4 minutes. Flip salmon and cook for 3 more minutes or until salmon is cooked through.
Remove the salmon to a plate and set aside.
Add the butter to the skillet and melt.
Add the onion and pepper to the skillet and sprinkle with the remaining teaspoon of Cajun seasoning. Stir to coat.
Cook, stirring occasionally, until vegetables have softened, about 5 minutes. Stir in the garlic and cook for 1 minute more.
Add the heavy cream to the pan and whisk, scraping up any browned bits on the bottom of the pan. Let the sauce cook for 3-4 minutes to thicken over low heat.
Return the salmon to the skillet and coat with the sauce.
Sprinkle with fresh parsley before serving.
Notes
The longer you cook the sauce, the thicker it will get. We like it runny enough to spoon over the salmon. You can easily thin it back out by stirring additional cream, if needed.
Taste the sauce and add additional cajun seasoning, if desired.
Nutrition Information:
Yield: 4
Serving Size: 1
Amount Per Serving:
Calories: 749
Total Fat: 57g
Saturated Fat: 23g
Trans Fat: 1g
Unsaturated Fat: 29g
Cholesterol: 226mg
Sodium: 1015mg
Carbohydrates: 5g
Net Carbohydrates: 4g
Fiber: 1g
Sugar: 3g
Protein: 53g
All information and tools presented and written within this site are intended for informational purposes only. This information is provided as a courtesy and there is no guarantee that the information is accurate.