This Instant Pot Broccoli recipe is so easy and it makes perfectly steamed broccoli in no time! Steam it in chicken stock for lots of flavor!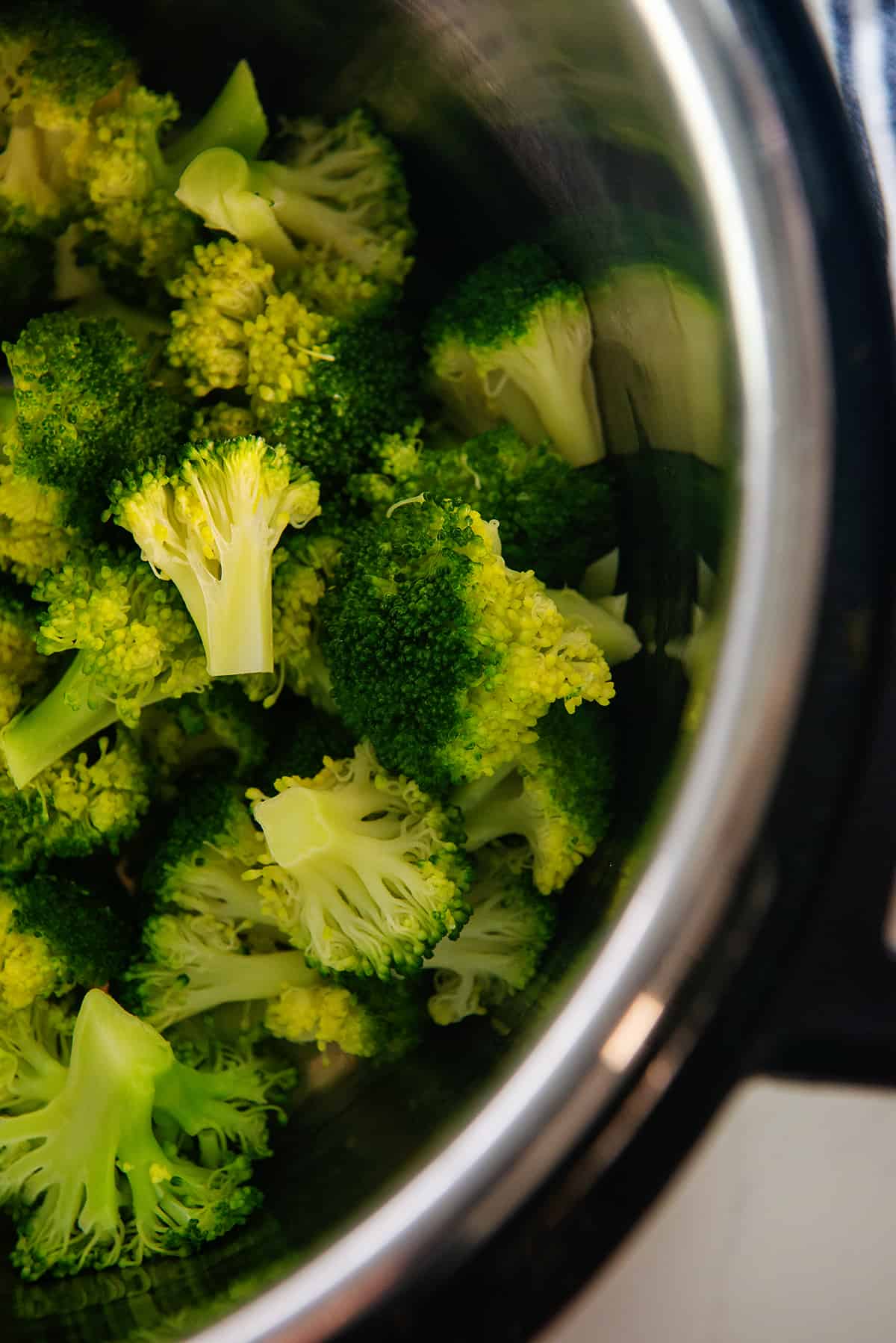 Just when you guys thought I was out of broccoli recipes for you…nope. Never. I love broccoli and I'll continue coming up with new ways to cook it!
This one here isn't really anything fancy – it's basically just steamed broccoli in the Instant Pot! But, it does have some added flavor from cooking in chicken stock and it comes out perfectly tender-crisp every time, which basically zero work on your part!
This has been my go to way to steam broccoli lately and you know we eat a lot of broccoli in this house. It's the one vegetable that everyone in my family likes. Sure, they'll tolerate lots of veggies, but they LIKE broccoli!
Especially when we pour our keto Alfredo sauce or keto cheese sauce over the top!
Ingredient Notes: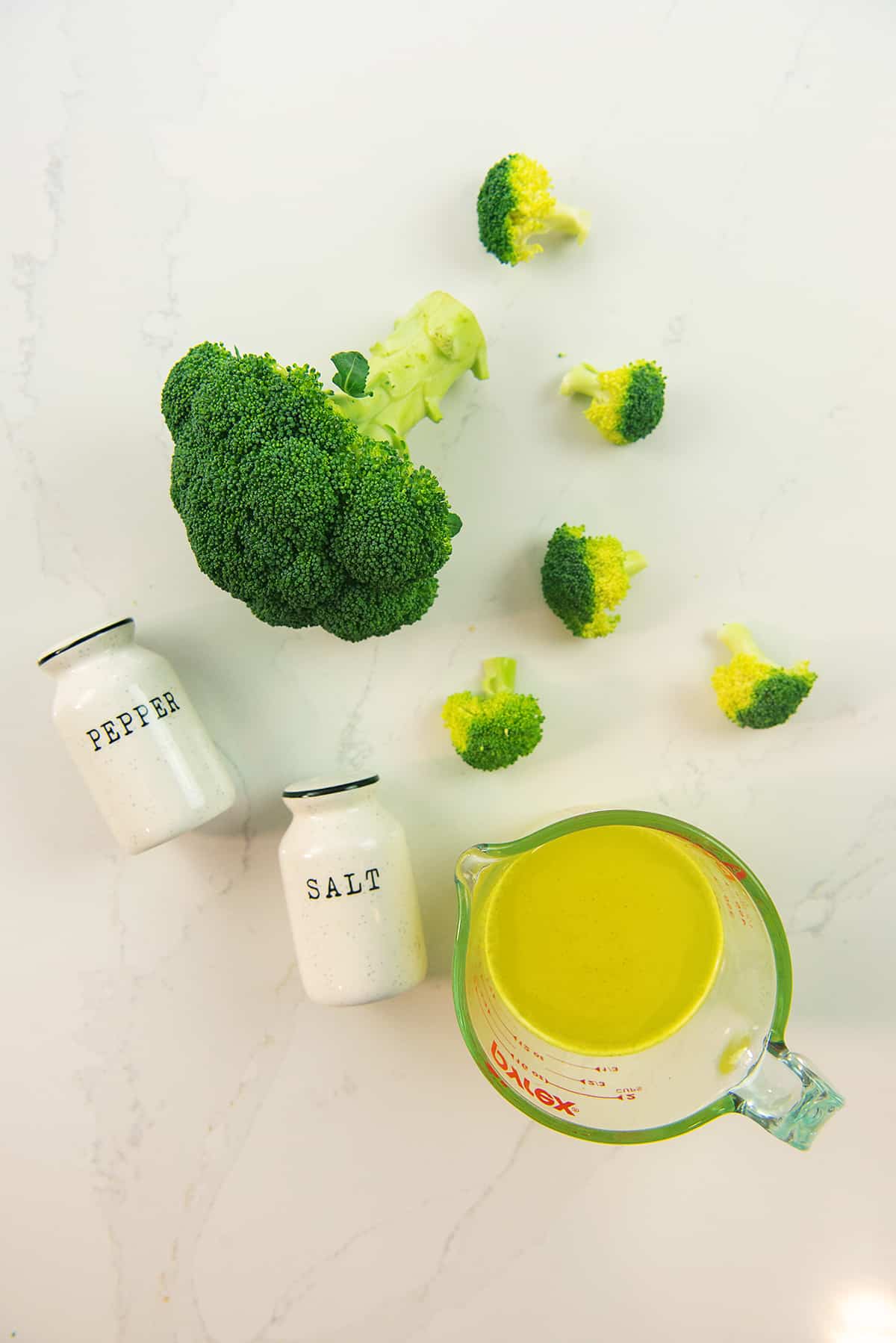 Broccoli – You can chop a large head of broccoli into florets or check the produce section for pre-chopped florets. I pretty much always buy the package of florets to save time. I would not recommend using frozen broccoli for this recipe.
Chicken Stock – We're going to add loads of flavor to this Instant Pot broccoli by pressure cooking it in some chicken stock! You can use homemade stock, the canned kind, or make some from a chicken base. This is steamed broccoli so it needs a liquid and chicken stock means more flavor.
Why We Love This Recipe:
It doesn't get any easier than tossing some broccoli into the Instant Pot and setting it to a zero minute cook time!
Steaming it in chicken stock adds another level of flavor to the broccoli.
How To Steam Broccoli in Instant Pot:
Broccoli – First up you'll prepare the broccoli by chopping it into florets and rinsing well. Once you've finished chopping just add the broccoli to the Instant Pot liner. You don't need any fancy inserts or anything – just drop it in!
Chicken Stock – With the broccoli added you can now pour in the chicken stock. A half cup should do the trick, or if you don't have any you can use water, you just won't get all that wonderful chicken flavor added to the broccoli! That's all there is to this Instant Pot broccoli, now you can start cooking.
Pressure Cook – Place the lid on the Instant Pot and set it to sealing. Cook on high for zero minutes! A zero minute cook time sounds odd but by the time it gets up to pressure (about 5 minutes) you will have perfect steamed broccoli! When it beeps release the pressure and remove the lid. Use a slotted spoon to remove the steamed broccoli and serve it up right away with some salt and pepper to taste!
Helpful Tip!
Want extra flavor? Squeeze a lemon over your cooked broccoli and watch the flavors pop!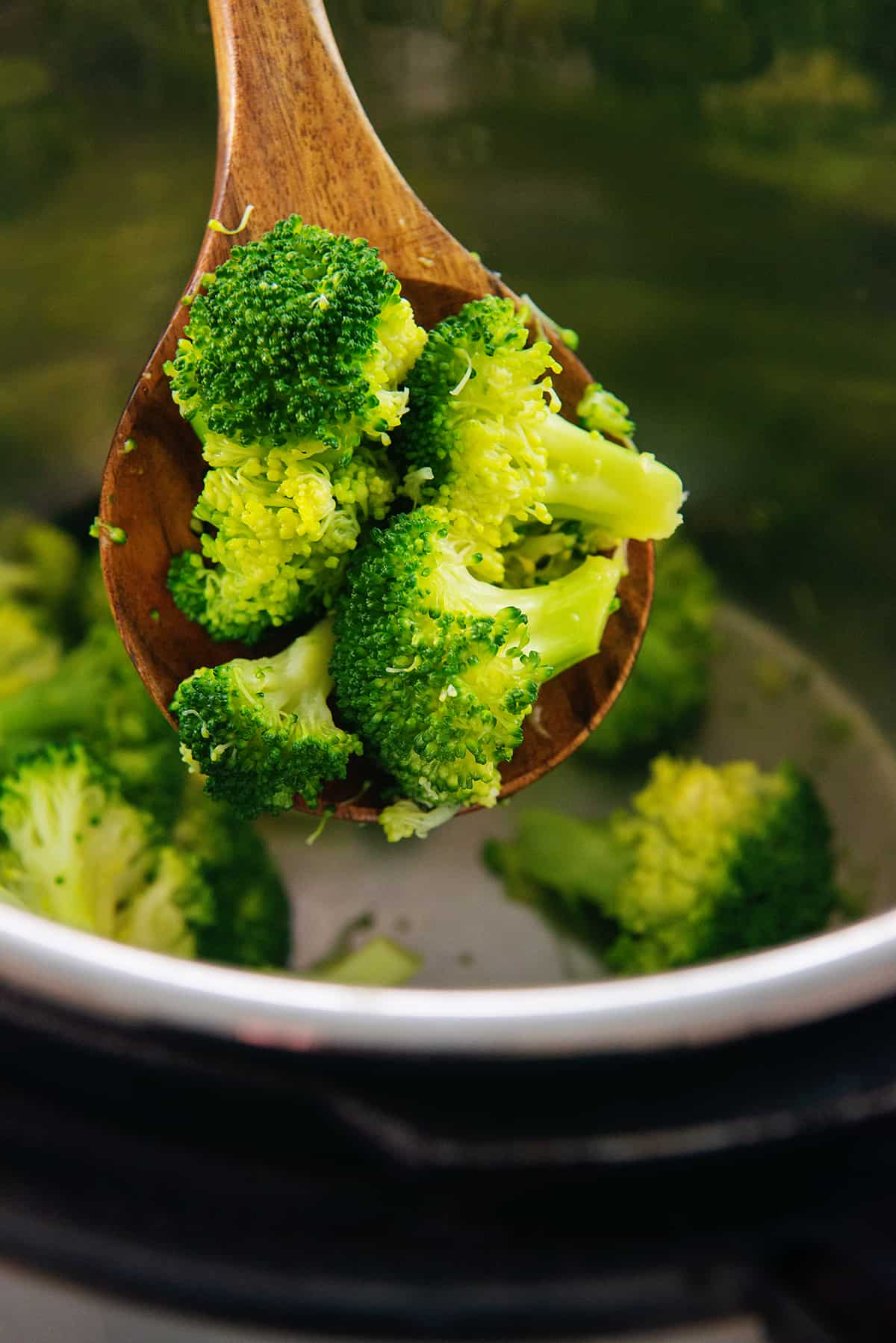 FAQ's:
How to store Instant Pot broccoli?
Let the steamed broccoli cool down first before placing it into an airtight container and refrigerating for up to 3 or 4 days. You can quickly reheat it in the microwave.
Do I have to use chicken stock?
Nope, if you don't have any or don't want to use it water will work here. This is really just Instant Pot steamed broccoli, so it needs some type of liquid but it doesn't have to be chicken stock. It just adds more flavor!
More Broccoli Recipes: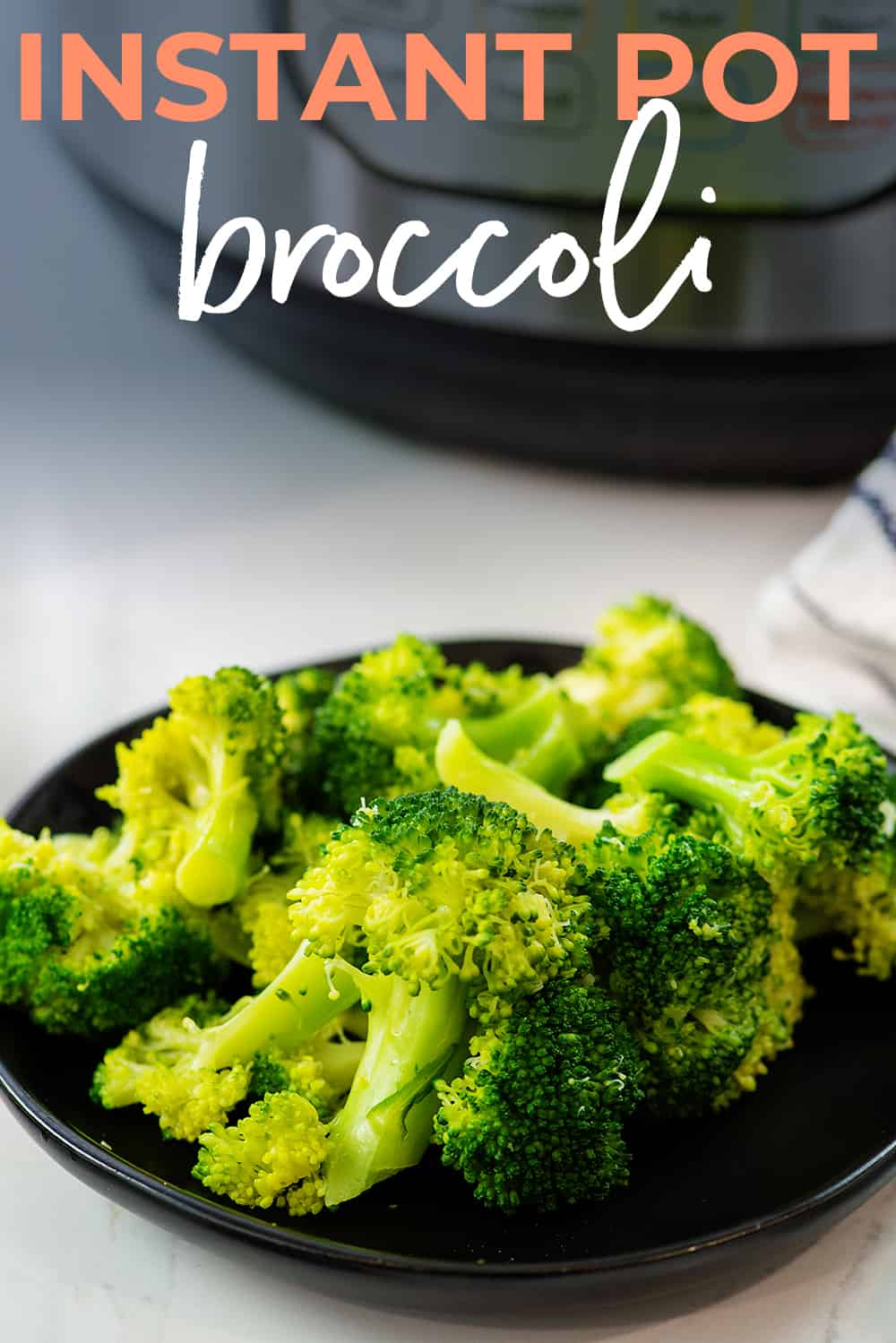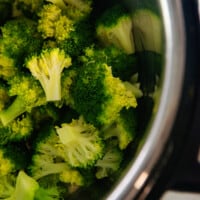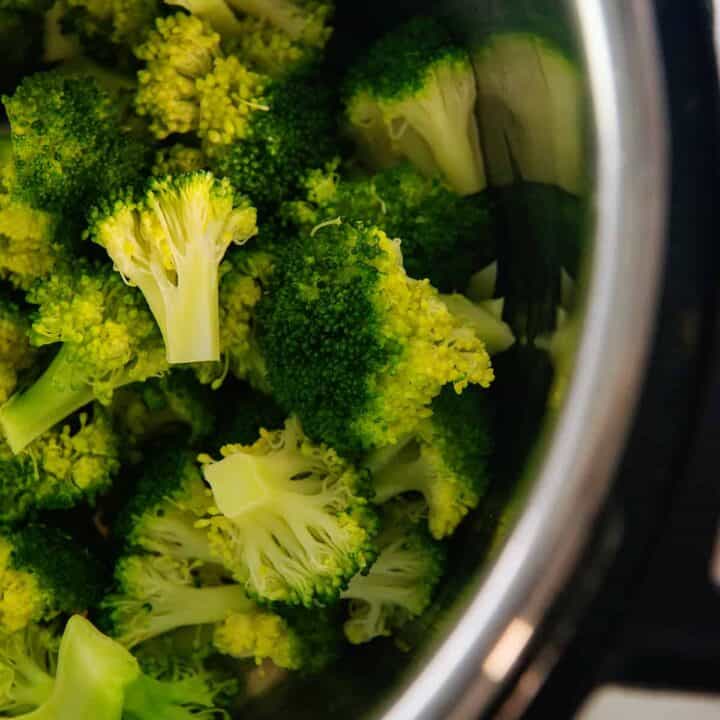 Instant Pot Broccoli
Simple steamed broccoli is so quick and easy in the Instant Pot. You won't need any fancy inserts and there's no babysitting the broccoli!
Time to Pressrue 5 minutes
Ingredients
1 large head broccoli
½ cup chicken stock or water
Salt and pepper, to taste
Instructions
Cut the broccoli into florets and rinse well.
Place the broccoli in the Instant Pot liner and add the chicken stock.
Place the lid on the Instant Pot and set to sealing.
Cook on high pressure for zero minutes. It will take about 5 minutes for the pot to come to pressure, during which time the broccoli will perfectly cook.
When the Instant Pot beeps, carefully release the pressure and remove the lid.
Use a slotted spoon to remove the broccoli from the pot to a serving dish and season with salt and pepper.
Serve immediately.
Notes
This produces broccoli that is tender-crisp. We recommend using fresh broccoli - we have not tested this with frozen.
Squeeze a lemon over the cooked broccoli or melt a pad of butter over the top for extra flavor.
Nutrition Information:
Yield: 4
Serving Size: 1
Amount Per Serving:
Calories: 35
Total Fat: 1g
Saturated Fat: 0g
Trans Fat: 0g
Unsaturated Fat: 0g
Cholesterol: 1mg
Sodium: 148mg
Carbohydrates: 6g
Net Carbohydrates: 4g
Fiber: 2g
Sugar: 1g
Protein: 2g
All information and tools presented and written within this site are intended for informational purposes only. This information is provided as a courtesy and there is no guarantee that the information is accurate.