This Instant Pot broccoli cheese soup is a creamy, cheesy and easy keto friendly soup! Perfect for chilly nights or long days when you just need something quick and simple for dinner!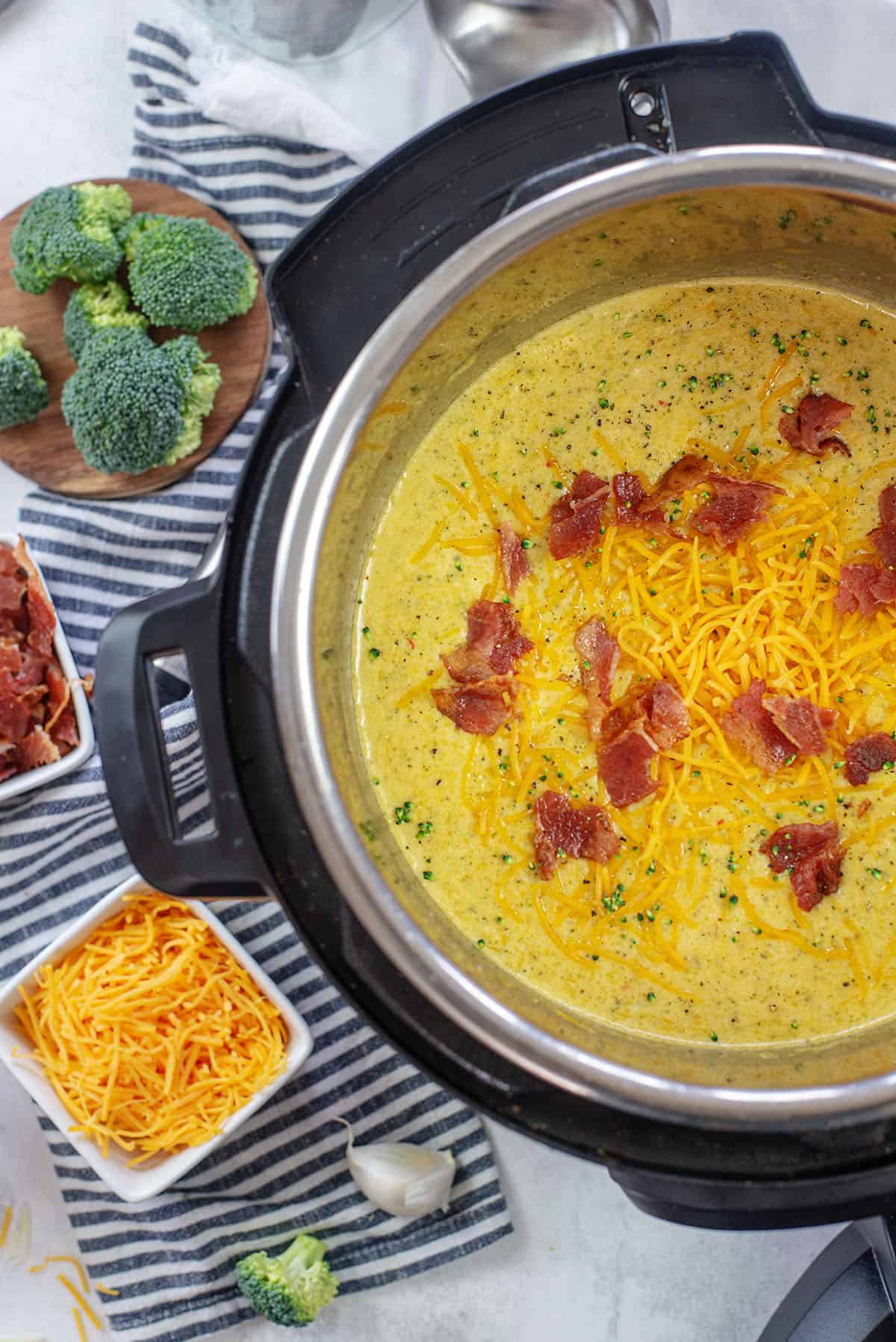 What is it about a hot bowl of cheesy soup that can turn a long day into a relaxing evening? I'm telling you, soup is magical.
So warm and cozy, perfect for a chilly night, a busy day, or as meal prep!
This Instant Pot Broccoli Cheese Soup is a definite favorite around here – thick and cheesy, loaded with broccoli, and naturally low carb and keto.
If this broccoli cheese soup looks familiar, it's because it's based off of our ever popular crockpot broccoli cheese soup. We just made a couple of modifications to cook this guy in the Instant Pot and now, instead of taking 4 hours in the crockpot, it takes 5 minutes in the pressure cooker! Love how quick it is to make broccoli cheese soup in the Instant Pot!
If you love soup like we do, you're going to want to try this recipe. It's perfect with a garlic bread chaffle or some cauliflower breadsticks on the side!
Ingredient Notes:
This post contains affiliate links. As an Amazon associate and member of other affiliate programs, I earn from qualifying purchases.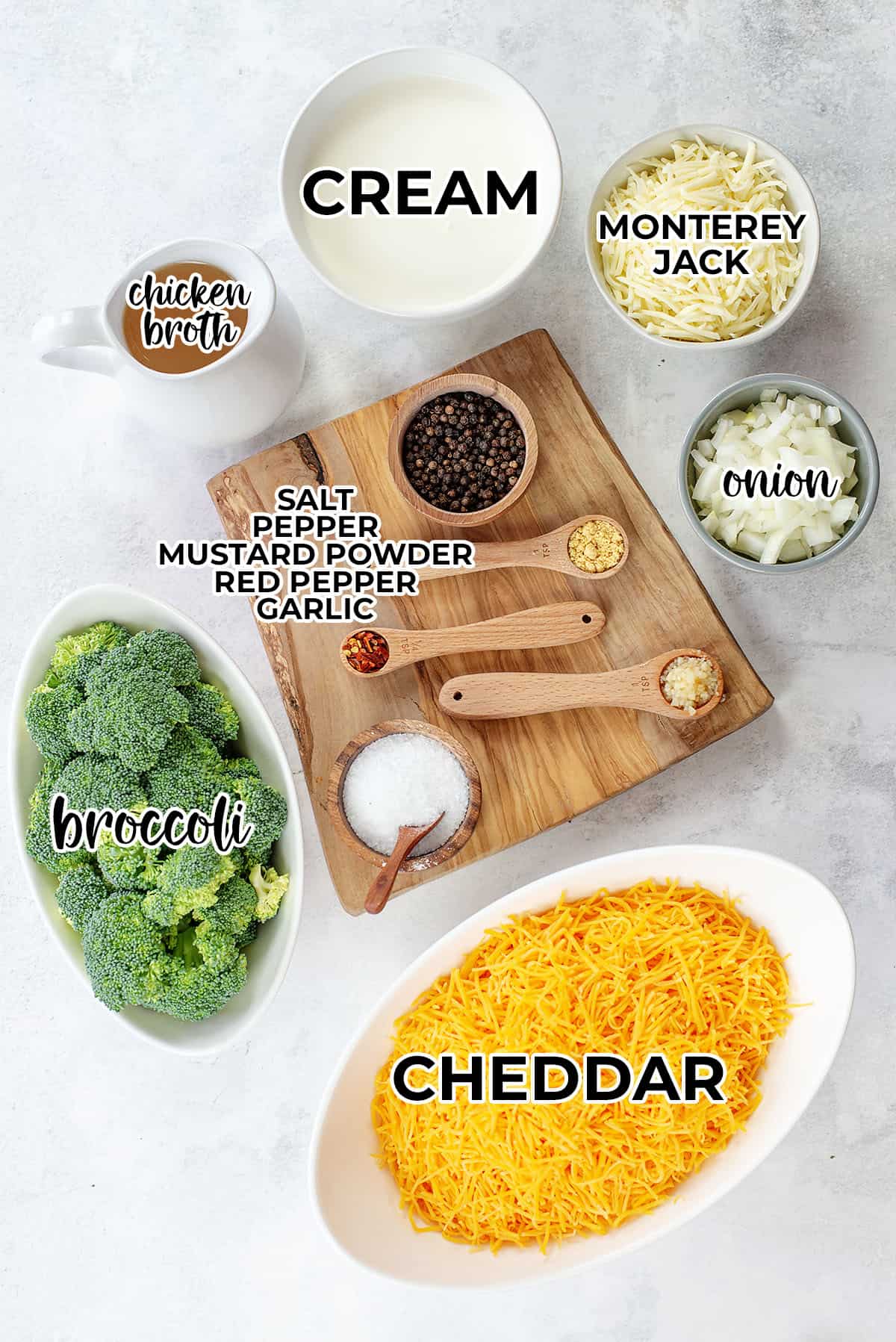 Broccoli – Fresh is best, whether you buy a whole head of broccoli or you buy the fresh bags of florets.
Garlic & Onion – A must for any good soup.
Creamy Cheese – We love broccoli cheddar soup so we're adding lots of freshly grated cheddar cheese, but we're not stopping there! You'll also toss in some grated Monterey jack cheese then mix and melt all that together with some heavy cream. This will make a thick and creamy cheese sauce that pairs perfectly with the fresh broccoli!
Chicken Broth – You're going to need some liquid in this keto broccoli cheese soup to thin out the cheese sauce a bit and to reach a consistency that is more soupy and less saucy. Chicken broth will work perfectly for this and it'll add extra flavor that water would not.
Seasoning – We're keeping it fairly simple with some salt, pepper, ground mustard, and red pepper flakes.
Why We Love This Recipe:
Creamy, cheesy comfort food in minutes!
This soup reheats well, so it's great for meal prep!
It cooks in 5 minutes in the Instant Pot (plus time to come to pressure and release pressure).
This recipe is naturally low carb and the whole family loves it!
How To Make Broccoli Cheese Soup: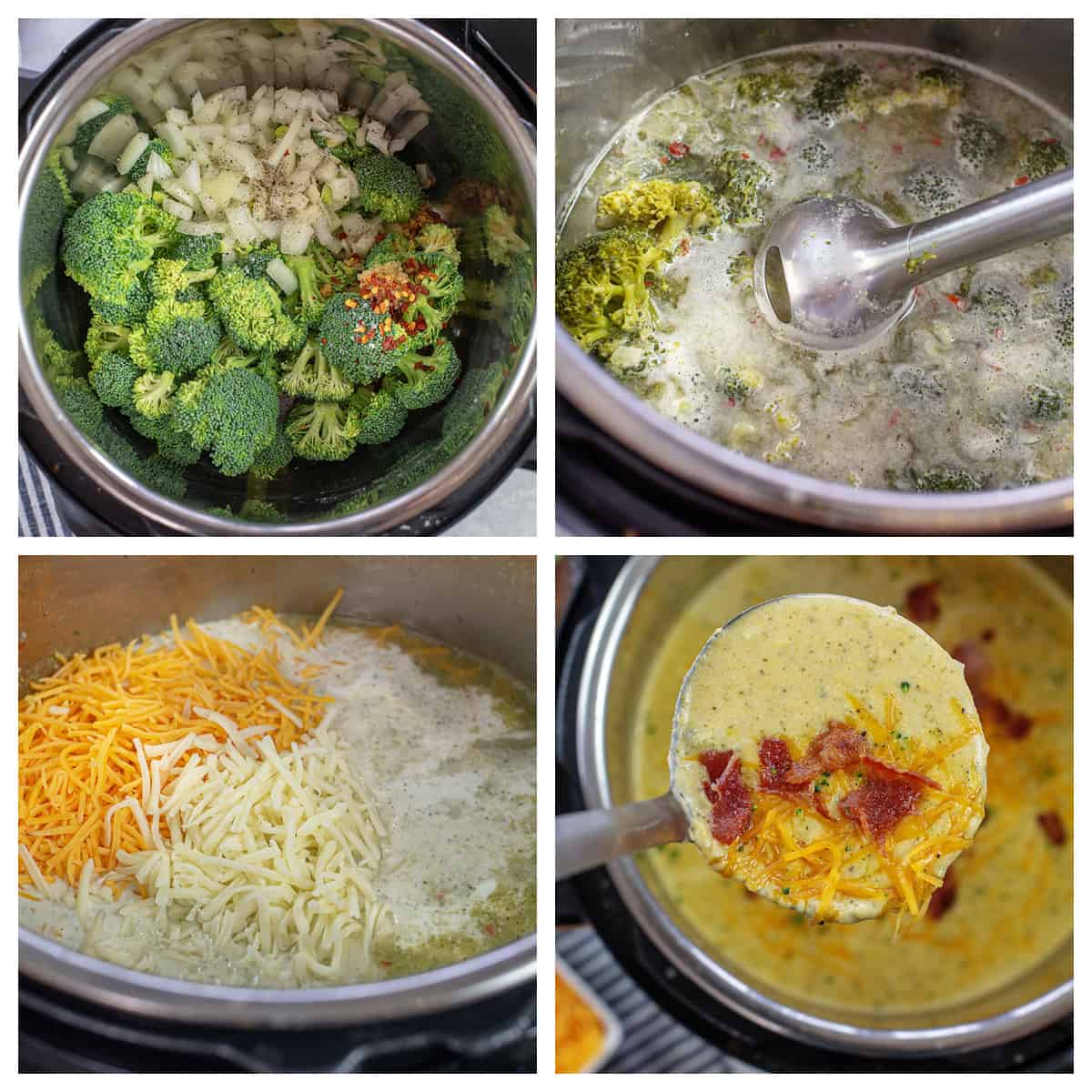 Pressure Cook – To start this keto broccoli cheese soup you'll pressure cook most of the ingredients including the broccoli. Add everything but the heavy cream and cheeses to the Instant Pot and cook it on high pressure for 5 minutes. Do a 5 minute natural release and then release any remaining pressure.
Blend – We're going for a smooth and creamy consistency in this broccoli cheddar soup, and that means you'll need an immersion blender (preferably) or a regular food processor/blender. The immersion blender is easier (and safer) because you can do it right in the Instant Pot. Process until the broccoli, broth, and other ingredients are nice and smooth.
Melt – After blending add the cheddar and Monterey jack cheeses and the heavy cream to the Instant Pot with the blended soup. Set the Instant Pot to sauté and stir constantly while the cheeses heat up and melt. Keep stirring until the keto broccoli cheese soup is perfectly smooth and creamy.
Serve – When the cheese has melted and the keto broccoli cheese soup has reached your preferred consistency you can serve it up hot! We like to top ours with crumbled bacon and more grated cheese! And if you're searching for something else to enjoy as a side with this soup, check out these air fried kale chips! They're perfectly seasoned and nutritious, and they go great with the cheesy soup.
Helpful Tip!
Don't have an immersion blender or a countertop blender? I hope you like chunky broccoli cheese soup! If you've got a potato masher, that'll work well enough to mash the broccoli soup it into a thinner consistency. But it won't be quite as smooth and creamy as if you'd blended it, and it is a bit more work.
Special Tools Needed:
Instant Pot: We really love our Instant Pot. It's perfect for everything from creamy soup recipes to making a whole weeks worth of boiled eggs! They cook so quickly and the shells just slip right off with no effort at all. We have this Instant Pot and it works great for our family of four. If you enjoyed this Instant Pot broccoli cheese soup, check out all my other low carb Instant Pot recipes.
Immersion Blender: We have a regular countertop blender, but I find myself using our immersion blender so much more often. It's budget friendly, easy to store in a drawer so it doesn't take up valuable counter space, and it works great for everything from whipping egg whites to pureeing soup. The exact model we use is no longer available, but this one gets great reviews!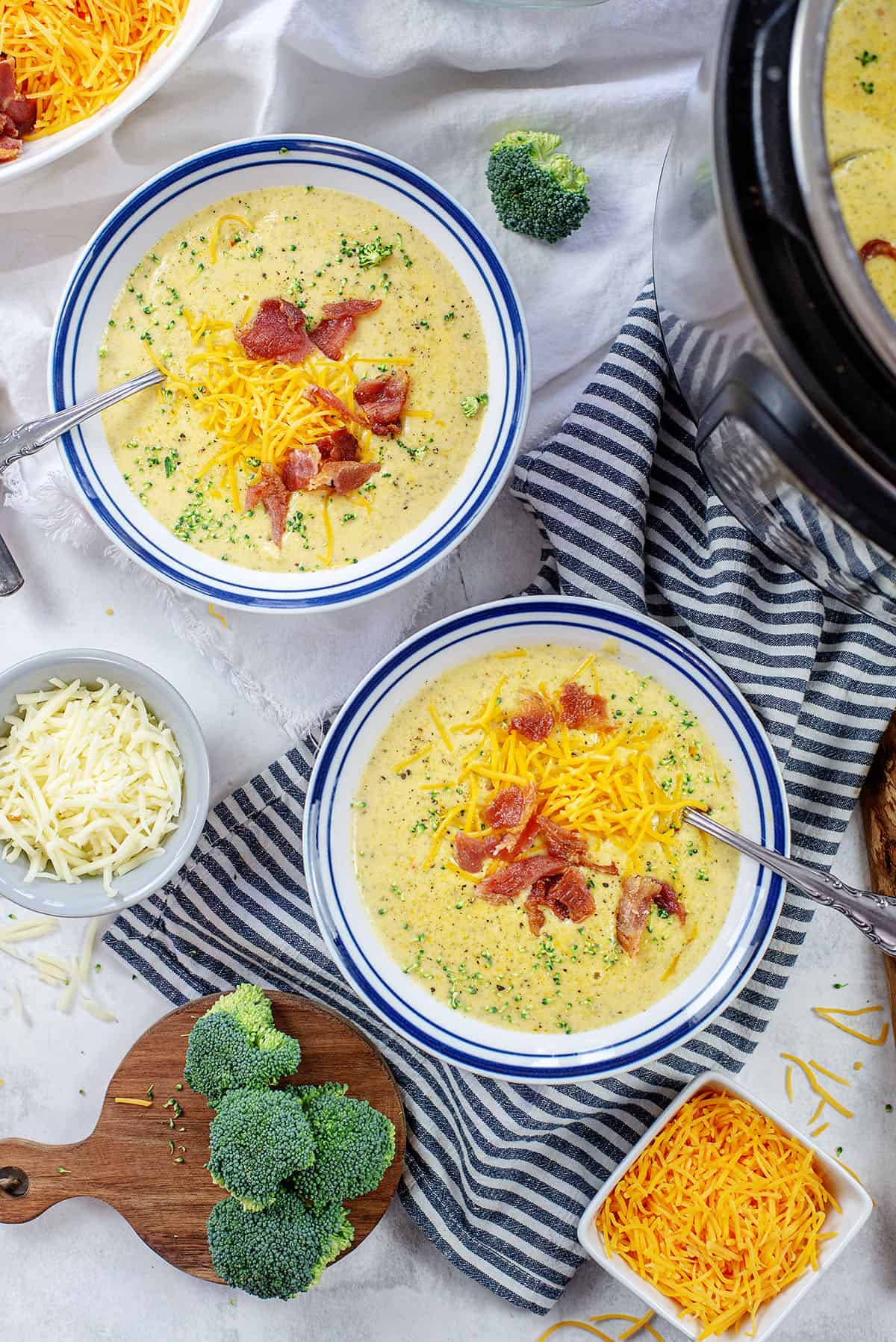 FAQ's:
How to store soup?
You can keep this keto Instant Pot broccoli cheese soup in the refrigerator for about 3 to 4 days if it is well covered. Reheat in the microwave.
Can you freeze broccoli cheese soup?
You can! It'll freeze well if you keep it in a freezer safe bag or container. Make sure it has cooled completely before freezing, and you should also hold off on adding any toppings like bacon or extra cheese until after it's been thawed and reheated!
How to thicken broccoli cheese soup?
The simplest way to thicken up the soup would be to add in more cheese. Cream cheese will also help thicken this soup and add extra flavor! If the soup is too thick just add more chicken broth or cream.
More Low Carb Instant Pot Recipes: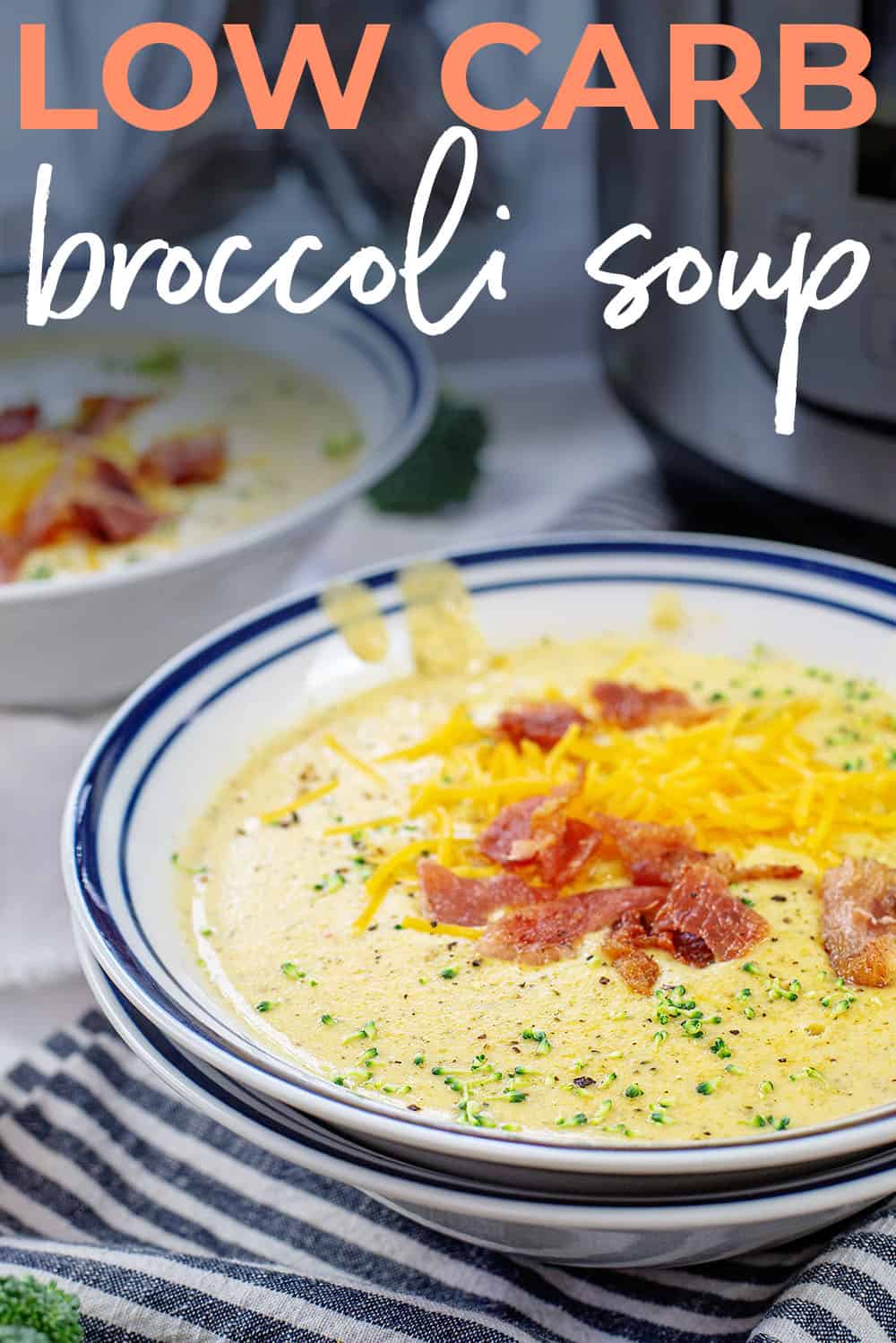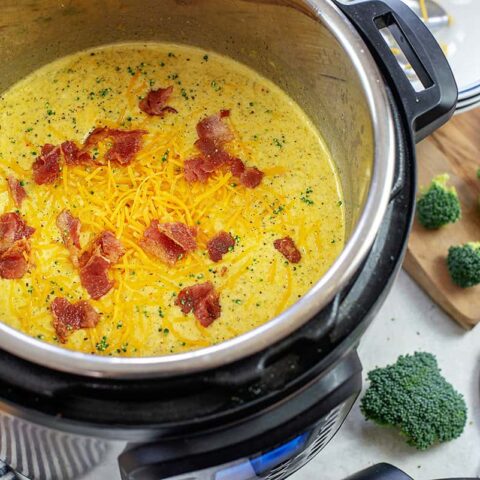 Keto Instant Pot Broccoli Cheese Soup
Creamy, cheesy, and beyond easy! We love that this Instant Pot Broccoli Cheese Soup cooks so quickly in the Instant Pot and that it is naturally low carb. The whole family loves this one, especially topped with crumbled bacon.
Pressure & Release 10 minutes
Ingredients
32 ounces fresh broccoli florets
½ onion, diced
2 cloves garlic, minced
4 cups chicken broth
1 teaspoon ground mustard
1 teaspoon salt
1 teaspoon pepper
¼ teaspoon red pepper flakes
2 cups heavy cream
4 cups grated cheddar
1 1/2 cups grated Monterey jack
Instructions
Add the broccoli, onion, garlic, and chicken broth, ground mustard, salt, pepper, and red pepper flakes to your Instant Pot.
Cover, set the valve to sealing, and cook on high pressure for 5 minutes.
Let the pressure release naturally for 5 minutes and then release the remaining pressure.
Use an immersion blender to blend the soup to a smooth consistency. Alternately, carefully transfer the soup to your blender in batches and blend. Be careful while blending hot soup and be sure to vent the steam.
Set the pot to sauté and add the cream and cheese to the hot soup. Stir constantly until the cheese has melted and the soup is smooth and creamy.
Serve immediately with additional grated cheese and crumbled bacon, if desired.
Notes
Stirring in a block of cream cheese with the cheddar will help to thicken the soup up more, if you like it thicker. Alternately, sprinkling 1/4 teaspoon of xanthan gum over the top and then whisking well will thicken the soup as well.
Recommended Products
As an Amazon Associate and member of other affiliate programs, I earn from qualifying purchases.
Nutrition Information:
Yield: 10
Serving Size: 1 cup
Amount Per Serving:
Calories: 455
Total Fat: 38g
Saturated Fat: 23g
Trans Fat: 1g
Unsaturated Fat: 12g
Cholesterol: 117mg
Sodium: 1037mg
Carbohydrates: 10g
Net Carbohydrates: 7g
Fiber: 3g
Sugar: 4g
Protein: 19g
All information and tools presented and written within this site are intended for informational purposes only. This information is provided as a courtesy and there is no guarantee that the information is accurate.