Baked Chicken Drumsticks are the easiest way to get dinner on the table quickly! The skin crisps up in the oven, the seasoning is simple and perfect, and the chicken legs come out juicy every time!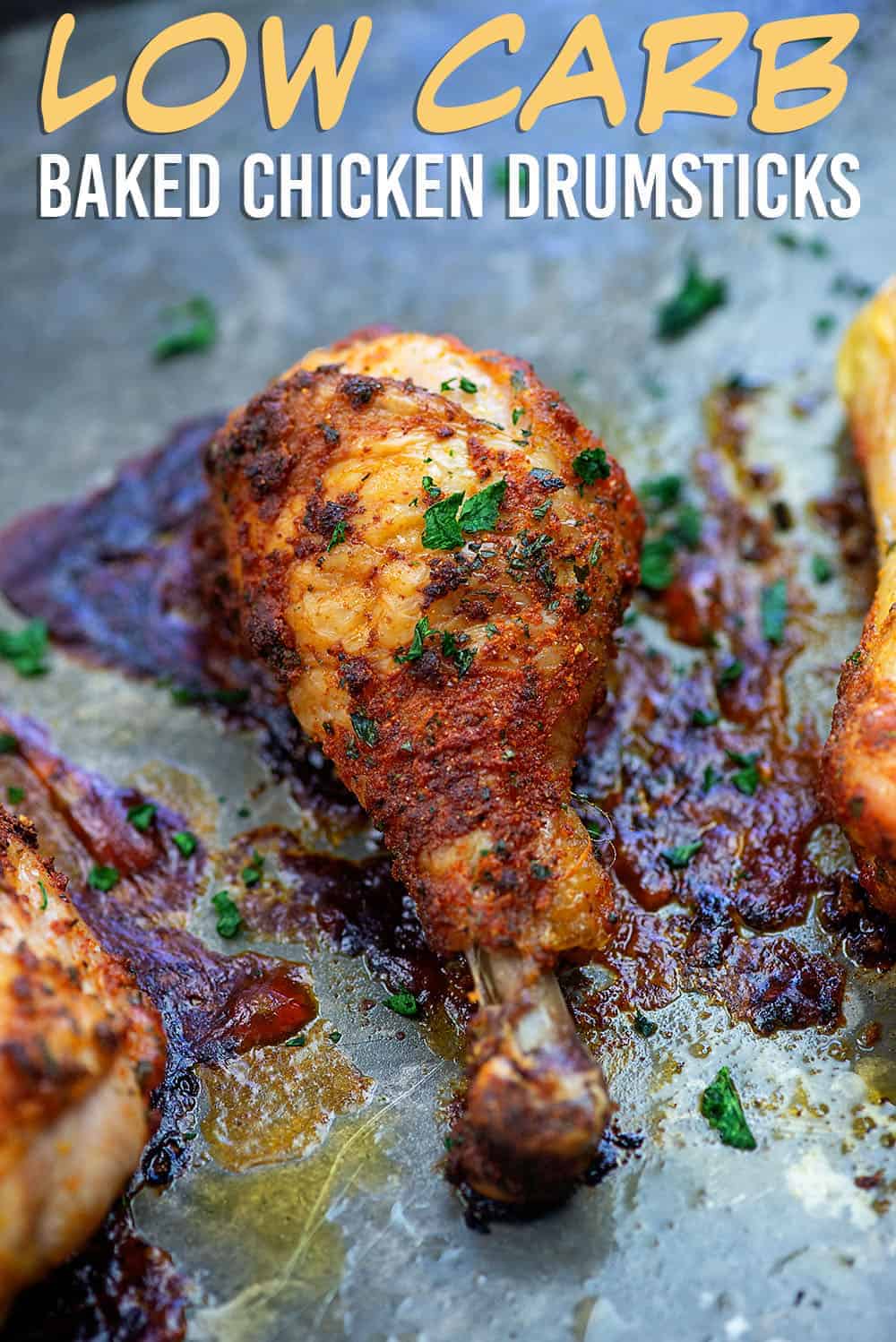 When I roast a chicken it's a sure thing that my kids are going to fight over the chicken legs.
I don't know if it's because kids just like eating with their hands or if it's because chicken legs are delicious, but it happens without fail every time.

I don't roast a whole chicken all that often, since everyone seems to want the legs anyway. I make these baked chicken drumsticks instead and everyone is happy!
My baked chicken drumsticks recipe is simple enough that anyone can do this and it creates juicy chicken, crispy skin, and it's all perfectly seasoned! You're going to love this one. Check out our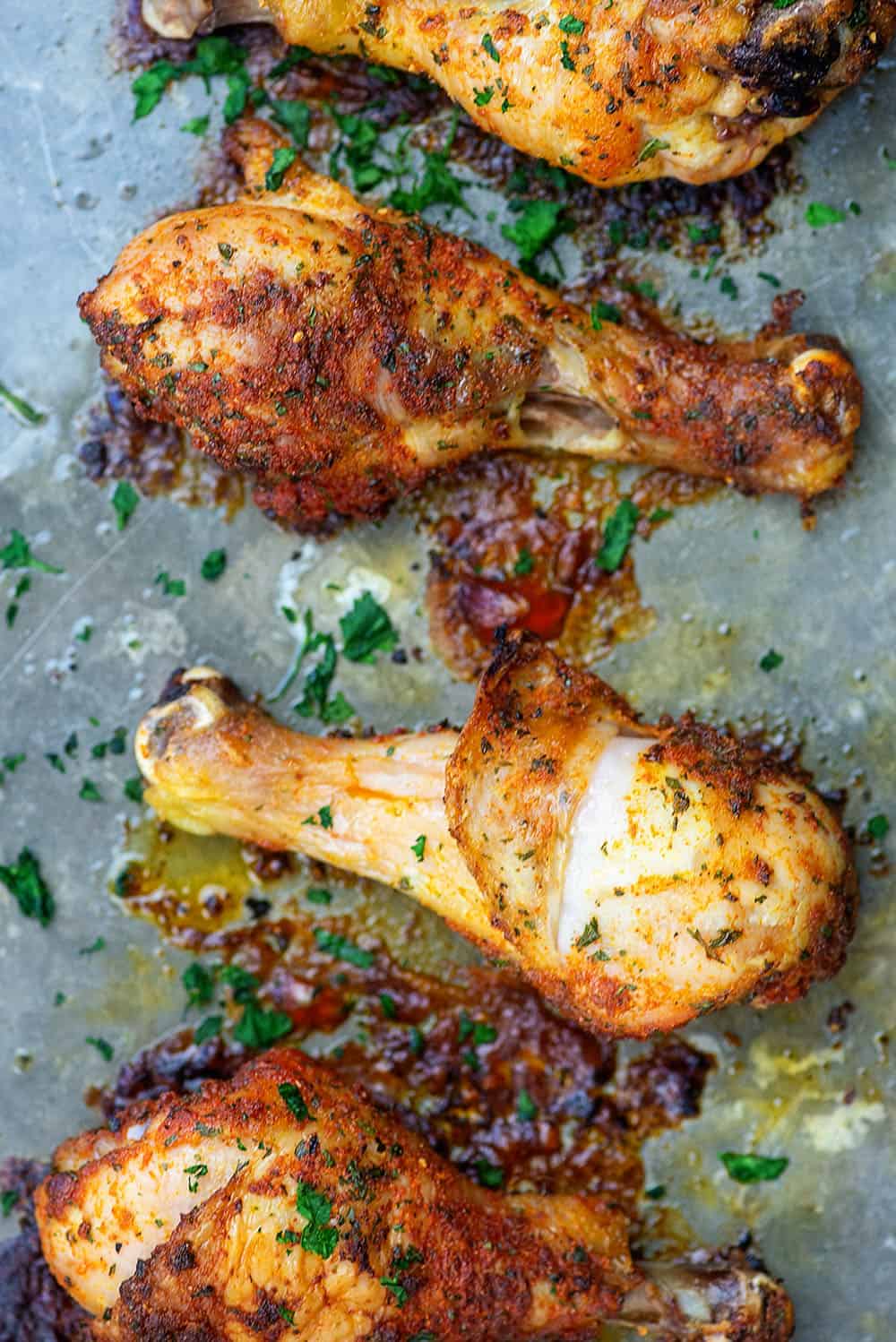 Ingredients for Baked Chicken Legs: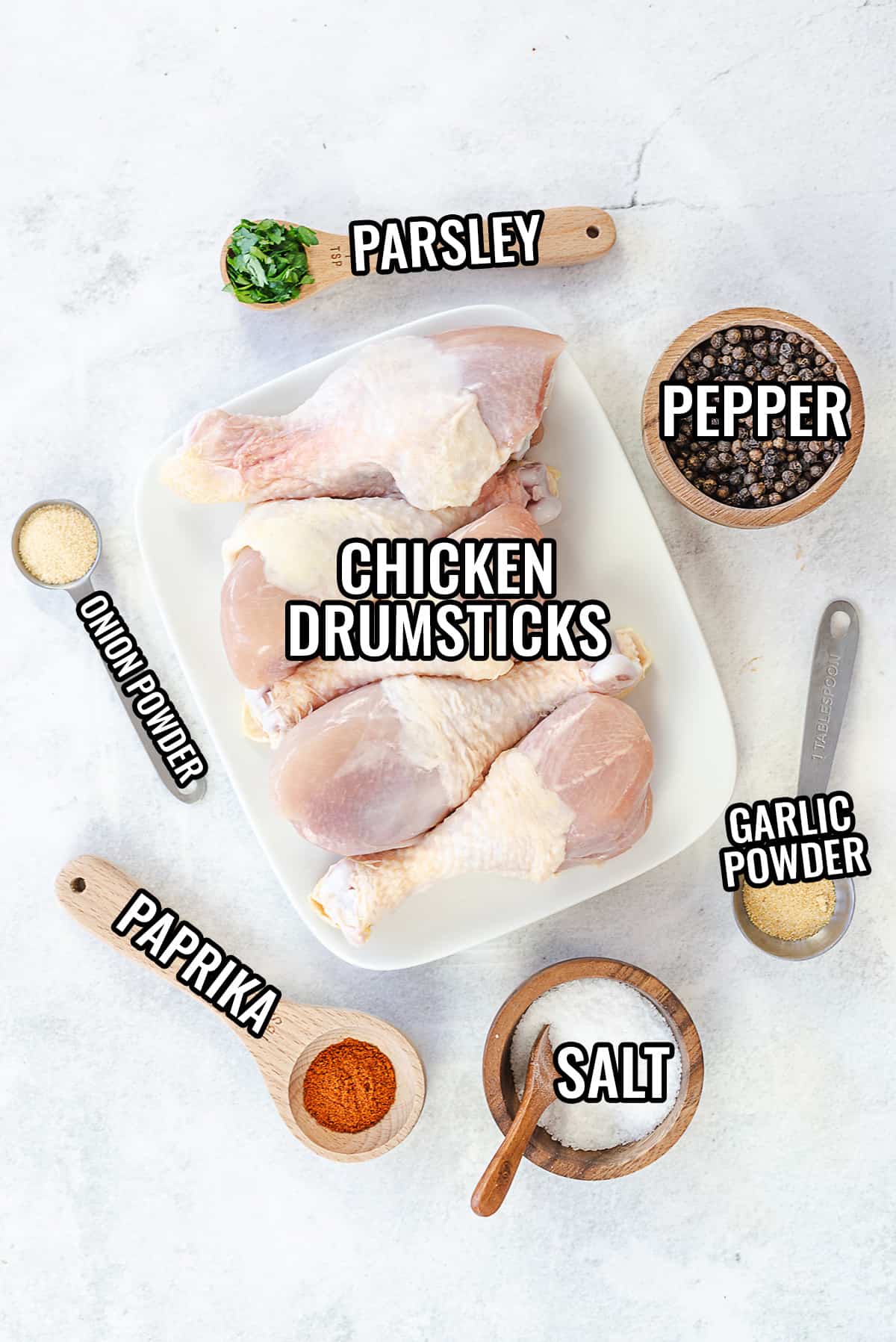 Chicken – We're using skin-on chicken drumsticks here. The skin is crispy and flavorful and helps keep the interior nice and juicy.
Seasoning – You'll need a mix of smoked paprika (affiliate link), garlic powder, onion powder, parsley, salt, and pepper.
Oil – When cooking at higher temperatures, we like to use avocado oil (affiliate link) has a higher smoke point than olive oil. We have had lots of readers use olive oil and been happy with those results as well.
How to make baked chicken drumsticks: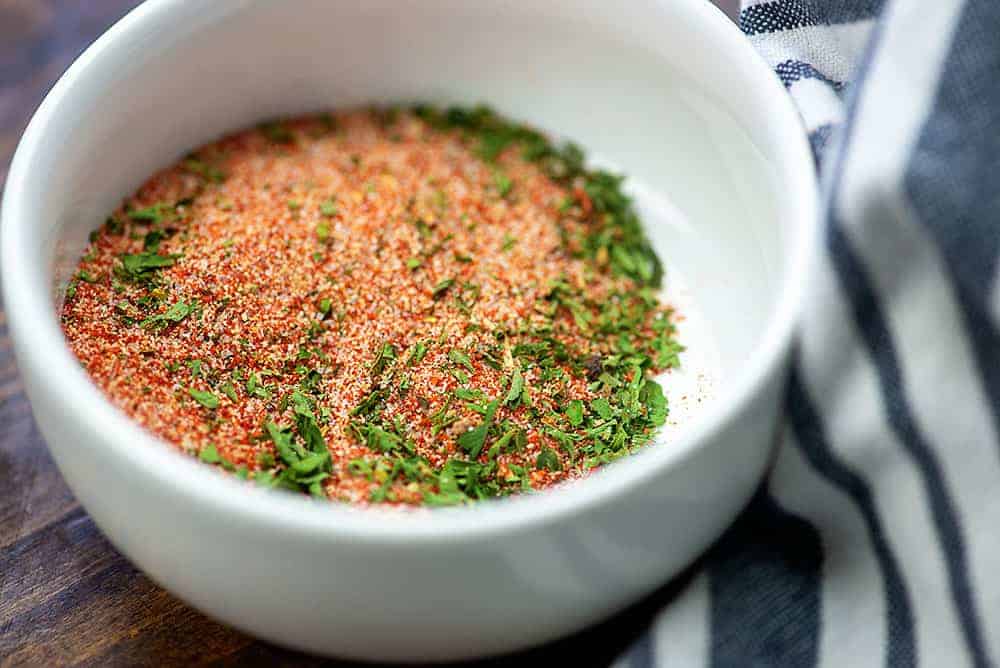 These oven baked chicken legs are super simple and the seasoning blend is perfect!
Mix together the spices in a small dish.
Add your drumsticks to a plastic bag or large bowl and drizzle with oil. Sprinkle the seasoning on, seal the bag, and mush things around to coat the chicken.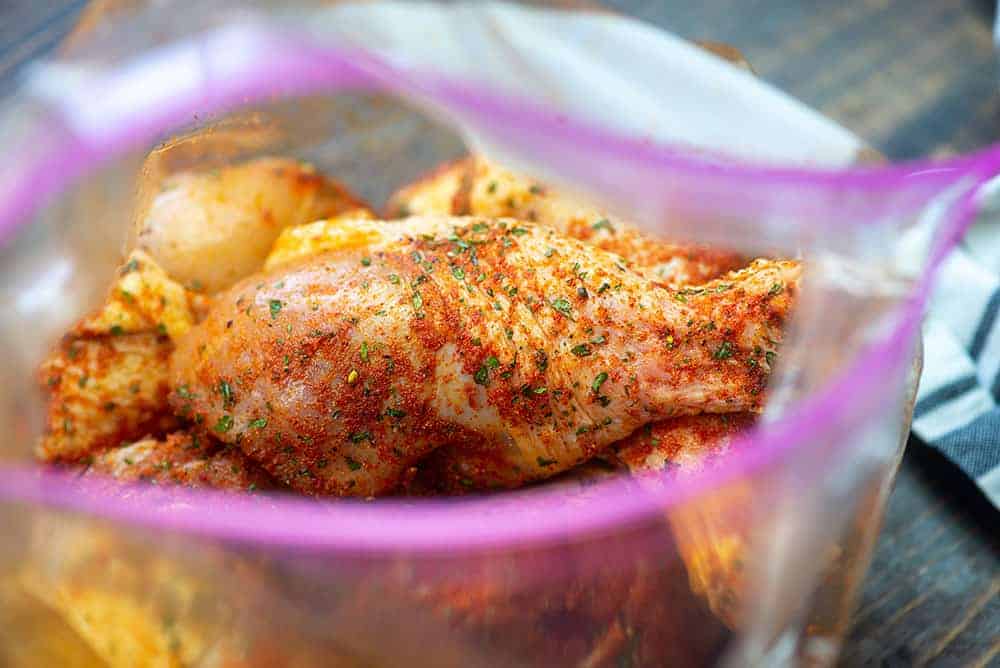 Dump the chicken out onto a baking sheet and bake! The prep work here is so quick!
How long to bake chicken legs: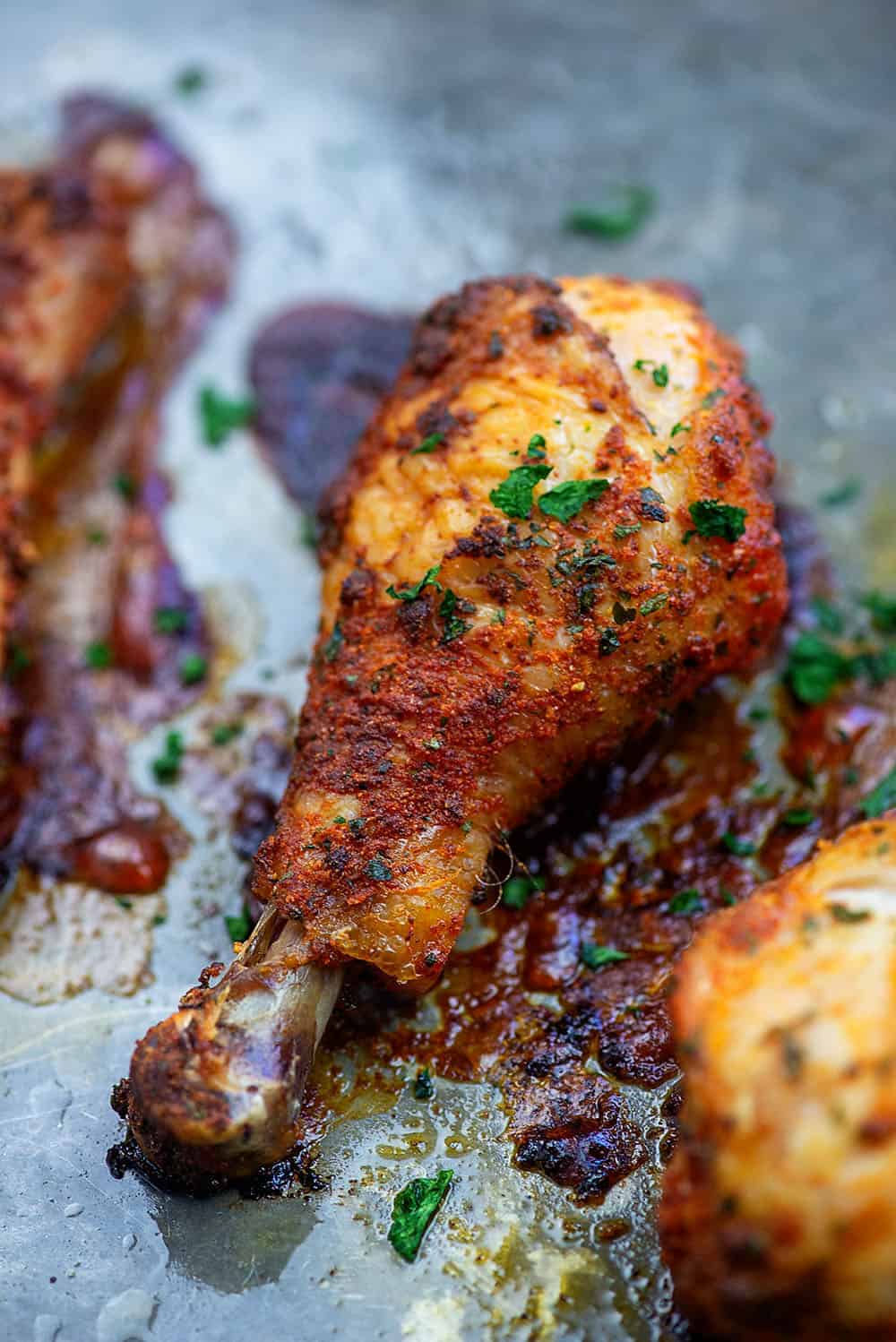 These baked chicken drumsticks only take a few minutes of prep and just about 45 minutes of bake time.
We're baking these chicken legs at 425 degrees. If our oven isn't good and hot, the chicken skin won't get crispy and no one wants rubbery chicken skin!
The meat should reach 165 degrees in about 45 minutes and then your chicken legs are ready to devour!
What is the best temperature to cook chicken legs?
We prefer to bake our chicken drumsticks at 425 degrees. This allows the chicken skin to crisp up and the interior stays nice and moist. It may seem like a high heat, especially compared to some other recipes but we have thousands have 5 star reviews on this recipe that speak for themselves!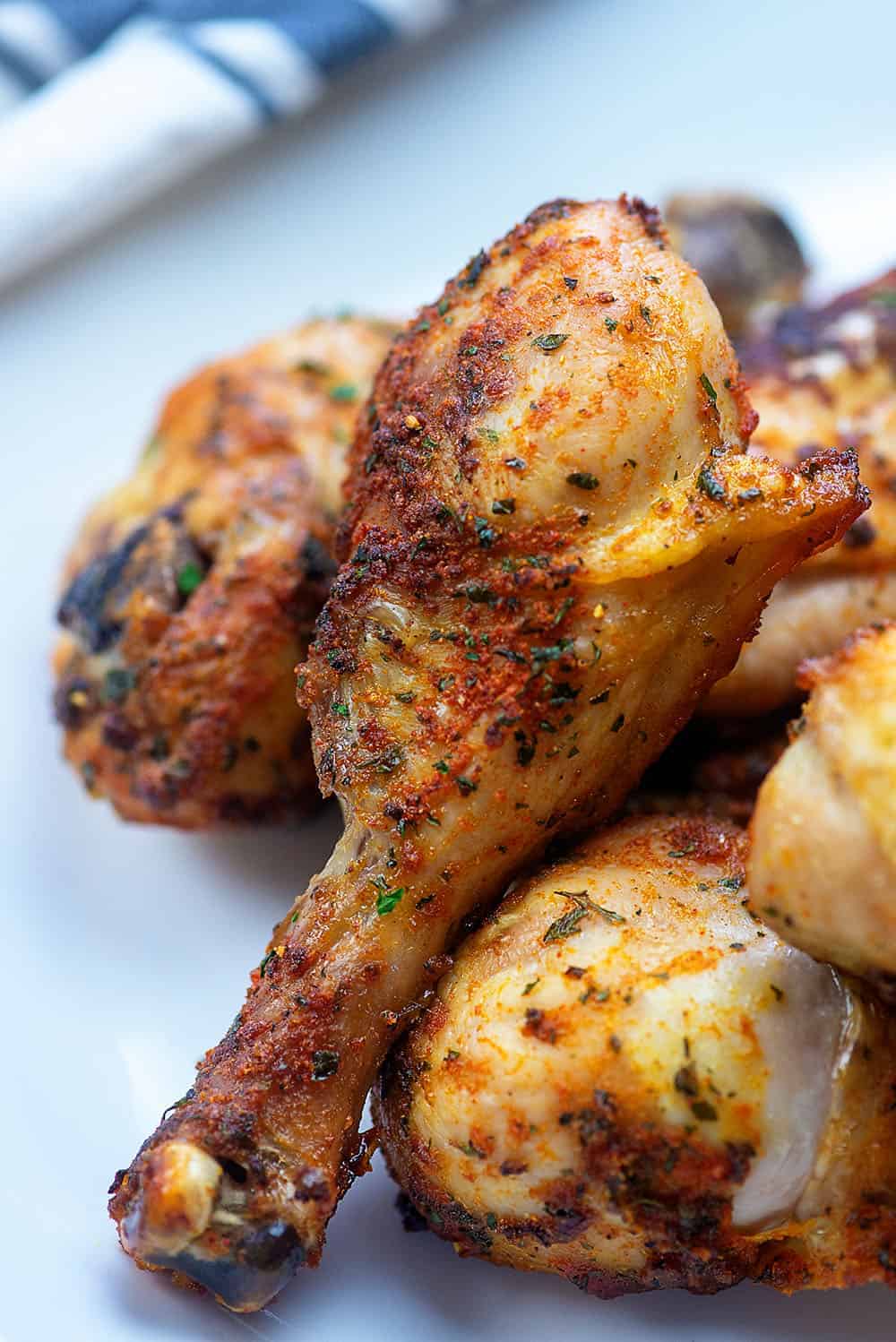 What to serve with oven baked chicken legs:
Broccoli Rice Casserole: Made with cauliflower rice so it's packed with veggies!
Keto Asparagus: The kids even like this one!
Fried Radishes: They're similar to a potato when cooked.
Keto Coleslaw: This is my mama's famous recipe!
Cauliflower Mac and Cheese: Totally satisfies that mac and cheese craving!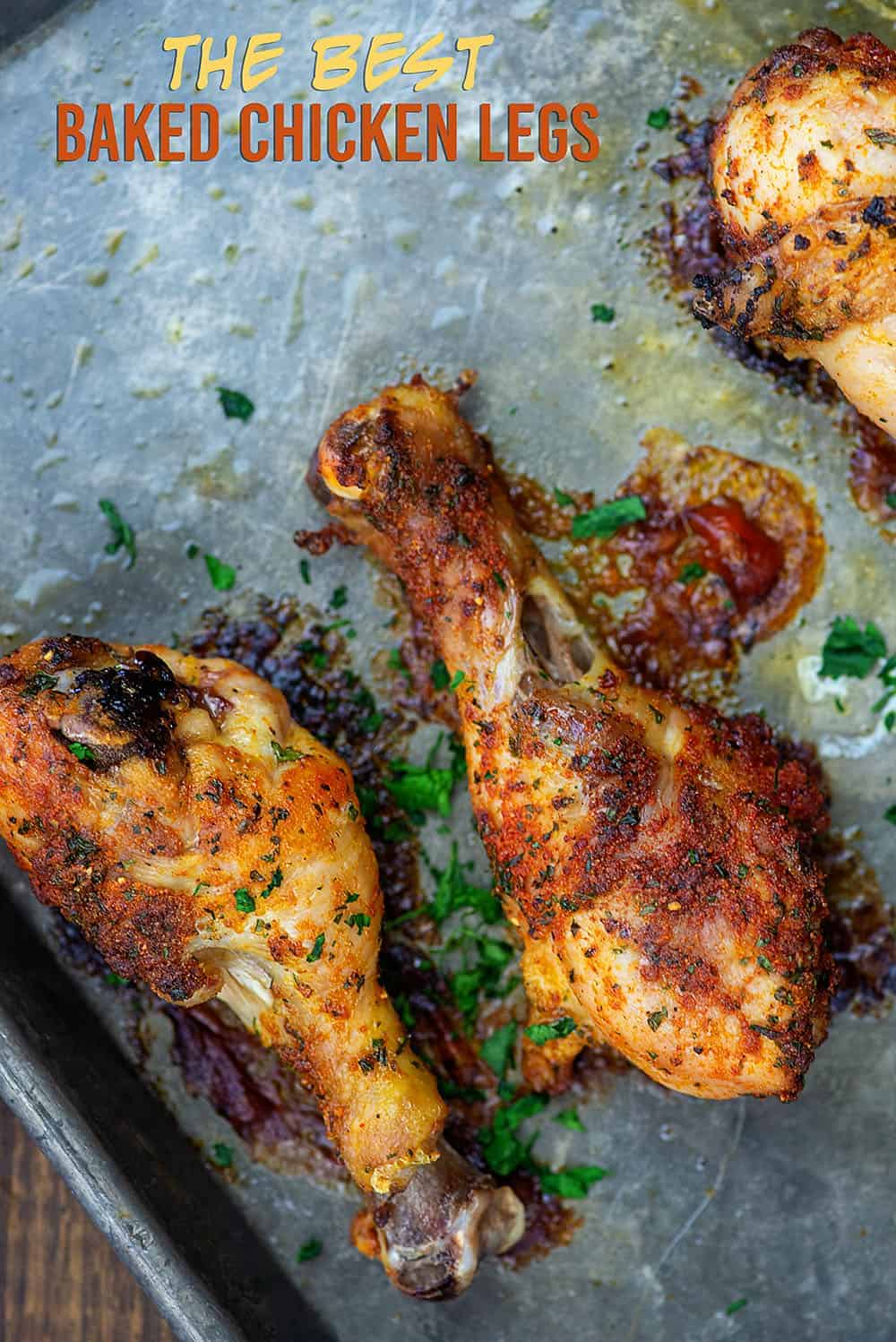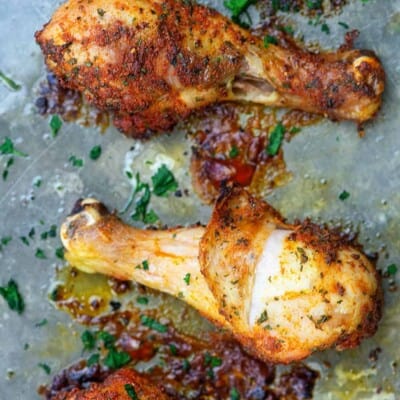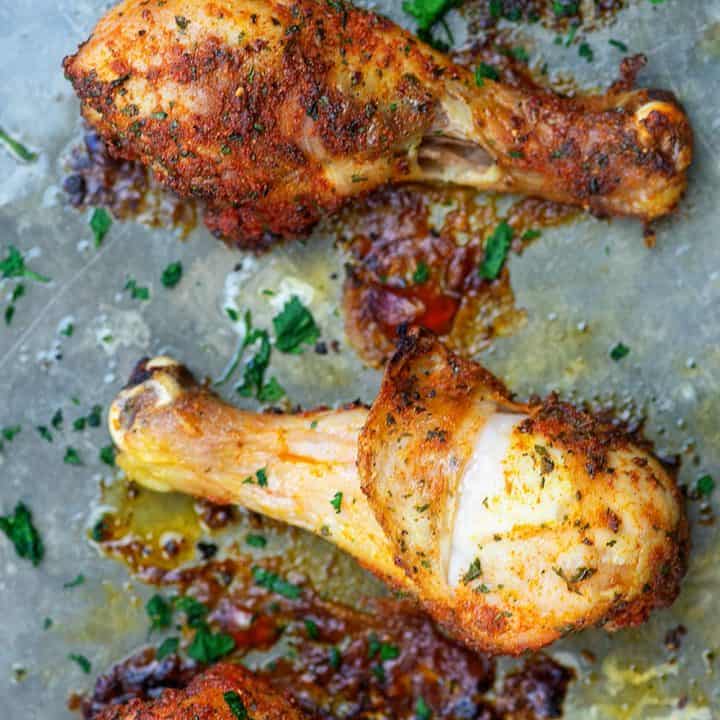 Baked Chicken Drumsticks
These baked chicken drumsticks come out perfectly juicy with crispy skin every time. Kids love them and they're so easy to whip up!
Prep5 minutes
Cook45 minutes
Total50 minutes
Ingredients
2 pounds chicken drumsticks
2 tablespoons avocado oil
1 teaspoon paprika
1 teaspoon garlic powder
1 teaspoon onion powder
1 teaspoon chopped parsley
½ teaspoon salt
½ teaspoon cracked pepper
Instructions
Preheat oven to 425 degrees. Spray a baking sheet with non-stick spray.

Add all of the ingredients to a large zip top bag and seal. Smush the chicken around in the bag to coat in the seasoning.

Arrange chicken on the baking sheet and bake for 40-45 minutes or until a thermometer reads 165 degrees.

Serve immediately.
Tips & Notes:
My kids enjoy dipping their chicken legs in ranch dressing!
Feel free to mix up the seasonings to suit your tastes. Different seasoning ideas are above, in the blog post!
Nutrition Information:
Serving: 1| Calories: 323kcal (16%)| Carbohydrates: 1g| Protein: 37g (74%)| Fat: 18g (28%)| Saturated Fat: 4g (25%)| Polyunsaturated Fat: 12g| Cholesterol: 192mg (64%)| Sodium: 325mg (14%)| Net Carbs: 1g (2%)