If you're following the keto diet and miss potatoes, you have to try these sauteed radishes! They're the perfect substitute and make a great side dish at breakfast or dinner.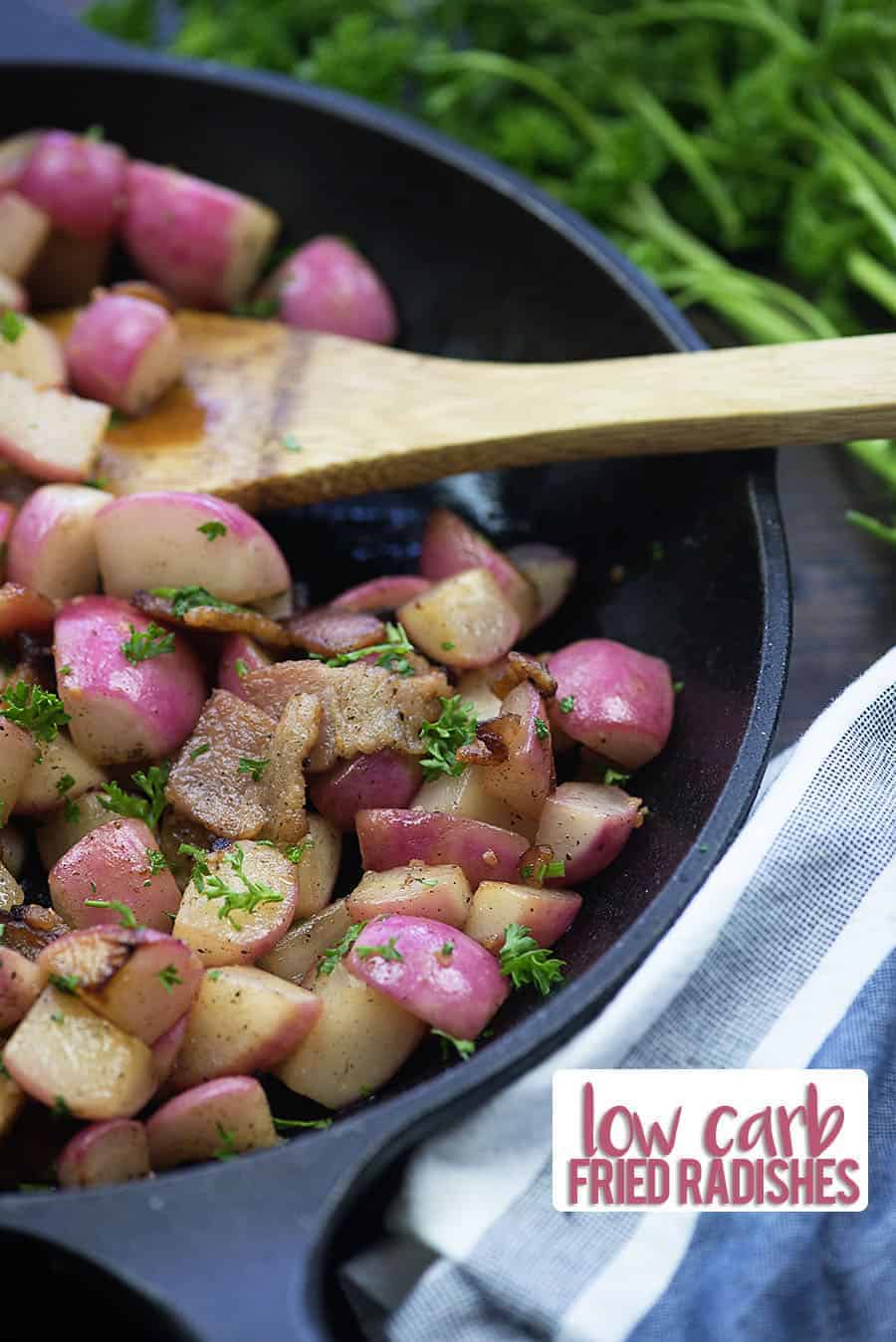 My husband is a huge breakfast guy. He loves weekends, because I almost always cook him a big breakfast.
Bacon – obviously.
Eggs – of course.
Fried potatoes – not anymore.
You guys, he was missing the fried breakfast potatoes, I'm not going to lie. I was too, if we're being totally honest.
What can I use instead of potatoes?
First, I set out to find some 'low carb potatoes.'
No. There are no low carb potatoes.
Potatoes are just basically one big ball o' carbohydrate.
Then I stumbled upon radishes.
Y'all. Just you wait. These are going to knock your socks off.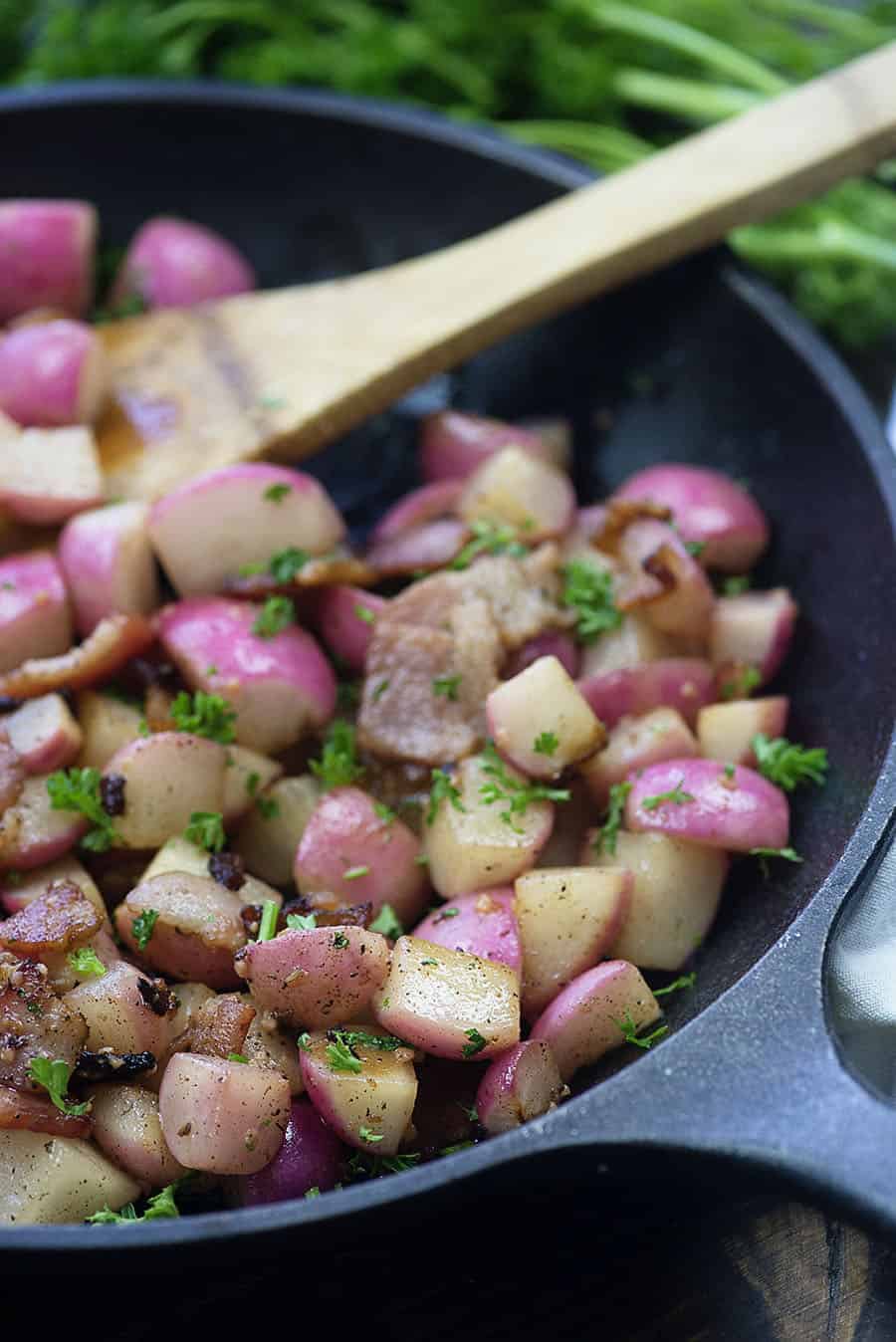 Now, look. These ARE radishes. There's no denying it. Buttttt, they don't taste anything like a raw radish.
Just like cauliflower potato salad is actually cauliflower, but it doesn't make it any less delicious.
Radishes for potatoes are an amazing swap. The radishes soften up like a potato and loses most of it's bite.
Fried radishes, especially ones fried in bacon grease, are just close enough to potatoes that you'll think you're dreaming.
Radishes fried in butter are pretty darn tasty too!
We love our air fryer radishes too, if you want to try something different.
How Many Carbs In Radishes:
How can something that softens up, looks like a potato, and gets all starchy tasting be low in carbs?
Magic, probably.
Based on my research, one cup of sliced radishes has just 3.9 carbs and 1.9 grams of fiber. This means that an entire cup is clocking in at only 2 net carbs!
One pound of radishes has 20 carbs and 10 grams of fiber.
You're probably going to have enough room in your carb allowance to eat radishes every day at those numbers!
Ingredient Notes: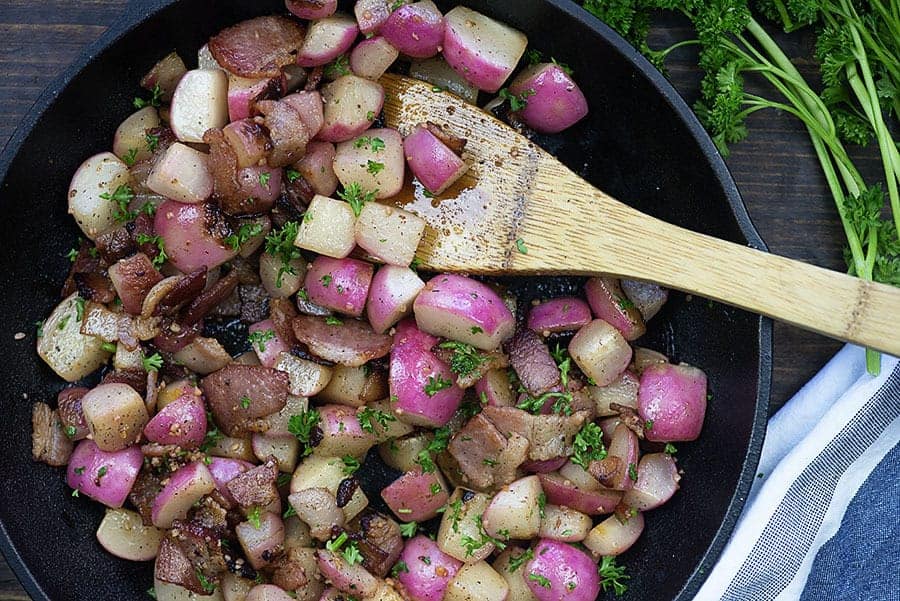 This post contains affiliate links. As an Amazon associate and member of other affiliate programs, I earn from qualifying purchases.
Bacon – Yes, you can make pan-fried radishes without the bacon. But no, they definitely will not taste as good! Just like potatoes (and everything else), radishes are much more flavorful when cooked in bacon grease.
Radishes – Pick up some fresh radishes from your local supermarket and dice them up into quarters, just like you would dice up potatoes for frying in a skillet.
Garlic – Who doesn't like some garlic with their potatoes? The same goes with radishes! It just adds good flavor.
Salt & Pepper – You can use more or less of this to taste.
Parsley – Some chopped parsley with the salt and pepper is how we finish off the radishes. It adds a bit of flavor and some contrasting color to the dish.
Why We Love This Recipe:
These aren't potatoes but the they look and taste very similar!
We love these radishes when they're cooked in the bacon grease just like you would with potatoes!
You can add other ingredients or seasonings to the mix. Some diced onion or bell pepper would make a nice addition!
How To Cook Radishes:
Prepare – This is the easy part, my friends. I like to dice them up. Just cut them into quarters for that fried potato feel.
Bacon – In this recipe, we're frying up some bacon and then adding in the diced radishes. Cook the bacon until nearly crisp and don't drain the grease!
Radishes – Add the diced radishes in with the bacon and continue cooking. They'll take about 15 minutes to soften while cooking in the bacon grease. You can cook them for longer or shorter to get them as crispy as you want!
Finish – You can add in the minced garlic about a minute before the fried radishes have finished then add the seasonings and parsley and serve it hot!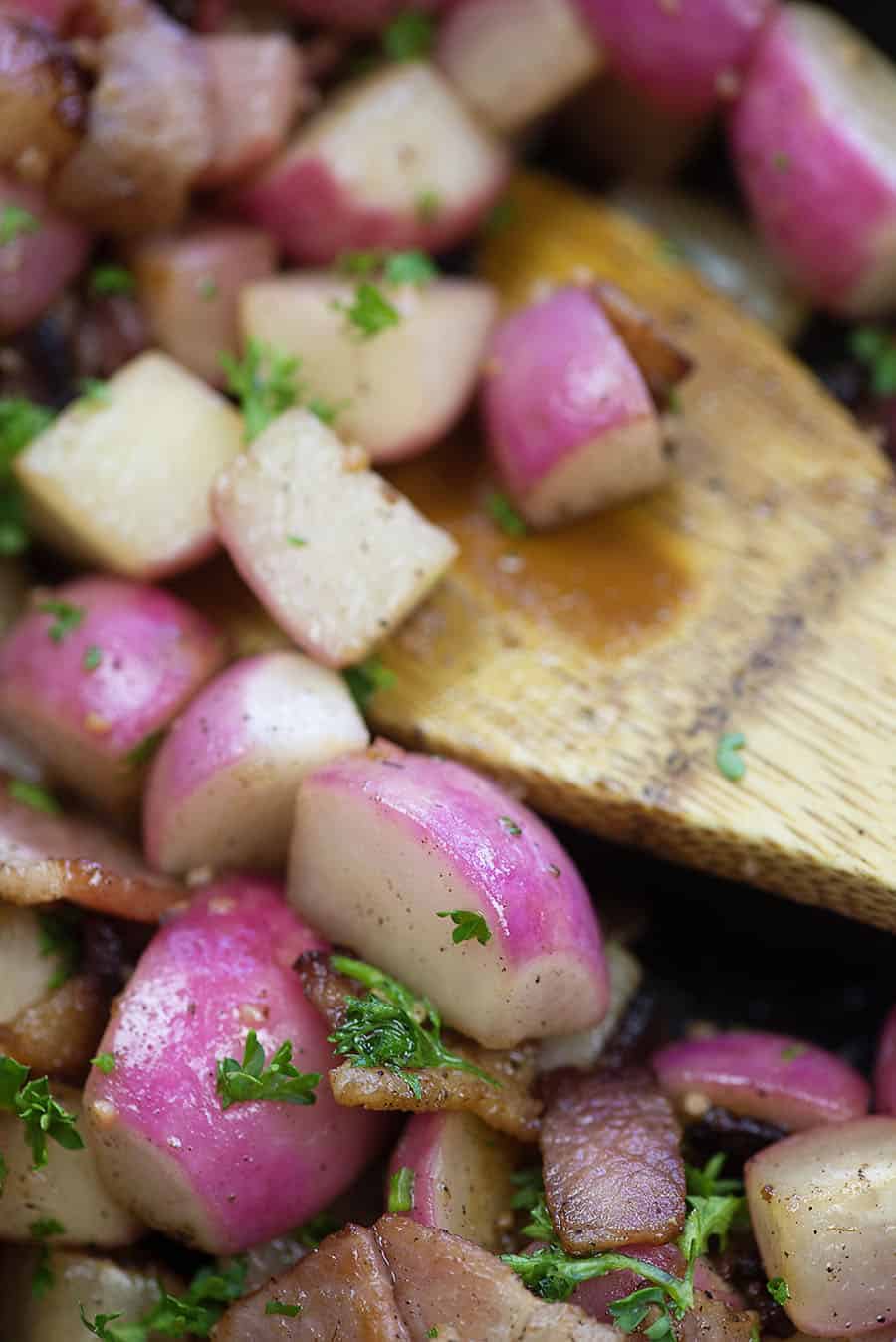 Our Favorite Cajun Seasoning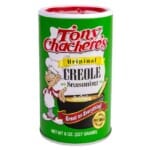 Cajun pan-fried radishes with bacon? Why not! We use and love Tony Chachere's Original Creole Seasoning in our house! It has a nice kick to it, is perfect for seasoning steak, chicken, and pork or amping up the flavor of roasted veggies, soups, and even eggs. We use it on just about everything.
FAQ's:
What do radishes taste like?
They have a similar look and flavor to potatoes but the texture is much juicier. They almost 'pop' in your mouth. They do have still have some of that peppery bite of a raw radish, but it's much, much more mellow.
How to store leftovers?
You can keep leftover pan-fried radishes in an airtight container in the fridge for about 3-4 days.
MORE KETO SIDE DISH RECIPES!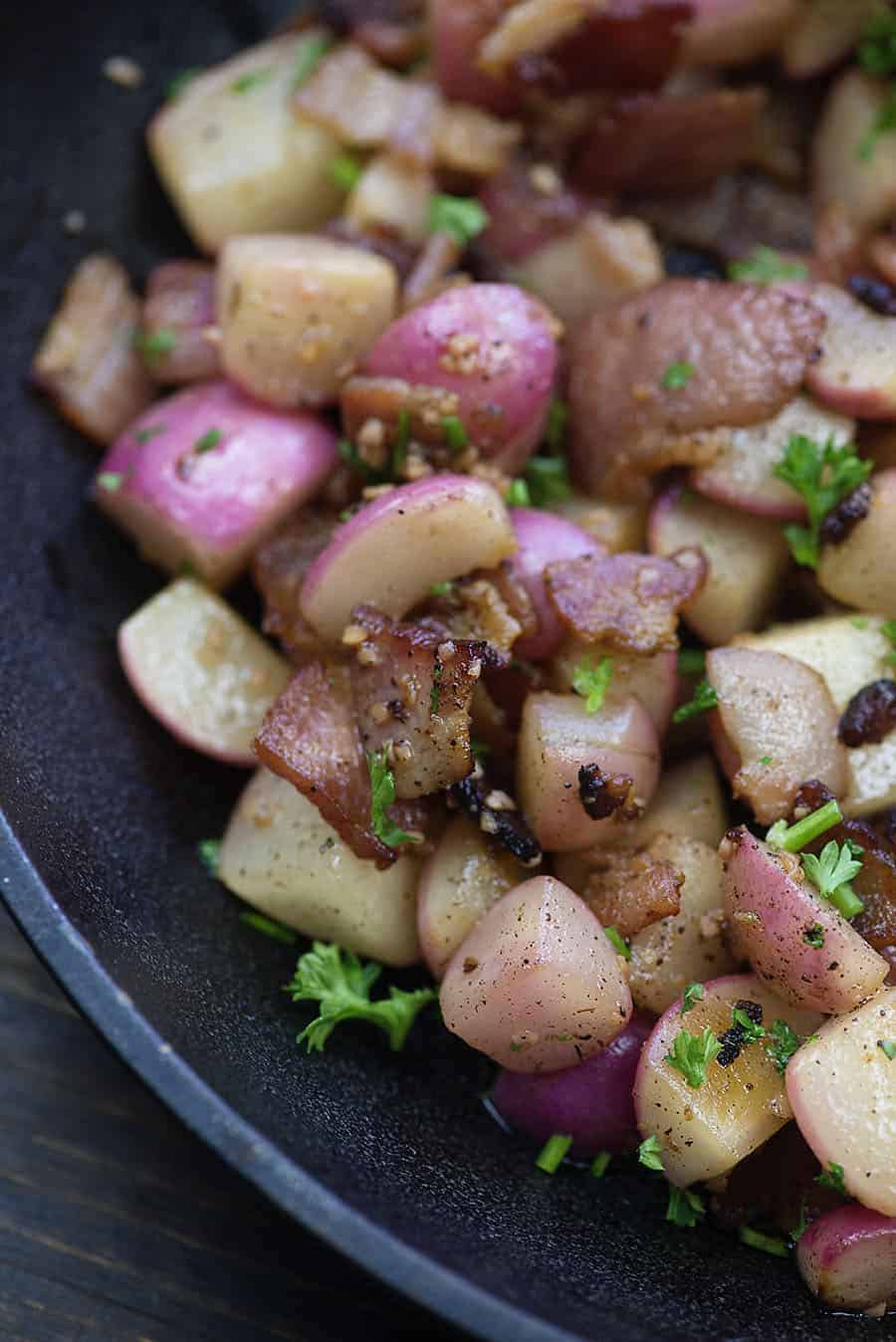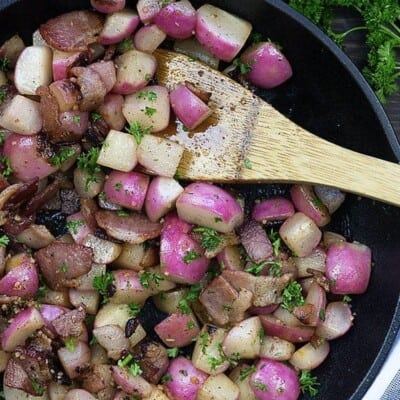 Pan Fried Radishes with Bacon
These sauteed radishes are perfect as a low carb side for breakfast or dinner. They remind me of fried potatoes!
Prep5 minutes
Cook20 minutes
Total25 minutes
Ingredients
4 slices bacon diced
1 ½ pounds radishes diced
1 teaspoon minced garlic
1//2 teaspoon salt
½ teaspoon pepper
2 teaspoons chopped parsley
Instructions
Heat a large skillet over medium heat and add the bacon to the pan.

Cook, stirring often, until nearly crisp.

Add the radishes to the pan with the bacon and continue cooking, stirring often, until radishes are softened, about 15 minutes.

Add the garlic and cook for 1 more minute.

Sprinkle with salt, pepper, and parsley before serving.

Serve hot.
Tips & Notes:
Radishes will lose most of their spicy bite when cooked, though you'll occasionally still get a bit of kick from the hotter ones.
Nutrition Information:
Calories: 64kcal (3%)| Carbohydrates: 5g (2%)| Fat: 3g (5%)| Sodium: 230mg (10%)| Fiber: 2g (8%)| Net Carbs: 3g (6%)