These Smashed Brussels Sprouts have perfectly crispy and caramelized edges after roasting them in the oven with some butter and olive oil! We season with garlic and Parmesan for an easy dish that goes with just about anything!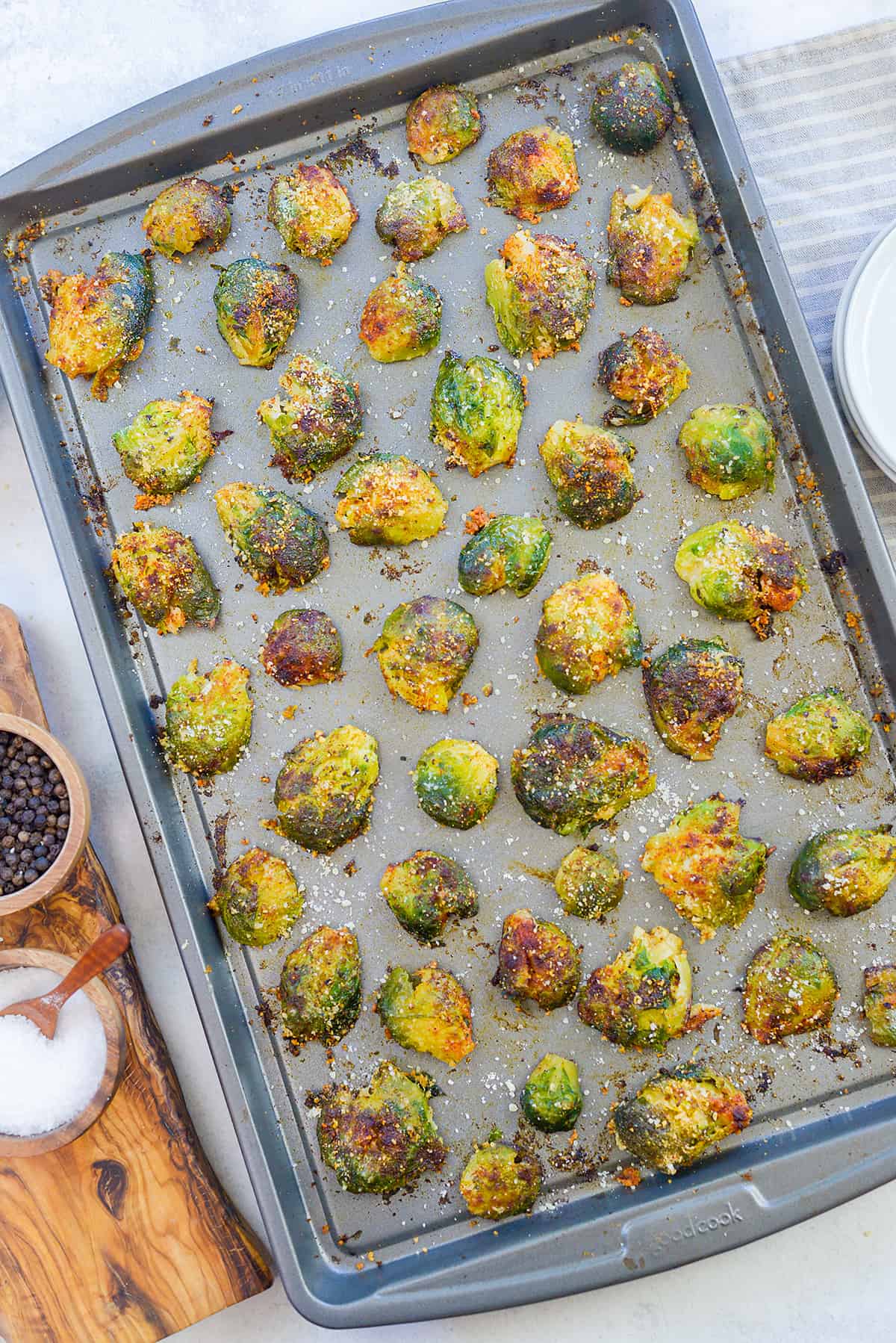 I know, I know…Brussels sprouts are the vegetable that everyone loves to hate, but I'd argue that the haters just haven't had Brussels sprouts cooked properly yet. 😉
If you only eat boiled Brussels sprouts, then sure. I get why they aren't a favorite.
But if you boil them, smash them, season them, and then roast them until they get crispy and caramelized around the edges, now that's a food you can fall in love with!
These smashed Brussels sprouts are sure to become a new favorite – simple to make, loaded with flavor, and they go great with loads of other dishes.
Another favorite sprout recipe is our Balsamic Roasted Brussels Sprouts. The balsamic vinegar adds so much flavor to this green veggie!
Ingredient Notes:
This post contains affiliate links. As an Amazon associate and member of other affiliate programs, I earn from qualifying purchases.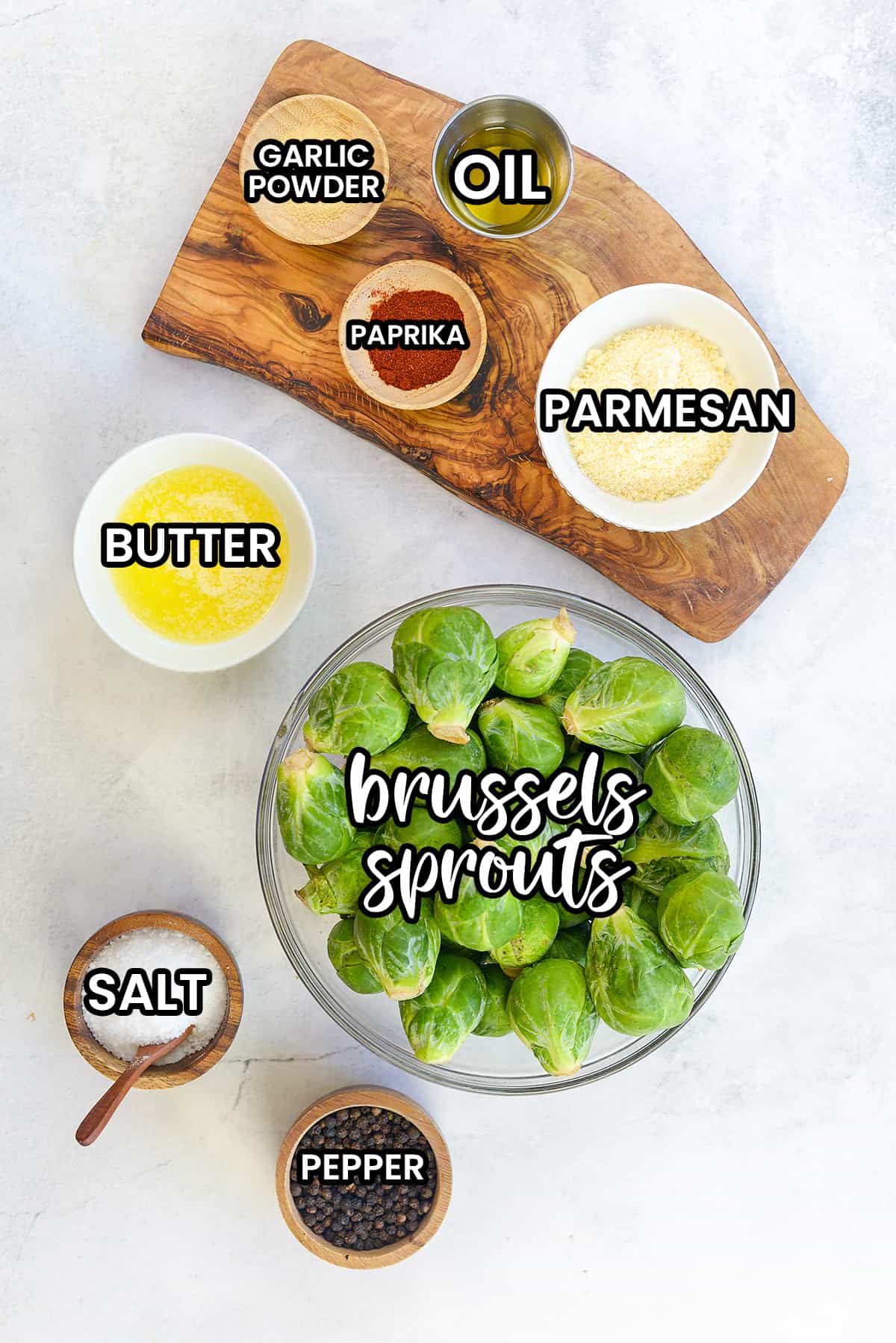 Brussels Sprouts – You'll need fresh, not frozen, Brussels sprouts for this recipe. Remove any damaged or loose leaves from the outer layer before cooking.
Butter & Olive Oil – A nice mix of some melted butter and olive oil is perfect for roasting these smashed Brussels sprouts. It'll add flavor, keep them from sticking to the pan, and help keep the seasoning in place.
Seasoning – I'm using a mix of salt, cracked pepper, garlic powder, and smoked paprika. If you don't like the smoky flavor you can use regular paprika. And if you want to add some spicy heat add some red pepper flakes or a Cajun/Creole seasoning to the mix!
Parmesan – You'll want to use some grated parmesan cheese for this. The powdered kind works great.
Why We Love This Recipe:
Steamed or boiled Brussels sprouts have a bad reputation, but this method will change anyone's opinion!
The crispy edges are packed with flavor and add a nice contrast to the tender center.
These are simple to customize – switch up the spices to suit your tastes!
How To Cook Brussels Sprouts: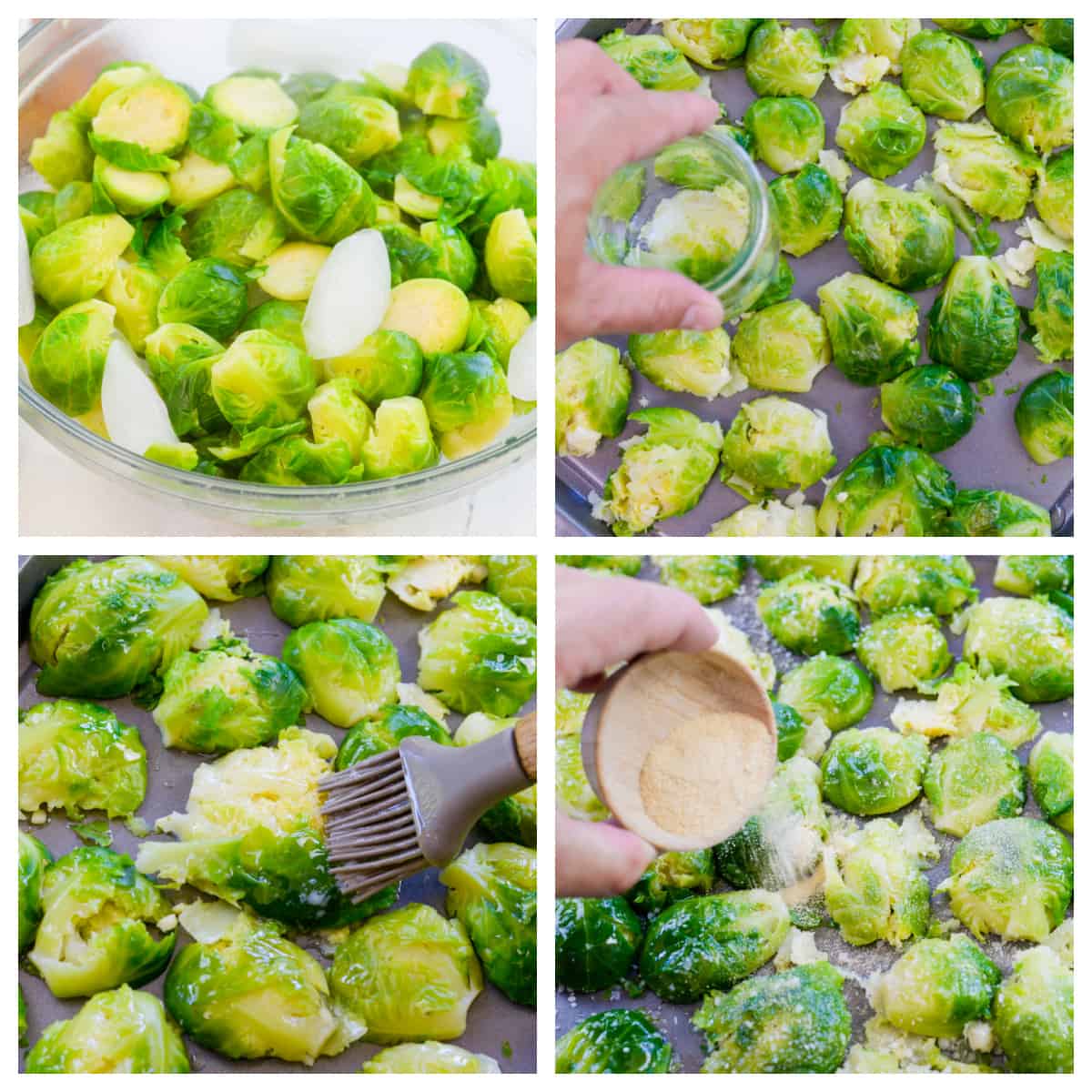 Boil & Chill – Boil your Brussels sprouts in a pot of salted water and then drop them into an ice bath for a couple of minutes to cool down. Drain and pat them dry. The dryer you get them, the crispier they can get!
Smash – Lay the sprouts out on a baking sheet and use a glass or mason jar to smash them down. The thinner you flatten them, the crispier they will be. We like ours just a bit smashed, but you do you. Do not cover the pan with parchment paper or the sprouts won't get crispy.
Coat – Drizzle the oil and butter over the sprouts.
Season – Sprinkle on the seasonings.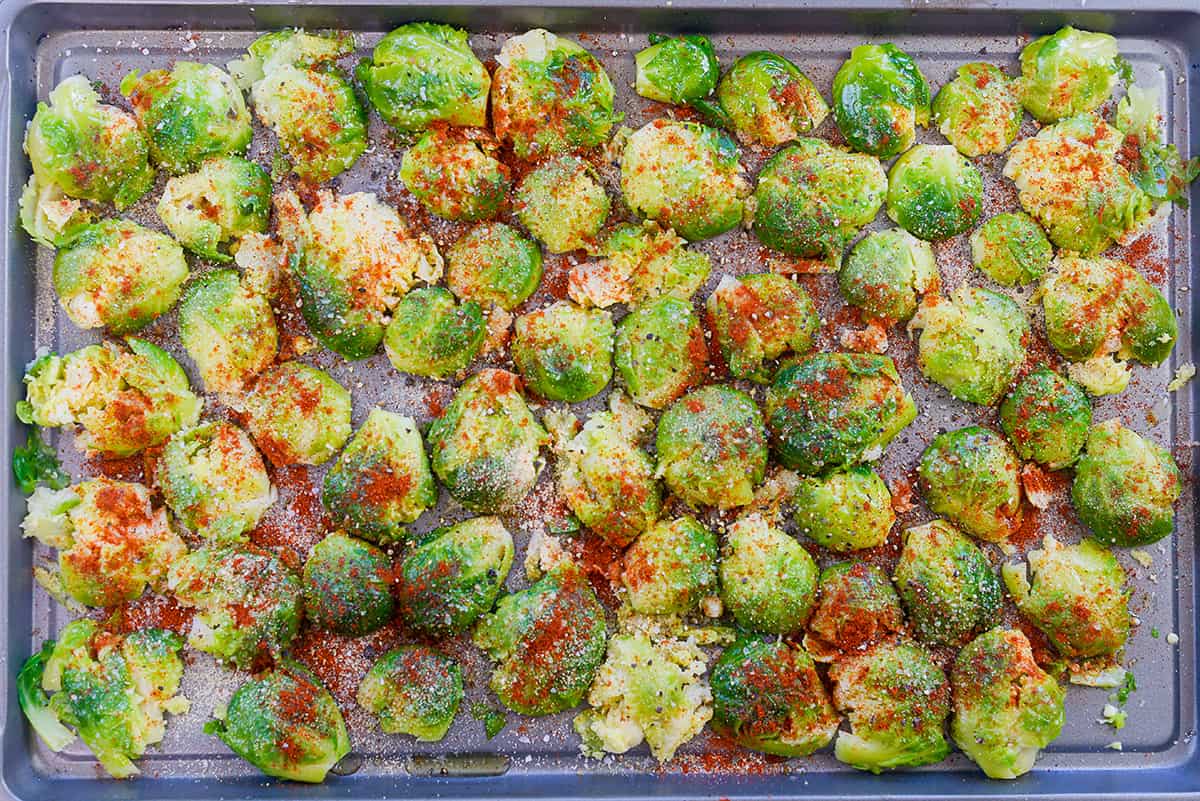 Roast – Add the pan to the oven and roast for 10 minutes before flipping them, sprinkling on the grated Parmesan cheese, and roasting for another 10 minutes to finish.
Serve – When the sprouts are cooked through and the edges are nice and crispy you can serve them hot! Some crumbled bacon is a good way to garnish these smashed Brussels sprouts, and I have some good suggestions for what you can serve these with below!
Helpful Tip!
Try to avoid overcooking the Brussels sprouts when you are boiling them. You want them to be tender enough to smash, but not fully cooked or they will turn to mush!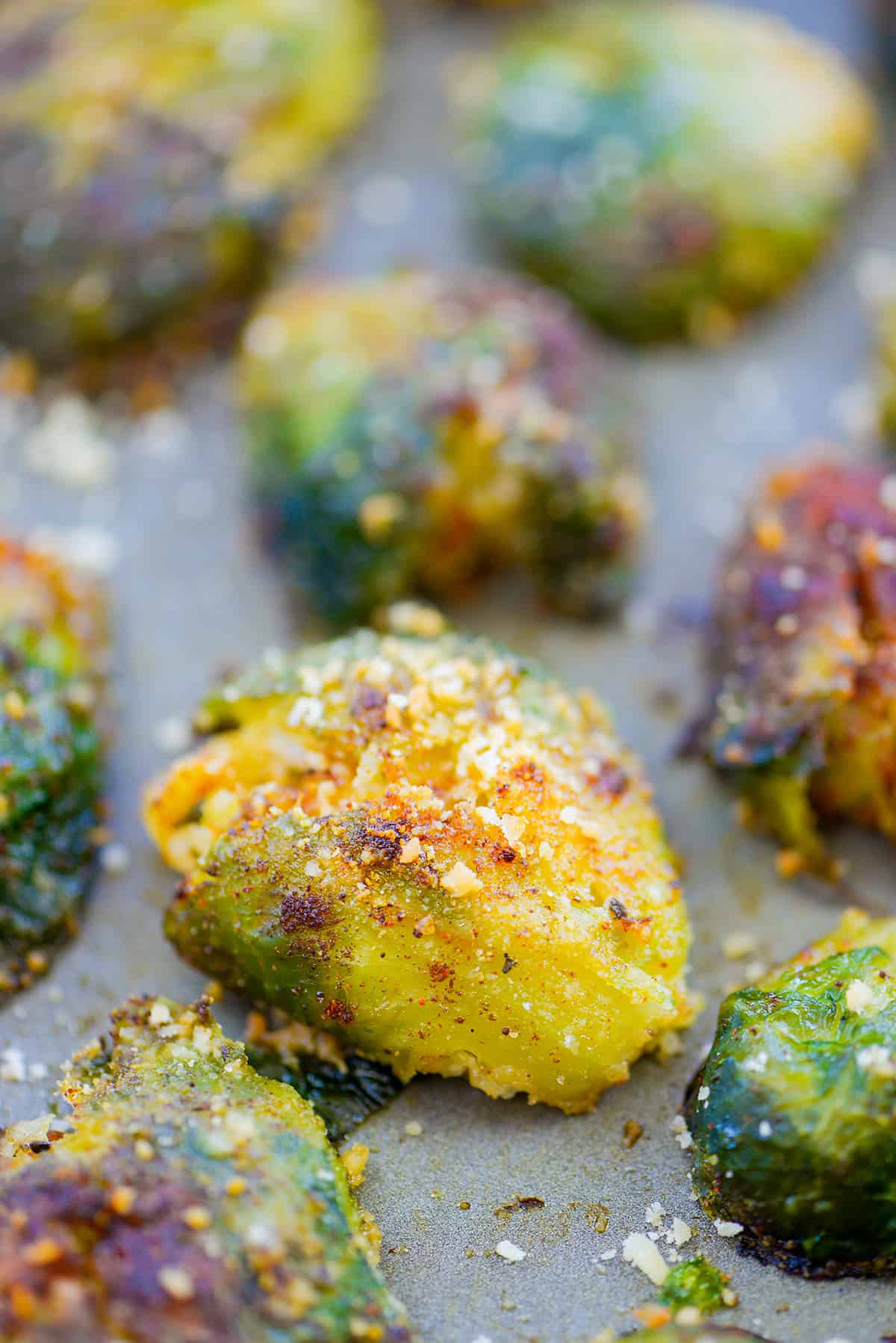 What To Serve With Brussels Sprouts:
If you're wondering what to serve with this smashed Brussels sprouts recipe I've got some good ideas below. These sprouts make for a perfect low carb side dish that'll pair well with just about any meat or savory recipe. Try serving with one of these recipes:
FAQ's:
Why smash Brussels sprouts?
Smashed Brussels sprouts will leave you with crispy bits that are caramelized into perfection! By flattening out the Brussels sprouts there is more surface area and they cook through faster since they are thinner.
How to store smashed Brussels sprouts?
You can keep these smashed Brussels sprouts stored in an airtight container in the fridge for about 3 to 4 days. Reheat in the oven or air fryer for best results.
Are Brussels sprouts keto?
Brussels sprouts make a great addition to a ketogenic diet! They are low carb and full of fiber and nutrients. Not all Brussels sprouts recipes are keto friendly as sometimes there are added carbs.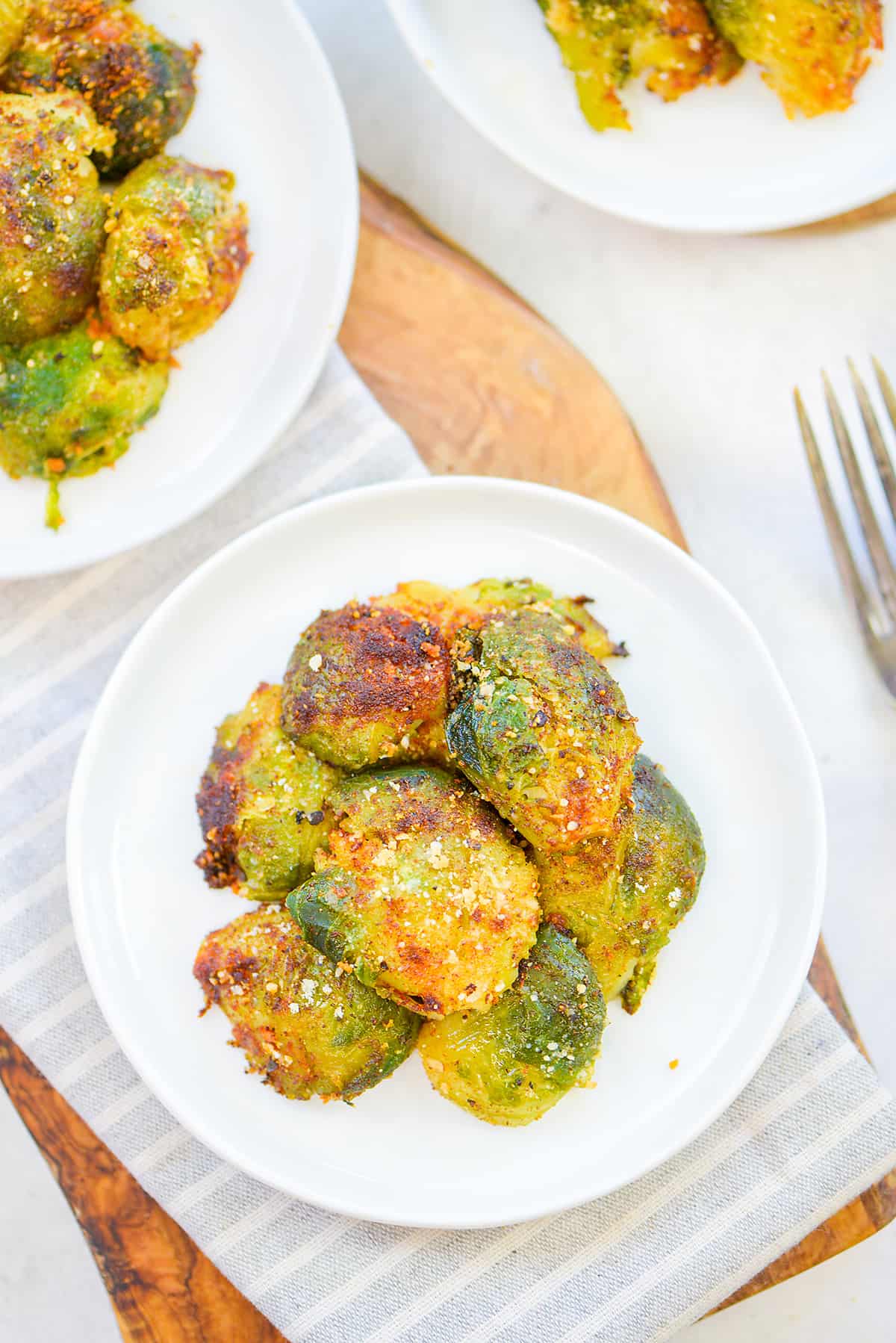 More Brussels Sprouts Recipes: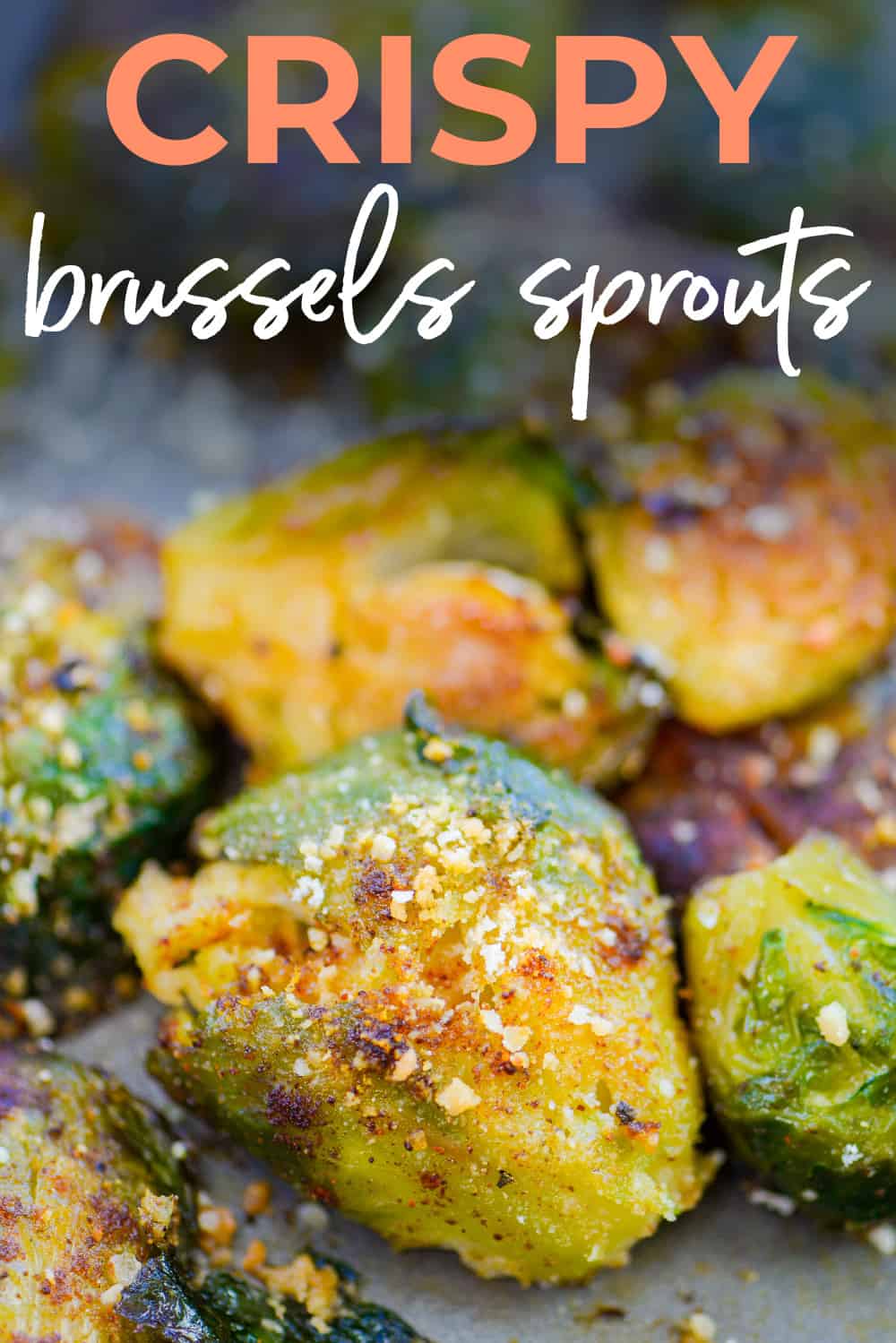 Smashed Brussels Sprouts
If you think you hate Brussels sprouts, this recipe might just convert you! The crispy caramelized edges pack in loads of flavor and the simple mix of seasonings is easy to customize to suit your tastes!
Ingredients
1 ½ pounds fresh Brussels sprouts
1 tablespoon olive oil
1 tablespoon melted butter
1 teaspoon salt
1 teaspoon cracked pepper
1 teaspoon garlic powder
1 teaspoon smoked paprika
3 tablespoons grated Parmesan cheese
Instructions
Bring a large pot of salted water to a boil. Prepare a large bowl with ice water. Preheat oven to 425 degrees.
Wash and trim the ends off the Brussels sprouts. Add to the boiling water and simmer for 10 minutes or until fork tender.
Remove the Brussels sprouts to the ice bath for 2 minutes. Drain the Brussels sprouts and pat dry.
Arrange the Brussels sprouts on a baking sheet with space between each. Use a drinking glass or mason jar to flatten out the Brussels sprouts on the pan.
Drizzle with the oil and melted butter. Sprinkle with the salt, pepper, garlic powder, and smoked paprika. Stir well to coat.
Roast for 10 minutes and then flip the Brussels sprouts over. Sprinkle with Parmesan and continue roasting for 10 minutes more. Brussels sprouts are done when crispy.
Serve hot.
Notes
For crispier Brussels sprouts, smash them down very thin. For a tender center with crispy edges, lightly smash the Brussels sprouts.
Nutrition Information:
Yield: 6
Serving Size: 1
Amount Per Serving:
Calories: 93
Total Fat: 6g
Saturated Fat: 2g
Trans Fat: 0g
Unsaturated Fat: 3g
Cholesterol: 8mg
Sodium: 443mg
Carbohydrates: 8g
Net Carbohydrates: 5g
Fiber: 3g
Sugar: 2g
Protein: 4g
All information and tools presented and written within this site are intended for informational purposes only. This information is provided as a courtesy and there is no guarantee that the information is accurate.