These CROCK POT CHICKEN WINGS are so tender and juicy. We pop them under the broil for the ultimate crispy skin and then toss them in our homemade buffalo sauce.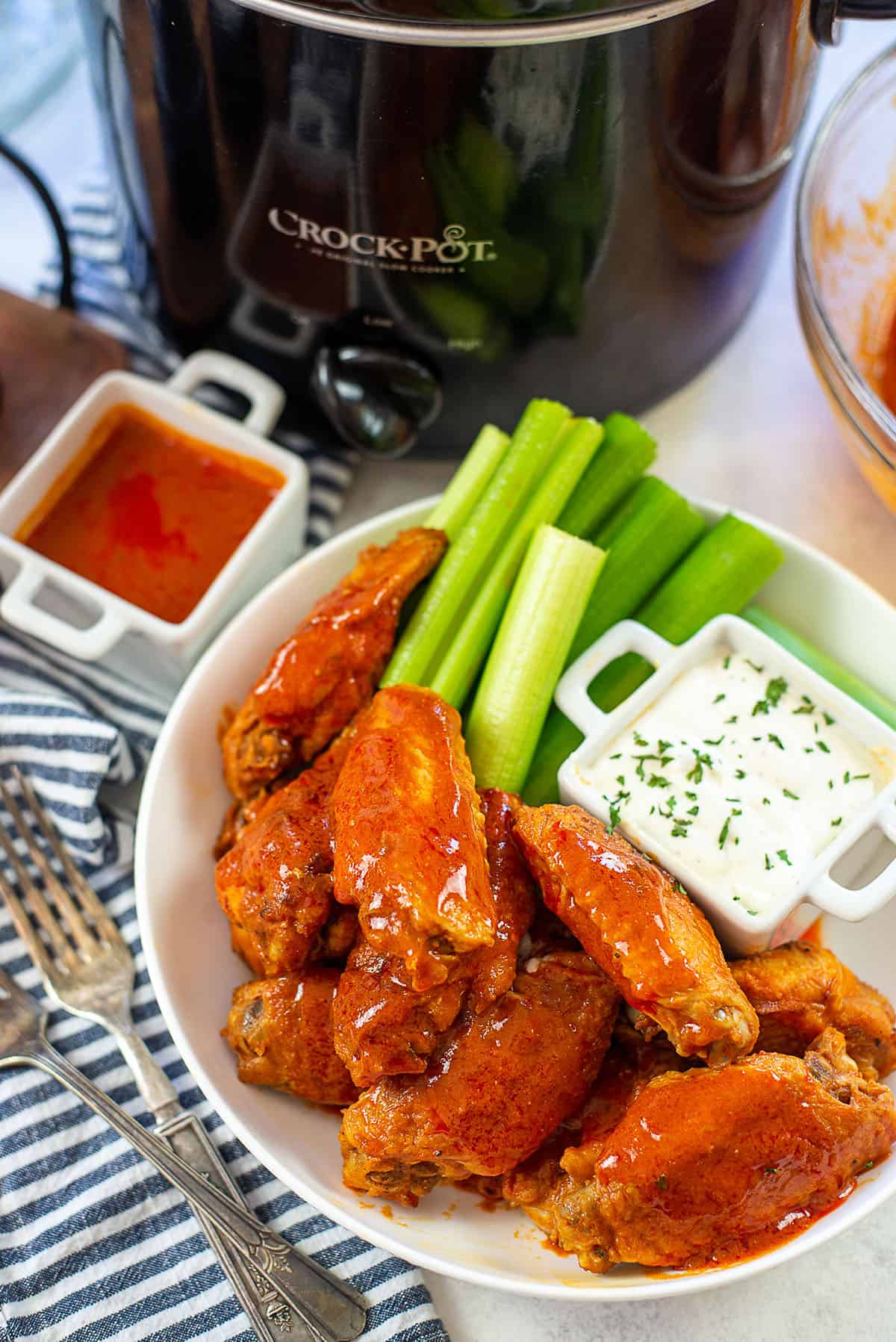 Everyone loves a good buffalo wing, but no one seems to like deep frying them…myself included!
We've done air fryer wings a million times at this point (they are amazing!!), but not everyone has an air fryer and sometimes you just want to make a larger batch than the air fryer allows.
The crockpot is actually perfect for making wings! The meat gets so tender and practically falls off the bone just before you pop the wings onto a sheet pan and place them under the broiler in your oven to crisp up the skin. You'll be a little skeptical as you pull them from the crockpot, but the skin really crisps up beautifully!
Absolutely perfect every time and beyond simple, too!
We're a sucker for our homemade ranch dressing, but you can also dip these wings in blue cheese dressing.
Have you tried out crockpot BBQ chicken wings yet? Same method, but with the easiest 2 ingredient homemade BBQ sauce!
Ingredient Notes:
This post contains affiliate links. As an Amazon associate and member of other affiliate programs, I earn from qualifying purchases.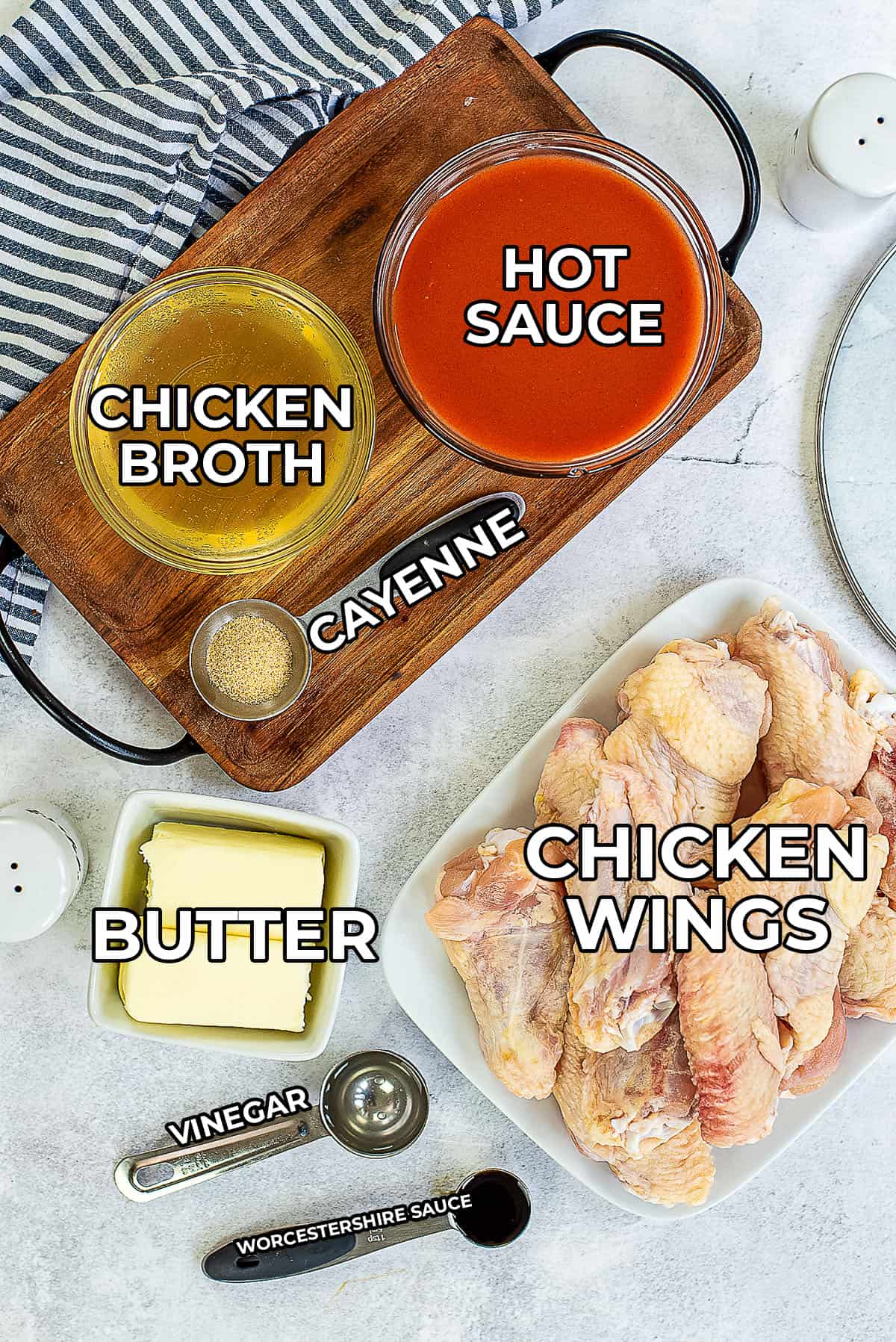 Chicken Wings – You'll need fresh or thawed chicken wing pieces. We like to use both the drums and the flats which is generally how they come in the store. These will get seasoned and slow cooked until they are nice and tender and then finished under a broiler for the perfect crispy skin!
Chicken Wing Seasoning – We're keeping it simple on the seasoning with a mix of salt, pepper, and garlic powder.
Broth – Some chicken broth will provide the liquid you'll need for these crockpot buffalo wings. They'll slow cook in the broth until they are tender and juicy!
Buffalo Wing Sauce – Every good homemade buffalo wing sauce should start with some Frank's Red Hot Sauce! It'll get mixed with butter, vinegar, Worcestershire sauce, and if you're in the mood for extra spicy you can add in some cayenne pepper! This sauce is amazing!
What We Love About This Recipe:
Slow cooker chicken wings make a great snack, an appetizer, or even a meal. The best chicken wings have crispy skin with tender, juicy meat and that's what you get out of this recipe!
The homemade buffalo sauce is easy to make and will really spice up these slow cooked chicken wings!
If you're in a hurry, you can use a store bought sauce.
How To Make Crockpot Wings:
Prepare – Sprinkle a mixture of garlic powder, salt and pepper over your chicken wings and add them to your slow cooker along with the chicken broth.
Slow Cook & Broil – These slow cooker buffalo wings come out best when you cook them on high for about an hour and a half. They'll get real tender and juicy while slow cooking in the chicken broth! But chicken wings are best served with a crispy skin so once they've finished in the crockpot it's time to fire up your broiler. Place the chicken wings in a single layer on a baking sheet and then broil them for about two to three minutes. Watch them closely as they can easily burn! They're done cooking as soon as the skin is nice and crispy.
Buffalo Wing Sauce – This is an easy buffalo wing sauce that uses my favorite hot sauce, Frank's Red Hot! You'll add all of the sauce ingredients to a sauce pan including the hot sauce, butter, vinegar, and Worcestershire sauce. If you want to add even more heat you can add in the cayenne pepper, but that's optional. Stir the sauce while cooking over medium heat until the edges of the sauce start to bubble.
Serve – With the chicken and sauce finished all that's left to do is coat the wings in the buffalo sauce! You can just add them to a bowl with the sauce and toss to coat. That's all there is to it, these slow cooker buffalo chicken wings are ready to serve!
Helpful Tip!
If you are using a different hot sauce than Frank's Red Hot, or if you plan to add in the cayenne pepper, it's probably a good idea to give the sauce a taste before coating the wings in it to get the heat just right.
FAQ's:
Can I use a different hot sauce?
Sure, but your results will be a bit different than mine as the sauce was formulated based on using Frank's. You could also just purchase a wing sauce and use that in place of our homemade wing sauce.
Can I store these slow cooker chicken wings?
They should last for a couple of days in the refrigerator if they are tightly covered. Another option is to prepare the chicken wings and the sauce and store them separately until you're ready to eat. The homemade buffalo sauce will last even longer in the fridge in a sealed mason jar.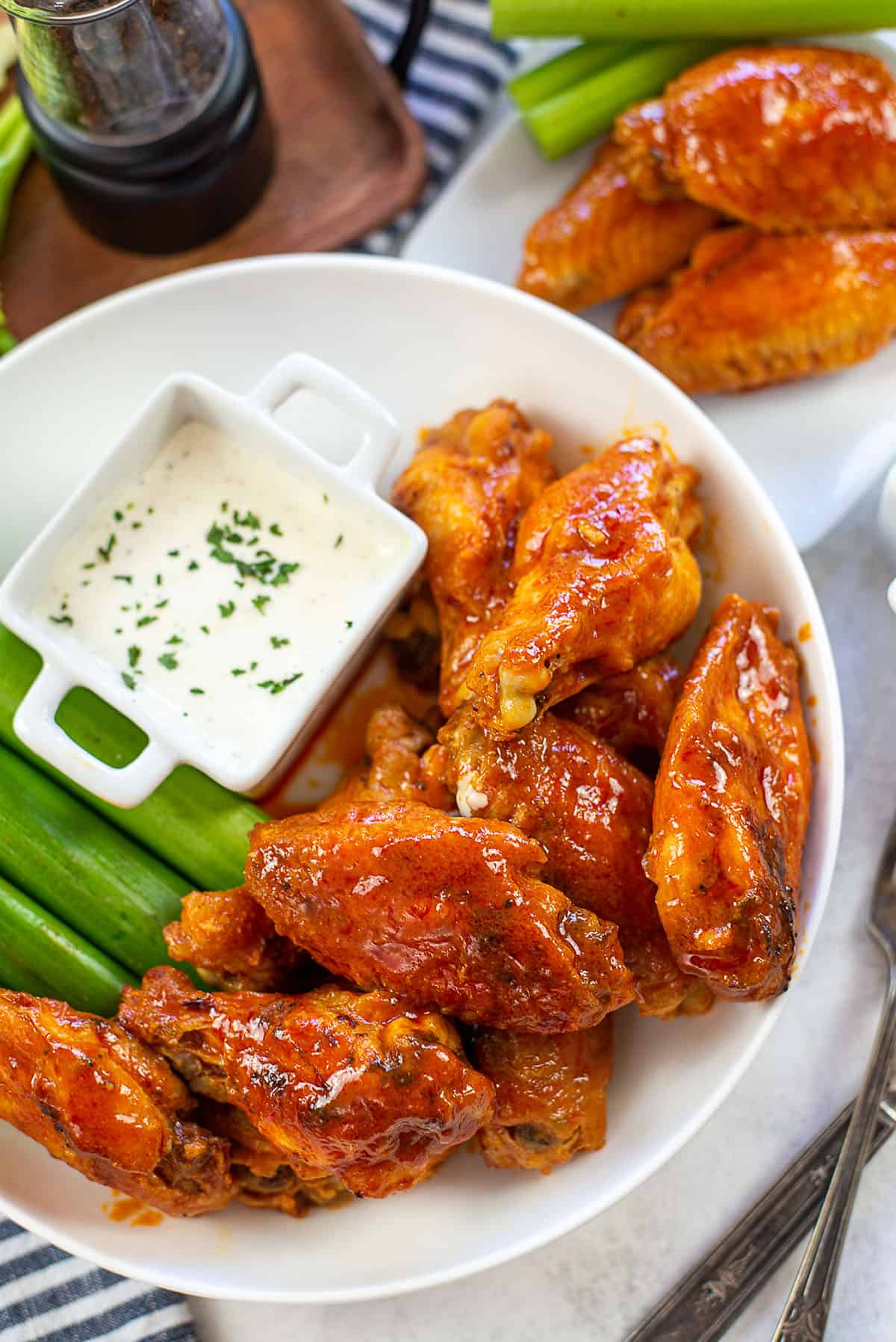 More Low Carb Buffalo Chicken Recipes!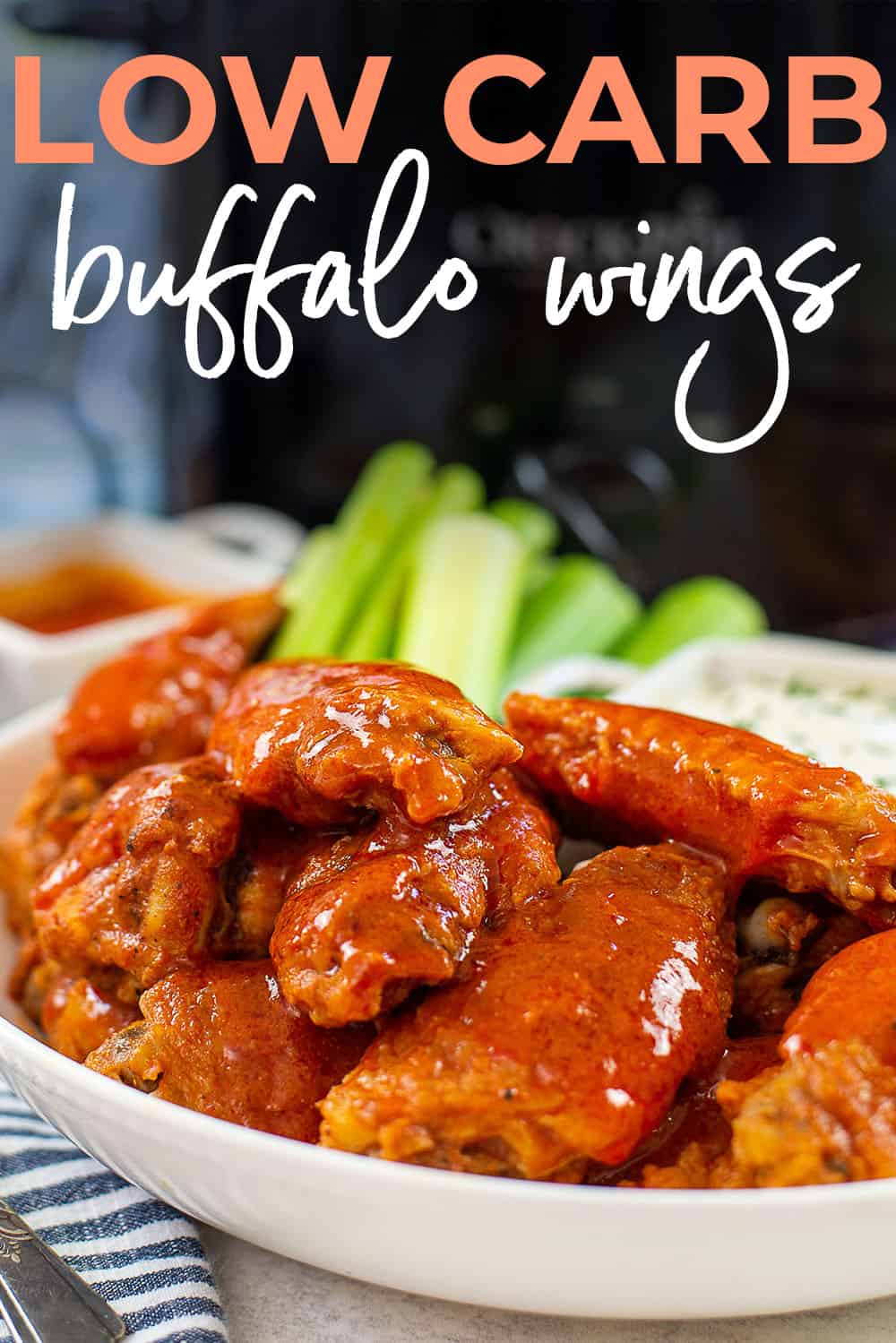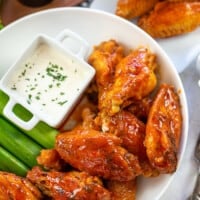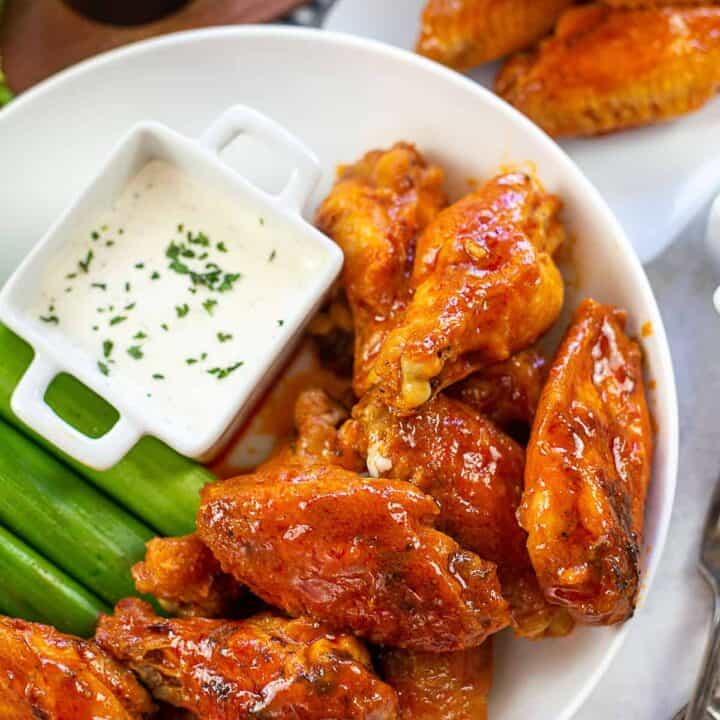 Crock Pot Chicken Wings
These saucy wings are cooked until tender in the crockpot and then crisp up under the broiler. Our homemade buffalo sauce makes them so tasty and irresistible!
Cook Time 1 hour 30 minutes
Total Time 1 hour 45 minutes
Ingredients
For the wings:
4 pounds chicken wing pieces, thawed
1 teaspoon salt
1 teaspoon pepper
1 teaspoon garlic powder
1/2 cup chicken broth
For the sauce:
2/3 cup Frank's Red Hot Sauce
1/2 cup butter
1 tablespoon white distilled vinegar
1/2 teaspoons Worcestershire sauce
2 teaspoons cayenne, optional
Instructions
To make the wings:
Add the chicken wing pieces to a 6 quart slow cooker.
Sprinkle the chicken with salt, pepper, and garlic powder. Add the chicken broth and cover.
Cook on high for 1 hour and 30 minutes.
Remove chicken from the slow cooker and place in a single layer on a rimmed baking sheet.
Place chicken under the broiler for 2-3 minutes to allow skin to crisp. Keep a close eye on the chicken as it can burn easily.
To make the sauce:
When the wings are nearly done cooking, add all of the sauce ingredients to a small sauce pan over medium heat, stirring occasionally. The cayenne pepper will give the sauce a spicier flavor. Omit for mild wings.
Remove from the heat once the edges of the sauce are bubbling and place sauce in a large bowl.
To serve:
Add the broiled wings to the bowl with the sauce and toss to coat.
Serve immediately with blue cheese or ranch, for dipping.
Notes
The wings will be very tender and the skin will be soft after slow cooking. Placing the wings under the broiler quickly crisps the skin up, but keep a close eye as they'll go from crisp to burnt quickly.
Swap in a store bought wing sauce to save time, if desired.
Frank's Red Hot has quite a bit of sodium, which is why it's so high. Try a lower sodium hot sauce if this is something you're concerned about or reduce the amount of sauce you use.
Nutrition Information:
Yield: 6
Serving Size: 1
Amount Per Serving:
Calories: 583
Total Fat: 43g
Saturated Fat: 0g
Trans Fat: 0g
Unsaturated Fat: 0g
Cholesterol: 315mg
Sodium: 1624mg
Carbohydrates: 1g
Net Carbohydrates: 1g
Fiber: 0g
Sugar: 0g
Protein: 46g
All information and tools presented and written within this site are intended for informational purposes only. This information is provided as a courtesy and there is no guarantee that the information is accurate.