Fathead pizza crust topped off with all of the goodness of a BLT. The crisp lettuce, salty bacon, and fresh, juicy tomatoes make this low carb pizza perfect for a summer dinner!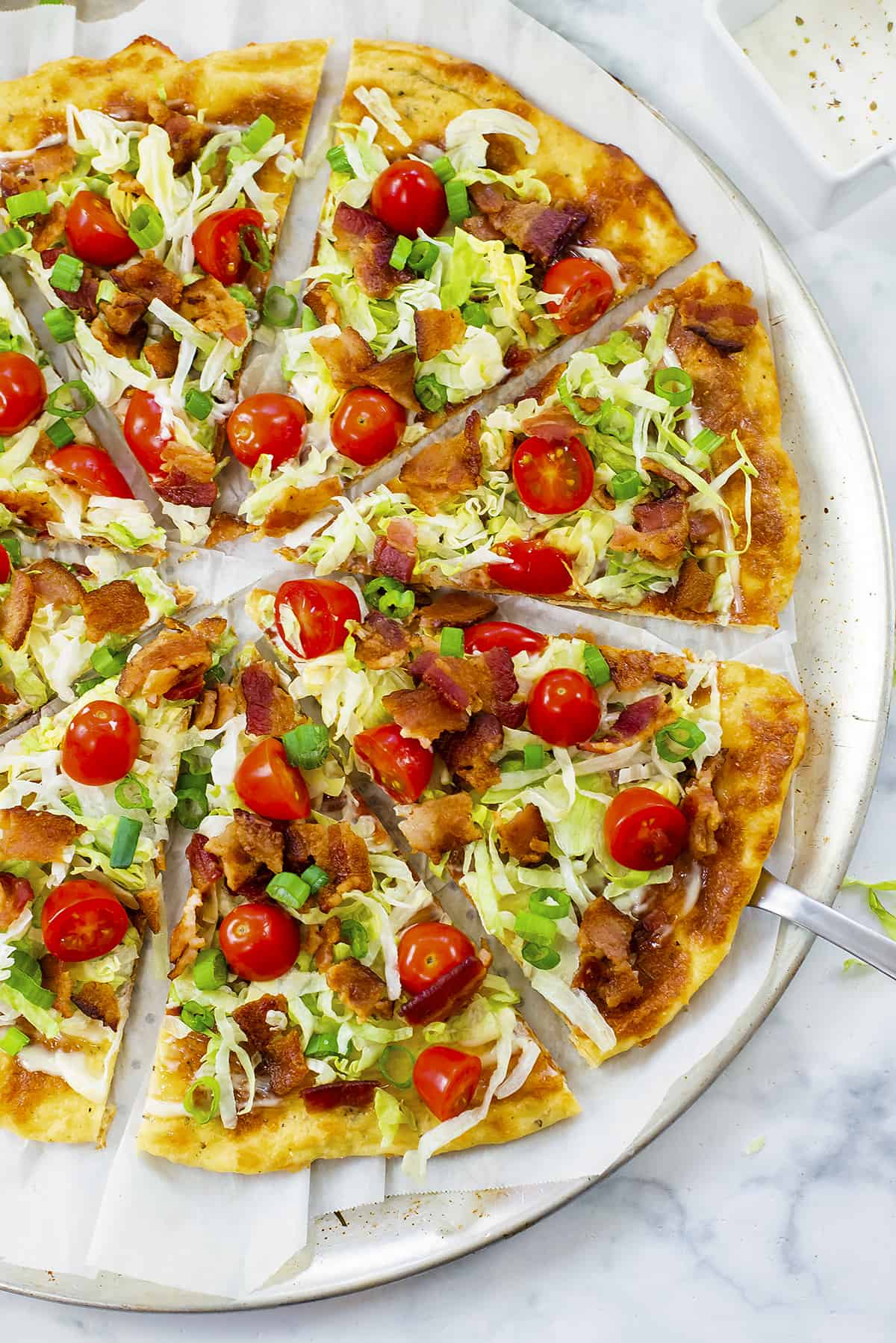 If you're new to the low carb world, you maybe haven't heard of fathead pizza.
It is the BEST pizza crust that I've tried and I've done them all. The almond flour crusts. The cauliflower crusts. I've even done crustless pizza.
This is THE ONE.
My entire family prefers this crust over any regular pizza crust – yes, even the kind with actual wheat flour and yeast.
I love the texture this low carb pizza crust provides. It's a bit chewy, but also has some crunch. It holds up just like regular pizza dough – you won't need a fork for this one.
No one would ever guess it was low carb and gluten free!
I have rolled the dough up to make wraps as well and it works fabulously.
The name and original recipe appears to come from a documentary about food and healthy eating. I've made a few changes here and there to suit my tastes and I'm reprinting it here for you to try!
Of course, if you're not into fathead dough, allergic to almonds, or just want to try something new – we've got you covered with our cauliflower pizza crust and chicken crust pizza!
Ingredient Notes:
This post contains affiliate links. As an Amazon associate and member of other affiliate programs, I earn from qualifying purchases.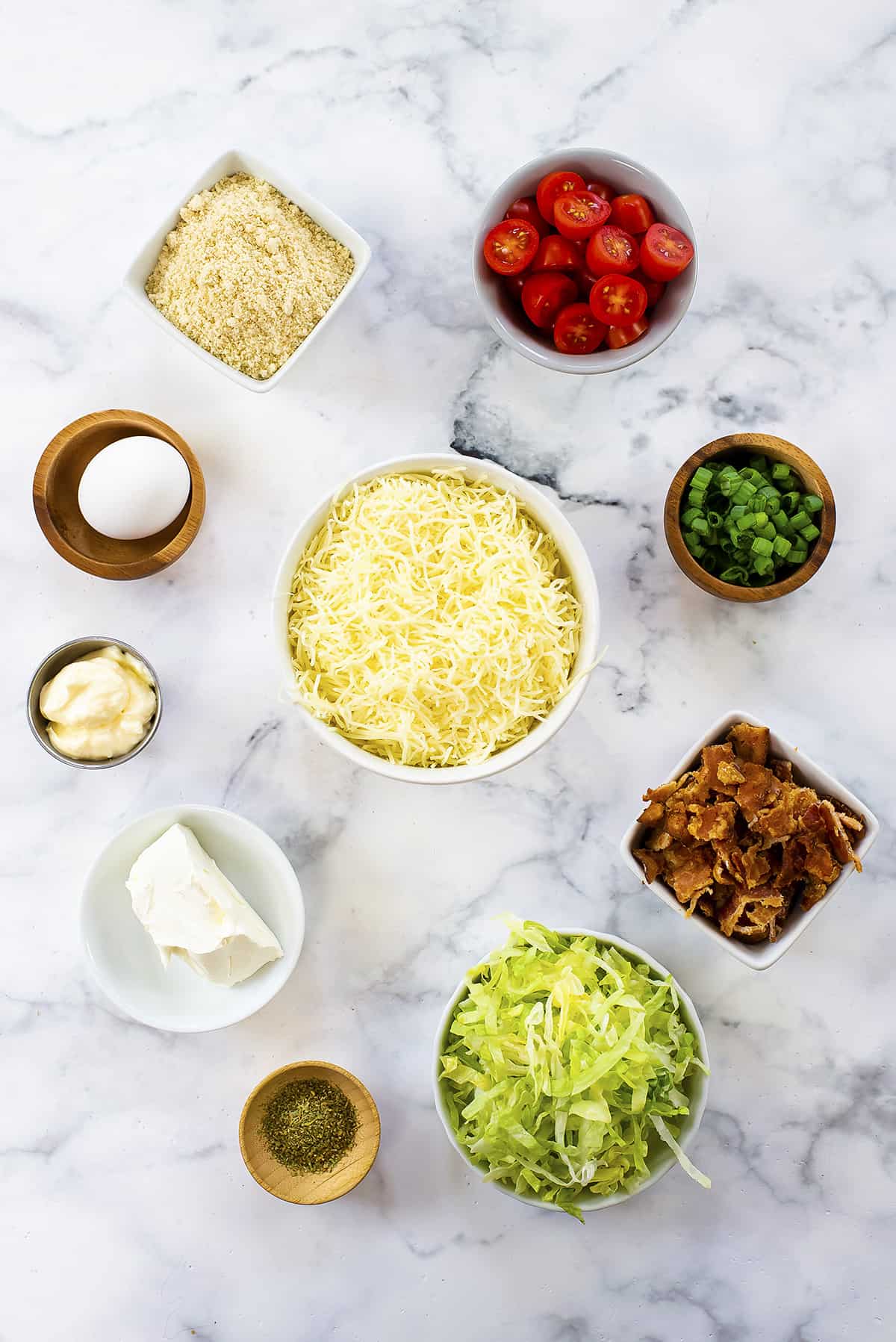 Fathead Dough – You'll prepare this easy keto pizza dough by combining almond flour, egg, cream cheese, mozzarella, and Italian seasoning.
Mayonnaise – This isn't your typical pizza sauce, but we're going for BLT flavors here so you will need some mayonnaise for topping the crust. We use real mayo – not Miracle Whip.
Pizza Toppings – I bet you can guess what toppings go on this BLT pizza! Some fried and diced bacon (try this easy air fryer bacon!), some shredded lettuce, and some halved cherry tomatoes. We add green onion too, for a little pizazz.
Shop Keto Ingredients
We use Thrive Market for a lot of our specialty ingredients and keto snacks or products. Their prices tend to be cheaper than the local stores and I love that you can so easily sort products by diet.rnrnLike Costco, this is a membership site, but we find that it's more than worth it based on the amount we save over the regular grocery store.rnrnThey have monthly or yearly plans. u003cstrongu003eu003ca href=u0022https://www.anrdoezrs.net/links/8985451/type/dlg/https://thrivemarket.com/myaisle/u0022 target=u0022_blanku0022 rel=u0022noreferrer noopener sponsored nofollowu0022u003eCheck it out here.u003c/au003eu003c/strongu003e
Why We Love This Recipe:
You can use the fathead dough in this recipe for other recipes that require a low carb crust!
This pizza has all the flavors of a BLT sandwich without the carbs.
The crust holds up well so you can pick it up and eat the pizza with your hands, just like a traditional crust!
How To Make Fathead Dough For Pizza: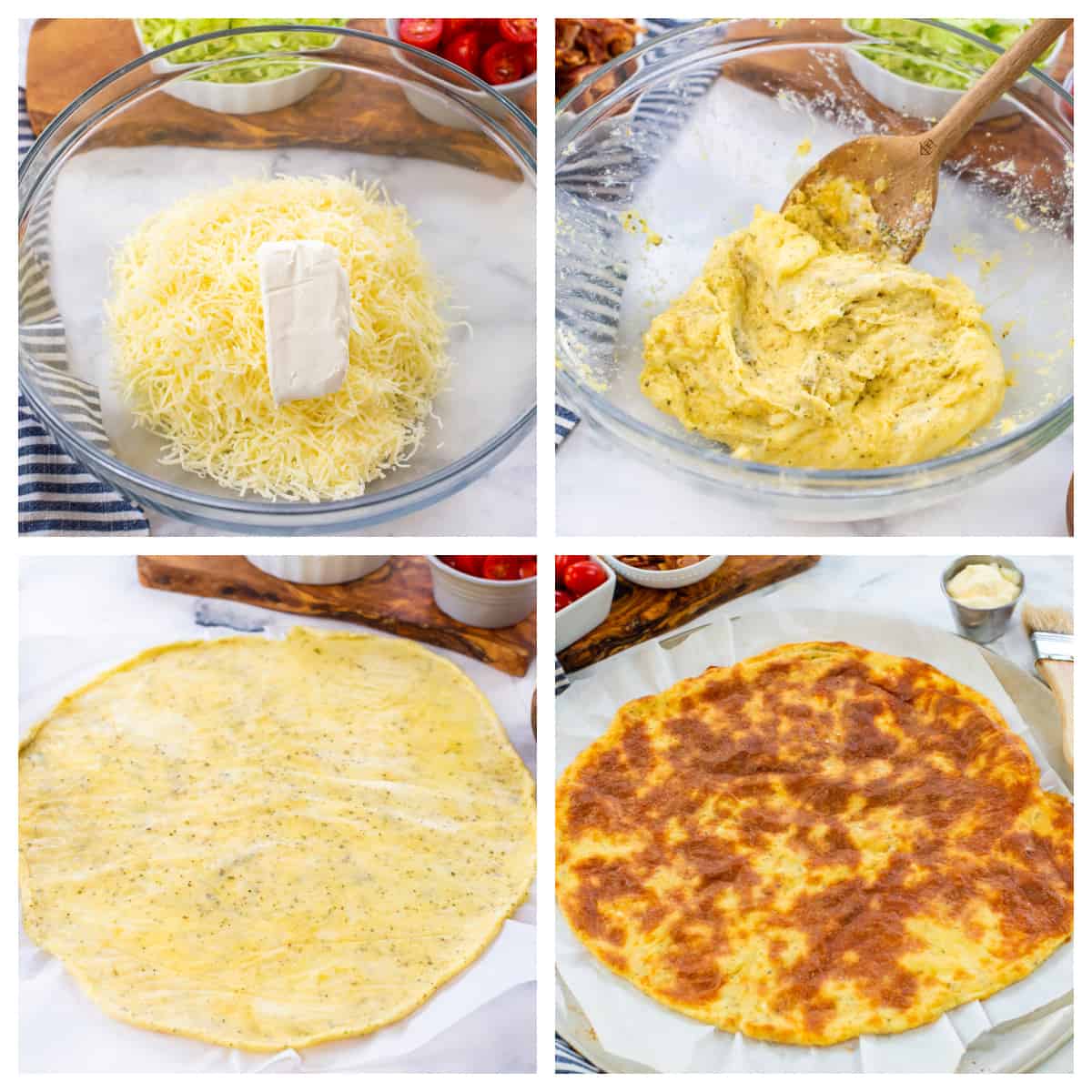 Melt – This low carb pizza crust starts off with cream cheese and grated mozzarella. You'll pop those in a microwave safe bowl and heat until melted. Stir the cheese together to combine.
Mix – Crack an egg and stir it in to the cheese along with some almond flour. I season my crust with a little Italian seasoning to give it more of a traditional crust vibe, but you can skip this if you'd like.
Roll – The fathead dough mixture will be a bit sticky, so pop it between two sheets of parchment paper and roll it out to form a pizza crust.
Bake – Line your baking pan with parchment (do not skip this step!) and place your dough on top. This will bake in about 10 minutes.
How To Make BLT Pizza:
Mayo – Let the fathead pizza crust cool a bit and then smear on some mayonnaise. The more the better, if you ask me. 😉
BLT Toppings – Next, top your crust with freshly chopped lettuce, crispy fried bacon, and chopped tomatoes. I throw in some green onions too, but these are totally optional.
Serve – Slice your pizza into 6 pieces and dig in!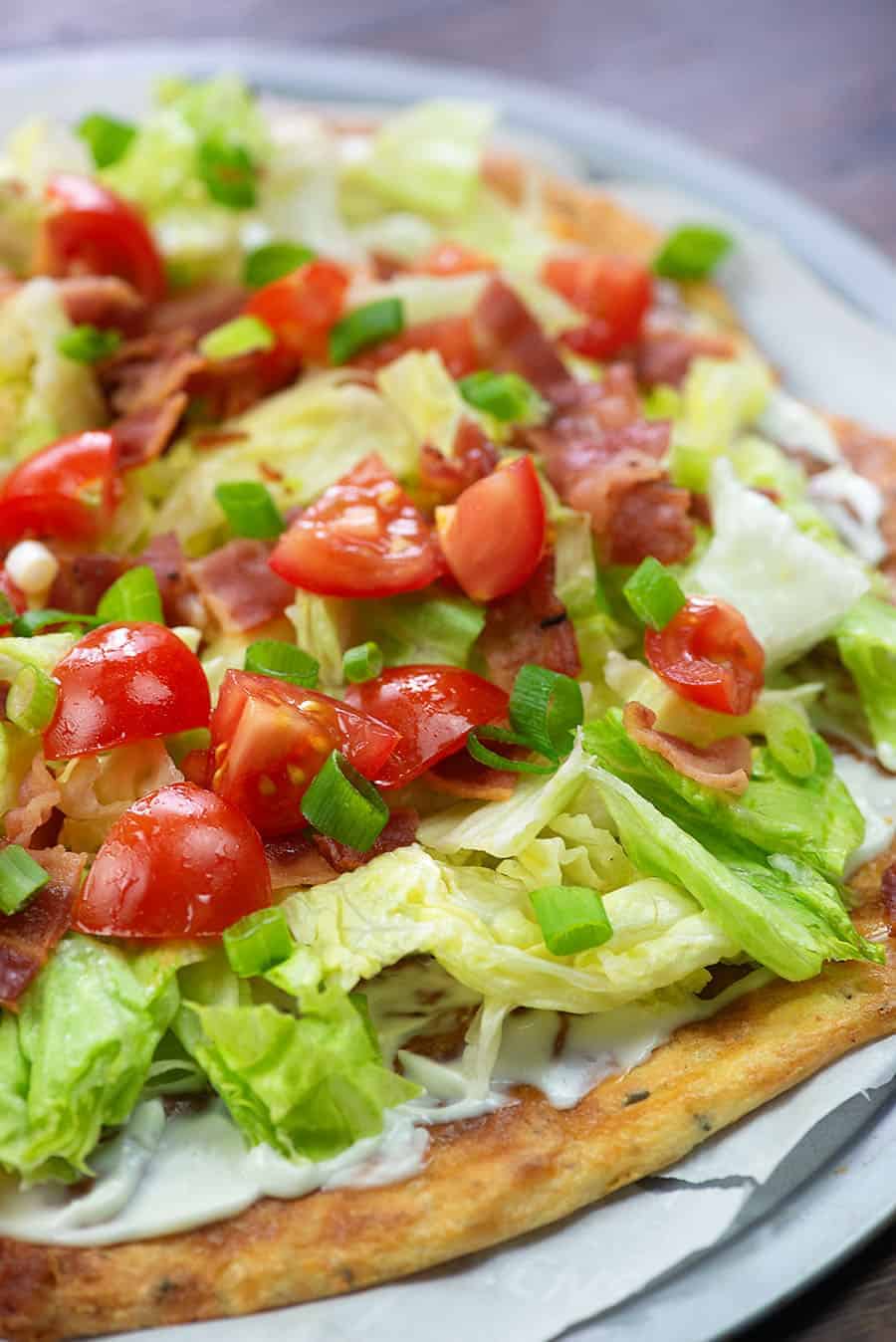 I LOVE the way fathead dough tastes, but I also love how filling it is.
Because it's made with ingredients like cheese and almond flour, it really does fill you up and keep you full, unlike a traditional crust loaded with carbs.
BLT pizza is the perfect answer to your summer time low carb dinners! You're going to love this pizza as much as we do! Give this fathead pizza crust a try and let me know what you think!
For Mayo Lovers:
Love that mayo and can't get enough? I feel you. It's so creamy dreamy delicious.
Pop some mayo in a ziptop bag, snip off the corner, and drizzle it over the top of the pizza. It's pretty, it's tasty, and it's hard to resist!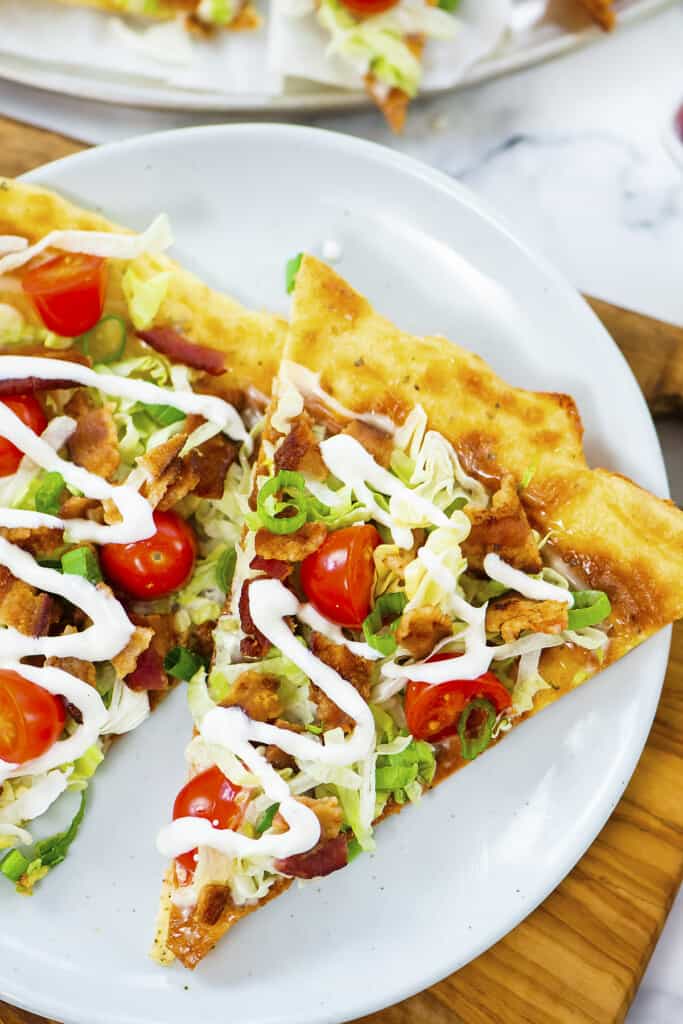 FAQ's:
Why is it called fathead pizza?
This recipe actually comes from a movie/documentary called Fat Head. This low carb dough has become very popular and is widely used.
Can you make fathead dough ahead of time?
Yes, you could prepare mix together the dough and then refrigerate for up to 3 to 4 days before flattening and baking the crust. You could make enough ahead of time for multiple meals!
How to store leftovers?
If you have any leftover BLT pizza you can keep it stored in the fridge covered in an airtight container for about 3 to 4 days.
More Keto Pizza Recipes: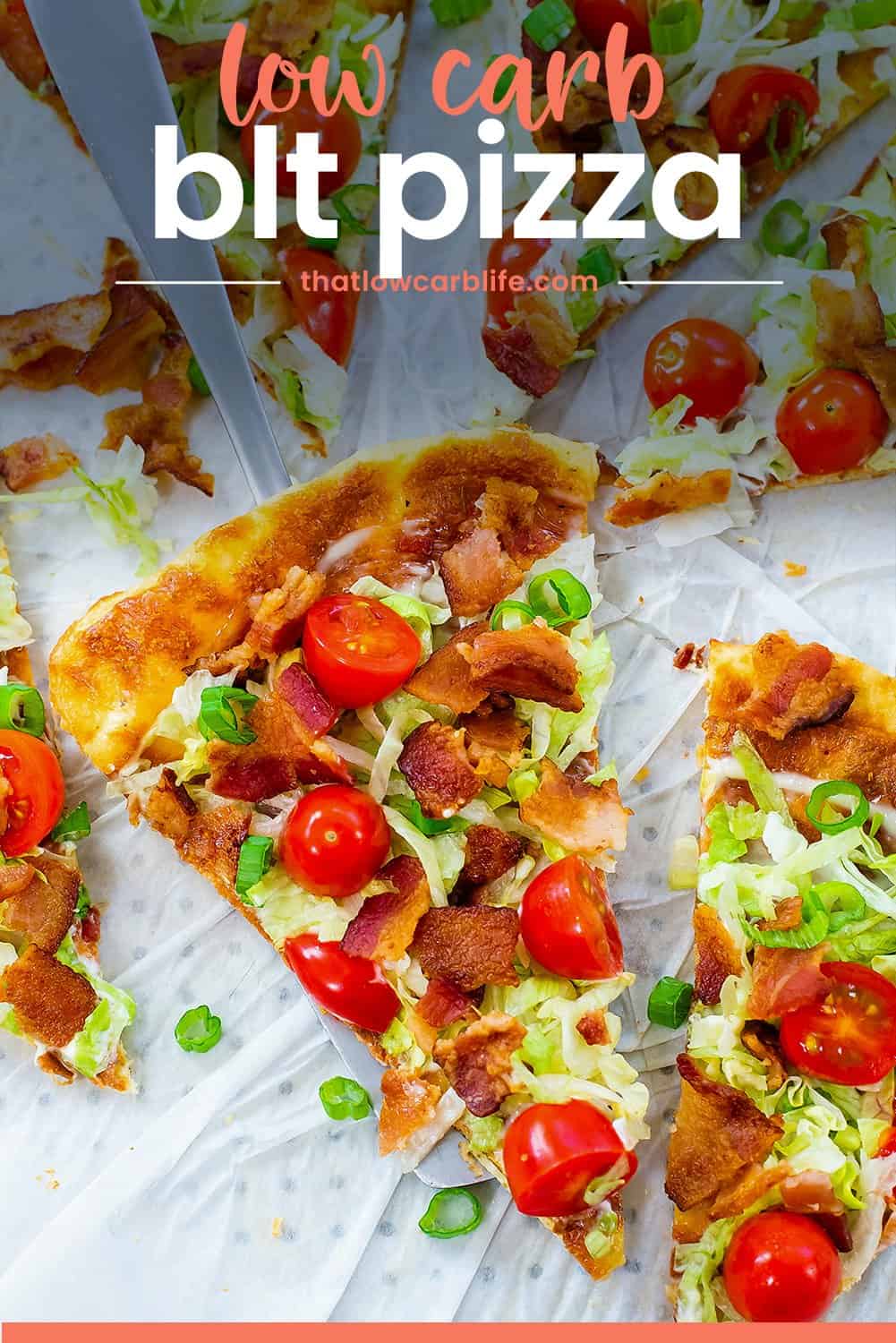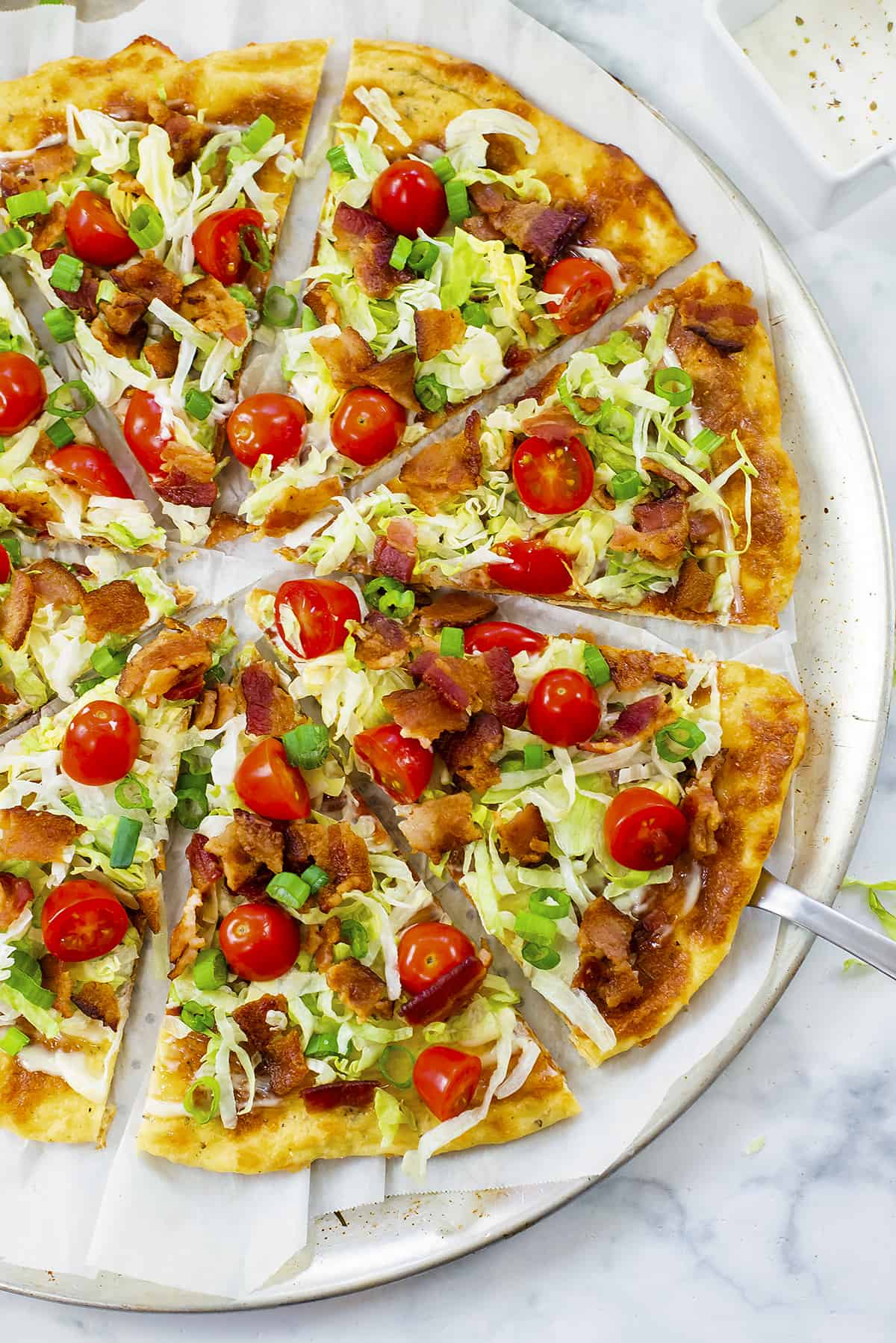 BLT Fathead Pizza
Fathead pizza crust is a great low carb alternative to unhealthy pizzas! I topped this one off with lettuce, tomato, and bacon for a perfect summer dinner.
Prep10 minutes
Cook10 minutes
Total20 minutes
Ingredients
2 cups shredded mozzarella
2 tablespoons cream cheese
¾ cup almond flour
1 large egg
1 teaspoon Italian seasoning
¼ cup mayonnaise
1 ½ cups shredded lettuce
½ cup cherry tomatoes halved
6 slices bacon fried and diced
2 tablespoons chopped green onions
Instructions
Preheat oven to 425 degrees.

Add the mozzarella and cream cheese to a microwave safe bowl and microwave for 1 minute. Stir to combine and return to microwave until cheese has melted, about 30 more seconds.

Stir in the almond flour, egg, salt, and Italian seasoning to combine.

Place the dough on a large sheet of parchment paper. Top with a second sheet of parchment.

Roll the dough out into a 12 inch diameter circle.

Remove the top piece of parchment and transfer the bottom sheet with the dough on it to a pizza pan.

Bake for 12 minutes or until golden brown.

Remove from the oven and spread with the mayonnaise. Sprinkle on the lettuce, tomatoes, bacon, and green onions.
Tips & Notes:
This crust requires parchment paper when baking. It will stick to your pan if you do not line it with parchment.
Nutrition Information:
Serving: 1| Calories: 317kcal (16%)| Carbohydrates: 6g (2%)| Protein: 15g (30%)| Fat: 26g (40%)| Saturated Fat: 7g (44%)| Polyunsaturated Fat: 17g| Cholesterol: 69mg (23%)| Sodium: 475mg (21%)| Fiber: 2g (8%)| Sugar: 2g (2%)| Net Carbs: 4g (8%)