Fathead pizza crust topped off with all of the goodness of a BLT. The crunchy lettuce, chewy bacon, and fresh tomatoes make this low carb pizza perfect for a summer dinner!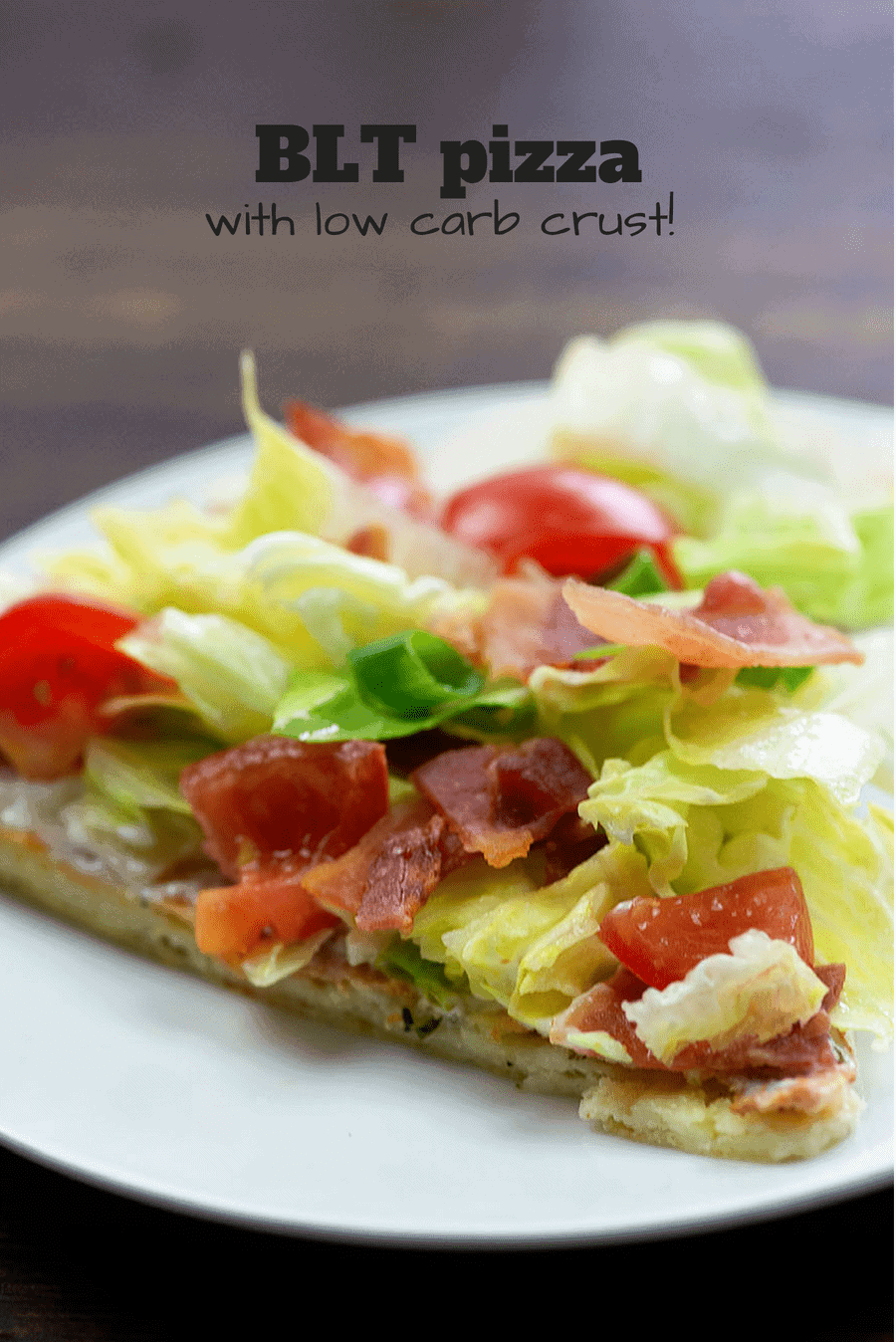 If you're new to the low carb world, you maybe haven't heard of fathead pizza. It is the BEST pizza crust that I've tried and I've done them all. The almond flour crusts. The cauliflower crusts. I've even done crustless pizza.
This is THE ONE.
My entire family prefers this crust over any regular pizza crust – yes, even the kind with actual wheat flour and yeast.
I love the texture this low carb pizza crust provides. It's a bit chewy, but also has some crunch. It holds up just like regular pizza dough – you won't need a fork for this one.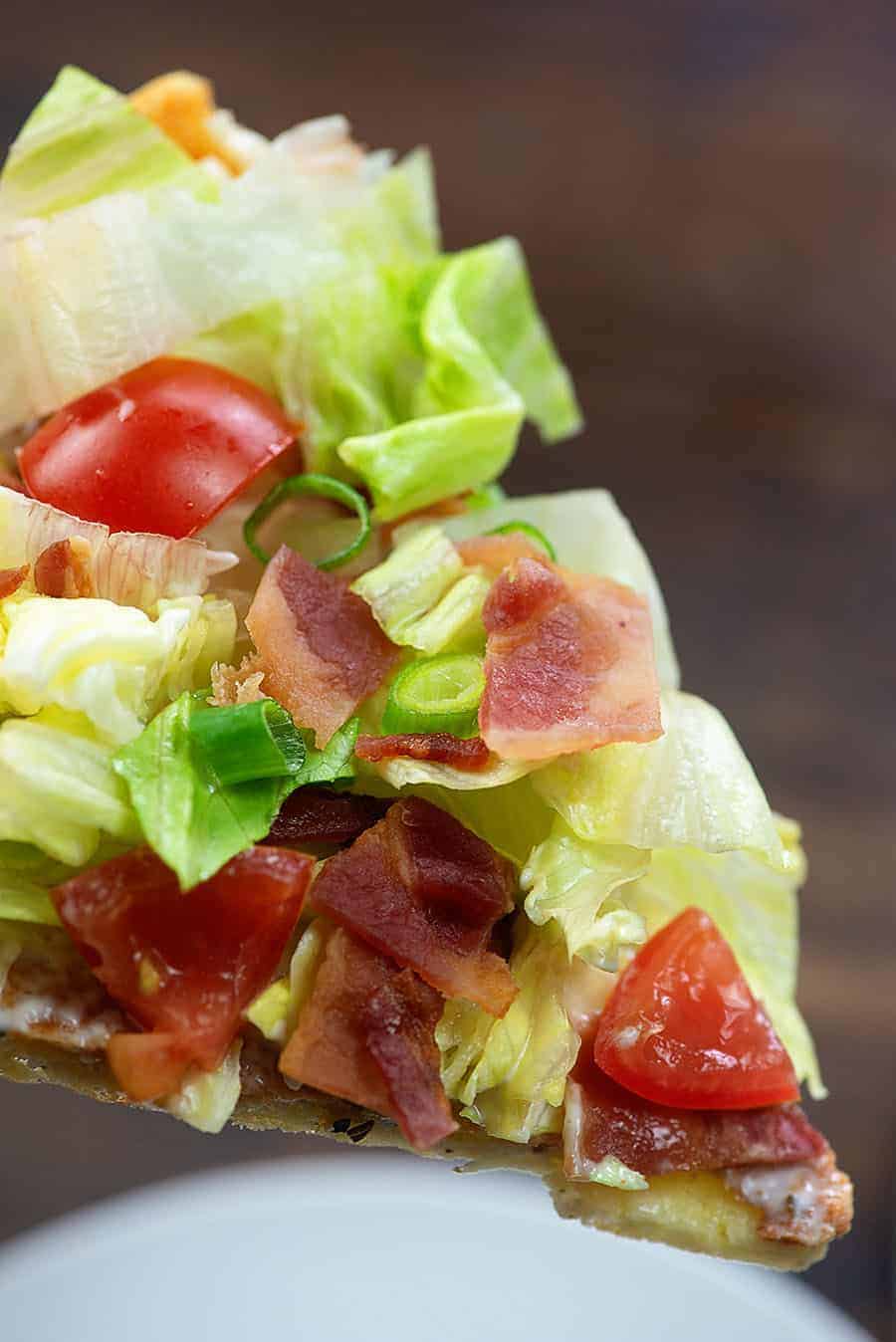 No one would ever guess it was low carb and gluten free!
I have rolled the dough up to make wraps as well and it works fabulously.
Just wait til you see how to make this fathead pizza dough. I also used this dough to make my spicy ranch crackers!
The name and original recipe appears to come from a documentary about food and healthy eating. I've made a few changes here and there to suit my tastes and I'm reprinting it here for you to try!
How to make fathead pizza dough:
This low carb pizza crust starts off with cream cheese and grated mozzarella.
You'll pop those in a microwave safe bowl and heat until melted. Stir the cheese together and then crack in an egg and stir in some almond flour.
I season my crust with a little Italian seasoning to give it more of a traditional crust vibe, but you can skip this if you'd like.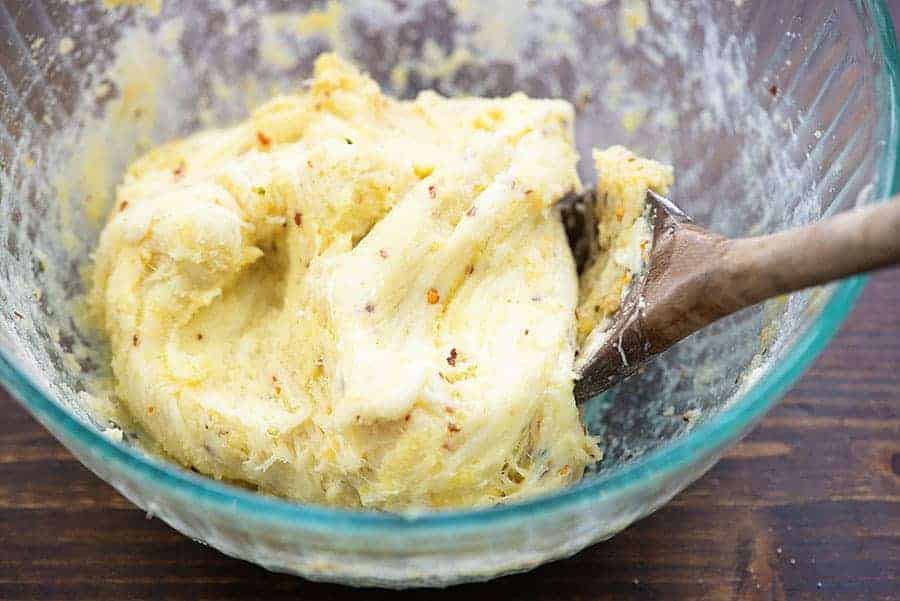 This mixture will be a bit sticky, so pop it between two sheets of parchment paper and roll it out to form a pizza crust.
Line your baking pan with parchment (do not skip this step!) and place your dough on top. This will bake in about 10 minutes.
BLT Pizza:
It's summer time and I need a good BLT in my life.
BLT pizza is the perfect answer to your summer time low carb dinners! You're going to love this pizza as much as we do!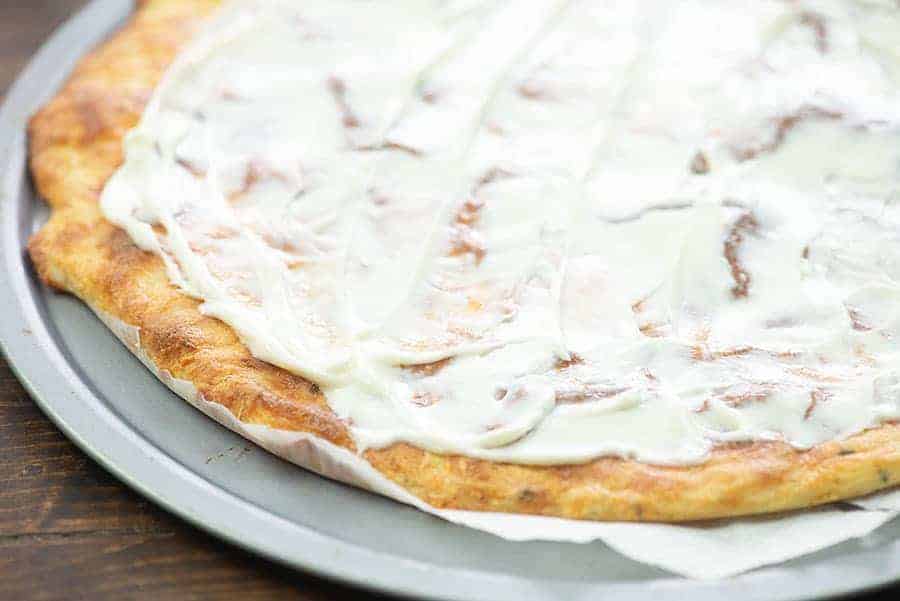 Let the fathead pizza crust cool and then smear on some mayonnaise. The more the better, if you ask me. 😉
Next, top your crust with freshly chopped lettuce, crispy fried bacon, and chopped tomatoes. I throw in some green onions too, but these are totally optional.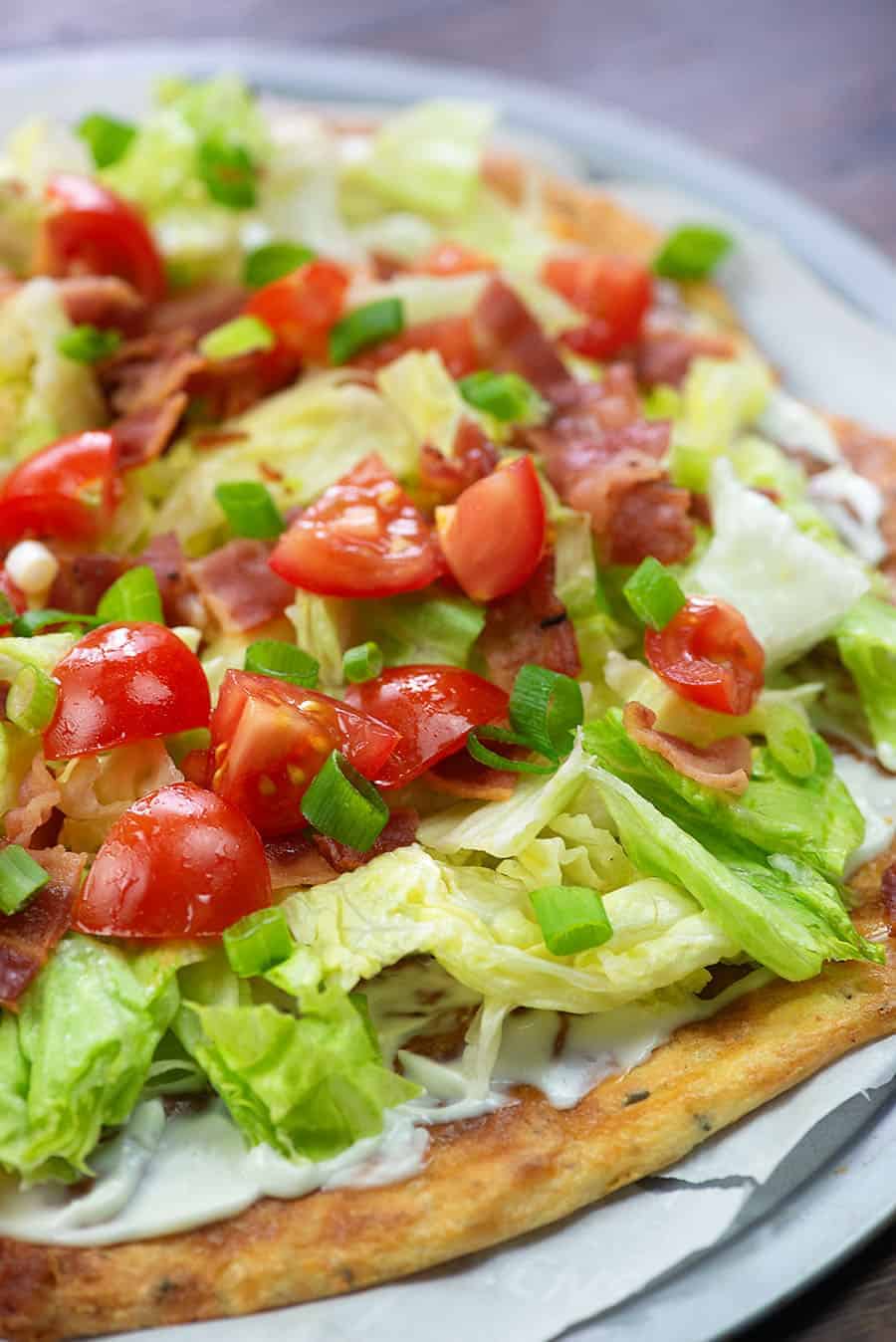 Slice your pizza into 6 pieces and dig in!
I LOVE the way fathead dough tastes, but I also love how filling it is. Because it's made with ingredients like cheese and almond flour, it really does fill you up and keep you full, unlike a traditional crust loaded with carbs.
Give this fathead pizza crust a try and let me know what you think!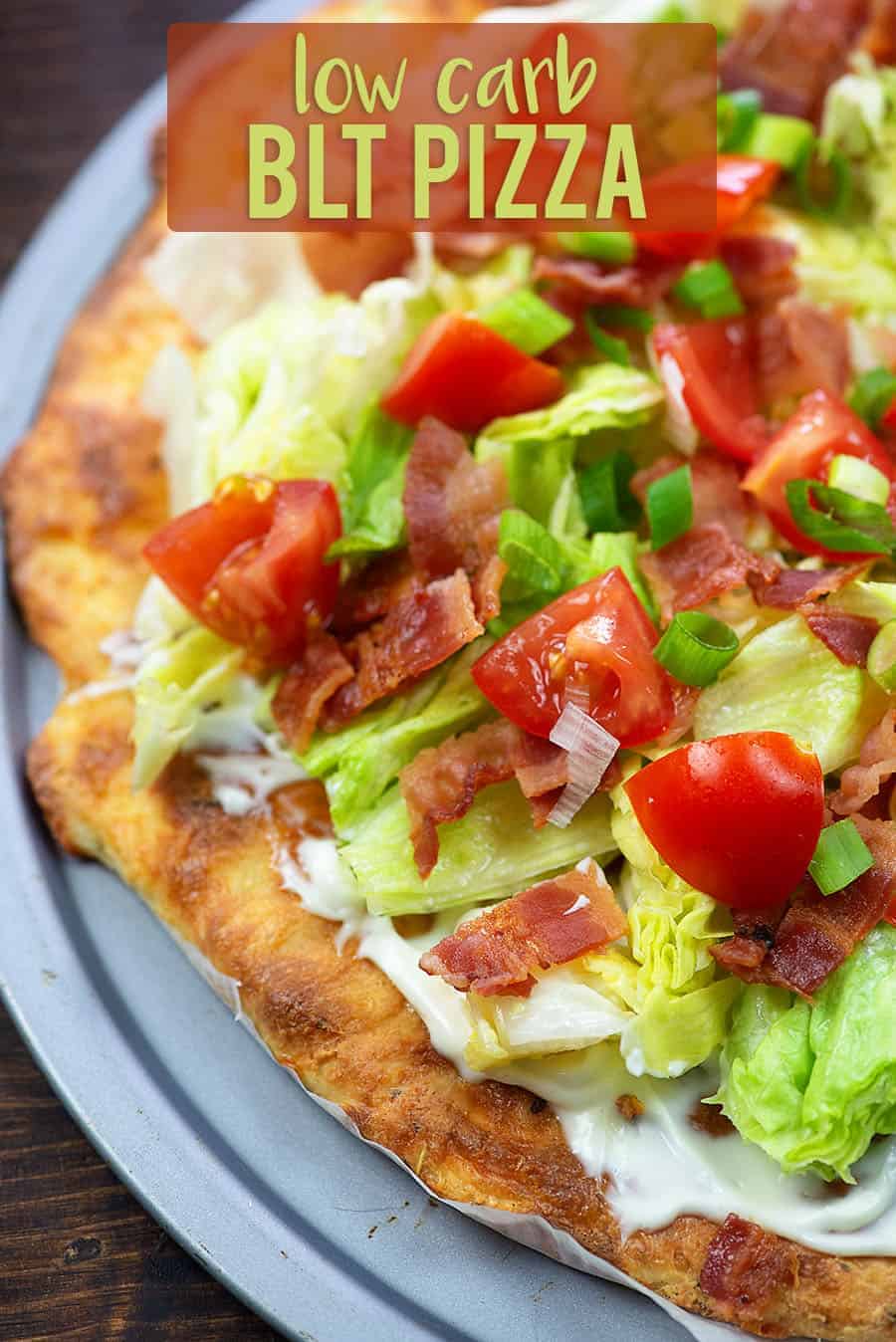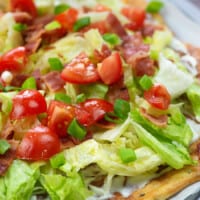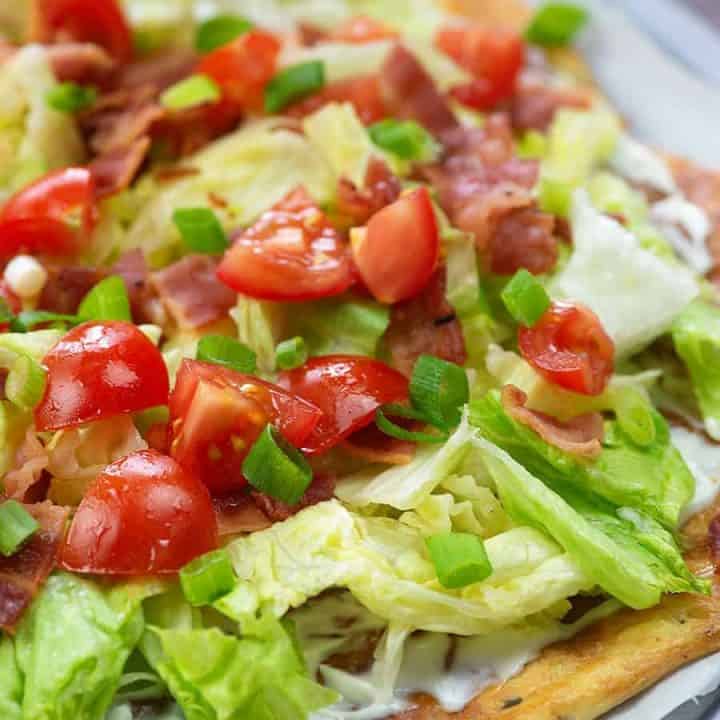 BLT Fathead Pizza
Fathead pizza crust is a great low carb alternative to unhealthy pizzas! I topped this one off with lettuce, tomato, and bacon for a perfect summer dinner.
Ingredients
2 cups shredded mozzarella
2 tablespoons cream cheese
¾ cup almond flour
1 egg
1 teaspoon Italian seasoning
¼ cup mayonnaise
1 ½ cups shredded lettuce
½ cup cherry tomatoes, halved
6 slices bacon, fried and diced
2 tablespoons chopped green onions
Instructions
Preheat oven to 425 degrees.
Add the mozzarella and cream cheese to a microwave safe bowl and microwave for 1 minute. Stir to combine and return to microwave until cheese has melted, about 30 more seconds.
Stir in the almond flour, egg, salt, and Italian seasoning to combine.
Place the dough on a large sheet of parchment paper. Top with a second sheet of parchment.
Roll the dough out into a 12 inch diameter circle.
Remove the top piece of parchment and transfer the bottom sheet with the dough on it to a pizza pan.
Bake for 12 minutes or until golden brown.
Remove from the oven and spread with the mayonnaise. Sprinkle on the lettuce, tomatoes, bacon, and green onions.
Notes
This crust requires parchment paper when baking. It will stick to your pan if you do not line it with parchment.
Recommended Products
As an Amazon Associate and member of other affiliate programs, I earn from qualifying purchases.
Nutrition Information:
Yield: 6
Serving Size: 1
Amount Per Serving:
Calories: 317
Total Fat: 26g
Saturated Fat: 7g
Trans Fat: 0g
Unsaturated Fat: 17g
Cholesterol: 69mg
Sodium: 475mg
Carbohydrates: 6g
Net Carbohydrates: 4g
Fiber: 2g
Sugar: 2g
Protein: 15g
All information and tools presented and written within this site are intended for informational purposes only. This information is provided as a courtesy and there is no guarantee that the information is accurate.