Our Keto Cauliflower Pizza Crust is a great way to get your pizza fix without a ton of carbs. The crust is made of riced cauliflower and you can top the pizza however you like!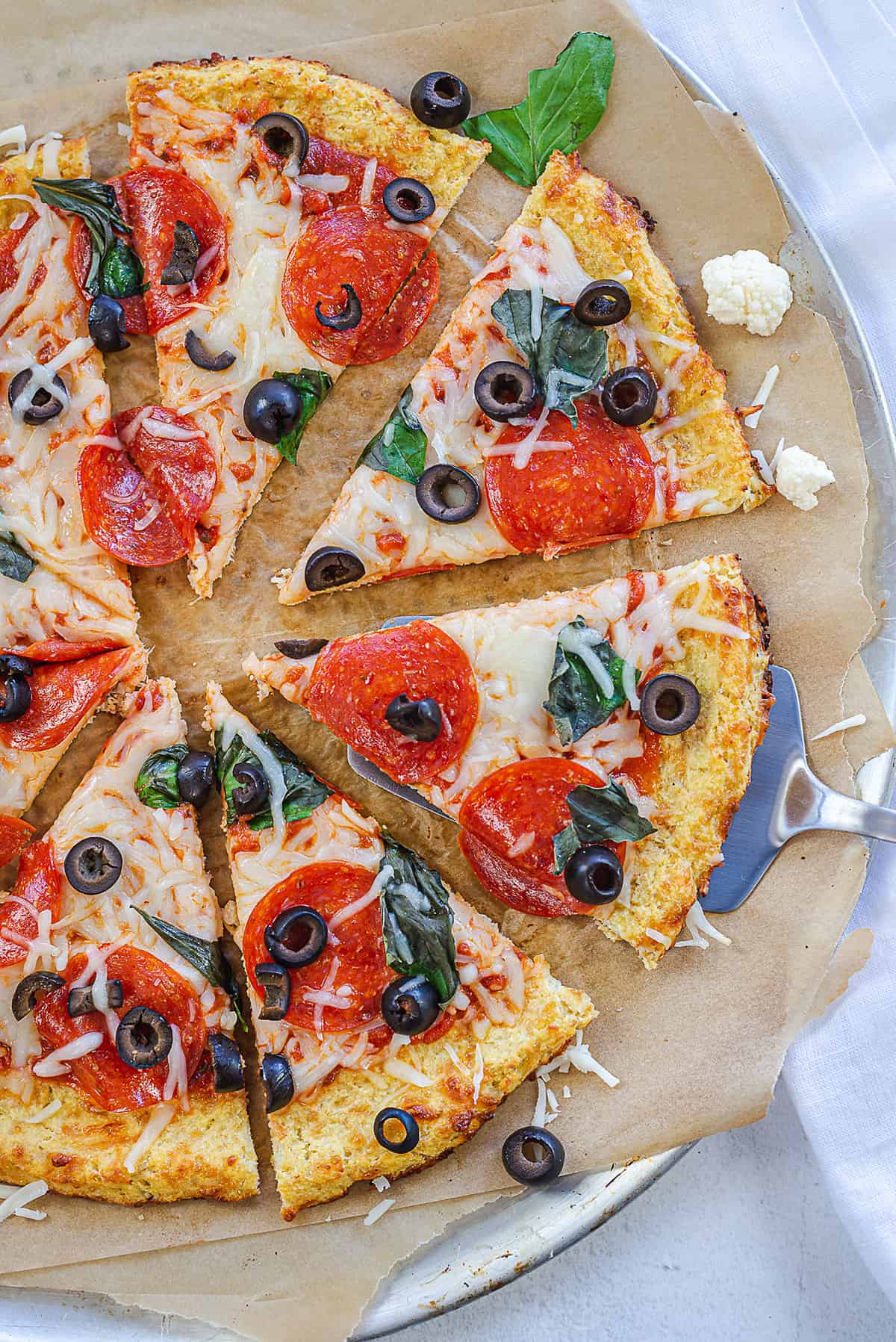 It's no secret that I'm a sucker for pizza.
I mean, honestly…who doesn't love a hot, cheesy pizza with a chewy crust and a pile of toppings? It's the perfect dinner and one that I'll never get sick of!
We usually make fathead pizza dough. I won't lie – it's my preferred pizza crust. But, I know not everyone loves fathead dough like I do!
So, we've been working on perfecting other low carb pizza crusts, like our chicken crust pizza and now this cauliflower pizza recipe, made with a crust of riced cauliflower, cheese, eggs, and a bit of coconut flour.
We love that this crust is naturally gluten and grain free, made with a veggie (something we always want more of!), and it's kid-friendly and sturdy enough that you can pick it up and eat it like pizza.
Ingredient Notes:
This post contains affiliate links. As an Amazon associate and member of other affiliate programs, I earn from qualifying purchases.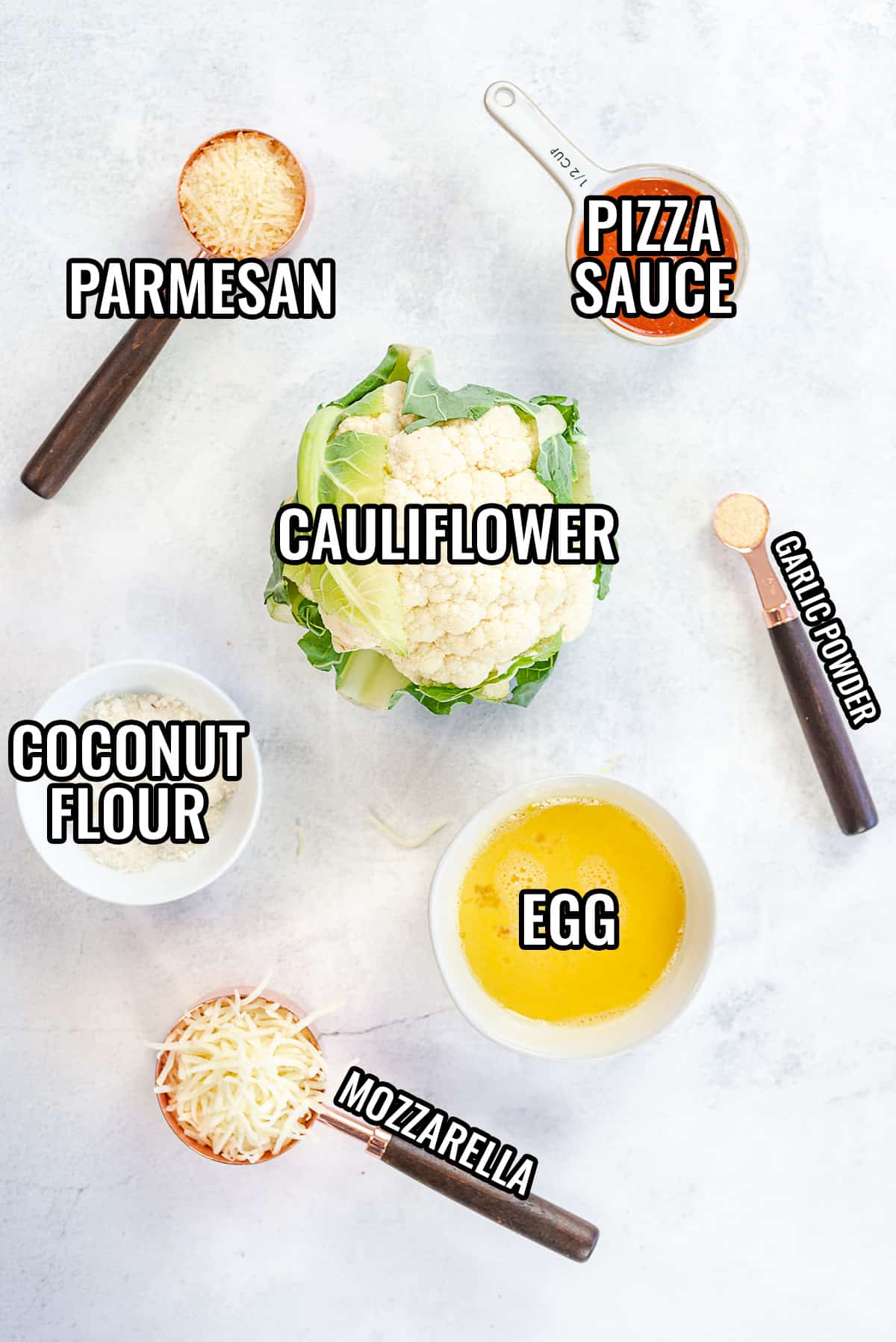 Cauliflower Crust – To prepare this low carb cauliflower crust you'll need a medium head of cauliflower, mozzarella and Parmesan cheeses, eggs, coconut flour, and garlic powder! You can keep things simple by starting with a bag of frozen riced cauliflower, if you prefer! Tips below.
Toppings – Feel free to get creative. We usually go with our favorite pizza sauce (Rao's, of course), plenty of mozzarella, pepperoni, black olives, and basil.
Why We Love This Recipe:
This crust is full of veggies – a great way to sneak cauliflower into the family dinner!
When done right, the crust is sturdy enough to pick up with your hands and eat like, well, PIZZA!
This dough is easy to work with and much quicker than making from scratch yeast dough.
How To Make Cauliflower Pizza Crust (Step by Step Tutorial):
Cauliflower: To prepare the cauliflower crust begin by adding the head of cauliflower to a food processor and processing it into small rice like pieces. You'll then need to either steam, boil, or microwave it until the cauliflower rice is very tender. Let it cool for 20 minutes and then remove as much moisture as possible from the cauliflower. The easiest way is to use something like cheesecloth or a clean towel to squeeze all the liquid out of it!
Mix: You can now add the cauliflower rice to a mixing bowl along with all of the other crust ingredients including the coconut flour, cheese, and egg. Stir all that up until it is well combined. You've just made an easy low carb cauliflower pizza dough!
Bake Crust: When the cauliflower pizza dough is prepared you can line a pizza pan with parchment paper and start pressing the dough out into a circle, about 9 inches in diameter. You don't want to spread it too thinly or the edges could burn and it may be too crispy. When ready, bake the cauliflower crust for about 20 minutes or until it has turned golden. Don't overbake, you'll add it back in to finish off the toppings!
Toppings: With the cauliflower crust baked it should now be able to hold up the toppings! Spread on the pizza sauce, add the cheese, and top it with your favorite stuff like pepperoni or black olives. Return it to the oven for about 5 to 10 minutes or until the cheese has melted and the toppings are ready. Let the cauliflower pizza cool for a few minutes and then slice and serve, just like a regular pizza!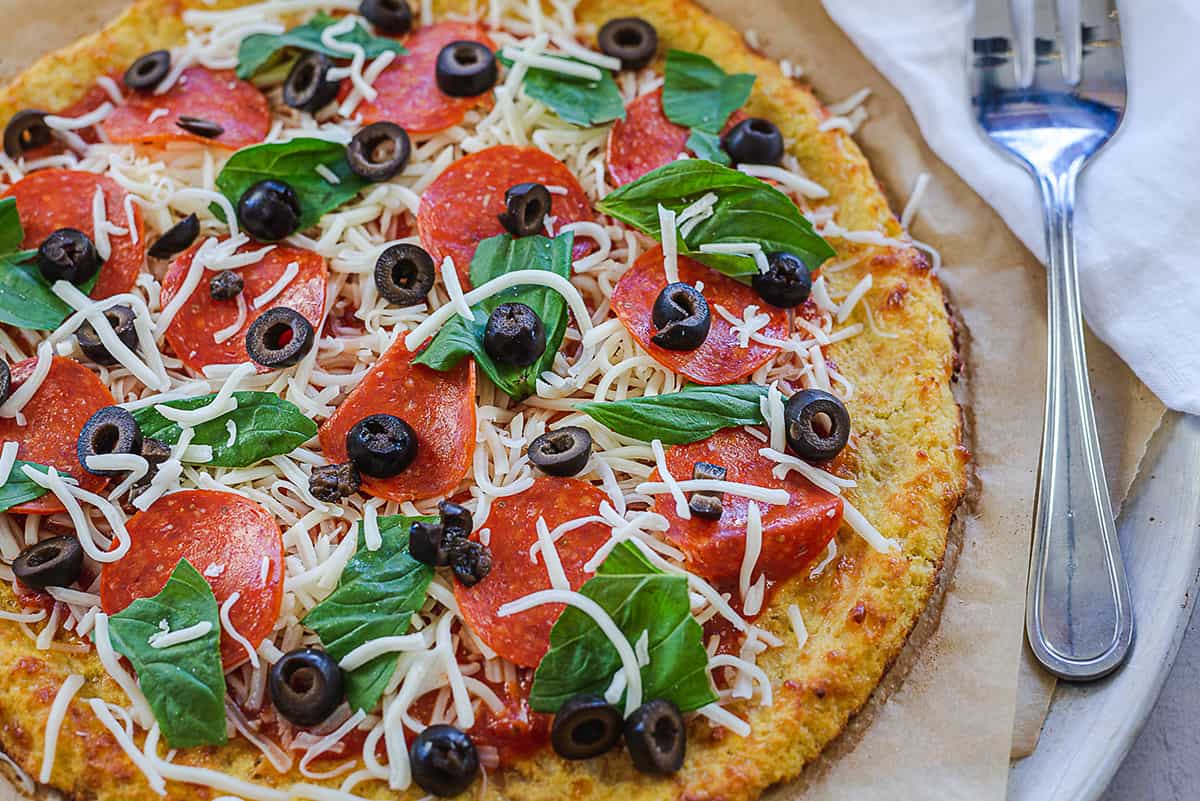 Short Cut!
Want to save a few minutes? Start with a pound of frozen riced caulilfower. Microwave according to package directions and then proceed to dry the cauliflower as directed in the recipe.
FAQ's:
How to store cauliflower pizza?
You can refrigerate the baked cauliflower pizza crust for a couple of days before adding toppings and baking, or follow the info below for freezing. If you have leftover pizza after cooking with the toppings it should last for at least couple of days in the refrigerator.
Can you freeze cauliflower pizza?
Yes, you can do this a couple of ways. You can prepare and bake the cauliflower crust and then freeze it until you are ready to use it for making a pizza. Or you can make the crust and load it up with the sauce, toppings, and cheese and freeze that until you are ready to bake! Just make sure it is cooled and wrapped tightly before freezing.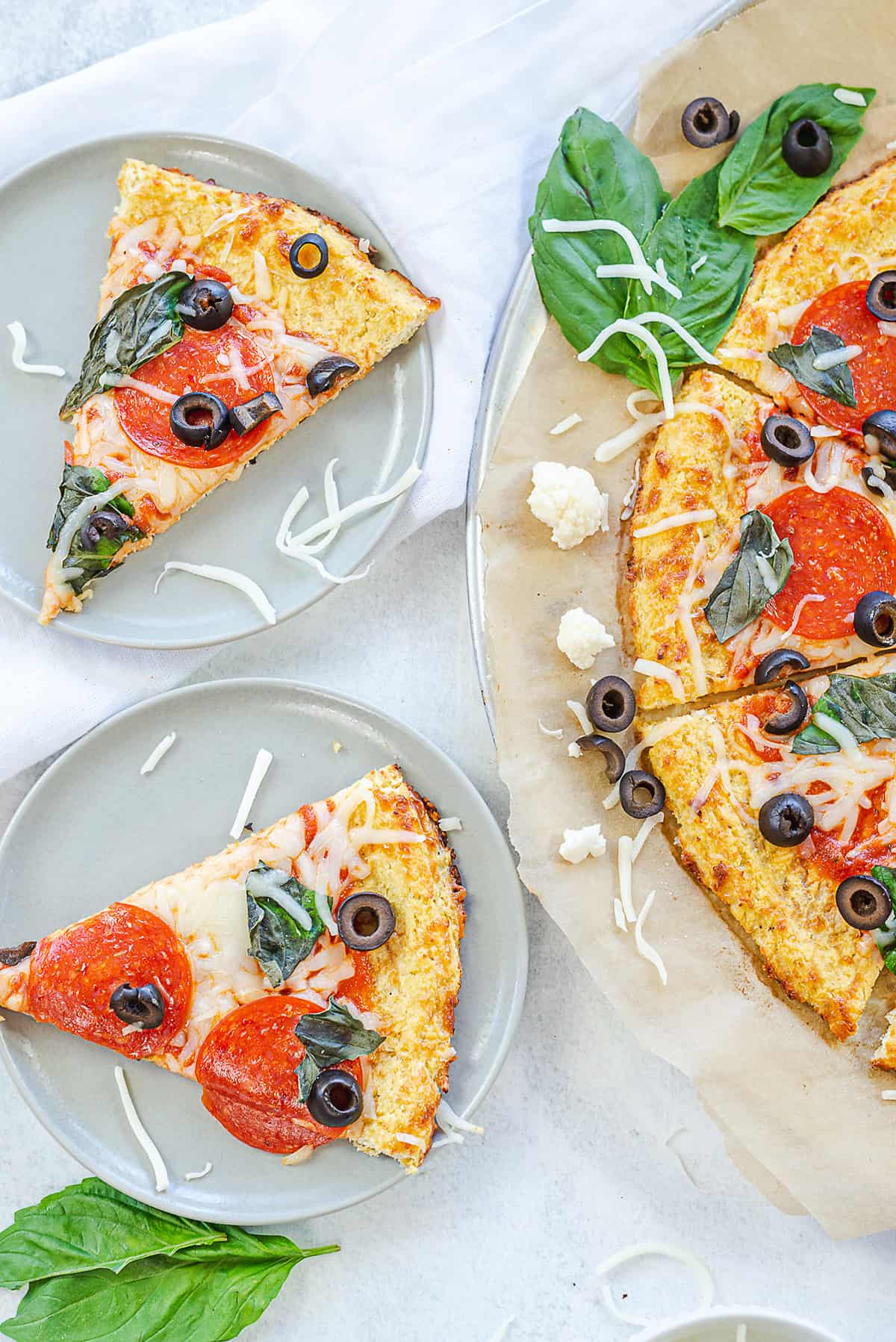 Low Carb Pizza Topping Ideas:
Hawaiian Pizza – Canadian bacon or deli ham and small chunks of fresh pineapple are classic. We add jalapenos to give it a kick. Take it easy on the pineapple to keep things low carb and use fresh instead of canned to limit the sugar.
BBQ Chicken Pizza – Use your favorite sugar free BBQ sauce (we like Sweet Baby Ray's sugar free) and top it with mozzarella, cooked slices of chicken, red onion, and cilantro.
White Pizza – Start with our keto Alfredo sauce as the base, sprinkle on ground Italian sausage, minced garlic, and shredded mozzarella.
More Low Carb Pizza Recipes: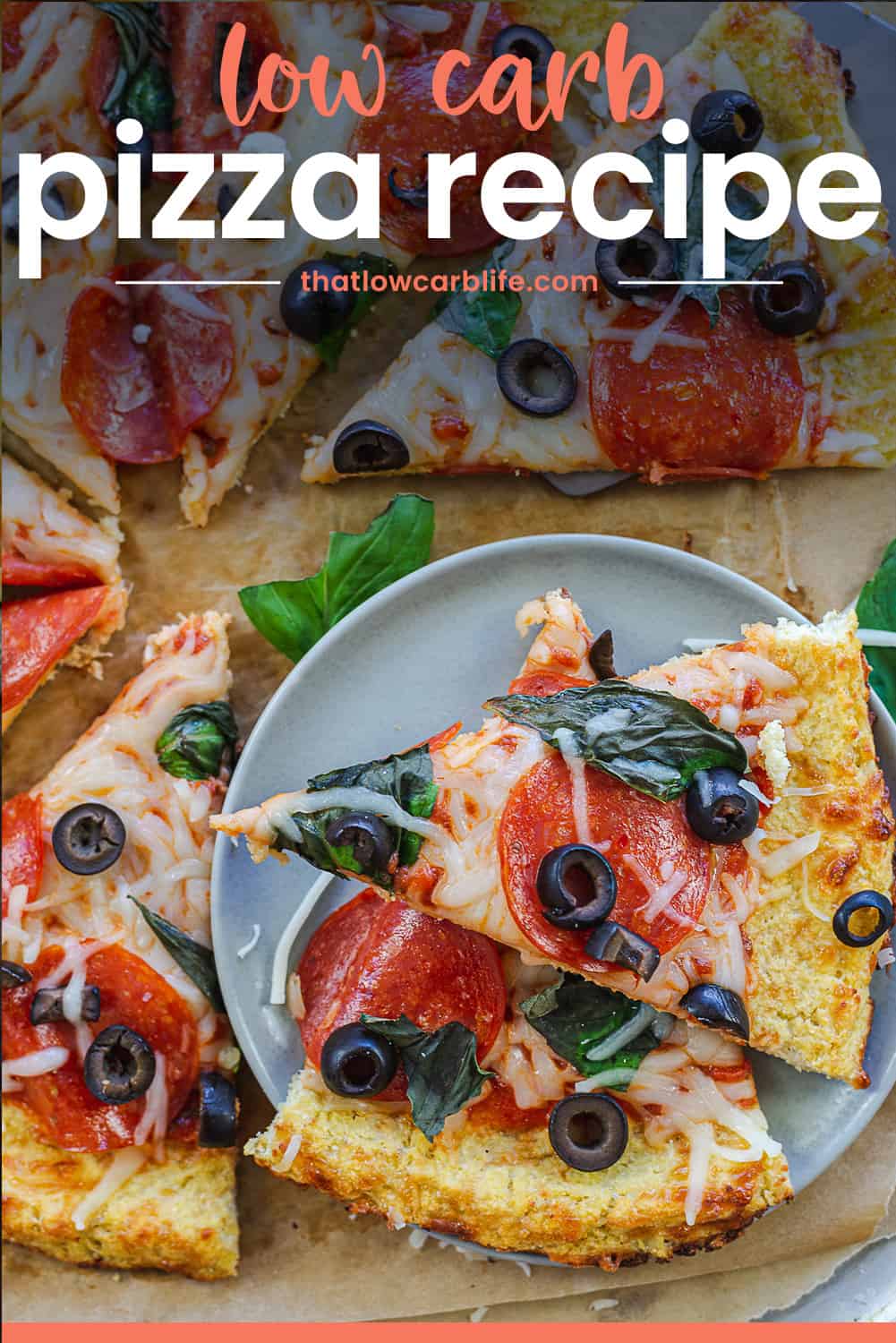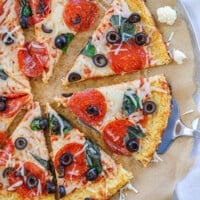 Keto Cauliflower Pizza Crust
This keto cauliflower crust pizza is a healthy alternative to traditional pizza. The crust is sturdy enough to pick up and eat with your hands, so long as you don't overload it with toppings.
Ingredients
For the crust:
1 medium head cauliflower
½ cup shredded mozzarella
¼ cup grated Parmesan cheese
2 large eggs, beaten
2 tablespoons coconut flour
1/2 teaspoon garlic powder
For the topping:
½ cup sugar free pizza sauce
¾ cup shredded mozzarella
Pizza toppings, as desired
Instructions
Chop the cauliflower into florets and add to the bowl of a food processor. Process until you have small rice like pieces.
Steam, boil, or microwave cauliflower until very tender, about 5 minutes.
Let the cauliflower cool for 20 minutes and then dump into a clean tea towel. While cauliflower is cooling, preheat oven to 400 degrees. Fold the towel up over the cauliflower and squeeze out any excess moisture. Keep squeezing until no liquid is left in the cauliflower. See notes.
Transfer cauliflower to a mixing bowl and add the remaining ingredients for the crust. Stir well to combine.
Line a pizza pan with parchment paper and press the dough out into a circle around 9 inches in diameter.
Bake for 20 minutes or until pizza crust is golden.
Remove from the oven and top with your pizza sauce, cheese, and preferred toppings. Return to the oven for 5-10 minutes more to melt the cheese and warm the toppings.
Allow to cool for 5 minutes before slicing and serving.
Notes
Removing as much moisture from the cauliflower as possible is key to getting a sturdy crust that holds up well.
You may use one pound of frozen riced cauliflower in place of fresh. Use the same method and release as much liquid as possible.
The pizza crust should hold up well and be sturdy enough to pick up, so long as you don't overload it with heavy toppings. If you'd like extra toppings, just eat your pizza with a fork.
Nutrition information is per slice and calculated based on the crust, pizza sauce, and cheese topping. It doesn't account for any other toppings, such as pepperoni or olives.
Nutrition Information:
Yield: 8
Serving Size: 1 slice
Amount Per Serving:
Calories: 117
Total Fat: 7g
Cholesterol: 62mg
Sodium: 231mg
Carbohydrates: 6g
Net Carbohydrates: 4g
Fiber: 2g
Sugar: 2g
Protein: 8g