Pizza Stuffed Chicken quickly became one of the most requested recipes by my kids and I love it because it's low carb and super easy prep. This low carb chicken recipe is ready in about 45 minutes with just a few minutes of hands on time!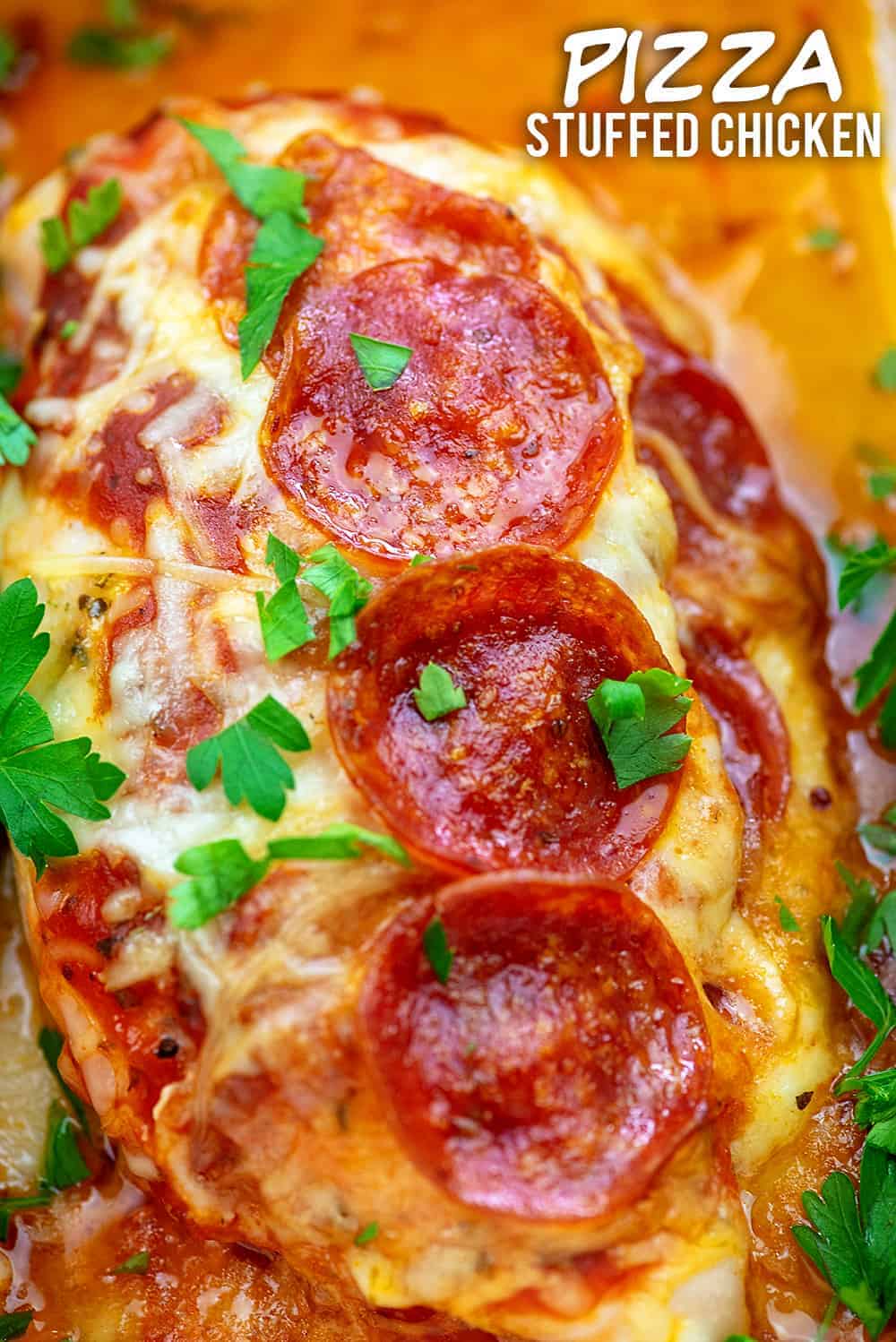 One of my biggest struggles when I first started eating low carb was 'WHAT DO I FEED MY FAMILY?'
I certainly didn't have the time or desire to cook my husband and kids one meal and myself another. Plus, in the beginning, it was extra tough for me to be around all my old carb-laden favorites.
It didn't take long before I learned to create low carb recipes that my whole family enjoyed.
This pizza stuffed chicken is one of those recipes! What kid doesn't love pizza?!

We top ours off with pepperoni, but feel free to get creative and top with your favorite pizza toppings. The sky is the limit!
Serve your pizza stuffed chicken breasts with a side salad topped off with the best ranch dressing recipe or my homemade Italian dressing.
Ingredient Notes:
This post contains affiliate links. As an Amazon associate and member of other affiliate programs, I earn from qualifying purchases.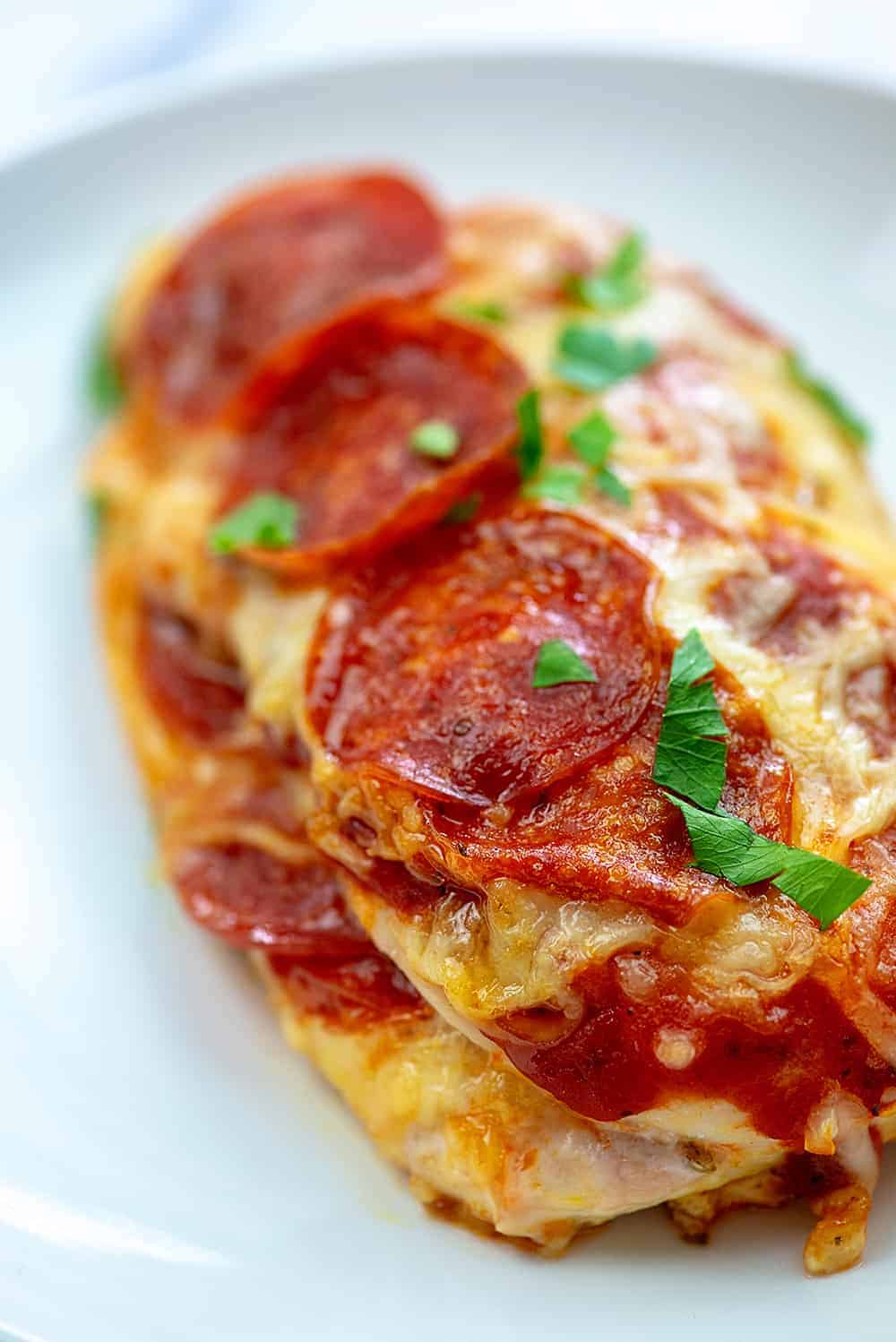 Chicken Breast – You'll need each breast to be about 6-8 ounces in size. You'll cut a pocket into each one so they'll need to be large enough for stuffing.
Seasoning – I'm using a mix of garlic powder, salt, and Italian seasoning. You could add some red pepper flakes if you want to add a spicy kick!
Avocado Oil – For drizzling on the chicken with the seasoning. You can use a different type of oil if you need to.
Cheese – Plenty of grated mozzarella cheese and Parmesan cheese are key here. I think they make the perfect mixture but you can switch this up and use different varieties of cheese if you have a preference!
Pepperoni – My favorite pizza topping! It's also conveniently sized for stuffing the chicken which doesn't have a lot of space. You can certainly use other toppings here if you can fit them into the chicken.
Pizza Sauce – I prefer Rao's Pizza Sauce! And pretty much every other sauce they make too. It tastes great and doesn't have any added sugars so it is keto friendly!
Parsley – For garnish, we just like how it looks. 😉
Why We Love This Recipe:
Winner Winner Chicken Dinner: Everyone loves chicken and this succulent chicken breast is oozing with melted mozzarella cheese. What's not to love?
Guilt-Free Indulgence: Indulge in the cheesy, saucy goodness of pizza without compromising your low carb goals. This recipe proves that you can have your pizza and eat it too, all while staying on track with your health journey.
Cheese Lover's Dream: Embrace the velvety embrace of gooey mozzarella cheese, perfectly nestled within tender chicken. The cheese pulls alone will make you swoon!
Simple Crowd Pleaser: With just a handful of ingredients, you can whip up a culinary masterpiece that looks and tastes like it took hours to prepare.
Family-Friendly Feast: Whether you're cooking for yourself or a hungry family, this recipe is a crowd-pleaser that bridges the gap between comfort food and wholesome nutrition, ensuring smiles all around the dinner table.
Weeknight Wonder: Short on time? No problem! This recipe fits seamlessly into your busy schedule, providing a quick and satisfying dinner solution that doesn't skimp on taste or health benefits.
How To Make Pizza Stuffed Chicken:
Prepare – To start, you'll want to slice a little pocket into the side of your chicken breasts. Sounds complicated, but watch the video at the side of the screen to see just how easy it is!
Seasoning – Drizzle your cut chicken with olive or avocado oil and then season with a bit of garlic powder, Italian seasoning, and salt.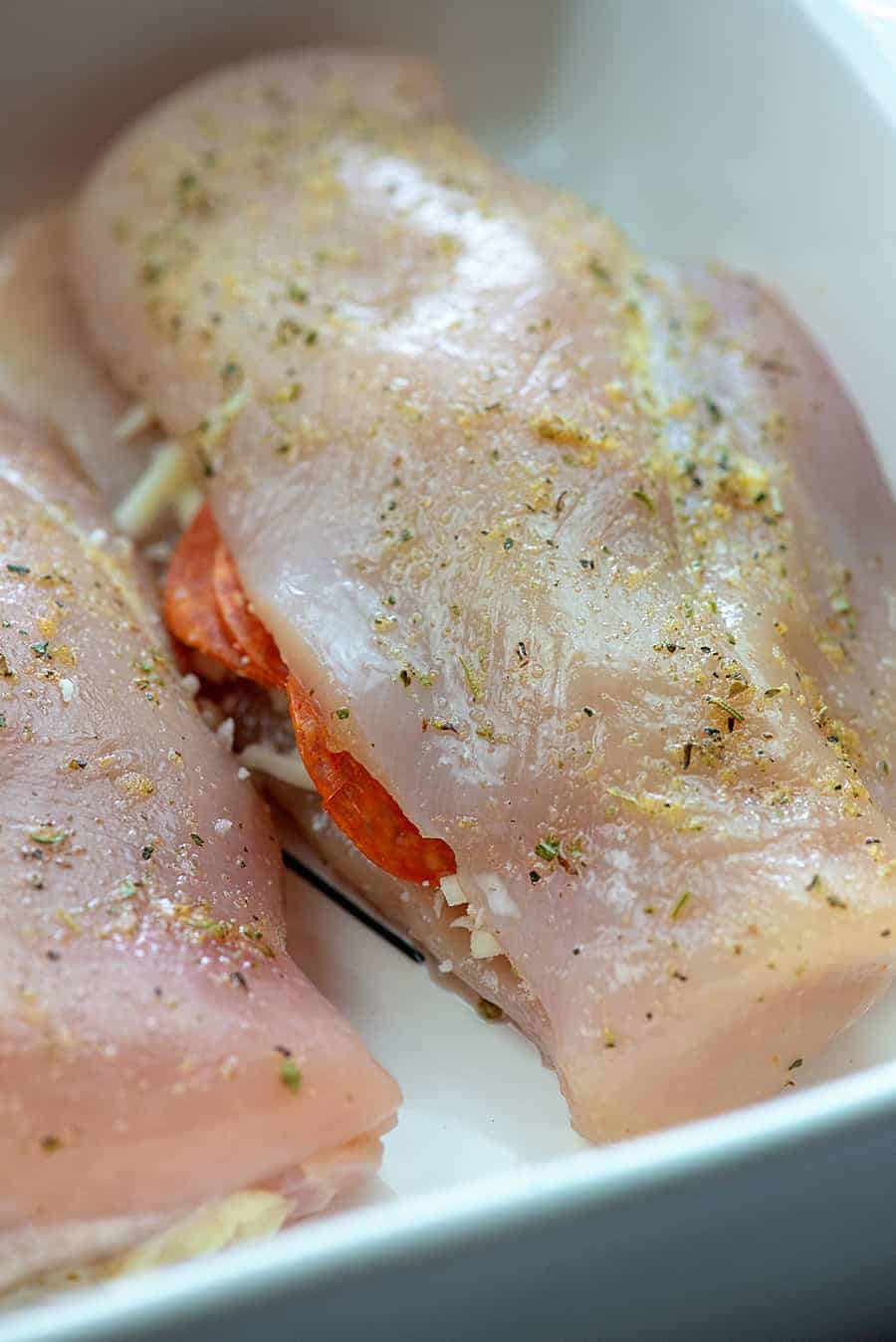 Stuff – Fill the pocket in the chicken breast with mozzarella and pepperoni, top the chicken with some low sugar pizza sauce, more cheese, and more pepperoni.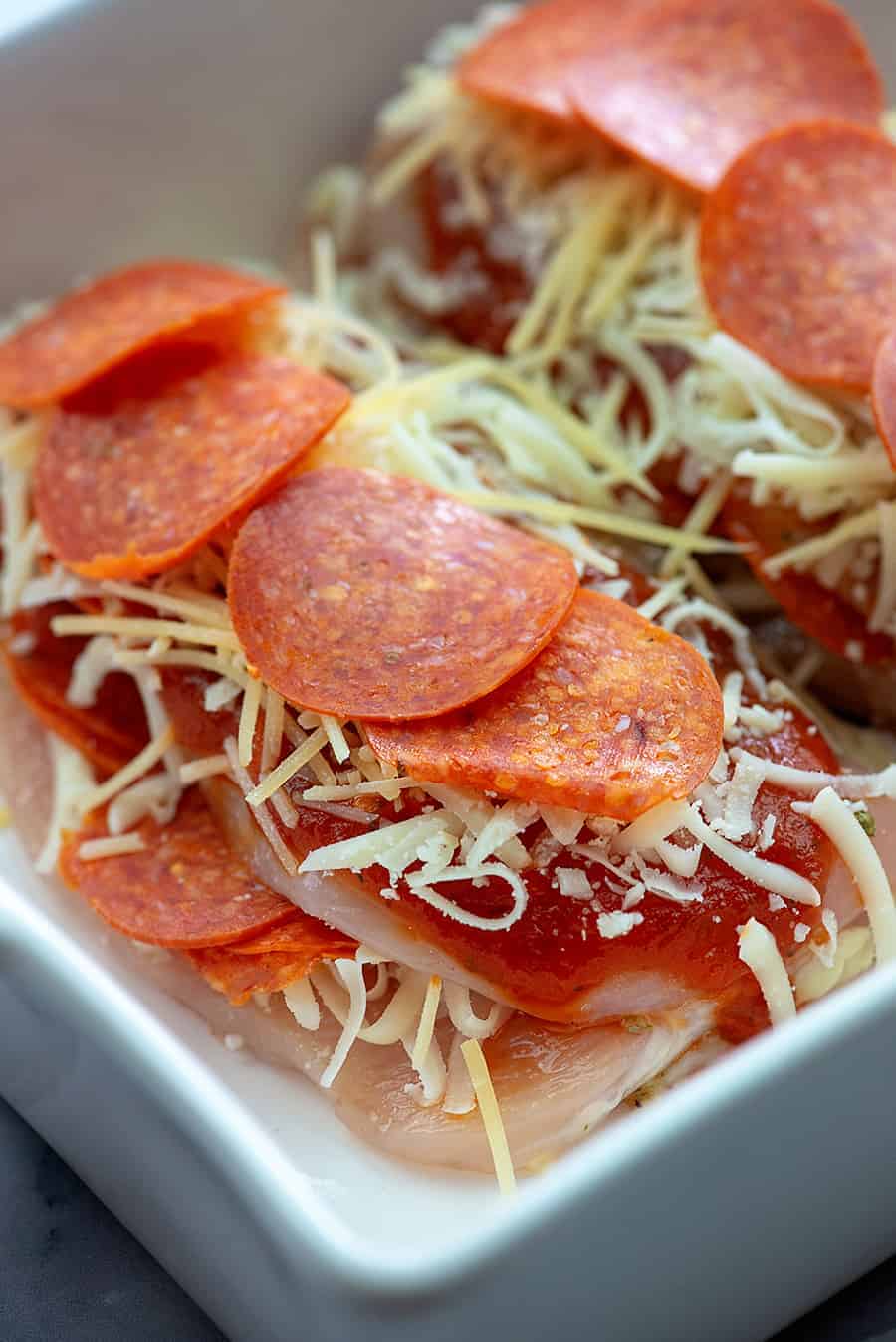 Bake – Place the dish in the oven and bake for about 45 minutes or until the chicken is cooked through.
Serve – We sprinkle our chicken with fresh parsley before serving and then we dig in. This pizza stuffed chicken is seriously a favorite around here!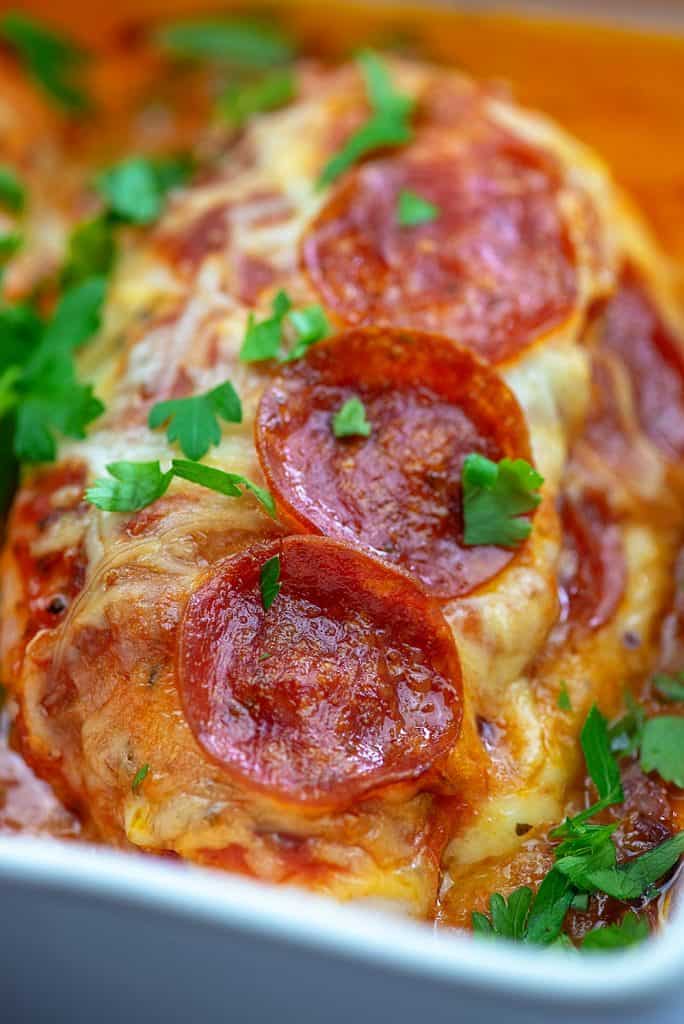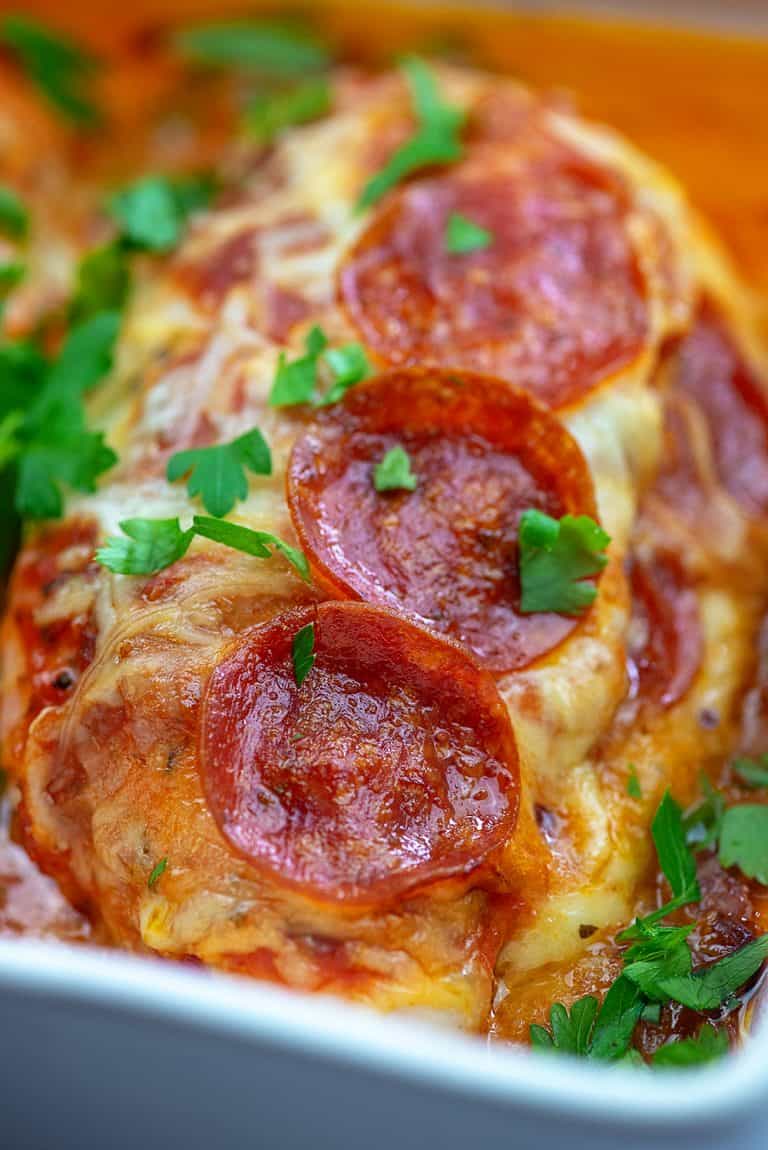 FAQ's:
How to store leftovers?
You can keep any leftover pizza stuffed chicken stored in the fridge in an airtight container for about 3 days. It can be reheated in the oven.
Can I use different toppings?
Sure! But keep in mind there isn't much room to work with here. Any pizza topping you like would be fine if you can fit it.
Love low carb chicken recipes?
I have a ton of low carb chicken recipes on this site that are loved by my entire family! I've even got a couple of ebooks available with some family favorites! Click here to shop!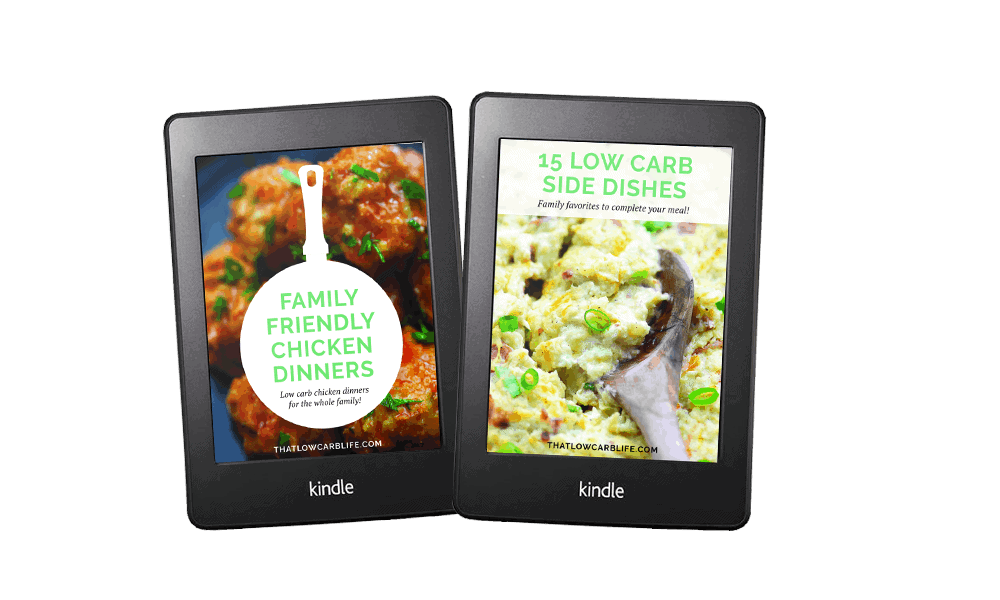 Check out my keto chicken Parmesan for an easy weeknight dinner.
My avocado chicken salad and teriyaki chicken stir fry make great lunches.
And this lemon chicken recipe is a hit with dinner guests, whether they're carb lovers or not!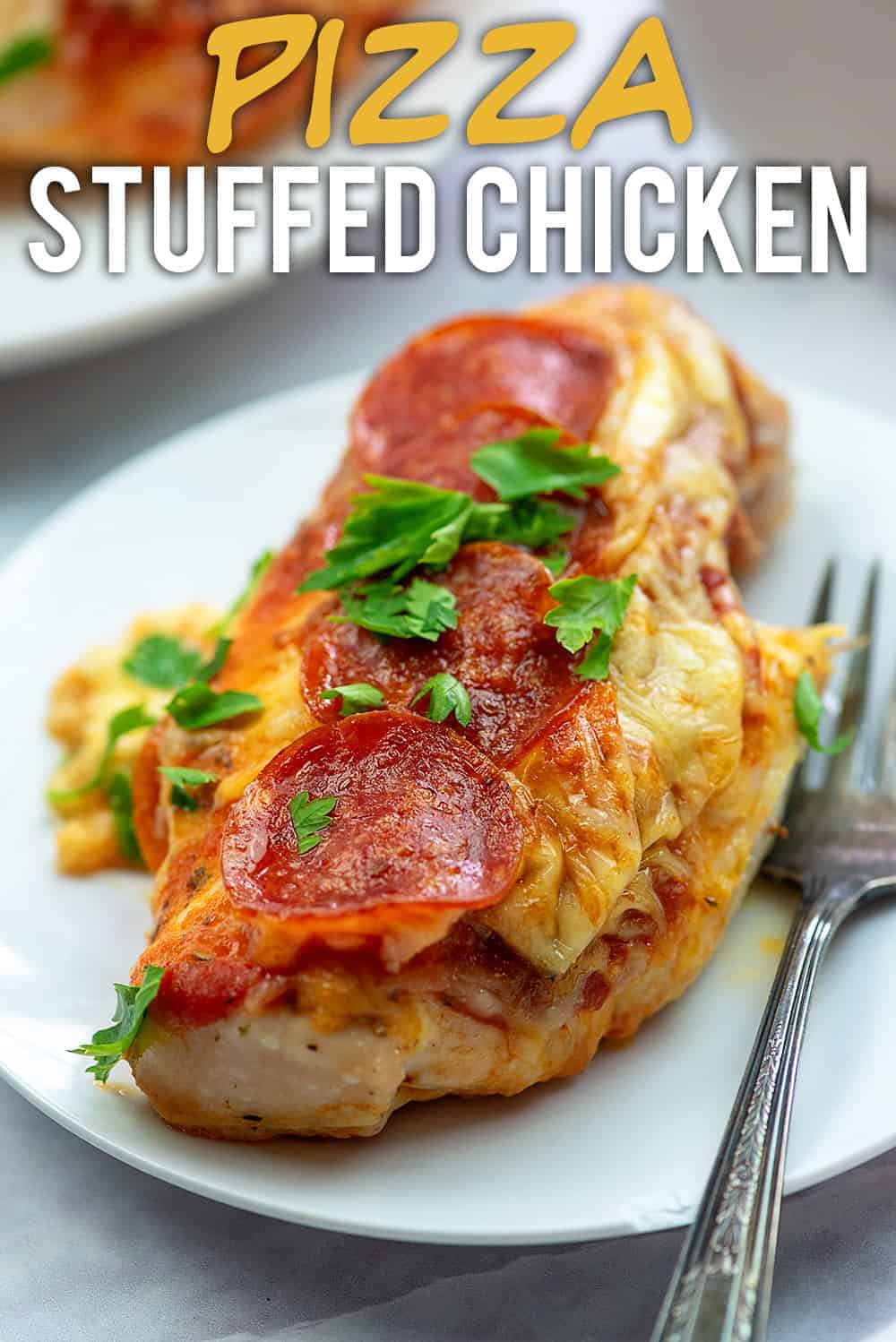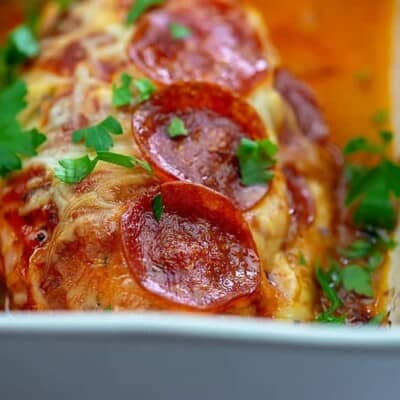 Pizza Stuffed Chicken
If you're craving pizza, this stuffed chicken recipe will do the trick nicely! We use pepperoni since that's what we love on our pizza, but feel free to add a few of your favorite toppings!
Prep10 minutes
Cook35 minutes
Total45 minutes
Ingredients
4 chicken breasts about 6 ounces each
2 teaspoons avocado oil
1 teaspoon garlic powder
½ teaspoon Italian seasoning
½ teaspoon salt
2 cups grated mozzarella divided
¼ cup Parmesan cheese
32 slices pepperoni
1 cup pizza sauce
1 teaspoon minced parsley
Instructions
Preheat oven to 375 degrees. Spray a 9×13 baking dish with non-stick spray.

Place the chicken breasts on a cutting board. Use a sharp knife to cut a pocket into the side of each chicken breast.

Drizzle both sides of the chicken with oil and season with the garlic powder, Italian seasoning and salt.

Place 1/4 cup of mozzarella in the pocket of each chicken breast. Add 4 slices of pepperoni over the cheese.

Place the chicken in the prepared baking dish and drizzle with the pizza sauce. Spread the sauce out to cover the tops of the chicken.

Sprinkle with the remaining mozzarella. Top with the Parmesan and remaining pepperoni slices.

Bake, uncovered, for 30-35 minutes or until the chicken is cooked through.

Sprinkle with fresh parsley before serving.
Tips & Notes:
Be sure to look for a no sugar added pizza sauce with 3 net carbs per 1/4 cup.
Nutrition Information:
Serving: 1chicken breast| Calories: 402kcal (20%)| Carbohydrates: 6g (2%)| Protein: 32g (64%)| Fat: 26g (40%)| Saturated Fat: 12g (75%)| Polyunsaturated Fat: 12g| Cholesterol: 101mg (34%)| Sodium: 1233mg (54%)| Fiber: 1g (4%)| Sugar: 2g (2%)| Net Carbs: 5g (10%)