These pizza stuffed peppers are a fun way to enjoy pizza night without all the carbs! They're loaded with sauce, meat, cheese, and toppings!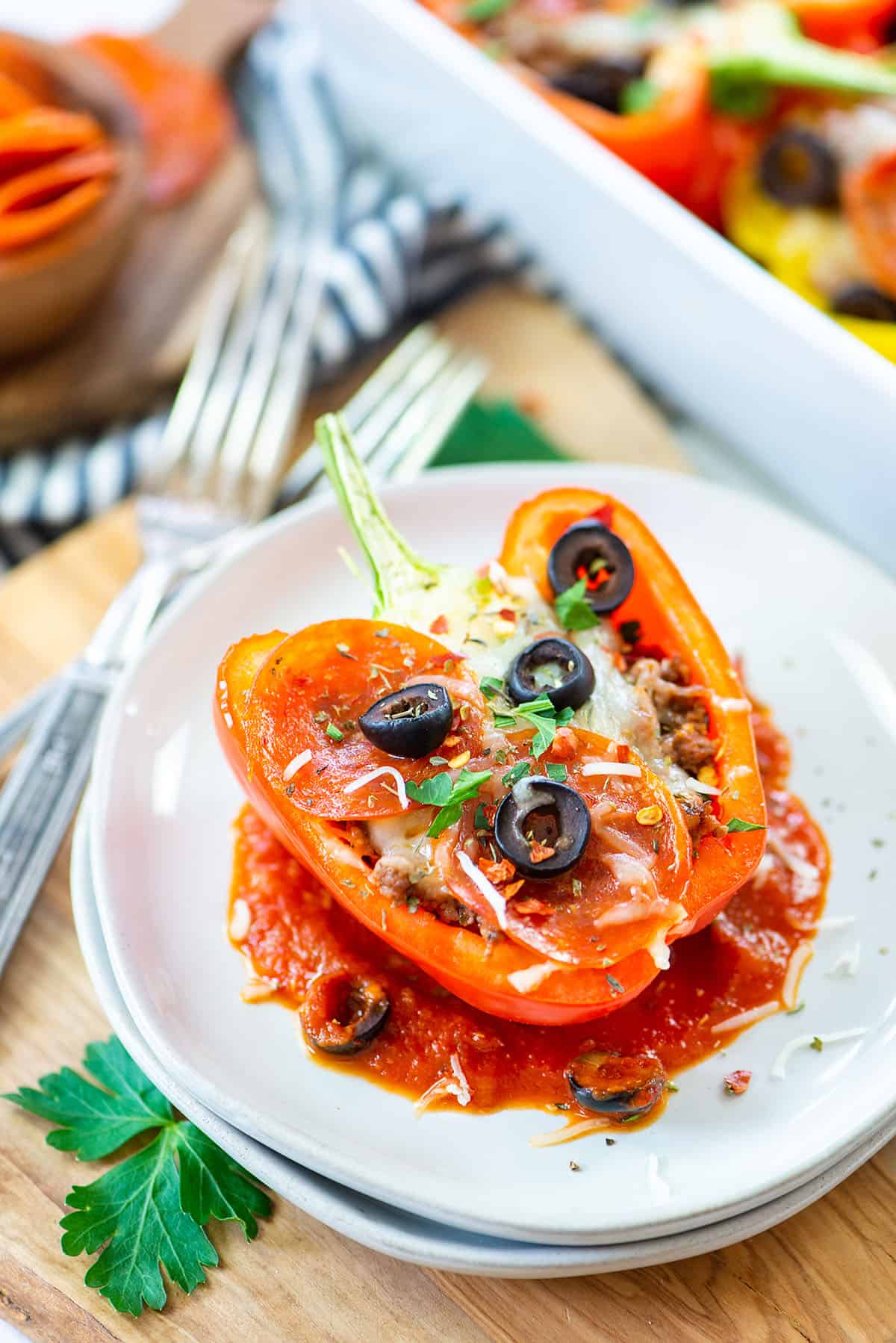 At this point, you've probably noticed that we have a major love affair going on with pizza!
I mean, we've shared a bazillion ways to enjoy the cheesy goodness of pizza, starting with our favorite crust – fathead dough. Readers also love our keto cauliflower pizza crust and chicken crust pizza. These zucchini pizza boats are another way to get that pizza fix.
We've basically tried every possible method of getting pizza into our mouths at this point, but I keep trying to think up new ways, because YUM.
My family was so happy with how these pizza stuffed peppers turned out! They're naturally low carb – meaning that no one is going to realize you're feeding them a keto dish for dinner. They'll just think you've found a brilliant new way to use up those bell peppers! 😉
We filled these with a mixture of beef, sausage, pepperoni, and black olives for meaty, filling stuffed peppers! Of course, you can get creative with your favorite pizza toppings here!
Don't forget to try our Big Mac Pizza sometime too. It's one of the best!
Ingredient Notes:
This post contains affiliate links. As an Amazon associate and member of other affiliate programs, I earn from qualifying purchases.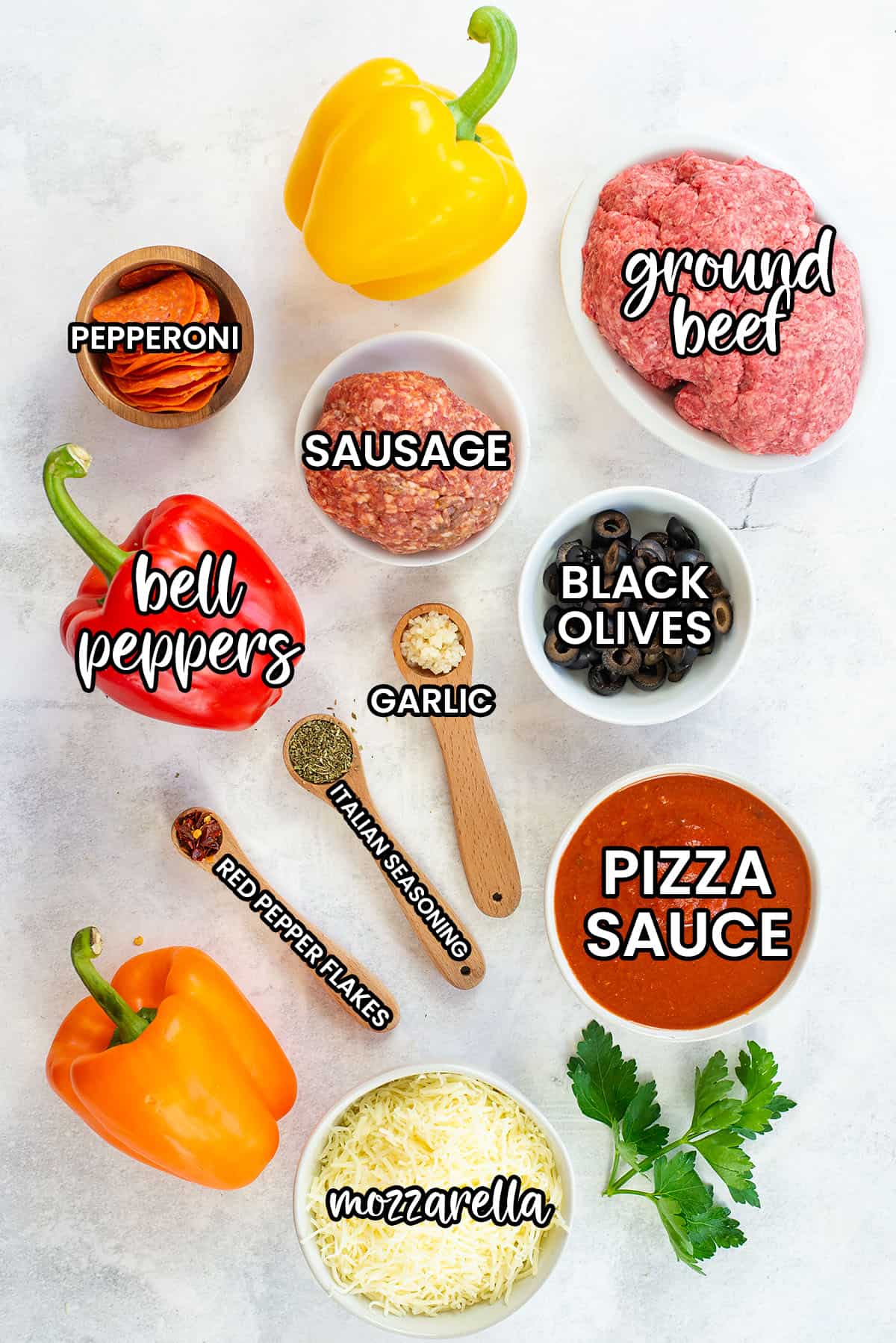 Bell Peppers – You can use any color of bell pepper for this stuffed pepper recipe.
Meat – I'm using both ground beef and ground Italian sausage in these stuffed peppers. You can use either mild or hot Italian sausage.
Sugar-Free Marinara – We love Rao's Marinara! It's perfect for using as a pizza sauce and there are no added sugars. Pizza sauce would also work, but check the label for added sugars.
Mozzarella – These wouldn't be proper pizza stuffed peppers without loads of melty mozzarella cheese! You can certainly add in other cheeses like cheddar or provolone or whatever mix you prefer.
Pizza Toppings – I'm adding in pepperoni and black olives as my preferred pizza toppings, but you can switch these up or add whatever toppings you like!
Seasoning – Some Italian seasoning will add traditional pizza flavors, and we also like to garnish these stuffed peppers with some red pepper flakes and parsley!
Shop Keto Ingredients
We use Thrive Market for a lot of our specialty ingredients and keto snacks or products. Their prices tend to be cheaper than the local stores and I love that you can so easily sort products by diet.
Like Costco, this is a membership site, but we find that it's more than worth it based on the amount we save over the regular grocery store.
They have monthly or yearly plans. Check it out here.
Why We Love This Recipe:
All the flavors of pizza, but you get to skip the step of making a crust!
These are easy to customize – every can make their own pizza stuffed pepper!
This is a great way to introduce stuffed peppers to kids. They know they love pizza, so they're more interested in trying new things!
These reheat great! Make extra for lunch tomorrow!
How To Make Stuffed Peppers: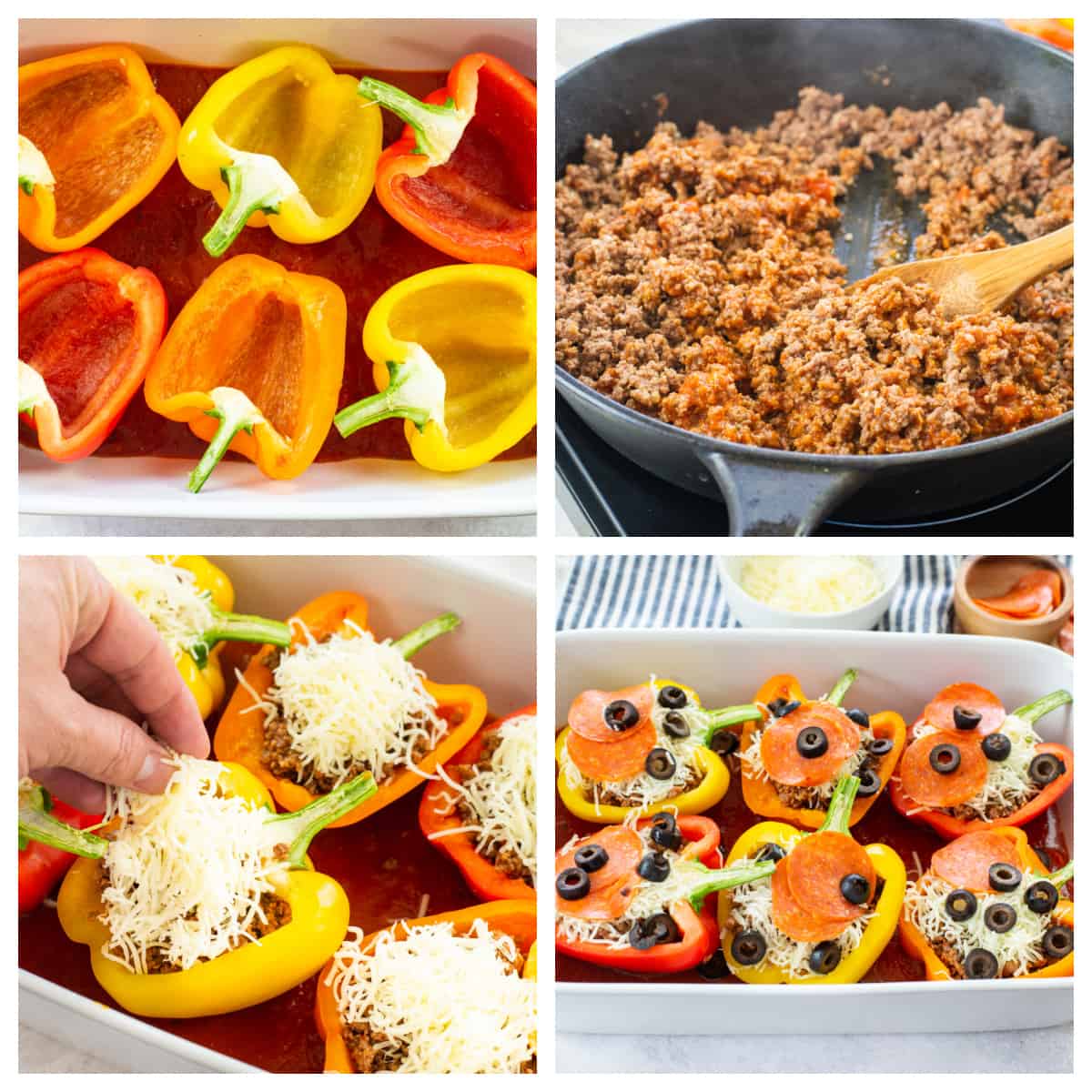 Peppers – To get started you'll need to slice the bell peppers into halves for stuffing. We usually prefer this method rather than cutting off the tops and stuffing them! See FAQs below for more info. After slicing the peppers in half remove the seeds and membranes.
Arrange – When the peppers are sliced grab a 9×13 baking dish and spread a cup of the marinara sauce in an even layer lining the bottom of the dish. Next, arrange each of the bell pepper halves cut side up over the marinara sauce in the baking dish.
Meat – Now to prepare the ground beef and Italian sausage! Add both to a skillet and cook over medium heat. Crumble the meat up as it cooks and continue until it has browned. Add in the garlic and continue cooking for another minute, then drain the grease from the skillet.
Sauce – Add a cup of the marinara to the skillet along with the Italian seasoning. Stir it all together with the beef and sausage until the meat is well coated in the sauce. Now to start stuffing!
Stuff – Begin spooning the meat and sauce filling into the pepper halves evenly and then start topping them with your preferred toppings (Pepperoni and black olives for me!) along with the mozzarella cheese.
Bake – Finally you can cover the baking dish with some foil and then start baking for 10 minutes. After that time you can remove the foil and continue baking for another 15 minutes or until the peppers are tender crisp. We like to sprinkle on some red pepper flakes and parsley before serving these pizza stuffed peppers hot!
Helpful Tip!
I love introducing healthier options to my kids and this one is set up for success, since it's just marrying a food they already love (pizza!) with a vegetable! Another way to get them excited is to let them build their own pizza stuffed pepper, piling on as much cheese and other toppings as they like.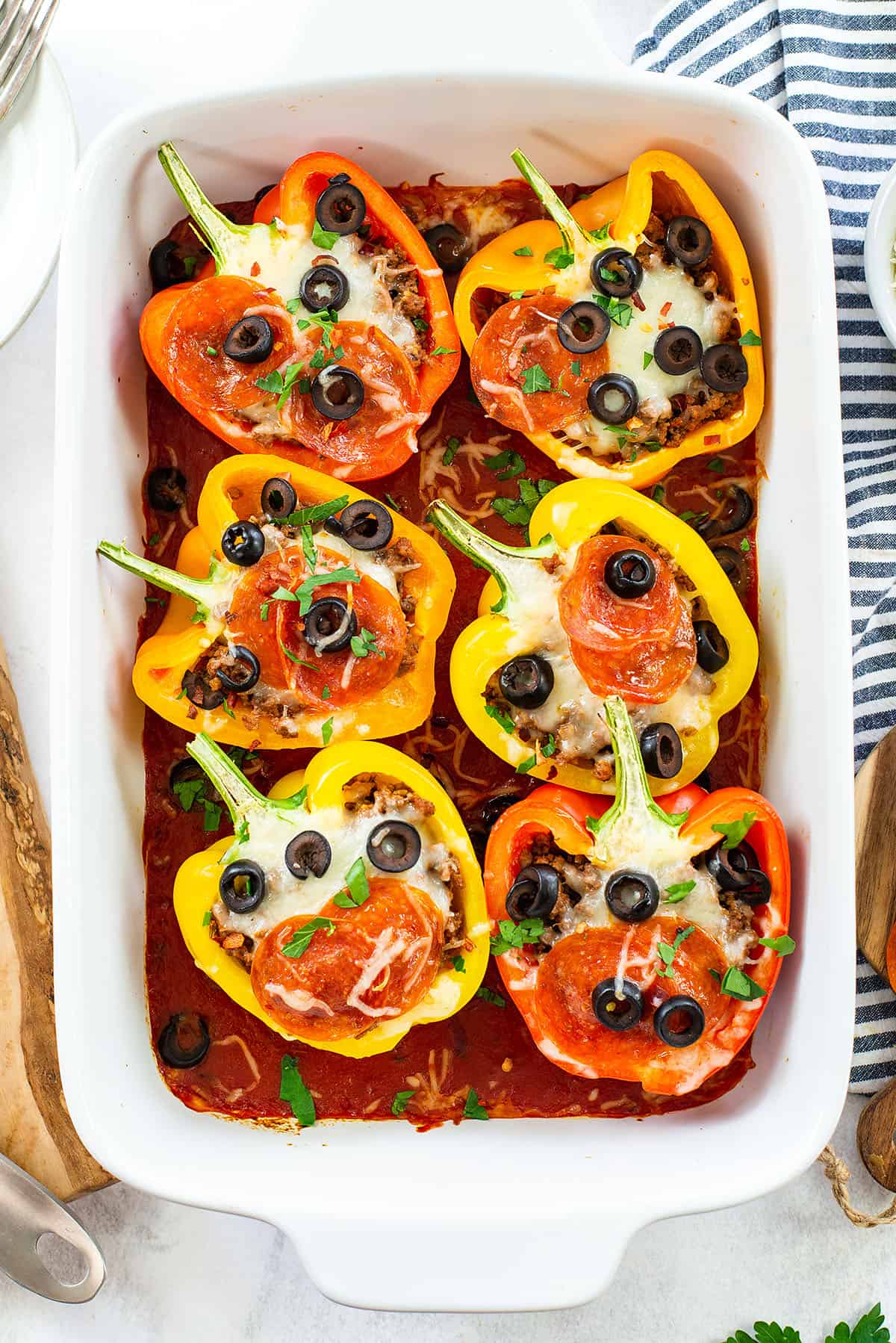 FAQ's:
How to store stuffed peppers?
You can keep these pizza stuffed peppers in an airtight container in the refrigerator for about 3 to 4 days. Reheat in the microwave.
What other toppings can we add to our pizza stuffed peppers?
We tend to keep it simple by adding pepperoni and black olives, but you could also add diced onion, sliced mushrooms, jalapenos, or even a couple small chunks of pineapple. Whatever toppings you love on pizza will likely work well here.
How to cut peppers for stuffing:
I always cut peppers into halves and then remove the seeds and membranes. Another method is to cut the top off and then scoop out the seeds and membrane. I prefer slicing them into halves for a couple of reasons:

1.) Peppers do contain carbs and by cutting them in half, you're really maximizing the amount of filling per pepper and making it a whole lot easier to eat half of a pepper rather than a full pepper.

2.) It's a heck of a lot easier to fill and cook a pepper laying down on it's side than it is to get them to stand up on their ends. Some peppers are weirdly shaped on the bottom and just don't want to stand up for you, ya know?
More Low Carb Stuffed Pepper Recipes: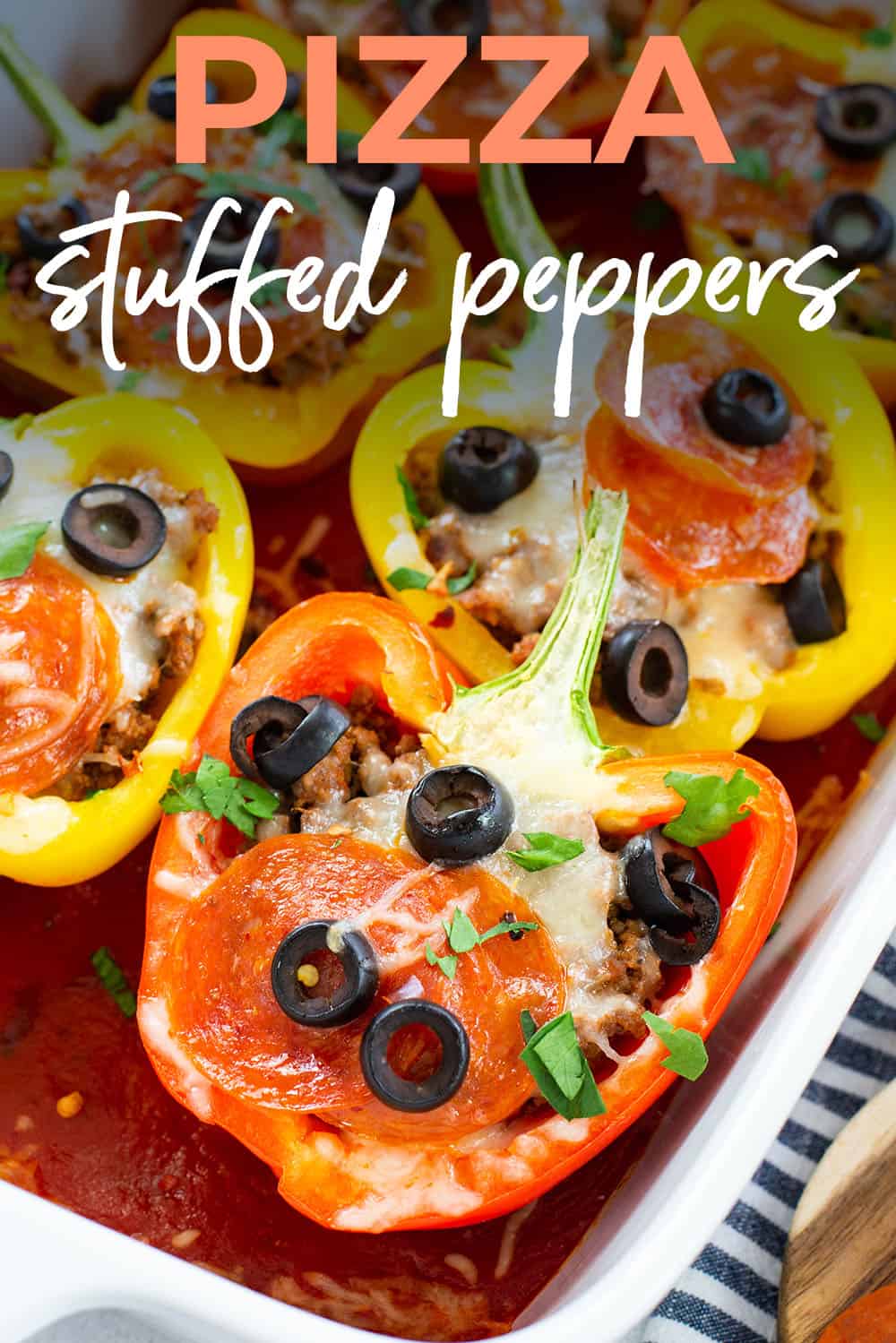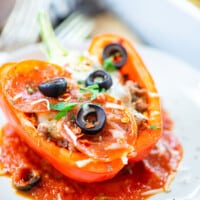 Pizza Stuffed Peppers
We love getting our pizza fix any way we can, and these pizza stuffed peppers are a favorite way to go about it. We top ours with pepperoni and olives, but you could use whatever toppings you like best on pizza.
Ingredients
4 bell peppers, any color
1 pound ground beef
8 ounces mild or hot Italian sausage
2 cloves garlic, minced
16 ounces sugar free marinara, divided
1 teaspoon Italian seasoning
1 ½ cups shredded mozzarella
¼ cup sliced black olives
16 slices pepperoni
Fresh parsley, for garnish
Red pepper flakes, for garnish
Instructions
Preheat oven to 400 degrees. Slice peppers in half from top to bottom and remove seeds and membranes.
Spread half of the marinara in the bottom of a 9x13 baking dish. Arrange peppers over the top, cut side up.
Add the ground beef and sausage to a skillet over medium heat and cook until browned, crumbling the beef as it cooks.
Add the garlic and cook for 1 minute more.
Drain the grease and add the remaining marinara to the skillet along with the Italian seasoning. Stir to coat.
Spoon the filling evenly between the peppers and top with the cheese, olives, and pepperoni.
Cover with foil and bake for 10 minutes. Remove foil and continue baking for 15 minutes or until peppers are tender-crisp.
Sprinkle with minced parsley and red pepper flakes before serving.
Notes
My family prefers red and orange peppers as they tend to be the sweetest, but you can use any color you like. A red pepper generally has 1 more carb than a green pepper - we find that to be perfectly reasonable and go for the one that tastes the best.
Use any toppings on these that you like on pizza - mushrooms, onions, jalapeno, etc. We've even finely diced a small chunk of pineapple to go the Hawaiian Pizza route. Just be sure to go light on the pineapple.
This recipe makes 8 pepper halves with each half clocking in at 4 net carbs each. We find that lighter appetites are satisfied with one half, while larger appetites may want 2.
Nutrition Information:
Yield: 8
Serving Size: 1
Amount Per Serving:
Calories: 378
Total Fat: 23g
Saturated Fat: 9g
Trans Fat: 1g
Unsaturated Fat: 13g
Cholesterol: 81mg
Sodium: 541mg
Carbohydrates: 5g
Net Carbohydrates: 4g
Fiber: 1g
Sugar: 2g
Protein: 31g
All information and tools presented and written within this site are intended for informational purposes only. This information is provided as a courtesy and there is no guarantee that the information is accurate.