These Cheeseburger Stuffed Peppers are loaded with a cheesy, savory low carb ground beef mixture and topped with a special homemade sauce!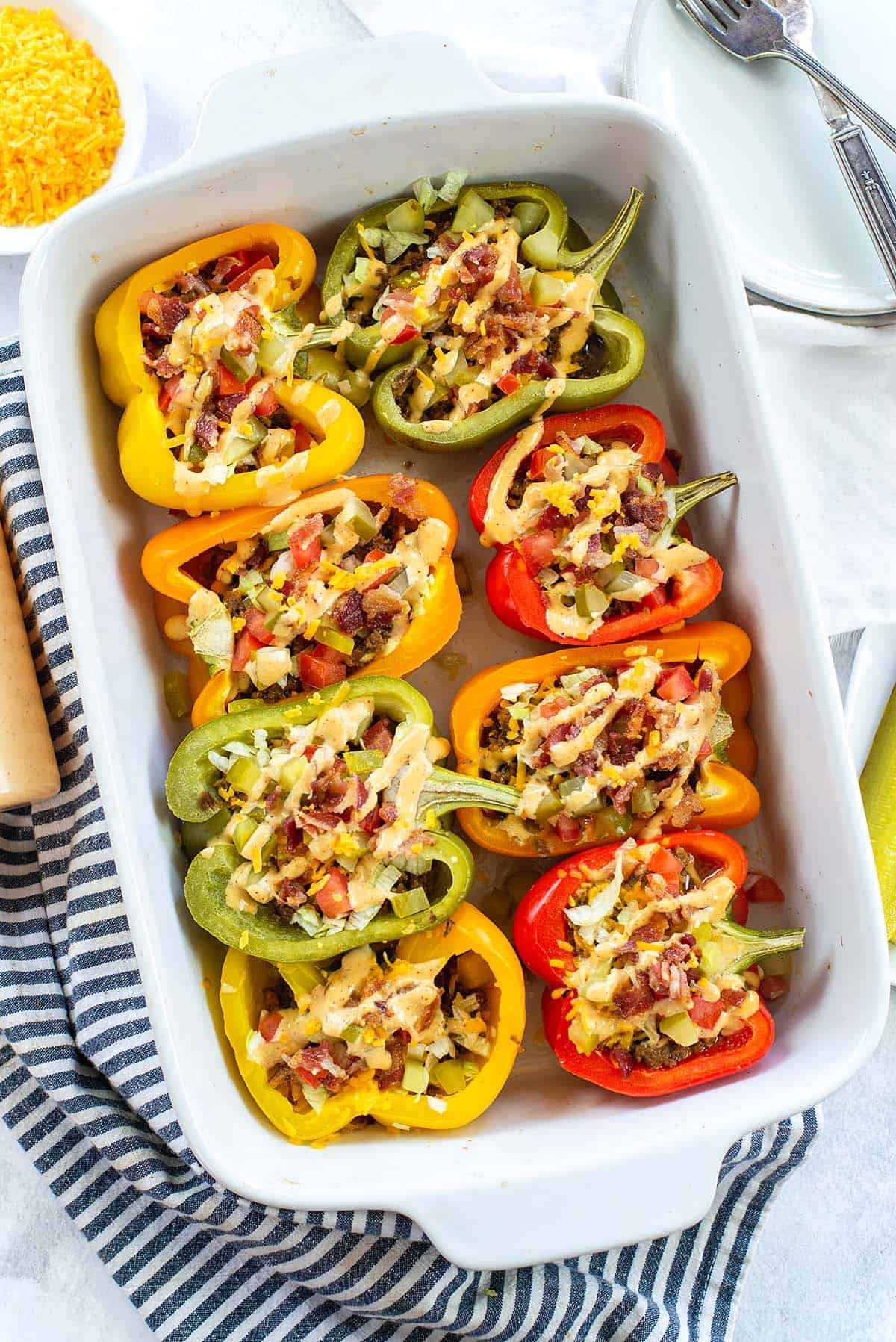 Let's all just get real for a moment here- the ultimate food is a cheeseburger. Right? We can all agree?
Awesome. 😉
Now that we've got that out of the way, let's talk about low carb cheeseburger options! Sure, we have our keto hamburger buns, we've made keto cheeseburger soup, and everyone loves our cheeseburger salad.
Now we're coming at ya with these cheeseburger stuffed peppers. With bacon. And special sauce. We know what we're doing here, my friends. 😉
These bacon cheeseburger stuffed peppers are a super easy way to get dinner on the table and the kids in my life are happy to eat anything labeled 'cheeseburger' so they're a win all the way around!
Serve these with our air fryer avocado fries or this fried zucchini. Both are delicious dipped in any extra burger sauce you make or some keto ranch dressing!
Ingredient Notes:
This post contains affiliate links. As an Amazon associate and member of other affiliate programs, I earn from qualifying purchases.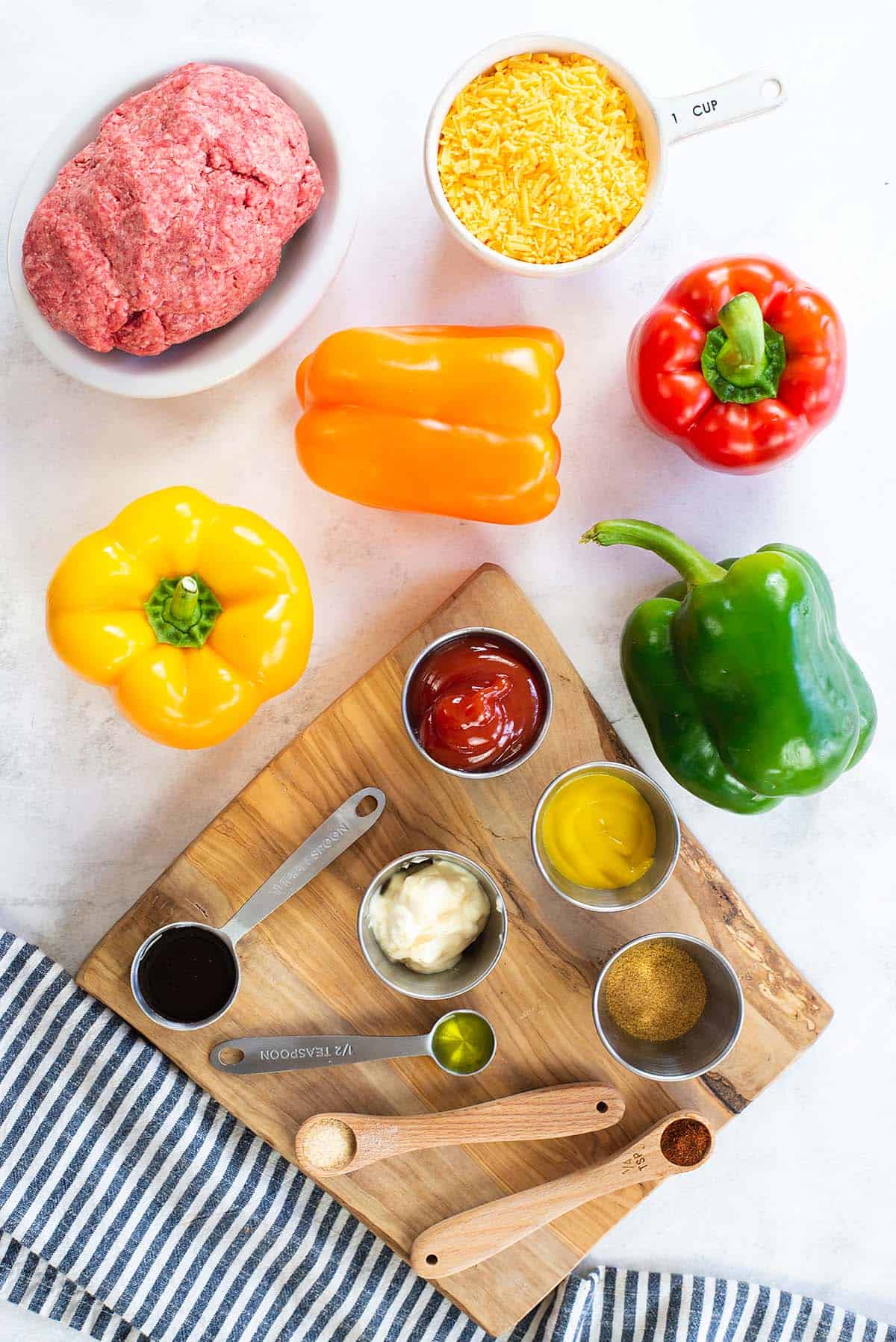 Bell Peppers – Use whichever color you prefer.
Filling – Lean beef, sugar free ketchup, mustard, Worcestershire sauce, seasoned salt, and cheddar make for a savory and hearty filling.
Topping – Shredded lettuce, diced tomatoes, and chopped pickles are a must. We sprinkled on crispy fried bacon as well.
Sauce – We combine sugar-free ketchup, mayo, mustard, and a splash of pickle juice along with chili powder and garlic salt. It's the perfect sauce for a burger!
Why We Love This Recipe:
Everyone loves a burger – even when it's stuffed inside a bell pepper!
That sauce on top really makes these special.
These are easy to customize – use your favorite cheese, toppings, and sauce!
How To: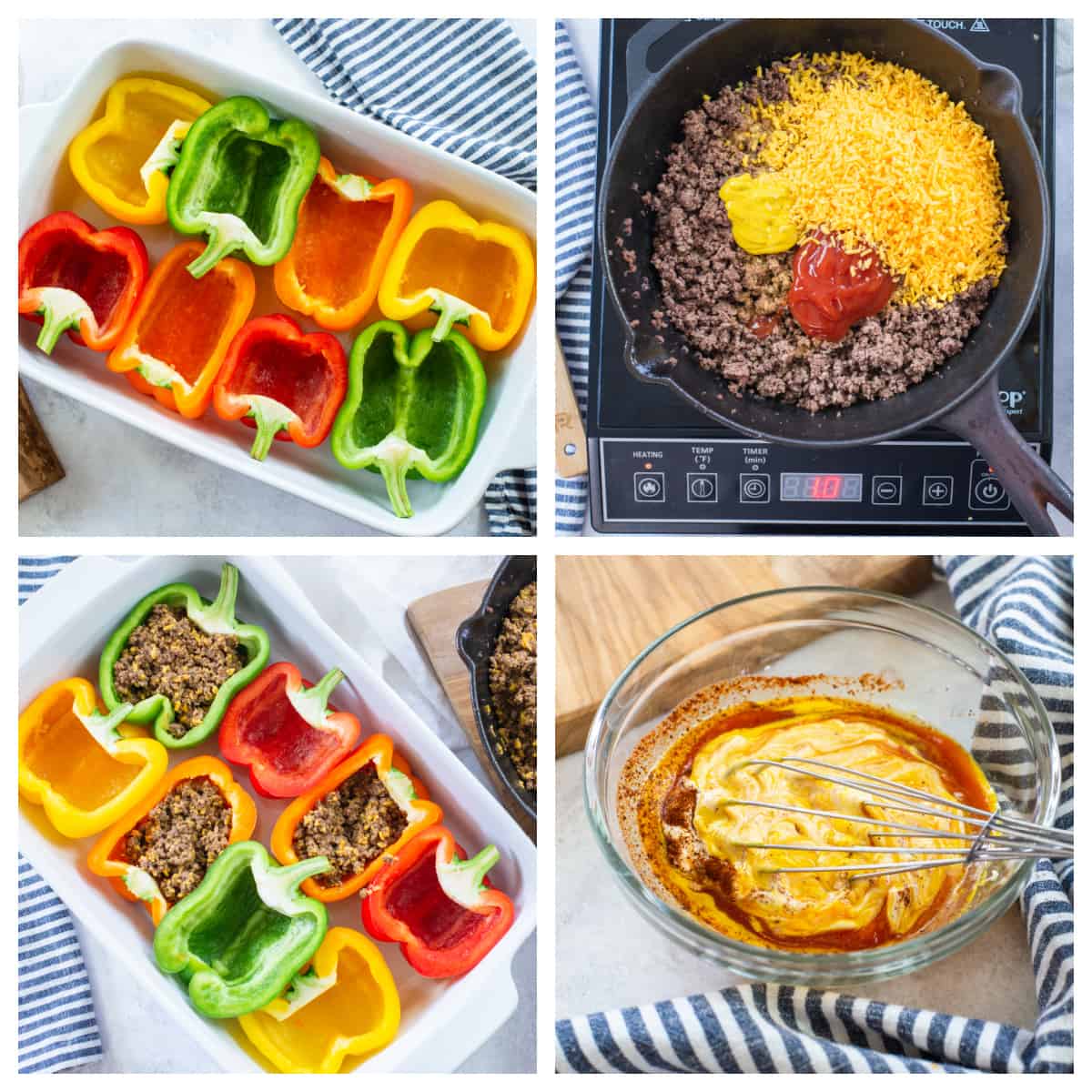 Prep – Slice the peppers in half from the root to the tip and remove the seeds and membranes from the pepper halves to hollow them out. Place those in a 9×13 baking dish and set aside.
Filling – Brown your beef and then stir in ketchup, Worcestershire sauce, mustard, and seasoned salt. Once combined, stir in the cheddar.
Stuff – Spoon the filling into the peppers. Pour 1/3 cup of water into the baking dish with the stuffed peppers. You'll then cover the dish tightly with foil and bake for about 35 minutes.
Topping – In a bowl, whisk together the mayonnaise, sugar-free ketchup, mustard, or pickle juice, garlic salt, and chili powder. Sprinkle the baked peppers with lettuce, tomato, and pickles, and drizzle on your sauce.
Helpful Tip!
You can turn these into bacon cheeseburger stuffed peppers! It's as simple as frying up some bacon (or try this easy air fryer bacon recipe for no mess) and then crumbling it up and adding it in with the hamburger filling, or just sprinkling it on as a topping.
Cheeseburger Sauce: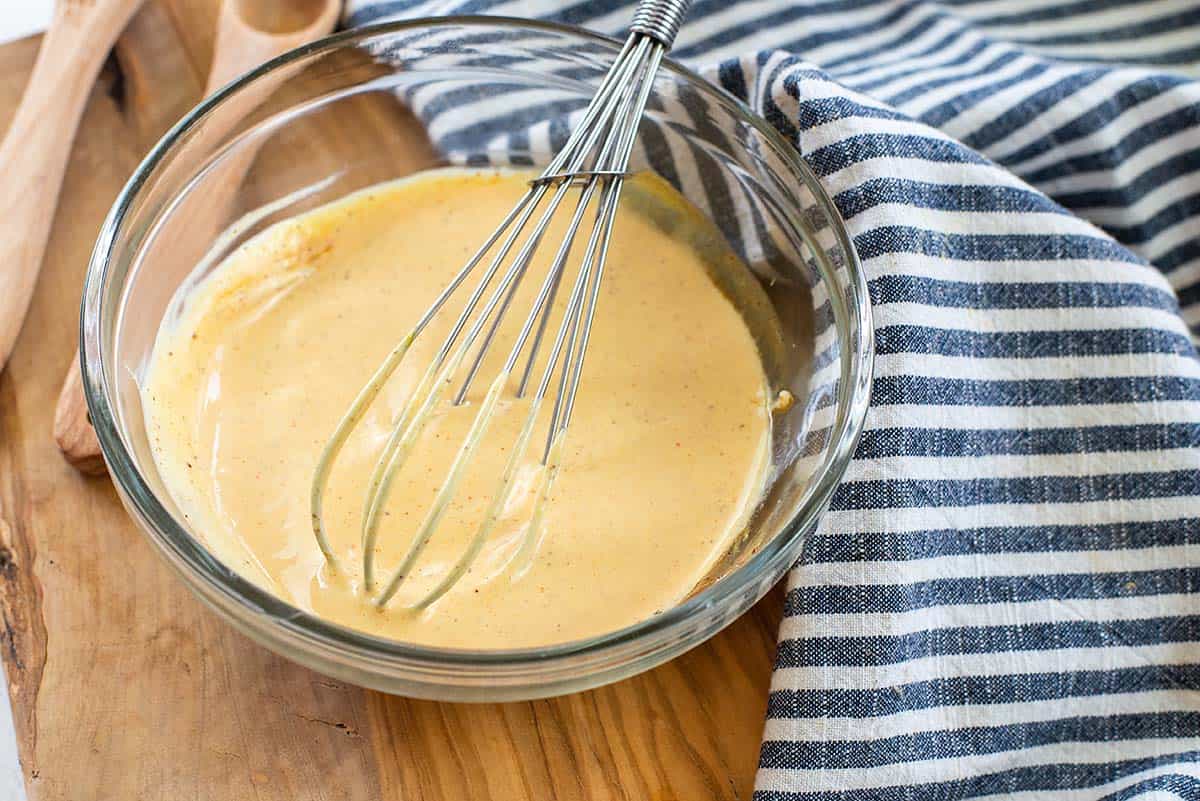 We're a sucker for a saucy burger and this burger sauce is our favorite way to go about it! It's a simple combination of ingredients that you likely have on hand, but it packs in loads of flavor.
Other topping options include a drizzle of our keto thousand island dressing or just a squirt of ketchup and mustard. We're working on a BBQ sauce recipe that would be tasty over the peppers, as well!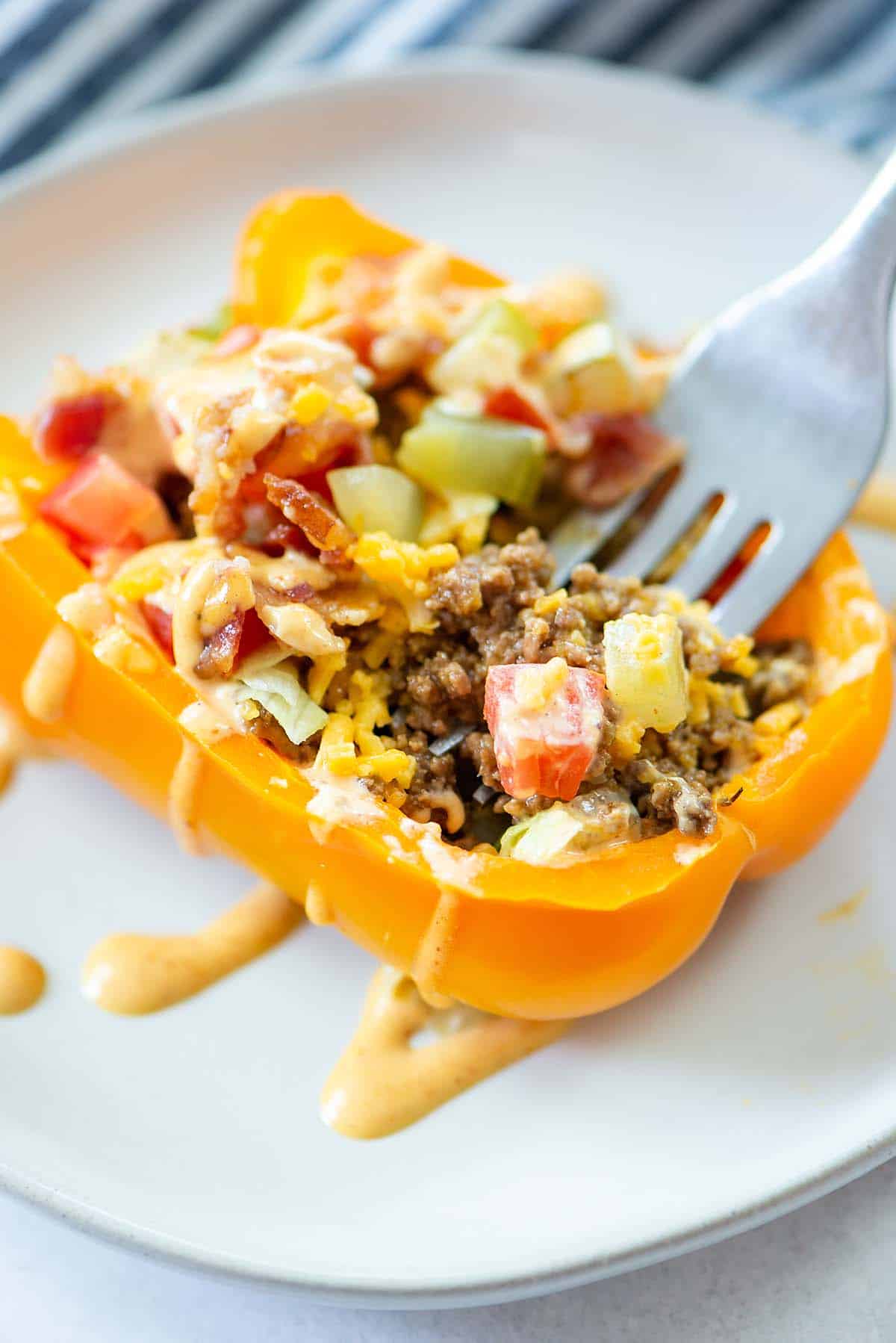 FAQ's:
How to store stuffed peppers?
You can keep these cheeseburger stuffed peppers in an airtight container in the refrigerator for about 3 to 4 days. Reheat in the microwave.
How to slice peppers for stuffing?
Slice your peppers in half from root to tip and then remove the seeds and membranes. The peppers cook faster and are more likely to lay nicely in the pan when cut this way verses cutting the top off.
Do red peppers have more carbs than green?
Red bell peppers do have more carbs than green bell peppers, due to the increase in natural sugars as the peppers have ripened. A whole red bell pepper has 7 carbs and a whole green pepper has 6 carbs. The difference is negligible, so use what you like!
More Stuffed Pepper Recipes: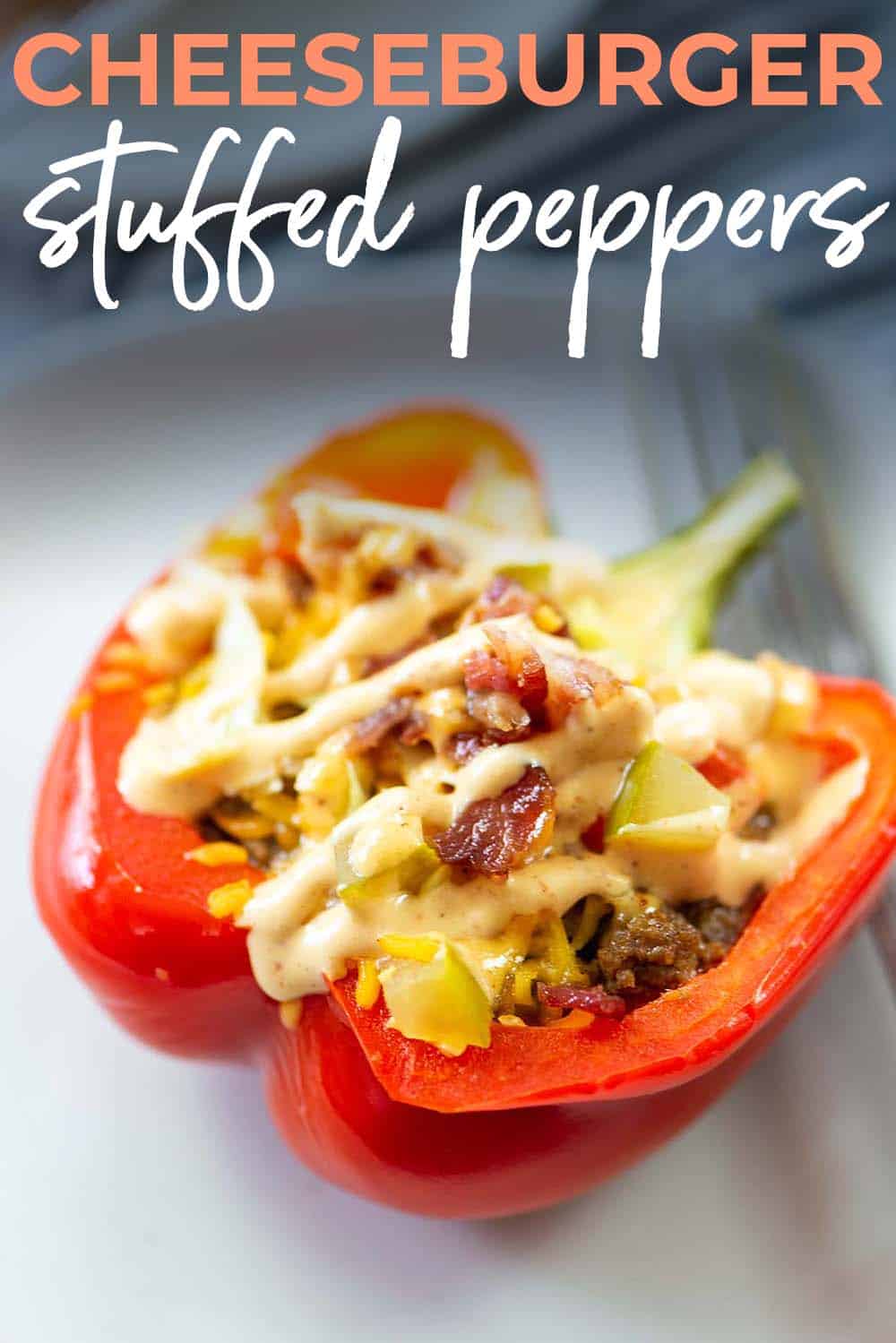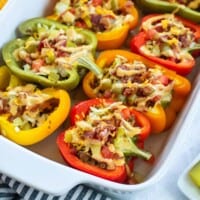 Cheeseburger Stuffed Peppers
We love cheeseburgers in our house and these stuffed peppers have all of those flavors. They're topped with our favorite burger sauce - a simple addition that really makes these stand out.
Ingredients
For the stuffed peppers:
4 bell peppers, any color
2 pounds lean ground beef
4 tablespoons sugar free ketchup
2 tablespoon mustard
1 tablespoon Worcestershire sauce
2 teaspoons seasoned salt
1 cup shredded cheddar
For topping:
2 tablespoons mayonnaise
1 tablespoon sugar free ketchup
1 teaspoon mustard
Splash of pickle juice
¼ teaspoon garlic salt
¼ teaspoon chili powder
Shredded cheddar, shredded lettuce, diced tomatoes, crumbled bacon, chopped pickles, for topping
Instructions
To make the peppers:
Preheat oven to 350 degrees.
Slice each pepper in half from root to tip. Remove the seeds and membranes from the peppers. Place in a 9x13 baking dish.
Add the beef to a medium skillet over medium heat and brown, crumbling the beef as it cooks.
Once beef is cooked through, add the ketchup, mustard, Worcestershire sauce, and seasoned salt. Stir well to combine. Remove from the heat.
Add the cheese to the beef and stir to combine.
Spoon the beef mixture into the pepper halves. Pour ⅓ cup of water into the bottom of the pan to steam the peppers as they cook.
Cover the pan tightly with foil and bake for 35 minutes or until peppers are as tender as you'd like.
To make the topping:
While peppers are baking, whisk together the mayonnaise, ketchup, mustard, vinegar, garlic salt, and chili powder until combined.
When peppers have finished baking, sprinkle the tops with cheddar, lettuce, tomatoes, and pickles. Drizzle lightly with the sauce.
Serve hot.
Notes
Green bell peppers have 6 carbs per pepper while red peppers have 7. Use whatever color you prefer.
We prefer Heinz No Sugar Added Ketchup, but any sugar free ketchup you like will do.
Nutrition Information:
Yield: 8
Serving Size: 1
Amount Per Serving:
Calories: 407
Total Fat: 24g
Saturated Fat: 10g
Trans Fat: 1g
Unsaturated Fat: 11g
Cholesterol: 124mg
Sodium: 1016mg
Carbohydrates: 7g
Net Carbohydrates: 5g
Fiber: 2g
Sugar: 3g
Protein: 39g
All information and tools presented and written within this site are intended for informational purposes only. This information is provided as a courtesy and there is no guarantee that the information is accurate.