These taco stuffed peppers are packed with seasoned ground beef, Ro*Tel tomatoes and chiles, cauliflower rice, and lots of cheesy goodness! These are a healthy and wholesome way to get tacos on the table!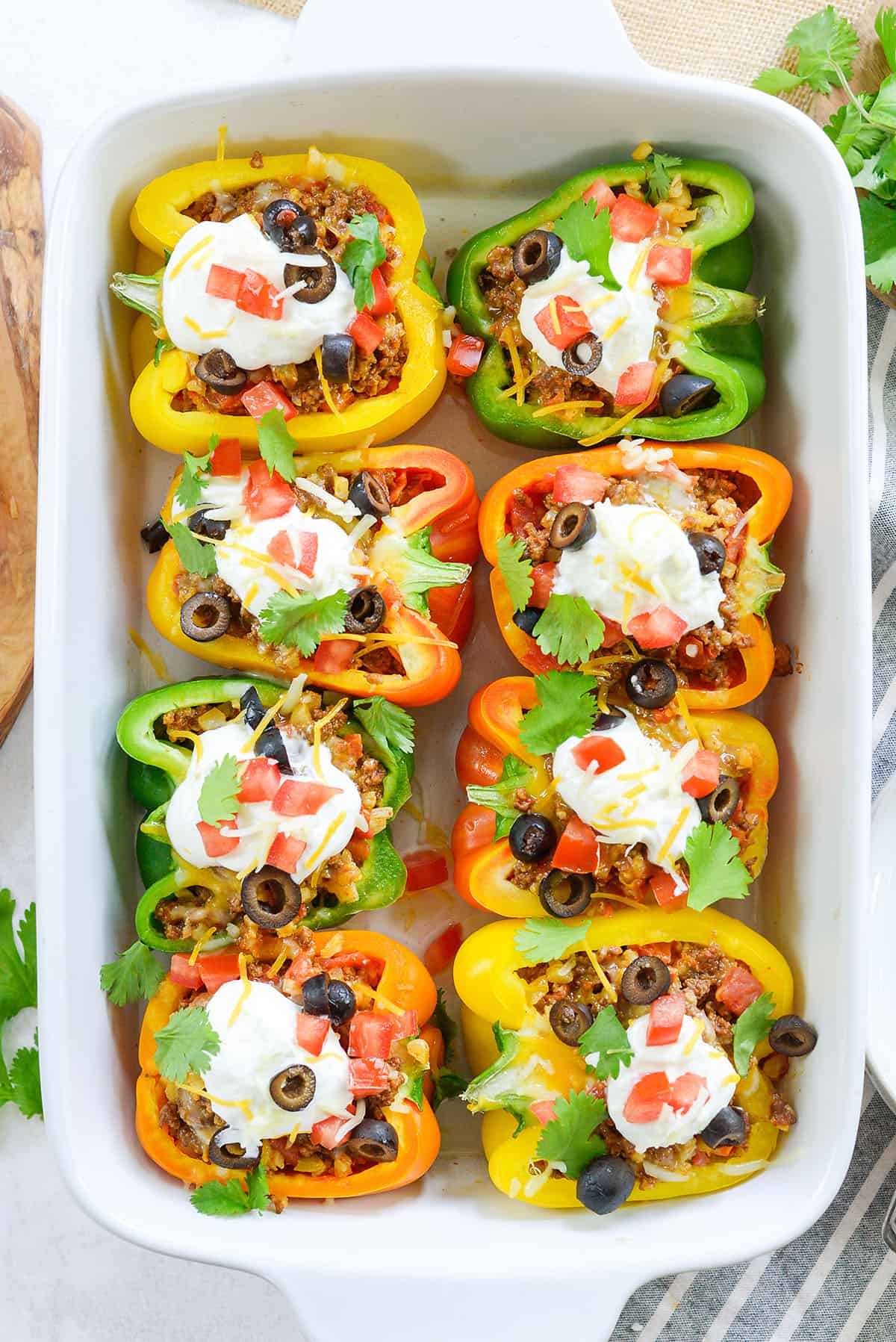 At this point, it's no surprise that I'm here with another version of tacos.
I'm clearly obsessed. 😉
These Taco Stuffed Peppers are a tasty, healthy, wholesome way to get that taco fix that, if you're anything like me, you crave at least once a week!
Our Keto Taco Soup and Keto Taco Salad also find their way onto our menu pretty regularly, right along with our Fish Taco Bowls. Seriously – can never get enough taco inspired foods.
Why We Love This Recipe:
Stuffed peppers are a great way to enjoy all the flavors that are in a taco without the tortilla!
You can customize these low carb stuffed peppers with whatever toppings you like and even let the kids build their own taco stuffed peppers.
These are a nice way to get in your veggies – bell peppers, cauliflower rice, and lettuce!
Ingredient Notes: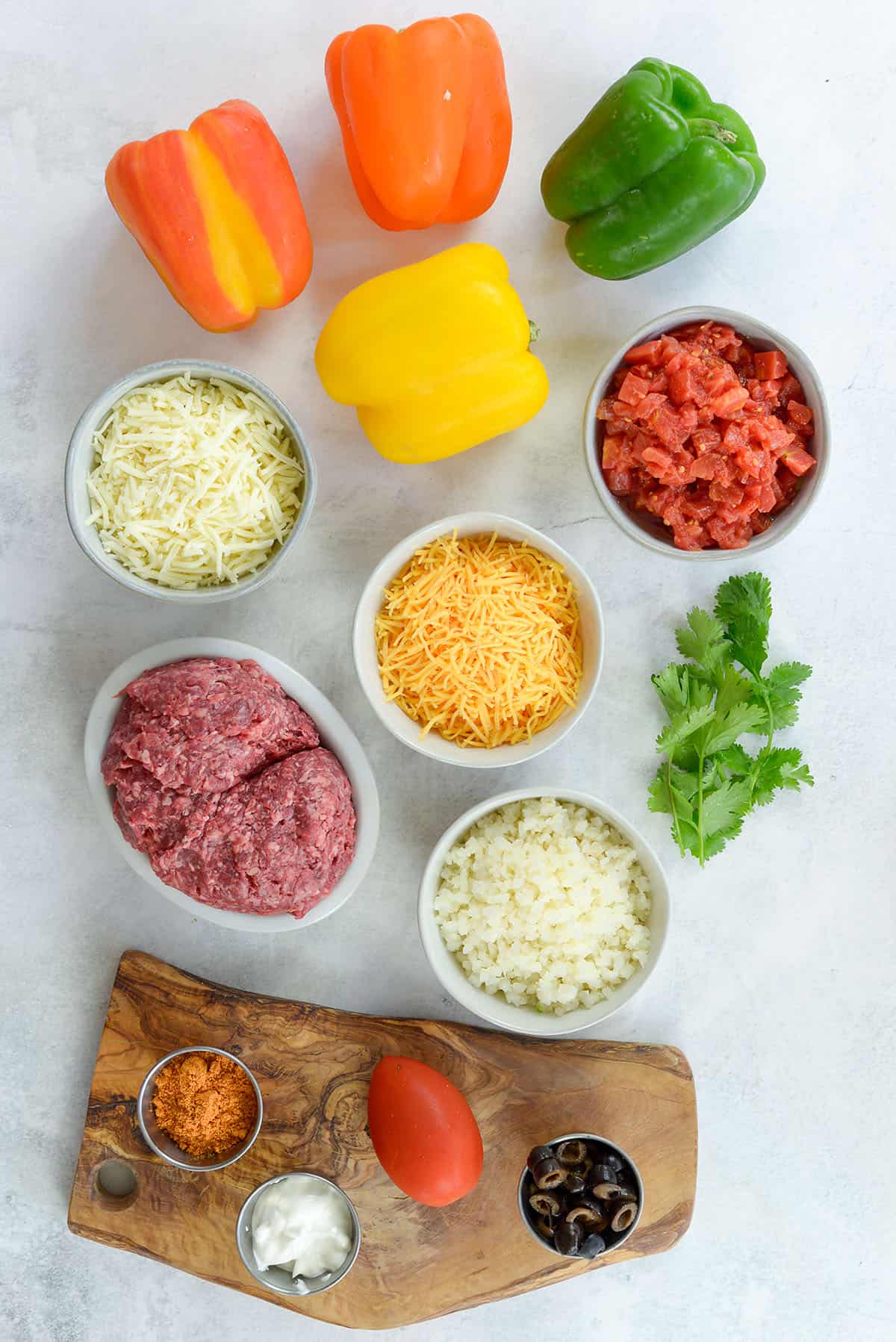 Ground Beef – We prefer lean ground beef, but ground or shredded chicken or turkey, or chorizo would work well too.
Bell Peppers – Red bell peppers are sweetest, but we usually use a mix of colors.
Cauliflower Rice – Keep things simple and just pick up a bag of the frozen, steam in bag cauliflower rice from the store!
Ro*Tel – These canned tomatoes and green chiles will add just the right amount of spice to these taco stuffed peppers! You can use either the mild kind or the hot kind if you like it really spicy.
Keto Taco Seasoning – Try out my homemade keto taco seasoning recipe, or grab a packet of seasoning from the store. The homemade kind is better though!
Cheese – I'm using shredded cheddar and Monterey Jack cheese in these keto stuffed peppers but you can use any blend of cheese that you like!
Toppings – I'm topping these taco stuffed peppers with sour cream, black olives, cilantro, and diced tomatoes. You can use whatever toppings you'd like! Our keto salsa and keto guacamole are obviously good choices!
How To Make Stuffed Peppers: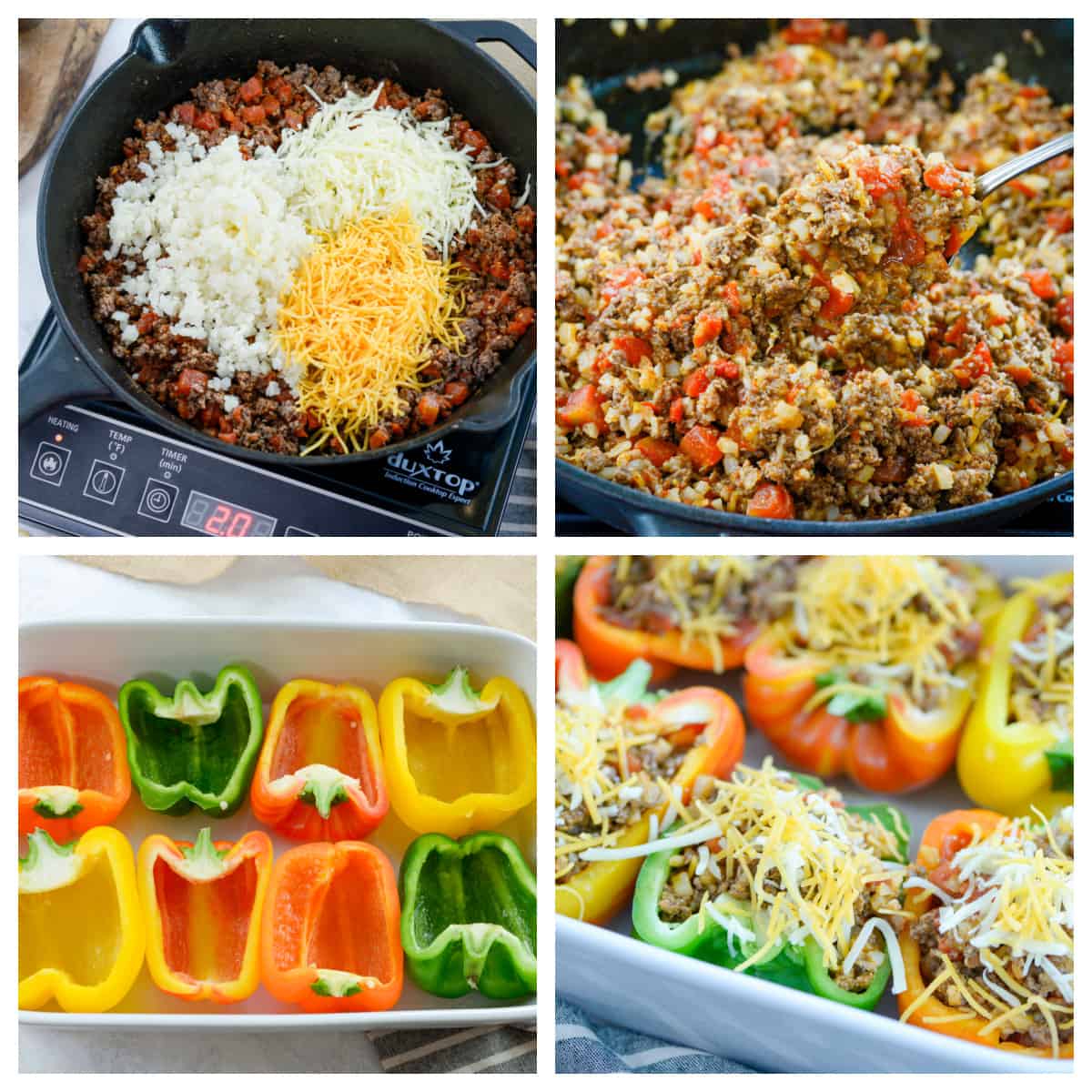 Beef – Brown the beef, crumbling it as it cooks. Add the Ro*Tel and taco seasoning to the beef.
Cauliflower Rice – While the beef cooks you can start preparing the cauliflower rice. If you're using the steam-in-bag kind then it should be as simple as popping it in the microwave and cooking per the package instructions. (pic 1)
Cheese – Remove the skillet from the heat and then stir in the steamed cauliflower rice along with half of the shredded cheddar and Monterey Jack cheese. The residual heat should help to melt all that cheese! Stir it up so that it gets mixed well with the taco meat and cauliflower rice. (pic 2)
Peppers – To get started you'll prepare the bell peppers. Cut the peppers in half from top to bottom and then remove the membranes and seeds leaving you with two halves of the pepper that you can stuff. You'll use four large peppers cut in half, so this will make eight servings. Add 2 to 3 tablespoons of water to a 9×13 baking dish and then add the peppers cut side up to the dish with the water. (pic 3)
Stuff – Now to start stuffing those peppers! Use a spoon to scoop the cheesy taco meat filling evenly between each of the pepper halves. Once you've used it all up you can then sprinkle the remaining half of the shredded cheeses over the top of each stuffed pepper! (pic 4)
Bake – Cover the baking dish with some foil and then place it in the oven! The water in the dish will help to steam and soften up the peppers. Bake covered for 15 minutes, then remove the foil and finish baking uncovered for 10 more minutes or until the peppers are as tender as you'd like!
Top – When they've finished baking you can top the taco stuffed peppers with all your favorite toppings like cilantro, sour cream, or black olives! Serve them while they are good and hot.
Helpful Tip!
After baking, arrange the taco toppings on the table and let everyone top their pepper the way they'd like! Helps get the kids excited for their dinner when they get to participate!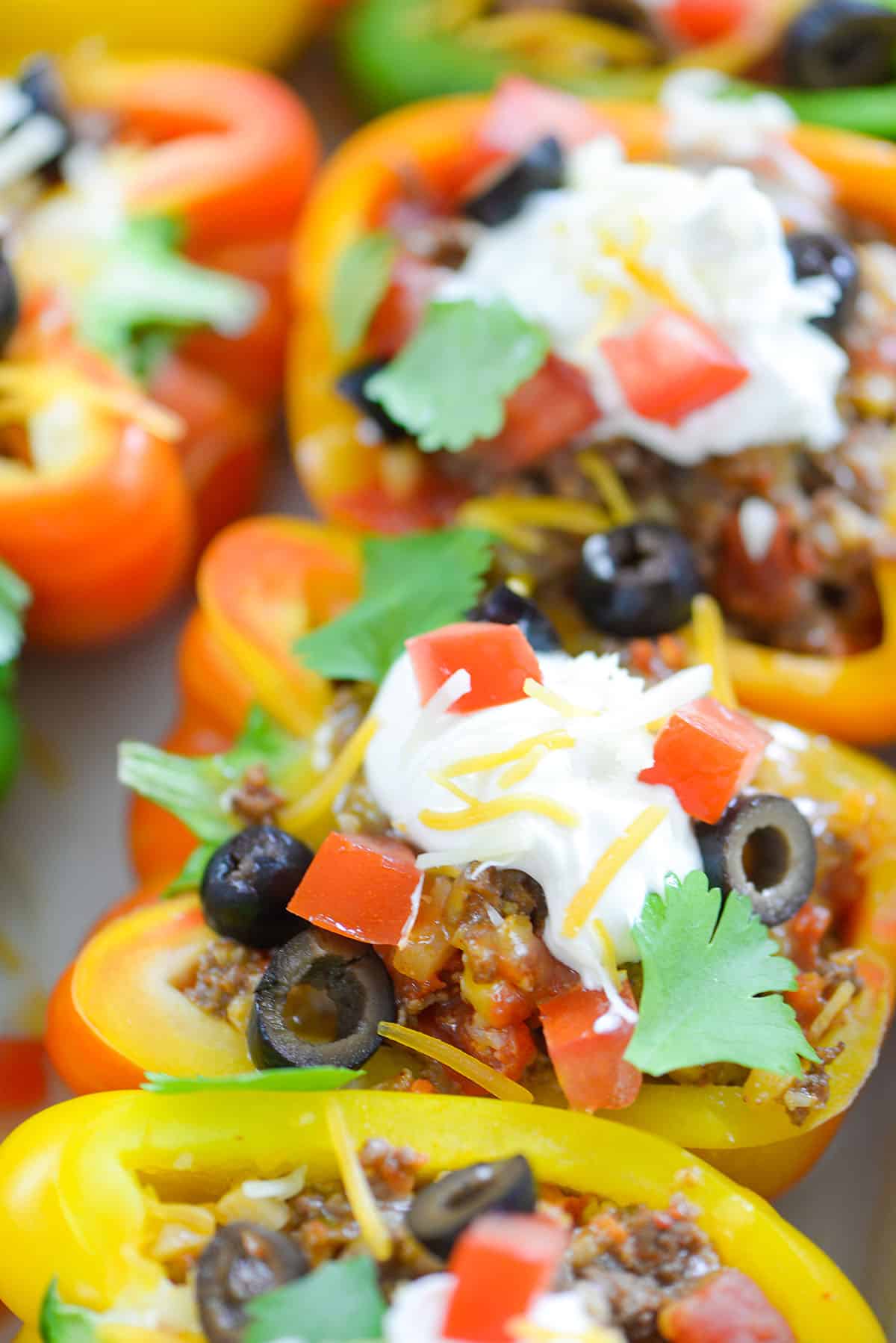 FAQ's:
How to store stuffed peppers?
You can keep these taco stuffed peppers in an airtight container in the refrigerator for about 3 to 4 days. Reheat in the microwave.
Are these stuffed peppers spicy?
There is a little bit of spice to them from the taco seasoning and the Ro*Tel with green chiles, but I do not think these are overly spicy. They are pretty mild! If you want to spice them up try using the hot Ro*Tel instead of mild, or mix in some diced jalapenos.
How to slice peppers for stuffing?
Slice your peppers in half from root to tip and then remove the seeds and membranes. The peppers cook faster and are more likely to lay nicely in the dish when cut this way verses cutting the top off.
More Stuffed Pepper Recipes: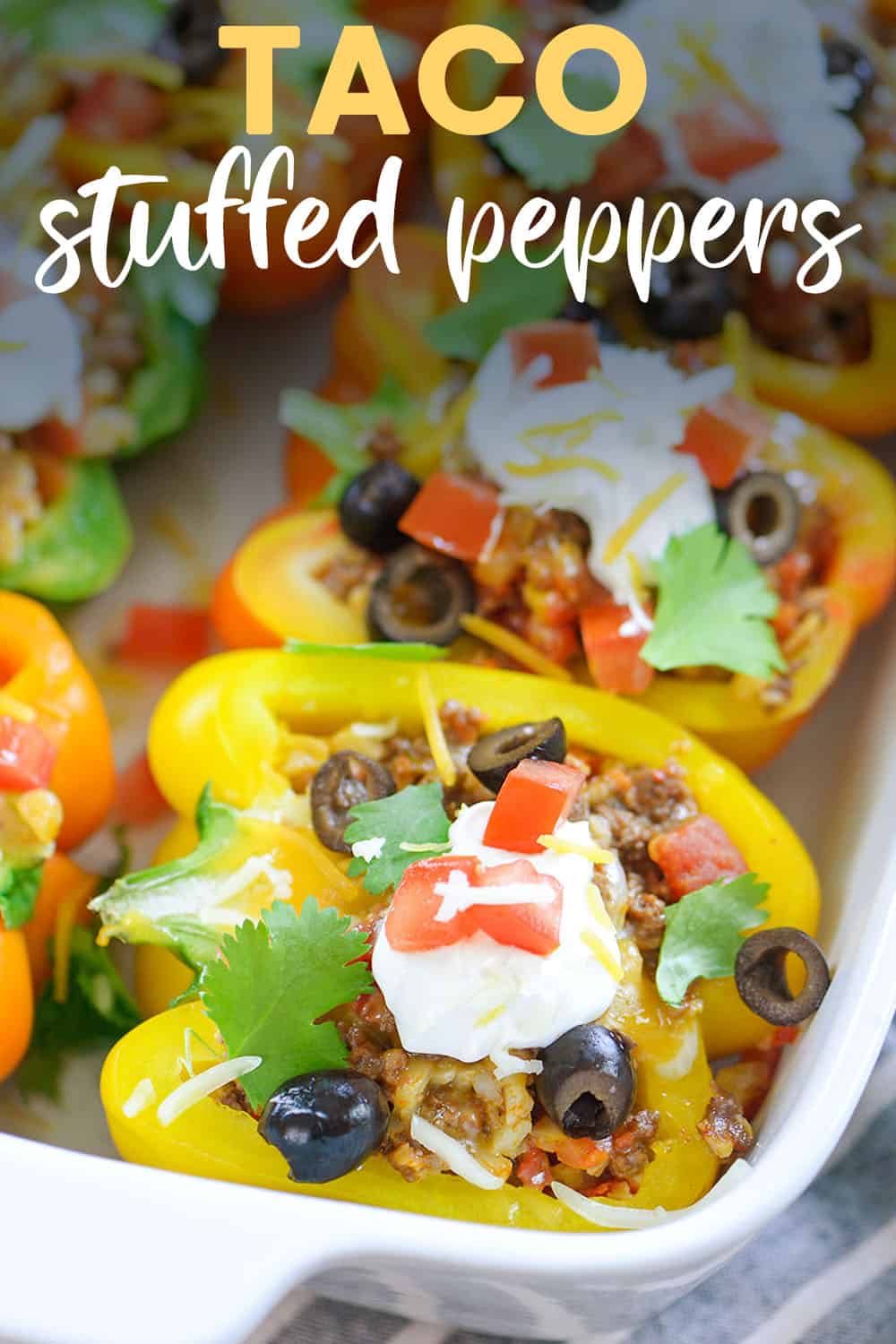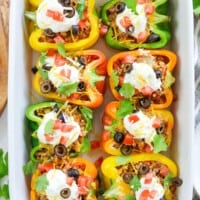 Taco Stuffed Peppers
We love tacos in this house and we're always looking for healthier, more wholesome ways to enjoy those flavors! These taco stuffed peppers fit the bill and are easy to customize!
Ingredients
4 large peppers, any color
1 pound lean ground beef
10 ounces frozen steamable cauliflower rice
10 ounces Ro*Tel Tomatoes and Chiles, drained
1 cup shredded cheddar, divided
1 cup shredded Monterey jack, divided
2 tablespoons sour cream
Black olives, cilantro, diced tomatoes for garnish
Instructions
Preheat oven to 400 degrees. Add 2-3 tablespoons of water to a 9x13 baking dish.
Slice the peppers in half from top to bottom and scoop out the seeds and membranes. Place cut side up in the baking dish with the water. There should be just enough water to cover the bottom of the dish.
Brown the beef in a medium skillet over medium heat, crumbling the meat as it cooks. Once browned, drain the grease.
While the beef is cooking, microwave the cauliflower rice according to package directions.
Add the tomatoes and taco seasoning to the beef and stir to combine.
Remove from the heat and stir in the cauliflower rice and ½ cup of cheddar and Monterey jack cheese.
Spoon the mixture evenly between the peppers and top with the remaining cheese.
Cover with foil and bake for 15 minutes. Remove foil and continue baking for 10 minutes or until peppers are as tender as you'd like.
Dollop with sour cream and sprinkle with black olives, cilantro, and tomatoes before serving.
Notes
We prefer red peppers to green peppers, but any color will work. Red bell peppers have about 1 carb more than green, so not an amount we stress about.
Top these with whatever your favorite toppings are. Salsa, guac, extra cheese, and hot sauce are also tasty. Toppings are not included in the nutrition information.
Nutrition Information:
Yield: 8
Serving Size: 1 pepper half
Amount Per Serving:
Calories: 229
Total Fat: 14g
Saturated Fat: 8g
Trans Fat: 0g
Unsaturated Fat: 6g
Cholesterol: 67mg
Sodium: 227mg
Carbohydrates: 8g
Net Carbohydrates: 5g
Fiber: 3g
Sugar: 3g
Protein: 20g
All information and tools presented and written within this site are intended for informational purposes only. This information is provided as a courtesy and there is no guarantee that the information is accurate.