This KETO GUACAMOLE is not only low carb, it's some of the best guacamole you'll ever make! Loads of flavor, the perfect combination of creamy and chunky, and I'm sharing my favorite ways to enjoy this dip.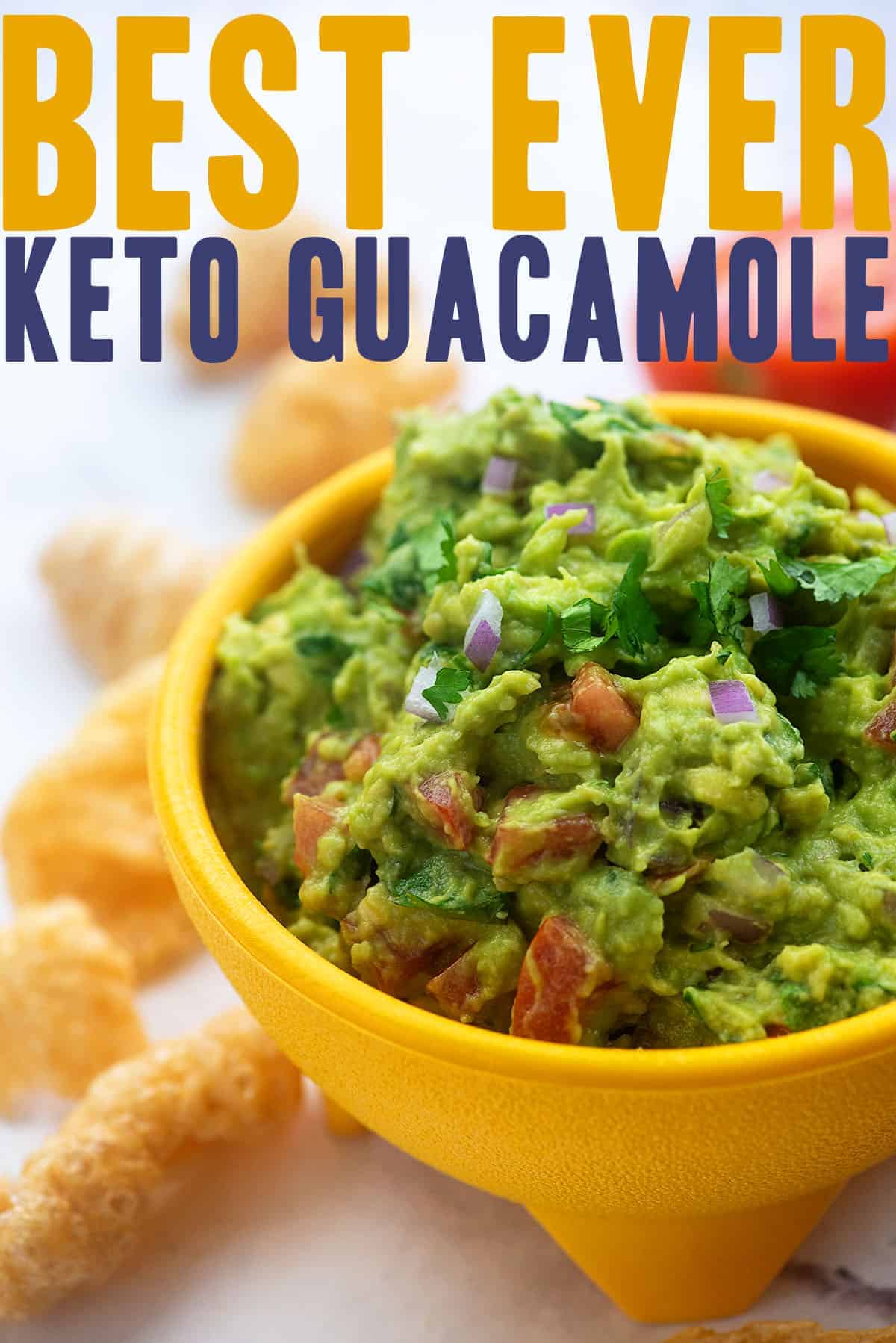 I've not always been the biggest fans of avocados, but that's only because I resisted even tasting one until I was well into my 20s.
Yeah…I was a picky kid and it stuck for a bit. 😉
But, once I started experimenting with new flavors and foods, well, let's just say I am a changed woman!
The first time I tried avocado it was a very tentative taste of guacamole. Y'all, I was hooked.

Now I make this keto guacamole every chance I get! It's so good and I promise – you don't need tortilla chips to enjoy guac!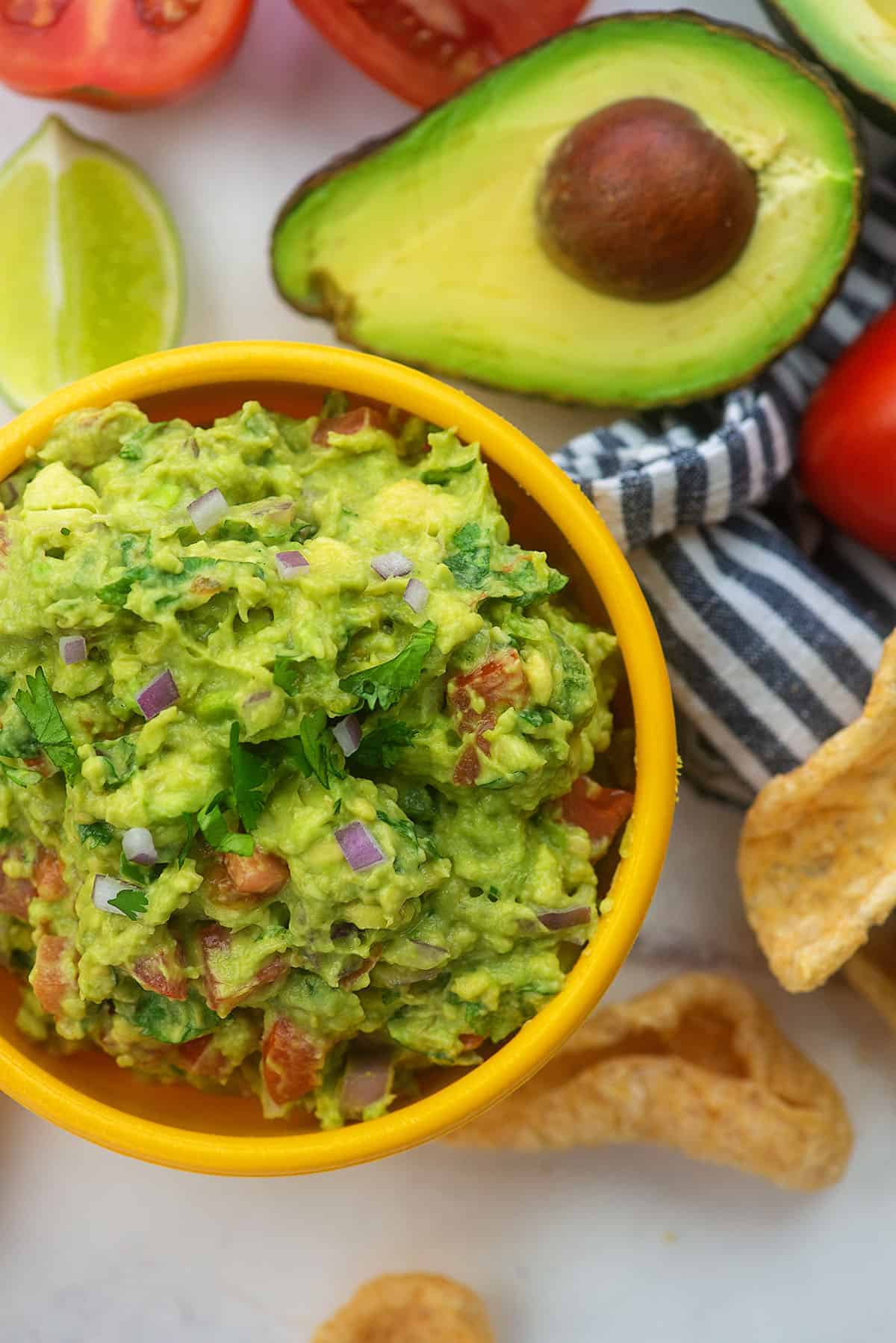 Keto Guacamole Recipe:
This post contains affiliate links. As an Amazon Associate and member of other affiliate programs, I earn from qualifying purchases.
Like most dip type recipes, you can really adjust this to suit your own personal tastes. My perfect guac might not be quite the same as your perfect guac. 😉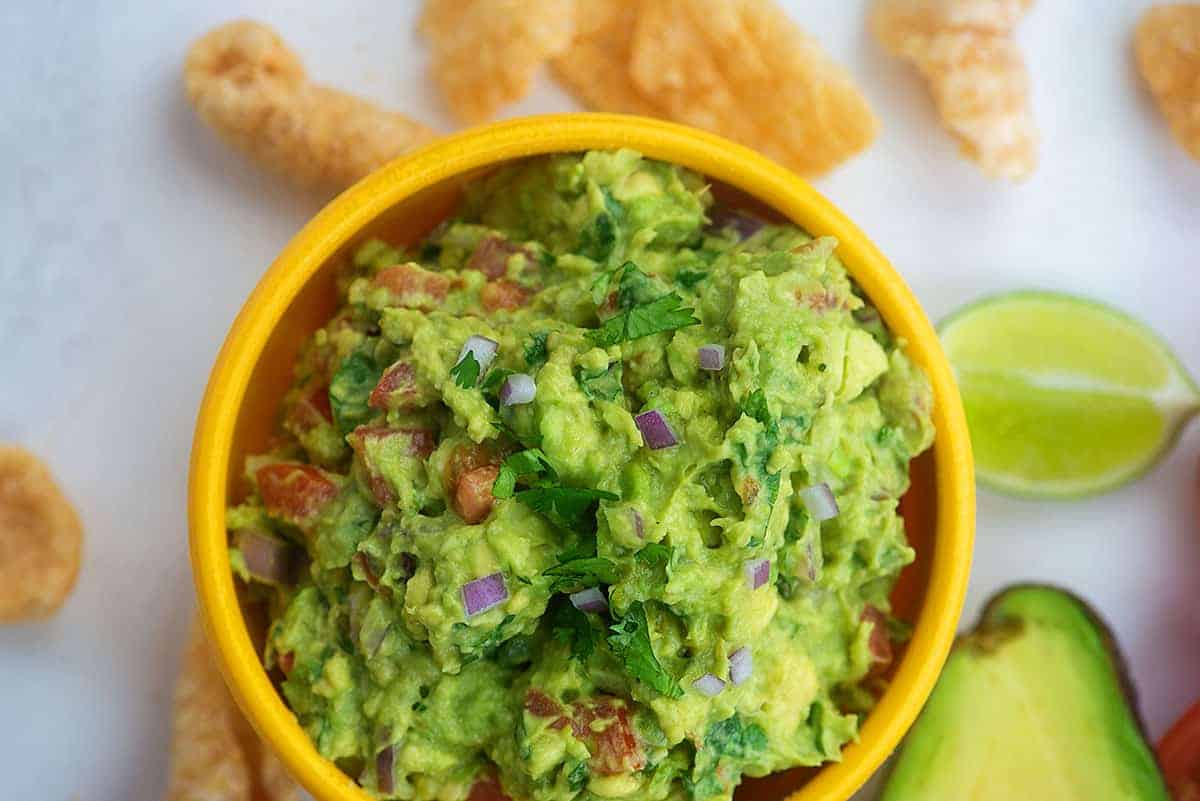 Here's the standard ingredients I use for guacamole perfection:
ripe avocado
tomato
sour cream
red onion
jalapeno
cilantro
lime
cumin
salt
You can adjust the amounts of the ingredients to suit your needs, but I'll share my exact recipe below in the recipe card!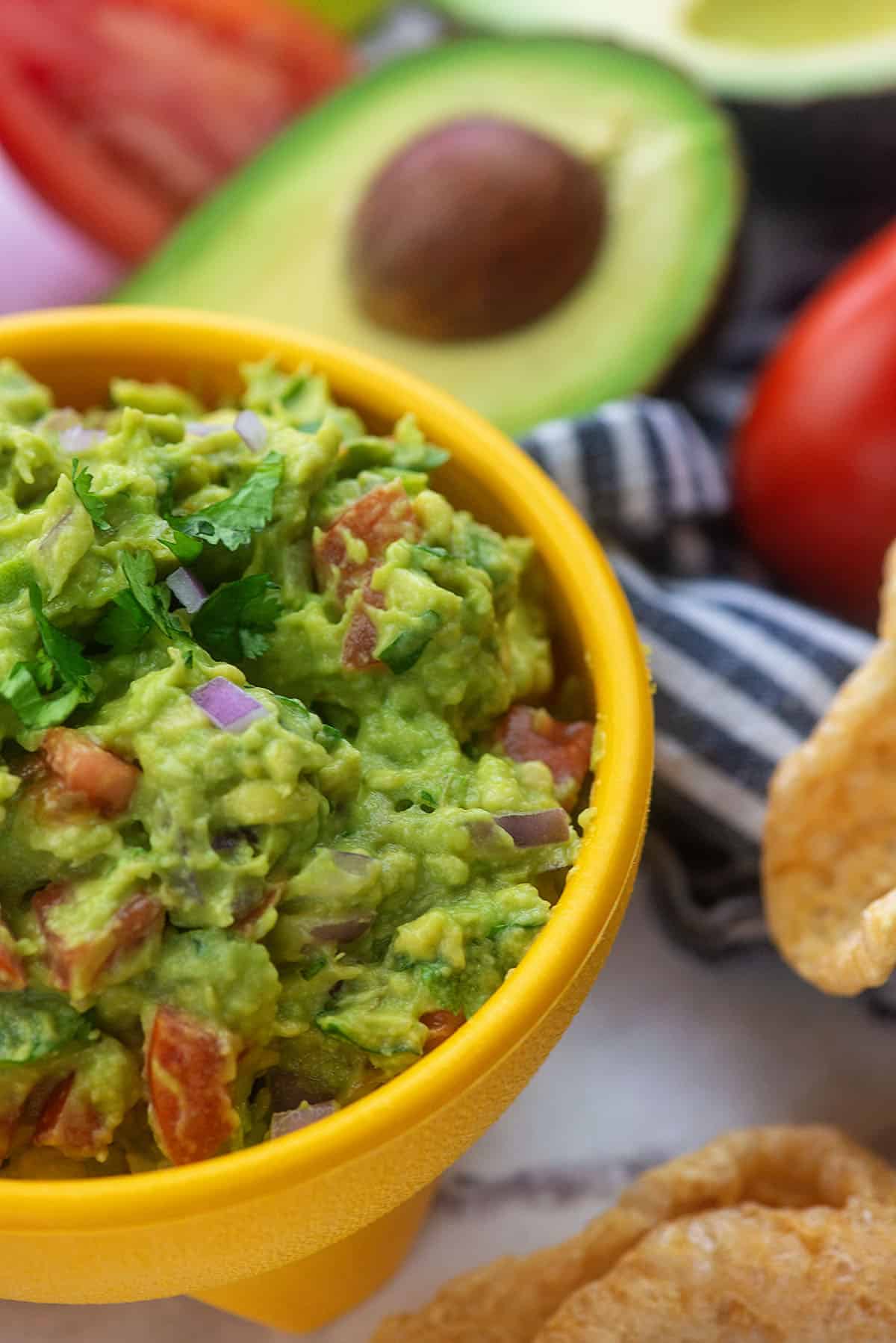 Why sour cream? I don't add a lot of sour cream to my guac, but I think it helps make the texture extra creamy.
Can I leave out the tomato? For sure! I know that tomatoes in guacamole are a very controversial thing and most people either think they MUST be in there or they think they have no business being anywhere near it. You do you, this guacamole is delicious either way!
Cilantro tastes like soap! Okay, that's not a question, but I wanted to address it. First of all, I'm sorry for you, because cilantro is my favorite herb, but second of all – leave it out! Add parsley instead or any other herb you normally sub for cilantro.
How long does this last in the fridge? I wish that guacamole lasted longer in the fridge, but once those avocados hit the air, they begin to oxidize and turn brown. My best tips for storing guacamole include smoothing out the top layer, brushing on some lime juice, and then pressing plastic wrap directly into the surface. This will buy you a day in the fridge without the guac turning brown, but it's just not going to last much longer than that.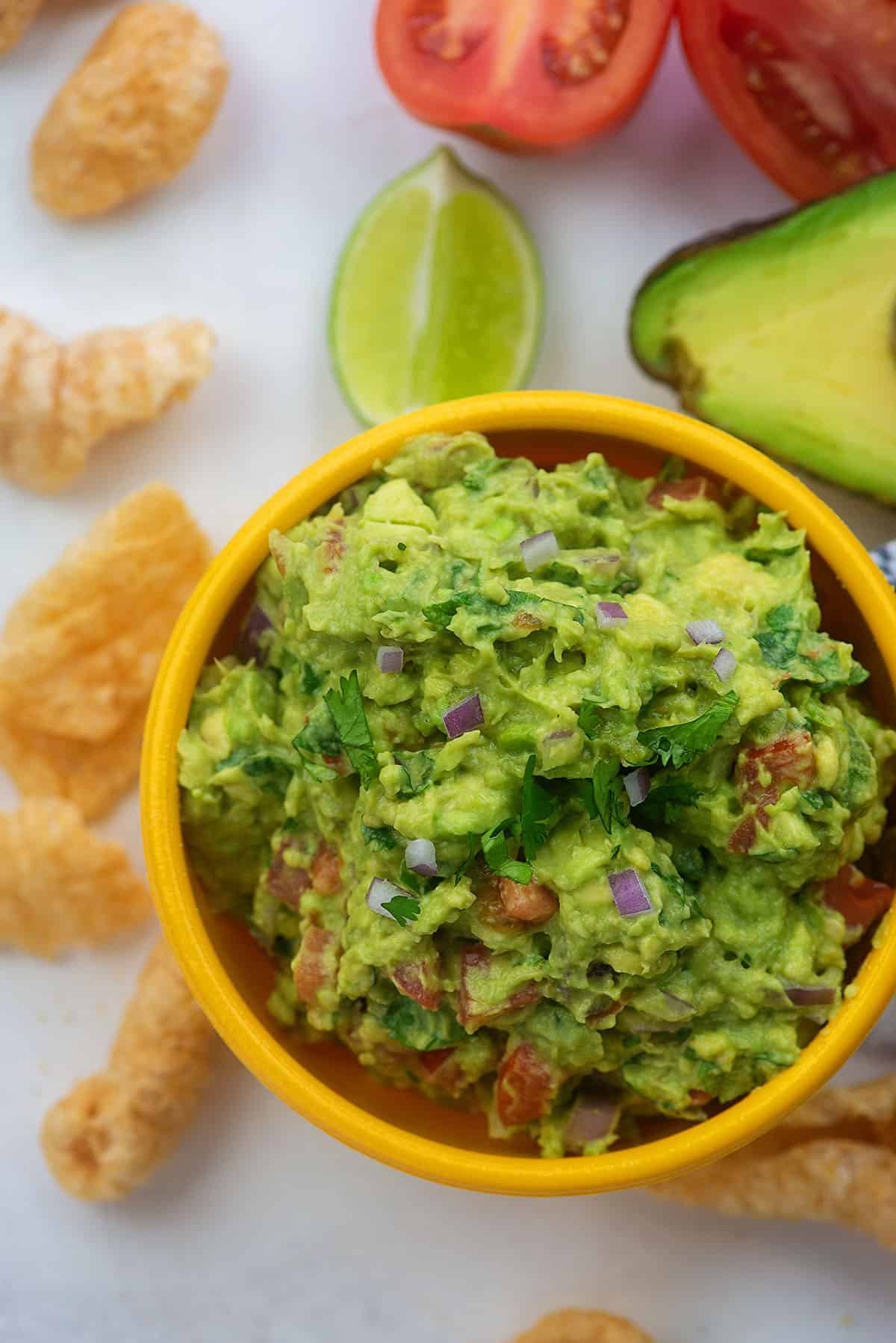 Serving:
I know, I know…the first thing you think of when you see a bowl of guacamole is tortilla chips.
Let me give you a few options here, because you DON'T need those carb-y chips. I promise!
Another option is to make your own low carb tortilla chips! Just cut a low carb tortilla into wedges, spray with some avocado oil spray, sprinkle with salt, and bake until crispy!
Mission brand Carb Balance tortillas are available in most grocery stores. If you're following a clean ketogenic diet, you'd want to avoid these due to the wheat. If you're not worried about ingredients or are just cutting carbs, these are a great option.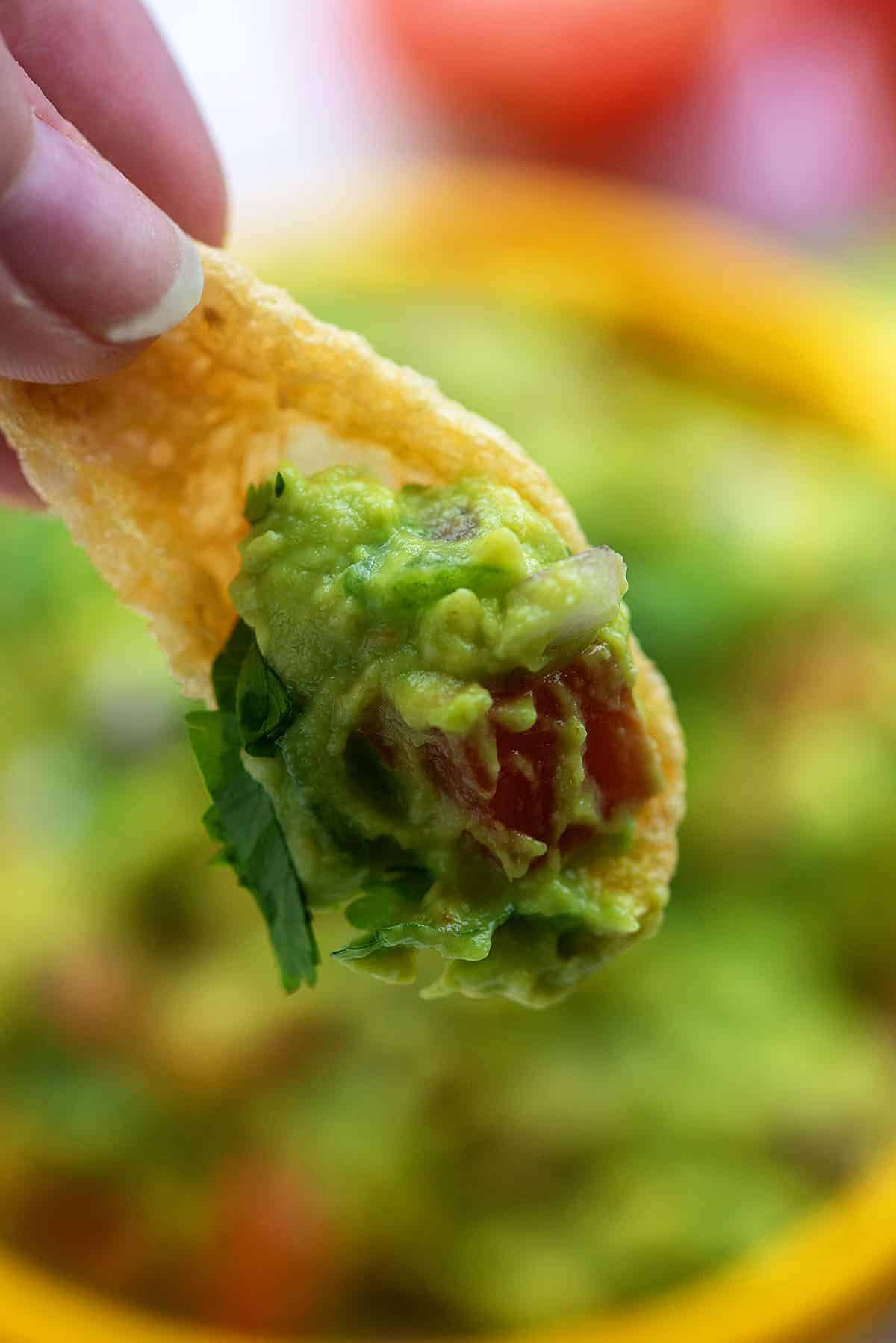 More Mexican favorites:
Every single one of those recipes up there would benefit from a dollop of my keto guacamole. That's just how guacamole works – it improves everything! 😉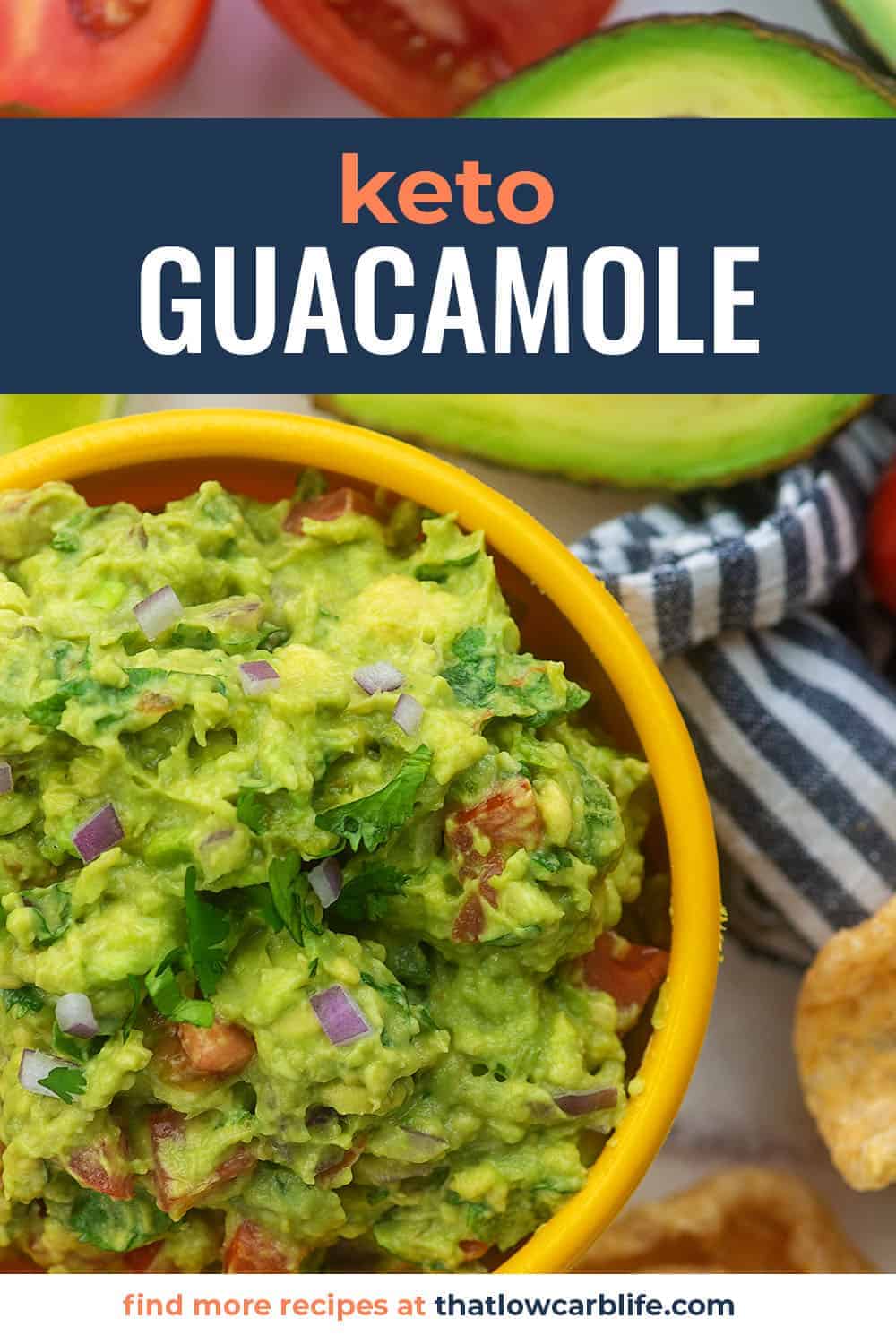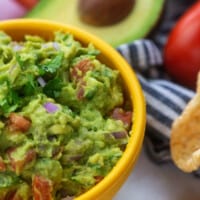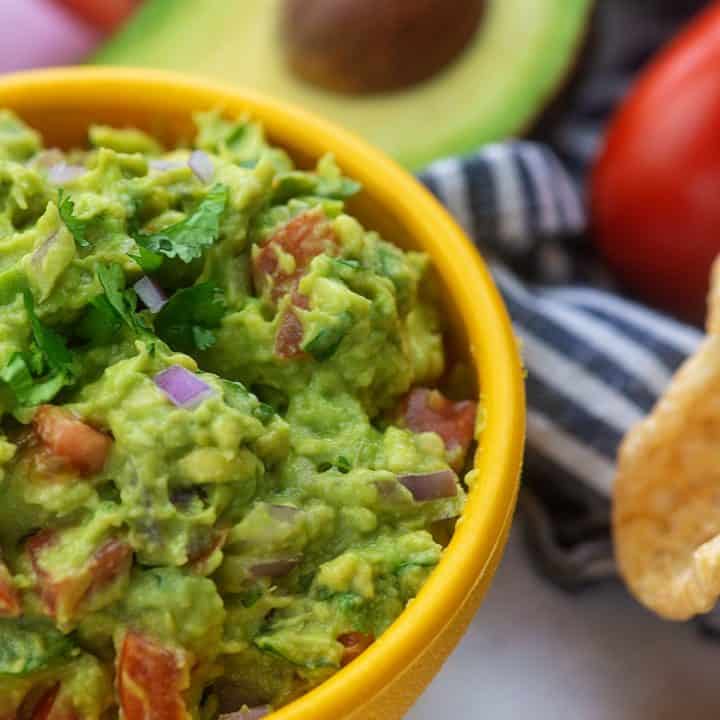 Keto Guacamole
This keto guacamole recipe is the perfect mixture of smooth, creamy, and chunky! We love all of the flavors going on here, but you can adjust the recipe as you like by adding more or less jalapeno or omitting the cilantro.
Ingredients
4 large avocados
2 tablespoons sour cream
1 roma tomato
1/2 red onion
1 clove garlic
1/2 jalapeno pepper more or less, to taste
1/4 cup cilantro
1 lime
1 teaspoon cumin
salt, to taste
Instructions
Slice the avocados in half and carefully remove the seed. Scoop the flesh out into a mixing bowl using a spoon. Mash the avocado with a fork to the consistency you prefer.
Stir in the sour cream.
Dice the tomato and onion. Mince the garlic, jalapeno, and cilantro. Add to the bowl of avocado.
Cut the lime in half and squeeze one half of the lime into the bowl.
Add the cumin and salt and stir to combine.
Taste the guacamole and add more jalapeno, lime juice, and/or salt, as needed to get the flavor you prefer.
Serve immediately.
Notes
The longer you stir, the creamier/smoother the guacamole will get. If you prefer a chunkier texture, stir gently and as little as possible.
This recipe makes about 2 1/2 cups, but will vary depending on the size of your produce.
Serve with pork rinds, cucumbers, mini sweet peppers, or low carb tortilla chips.
Recommended Products
As an Amazon Associate and member of other affiliate programs, I earn from qualifying purchases.
Nutrition Information:
Yield: 10
Serving Size: 1/4 cup
Amount Per Serving:
Calories: 141
Total Fat: 12g
Saturated Fat: 2g
Trans Fat: 0g
Unsaturated Fat: 10g
Cholesterol: 2mg
Sodium: 66mg
Carbohydrates: 9g
Net Carbohydrates: 3g
Fiber: 6g
Sugar: 1g
Protein: 2g
All information and tools presented and written within this site are intended for informational purposes only. This information is provided as a courtesy and there is no guarantee that the information is accurate.