This KETO MEXICAN SKILLET RECIPE starts with seasoned beef, cauliflower rice, and plenty of bold, Mexican flavors. This dinner is quick to get on the table and the family will enjoy it too!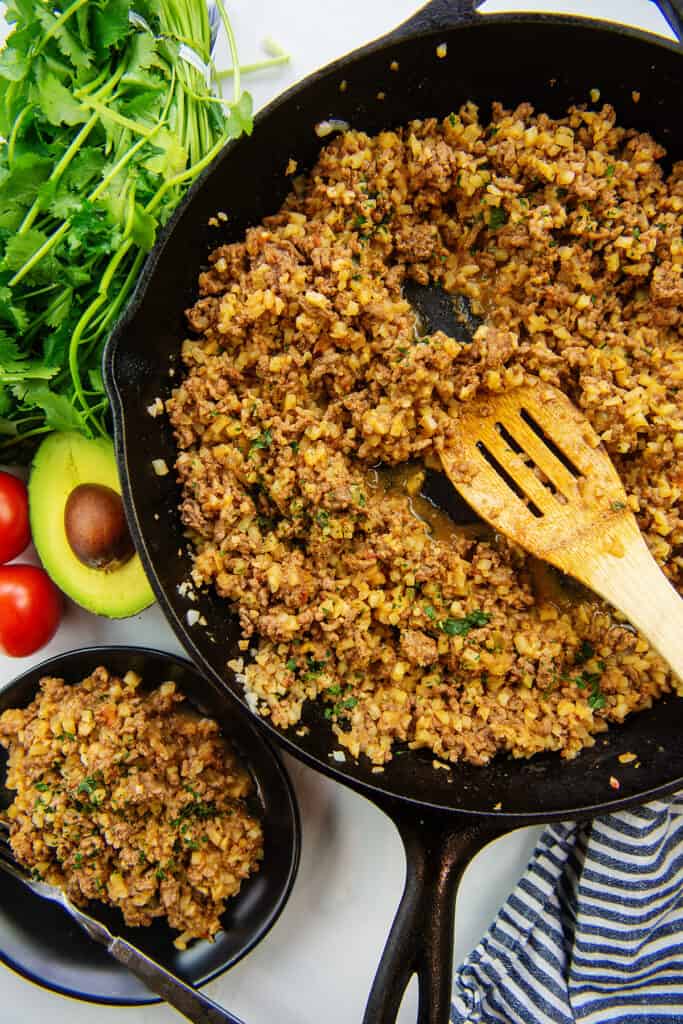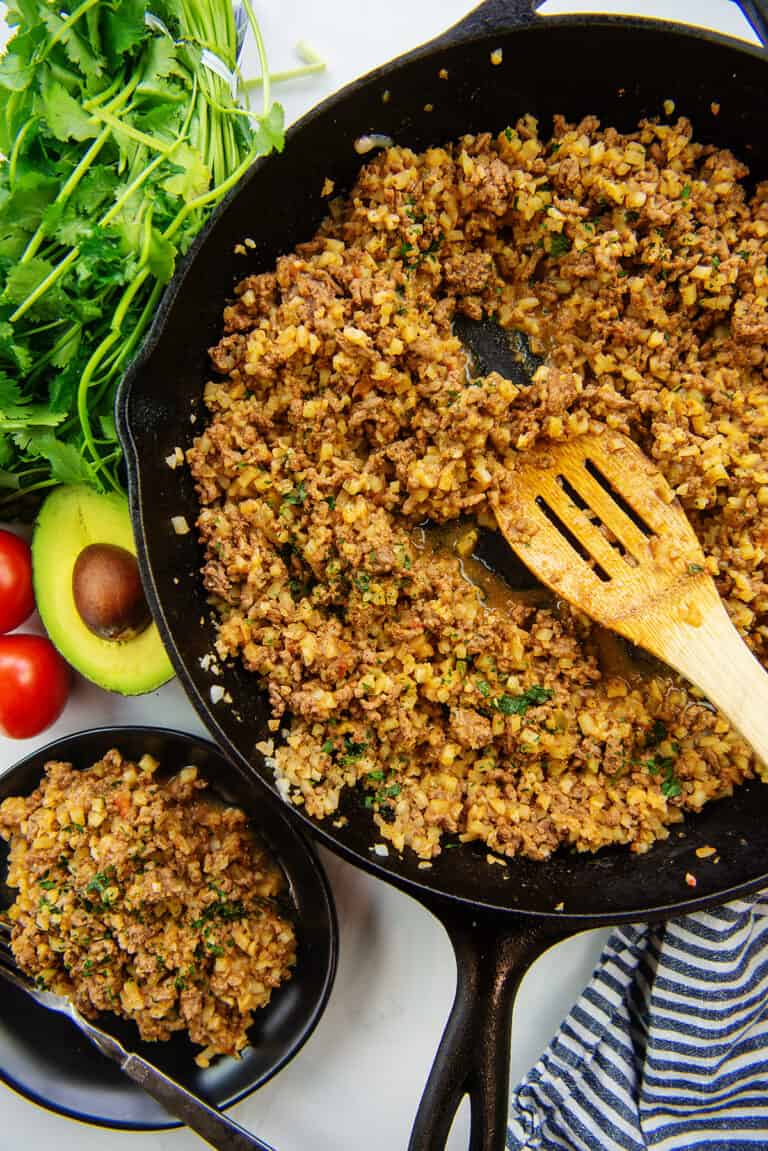 It doesn't matter what I throw at my kids for dinner as long as 'Mexican' is in the name and we've used our keto taco seasoning in the dish. I know they'll eat it and I know they'll love it.
The family just loves big, bold Mexican inspired dishes and I love to cook them. The flavors always satisfy and our very American-style Mexican dishes are always delicious. Maybe not authentic, but definitely tasty and always a crowd pleaser!
This time we're sharing a recipe for a cheesy cauliflower rice skillet meal that's loaded with seasoned beef. I love this recipe because it's so simple – it calls for every day ingredients that you probably have stocked (save for one special ingredient – more on that below), like ground beef and frozen cauliflower rice. Plus, this one is ready in less than 30 minutes and you can't beat that!
Ingredients Needed:
Ground Beef – We like to use lean beef in our recipes.
Taco Seasoning – Our homemade blend is amazing, but you could also use a packet.
Cauliflower Rice – Grab a bag of the frozen stuff. It's perfect in this recipe.
Salsa – We like to use our keto salsa in this recipe.
Tomato Bouillon – This is the one ingredient that you may not already have on hand. You can leave it out, but it's the secret ingredient that seriously makes the flavors explode. Highly recommend. We order on Amazon and keep a couple of backup jars in the pantry. It's THAT good.
Monterey Jack – We like to grate our own.
Cilantro – Leave this out or swap for parsley, if you must.
How to:
Cook the Meat: Add your beef to a skillet and crumble it up as it cooks. We tend to cook with lean beef, so there isn't any fat to drain off, but go ahead and drain the grease if needed.
Season the beef with taco seasoning and water and let that cook for about 5 minutes. This will help the meat be more tender and flavorful as it will soak up that flavor while it simmers.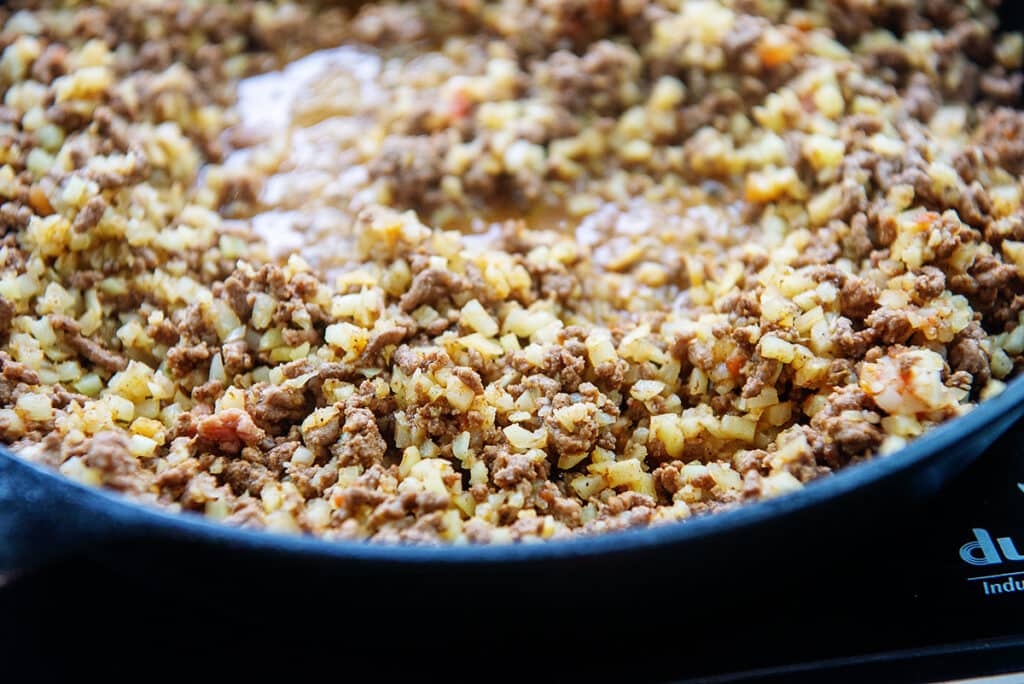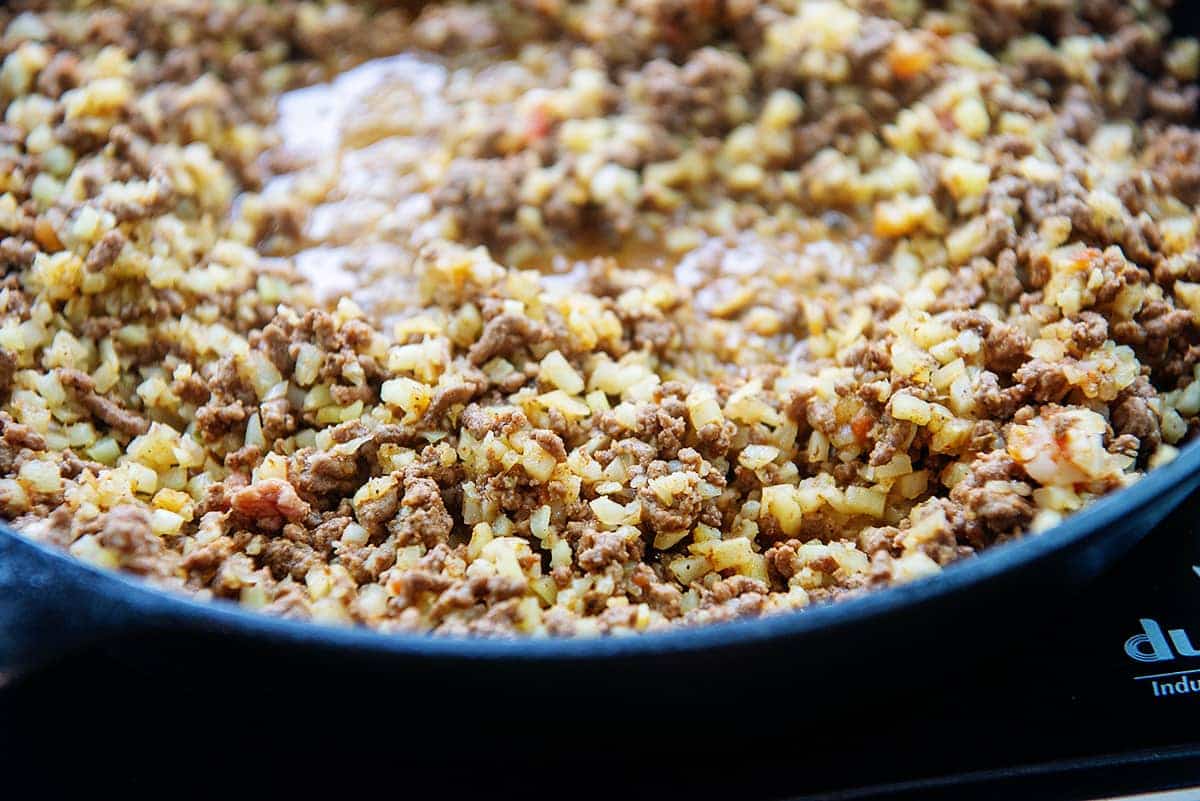 Cook the Rice: Add the cauliflower rice, salsa, and tomato bouillon to the skillet with the beef. Stir in 1/2 cup of water. Cover the pot and let cook for about 5 minutes and then remove the lid and cook until the liquid has evaporated. It doesn't take long!
Top it Off: Stir the cheese into the dish until it's nice and melty. We use monterey jack, but pepper jack adds a nice kick, if you like a bit of spice.
Sprinkle the cilantro over the top and prepare to dig in!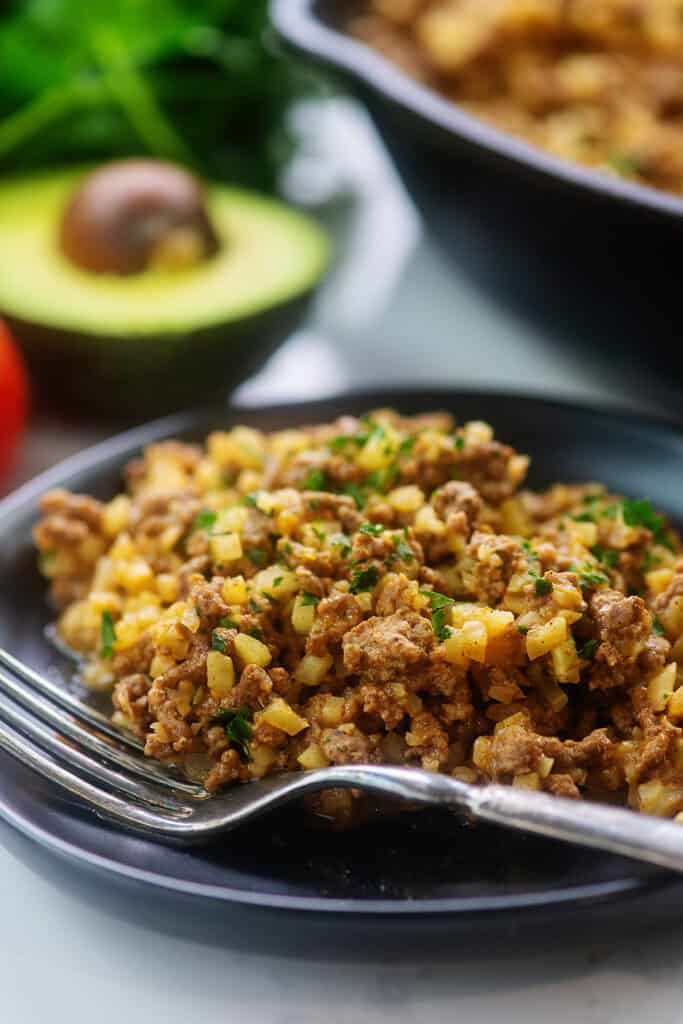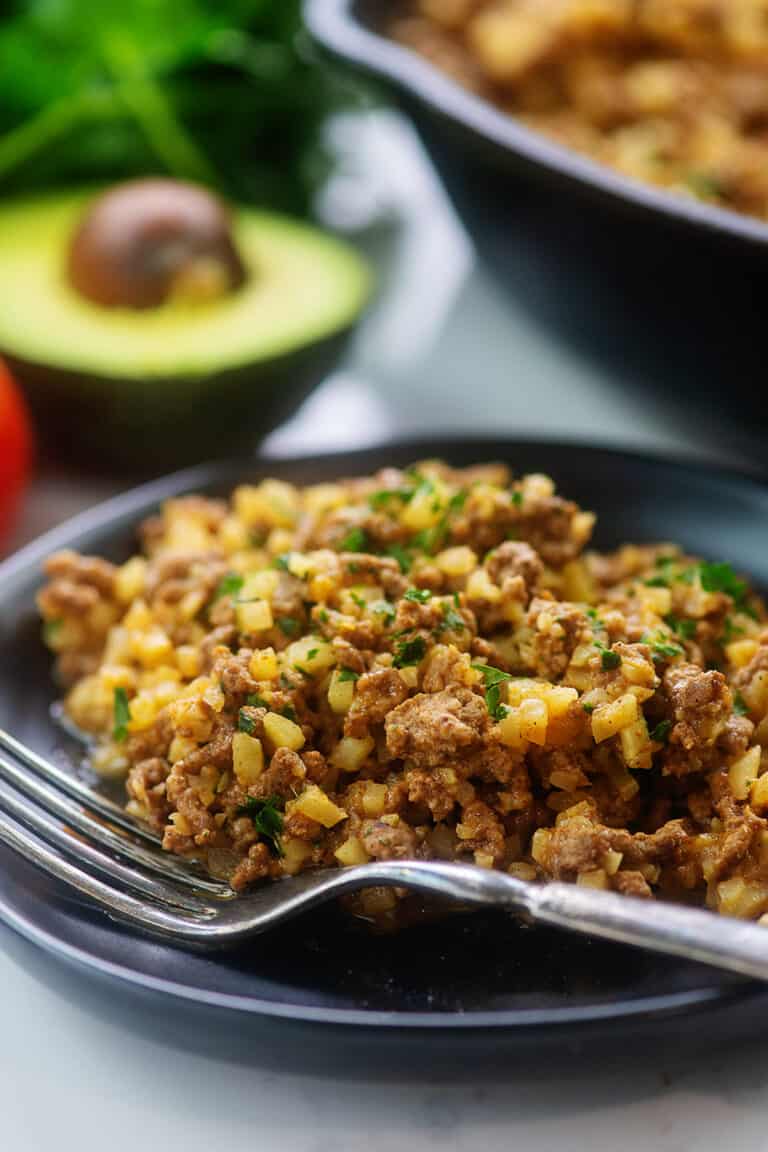 Is the tomato bouillon necessary?
I hate recipes that call for a random ingredient, but in this case, tomato bouillon is worth it! It adds so much rich, savory flavor to this dish.
I can't find it in my local stores, so we stocked up from Amazon and always have a couple of jars in our pantry.
We use this as a seasoning in many recipes – I know it's meant to make a broth, but it works well as a seasoning too. Sprinkle on roasted veggies or chicken, add to taco seasoning, use it anywhere you want a big punch of flavor.
Don't want to buy it? You can try using 2 tablespoons of tomato paste + salt to taste as a replacement.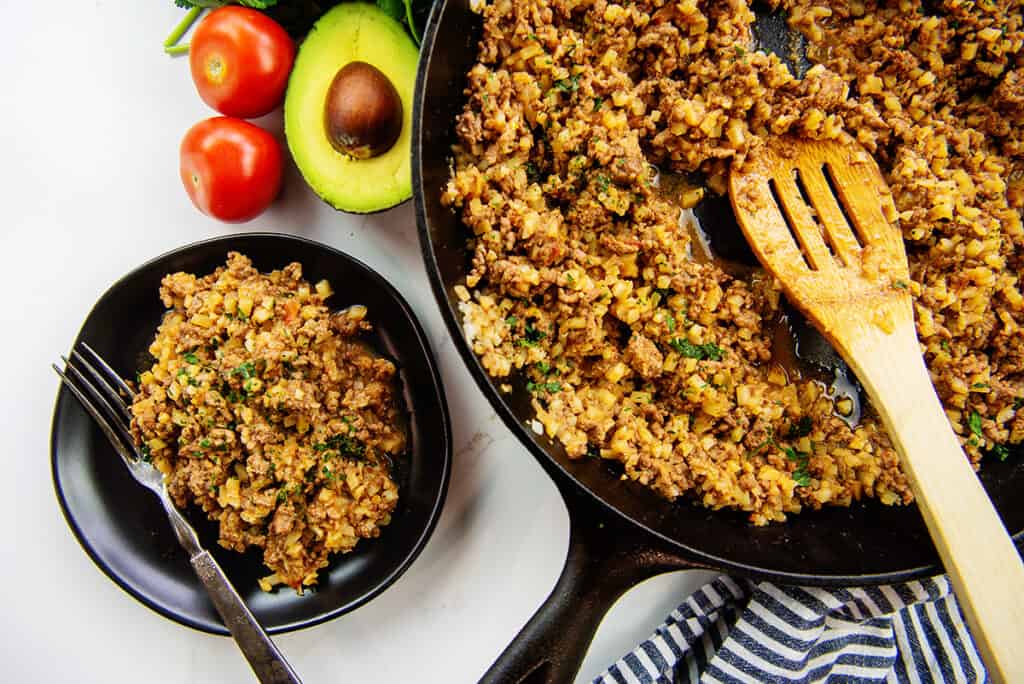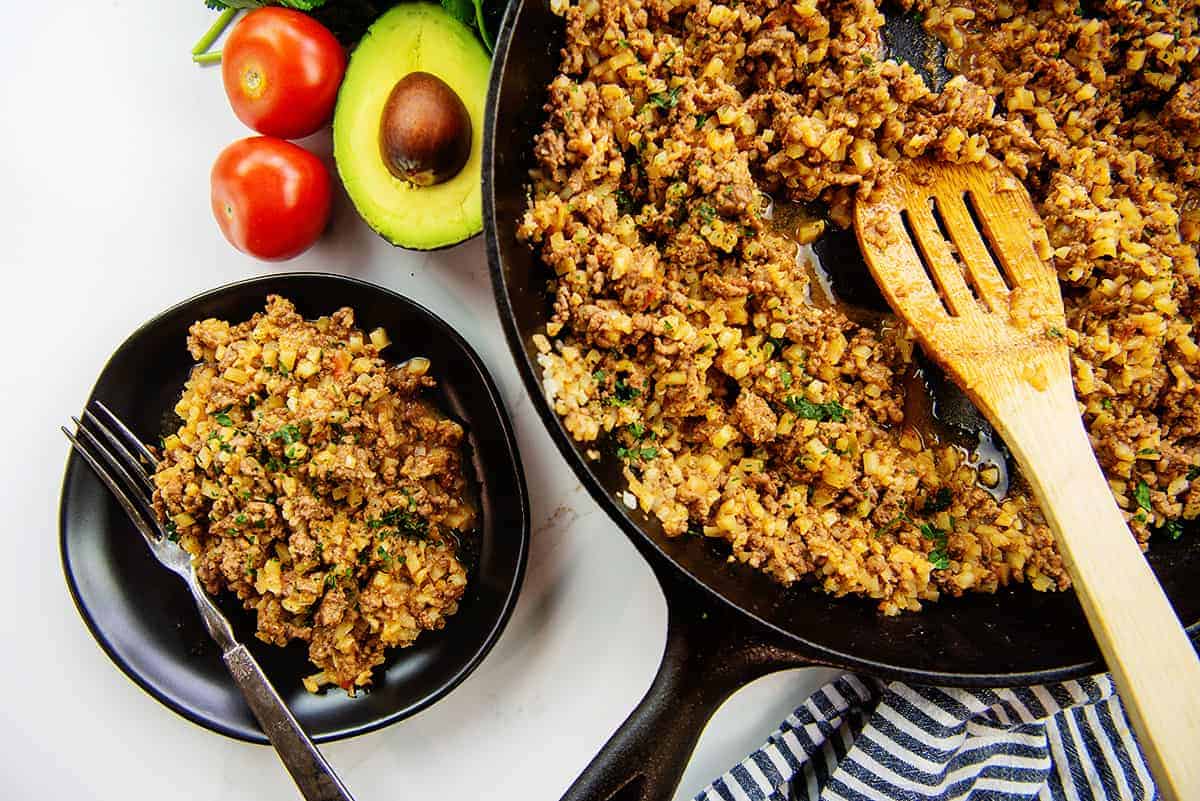 More recipes like this: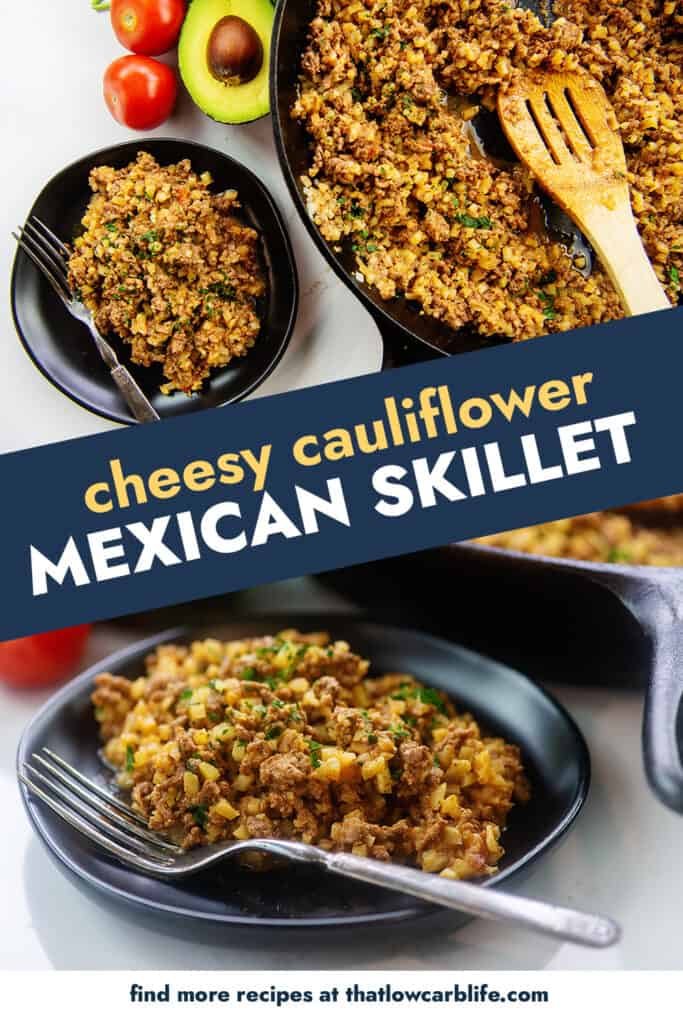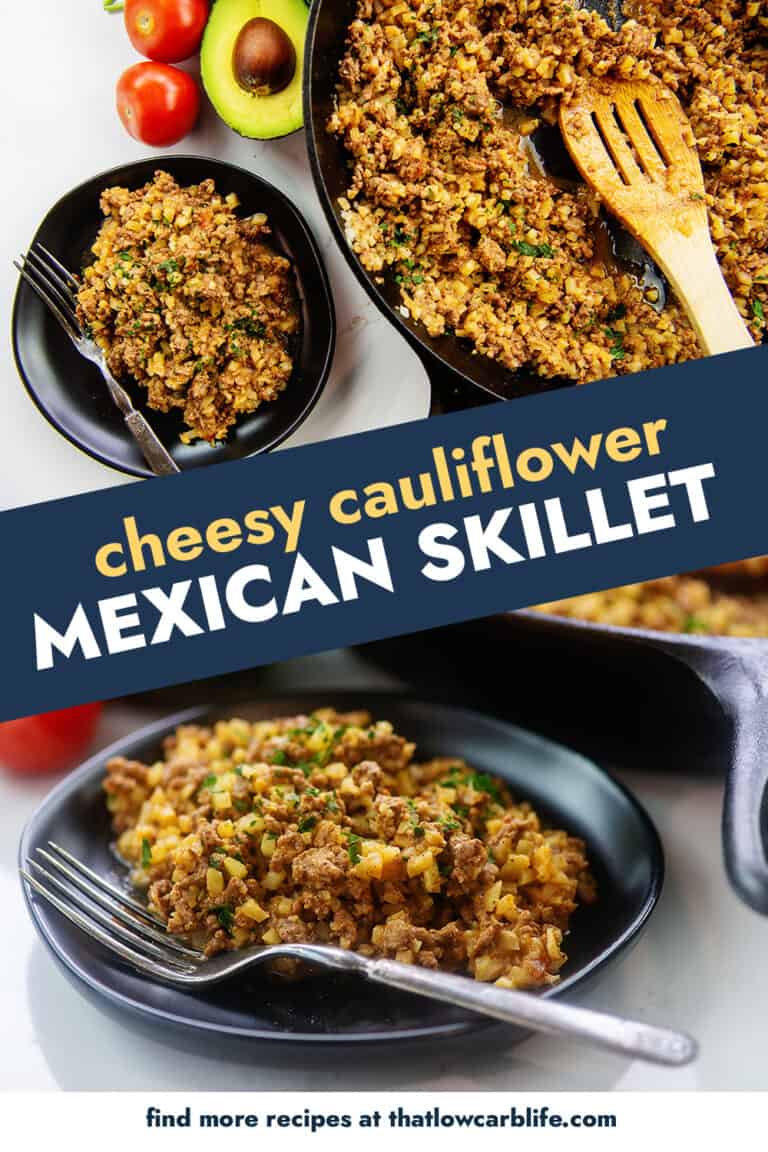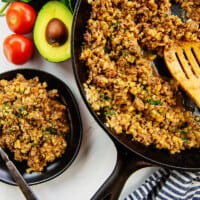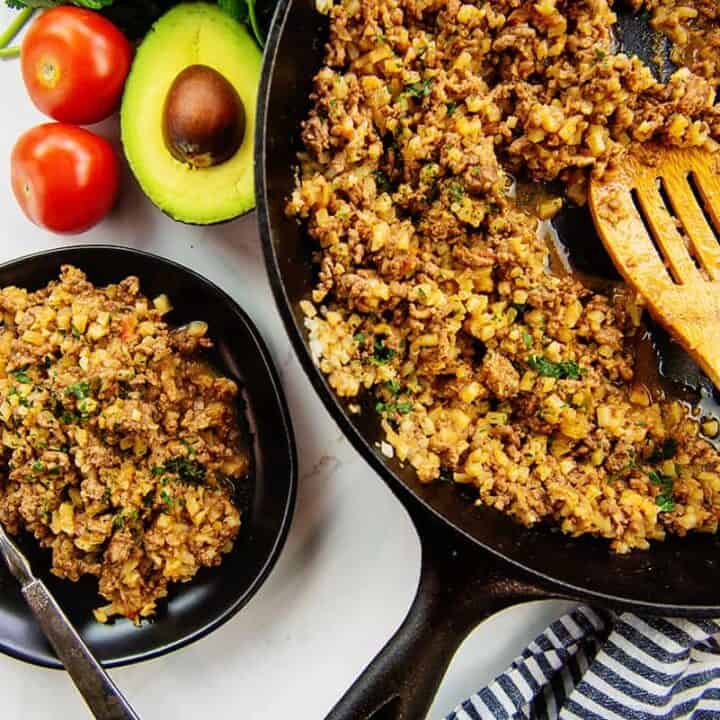 Keto Mexican Skillet
This simple one skillet dinner is ready in less than 30 minutes and it's a real family favorite. Loaded with Mexican flavors, this dish is a healthy take on Mexican rice.
Ingredients
1 1/2 pounds lean ground beef
16 ounces frozen cauliflower rice
¼ cup salsa
¾ cup shredded monterey jack
Cilantro, for garnish
Instructions
Brown the beef in a medium skillet over medium heat, crumbling the meat as it cooks. Once browned, drain the grease.
Add the taco seasoning to the beef along with ¼ cup of water. Stir to coat the meat and let cook for 5 minutes.
Add the frozen cauliflower rice, salsa, and tomato bouillon to the skillet along with 1/2 cup of water. Stir well to combine.
Cover and cook for 5 minutes. Remove lid and continue cooking, stirring occasionally, until the liquid has mostly evaporated, about 5 more minutes.
Stir in the cheese until melted.
Sprinkle with cilantro before serving.
Notes
The tomato bouillon adds loads of rich, savory flavor. If you can't find it at your local store, order from Amazon - it's worth it!
Recommended Products
As an Amazon Associate and member of other affiliate programs, I earn from qualifying purchases.
Nutrition Information:
Yield: 4
Serving Size: 1
Amount Per Serving:
Calories: 533
Total Fat: 27g
Saturated Fat: 12g
Trans Fat: 1g
Unsaturated Fat: 11g
Cholesterol: 170mg
Sodium: 860mg
Carbohydrates: 12g
Net Carbohydrates: 8g
Fiber: 4g
Sugar: 4g
Protein: 57g
All information and tools presented and written within this site are intended for informational purposes only. This information is provided as a courtesy and there is no guarantee that the information is accurate.