This LOW CARB MEXICAN STREET CORN SALAD is the perfect side dish for your next taco night! All of the flavors of my eltoe, without all of the carbs! You're going to love this flavorful side dish!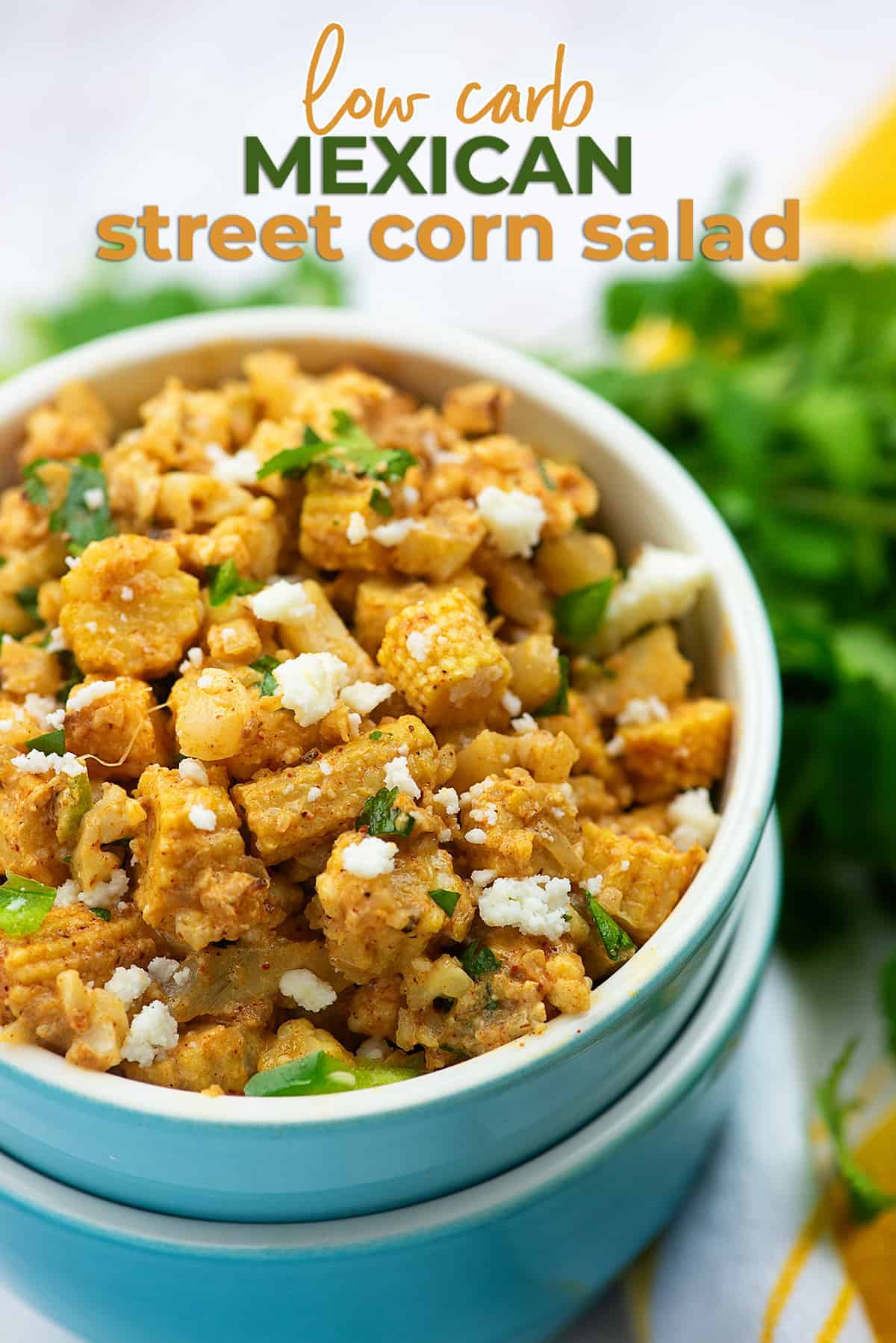 Have you ever had elote?
It's a Mexican dish of grilled corn, coated in either mayo or sour cream, and then seasoned with chili powder, lime, maybe a bit of cayenne, and the rolled in cotija cheese before being sprinkled with fresh lime juice.
It's even more delicious than it sounds, if that's possible.
Of course, corn is a grain, which means it's full of carbs and not really the best choice for a low carb life.
Luckily, baby corn is a lower carb option that has some of that same sweet crunch as the mama corn. It's what we're using to bring a little more authenticity to this elote salad. I think you're going to love this one!

What is baby corn?
It's exactly what it sounds like! Just ears of corn that are harvested before they're fully grown.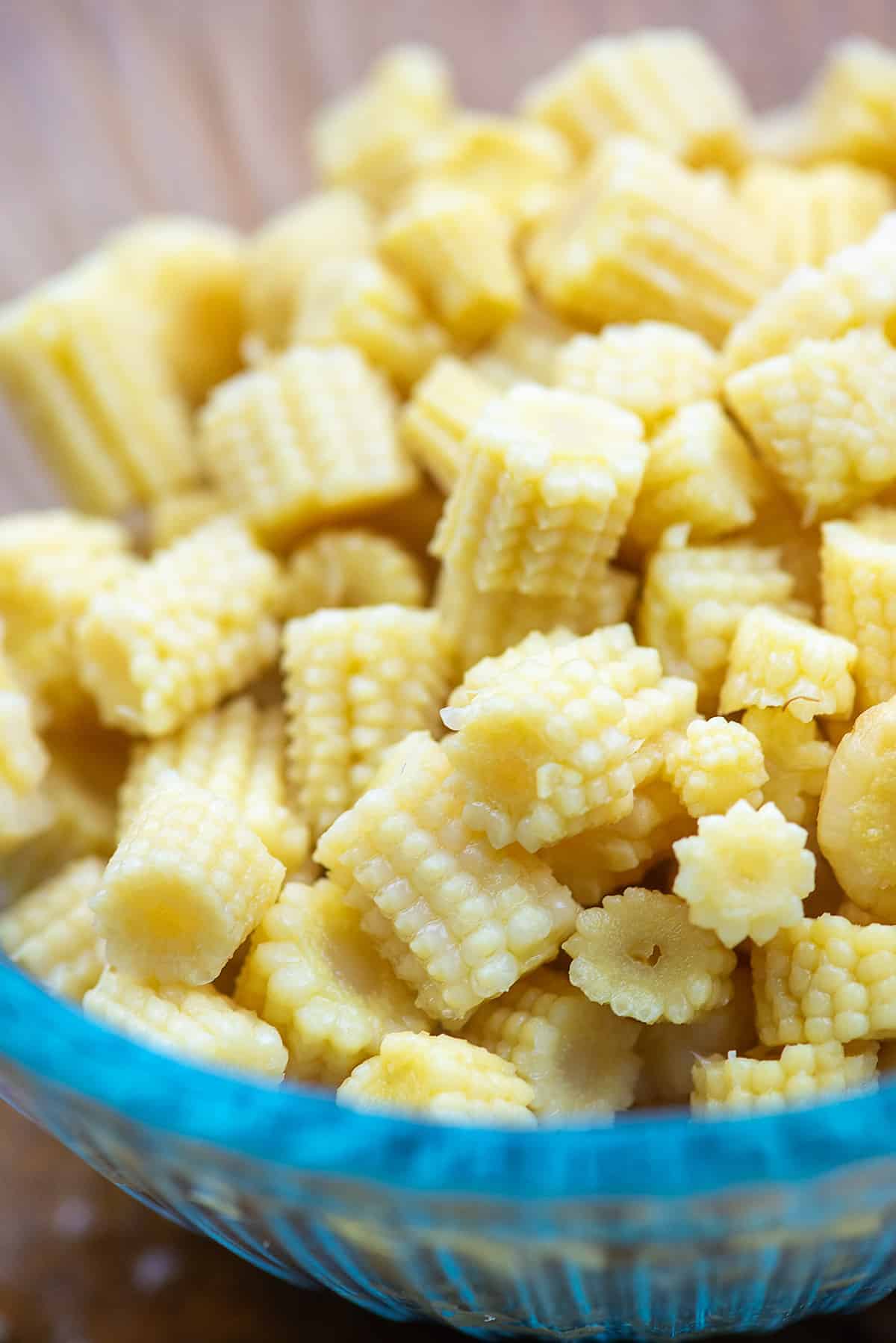 I've only ever seen baby corn sold by the can in the US, but I'd love to hear if you've ever seen it sold fresh!
I buy cut baby corn by the can and each serving (3 ounces) has 1 net carb. The entire 15 ounce can has just 2.5 net carbs.
Elote vs. Esquites vs. Mexican Street Corn:
Elote is grilled, seasoned corn on the cob as mentioned above and esquites are basically the same thing, but the corn is cut off the cob and is basically served as elote in a cup or bowl. Mexican street corn is just what the tourists call esquties. 😉
This is Mexican street food at it's finest, in my opinion!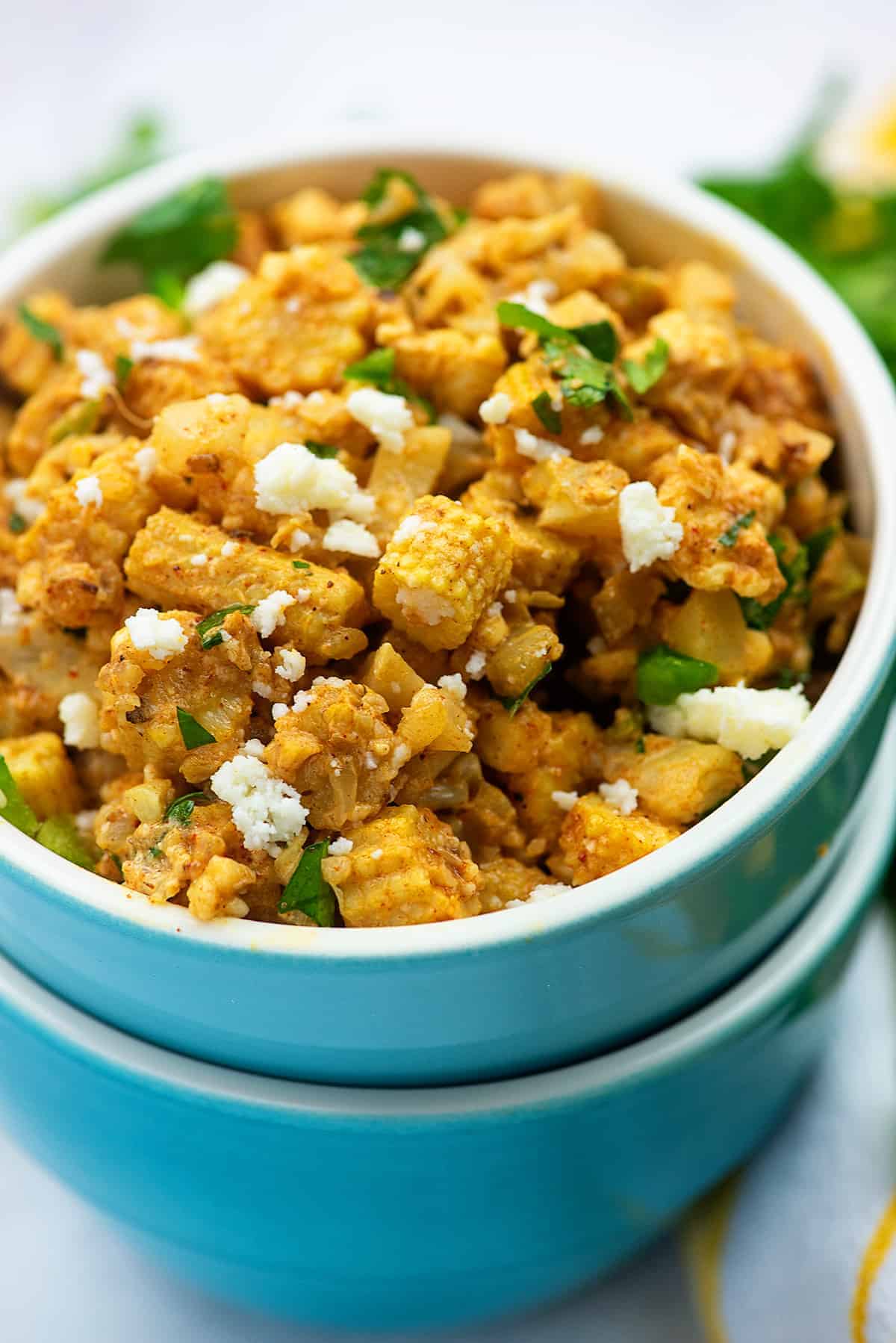 (Please keep in mind that I'm a white girl living in the middle of America, so my knowledge is gleaned from research and I'm open to the fact that I could be wrong here. Please kindly correct me if so!)
How to make it low carb:
Let's be real…you already know the answer: Cauliflower.
Cauliflower is always the answer. 😉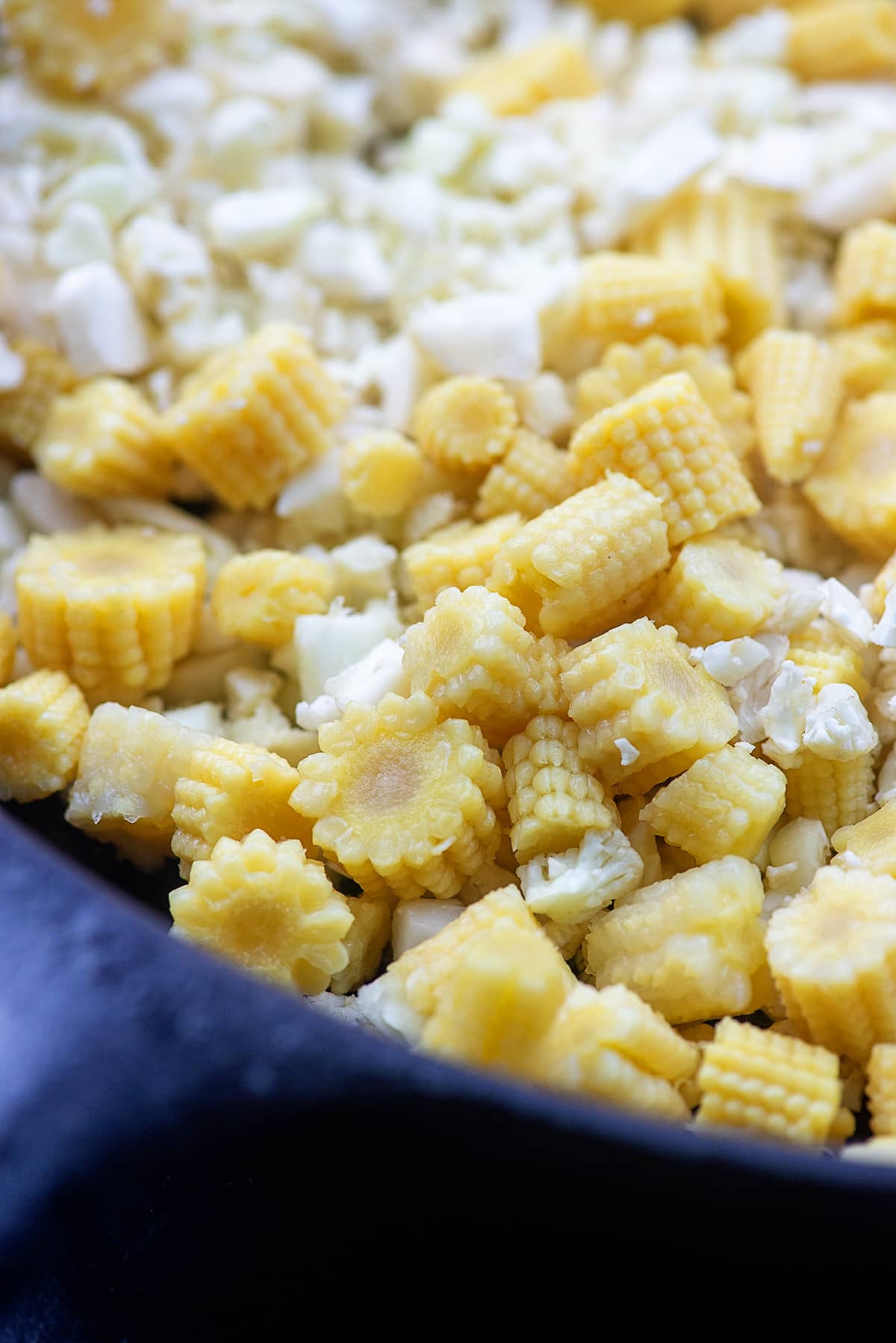 Basically, we're just going to chop the cauliflower up finely to resemble corn kernels. We'll char that in a hot skillet along with some baby corn.
Once it's got a bit of color on it, you'll dump it in a bowl with the rest of the ingredients and give it a stir.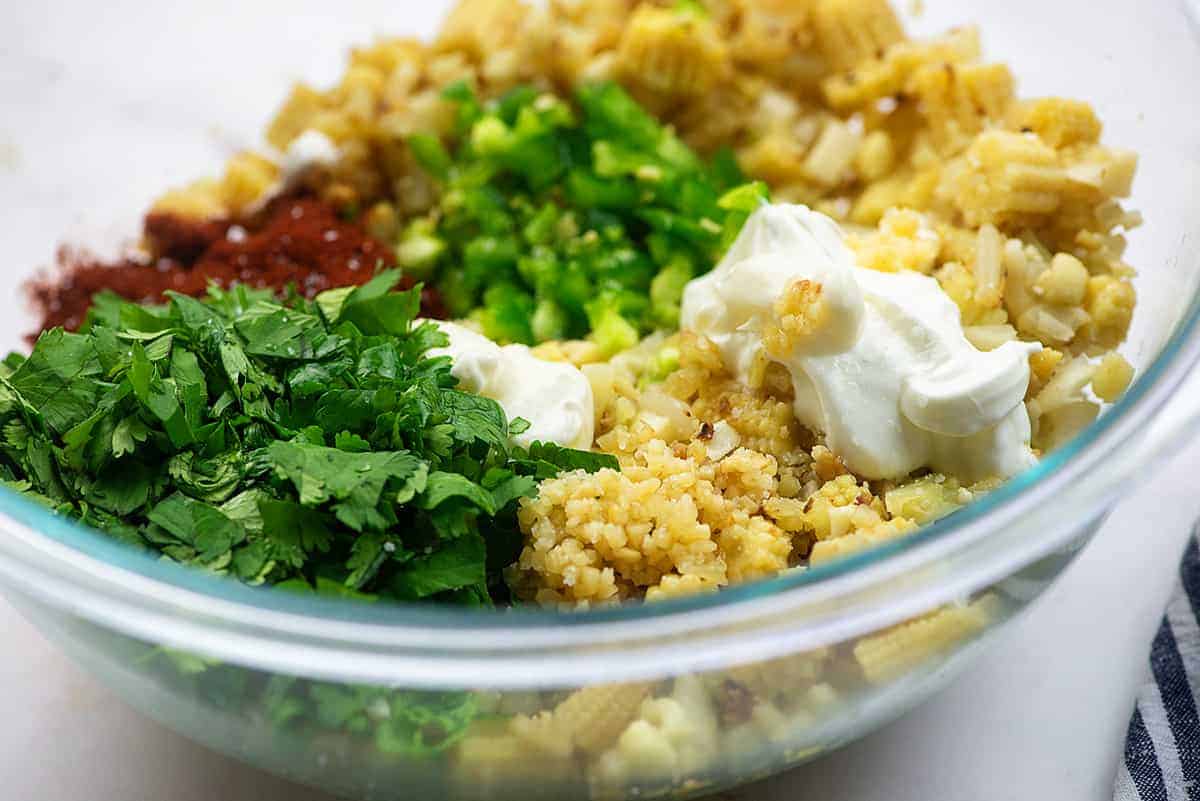 We'll be using both sour cream and mayo, along with garlic, cilantro, jalapeno, chili powder, salt, and cotija cheese.
It gets finished off with a squeeze of lime juice.
This Mexican street corn cauliflower salad is so fresh and flavorful. It makes a great side to your low carb Mexican dinners.
Because corn is a grain, this recipe is not suitable for strict keto diets. If you're doing 'dirty keto' and just keeping carbs under 20 a day, this should be great! If you're doing keto with a focus on ingredients, I would not recommend this recipe.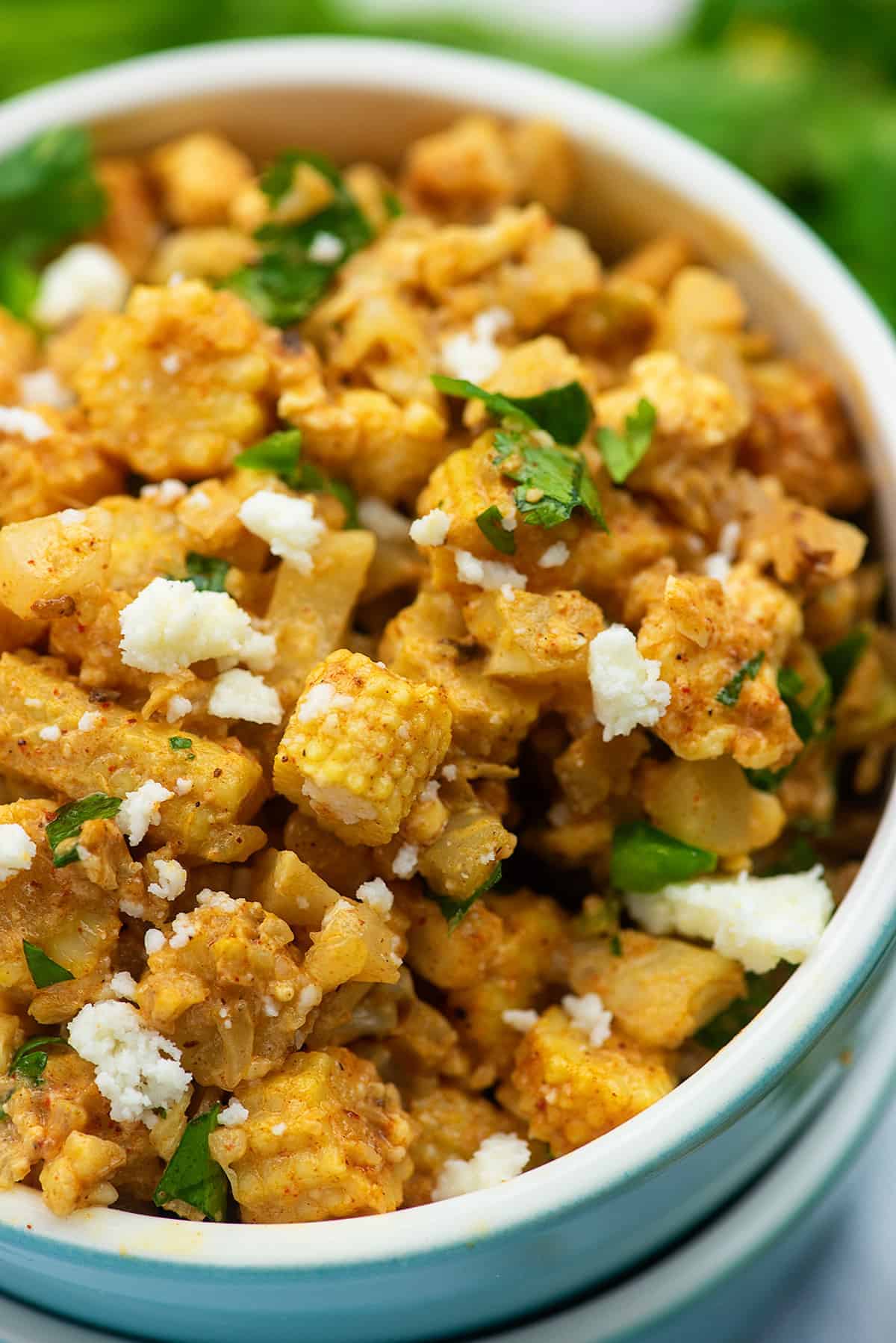 More low carb Mexican recipes: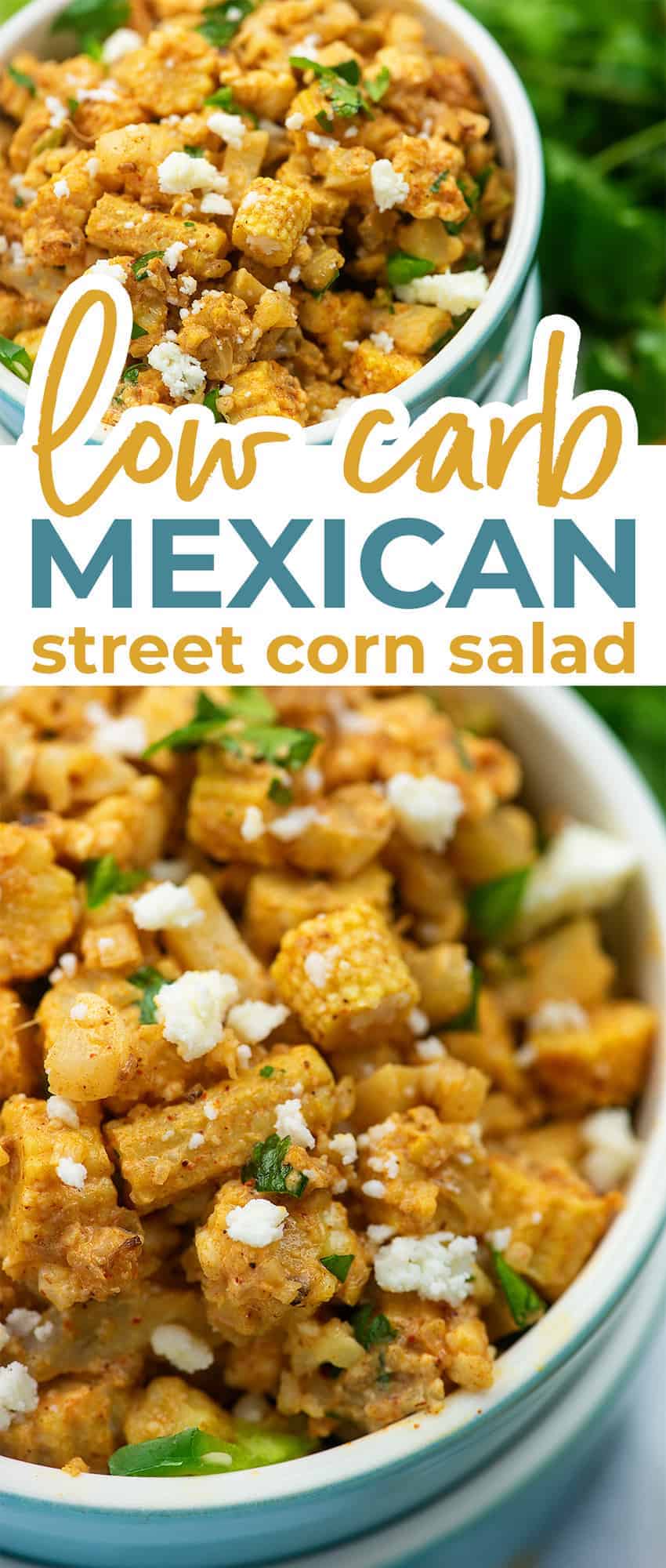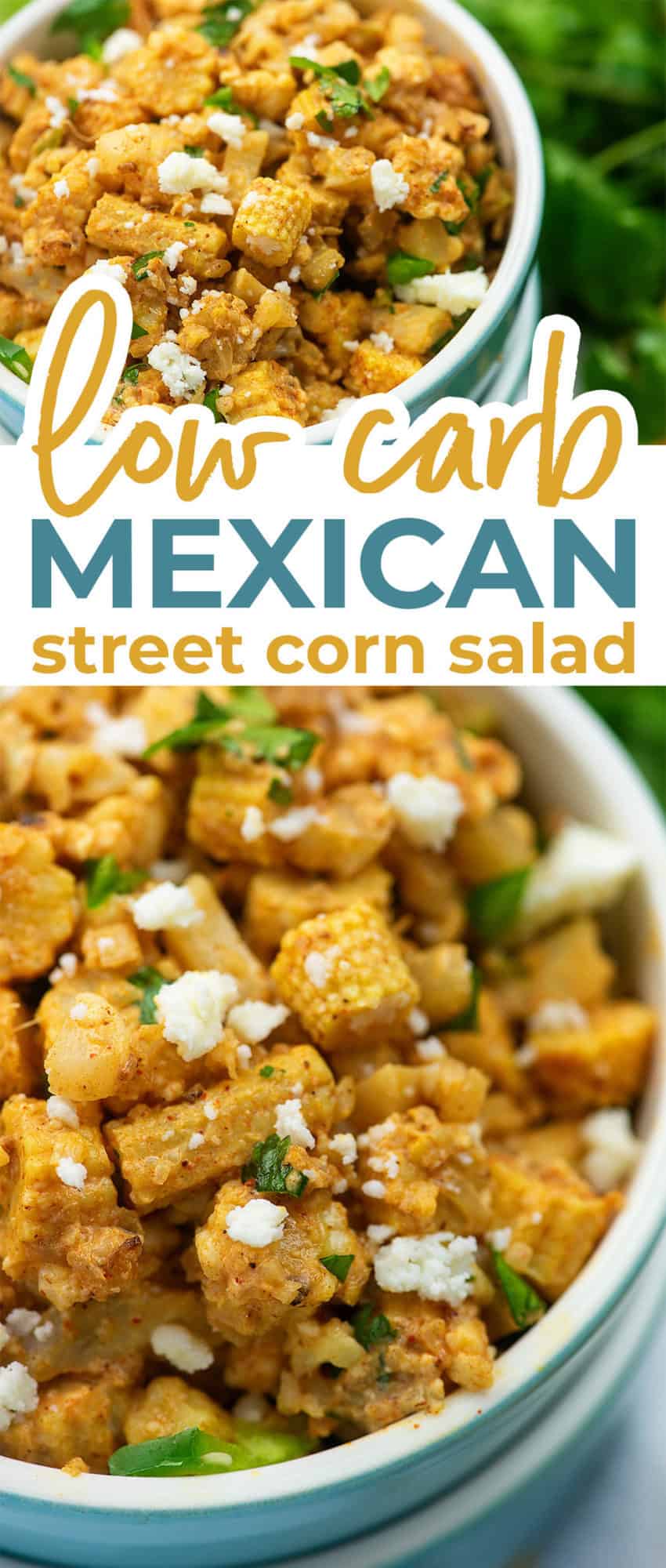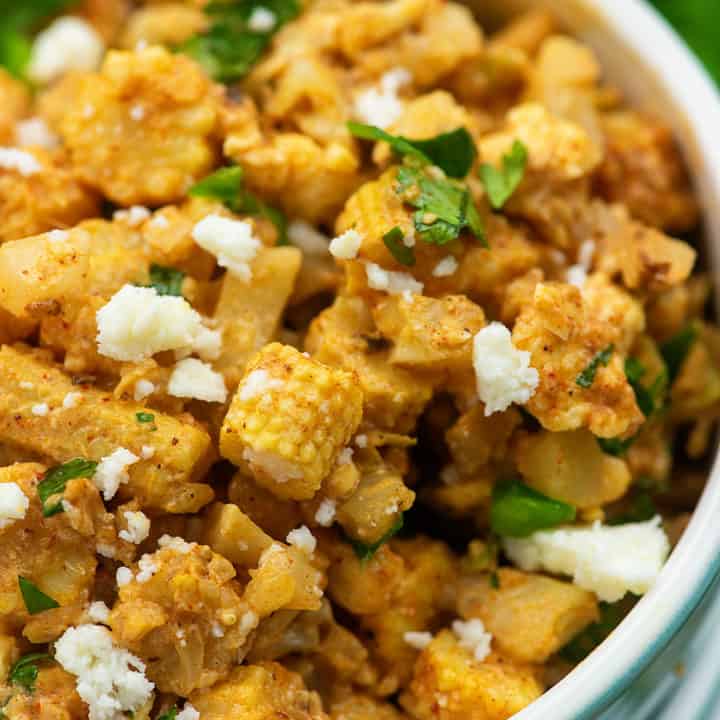 Keto Mexican Street Corn Salad
This low carb version of Mexican street corn uses cauliflower and baby corn to replace the traditional corn. It's bursting with fresh flavor and makes a great side dish to any Mexican meal.
Ingredients
1 small head cauliflower, finely chopped
15 ounces canned cut baby corn
1 tablespoon butter
¼ cup cilantro, chopped
¼ cup crumbled cotija cheese
2 cloves garlic, minced
2 tablespoons mayonnaise
2 tablespoons sour cream
1 tablespoon minced jalapeno, more to taste
2 teaspoons chili powder
1 teaspoon salt
Juice of 1 lime
Instructions
Heat the butter in a large skillet over medium high heat.
Add the cauliflower and cut baby corn to the skillet. Cook without stirring for 3-4 minutes until slightly charred on the bottom.
Remove cauliflower from the heat and add to a large bowl with the remaining ingredients.
Stir well to combine. Taste and adjust seasoning as needed.
Serve immediately.
Notes
This salad is good served both hot or cold.
Queso Fresco and Parmesan are both good replacements for the cotija cheese, if you're having trouble locating it.
Recommended Products
As an Amazon Associate and member of other affiliate programs, I earn from qualifying purchases.
Nutrition Information:
Yield: 6
Serving Size: 1
Amount Per Serving:
Calories: 107
Total Fat: 8g
Saturated Fat: 3g
Trans Fat: 0g
Unsaturated Fat: 4g
Cholesterol: 15mg
Sodium: 502mg
Carbohydrates: 7g
Net Carbohydrates: 5g
Fiber: 2g
Sugar: 2g
Protein: 3g
All information and tools presented and written within this site are intended for informational purposes only. This information is provided as a courtesy and there is no guarantee that the information is accurate.