This Baked Salsa Chicken Recipe is an easy weeknight dinner that my family requests often. It's so simple to throw together but there is so much flavor thanks to the salsa and cheese.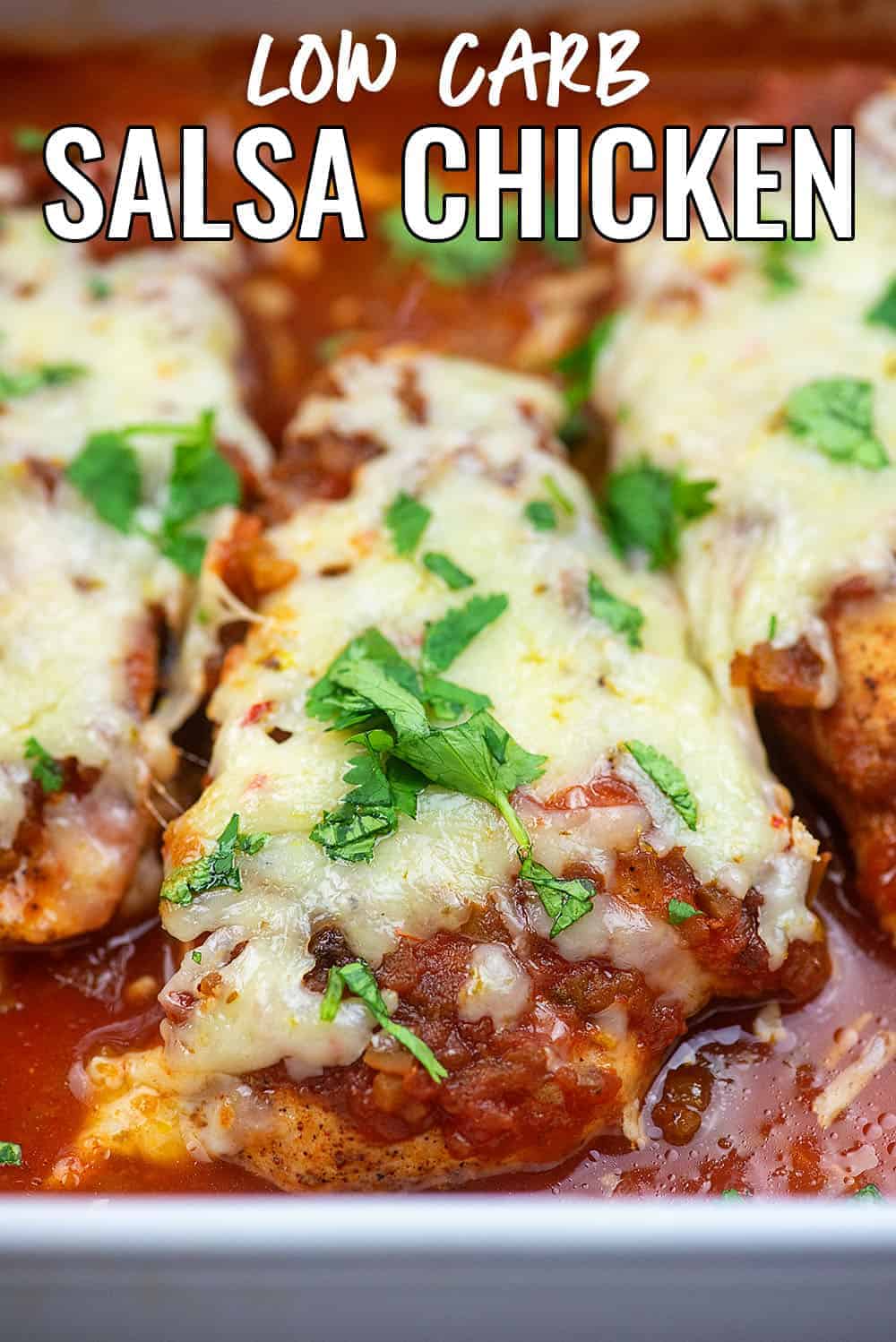 Raise your hand if you could eat Mexican food every single night of the week!
(Picture me over here with both hands in the air, jumping up and down like a maniac.)
I just love Mexican flavors. The authentic stuff is good, the American-ized stuff is good, the fusion stuff is even good! I'm here for all of it.
We make a lot of Mexican inspired dishes in our house, like this baked salsa chicken, our keto guacamole, and our keto taco soup! They're all tasty, but this baked salsa chicken recipe is one of the easiest ways to get dinner on the table and my kids love it too!
Chicken and salsa go together perfectly and there's just 2 net carbs per serving.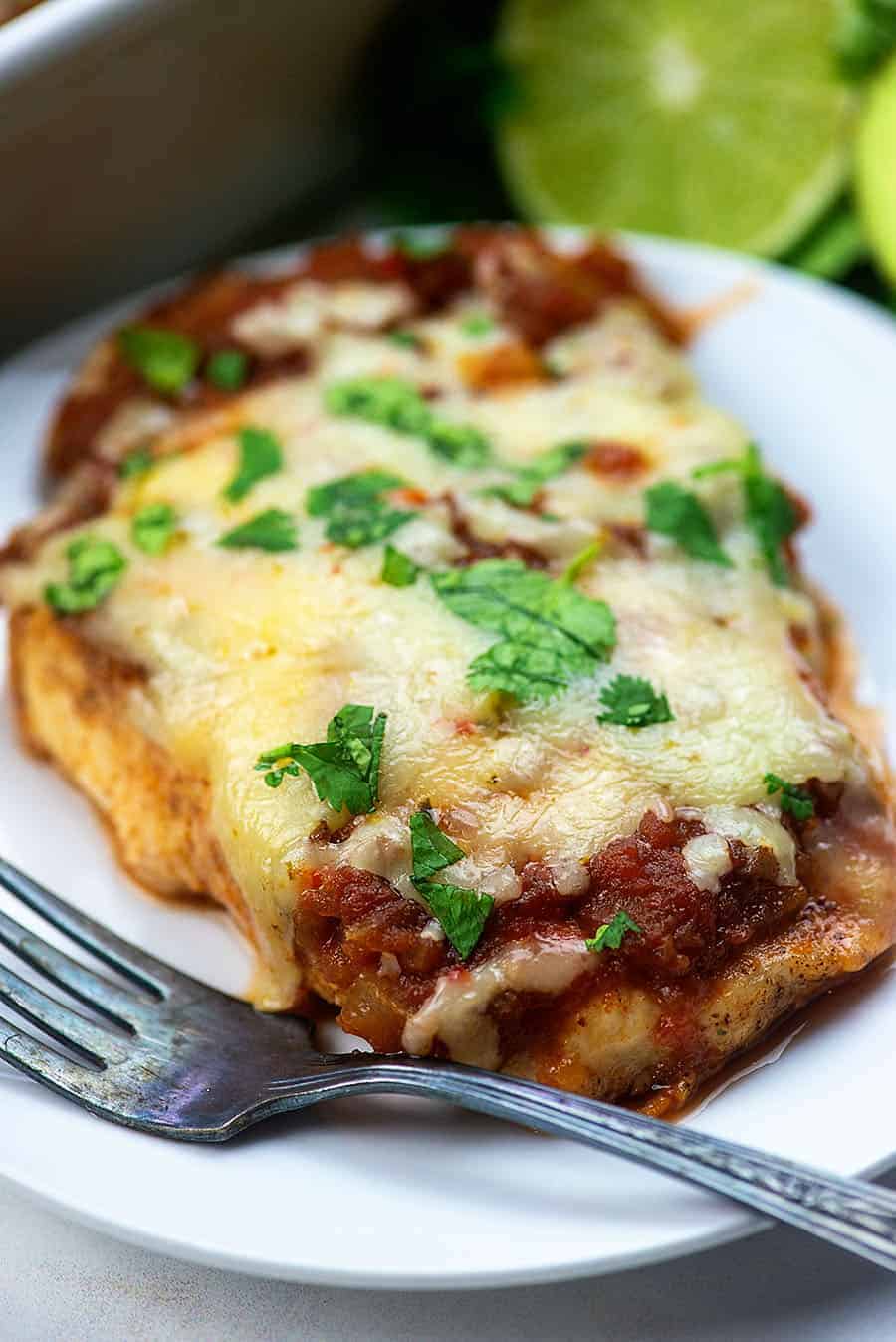 🐔 Ingredient Notes:
Chicken – We're using boneless, skinless chicken breasts in this baked salsa chicken recipe, but boneless chicken thighs would also work if you prefer those!
Salsa – This restaurant style salsa is our FAVORITE! It's good for dipping pork rinds, too. You don't have to make your own though, you are welcome to use your favorite salsa brand from the store, either mild or spicy!
Cheese – We're using pepper jack cheese in this baked salsa chicken because I'm using a milder salsa. If you're using a spicier salsa, you could definitely swap out the pepper jack for some cheddar! Or just use whichever you like the most.
Seasoning – Garlic salt, chili powder, and cumin. My spice cabinet is bursting at the seams with all kinds of spices, but if you don't have quite the same collection as me, you could also just use some taco seasoning from the store. Or if you want to go the extra mile try it with my homemade keto taco seasoning!
Why We Love This Recipe:
The seasoned chicken baked in salsa is tender, juicy and bursting with flavor!
It's a super easy weeknight recipe that you can prepare in no time.
This is tasty on it's own or over our keto taco salad (just skip the beef) or with our Mexican cauliflower rice!
👩‍🍳 How To Make Salsa Chicken:
Pound – This is stupidly simple, so this is going to be quick. 😉 Start out by pounding out your chicken to an even thickness. This will ensure that it bakes up nice and evenly. For more tips on how best to pound out the chicken, see below!
Season – You can quickly prepare the seasoning mix for this baked salsa chicken by combining some garlic salt, chili powder, and cumin! It's a flavorful mix that will add a little extra kick to the chicken. Or use some taco seasoning if you don't have that. Season the chicken breasts with it until they're well coated.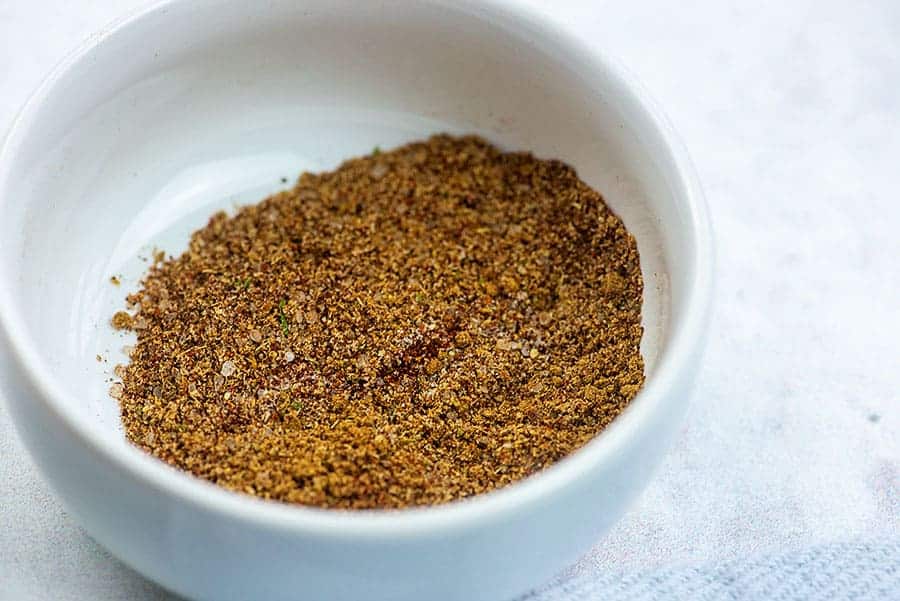 Salsa – Now you can begin assembling this baked salsa chicken by spreading a cup of the salsa into a 9×13 baking dish, and then placing the seasoned chicken breasts on top. Pour more salsa over the seasoned chicken to coat and then pop the dish in the oven!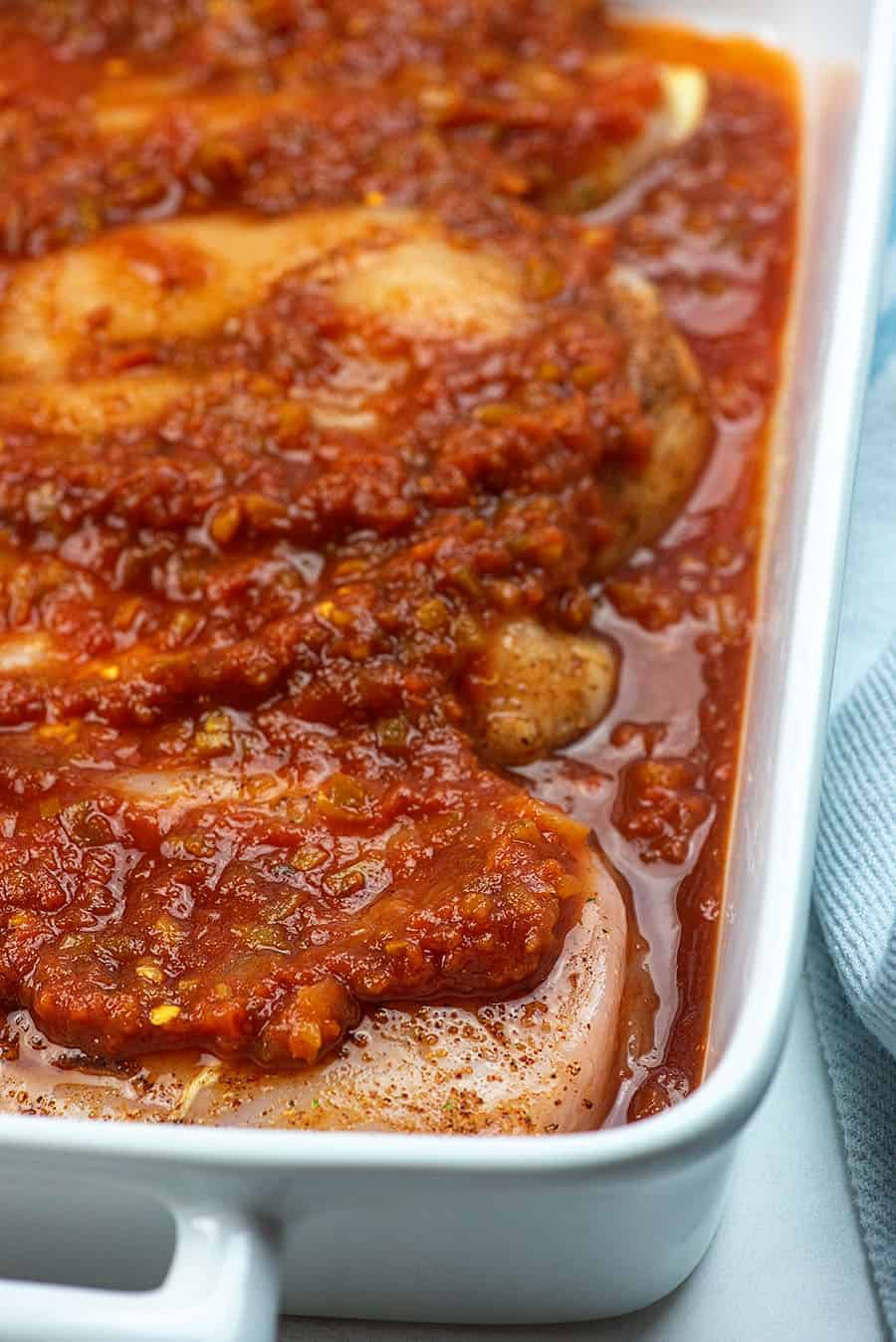 Bake – Let the salsa chicken bake uncovered for 30 minutes. You can then remove it and sprinkle the cheese over the top – and don't skimp! Place it back in the oven for 3 to 4 minutes. Now that the cheese is melty and the chicken is tender and juicy it's time to dig in! Serve this up with a side of cilantro lime cauliflower rice. You can even top it off with some sliced avocado or homemade guacamole, if that's your style. Enjoy!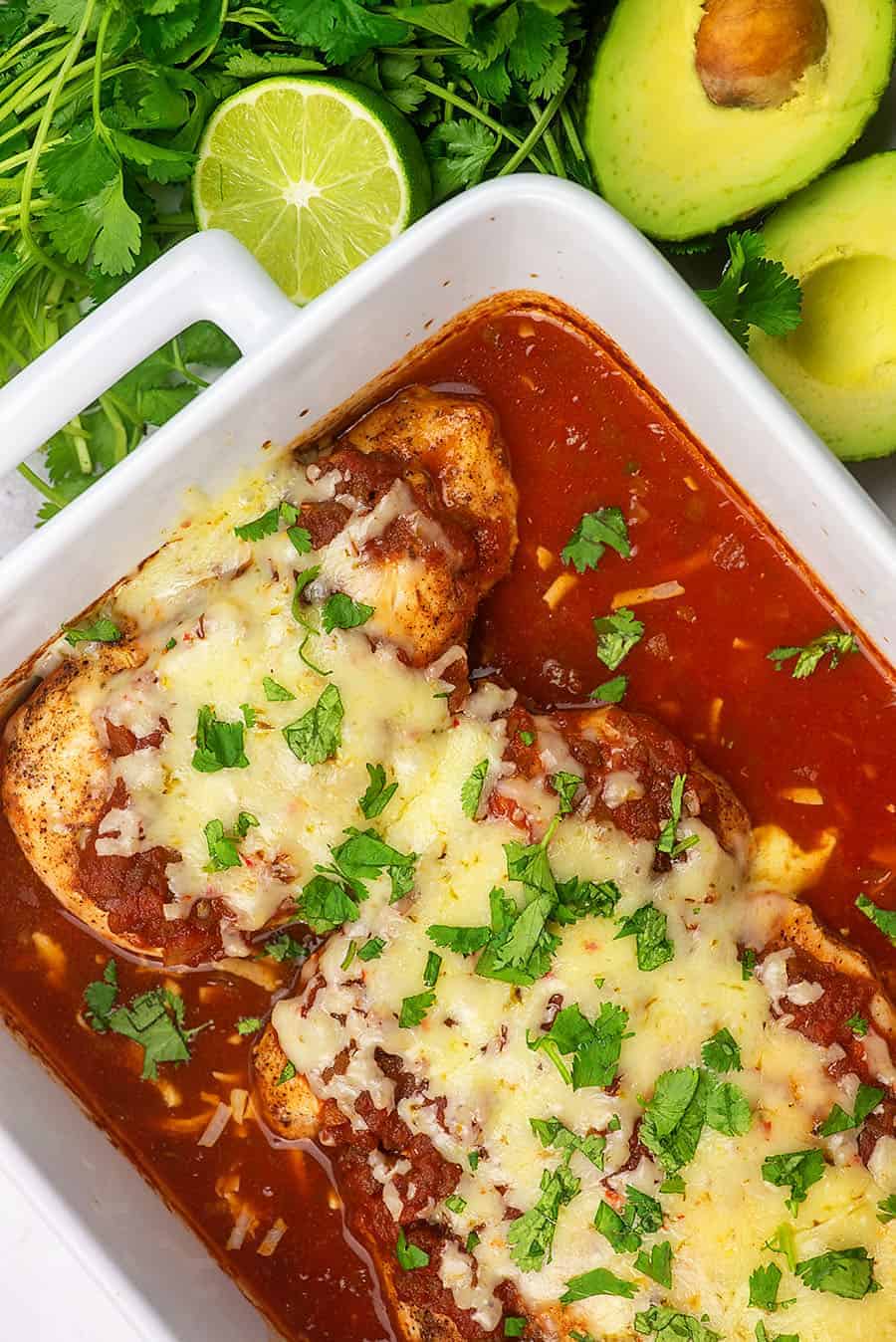 How to pound out chicken:
Lay out a large piece of plastic wrap on your work surface. Place one chicken breast slightly off center, and fold one side of the wrap loosely over the top of the chicken. The plastic wraps keeps the chicken juices from flying all over your kitchen.
Grab a meat tenderizer/mallet and pound the chicken. You can also use a rolling pin or other heavy object to pound your chicken out.
You don't want to flatten the chicken – just get it to an even thickness.
FAQs:
How to store salsa chicken?
You can store baked salsa chicken in the refrigerator for 3-4 days if it is sealed in an airtight container.
Can you freeze this chicken?
I've never tried freezing this baked salsa chicken recipe, but I do think that it would work pretty similarly to any other frozen chicken dish!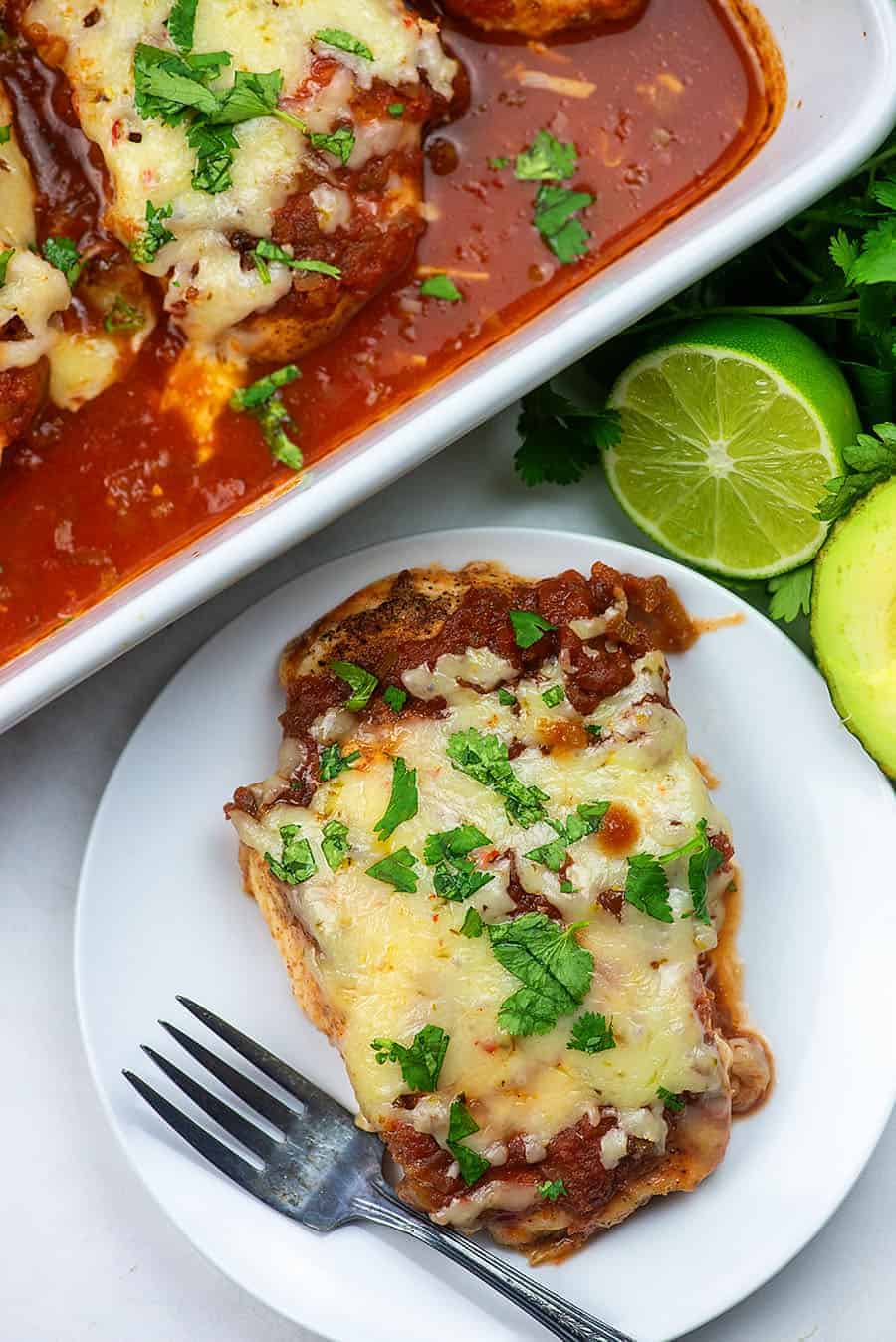 More Mexican-Inspired Recipes:
Crockpot Chicken Fajitas: Serve them over cauliflower rice or in a low carb tortilla!
Taco Pizza: Made with my favorite low carb pizza crust.
Keto Taco Casserole: We make this one often!
Guacamole Chicken Melt: If you love guac, this is for you.
Keto Enchilada Sauce: So simple and flavorful!
Homemade Queso Dip: This cheesy low carb dish is perfect for dipping with some keto bread or crackers!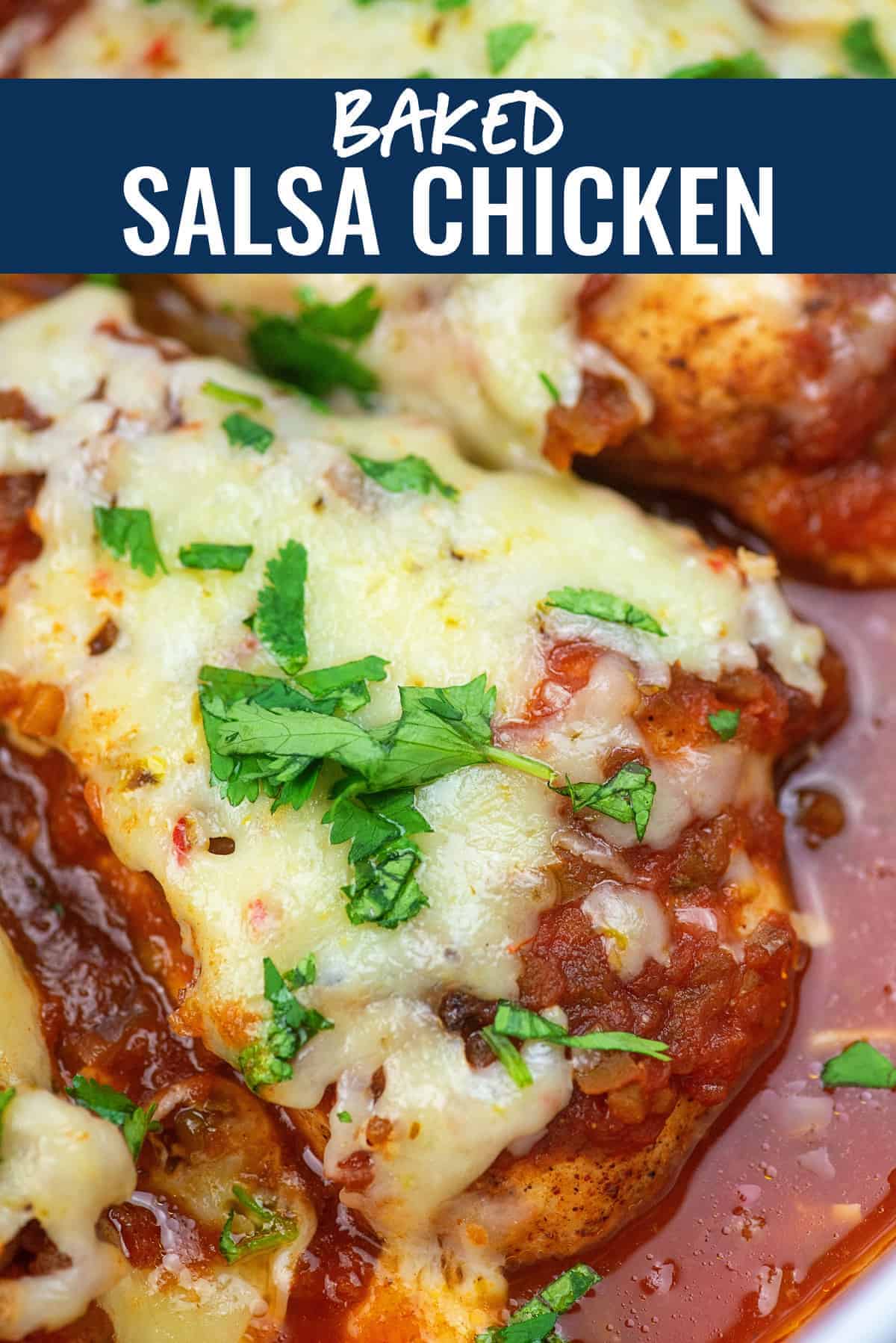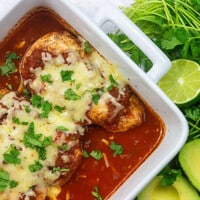 Baked Salsa Chicken
This baked salsa chicken is so easy, but it comes out juicy and bursting with flavor thanks to the salsa!
Ingredients
4 chicken breasts, about 6 ounces each
1 teaspoon garlic salt
½ teaspoon chili powder
½ teaspoon cumin
1 cup shredded pepper jack cheese
1 tablespoon chopped cilantro
Instructions
Preheat oven to 375 degrees.
Pound the chicken breasts to an even thickness.
Season the chicken with the garlic salt, chili powder, and cumin.
Pour ½ cup of salsa in the bottom of a 9x13 baking dish and spread to coat the bottom.
Place the chicken on top of the salsa. Pour the remaining salsa over the top of the chicken.
Bake for 30 minutes or until chicken reaches 165 degrees.
Remove from the oven and sprinkle the top of the chicken with the cheese. Return to the oven for 3-4 minutes to melt the cheese.
Sprinkle with cilantro before serving.
Notes
The nutrition info is based off salsa containing 2 carbs per 2 tablespoons. If the salsa you use has more sugar, the nutrition info will vary accordingly.
Swap out the pepper jack for cheddar, if you'd prefer a more mild cheese.
Recommended Products
As an Amazon Associate and member of other affiliate programs, I earn from qualifying purchases.
Nutrition Information:
Yield: 4 servings
Serving Size: 1 chicken breast
Amount Per Serving:
Calories: 216
Total Fat: 11g
Saturated Fat: 6g
Trans Fat: 0g
Unsaturated Fat: 4g
Cholesterol: 63mg
Sodium: 1314mg
Carbohydrates: 4g
Net Carbohydrates: 2g
Fiber: 2g
Sugar: 4g
Sugar Alcohols: 0g
Protein: 22g
All information and tools presented and written within this site are intended for informational purposes only. This information is provided as a courtesy and there is no guarantee that the information is accurate.