We topped seasoned chicken breasts with strips on onions and peppers, loaded it up with some cheese, and baked it up! This fun take on fajitas is a simple way to get dinner on the table and it packs a ton of flavor, thanks to our homemade fajita seasoning.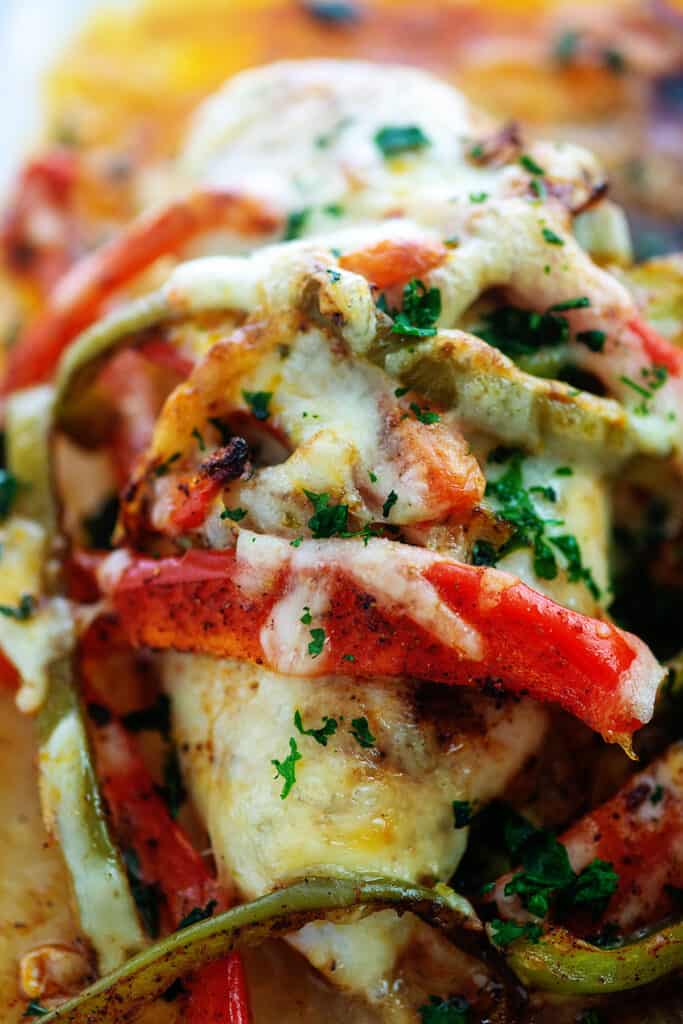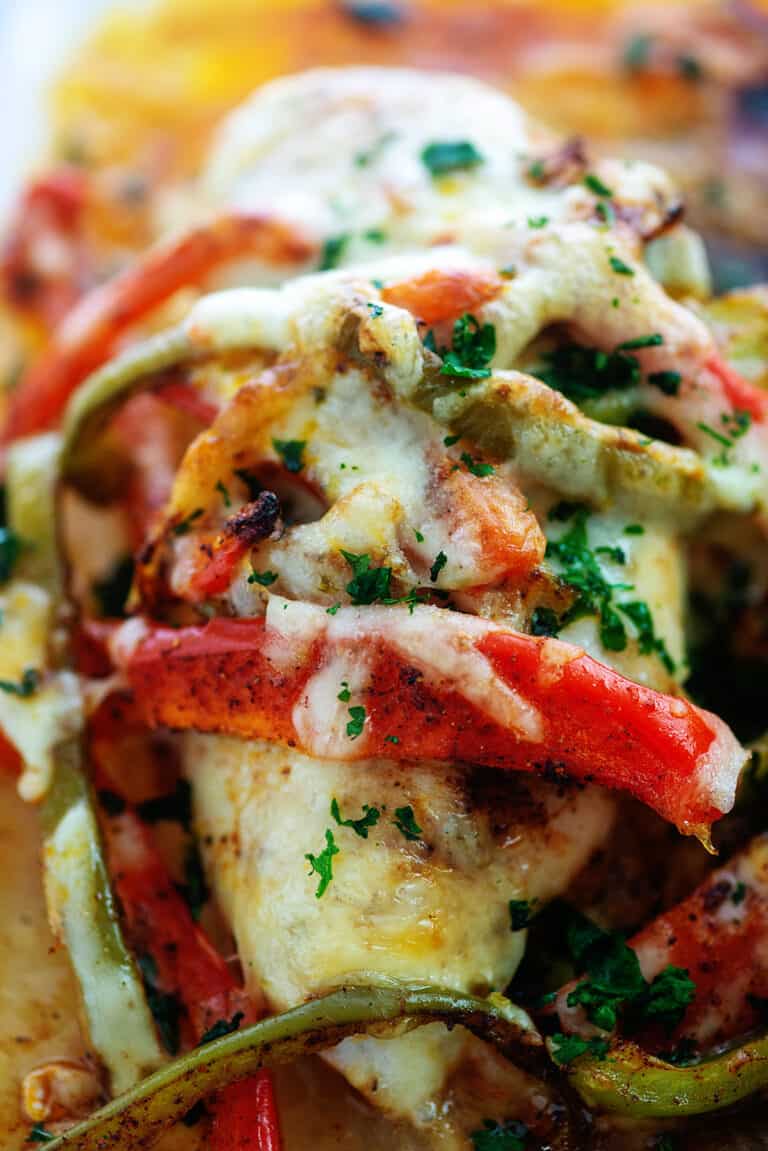 If you've browsed around here for long, you might have noticed our obsession with Mexican flavors.
We have loads of Mexican-inspired recipes and quite a few 'fajita' style recipes too!
Adding to our crockpot chicken fajitas, chicken fajita soup, and keto chicken fajitas, we've now got this cheesy fajita baked chicken!
We basically just smothered chicken breasts in pepper and onion strips, seasoned everything in a simple blend of spices, and topped it all off with cheese.
You can't go wrong with this low carb chicken recipe!
Ingredients:
Chicken Breasts – Thighs would also work.
Spices – You'll need chili powder, cumin, paprika, garlic powder, and salt.
Bell Pepper – We used a half of a red pepper and half of a green pepper.
Onion
Pepper Jack Cheese – Use monterey jack if you want to skip the spice!
Cilantro – We love the bright flavor of cilantro on this dish.
How to:
Make the seasoning blend: Stir together the chili powder, cumin, paprika, garlic powder, and salt. This will be used to season both the chicken and the vegetables.
Season the Food: Drizzle the chicken with oil, sprinkle on some seasoning and rub it all in to coat the chicken. Add the peppers and onions to a bowl with a drizzle of oil and season those as well.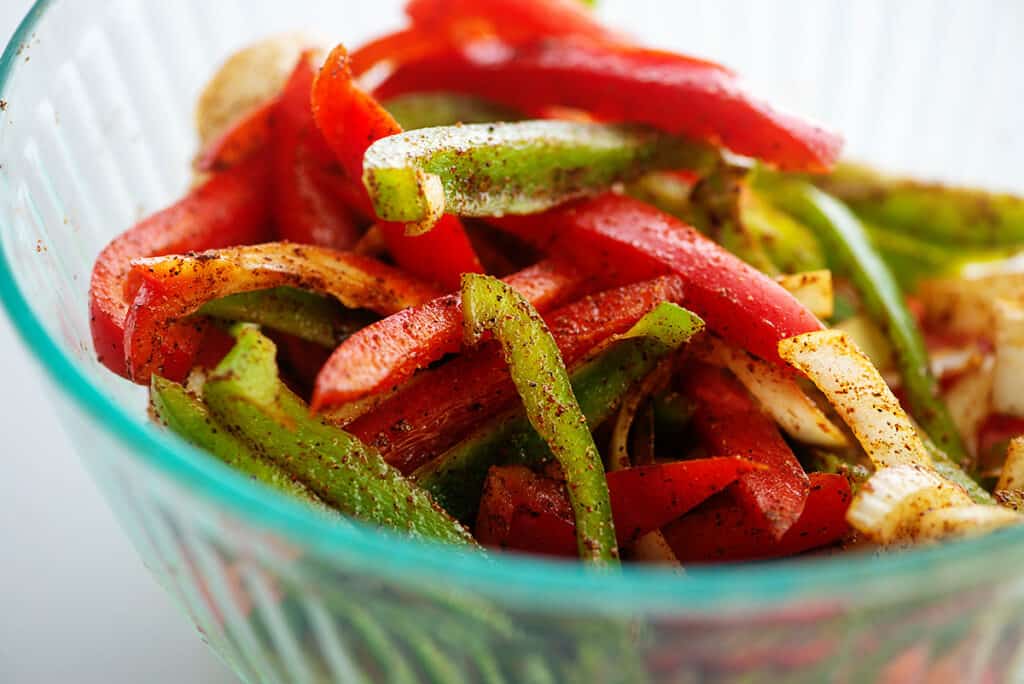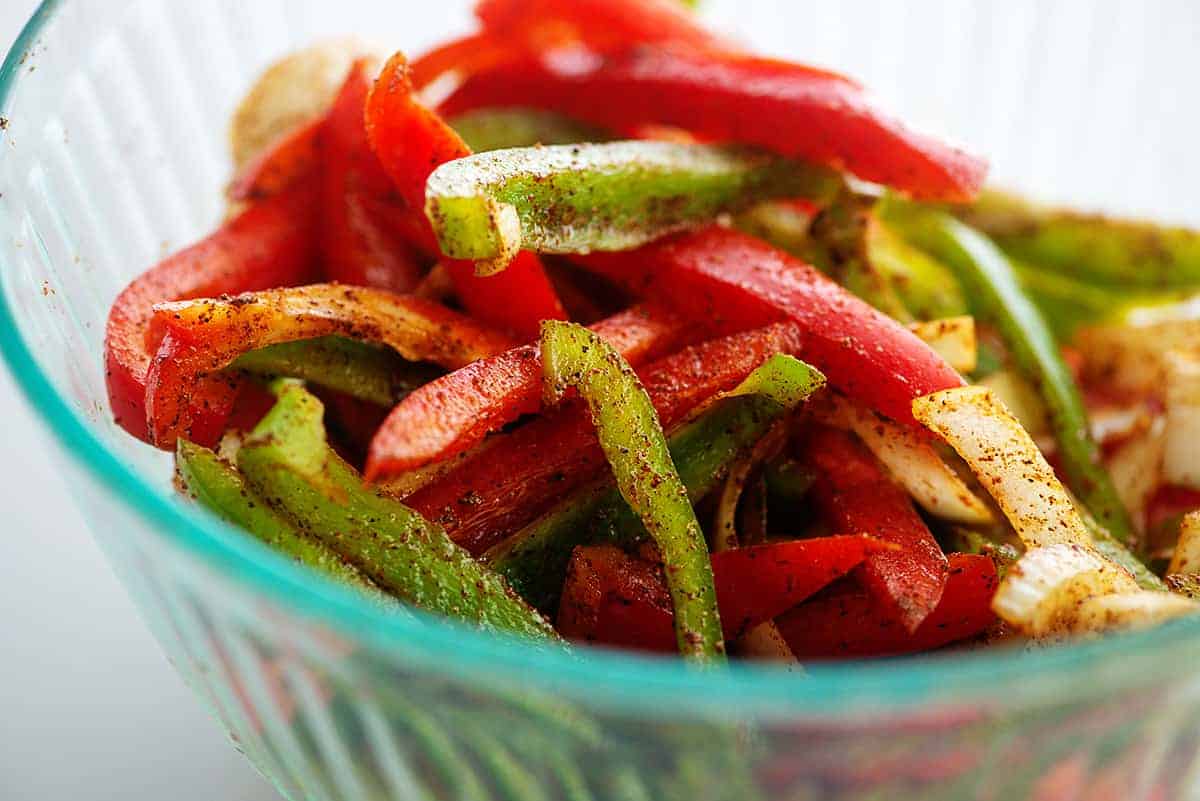 Bake: Place the chicken in a baking dish and top it all off with the vegetables. Sprinkle on the cheese and bake until the chicken is cooked through.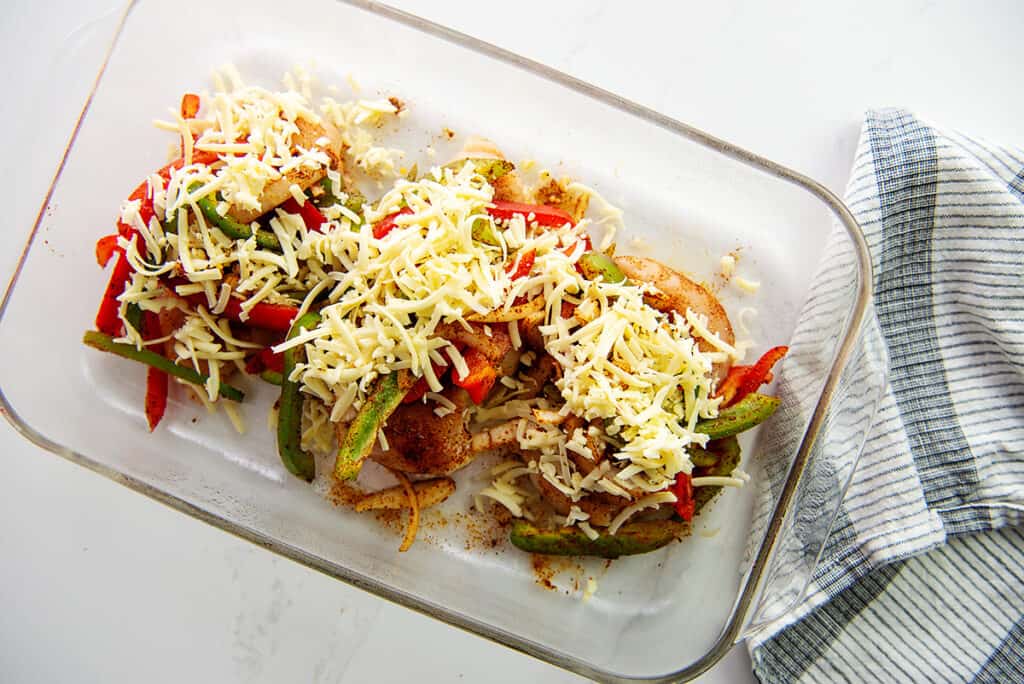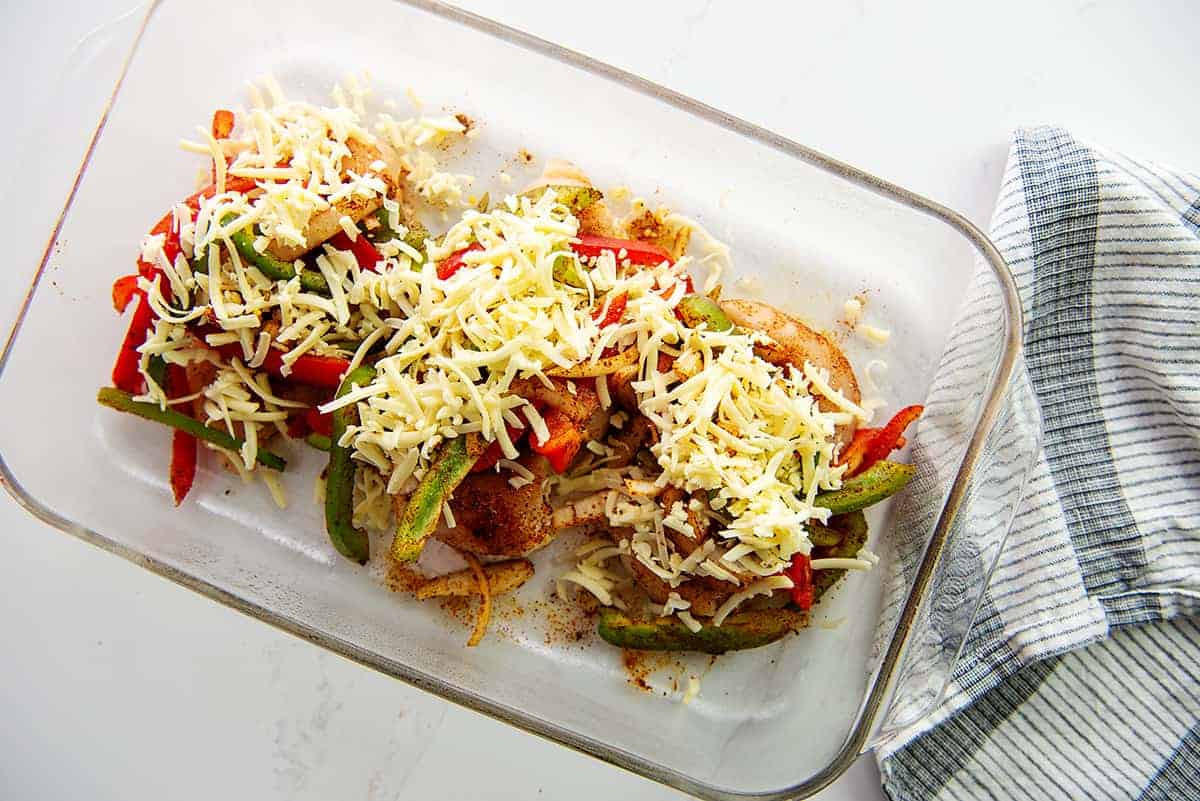 What does fajita mean?
Fajita is a Tex-Mex term for little strips of meat. Obviously, this recipe is just a riff on fajitas and is not an authentic recipe, as we're not cutting the chicken into small strips.
This is similar in flavor to fajitas, but simpler to make.
More low carb Mexican inspired recipes: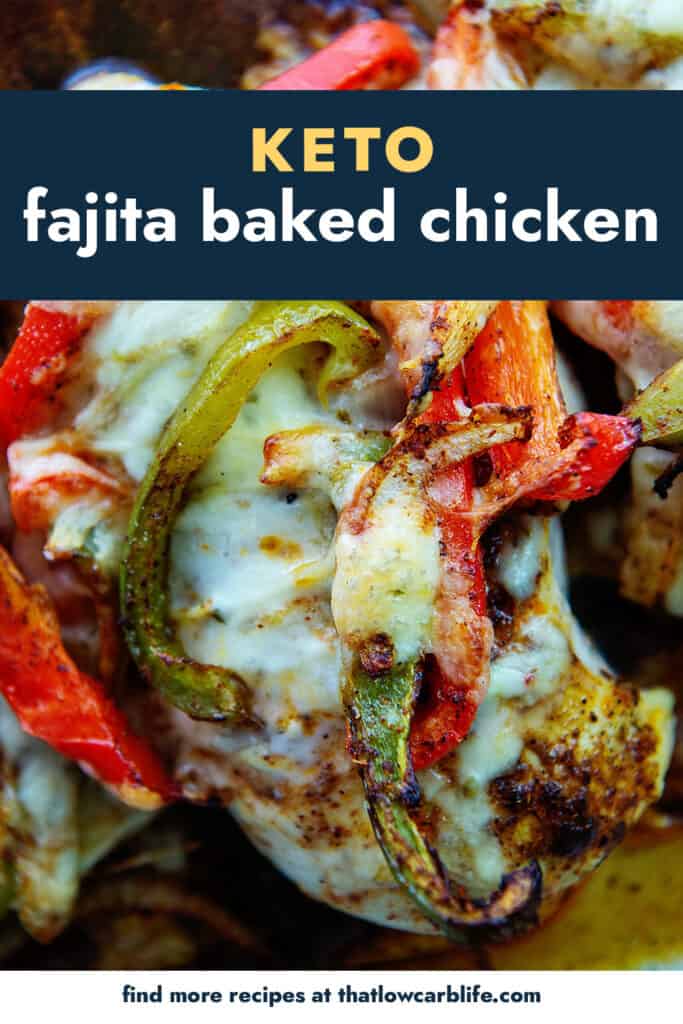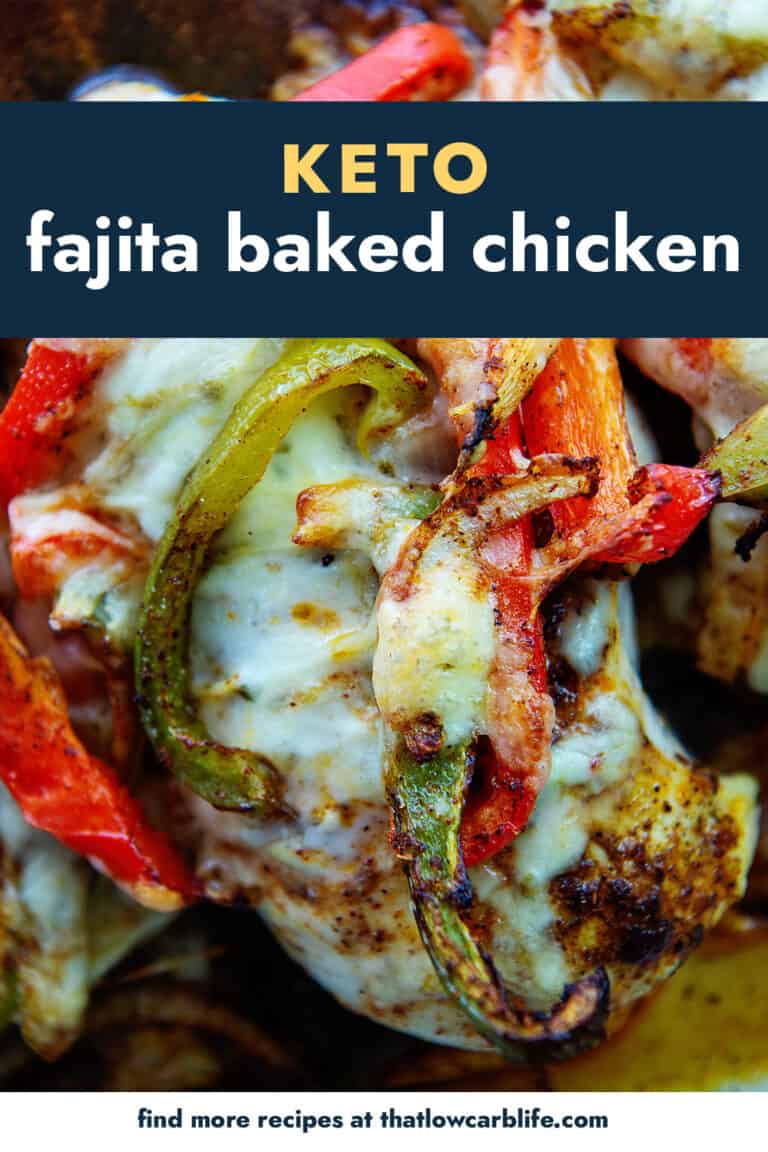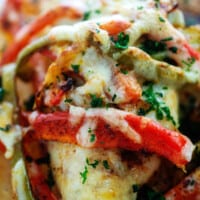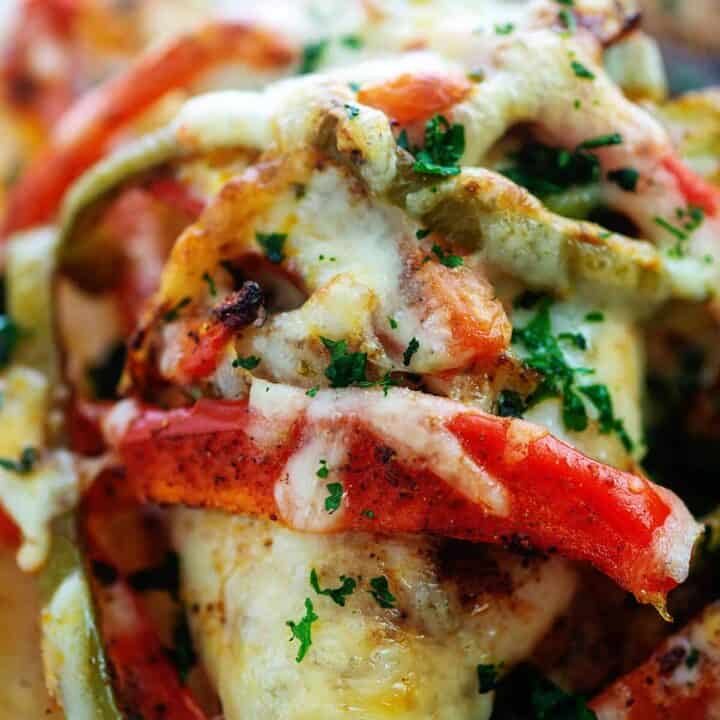 Fajita Baked Chicken
These baked chicken breasts are seasoned with a simple homemade fajita seasoning, topped with veggies and cheese, and baked. This is an easy dinner that's ready in about 30 minutes!
Ingredients
4 boneless, skinless chicken breasts
1 tablespoon olive oil, divided
2 teaspoons chili powder
1 teaspoon cumin
1 teaspoon paprika
1 teaspoon garlic powder
1 teaspoon salt
1 bell pepper, any color
1 medium onion
1 ½ cups shredded pepper jack cheese
Cilantro, for garnish
Instructions
Preheat oven to 400 degrees. Spray a baking dish with non-stick spray.
Pound the chicken breasts out to an even thickness and place in the baking dish. Drizzle both sides with about 2 teaspoons of olive oil.
Add the chili powder, cumin, paprika, garlic powder, and salt to a small bowl and stir to combine.
Sprinkle all but 1 teaspoon of the seasoning over the chicken, coating both sides with the seasoning.
Slice the bell pepper and onion into strips, drizzle with the remaining oil, and sprinkle on the seasoning. Toss to coat.
Place the vegetables over the chicken breasts.
Sprinkle the cheese over the top of the dish.
Bake, uncovered, for 20-25 minutes or until the chicken reaches an internal temperature of 165 degrees.
Sprinkle with cilantro before serving.
Notes
We used half of a red pepper and half of a green pepper in this recipe. You may use any color you prefer.
Nutrition Information:
Yield: 4
Serving Size: 1
Amount Per Serving:
Calories: 428
Total Fat: 22g
Saturated Fat: 11g
Trans Fat: 0g
Unsaturated Fat: 10g
Cholesterol: 143mg
Sodium: 935mg
Carbohydrates: 6g
Net Carbohydrates: 5g
Fiber: 1g
Sugar: 2g
Protein: 50g
All information and tools presented and written within this site are intended for informational purposes only. This information is provided as a courtesy and there is no guarantee that the information is accurate.