This Cilantro Lime Chicken is a quick and flavorful way to get a healthy dinner on the table. Use this cilantro lime chicken marinade to grill, bake or pan fry your chicken for a quick meal that's bursting with bold flavor.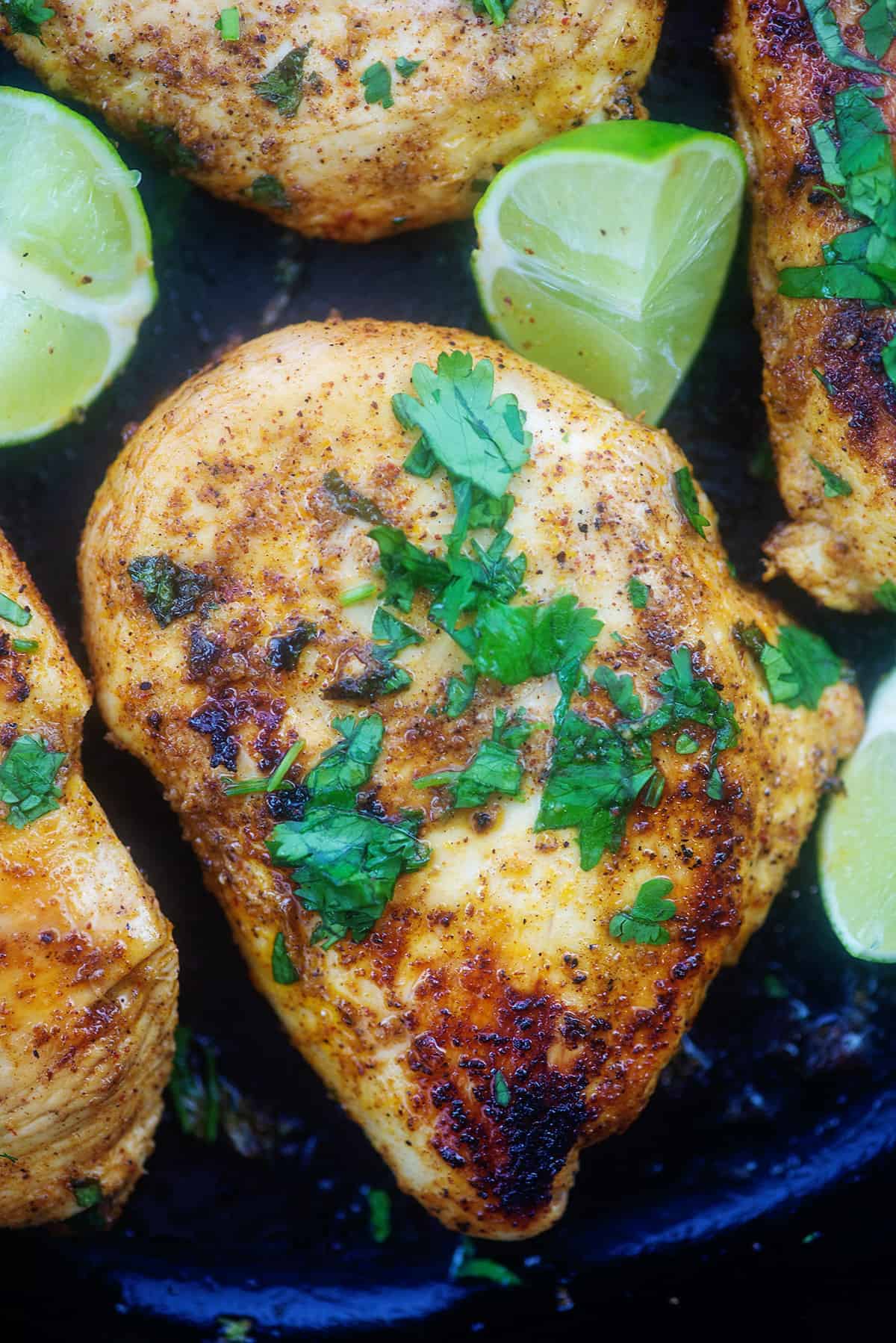 Big, bold flavors with minimal work is basically my favorite kind of dinner!
Who doesn't love something that's loaded with bright, zesty flavor, but also super simple to toss together?
We use a quick and easy cilantro lime chicken marinade and then cook the chicken in a skillet or toss it on the grill. It's even good in the air fryer!
This keto cilantro lime chicken recipe turns out juicy and flavorful every time and those flavors are a major favorite.
Serve this up with our Mexican cauliflower rice and a side of pork rinds and keto guacamole. Or chop your chicken into small pieces and add it to our keto taco salad!
Ingredient Notes:
This post contains affiliate links. As an Amazon associate and member of other affiliate programs, I earn from qualifying purchases.
Chicken – I'm using boneless, skinless chicken breasts in this recipe that are pounded out to an even thickness. You could also use boneless chicken thighs, bone-in thighs, or drumsticks! Cook time will vary, but the cilantro lime chicken marinade remains the same regardless of the type of chicken.
Marinade – You'll need olive (or avocado) oil, freshly squeezed lime juice, freshly minced cilantro, and a good mix of spices! We make an easy mix of chili powder, garlic powder, onion powder, cumin, and salt for maximum flavor.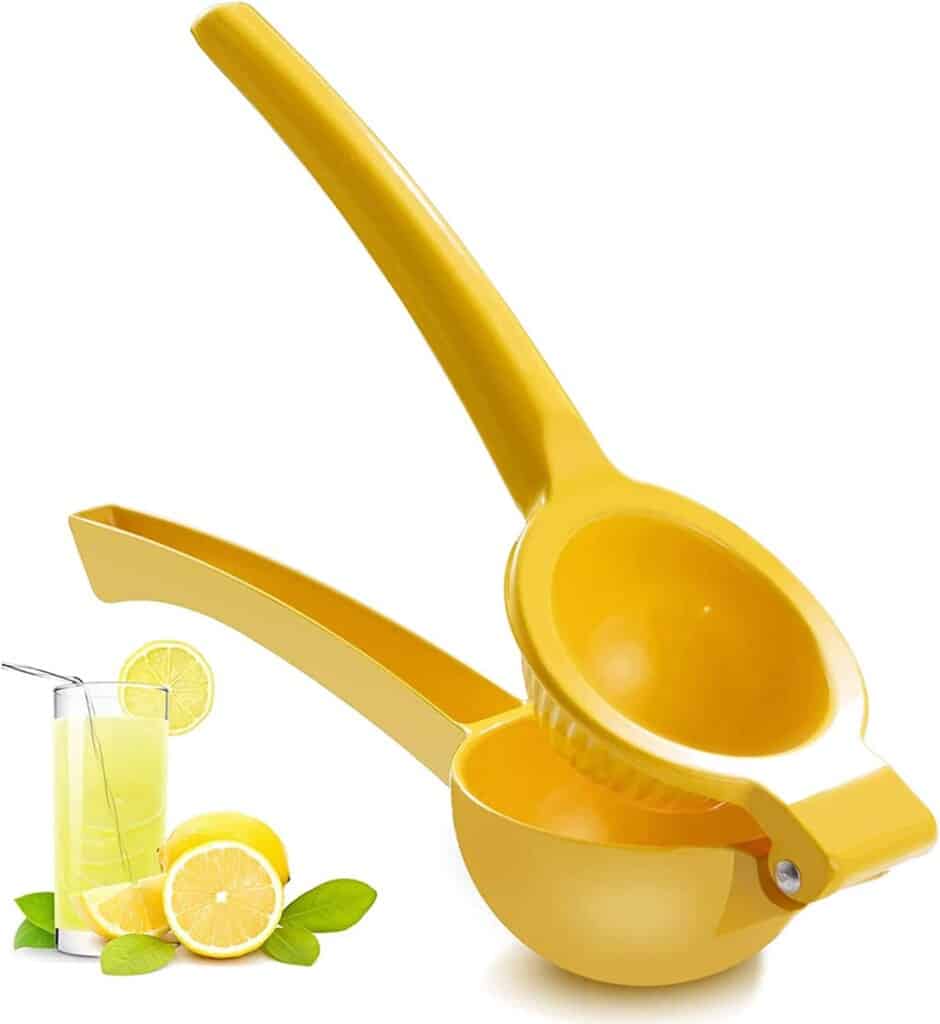 Citrus Juicer
Freshly squeezed lime and lemon juice is useful in lots of recipes, and this tool makes it easy and mess free.
Why We Love This Recipe:
It's a very flavorful marinade! The lime juice, cilantro, and seasoning all have strong flavors that get worked into the chicken while it soaks up the marinade. And the lime juice helps make tender chicken.
You can cook the chicken in a variety of ways; from grilling, to baking, to sautéing and air frying!
This chicken is great on it's own, but it's also tasty when you chop it up and add it to a keto burrito bowl or taco salad.
How To Marinate Chicken: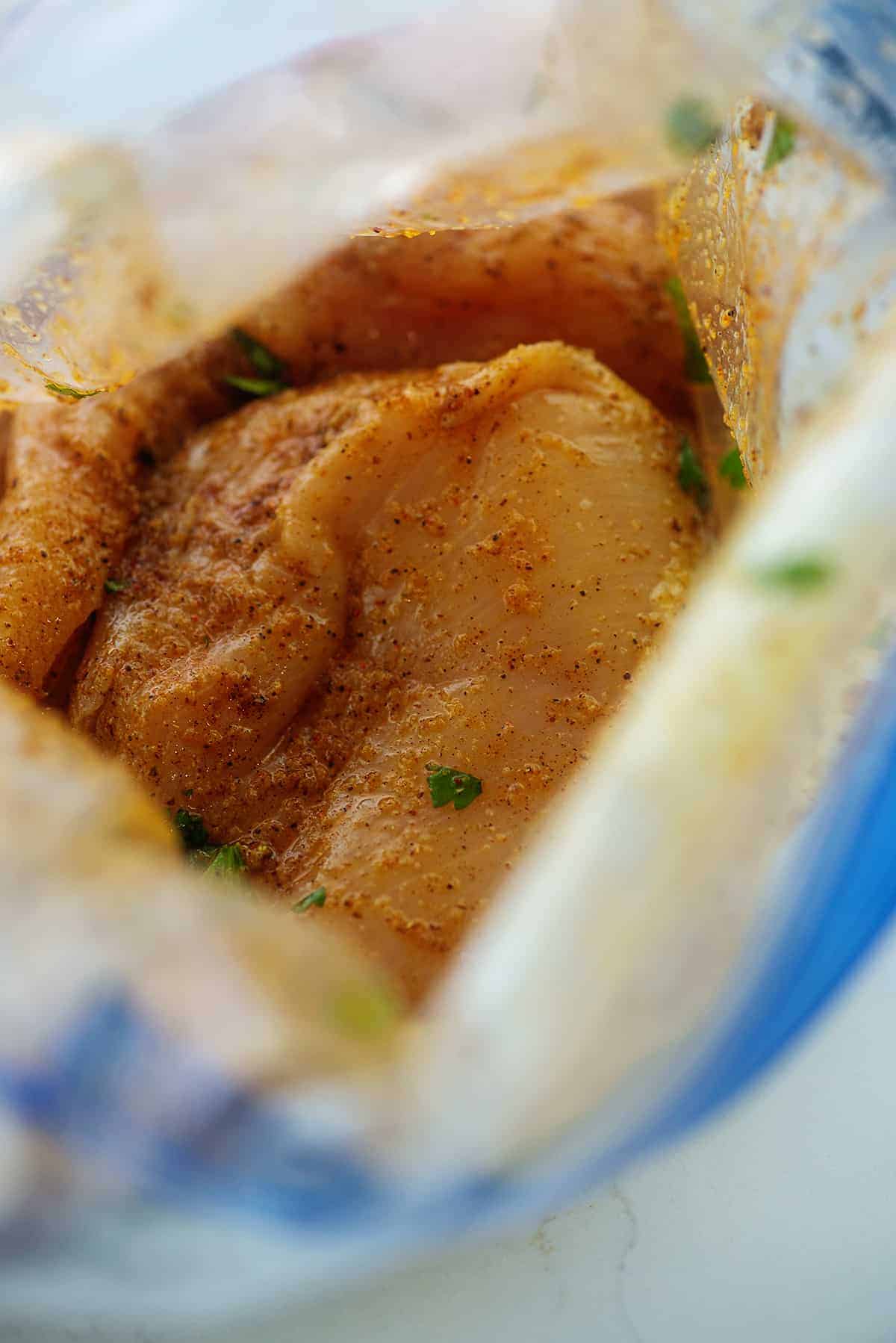 Marinade – First up you'll prepare the easy cilantro lime marinade that will give the chicken loads of wonderful flavor! The slightly acidic lime juice is perfect for working flavors into chicken and tenderizing it. Add the lime juice, oil, cilantro, and spices to a small bowl and whisk it all together until the marinade is well combined!
Marinate – Before you start marinating the chicken you'll want to pound it out to even thickness. It'll cook better this way, and if you do it before marinating the chicken you won't make a mess. Add the chicken to a dish or zip top bag and pour the marinade over the top. Flip the chicken a few times to get it well coated and then cover the dish and refrigerate for at least 2 hours.
How To Cook Marinated Chicken: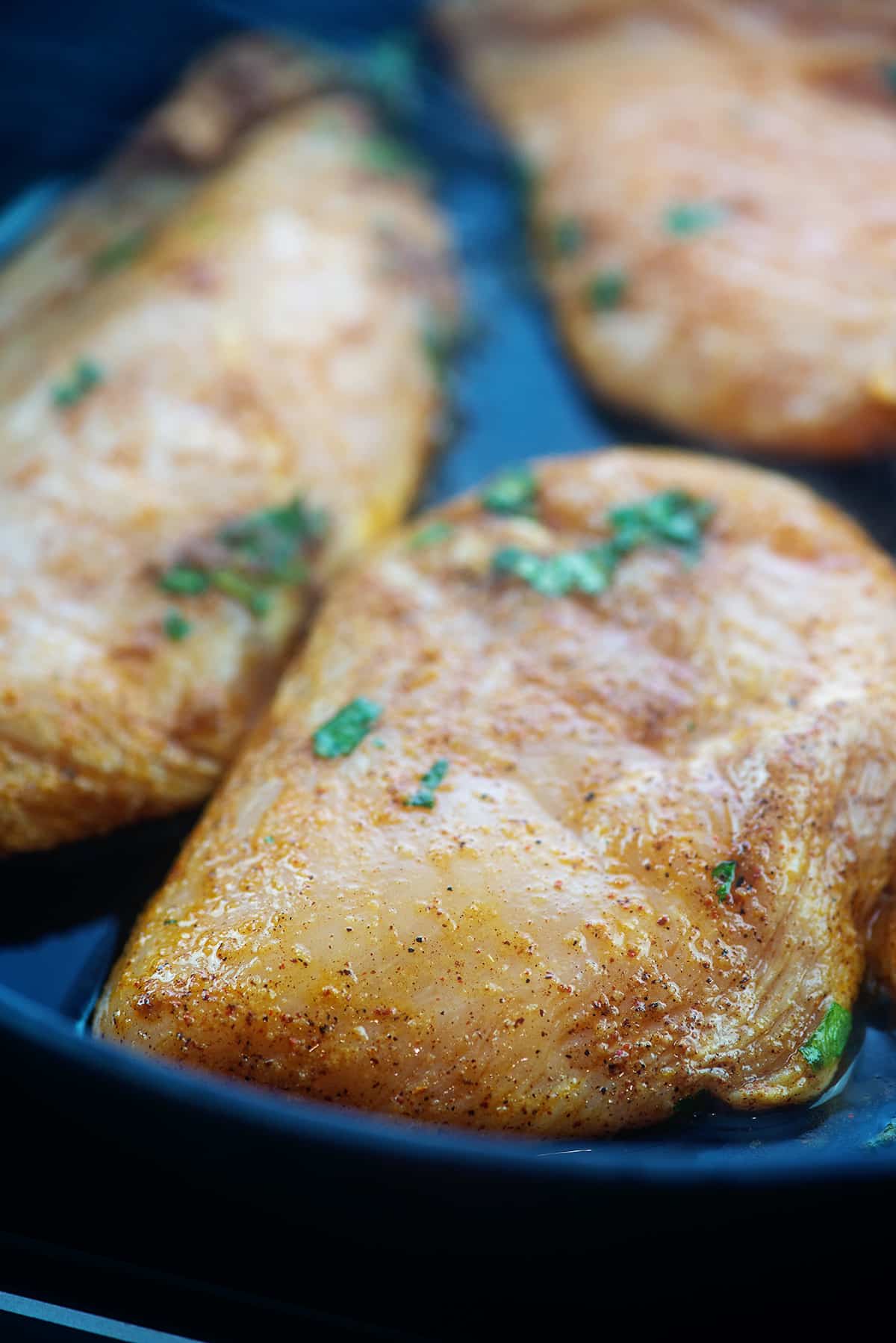 We love pan seared chicken breasts so a skillet is a great way to prepare the marinated chicken, but there are loads of options!
To sauté, heat a large, heavy-bottomed skillet (like cast iron) over medium heat with a bit of oil. Cook the chicken for 5 minutes per side or until cooked through. When the cilantro lime chicken is ready you can sprinkle on some more cilantro if you like and serve it immediately!
Some perfectly flame grilled chicken is hard to beat! This cilantro lime chicken will grill up perfectly. To begin, remove the chicken from the marinade and grill on each side over medium heat for 5 minutes or until the chicken is cooked through.
If you want to make things real easy you can definitely bake this cilantro lime chicken! To bake, spray a baking dish with non-stick spray and arrange the marinated chicken pieces in a single layer. Bake at 425 degrees for 25-30 minutes.
For air fryer chicken, spritz an air fryer basket with non-stick spray and arrange the chicken in an even layer, leaving a bit of space between each for air to flow. Air fry at 380 degrees for 10 minutes, flipping halfway through cooking. Check for doneness and continue cooking in 1 minute increments, if needed.
Our Favorite Meat Thermometer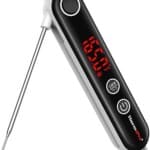 I love using this meat thermometer for making sure the meat is fully cooked! Easy for beginners & absolutely worth the low cost. Just stick it in the thickest part of the meat to check for doneness. This thermometer is also magnetic so it's easy to store right on the side of the fridge or oven for easy access! Get it on Amazon.
FAQs:
How long to marinate chicken?
We recommending marinating chicken for at least 2 hours for the best flavor, but you can leave this chicken in the marinade for up to 12 hours. Longer than 12 hours will lead to mushy chicken, due to the acidity of the lime juice.
How to tell when chicken is done?
Chicken should always be cooked to an internal temperature of 165 degrees. It should be firm and white with clear juices. The safest and best way to tell your chicken is done is to use a thermometer. We use, love, and highly recommend this ThermoPro instant thermometer. It's budget-friendly, super fast, and I love that it's magnetic. We stick it on the side of the fridge so it's easy to grab anytime we need it.
How to store chicken?
After sautéing, grilling, or baking this chicken you can keep it well sealed in the refrigerator for about 3 to 4 days!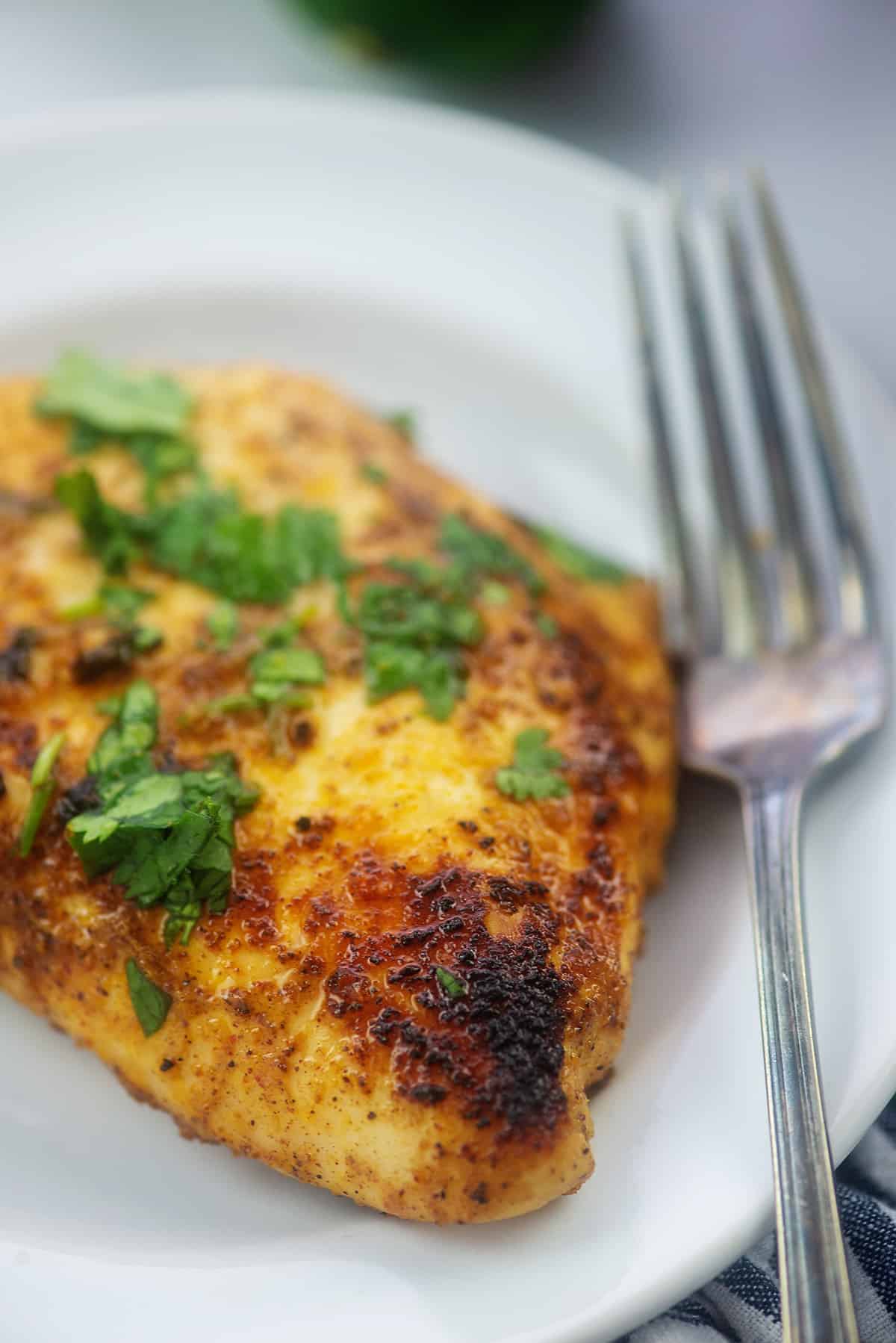 More Low Carb Chicken Recipes: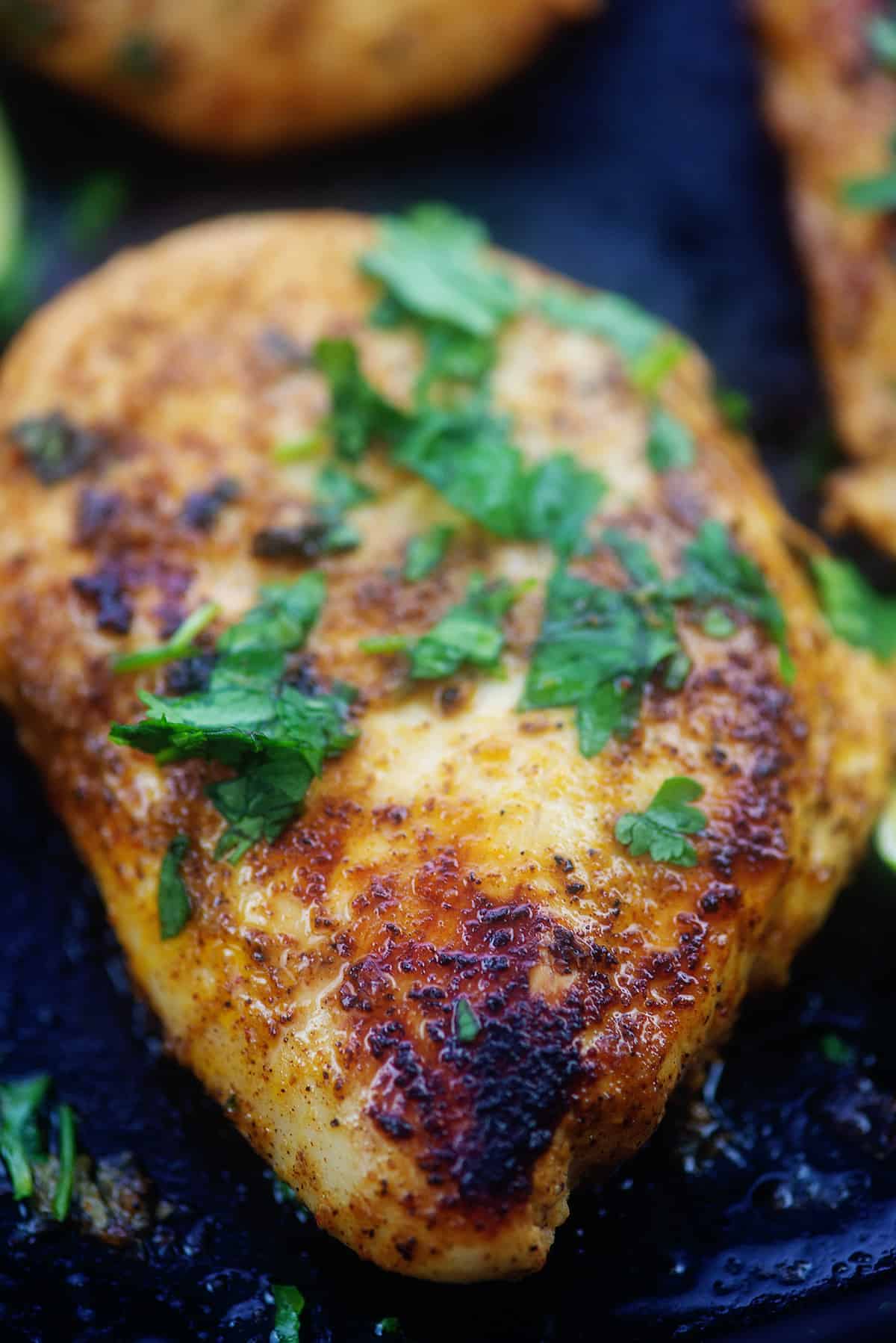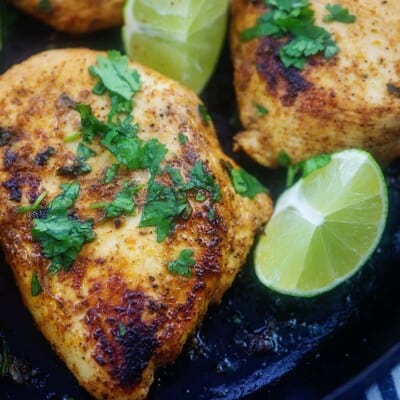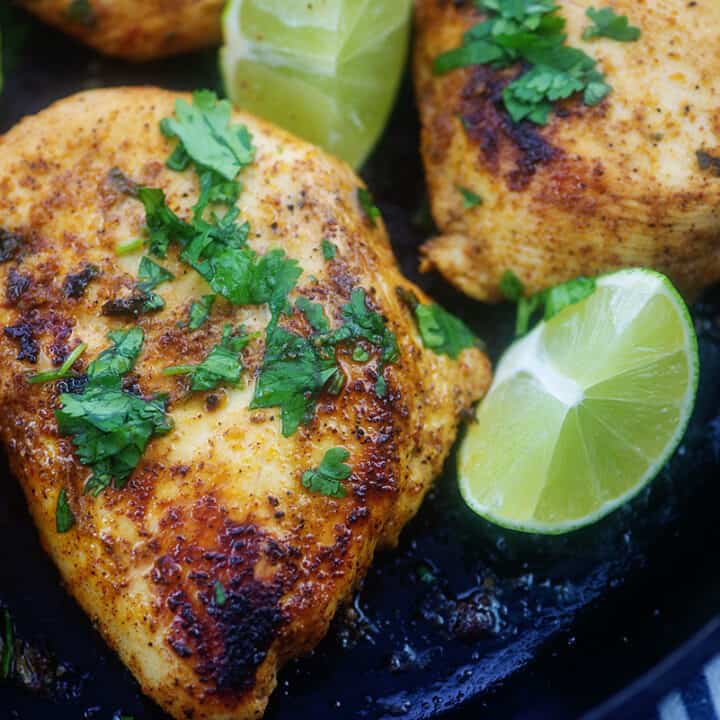 Cilantro Lime Chicken
This cilantro lime chicken marinade is quick, easy, and packs in loads of flavor. We like to let this marinate for at least 1 hour and up to 24 hours.
Prep5 minutes
Cook12 minutes
Marinating Time2 hours
Total2 hours 17 minutes
Ingredients
4 chicken breasts about 5 ounces each
3 tablespoon olive oil divided
3 tablespoon fresh lime juice
3 tablespoons minced cilantro
1 teaspoon chili powder
1 teaspoon garlic powder
1 teaspoon onion powder
1 teaspoon salt
½ teaspoon cumin
Instructions
Pound out the chicken to an even thickness. Place in a shallow dish or ziptop bag.

Add 2 tablespoons of oil and the remaining ingredients to a small bowl and whisk well to combine.

Pour over the chicken and place in the refrigerator for 2 hours.

Heat a large skillet over medium heat. Add the remaining tablespoon of oil and heat until shimmering.

Add the chicken to the skillet and cook for 5-6 minutes per side or until an internal thermometer reads 165 degrees.

Remove from the heat and sprinkle with additional cilantro, if desired.
Tips & Notes:
This chicken can also be cooked on the grill over medium heat, 6 minutes per side or until cooked through. To bake, cook chicken in a rimmed dish at 425 degrees for 25-30 minutes or until cooked through. To air fry, place chicken in a greased air fryer basket and air fry at 380 degrees for 10 minutes or until cooked through. Flip chicken halfway through cooking.
Nutrition Information:
Serving: 1chicken breast| Calories: 264kcal (13%)| Carbohydrates: 2g (1%)| Protein: 30g (60%)| Fat: 14g (22%)| Saturated Fat: 2g (13%)| Polyunsaturated Fat: 2g| Monounsaturated Fat: 9g| Trans Fat: 0.02g| Cholesterol: 91mg (30%)| Sodium: 756mg (33%)| Potassium: 568mg (16%)| Fiber: 0.4g (2%)| Sugar: 0.3g| Vitamin A: 220IU (4%)| Vitamin C: 5mg (6%)| Calcium: 16mg (2%)| Iron: 1mg (6%)| Net Carbs: 2g (4%)