This KETO BURRITO BOWL is one of my favorite Mexican meals! We make this often and it's always a hit. It's easy to customize so that everyone in your family can make their burrito bowl they way they like and the leftovers are perfect the next day for lunch!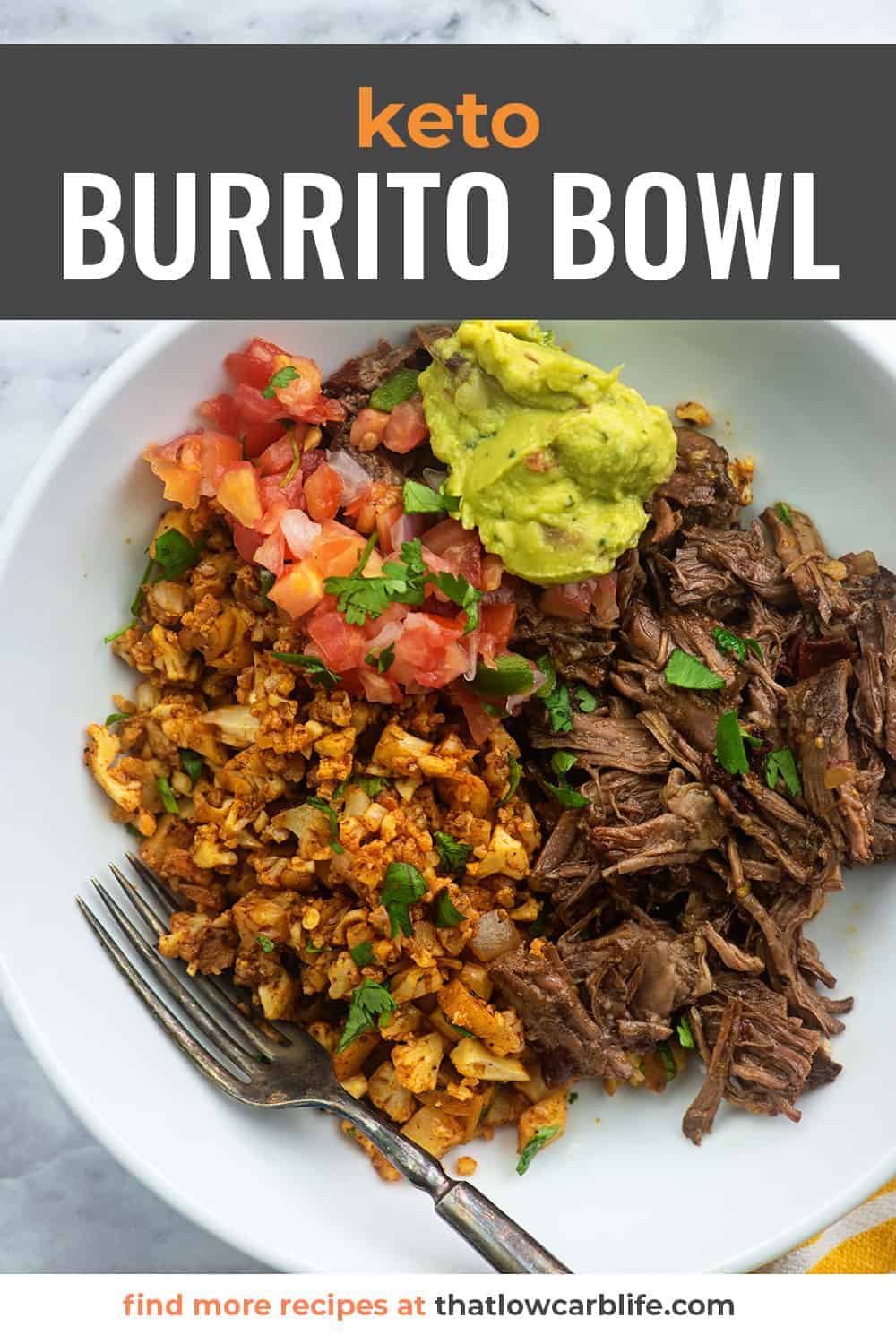 I'm sure by now you guys have figured out that Mexican food is my favorite food.
We eat it often and I try my best not to overwhelm you with the recipes, because I know some people prefer a little variety in their foods.
Personally, I'd be fine with tacos every night of my life, but hey, that's just me. 😉

Anyway, this keto burrito bowl is on repeat in my house and it's so simple to make!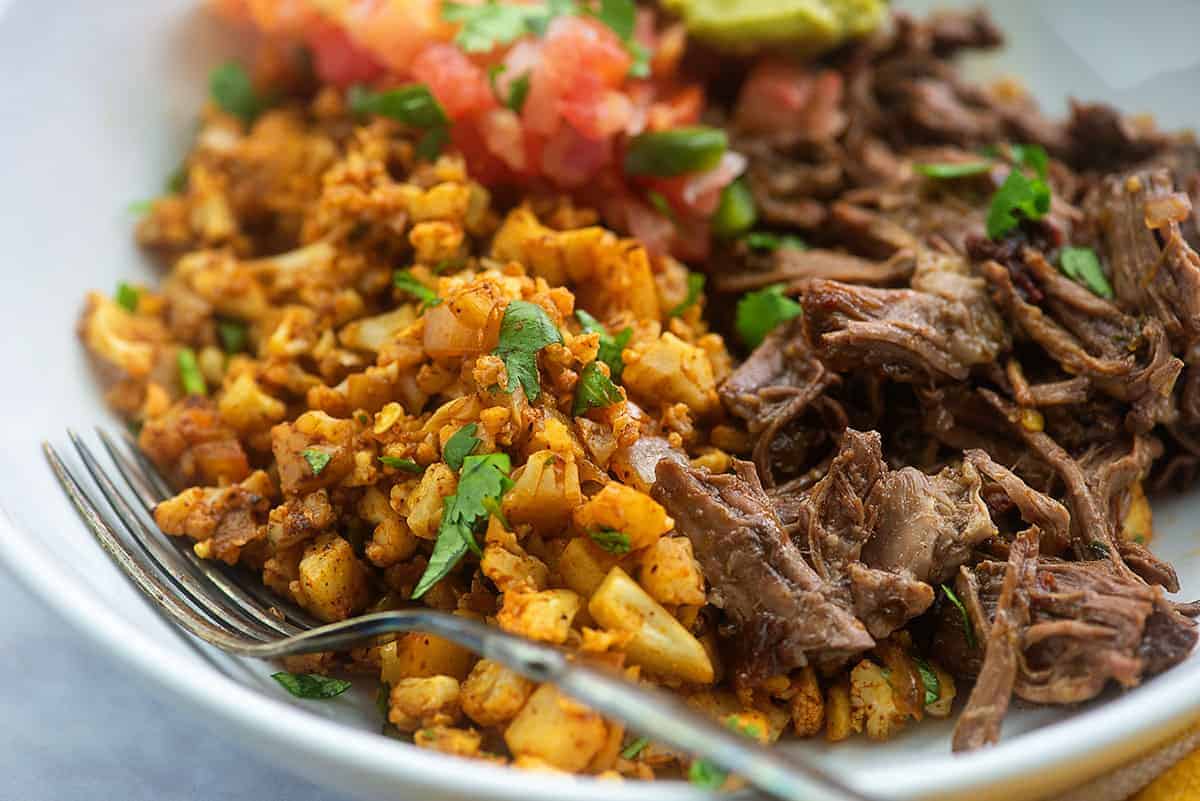 Whenever I make any kind of Mexican dish, like my Mexican cauliflower rice or Mexican shredded beef, I am always sure to make enough for us to have these keto burrito bowls the next day. Double the Mexican food! Yay!
My perfect version of a burrito bowl may not be quite the same as yours, so I'm going to give you my recipe in the card below, but I'll also give you some ideas for changing things up in this article. Skip down to the card for my version of a perfect keto burrito bowl or keep reading here for some other fun ideas!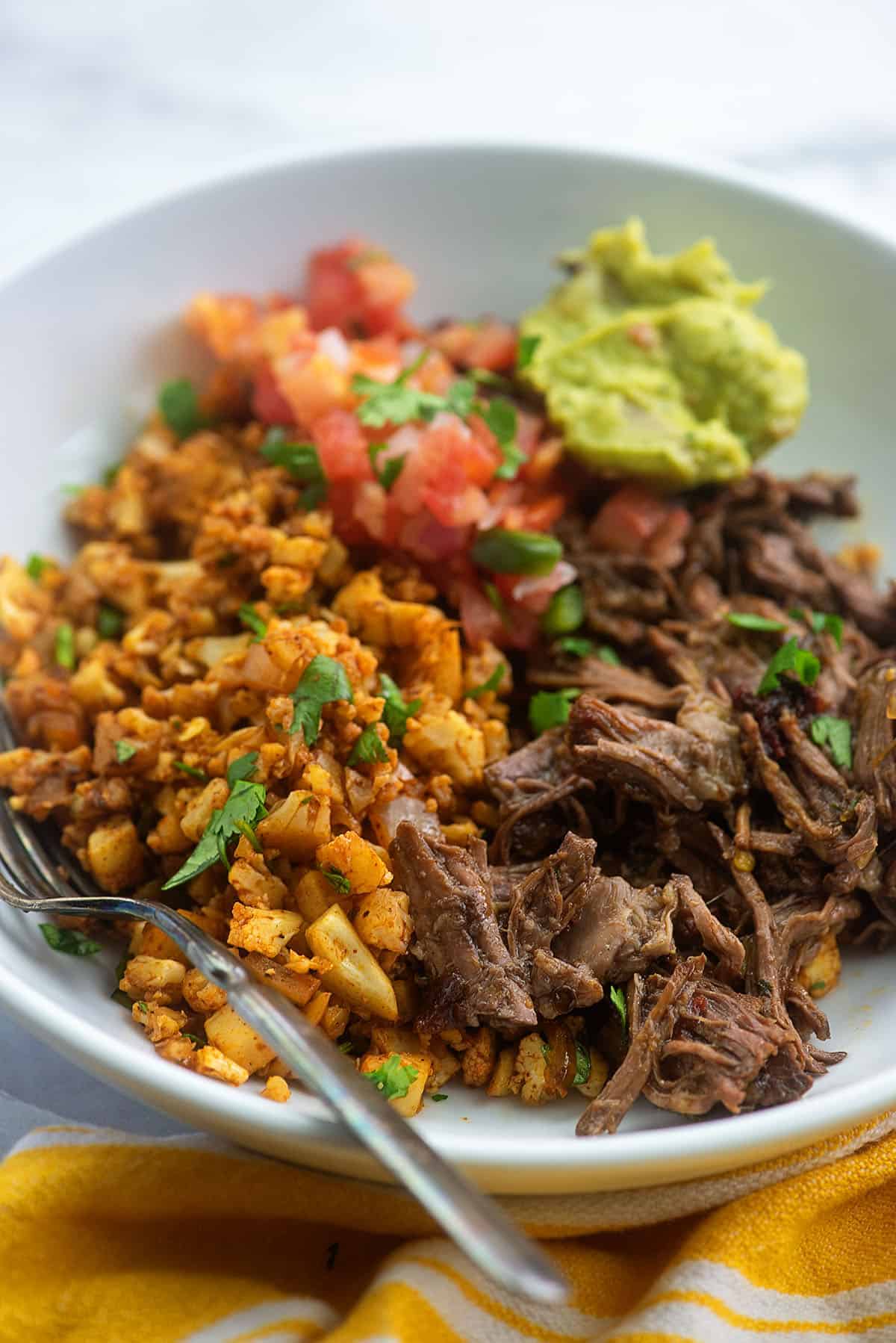 Burrito Bowl Options:
Proteins: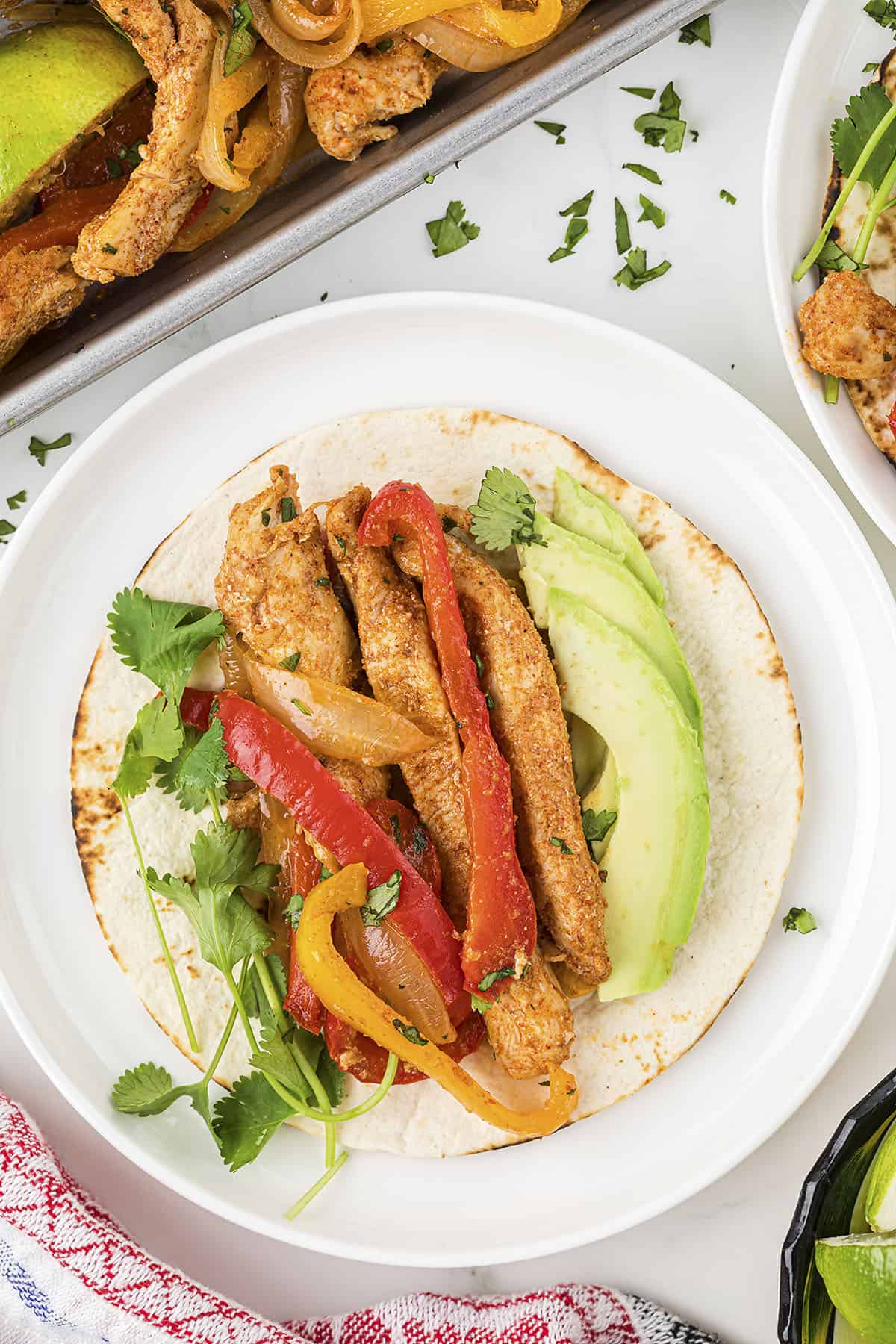 Base: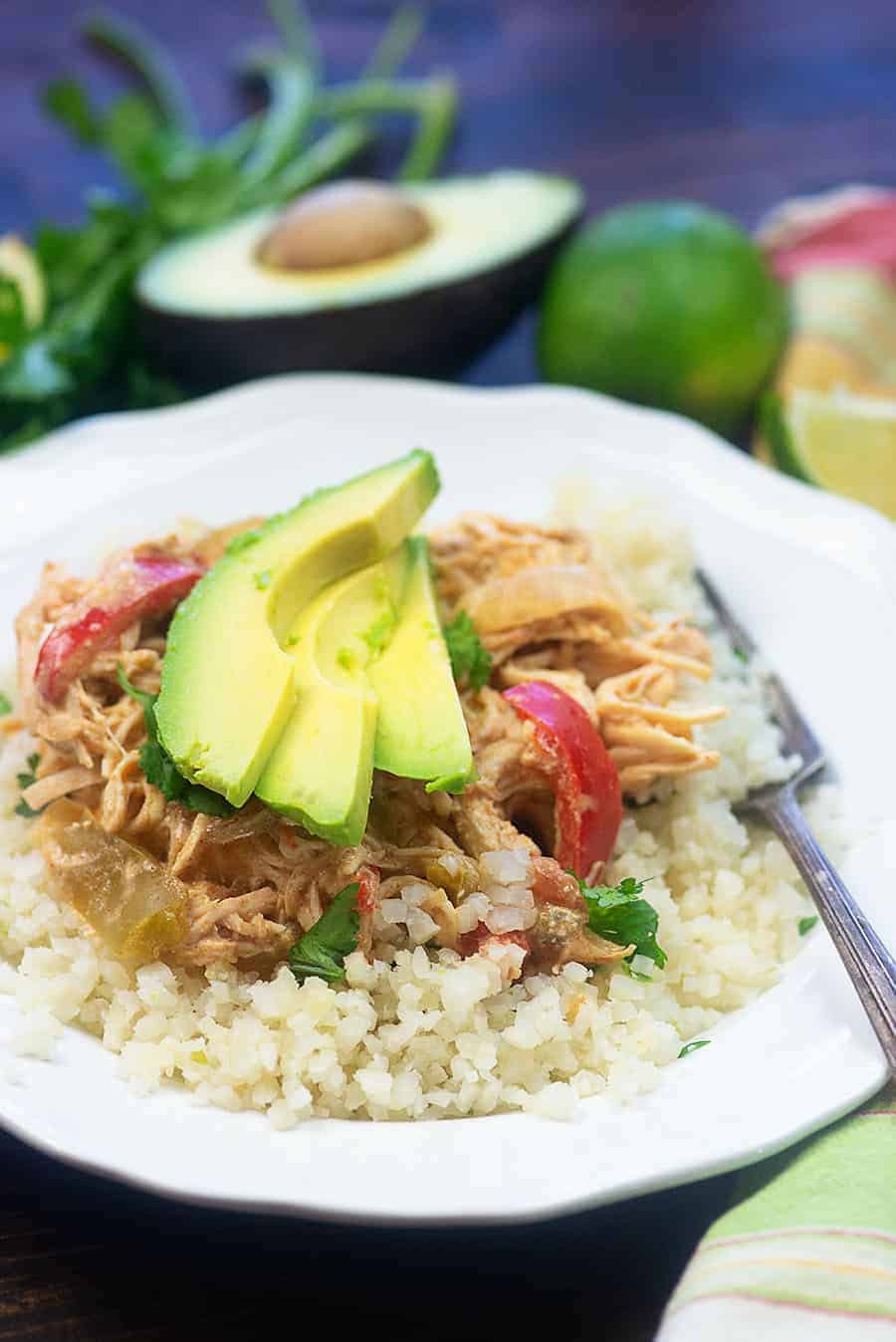 Toppings: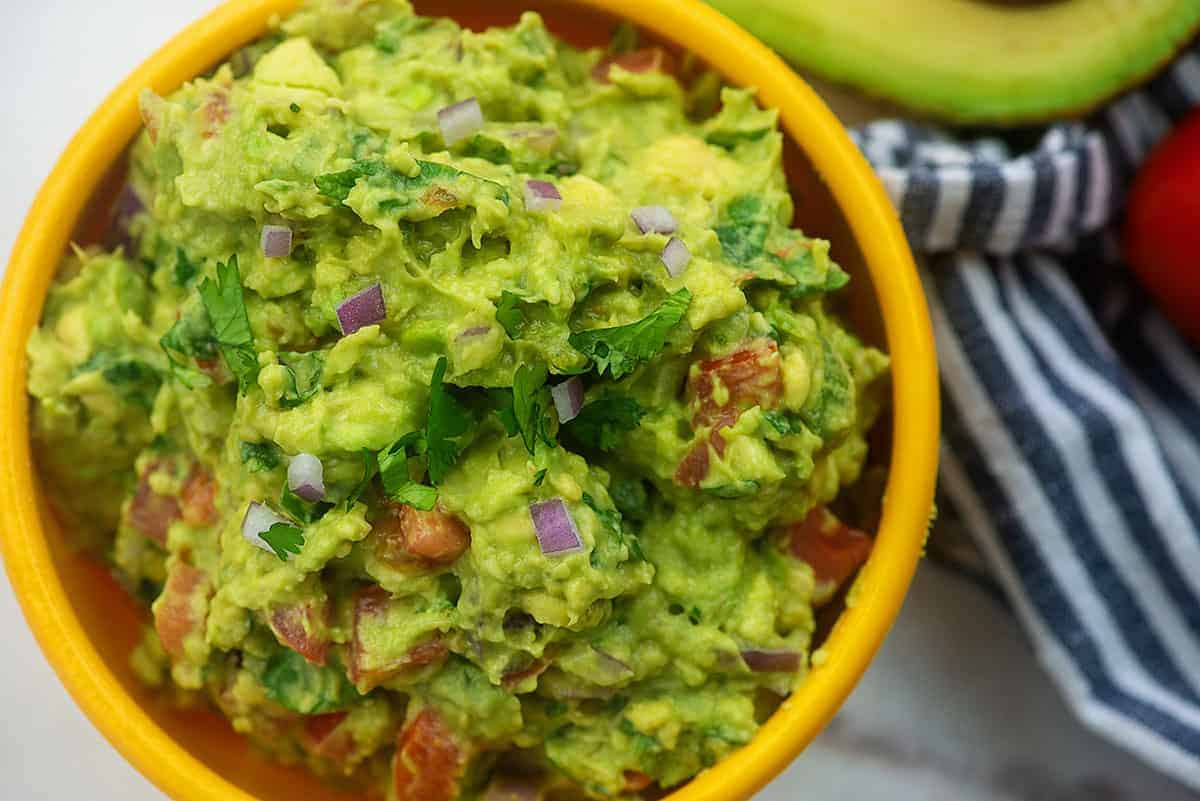 How to calculate the carbs:
Each of the above links (aside from the romaine lettuce) has nutrition information available.
Just jot dot the carb count of each item you'd like to add to your bowl (making sure to keep an eye on serving sizes – I use much less of the keto elote in a burrito bowl than I do as a side dish, for example) and then total it up.
Many people use Carb Manager, a free app, to calculate carbs as well. That may also be helpful, but I find it quickest to just write it down on paper and get a rough idea.
Hope you enjoy your keto burrito!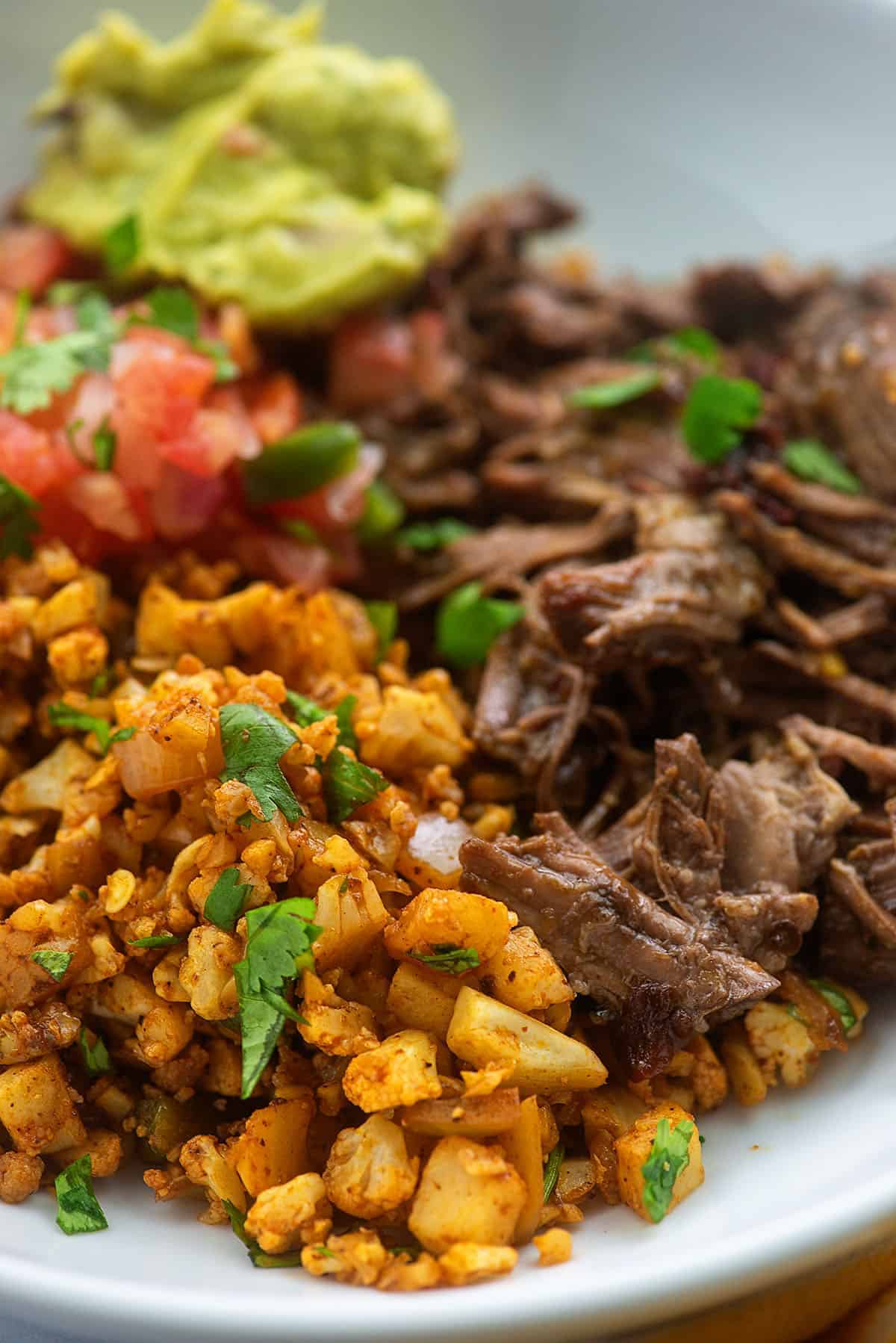 What's your favorite combination?
Leave a comment and tell me how you'd build the perfect burrito bowl! I need some new ideas! 🙂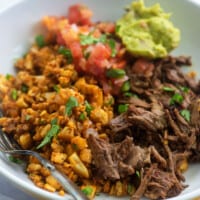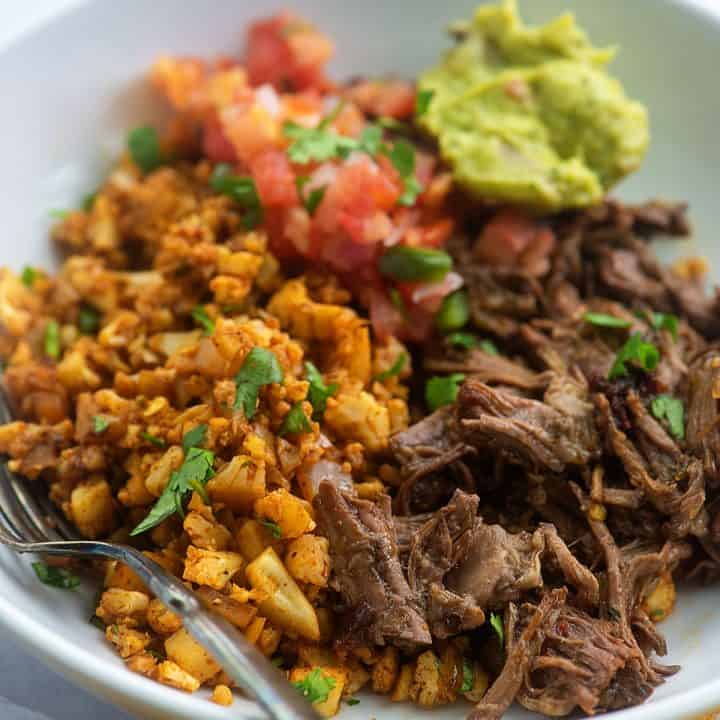 Keto Burrito Bowl
This recipe creates one keto burrito bowl made my way! Feel free to change things up to fit your tastes! The prep time is assuming that all of the components are prepped and ready to assemble.
Ingredients
1/4 cup Pico de Gallo
1/4 cup shredded cheddar cheese
1 tablespoon chopped cilantro
Instructions
Arrange all of the ingredients in a shallow bowl and taste for seasoning.
Add salt and pepper or hot sauce, if desired.
Serve immediately.
Notes
This is my favorite version of a burrito bowl, but please make this your own! The article above shares loads of different bases, proteins, and toppings so that you can really customize this and find the perfect burrito bowl for you!
Nutrition Information:
Yield: 1
Serving Size: 1
Amount Per Serving:
Calories: 374
Total Fat: 25g
Saturated Fat: 9g
Trans Fat: 0g
Unsaturated Fat: 13g
Cholesterol: 82mg
Sodium: 610mg
Carbohydrates: 15g
Net Carbohydrates: 9g
Fiber: 6g
Sugar: 3g
Protein: 27g
All information and tools presented and written within this site are intended for informational purposes only. This information is provided as a courtesy and there is no guarantee that the information is accurate.