Chicken zoodle soup is so warm and comforting! We serve it all fall and winter and my kids gobble it up! It also reheats really well and makes a perfect lunch.

There are more times than I'd like to admit that my kids ask what's for lunch and I point them in the direction of the pantry and tell them to grab a can of soup.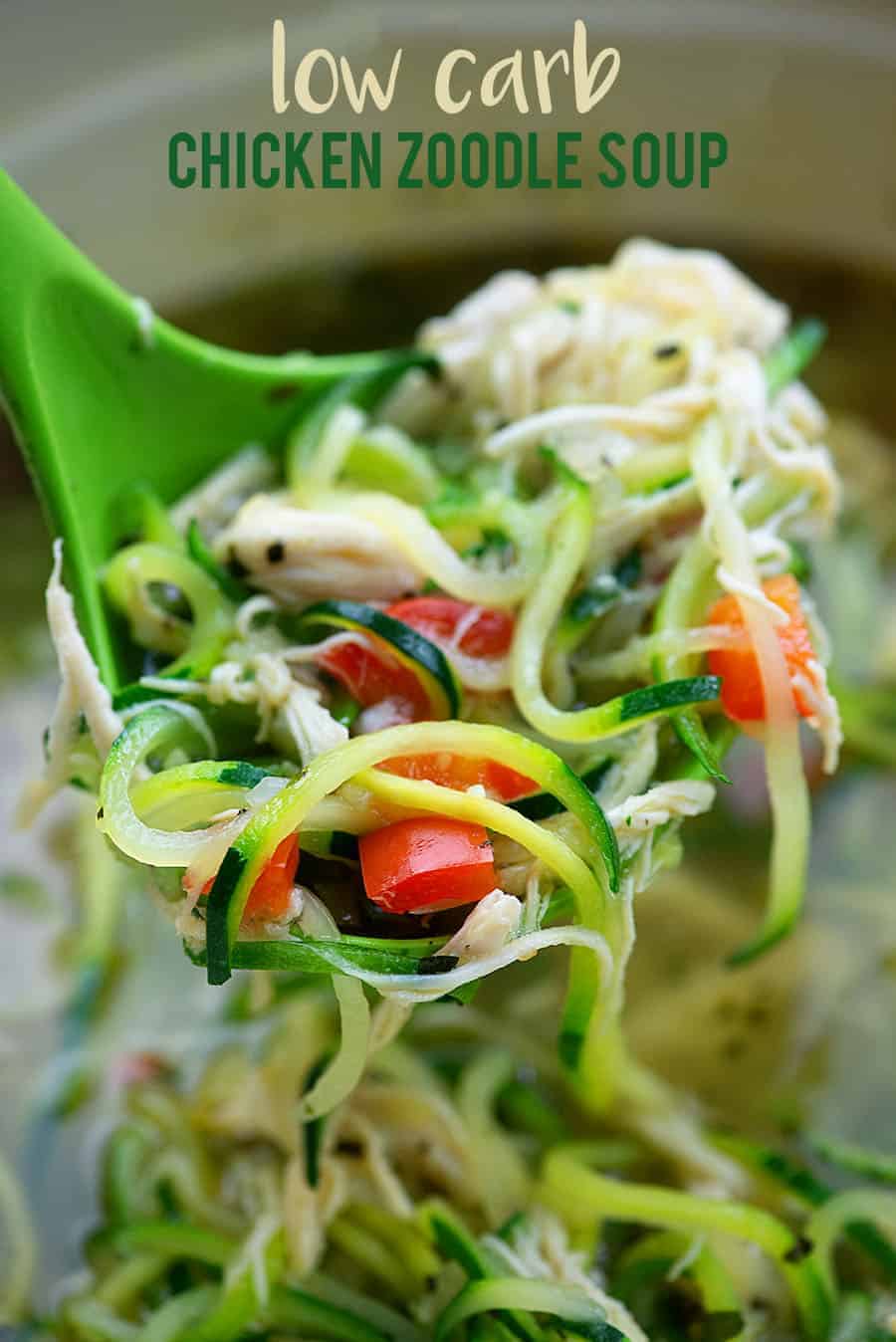 Some days are just busy, you know? And it's not that I mind them eating convenience foods like canned soup every once in a while. But, there are times that I rely on them a little too much, you know?

I do my best now to meal prep for the week and to include things for lunch.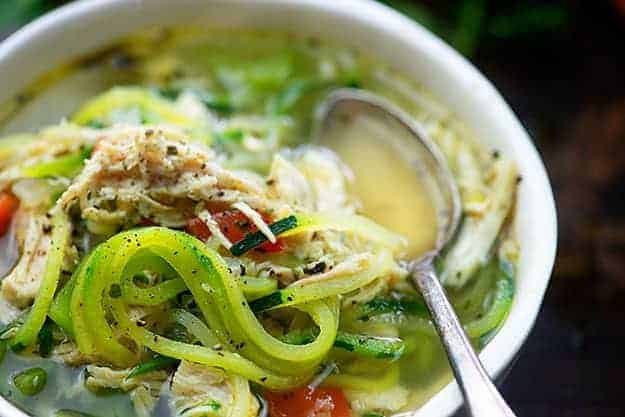 This chicken zoodle soup is one of those recipes that my kids really love and is also actually really healthy no matter your diet.
This low carb chicken soup is full of veggies and lean protein and who doesn't love to slurp a noodle, excuse me, a zoodle?
What are zoodles?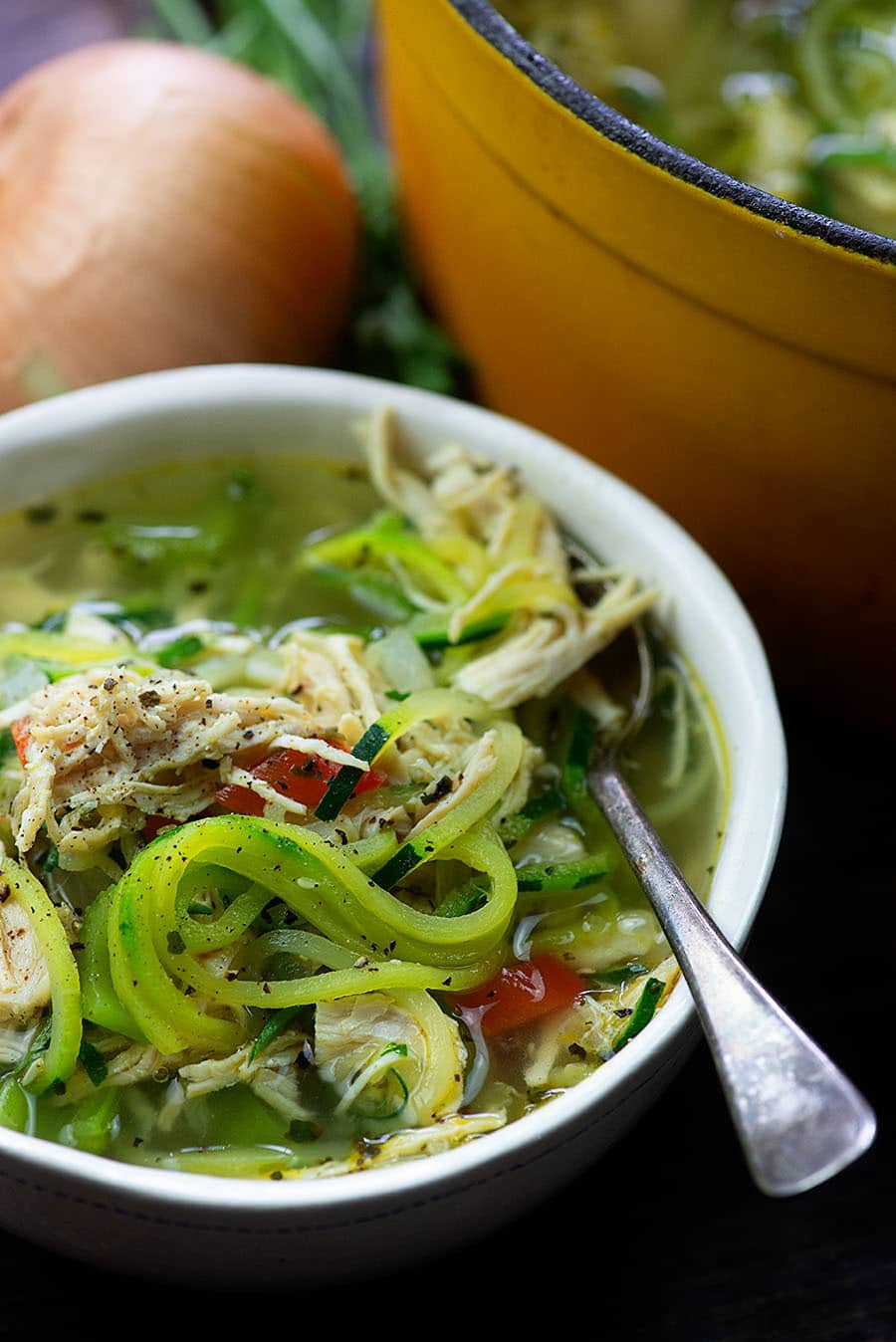 Zoodles are just zucchini that's shaped like a noodle. Long, thin strips of zucchini soften up nicely as they cook and, while they're not quite as soft as a noodle made of flour, they're really good!
To make zoodles, you'll need a spiralizer. This one (affiliate link) has great reviews, can cut in a variety of shapes, and we often use it to make these cream cheese zoodles in place of traditional spaghetti.
My kids don't always love zucchini, but it ALWAYS goes over well with them when it's been zoodled. <– Is that a verb?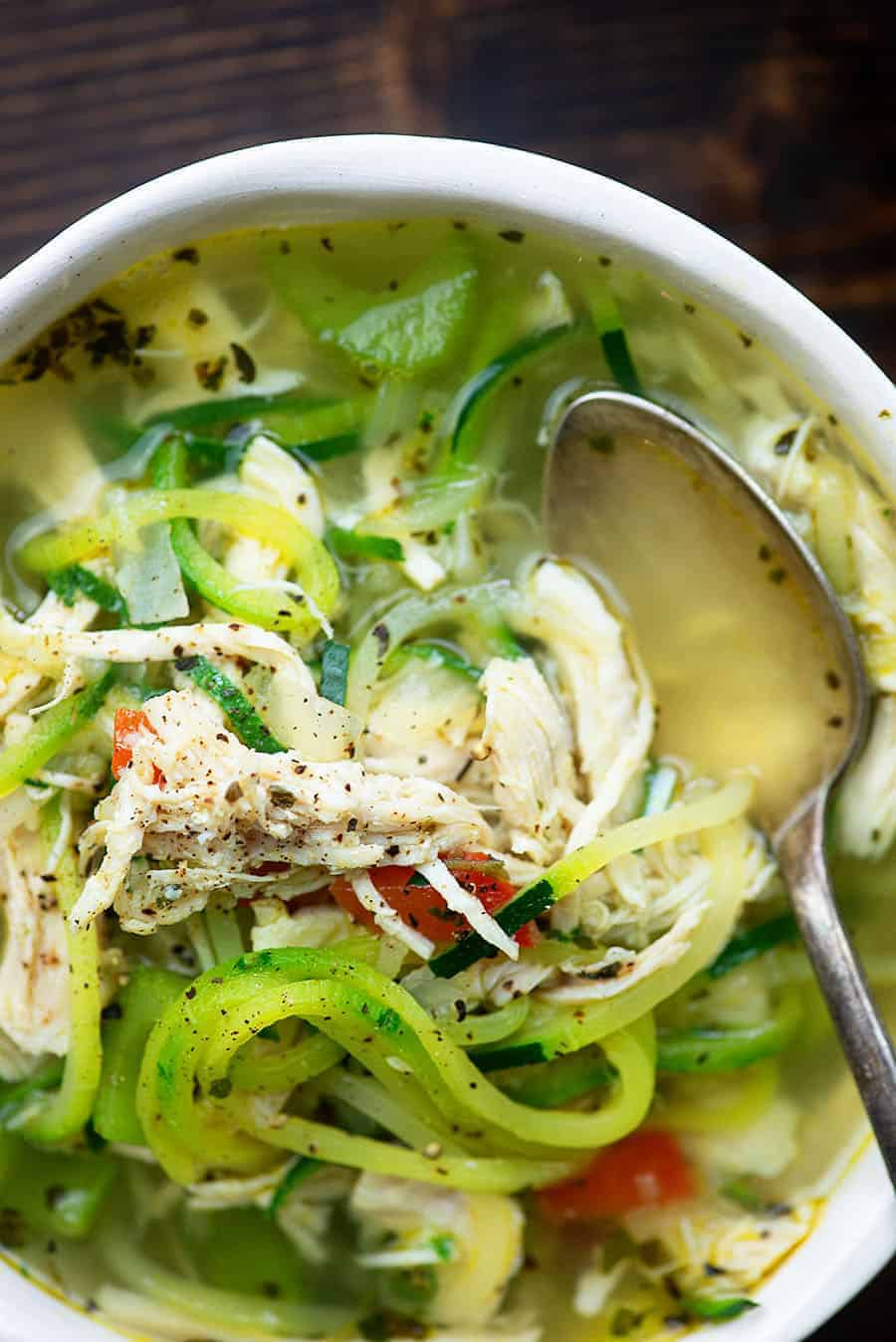 How to make low carb chicken soup:
Start by spiralizing your zucchini. Pop it on your spiralizer and go to town. This only takes about 2 minutes!
Once you have your zoodles, set them aside and get started on the soup.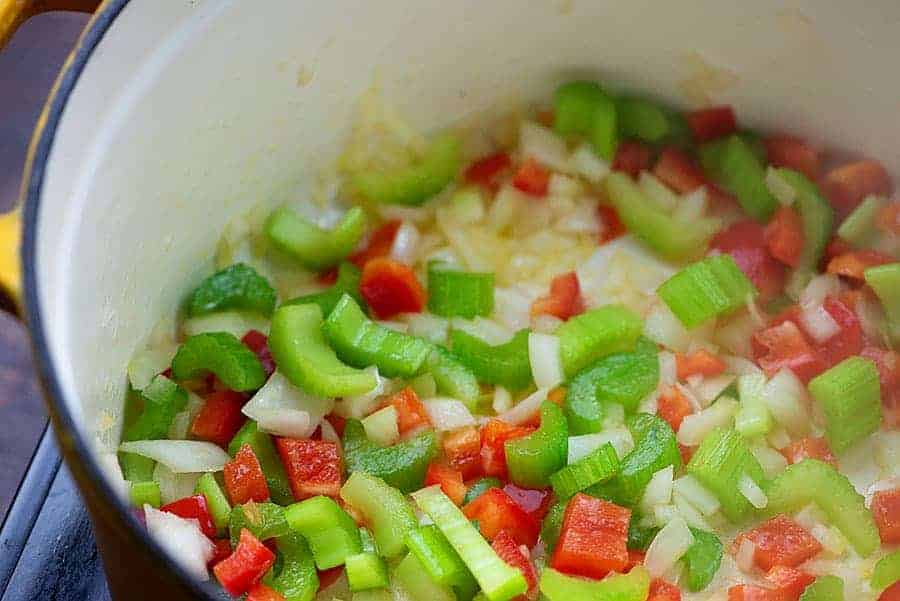 Heat some olive oil in a soup pot or dutch oven and add in some diced onion, celery, red bell pepper, and garlic. Carrots are pretty high in carbs, so I'm using red bell pepper for that touch of sweetness and color. Perfect swap!
Once your veggies are softened, pour in some chicken broth and cooked shredded chicken. I use rotisserie chicken for this, but any leftover chicken should be fine.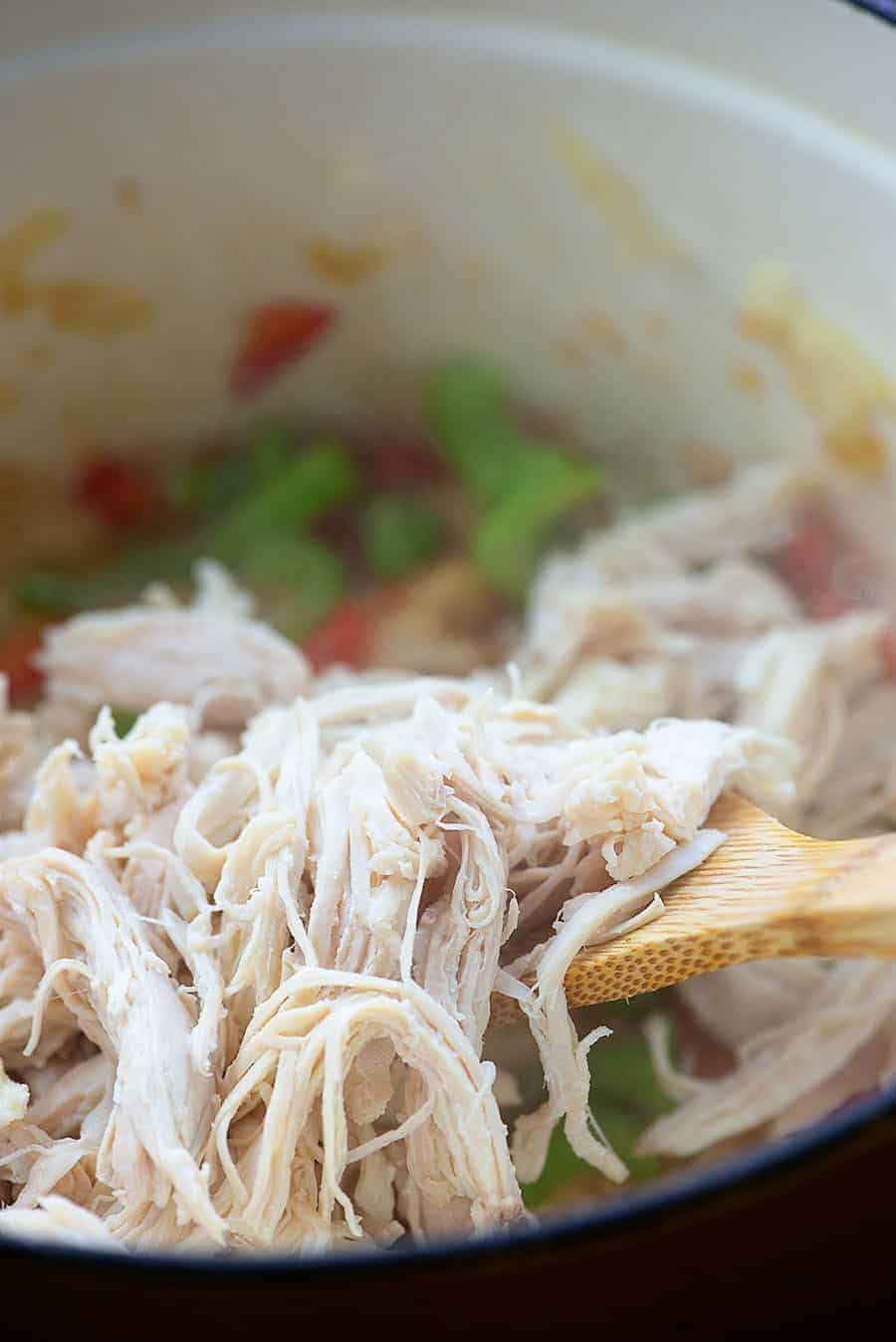 Add in your herbs and your zoodles and bring this all to a boil and then reduce to a simmer.
Simmer this soup for about 10 minutes or until the zoodles are softened to your liking.
Taste and add additional seasoning if desired.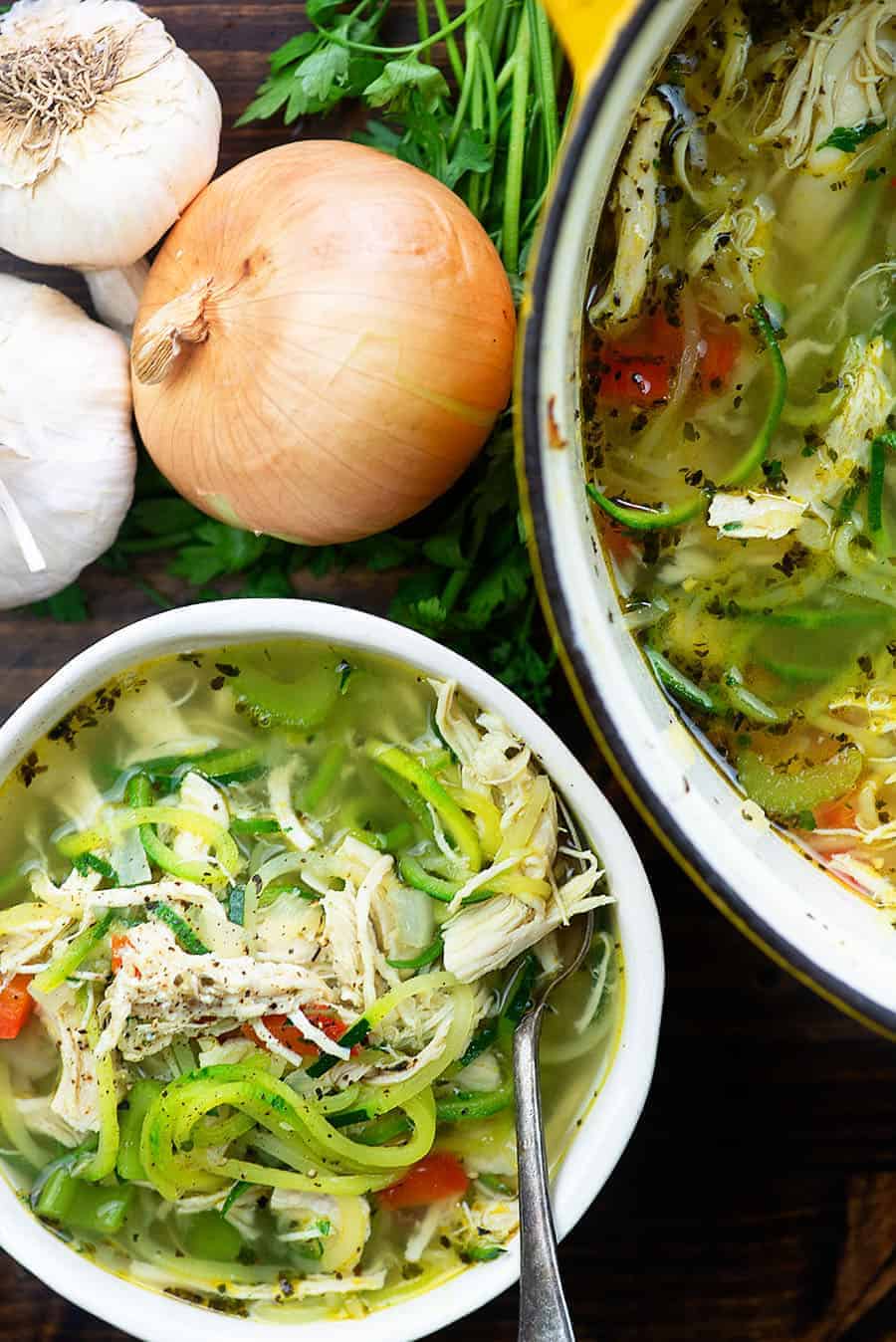 More cold weather favorites:
Low Carb Taco Soup: You can make this one in your Instant Pot or slow cooker and it's bursting with flavor!
Lasagna Stuffed Chicken: Not much is more comforting than the flavors of lasagna!
Low Carb Chicken Casserole: I love cozy casseroles for dinner on chilly nights!
Loaded Cauliflower Casserole: This side dish gets served all year, but especially during holiday season!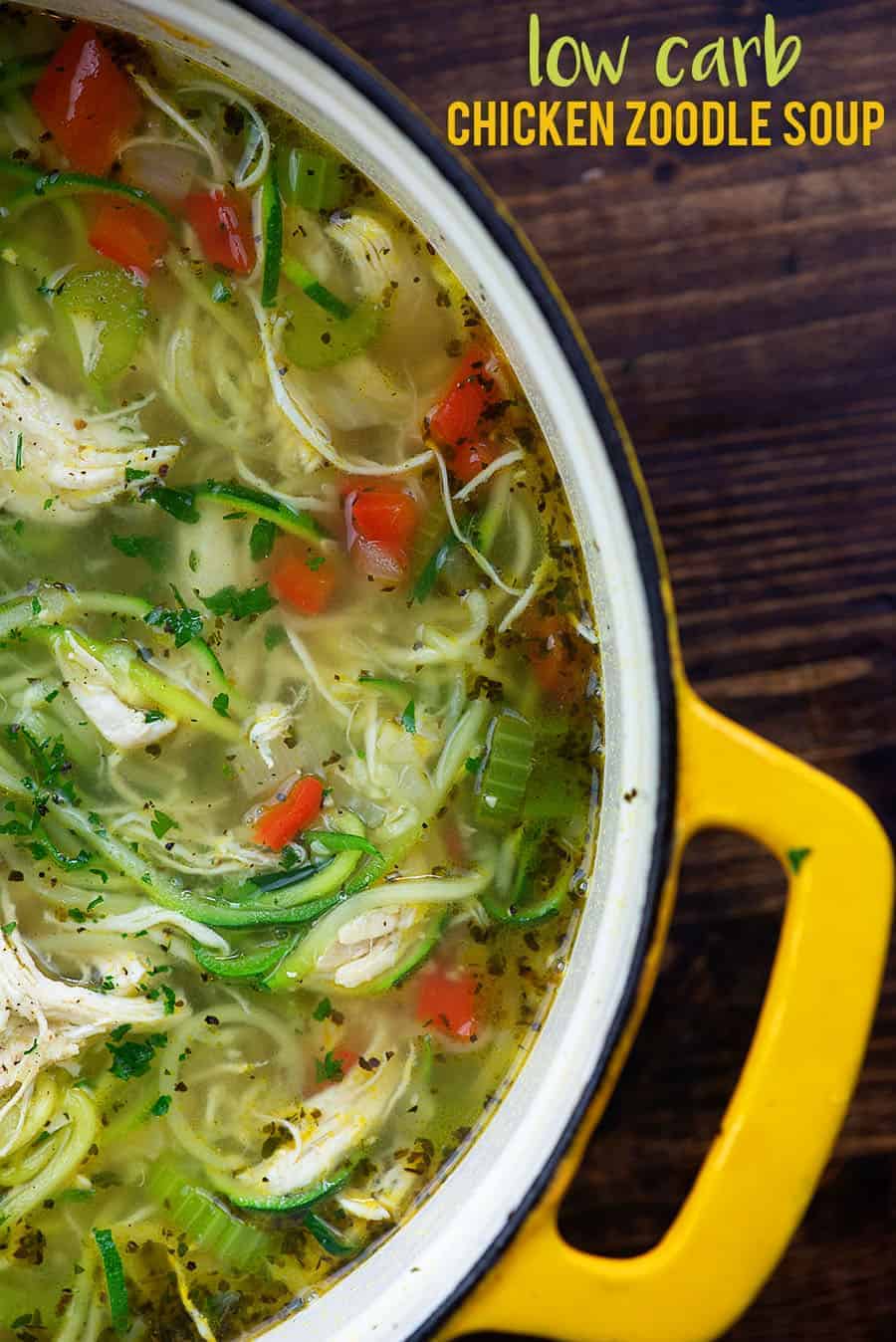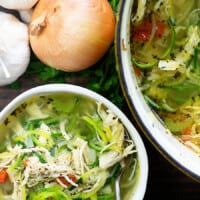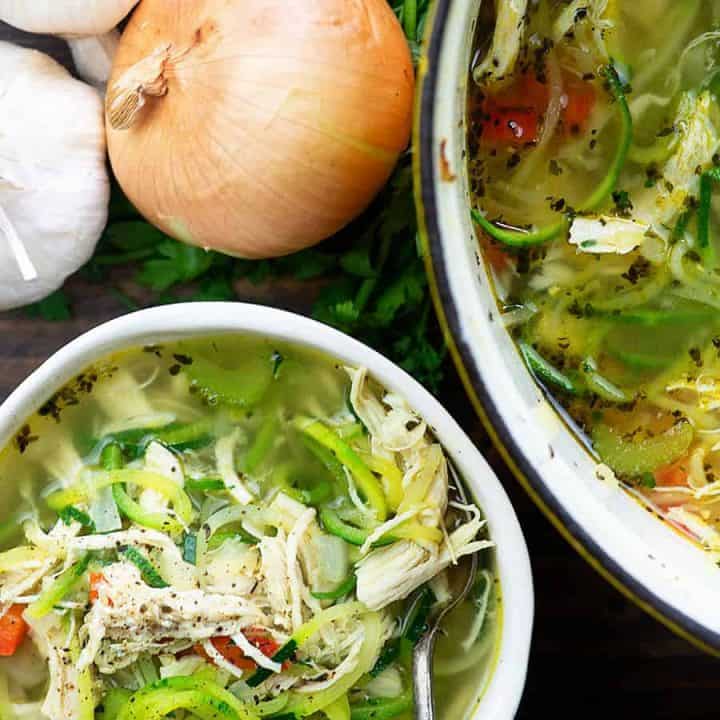 Chicken Zoodle Soup
Chicken soup is a staple in our house. Serve this up on chilly nights or as a quick lunch.
Ingredients
2 tablespoons olive oil
½ sweet onion, diced
3 stalks celery, diced
1 red bell pepper, diced
1 clove garlic, minced
6 cups chicken stock
2 cups shredded cooked chicken
½ teaspoon dried oregano
½ teaspoon dried basil
1 teaspoon salt
1 teaspoon ground pepper
4 large zucchini
Instructions
Heat the olive oil in a large dutch oven or stock pot over medium heat.
Add the onion, celery, pepper, and garlic to the pan and cook, stirring often, until vegetables have softened, about 5 minutes.
Add the chicken stock and chicken to the pot along with the oregano, basil, salt, and pepper.
Spiralize the zucchini to make zucchini noodles and add them to the pot.
Bring to a boil and reduce to a simmer. Simmer, stirring occasionally, for 10 minutes or until the zucchini noodles are as soft as you'd like.
Taste and add additional seasoning as desired.
Serve hot.
Nutrition Information:
Yield: 6
Serving Size: 1 grams
Amount Per Serving:
Calories: 160
Total Fat: 5g
Cholesterol: 50mg
Sodium: 749mg
Carbohydrates: 9g
Net Carbohydrates: 6g
Fiber: 3g
Sugar: 5g
Protein: 19g
All information and tools presented and written within this site are intended for informational purposes only. This information is provided as a courtesy and there is no guarantee that the information is accurate.