Satisfy that pizza crazing with our CHAFFLE PIZZA! It's so quick and simple to whip these up and, since the crust is made of chaffles, they're super filling.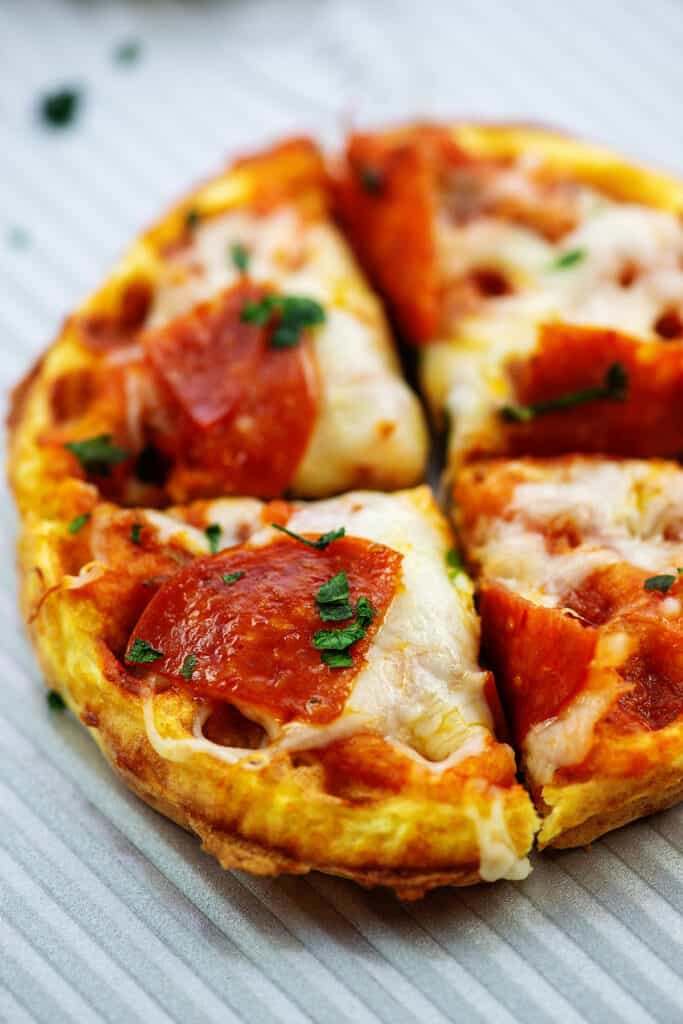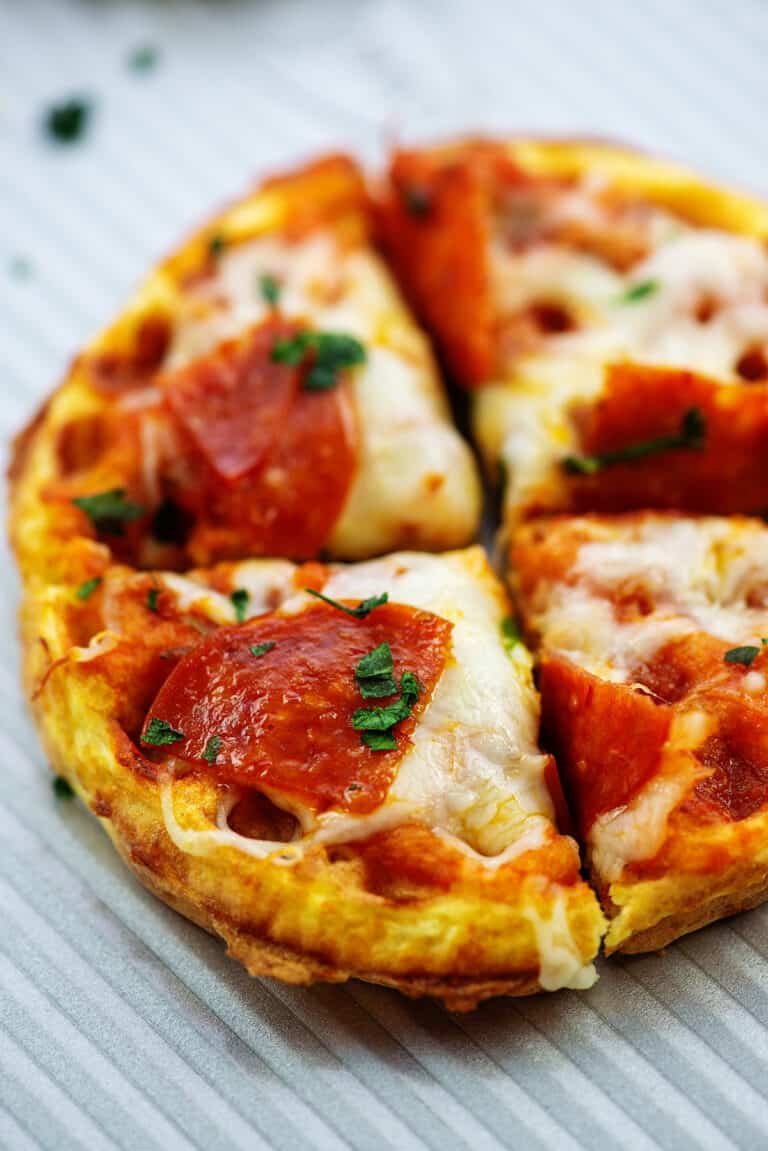 Adding to our pizza recipe collection today with this pizza chaffle!
This recipe is so simple to make, can be topped in any number of ways, and it's ready in minutes.
Plus, the crust is made of egg and cheese so it's got protein and fat which give it lots of 'staying' power. These pizza chaffles fill you up and keep you going!
You've probably seen our Keto Arby's chaffle sandwich and our Big Mac chaffle. We've even turned chaffles into low carb bagels. It was high time we made a pizza chaffle.
Ingredients Needed:
Egg – We use the whole egg, but I've heard egg whites also work, if that's your style.
Mozzarella Cheese – Both in the crust and on top!
Coconut Flour – just a teaspoon to bulk the dough up and give it more of a bread-like texture.
Baking Powder
Pizza Sauce – We often use Rao's marinara sauce here, but your favorite sugar-free sauce will be great.
Toppings – Pepperoni is our go-to, but feel free to get creative.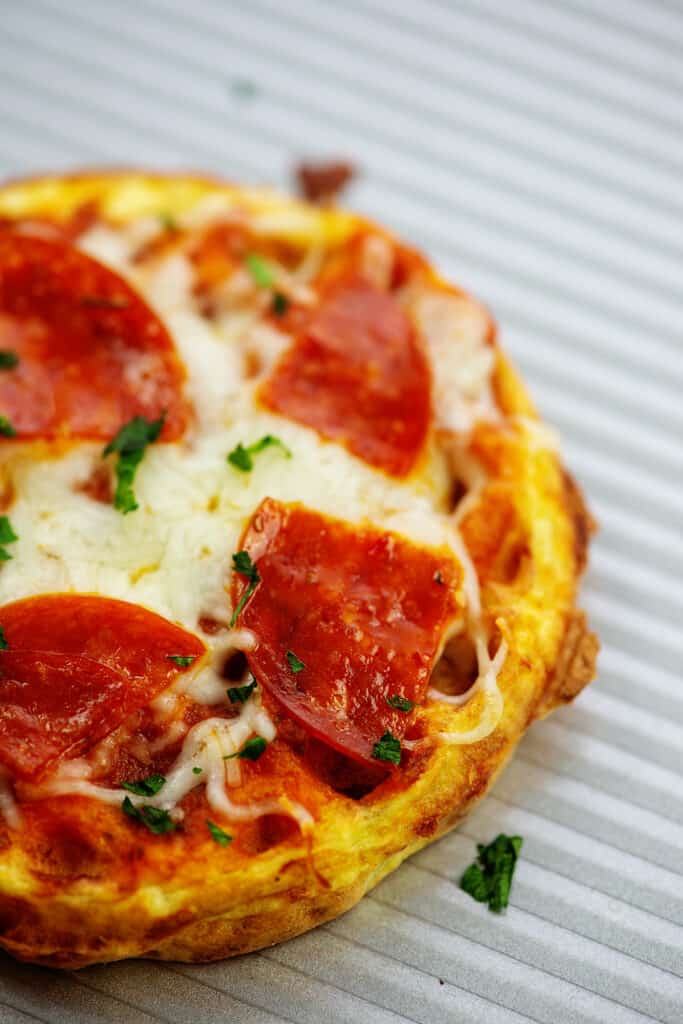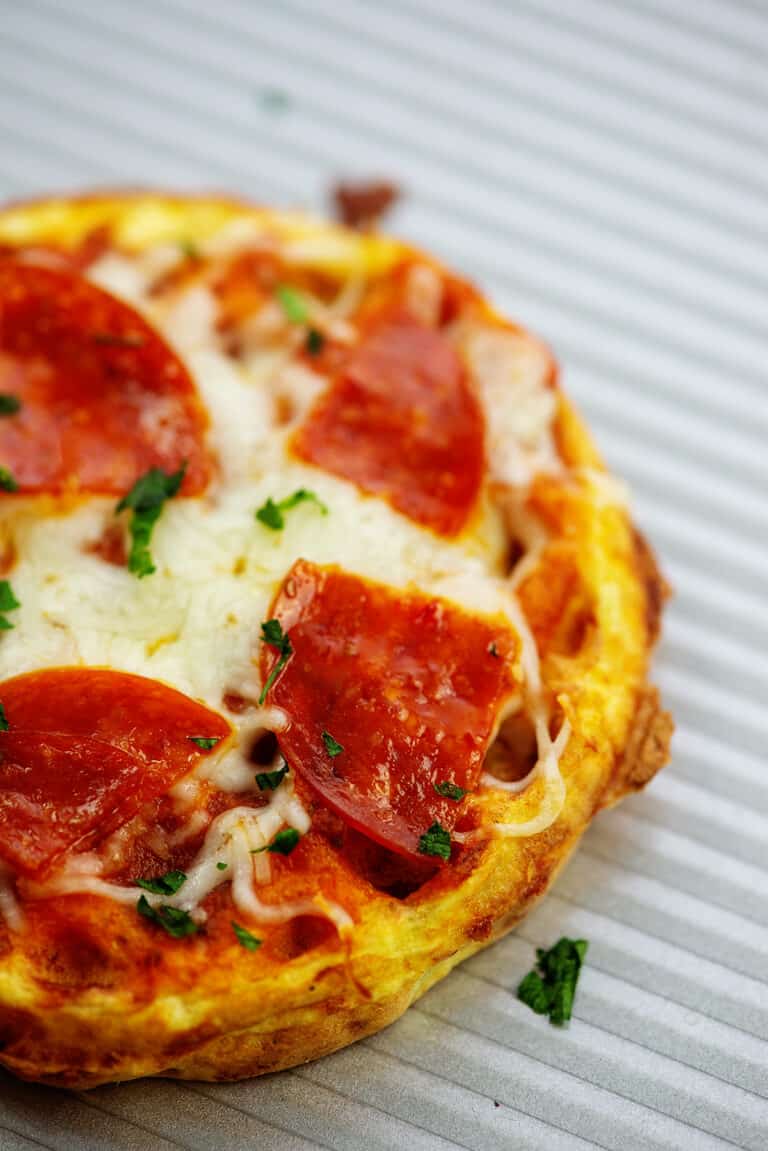 Waffle Maker:
We use and LOVE the Dash Mini Waffle Maker. It makes the perfect 4 inch sized chaffle, which means it works great as a bread replacement too.
You may use a larger waffle iron, but you'll need to adjust the batter to fit. Our chaffle recipes are developed for the Dash and there is always the perfect amount of batter to fit.
How To:
Make the Chaffle – Whisk together the egg, coconut flour, and baking powder. Stir in the mozzarella. Add 1/2 the batter to a mini waffle iron for 3 minutes. Repeat with the other 1/2 of the batter.
Top – Spread sauce on the chaffles. Top with cheese and pepperoni.
Bake – Pop these in a hot oven for 5 minutes to melt the cheese.
More Topping Ideas:
Pepperoni
Sausage
Ground Beef
Ham
Bacon
Mushrooms
Bell Peppers
Onions
Olives
Jalapeno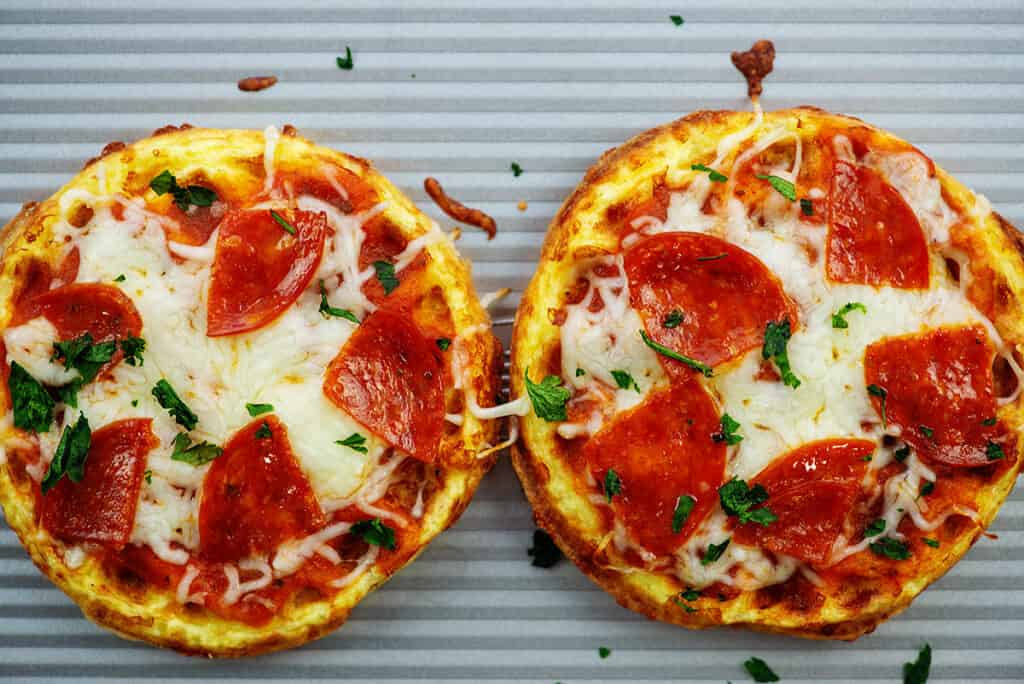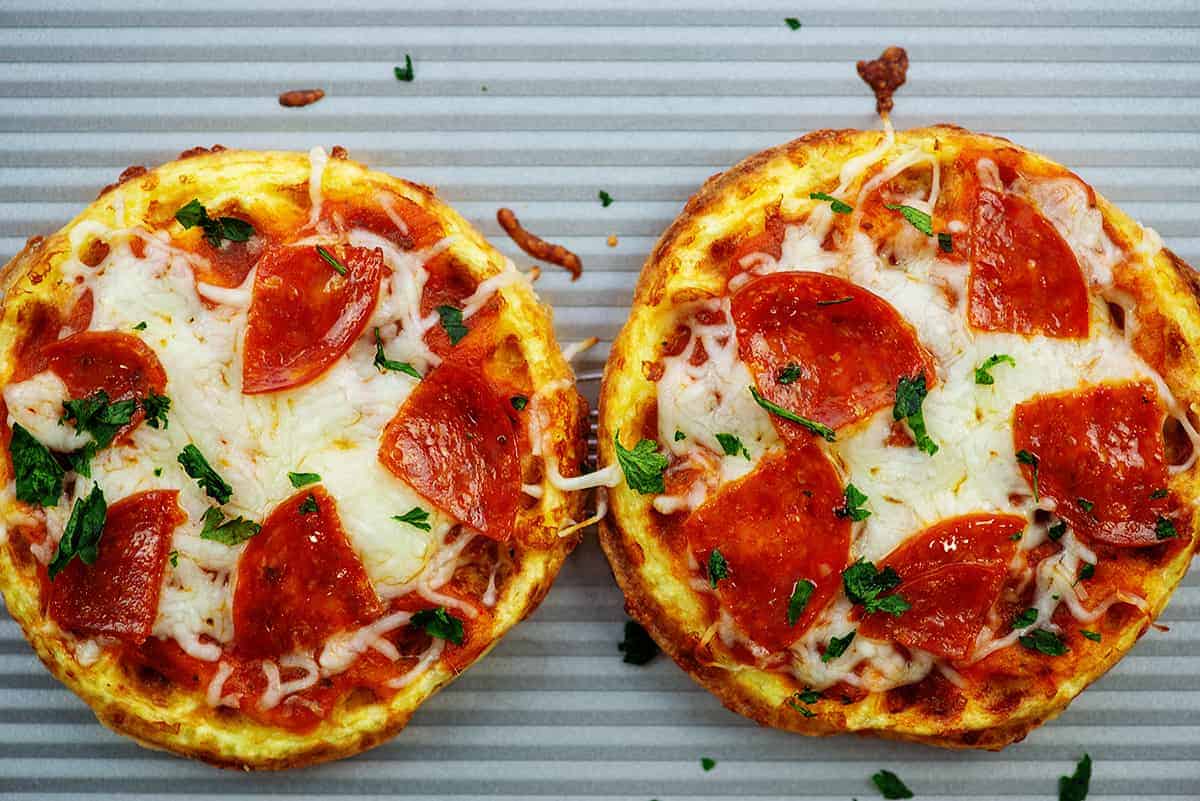 More Pizza Recipes:
If you're not feeling the mini pizza vibe I've got going on here, you'll want to check out all of my pizzas made on fathead dough. Fathead is my FAVORITE crust and we think it tastes the closest to traditional wheat crust.
We've made keto breakfast pizza, taco pizza, buffalo chicken pizza, and even cheeseburger pizza.
More chaffle recipes: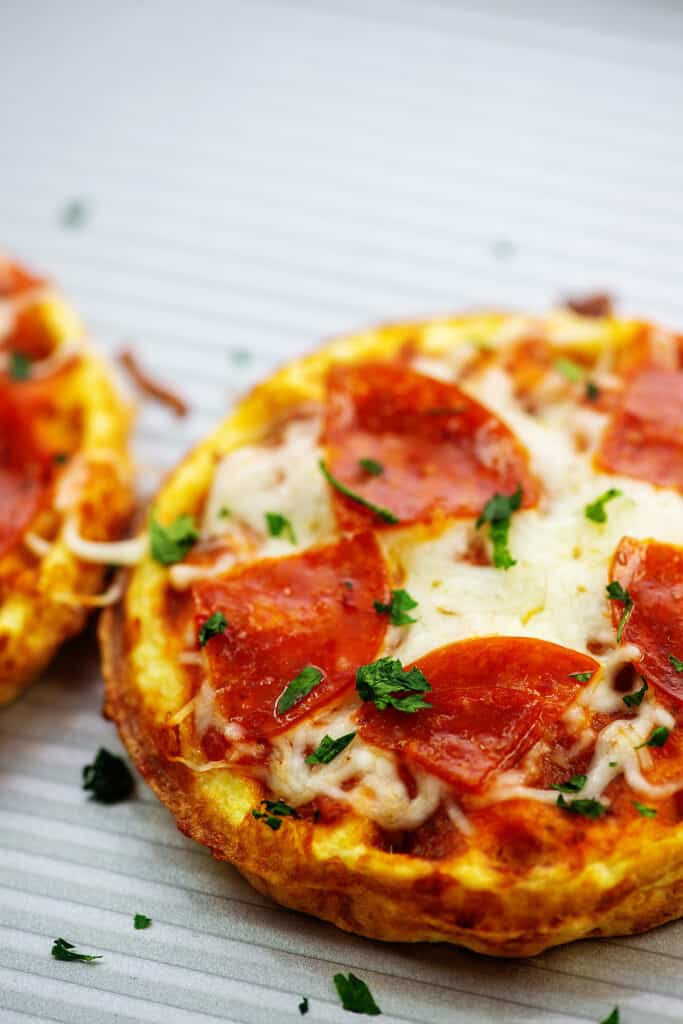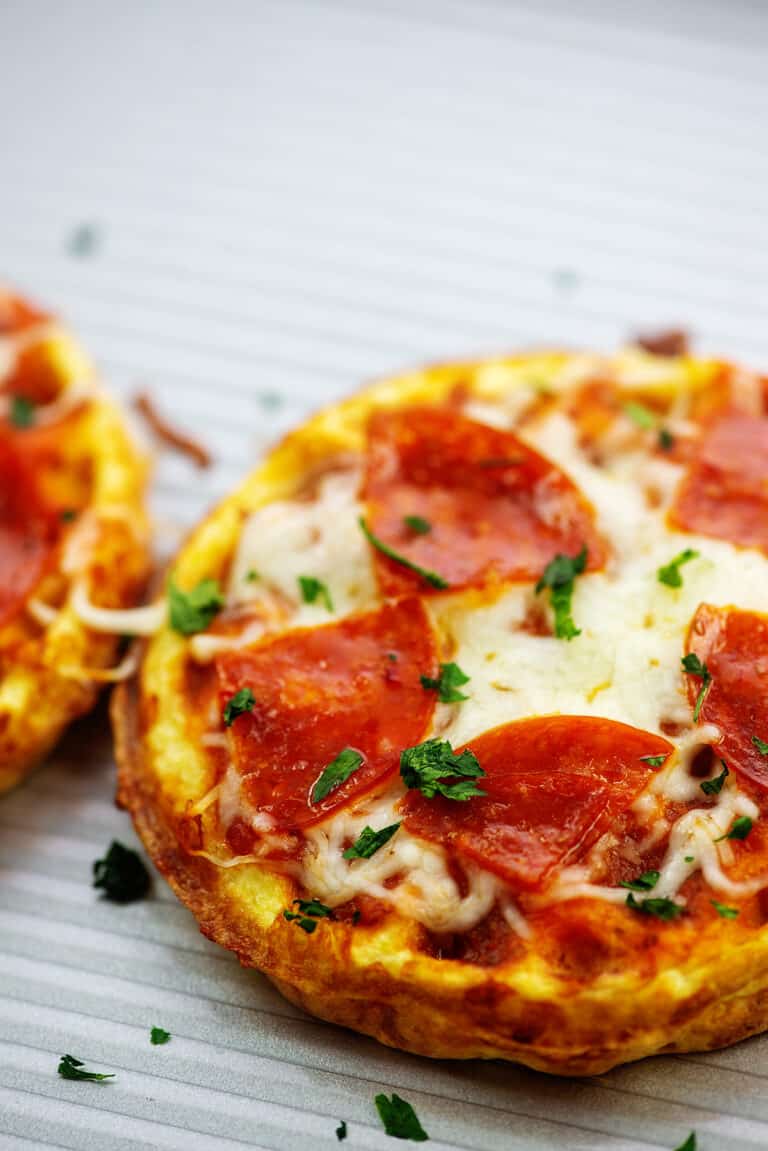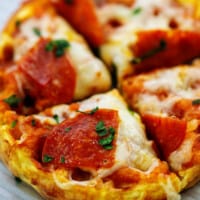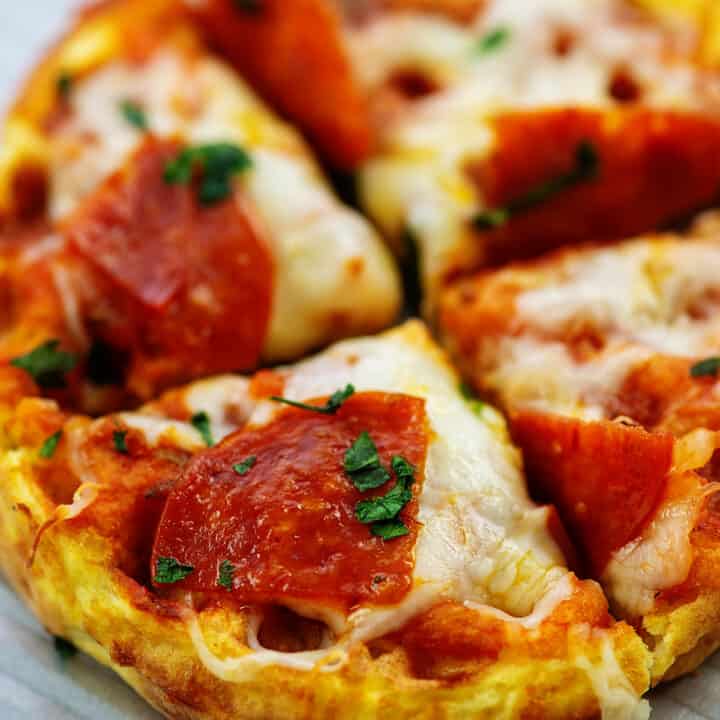 Chaffle Pizza
These mini low carb pizzas start with a chaffle as the crust. So simple, ready in minutes, and extra cheesy!
Ingredients
For the chaffle:
1 large egg
1 teaspoon coconut flour
¼ teaspoon baking powder
1/2 cup finely shredded mozzarella
To assemble:
¼ cup sugar free pizza sauce or marinara
¼ cup shredded mozzarella
6 slices pepperoni
Instructions
Plug in your mini waffle iron to preheat. Preheat oven to 425 degrees.
To make the chaffle crust, add the egg, coconut flour, and baking powder to a small bowl and whisk together with a fork.
Stir in the shredded cheese.
Spoon half of the batter into the waffle iron and spread carefully to the edges.
Close the waffle iron and cook for 3-4 minutes or until the waffle maker stops steaming.
Repeat with remaining batter.
To assemble, place the cooked chaffles on a small baking sheet.
Spread with the marinara, sprinkle with the mozzarella, and top with the pepperoni.
Bake for 5 minutes or until cheese is melted to your liking.
Notes
Feel free to adjust toppings to suit your tastes.
Nutrition Information:
Yield: 2
Serving Size: 1 mini pizza
Amount Per Serving:
Calories: 173
Total Fat: 11g
Saturated Fat: 5g
Trans Fat: 0g
Unsaturated Fat: 0g
Cholesterol: 121mg
Sodium: 480mg
Carbohydrates: 5g
Net Carbohydrates: 4g
Fiber: 1g
Sugar: 2g
Protein: 12g
All information and tools presented and written within this site are intended for informational purposes only. This information is provided as a courtesy and there is no guarantee that the information is accurate.