CHOCOLATE CHIP CHAFFLES are the simplest twist on the latest low carb craze, but those little bits of chocolate hiding throughout the waffle are magical. We serve ours with a big dollop of whipped cream, but some low carb ice cream would be a delicious topping for dessert!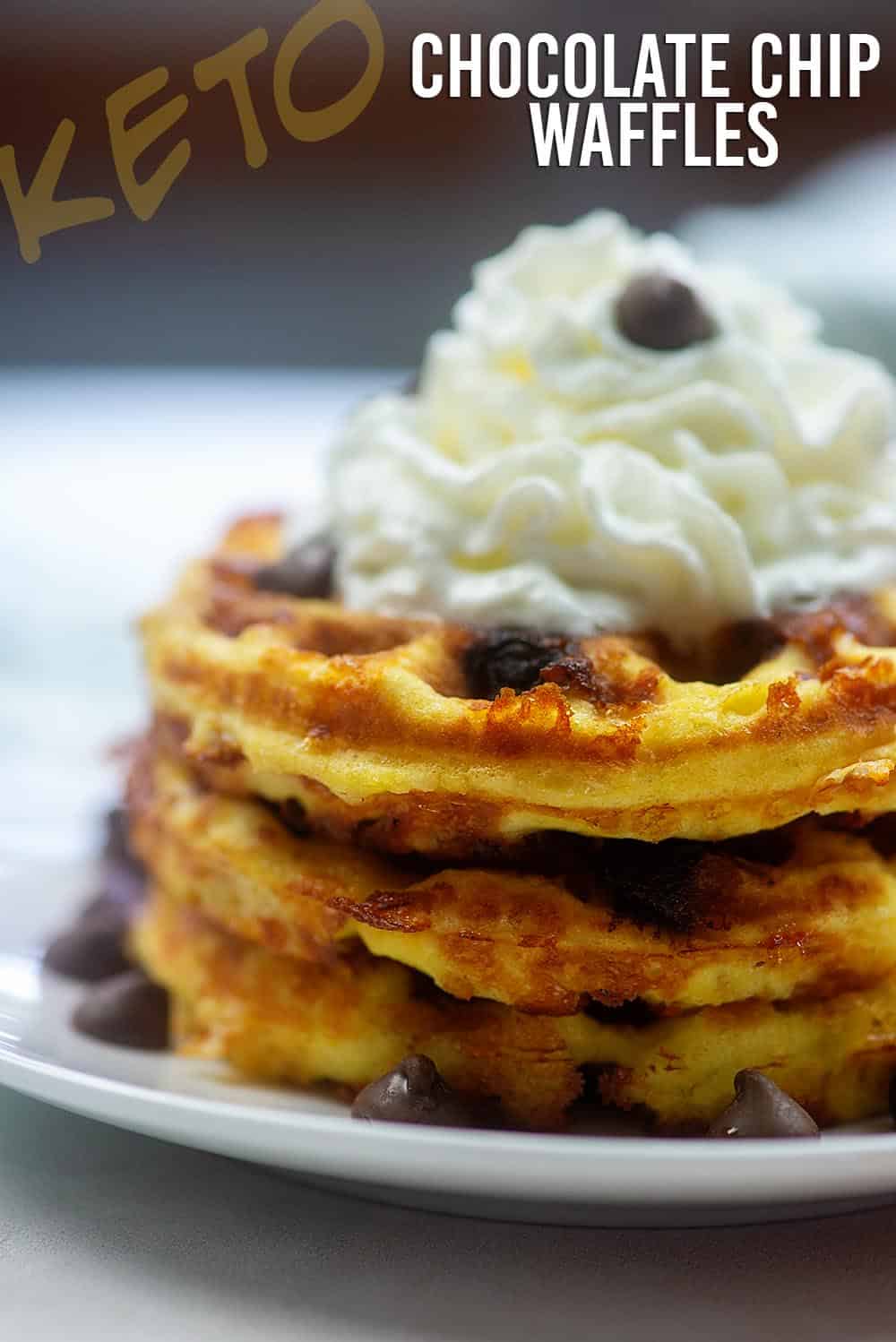 Well, it's official.
I have been making a different type of chaffle every single day since I discovered them and not only am I hooked…my family is too!
My daughter asked for a little chaffle lesson this morning so that she could make her own for breakfast. And, no, she's not low carb and yes, we do actually have a box of Eggos in the freezer for her to grab on busy mornings.

If that doesn't tell you how good chaffles are, well, I don't know what will. You're just going to have to try them for yourself! 😉
Haven't heard about the chaffle craze yet? Click here for all the details and the basic recipe!
These chocolate chip chaffles are super simple with just a handful of ingredients and they're ready in minutes. We serve these keto waffles at breakfast with whipped cream or for dessert with a scoop of low carb ice cream!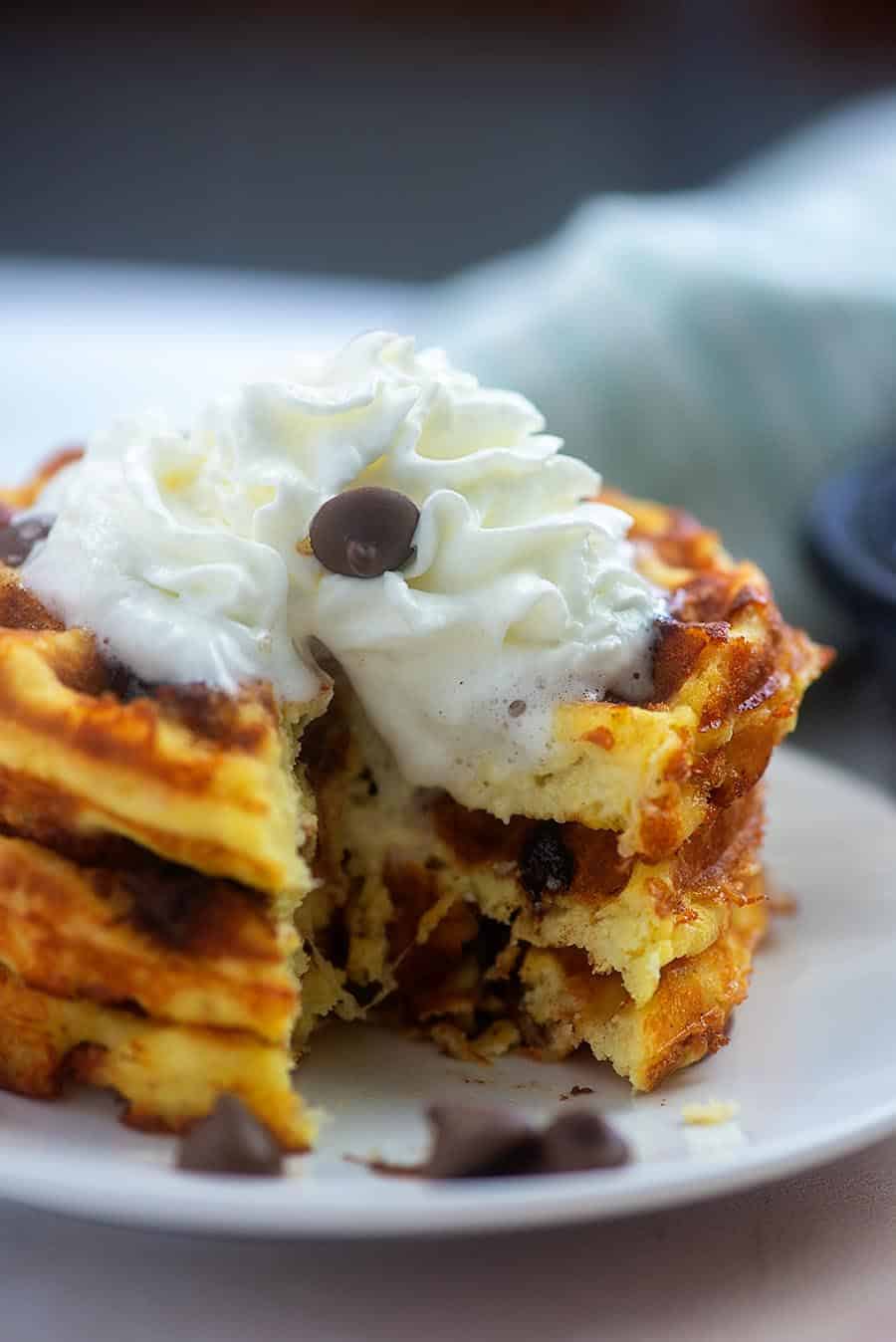 How to make keto waffles with chocolate chips:
This post contains affiliate links.
You're going to need an egg, some finely shredded mozzarella cheese (just trust me), a little coconut flour, sweetener, vanilla, and some sugar-free chocolate chips.
I use and recommend Lakanto Monkfruit for the sweetener. It's a blend of erythritol and monkfruit which helps eliminate any aftertaste and it's all natural too! Use code THATLOWCARBLIFE for 20% off your entire order.
Whisk together your egg, coconut flour, sweetener, and vanilla and then stir in the cheese.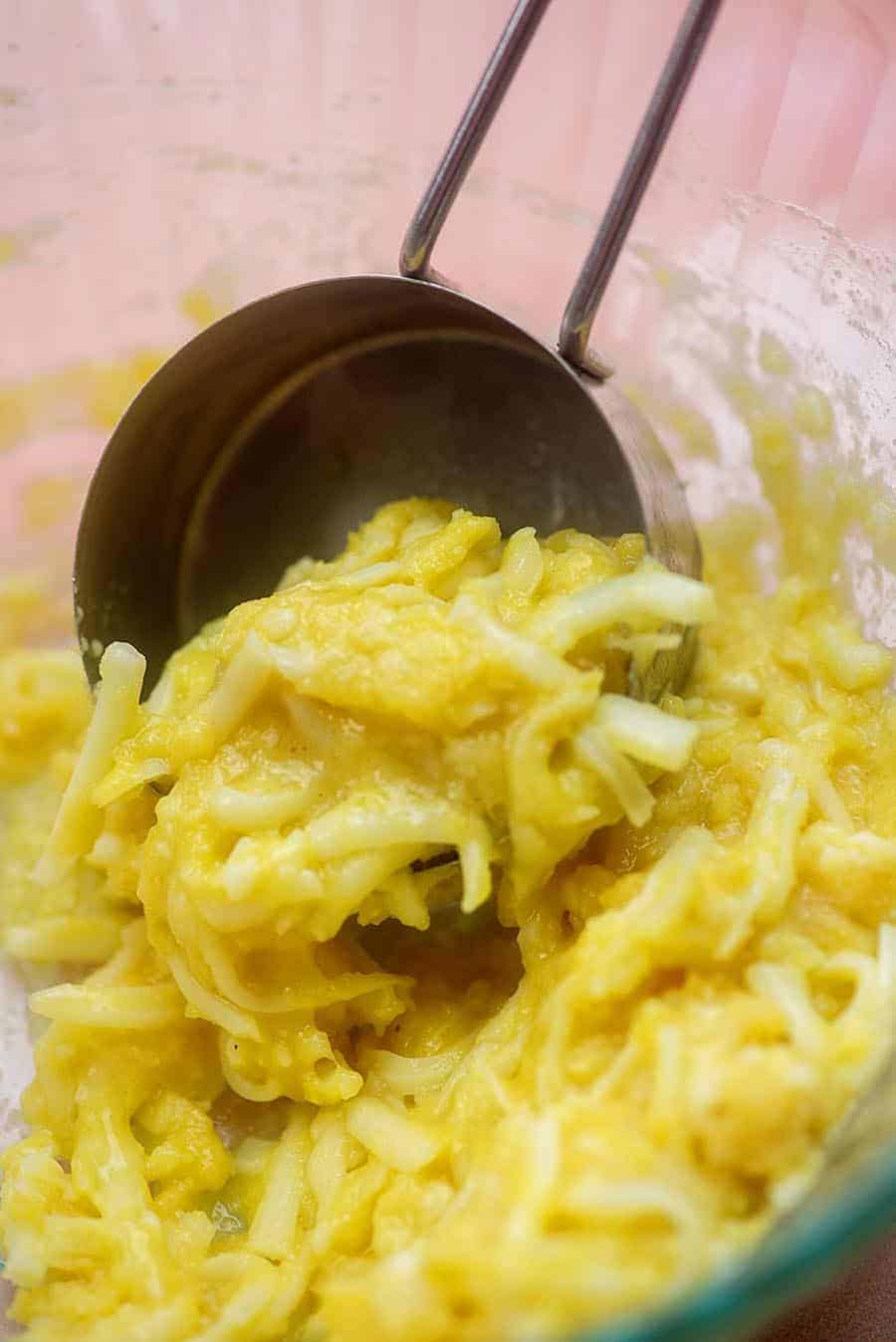 This looks a little funky, but you just have to have faith that I wouldn't lead you astray. 😉
Spoon half of the batter into your mini waffle iron and then dot the top with chocolate chips. Use a spoon to spread a bit of batter of the chips so they don't burn when you close the waffle iron.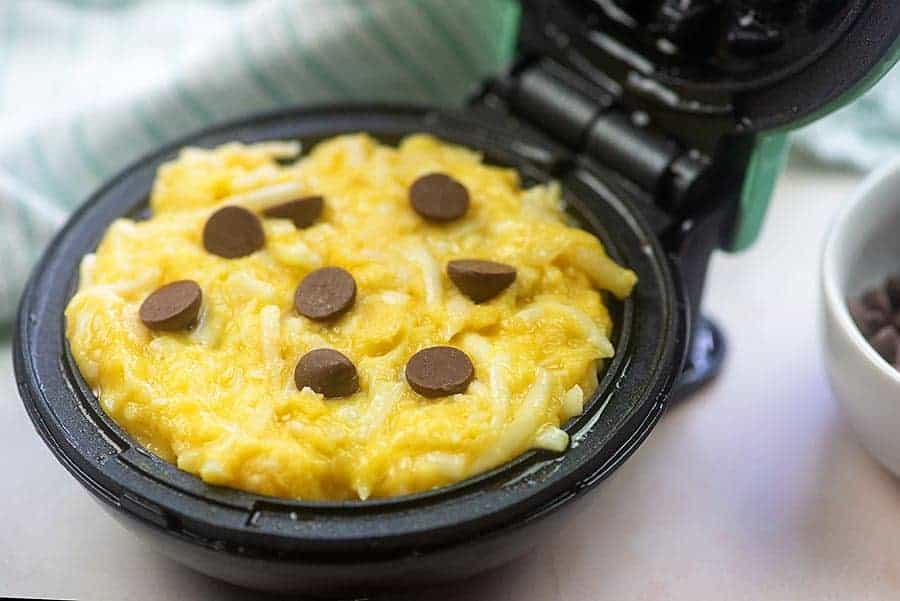 Close the iron and cook for 3-4 minutes, depending on how crispy you'd like your waffles.
Repeat with the rest of the batter, stack 'em up, and squirt on some whipped cream.
Breakfast is served!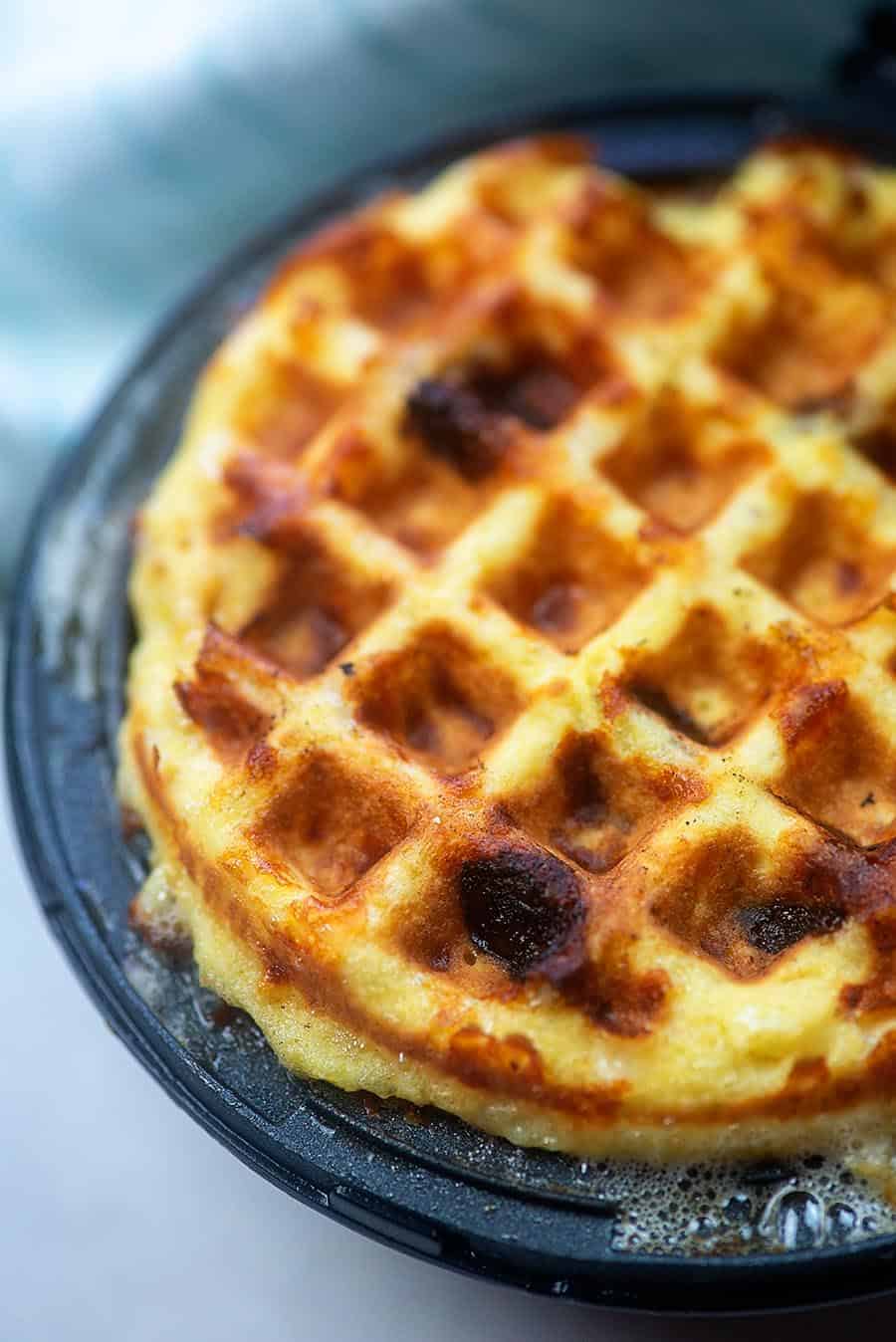 What kind of waffle maker do you need?
You are going to want a mini waffle maker for this recipe. This size will make 2 Eggo-sized waffles.
I use the Dash Mini Waffle Maker.
Don't worry – you can order from Amazon for around $10 and I almost guarantee you won't regret the purchase!
They've been on backorder for a bit due to the overwhelming love of the chaffle, but go ahead and order! I'm hearing from readers that they're shipping out much sooner than the backorder date!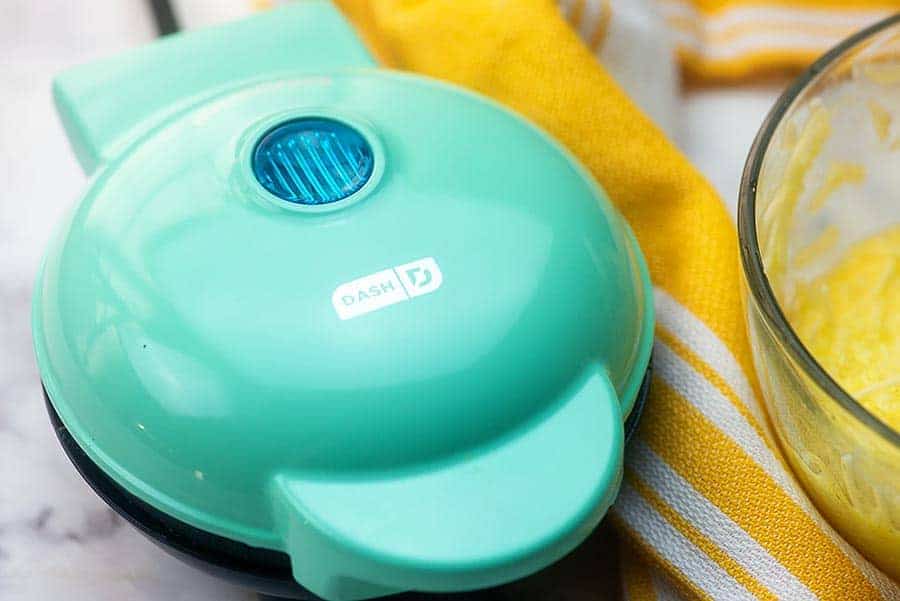 The Dash heats quickly, cooks quickly, takes up barely any space, and it comes in a variety of cute colors. I have the aqua.
If you want to make more than 1 mini waffle at a time, check out this one:
If you plan to make chaffles for a family, this should work great! I haven't tried it myself, but plan to order because my kids are obsessed with chaffles too.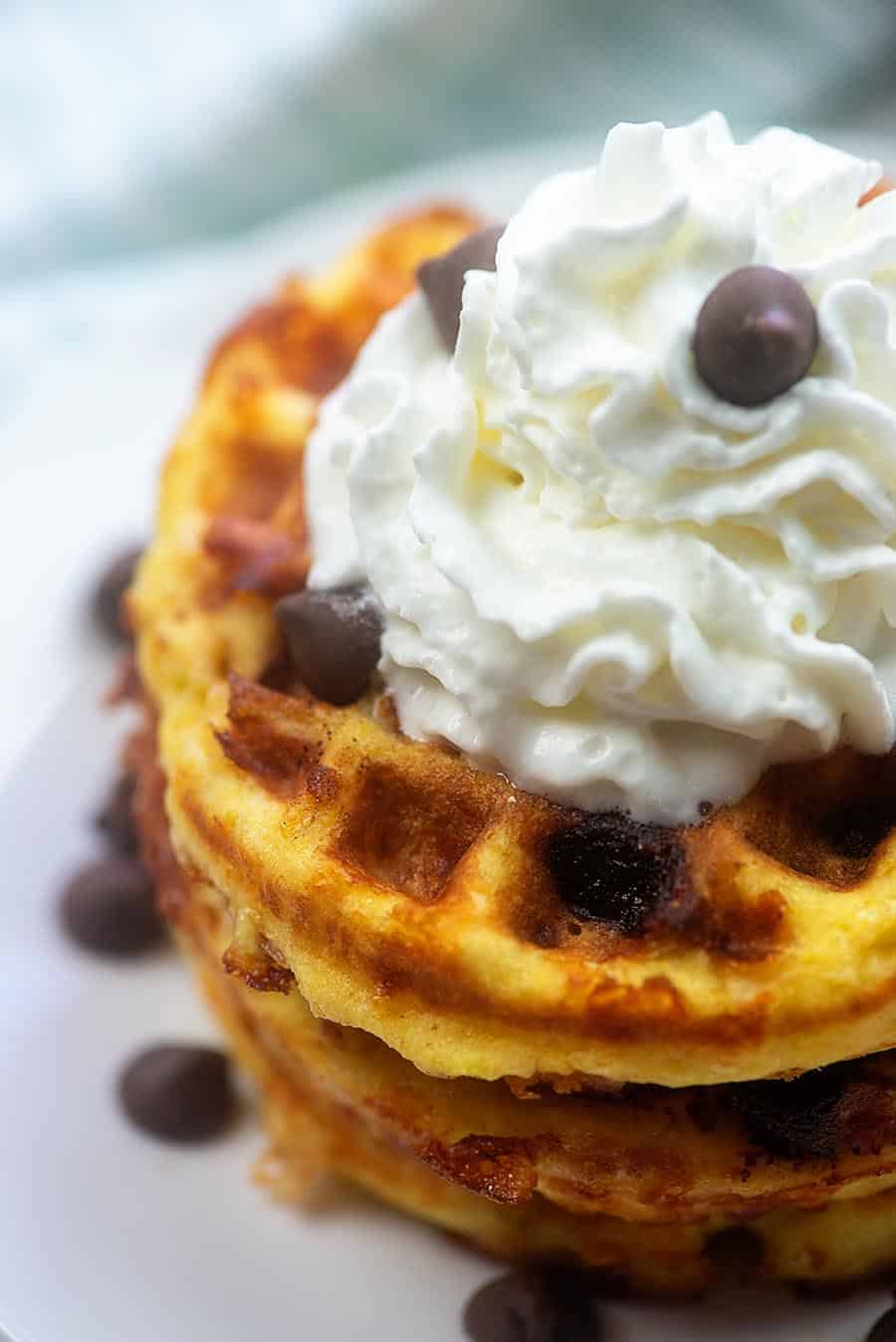 Chaffle Week!!
I love chaffles so much, that I created CHAFFLE WEEK! Get excited!
I'm sharing a new chaffle recipe every day for five days. Pumpkin Chaffles, Peanut Butter Cup Chaffles, and more…you seriously don't want to miss out!
SIGN UP HERE for the free emails so you don't miss a single chaffle recipe! This is going to be so fun!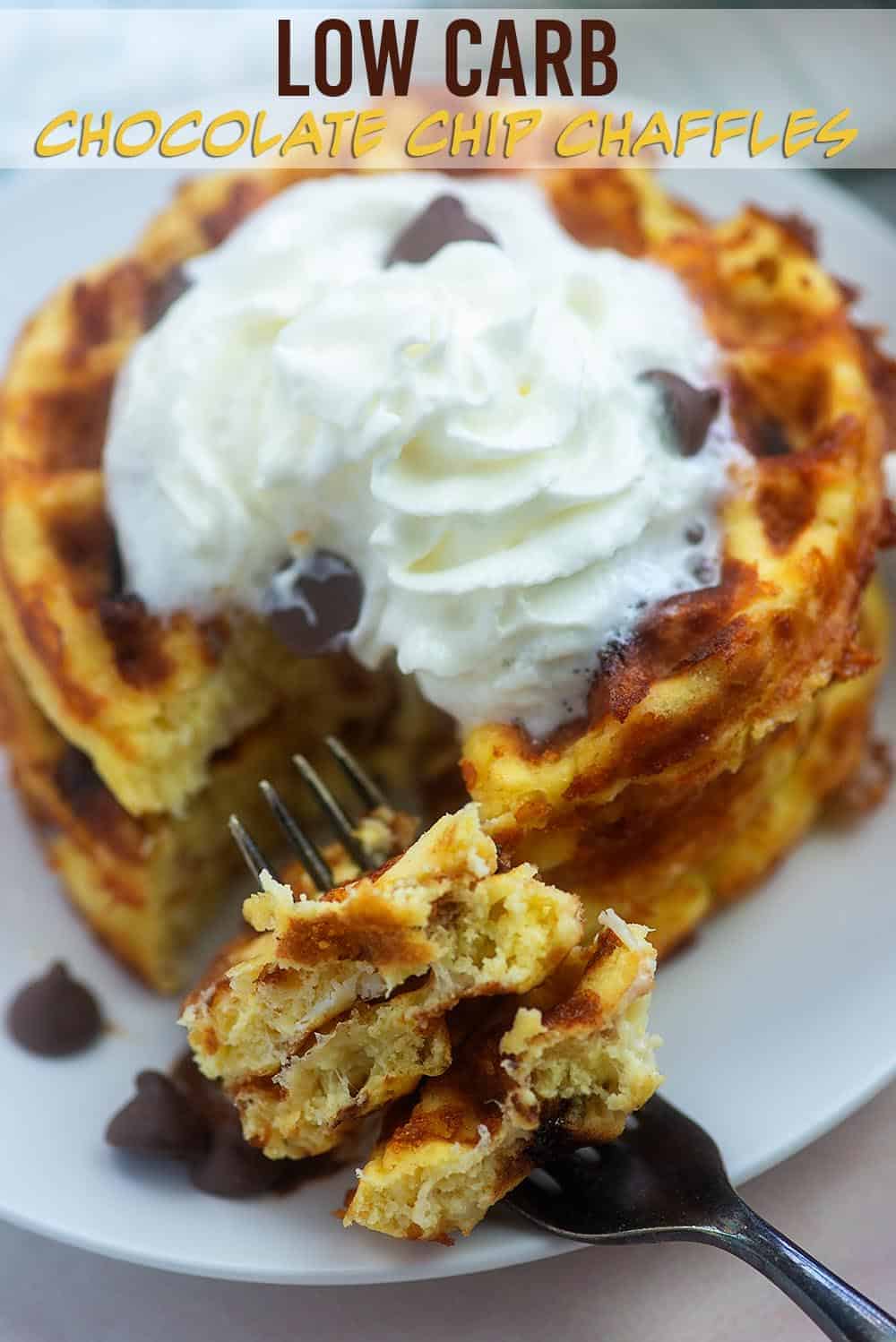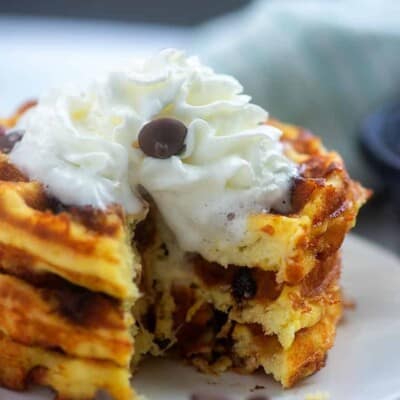 Chocolate Chip Chaffles
Chaffles are the latest low carb craze and this version is a sweet way to start your day. Don't worry about the cheese in the recipe - as long as you use mozzarella, you'll never even know it's in there!
Prep5 minutes
Cook6 minutes
Total11 minutes
Instructions
Plug in your waffle iron to preheat.

Add the egg, coconut flour, sweetener, and vanilla to a small bowl and whisk together with a fork.

Stir in the shredded cheese.

Spoon half of the batter into the waffle iron and dot with half of the chocolate chips. Spread a bit of batter over each chocolate chip.

Close the waffle iron and cook for 3-4 minutes or until as crisp as you'd like.

Repeat with remaining batter.

Serve hot with whipped cream or low carb ice cream.
Tips & Notes:
I prefer Lakanto Monkfruit Sweetener as it's all-natural and doesn't have any aftertaste. Feel free to use whatever sweetener you prefer. Nutrition information does not account for whipped cream or ice cream.
Nutrition Information:
Serving: 2waffles| Calories: 304kcal (15%)| Carbohydrates: 7g (2%)| Protein: 17g (34%)| Fat: 16g (25%)| Saturated Fat: 8g (50%)| Polyunsaturated Fat: 6g| Cholesterol: 216mg (72%)| Sodium: 375mg (16%)| Net Carbs: 7g (14%)
Want To Save This Recipe?